Easter Rising: A tale of two women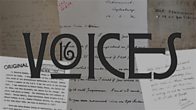 In association withVoices 16BBC Northern Ireland
The rebel and the resident
The 1916 Easter Rising was an attempt by rebel volunteers to free Ireland from British rule and establish an Irish Republic. As fighting unfolded on the streets of Dublin, two women reacted to events in very different ways.
Margaret Skinnider was a member of the Irish Citizen Army and a committed republican who was heavily involved with the rebellion. Mrs Sankey lived in the affluent Merrion Square area of Dublin and kept a diary detailing what was happening around her.
Easter Monday, 24 April 1916
Scouting British troops
Bettmann/Getty Images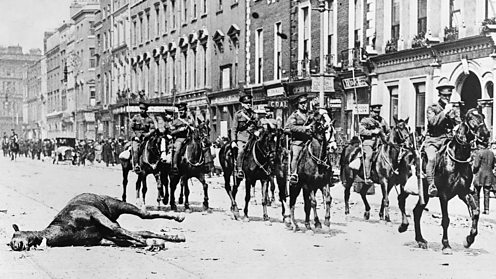 The Easter Rising begins as armed groups seize key locations throughout Dublin, with Margaret Skinnider operating as a scout for rebel troops.
Under the command of Michael Mallin and Countess Markievicz, Skinnider spends most of the day reporting on British troop activity. Outside the GPO, she is moved by the sight of dead horses cut down by gunfire: "Something in the sight of the dumb beasts… hurt me every time I had to pass them…" However, she adds: "The thought of British soldiers being killed in the same way did not awaken similar feelings… They have become to us symbols of a power that seems to delight in tyranny."
Voices 16 - Margaret Skinnider
I learned that their officers, for the most part, were off to the races at Fairview.
Easter Monday, 24 April 1916
Fear on the streets
Keystone-France/Getty Images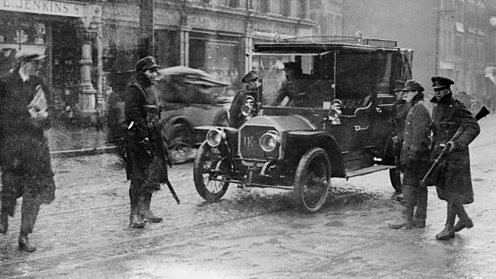 As the Rising begins, confusion and fear spreads among residents enjoying the bank holiday in the city. Among them is Mrs Sankey.
She is on her way to an art gallery when she noticed "a group of about 30 National Volunteers... Among them, as they rode away, was one figure also in uniform, which struck me as being a woman… I now believe it was Madame Markowitch (Markievicz) – of unpleasant notoriety." Evacuated from the gallery, she manages to get home, but her mounting alarm and confusion are heightened by stories from her servants and neighbours about shootings elsewhere in the city.
Listen: Woman's Hour - Countess Markievicz
We knew we were entirely without protection, the police having been withdrawn and the military not having come out.
Easter Tuesday, 25 April 1916
News blackout
Windmill Books/Getty Images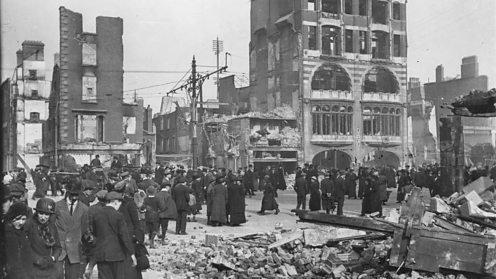 With all the shops closed and news in short supply, Mrs Sankey hears conflicting stories about what is happening throughout the city.
"We are quite cut off from the rest of the world, with no post, wires or papers for the Irish Times only issued a proclamation today, speaking of the rebels as a small number and advising people to keep within doors." She worries that her food will run out. "Luckily we got a little milk… we only have one piece of beef, which we are to have for lunch today and after that I don't know." She hears that a relative of a neighbour is dead: "Met his death at the hands of these wicked rebels."
Voices 16 Twitter - 1916 day by day
What will happen next we don't know – all seems quiet now at 9.50pm and I don't hear any shots.
Easter Wednesday, 26 April 1916
Wounded in action
Windmill Books/Getty Images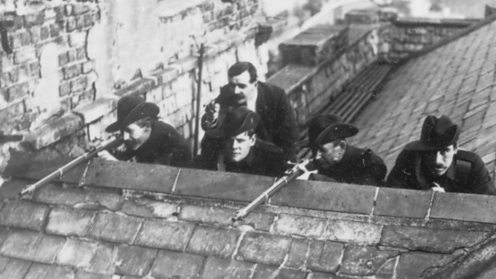 The fighting intensifies as the authorities draft in more troops, while Margaret Skinnider donned her rebel uniform and fired on British forces.
She helps hatch a plan to bomb the Shelbourne Hotel. However, her commander Michael Mallin, "did not want to let a woman run this sort of risk. My answer to that argument was that we had the same right to risk our lives as the men." She wins the argument but, on her mission, she is shot and injured. "It's all over, I muttered, as I felt myself falling." She claims Countess Markievicz later told her "[she] returned to the spot and killed two soldiers who were firing there."
Easter Rising: Who were the leaders?
We believed, too, that by this time the Volunteers outside Dublin had risen.
Easter Wednesday, 26 April 1916
Martial law
Hulton Archive/Getty Images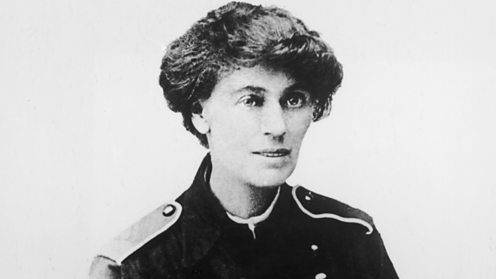 For residents such as Mrs Sankey, the turmoil on Dublin's streets was difficult to comprehend.
She too had heard of Markievicz's actions the night before: "Madame Markiewitch (Markievicz) is said to have shot another with her own hands at the top of Grafton Street… It seems too awful to believe and if it was not for the constant firing one could not believe it. Martial law was proclaimed last night."
Easter Rising - Counting the cost of lost lives
Such a lovely morning with the sun shining and birds singing as if we were in a peaceful world!
Easter Thursday, 27 April 1916
Full rebellion
Popperfoto/Getty Images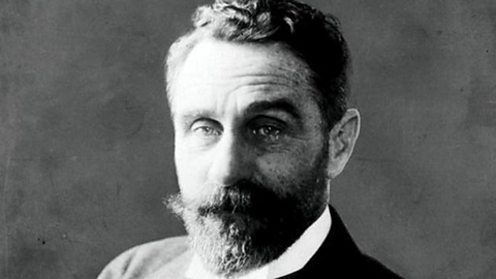 It is Mrs Sankey's 11th wedding anniversary, and the full scale and impact of the Rising becomes increasingly apparent to residents.
"Never had our wedding day dawned under such strange circumstances – we are in the midst of a terrible outbreak of rebellion and civil war." She hears that rebel leader Sir Roger Casement had been captured and later that day she is asked to help improvise a hospital at Merrion Square: "They began to bring the poor fellows in... one with a terrible shattered shoulder – another a poor boy of 17 with his knee badly shot… It was a sad sight but one is thankful to be able to help a little."
BBC News - Roger Casement: From hero to traitor
A patrol... removed Sir Roger to the Tower of London... I hope this is true!
Sunday, 30 April 1916
Surrender
Universal History Archive/Getty Images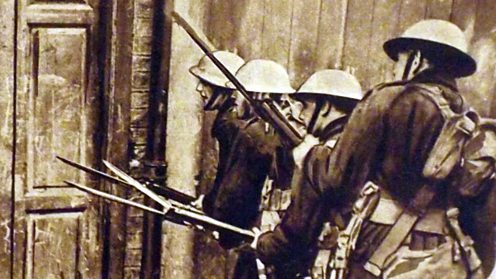 As Margaret Skinnider is taken to St Vincent's hospital to recover from her injuries, the rebels surrender. Among them is Michael Mallin.
She feels sure that she will never see him again, and remarks: "Not that it entered my head for a moment that he would be executed by the British. Despite all our wrongs and their injustices, I did not dream of their killing prisoners of war."
That afternoon all the revolutionists gave up their arms to the British in St Patrick's Square.
Monday, 1 May 1916
Mallin executed
(Hulton Archive/Getty Images)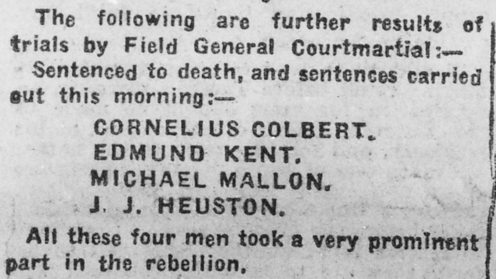 In hospital, Margaret Skinnider receives the news that her commander Michael Mallin has been executed by the British.
As pockets of violence continue across Dublin from those who have not yet surrendered, the authorities take action against captured rebel leaders. "It was Michael Mallin they stood against a wall and shot. I remembered how, when I was so ill at the College of Surgeons, he had been gentle with me… He had told me that, as a boy of 14, he had enlisted in the British Army to get experience with which to fight Great Britain."
Six days he served Ireland; eight days he lay in prison; now he was dead!
Tuesday, 2 May 1916
War zone
Topical Press Agency/Getty Images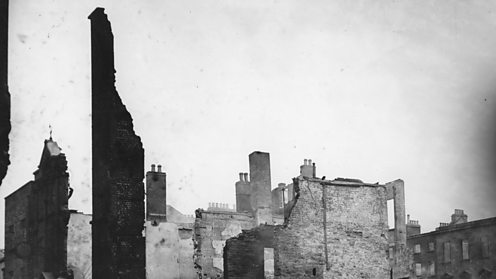 The rebellion is over and Mrs Sankey ventures across Dublin for the first time since the Rising began.
She is shocked by the devastation wrought on the city after the week's events: "In the afternoon we went as far as O'Connell Bridge and saw some of the Sackville St devastation. It reminds me of the pictures of Ypres and other places. Nothing but skeletons remain, where fine houses and shops formerly stood."
Rare Easter Rising photos show Dublin in rubble
PH Pearse, T MacDonagh and TJ Clarke were tried by court martial, sentenced to death and shot this morning.
After the Easter Rising
In the wake of the Rising
Mercier Press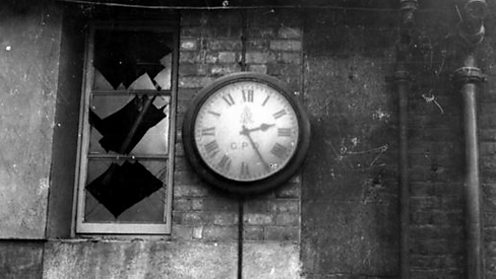 Life went on for these two women, who saw the events of the Easter Rising from alternative perspectives.
Upon her discharge from hospital, Margaret Skinnider went home to Scotland. She returned to Ireland to train volunteers in the irish War of Independence and was jailed during the Irish Civil War before becoming a teacher. Mrs Sankey's diary ended on Thursday, 11 May 1916 as her life began to return to normal. The restoration of Dublin from the physical devastation that so distressed her took many years, with some scars from the battles of the Easter Rising still visible today.
Witness: Irish War of Independence