How did Banksy become the world's most famous vandal?

ConsultantDr Luke DickensOpen University
The writing on the wall
Banksy is the most well known graffiti artist in the world, even though he has never revealed his true identity. Quirky and political, his work has satirised oppression in Palestine, hypocrisy in politics and capitalist greed in London.
His spray-painted images are illegal but still create newspaper headlines and sell for six figure sums in galleries around the world. How has the world's most famous vandal become the darling of the art scene?
1992
Spray can art in Bristol
Luke Dickens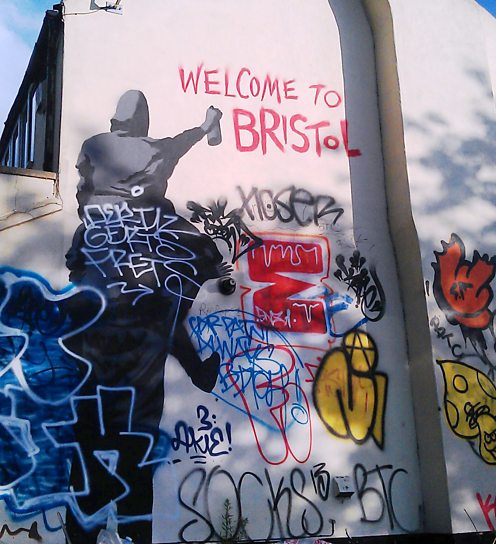 As a teenager he began doing graffiti in his home town, Bristol, as part of the DryBreadZ Crew. He adopted the name 'Banksy' to protect his identity.
Choosing a tag or graffiti name was common in this subculture to brand work and to avoid arrest. This is the name that he has stuck with since. The Bristol street artists adopted graffiti-style pseudonyms and painted in collaborative groups or 'crews'. His earliest influence was musician and graffiti writer 3D, one of the pioneers who brought free-hand, spraycan-style graffiti writing to the UK from the New York subways.
Bristol Street Art: Gallery of graffiti and street art
The graffiti of the New York subway
Guardian: 1980s New York graffiti picture gallery
Mid 1990s
Early influences: The role of the Rat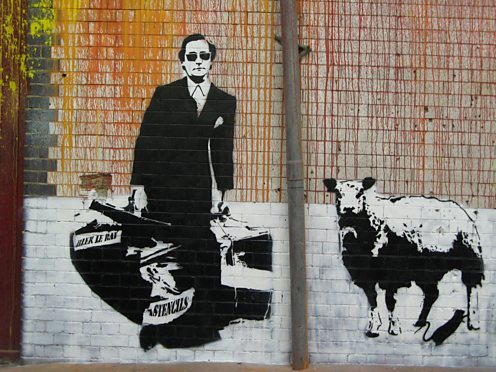 His style developed through the influence of a French graffiti artist Blek le Rat – particularly his visual style and political messaging.
Rather than using a free-hand painting style like most graffiti writers, Blek used stencils to create images. Banksy adopted this technique for practical reasons: "I was quite crap with a spray can, so I started cutting out stencils instead." Blek influenced Banksy and inspired him to develop the anti-establishment views he grew up with in Bristol. Armed with a new visual style, Banksy pursued more political targets with his work.
The art of Blek le Rat in London
Independent: The street art of Blek le Rat
If you are dirty, insignificant and unloved then rats are the ultimate role model.
Late 1990s
Stencil work in Bristol
Getty images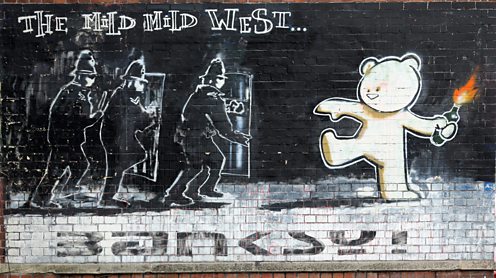 This new stencil based style began appearing in his home city of Bristol. His political views also came to the fore.
Witty and subversive, these new Banksy works targeted political hypocrisy and social injustice. In a 2001 Herald Scotland interview he summed it up: "There is a side of my work that wants to crush the whole system, leaving a trail of the blue and lifeless corpses of judges and coppers in my wake, dragging the city to its knees as it screams my name. Then there is the other darker side."
Guardian: Early Bristol Banksy work rediscovered
2001
New friends in London
Luke Dickens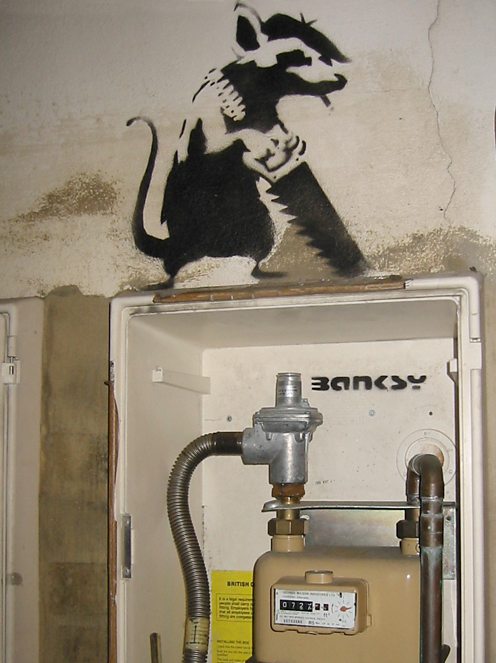 Moving to London, Banksy became involved with a new circle of friends and collaborators who helped increase his public image and recognition.
His stencils of rats and chimps appeared around the city, gaining the attention of the national mainstream press. He entered a close working relationship with the photographer Steve Lazarides who became his agent and publicist. The pair self-published a series of books – Brandalism, Existencilism and Cut Out and Collect – that captured and popularised Banksy's work and raised his media profile.
Saatchi Gallery: Finding Banksy art in London
Art of the State's Google map: See Banksy art in London
Student Beans: Guide to seeing Banksy art in London
If you want to say something and have people listen then you have to wear a mask.
2001 onwards
Banksy and Brandalism
Press Association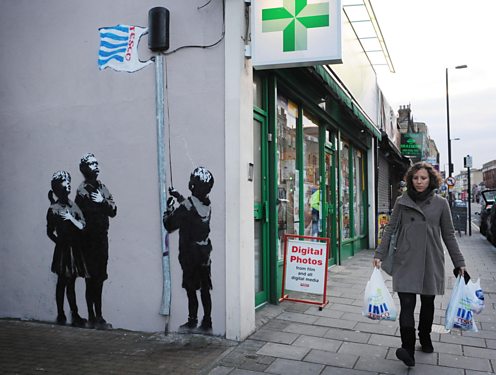 While in London Banksy honed his political ideas particularly his views on globalisation and corporate greed which became more evident in his work.
At the heart of his newer pieces was the idea of 'Brandalism' – a combination of 'brand' and 'vandalism' borrowed from US punk culture. Copying the techniques and language of advertising through slogans and simple images, Banksy's work appeared in clever public locations and attacked brands from Tesco to Nike. Each new work became a newsworthy event and the myth of Banksy as a masked, anonymous Robin Hood-type character poking fun at the powers-that-be began to emerge.
Independent: Brandalism campaign hijacks UK billboards
Brandalism.org: The advertising take-over project
Early 2000s ongoing
Urban exhibitions
AP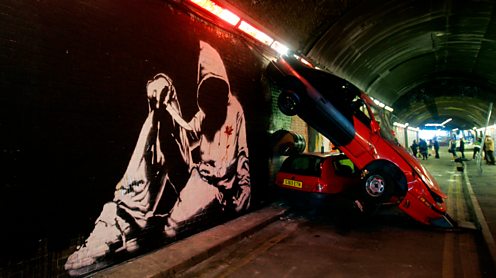 By now the biggest name of the British graffiti scene, Banksy expanded his sights and targeted the art world as his next venture.
Shunning traditional galleries, Banksy hosted exhibitions of street art in unusual locations such as abandoned tunnels. Harking back to Blek le Rat's attacks graffiti attacks on the Paris art world, Banksy took art out of what he saw as stuffy galleries and into the forgotten, seedy places that the art world ignored. "When you go to an art gallery you are simply a tourist looking at the trophy cabinet of a few millionaires." Banksy wanted art to be available to everyone.
Banksy at the Cans Festival
Glasgow's hidden Banksy art
2005
Brandalism on tour
David Silverman/ Getty Images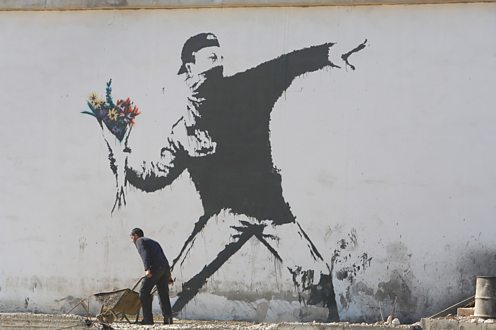 Continuing his use of public spaces to display his work, he choose one of the most controversial walls in the world.
In 2005, to comment on Israeli involvement in Palestine, Banksy travelled to the Middle East and targeted the West Bank wall. His satirical stencils criticised Israeli militarism and oppression. The works provoked fierce debate in the media over whether a wall judged to be "illegal" by the International Court of Justice could in fact be vandalised. Banksy described the wall as "the ultimate activity holiday destination for graffiti writers".
Banksy graffiti on the Palestinian West Bank wall
Guardian: Gallery of Bansky's West Bank art
There's nothing more dangerous than someone who wants to make the world a better place.
2006
Big business and celebrity buyers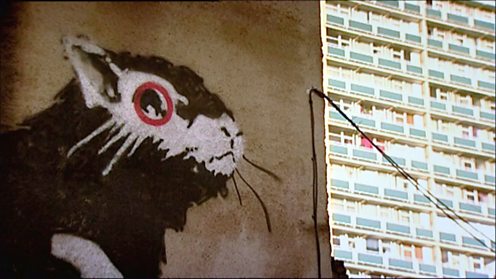 You need to have JavaScript enabled to view this clip.
By the mid 2000s, Banksy was becoming a celebrity and his work was selling for huge amounts of money.
By 2008, despite the global financial crash, a Banksy 'vandalised' version of a Damien Hirst painting sold for over $1.8m. High profile art collectors and celebrities spend thousands to own a Banksy. Among the rich and famous, designer Paul Smith, Brad Pitt and Angelina Jolie are known to be Banksy collectors. After claims that his success meant that he had sold out, Banksy said: "I love the way capitalism finds a place – even for its enemies. It's boom time in the discontent industry."
Metro News: Brad Pitt owns a rare commissioned Banksy
December 2009
Art versus graffiti: The King Robbo war
Bottom image: Getty Images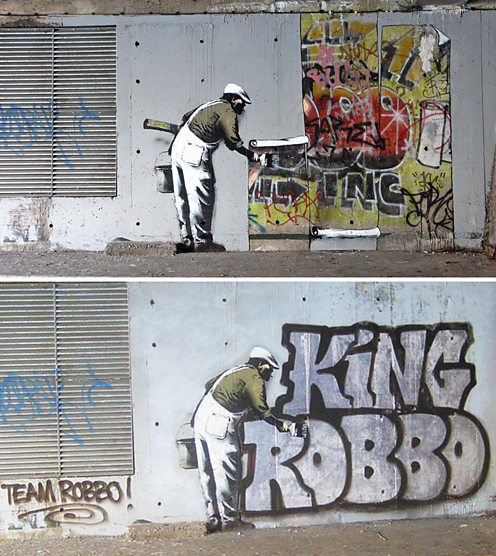 However, not everyone was happy with Banksy's popularity when he became involved in a public row with another graffiti writer called King Robbo.
As the feud developed, Banksy painted over work by King Robbo, one of London's earliest graffiti writers. Painting over the work of a fellow graffiti writer was seen as unforgivable and Robbo's crew responded by defacing the new Banksy. A tit-for-tat war ensued – even continuing after Robbo's untimely death - as his crew continued to target Banksy works across the capital. Robbo's largely urban, underground, working class team saw Banksy as a mainstream, middle class imposter.
Independent: King Robbo's rivalry with Banksy
Veteran graffiti artist King Robbo dies aged just 45
Team Robbo official website
Graffiti is one of the few tools you have if you have almost nothing.
April 2014
Who actually owns a Banksy?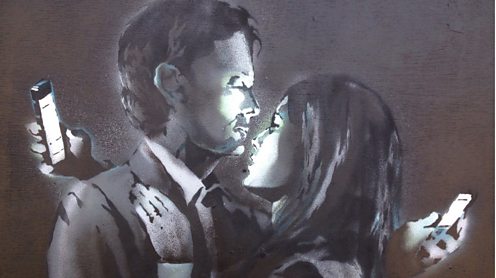 Banksy's work was now so popular that councils began to see them not as annoying vandalism but as a money spinning opportunity.
A Banksy called Mobile Lovers appeared on the door of a cash-strapped Bristol boys' club. A row broke out when the council claimed ownership. Banksy intervened when he wrote to the club to support their claim and the club later sold the door for £400,000 which saved it from closure. Bansky's art can now cause tension when it appears in communities as locals see them as gifts to their area – if anyone should profit from selling a Banksy it should be them.
The One Show: Should you sell a piece of graffiti?
July 2014
Vandalising Banksy
Getty Images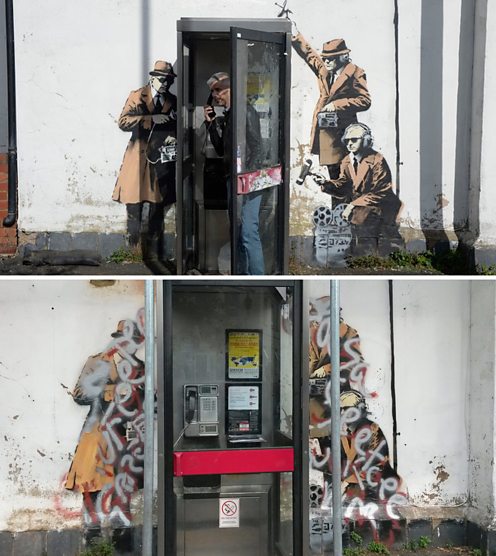 Banksy's works, such as the surveillance spoof Spy Booth, are now being targeted by a new generation of rival graffiti artists.
He has become a brand in himself and for some younger graffiti writers Banksy is fair game. The mischievous, anonymous outsider taking shots at the establishment is now a part of Britain's art scene. Councils are quick to restore and protect works that previously they would have scrubbed away as vandalism. He has kept his identity secret for years and built a cult around his name. He still manages to walk the tightrope between maverick and mainstream but how long can he maintain that position?
Banksy's GCHQ Spy Booth defaced
Banksy's Folkstone Art Buff vandalised
Banksy's Girl With a Pierced Eardrum attacked
A wall is a very big weapon. It's one of the nastiest things you can hit someone with.