From retro restaurants in the boho-cool Kazimierz quarter to fine dining at a woodland manor house, the Polish city is finally ready to be feted for its food.
K
Krakow's culinary scene has come a long way from the stodge-filled, carb-laden grub of a Poland emerging from the shackles of communism. In the last few years the southern Polish city has placed itself on the gastronomic map, ushering in a new breed of restaurants that play up creativity, seasonal flavours and quality ingredients. From retro restaurants with junk-shop charm in the boho-cool Kazimierz quarter to fine dining and vodka tasting at a woodland manor house – Krakow is finally ready to be feted for its food.
Eating in the Old Town
Observing the crowds milling around the arcades and the Gothic St Mary's Church, you would be forgiven for thinking that Rynek Główny, Europe's largest medieval square, is a culinary tourist trap. Yet overlooking all the action is Wesele, a wonderfully cosy, country-cottage style restaurant. It dishes up authentic Polish cuisine with an international twist, along the lines of beef stroganoff with chanterelle mushrooms served in a hollowed-out loaf of sourdough bread, and saddle of roe deer marinated in red wine and served with blueberry jelly.

Also in the Unesco World Heritage-listed historic centre is old-school Kogel Mogel, where a red velvet curtain swings open to reveal intimate, wood-panelled dining rooms lit with candles and strung with heart-shaped wreaths. The menu is a tongue-in-cheek ode to the communist era, with dishes such as "Revolutionary Herring" with tart apple and pickles and "Red Soldat" rabbit in a creamy dill sauce. A "Tractor Girl" pavlova with hot cherries and kogel mogel (Polish eggnog) end a hearty meal nicely.

A breath of fresh air on Krakow's nascent fine dining scene is Ancora, a vision of crisp, pared-down sophistication that opened in 2007. Celebrity chef Adam Chrząstowski prepares fusion cuisine that sings of the seasons with a razor-sharp eye for detail. Starters such as herring marinated in boletus mushrooms served with rye pancake and apple salad are followed, for instance, by a palate-awakening cucumber sorbet spiked with bison grass vodka and mains including slow-cooked lamb saddle with Provençal herbs and buckwheat.
There has been much talk of late about Gessler we Francuskim, too, run by TV chef Adam Gessler since 2011, where bare plaster walls give an urban edge to an otherwise grand, high-ceilinged setting, with dark wood wainscotting, crisp white linen tablecloths and brass light fittings. White-jacketed waiters serve well-executed Polish classics such as wild boar pate and pork knuckles with cabbage to the table, and the three-course express lunch is a snip at 20 Polish zloty.
On the southern fringes of the Old Town, close to the hilltop Wawel Castle complex which dates to the mid- 11th Century but was rebuilt in Renaissance times, is homely, family-run Pod Baranem. Here, locals gather below wooden beams and lanterns to devour Polish food that makes the most of seasonal produce; try the roast venison with porcini mushrooms and moist piernik (gingerbread) served with cherry vodka.

One of the first phrases visitors to this hospitable city learn is na zdorowie (cheers), and no evening is complete without a vodka nightcap. The vaulted Wodka Cafe Bar, just east of Rynek Główny, stocks 100 different varieties including hazelnut, quince, pear, peach, mint and grapefruit flavours alongside traditional favourite Żubrówka  bison grass vodka, which is a dry, herb-flavoured vodka distilled from rye.
Just desserts
Krakow is rightfully dubbed a ciasto miasto (cake city). One of the finest places to indulge your sweet tooth is in the bohemian surrounds of Jama Michalika in Krakow's Old Town, where curved lines, polished wood, stained glass and oil paintings take you back to the glamorous Art Nouveau age. Soft lighting creates an inviting glow in this coffee house, which opened its doors in 1905 and was once home to the Zielony Balonik (the Green Balloon), a literary cabaret founded by Krakow poets, writers and artists who performed regularly until 1912. Today locals and visitors pour in for coffee with whipped cream and a piece of decadent hazelnut tart, chocolate cake or cheesecake – all served with a dollop of nostalgia.
In contrast to such old-world grandeur is the contemporary Cupcake Corner, 650m south of Jama Michalike. Bringing a slice of the US to Poland, it cafe serves freshly baked cupcakes in flavours like vanilla latte, blueberry cream, and caramel apple with fair-trade coffee.
And just 100m west of Rynek Główny is the Cracow Handmade Chocolate Factory, a Wonka-like wonderland of chocolate figurines and handmade truffles and pralines in flavours including chilli, marzipan, cinnamon and raspberry. Galicia, a historical region that now encompasses southeastern Poland and western Ukraine, was famous for its chocolate in the 19th Century and used to export it to the European aristocracy. This chocolate-making factory and showroom revives that tradition, making and decorating chocolates by hand. Open-fronted showrooms give visitors a glimpse at the chocolate-making process, or for total immersion call ahead (519-634-600) to join the hands-on, hour-long workshops and take home the fruits of your labour. No visit is complete without a cup of thick, cinnamon-laced hot chocolate and a slice of rich chocolate cake in the second-floor cafe.
Jewish flavour in Kazimierz
As neighbourhoods go, the old Jewish quarter of Kazimierz just south of the Old Town on the banks of the Vistula River is a real survivor. Having witnessed the worst atrocities of humanity in World War II and been left to rack and ruin in communist times, it has been reborn in the past few years as Krakow's arty enclave and happening nightlife district. Here cobbled alleys lead to synagogues, bohemian cafes and restaurants with live klezmer (Jewish folk music). Behind peeling façades hide antique-crammed, candlelit bars such as Alchemia, with regular DJ nights and upbeat gigs by Polish, Israeli and Ukrainian bands.
At the heart of Kazimierz is Plac Nowy, a square lined with market stalls, cafes and hole-in-the-wall food stands, where locals snack on Krakow's best zapiekanka, toasted half baguettes topped with cheese, mushrooms and sometimes ham and onions. As Krakow's tastes evolve to embrace world flavours, Kazimierz has seen a flurry of international gourmet snack shops pop up over the past couple of years.  A 400m stroll east of Plac Nowy is Bagelmama, rolling out bagels baked to soft, doughy perfection, with toppings ranging from hummus to mozzarella-pepperoni. Sci-fi graffiti murals deck the white walls of nearby Love Krove (ul Brzozowa 17; 793-793-212), a hip joint rustling up juicy gourmet burgers with toppings like camembert, cranberry sauce and baby spinach.
Retro rustic is currently bang on trend in Kazimierz, with folksy restaurants attracting a cool new following. Four tiny shops were combined into one to create the knickknack-crammed Dawno Temu Na Kazimierzu, brimming with mannequins, brass chandeliers, rocking horses and tables fashioned out of sewing machines and workbenches. Here flickering candles and often live klezmer set the scene for solid home cooking such as garlicky borscht (beetroot and onion soup), pierogi (filled dumplings fried in butter) and honey-roasted lamb. At folk-meets-funky Bombonierka, muted colours contrast with lacy lampshades and bold prints of traditional Polish dancers. Specialities like duck stuffed with apple and pork with pickled cabbage are substantial and big on flavour.
Lord of the manor
The perfect coda to a foodie trip to Krakow is a detour to the serene wooded hills around the town of Dobczyce, 25km south of Krakow, where Neoclassical Dwór Sieraków stands on a rise in splendid isolation. Once a sanatorium, this grand mid-19th-century manor was restored to its former glory in 2012 and is now a charmingly low-key boutique hotel and restaurant.
The restaurant serves modern Polish cuisine in discreetly elegant surrounds, placing the accent on locally sourced, seasonal ingredients that have real depth and breadth of flavour, from game in winter to wild mushrooms and goose in autumn and asparagus in spring. These are perfectly matched by wines from the cellar, including such rarities as sweet, topaz-hued Tokaji Aszú vintages from Hungary. Vodka and wine tastings, led by journalists from Polish wine and spirits magazine Czas Wina, can be arranged by calling ahead (123-122-423).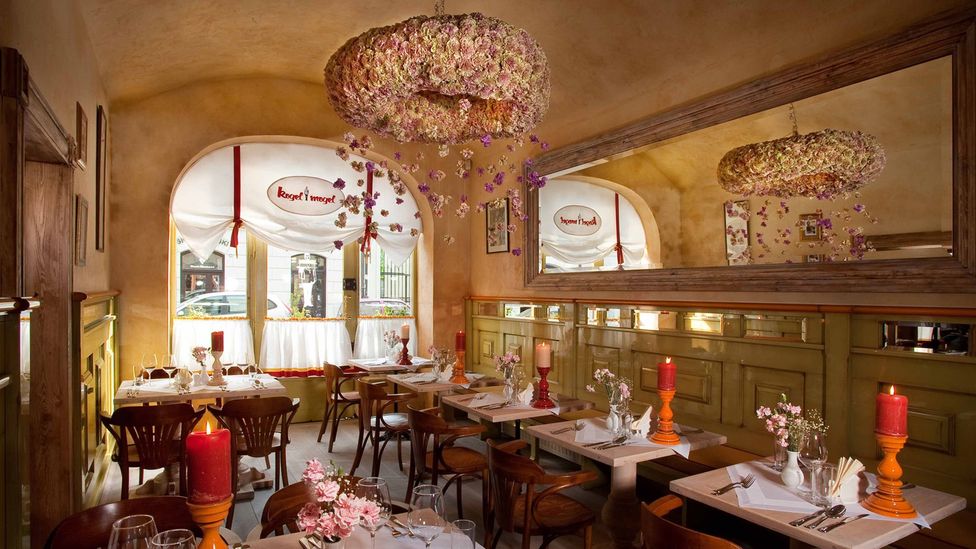 Kogel Mogel Krakow Poland
At this old school restaurant, the menu is a tongue-in-cheek ode to the communist era.
Rynek Główny Krakow Poland
Europe's largest medieval square. (Guy Vanderelst/Getty)