Although often associated with the seaside, the first chippie opened its doors in London, where the working class propelled the iconic dish into popular culinary culture.
W
Walk London's cobblestoned streets, cross centuries-old bridges and amble through celebrated covered markets – before the morning drizzle has given way to afternoon sun, history will have unfolded before you. More than just postcard images, the city's smoking chimney stacks, ubiquitous black cabs and red double-decker buses all have long and tangled stories that are deeply embedded in London's traditions. So too do fish and chips.
Former British prime minister Winston Churchill famously called fish and chips "the good companions". A 2010 celebration of the iconic dish by the Independent newspaper revealed the dish to be more iconic to England than the Queen or The Beatles. And the takeaway food has even been credited with promoting industrialisation and staving off revolution. To dig into fish and chips is much more than ticking off a list of things one must do in London; it is to engage in a national treasure.
More than 229 million portions of white fish fillets are sold each year in England, each one coated in a light batter and deep-fried, and served alongside fat fried slices of potatoes. For many English people, fish and chips are best served wrapped in newspaper and devoured with a combination of a two-pronged wooden fork and greasy fingers, preferably seaside. But most historians agree that it was in London, not on the coast, where the first fish and chips shop (called a chippie) opened its doors. It was here too that the city's working class propelled the dish into popular culinary culture. And it is in London that one of the oldest surviving chippies still stands today.
Smack in the heart of London's bustling Covent Garden is Rock and Sole Plaice. Dating from 1871, this popular spot lays claim to being London's oldest chippie still in operation. The flavourful batter on its fish is nicely crisped, its hand-cut chips are tasty and thick, and for historical value alone, it is worth a visit. But it is further east where fried fish first met the chip. 
In London's East End, somewhere between today's Bethnal Green and Bow neighbourhoods, the first chippie was born. Credit is given to young Joseph Malin, who hailed from a family of rug weavers and began frying chips in the family home to help supplement their income. Genius struck when the 13-year-old married said chips with fish from a nearby fried fish shop, which he likely sold from a tray hung around his neck before opening his own shop around 1860. For more than one hundred years, the Malin family ran that pioneering chippie until closing its doors in the early 1970s.
But Malin's pioneer status is often debated, and Lancashire, a county 500km north of London, tells a different story. Lancastrians argue that a local entrepreneur, John Lees, was the first to sell fish and chips likely around 1863 – out of a wooden hut at a market in Mossley, a small town in present-day greater Manchester.
"We don't really know who was first. Several places popped up around 1860 and nobody knew at the time that something important was beginning," said Professor John K Walton, author of Fish and Chips and the British Working Class, 1870-1940.  
Wherever fish and chips were serendipitously coupled, both pre-date Lees and Malin. It was in the 16th Century that Jewish refugees fleeing persecution in Portugal and Spain landed in London, bringing with them a taste for fried fish. Former US president, Thomas Jefferson wrote about eating "fried fish in the Jewish fashion" after a visit to the English capital in the end of the 18th Century. And in 1837, Charles Dickens, in his London-based novel Oliver Twist, refers to a "fried fish warehouse", the forerunner to the modern chippie where bread or baked potatoes were served alongside the fish.
Turning to the origin of chips, historians credit Belgian housewives in the 1680s with this culinary invention. When the Meuse River froze during winter, resourceful women fried potatoes in place of scarcely available fish. By the 1830s, the imported staple of fried potatoes was implanted firmly among London's poor. Cut to 1860 and England's first chip shop opened on the present day site of Tommyfield Market in the town of Oldham, 350km north of London. 
During the 1870s, Industrial Revolution inventions helped to spur the growth of the fish and chips trade, particularly in London. The development of steam-trawling boats meant abundant supplies of white fish from the North Sea were readily available in unprecedented quantities. This, plus new ice machines that kept the catch cold and the development of railway tracks connecting major cities and ports, made fish more accessible and affordable than ever before. Soon, fish and chips shops began popping up around London, providing cheap and nourishing meals to the city's factory and mill workers. By 1910, there were around 25,000 chippies in the UK and more than 35,000 at its peak in 1927, compared to just 10,500 today.
So engrained in English culinary culture are fish and chips that they were one of the few foods never rationed during World War II. The government believed that safeguarding this comfort meal during a time of distress was key to keeping morale up.
Today, fish and chips remain a staple in the modern English diet. From that first fish and chips combo sold by Malin in the 19th Century (or Lees, depending on which story you believe) to present-day London with its more than 380 chippies, the city is continuously updating and revisiting the cherished classic.
Modern favourites
Head to Kerbisher & Malt, a retro-chic fish and chips shop in Hammersmith, to find modernity married with traditional. Trendy metal seating, whitewashed walls and long, blond wood tables give a clean, stylish vibe to this updated chippie. Cooked to order white fish – cod, haddock or pollock – is cocooned in an airy, light batter, puffed up to a crisp perfection. The moment of the fork cracking through the shiny crust is akin to breaking the top of a gleaming crème brulee. Double-fried, hand-cut chips are dunked into homemade sauces, such as lemon mayonnaise and curry, and everything is local, seasonal and sustainable. Of course, if you would rather accompany your fish with the requisite brown malt vinegar or pickled onions, those are on offer and house made too.
For another modern-day spin on the traditional favourite, stop into the Golden Union in Soho. Between the copper hanging lamps and white subway-tiled walls, Norwegian cod and haddock – all sustainably sourced – are battered in a beer-and-flour mixture and cooked to order. So too are Golden Union's chips, which sit nicely next to their homemade mushy peas and secret recipe tartar sauce. Vegetarian? Opt for their deep-fried cheese in place of fish.
Continuing with the retro charm thanks to an owner who has been dipping fish into fryers since 1945 is Poppie's of Spitalfields. This East End fish shop dishes out haddock, plaice and rock eel, among other white fish, in a restaurant with Formica tables and a 1950s jukebox. Owner Pat "Pops" Newland has been frying fish his whole life and it shows. In January 2013, Poppie's was one of two finalists in the National Fish and Chip Award for the best independent fish and chip restaurant of the year, bested by Rockfish Seafood and Chips in England's southwestern county of Devon. The retro theme borders on kitsch, but when the fish is splashed with vinegar, sprinkled with salt and served in a traditional twist of newspaper (well, a photocopy at least), the experience becomes pilgrimage-worthy.
For something that predates the 21st Century, visit Fryer's Delight in London's Holborn neighbourhood, which has been operating out of a no-fills space for the past 40 years. Drawn in by easy-to-digest prices and a traditional take on fish and chips, cabbies are known to queue up here for thick slices of fresh cod, fried skin-on in beef fat. The Italian-run shop has an old school look, but this time the monochrome-tiled floor and Formica tables are genuinely vintage.
Chasing down the best fish and chips in London is definitely a subjective affair. Many swear that Olley's in the Herne Hill neighbourhood is in fact the city's best. A dozen types of fish are on offer served alongside fat chips that together have been snagging awards, topping "best in London" lists and winning loyal fans for two decades. For an old fashioned formal institution, head to Sweetings Restaurant, opened in 1889 in the City district. Share communal tables with sharply dressed businessmen who order up a host of sustainably sourced fish dishes and deep-fried fish fillets. If it is Cornish brill or local halibut you are after, this is your spot.
For real fish and chips devotees, however, nothing beats a day trip to the source of London's freshest fish, sold at Billingsgate Market in the Docklands. Inside the covered market, restaurateurs vie for the UK's largest selection of fish as they have since 1850. Though Billingsgate is open to the public, a tour arranged with the market is a great way to experience Londoners hawking fresh fish in pursuit of the perfect fry.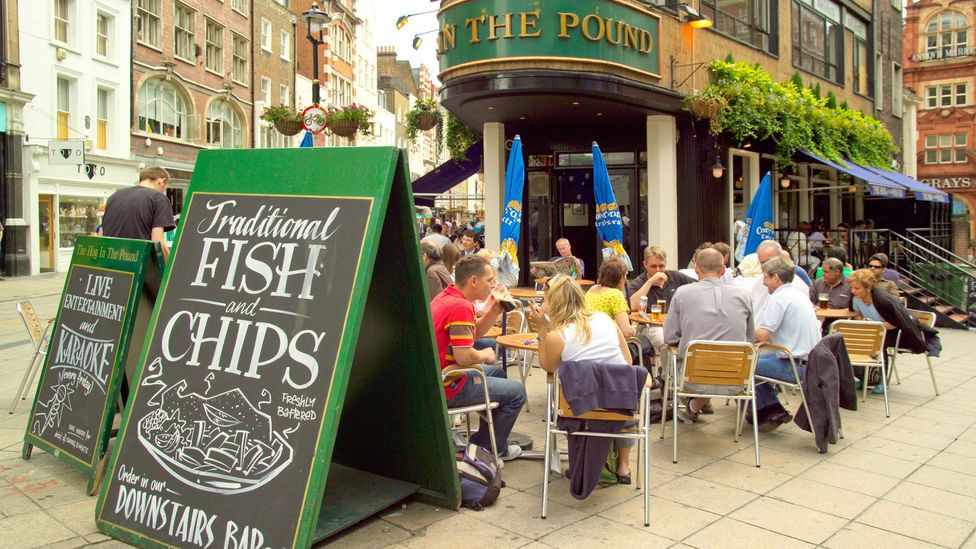 Fish and chips London
Fish and chips are a staple in the modern English diet, sold everywhere from pubs to chippies across London. (Pawel Libera/Getty)