From the capital's cafe-kissed streets to the coast's waterfront restaurants, this emerging nation is developing a culinary scene to match its Mitteleuropa neighbours.
T
The bijou country of Slovenia may not enjoy a prime position on the tourist map, but it has recently started to forge its presence on Europe's culinary map.
Forget any anachronistic images you may harbour of Socialist-era privations. Today Slovenia's food scene is one of the most thrilling in Europe; not surprising when you consider its neighbours are epicurean heavyweights Italy and Austria, as well as Croatia (famous for its grilled seafood) and Hungary (renowned for its paprika laden dishes).
Slovenia may only have become independent from Yugoslavia in 1991, but this small nation of two million inhabitants has been making up for lost time. Setting itself firmly in Mitteleuropa rather than the Balkans, the country has transformed its capital of Ljubljana into a pedestrianised, cafe-kissed oasis, where a collage of refurbished medieval, Baroque and Art Nouveau buildings shine as brightly as the shimmering waters of the Ljubljanica River. And even though the recent Eurozone crisis may have hit Slovenia, it does not seem to have dampened the spirits of Ljubljana's restaurant scene.
Today, the city is awash with eclectic eating venues, ranging from thriving market stalls selling fresh seafood to informal street stands serving the typically Balkan snack burek (a meat or cheese filled pastry) to relaxed cafes offering fresh salads grown in gardens just metres from the old town cobblestones. Then it is on to traditional gostilnas (inns) serving hearty fare such as spicy goulash, and chic fine dining restaurants where the complex dishes use truffles from the country's south and are accompanied by the best of Slovenia's seriously underrated wines.
Chef Janez Bratovž has been at the forefront of both the city's and the country's culinary renaissance. His landmark restaurant JB opened in the city centre in 2001 and is a must visit for travelling gastronomes, ranking 89th on Restaurant Magazine's 2010 edition of the top 100 restaurants in the world. Bratovž has evolved his own style as the local dining scene around him has also transformed. "My cooking is clean and refined Mediterranean with global influences from other places – high French and nostalgic Slovene," he said. "Years ago my restaurant was relatively more elitist for a simple reason – there were few such places. However, my offer at that time would put me among the most common restaurants today."
Along the old town cobblestones in the shadow of Ljubljana's pretty, chocolate box castle, is a newcomer typical of the city's new wave restaurants. Valvas'or has an interior that looks like something from the glossy pages of a fashion magazine – but it is not a case of style over substance, with the likes of homemade žlikrofi (a stuffed pasta from Slovenia's Idrija region) and slow-baked sea bass from Slovenia's coast. Brisk, well-informed staff zip between tables, helping first-time visitors sort out their Jeruzalem-made white wines from their hearty karst teran reds.
Over the last few years, a sweep of hip boutique hotels has opened in Ljubljana, in part to cater to visiting epicureans. Cubo opened in the city centre 2011 and its slick white minimalist interior makes it popular with the local cognoscenti and savvy visitors. The highlight is the multi-course tasting menu at its onsite restaurant, which serves a deliciously modern take on Slovenian cuisine, such as Adriatic sea bream laced with truffles in a spice-rich teran sauce, with local wines to match. Another hot ticket is the Vander Urbani Resort, which opened in 2012 near the banks of the Ljubljanica River. The sharp design lines and bespoke furniture are mirrored in the equally stylish and creative cooking of French head chef Benjamin Launay, with dishes such as steamed trout paired with buckwheat and boletus mushrooms or ravioli filled with beef on a bed of creamed leeks.
Beyond the capital, rugged Alpine mountains rise to the north and west, the Pannonian plains stretch off towards Hungary in the east and the the Adriatic Sea lies to the south. Slovenia has been eulogised as "Europe in Miniature", and thanks to the slick motorway network that was built over the last decade, you can ski the Alps in the morning and swim in the Adriatic that afternoon. You can also dine on Austrian, Italian, Hungarian and Balkan cuisine, all crucial influences in what can loosely be described as Slovenian cuisine.
In the Soča Valley lies perhaps Slovenia's most famous restaurant town, Kobarid – a favourite of Italians who nip across the nearby border to dine here. Around 120km southwest of Ljubljana, this pretty town reclines in a fold of forest-shrouded hills. The pick of its restaurants is Topli Val, where the star attraction is fish, both from the country's compact 47km-long coast and from the bountiful local rivers and lakes. Signature dishes include tagliatelle with Adriatic lobster and škampi buzara (langoustines in a thick tomato broth).
The coast lies around 140km south of Kobarid. The town of Piran is the star, with its vaulting Venetian-era belltower, orange tiled roofs and spectacular setting on a peninsula overlooking the Adriatic. As the sun sets over the flurry of waterfront grill restaurants, locals and a growing number of tourists feast on giant seafood platters and drink malvazija, a wine grown here since pre-Roman times. Traditional trattoria Ivo (Gregorčičeva 31; 386-5673-2233) is the pick of the waterfront bunch, with grilled fresh seafood available for a third of the price in London or Paris.
In Slovenia, it is hard not to think of other places – of other culinary influences – and this is especially true in Piran when you are dining with the lights of the Italian city of Trieste blinking back to the north and Croatia's Istria mirrored just across the water.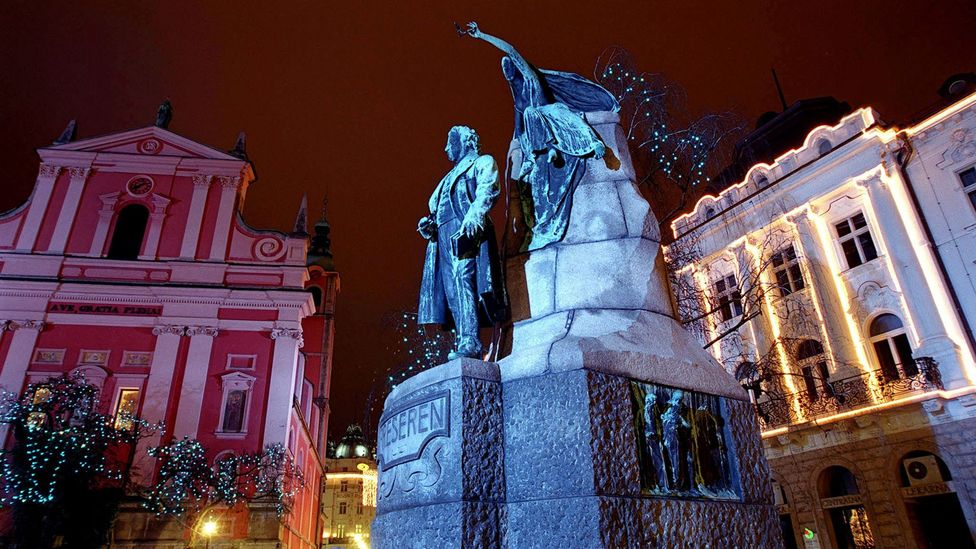 A monument of Slovenia's national hero France Presern in Ljubljana.
A monument of Slovenia's national hero France Presern. (Stringer/AFP/Getty)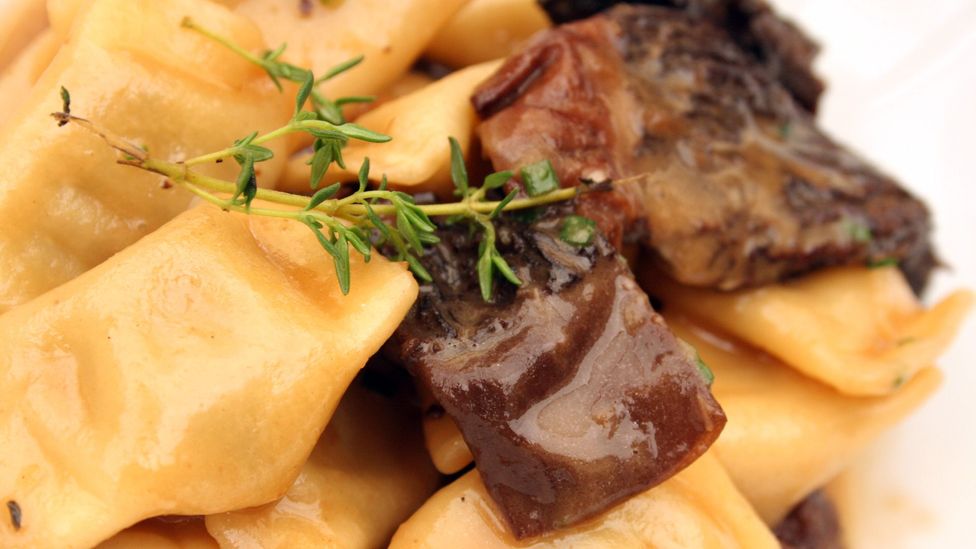 Homemade žlikrofi (a stuffed pasta from Slovenia's Idrija region) at Valvas'or, Slovenia
Homemade žlikrofi (a stuffed pasta from Slovenia's Idrija region) at Valvas'or. (Robin McKelvie)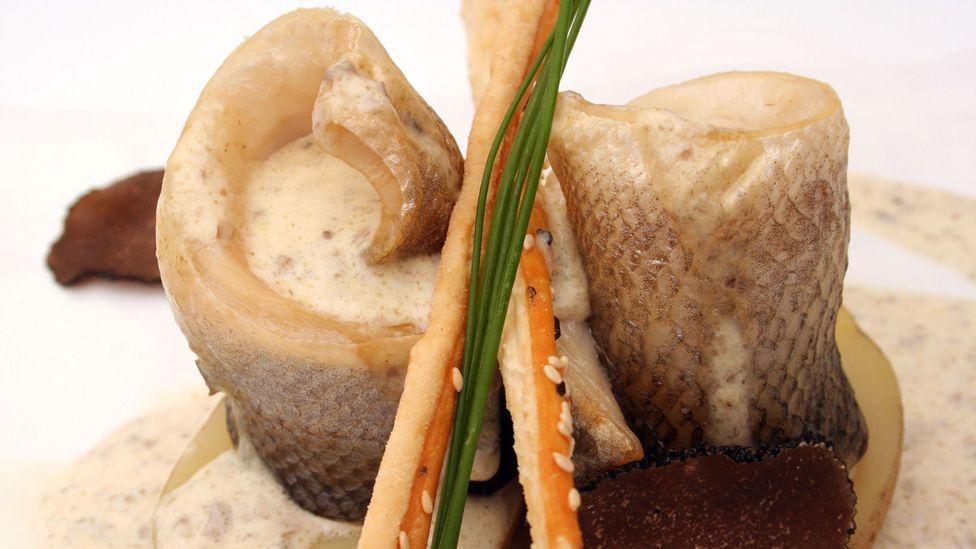 Adriatic sea bass in a black truffle and cream sauce at Valvas'or, Slovenia
Adriatic sea bass in a black truffle and cream sauce at Valvas'or. (Robin McKelvie)