The 4,000-year old port is experiencing a cultural regeneration, but as the bohemians, boutiques and bistros move in, the secular city is striving to preserve its down-to-earth charm.
A
At sunrise in Jaffa, the familiar skyline dotted with mosques, churches and palm trees has a new background of towering cranes. As the Mediterranean metropolis of Tel Aviv spreads south, high-rise buildings are being built in Jaffa to cope with the overflow.
It was not always this way. Just more than a century ago, Tel Aviv was nothing but sand dunes, while Jaffa has been a major port city for around 4,000 years. Once considered a little "Jerusalem by the Sea", modern Jaffa is being transformed into a hip hive of art galleries, theatres and restaurants. But as the bohemians, boutiques and bistros move in, you can still find small hummus restaurants, fresh fish stalls, family-run bakeries and an old flea market selling inexpensive antiques, Persian rugs and shisha pipes. Like Jerusalem, Jaffa is a place where Arab, Jewish and Christian cultures genuinely intertwine, but here diversity unites rather than divides.
Four thousand years earlier
Jaffa, called "Joppa" in the Bible, is said to be founded by Japheth, the son of Noah, and came to prominence during the reign of the Israelite King Solomon around 950BC. An attractive port for trade, Jaffa was conquered many times, including by the Assyrians (701BC), the Persians (586BC), the Hellenistic Empire (382BC) and the Romans (around 30BC), who eventually destroyed most of the city. Much of what remains today dates from the later Byzantine, Arab and Crusader eras, though the underground Old Jaffa Visitors' Centre displays some excavated remains from Hellenistic and Roman times.

An important site for early Christianity, the rooftop of the House of Simon the Tanner (currently closed for renovations is said to be where St Peter had his dream to convert gentiles to the new faith. Old Jaffa's most prominent building, St Peter's Monastery, is a stunning Baroque Franciscan church built in the 1890s on the ruins of the Crusader citadel.

The city was part of the Ottoman Empire for more than 400 years, briefly interrupted in 1799 by Napoleon. In 1820 a Jewish khan (guesthouse) was established by an Istanbul rabbi and Jaffa became a gateway for boatloads of Jewish immigrants. The port became famous for its warehouses of Jaffa oranges, grown in what was then Palestine and exported all over the world.
The Arab-Israeli conflict in spring 1948 forced the majority of Jaffa's Arab residents to flee, and during the 1950s Old Jaffa became a retrogressive crime area nicknamed "The Wasteland". Most of the remaining Arabs moved to Ajami, a neighbourhood that was also the setting for the eponymously named 2009 Oscar-nominated film.
"Jaffa was a typical Arab city of 70,000 people with dancing halls, radio stations and theatres until 1948," said Igal Ezraty, co-founder of the Arab-Hebrew Theatre of Jaffa. "Afterwards only 5,000 people were left and it took 50 years to recover from this trauma. For 50 years there was no theatre or culture in Jaffa."

Cultural revival
Today Jaffa has a population of 46,000, of which 16,000 are Arab. "It really is a mixed city," Ezraty said. Producing plays in both Hebrew and Arabic, the theatre also hosts evenings of Palestinian music and poetry as well as an annual Women's Festival and a Children's Festival, where children of all faiths  perform together.

"Someone once called [this theatre] 'an island of sanity' because it is a democratic secular place, where Jews and Arabs work together," Ezraty said. "It is really a model for Jaffa and all of Israel."

The unique theatre was tested during the Second Intifada (Palestinian Uprising in 2000s), when tensions between the two communities rose. "There were many demonstrations in Jaffa and Israelis would not come to eat hummus here because the Arabs were throwing stones," Ezraty explained. "So we put a big sign in Jaffa calling for public talks. One evening everybody came and shared their views, and since then we have hosted an open mic night every Friday."

But much has changed in the last decade. "Ten years ago in the Second Intifada, Jaffa was not a comfortable destination for many people," said Inbal Baum, founder of the Delicious Israel culinary walking tours. "But as the security situation improved and with the excessive Tel Aviv real estate prices, many people returned to Jaffa."

The gentrification trend looks set to continue with a number of boutique hotels scheduled to open over the next few years, including one by architect Ramy Gill in the renovated Old French Hospital. For those needing a room right now, the Old Jaffa Hostel, set in an old Turkish home and decorated with historic Arabic furniture, is an excellent choice.
Diverse dining
Despite the developments (some of the older merchants are leaving because they cannot afford the rising cost of rent), travellers can still find affordable eats in Jaffa. One such place is Ali Caravan, otherwise known as Abu Hassan, a kind of mecca that is considered to serve the best hummus in Israel. Said Abu Elafia and Sons, Jaffa's first bakery established in 1880, sells sambusas (filled pastries) and bourekas (stuffed breads with sheep's cheese).

Being an ancient fishing port, it is no surprise that there are a variety of seafood restaurants to choose from, with The Old Man and the Sea being the godfather of them all offering only the finest fresh fish.  . Overlooking the seafront, the menu includes a range of fish, calamari and shrimp dishes, plus dozens of small complimentary salads.
"One of my favourites is Kalamata in Kedumim Square, a romantic Mediterranean restaurant with views on one side to the sea and on the other to the centre of Old Jaffa," Baum said. "But today, in Jaffa we can find the best of everything including delicious bakeries, ice cream parlours, fresh juice stands and fine dining restaurants."

One top-end option is Cordelia, a critically acclaimed French restaurant by renowned Israeli chef Nir Zook. Located on a flea market side street is the cheaper but just as atmospheric Puaa – part retro-style cafe and part antique gallery. Aside from the delicious soups, salads and chicken dishes, the furniture, paintings and crockery are all up for sale.

In the last few years, Jaffa's Old Port has seen a remarkable makeover. The seafront has a new 7km cycle path connecting it to Tel Aviv, and the area has become a popular nightspot. "The warehouses that used to house Jaffa oranges have been converted into galleries and hip restaurants," Baum said. "Many political artistic statements can be seen on the outer walls, particularly between Hangars 2 and 3". The Jaffa Salon gallery exhibits more than 200 works of Palestinian art and St-Art supports young Israeli artists.

A popular hangout, The Container is a hybrid art space, fish restaurant and bar set in a renovated shipping hangar that opened in 2008. It houses a different art exhibition every three weeks and hosts local DJs and live bands. "When we came here there was nothing at the port except for the old fishermen restaurants," said Noa Oron, the venue's events manager. "[Now] we have a diverse range of artists from blues to Turkish arabesque, gypsy to classical cello, with an electronic twist."

Indeed, other hangars in the area are being used in creative ways. None more so than the Nalaga'at Centre; home to the world's first deaf-blind theatre ensemble. Nalaga'at, which means "do touch", is a non-profit organisation comprising the onsite theatre, Café Kapish, which employs deaf waiters, and BlackOut, a pitch-black restaurant with a staff of blind waiters. Hangar 2 is the home of the Israeli Choreographers Association, a new dance venue for workshops and recitals.

All over Jaffa, it seems changes are taking place, but some people hope these changes do not happen too quickly.
"We don't want to be like Tel Aviv's port," said Oron, referring to the city's northern, harbour that has become a busy shopping mall. "I hope that Jaffa will remain a place for the fishermen. This is the beauty of Jaffa, to see the fishermen catching their fish, the mixture of Israelis and Arabs, it is something different. There are small theatres and art galleries but it's still Jaffa. It is bohemian but it is down to earth."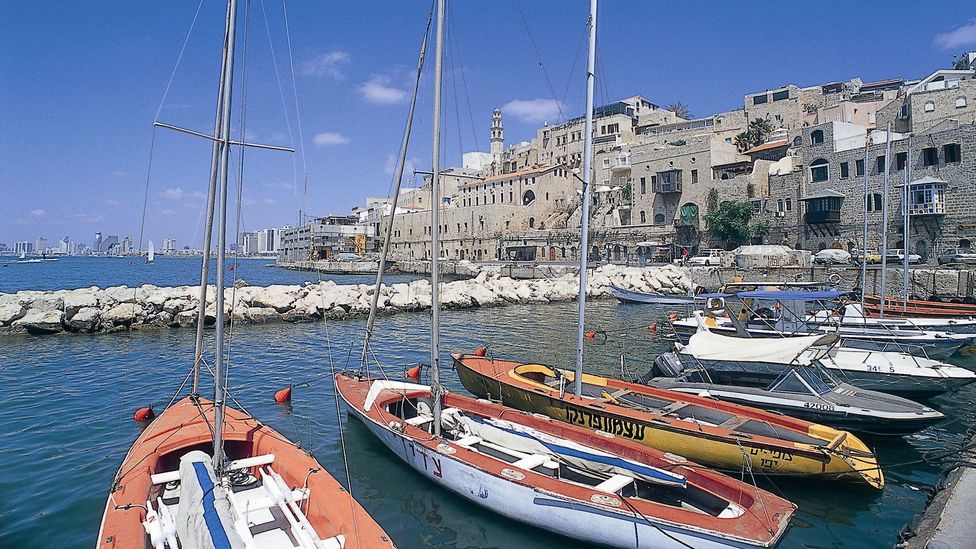 Jaffa Israel
The ancient seaside port of Jaffa is rapidly changing as neighbouring Tel Aviv spreads south. (Courtesy of GoIsrael.com)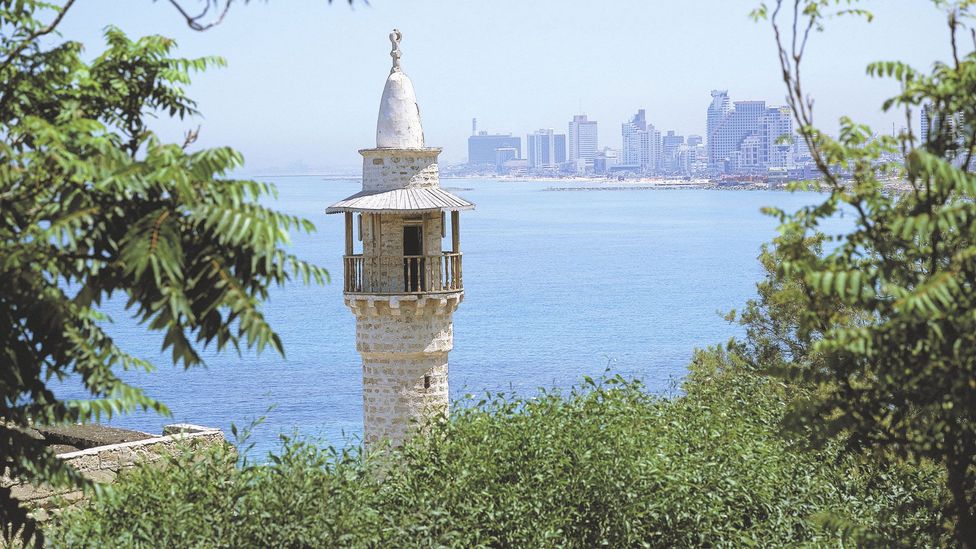 Mahmoudiya Mosque Tel Aviv Jaffa Israel
A minaret from the Mahmoudiya Mosque overlooks Tel Aviv. (courtesy of GoIsrael.com)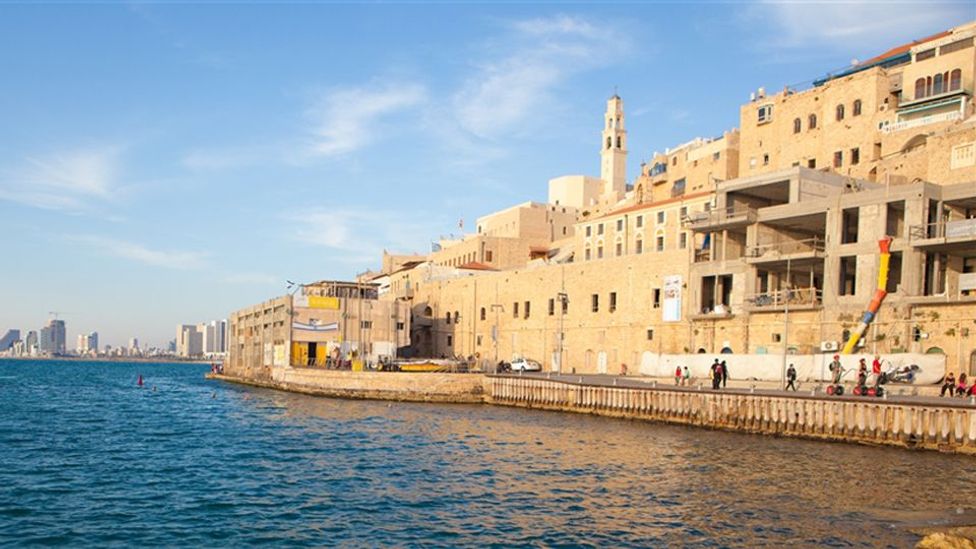 Jaffa's Old Port Israel
Jaffa has been a major port city for around 4,000 years. (Courtesy of GoIsrael.com)