Uncover Maktesh Ramon, a vast lunar landscape hidden in the heart of the Negev desert.
R
Roughly the size of New Jersey and well known for being home to the Dead Sea, Jerusalem and Lake Galilee, tiny Israel has a gigantic secret that many travellers have never heard of. But word is slowly spreading about Maktesh Ramon, a vast lunar landscape hidden in the heart of the Negev desert.
Described by Lonely Planet as "Israel's Grand Canyon", the maktesh is not a canyon, but a unique geological phenomenon. There are only seven makteshim in the world – five in Israel and two in Egypt's Sinai desert – and Maktesh Ramon is by far the biggest.
"The word comes from the Hebrew for 'crater', but a maktesh is not created by a meteorite that crashed into our atmosphere," said Itay Naveh, manager of the Mitzpe Ramon Visitors Centre. "Maktesh Ramon was created by the erosion of a mountain that rose above sea level. Millions of years ago, the limestone top of the mountain broke and the inside of it was drained out by the river. So, it's more like a giant funnel, not really a canyon."
 
Indeed, a more accurate definition of a maktesh is an "erosion cirque", providing a peek into the earth's crust and detailing millions of years of evolution. The ancient rivers of Ramon and Ardon that once ran through it have long since dried up, leaving a giant bowl that is 300m deep, 8km wide and 40km long, featuring multi-coloured sandstone, volcanic rock and fossils.

Life on Mars
Unbelievably remote, the town of Mitzpe Ramon has grown on the edge of the crater. Founded as a workers camp in 1951, Mitzpe (Hebrew for watchtower), was an isolated community of mostly Romanian and North African Jewish immigrants who came to build roads. But in recent years it has become a hub for urbanites from Tel Aviv and desert travellers who prefer to take the scenic route south to the Red Sea and the resort town of Eilat.

With tourism being a key part of the town's economic future, the Mitzpe Ramon Visitors Centre reopened in February 2013 after more than two years of renovations. There are detailed maps of area hiking trails and a museum with a 3D model of the maktesh, plus exhibitions and films on the local geology.

The centre also has a new section dedicated to the life of Ilan Ramon, the first Israeli astronaut, who tragically died in a fatal NASA mission in 2003. Born Ilan Wolferman, he changed his surname to Ramon as he loved the Maktesh Ramon region. This area of the desert, part of the Negev Highlands, is also pitch black at night, making for a wonderful place to observe the stars and a fitting memorial site for an astronaut.
Living on the edge
In recent years, the Ramon region, resembling the fictional Star Wars planet of Tatooine, has become an adventure tourism hotspot. Local companies such as Guide Horizon run Jeep and desert buggy tours circling the rim of the crater, complete with meals and lodge-style accommodation. Those that prefer two wheels can travel with iBike, which offers equipment hire and cycling tours for all levels. Bike around the edge or cycle into the crater on Route 40, passing the Carpentry, a unique rock formation that resembles wood.
Sporty travellers can also head to the Silent Arrow desert camp, 2.5km west of town, for a game of Desert Archery. It is similar to golf but instead of a club you have a bow and arrow and instead of a hole you have to hit balloons dotted around the rocks.

However, for most travellers, the most immersive way to explore the crater is by hiking one of its many trails. One popular trek is the Ein Saharonim Trail, which starts in the middle of the crater, a 20-minute drive south of Mitzpe Ramon at the Be'erot Camp Ground. Run by a local Bedouin tribe, the camp offers large dorm tents as well as fresh mint tea and black coffee for a handful of shekels. The 5km circular trail leads to the 2,000-year-old ruins of the Saharonim Stronghold, an ancient station on the Nabataean Spice Route. The Nabataeans were ancient Arabs who spoke Aramaic, lived in caves and built cities such as Petra in Jordan. At one point, the Spice Route stretched from India to Rome, passing through Saudi Arabia, Sudan, Ethiopia and what was then Judea. Not much remains of the old stronghold, which was an inn for traders, but the views from this elevated position in the middle of the crater are spectacular.
Other maktesh hikes maktesh include a mostly flat 2.5km trek down Nahal Ardon (a desert valley), which also ends with fantastic views, or the more challenging 9km trek to Mount Ramon on the crater's southern edge, passing the seven volcanic rock hills called the Ramon Horns.
Due to the intense desert sun, it is advisable to start early, take plenty of water and wear a hat. However, the town of Mitzpe Ramon, situated 900m above sea level, is actually one of the coldest places in Israel, especially at night. The best times of year to visit are March to June or September to November, when temperatures hover at a pleasant 20 to 30C.
Practicalities
There is no shortage of accommodation options in Mitzpe Ramon. In the past decade, many of the once-abandoned hangars in the town's old industrial zone have been turned into alternative art galleries, shops and studios. Adama, a large warehouse that is now a dance and meditation centre, offers tepee-like stays.

Just around the corner you can try some good home cooking at Hakatzeh (2 Har Adon St). This cosy family-run restaurant serves dishes such as meatballs with aubergine and couscous, beef goulash and some of the best labneh (white cheese made from yoghurt) in Israel, pared with pita bread and olives.

On the same street is Chez Eugene, an upmarket gastro-chef restaurant and small boutique hotel. Inspired by French-Belgian cuisine, Eugene offers succulent steaks, salmon and goose breast, plus each room is designed with funky furniture and contemporary art.

The most prominent hotel is undoubtedly Beresheet, an ultra-luxurious 111-room resort at the town's eastern entrance that opened in 2011. Unlike anything else in town, Beresheet (which means Genesis in Hebrew) has an infinity pool overlooking the crater, several private pools and a gourmet restaurant with jaw-dropping views. Guests are transported around the resort on golf carts while soft jazz is pumped from speakers.
At the other end of the town, the Green Backpackers also opened in 2011 in a quiet cul-de-sac off Nahal Zia Street. This cute budget hostel has soft carpets, laundry service, second-hand books, free wi-fi, a DVD library, a travellers' message-board and shared recipes in the communal kitchen.
The most remote place to stay in Mitzpe Ramon is Silent Arrow, situated 700m west of town down a bumpy dirt track. Here, travellers can sleep in a communal Bedouin tent or in private dome tents, where the only sound you will hear is that of your own snoring.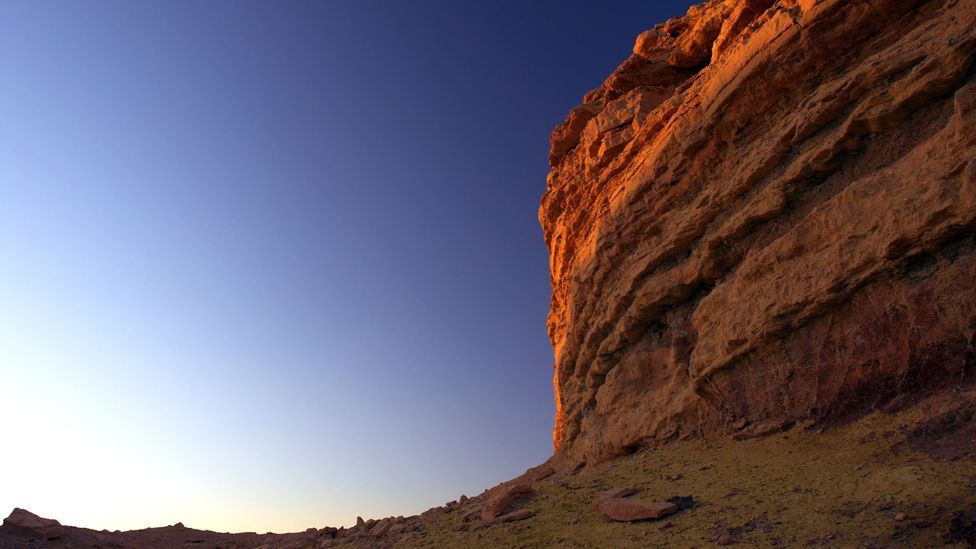 The Ramon Crater Israel
(PhotoStock-Israel/Getty)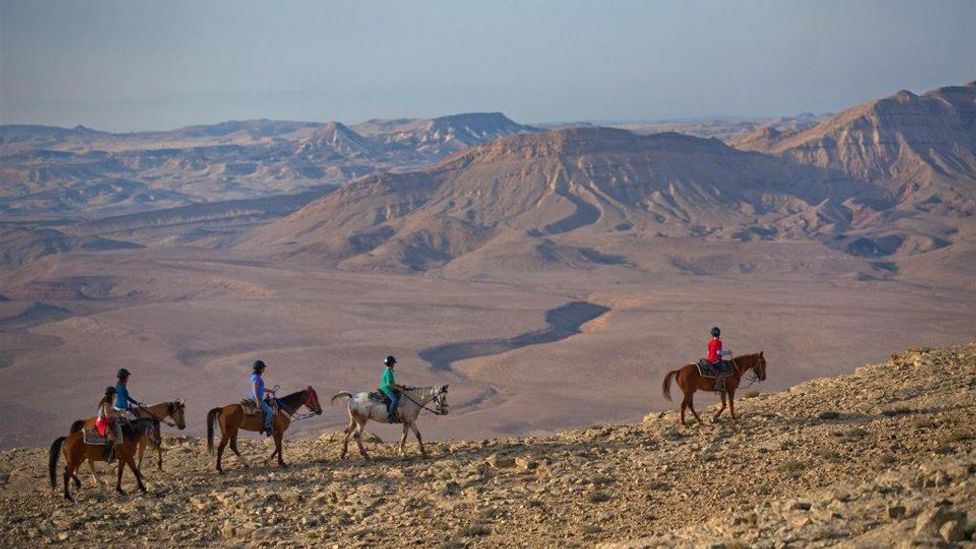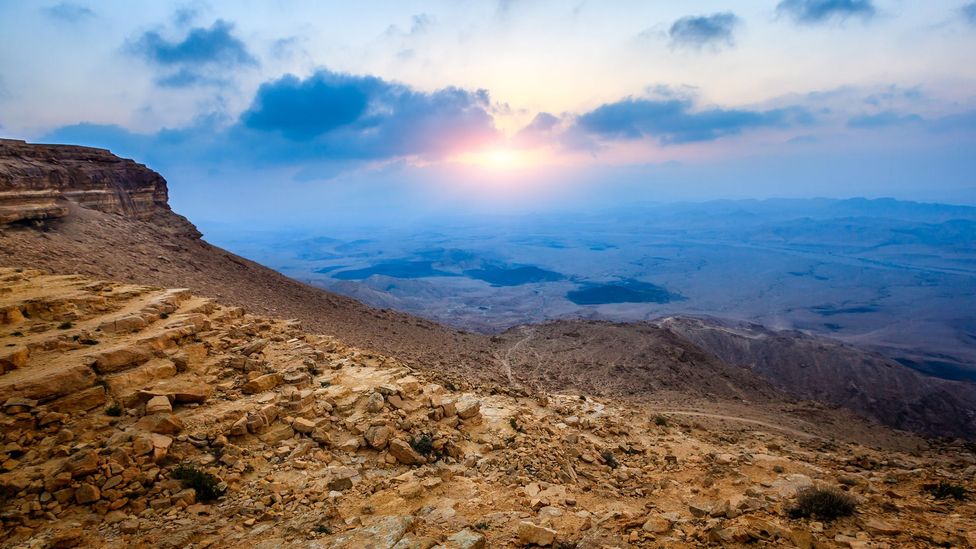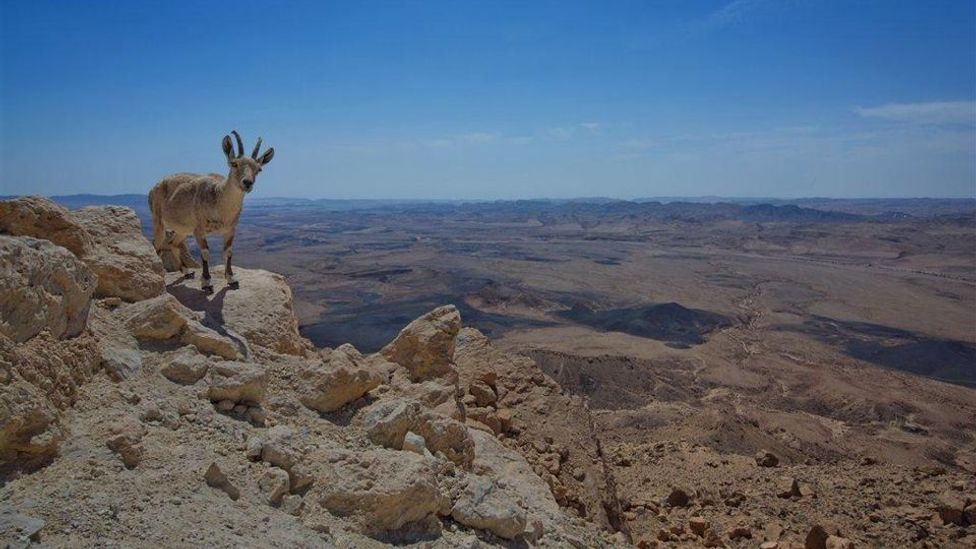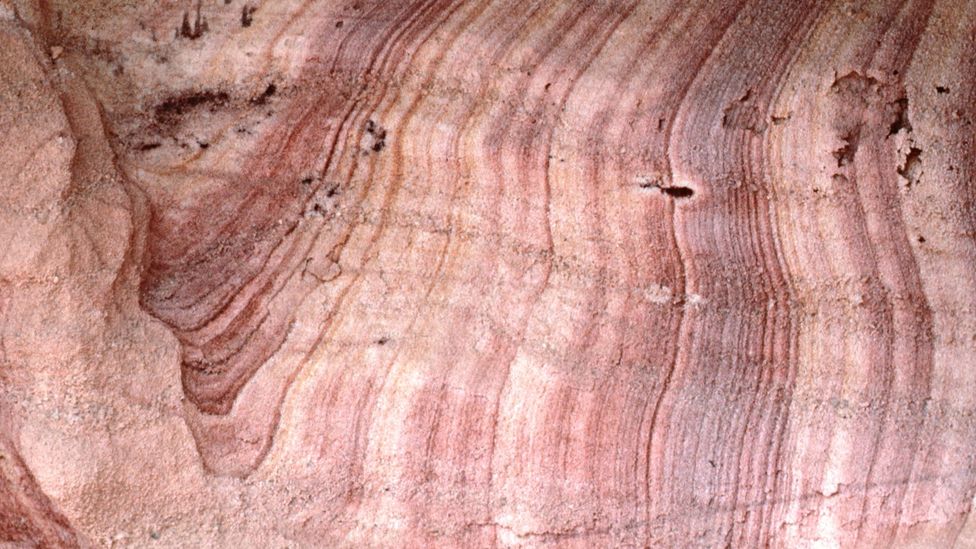 MAKTESH RAMON RESERVE Israel