This beloved dish pays tribute to the Caribbean island's rich history and its embracing culture, both of which continue to permeate its food and its people.
F
From urban Old San Juan to the beaches of Isla Verde, past the cities of Bayamón and Ponce, through lush rainforest and striking coastlines, mofongo proudly stands as Puerto Rico's unofficial national dish.
At its most basic, mofongo is made of fried green plantains mashed with garlic and chicharrones (deep-fried pork skin), served with a buttery-garlic or a peppery- capsicum-tomato Creole sauce. Typically the mash is stuffed with a protein, such as chicken, steak, shrimp, lobster or crab – at which point it becomes known as mofongo relleno. Although green plantains are most common, sweet plantains or cassava can also be used, meaning that no two mofongo look the same and there is a little agreement on what constitutes the most traditional.  
Searching San Juan
My plane touched down in the early morning near Puerto Rico's capital San Juan to stormy skies and steamy heat. Exiting the airport alongside anticipatory holidaymakers and tearful reuniting families, the mission that lay ahead was seemingly simple: to traverse the city streets seeking out the most delicious and most authentic mofongo. 
Bright pinks, greens, turquoises and yellows colour the houses and shop fronts in Old San Juan, a colonial neighbourhood that dates to the 1500s. Here the hilly streets wind up and down around busy seaports on one side and the 18th-century Spanish fort Castillo de San Cristóbal on the other. Lofty palm trees and emerald tropical plants dot the sidewalks and the charming plazas. History runs deep here, and on the hunt for mofongo, Old San Juan seemed like a logical start.
Ducking in to El Jibarito on Calle Sol, Puerto Rican flags hung proudly from the walls. A television playing a telanova (Spanish soap opera) was perched precariously above the handful of wooden tables, adding to the cacophony of Spanish and English. Like many San Juan restaurants, the lines between a tourist haunt and a local favourite were blurred, but the love for El Jibarito's mofongo was not – with many claiming it the best in the city.
Here, the green plantain mofongo was served as a side dish, the perfect starchy accompaniment to fried chicken or pork. It was dense and cut nicely by the outrageously garlicky and salty white sauce served alongside. Their cassava mofongo was particularly light, tasting like flash-fried crispy mashed potato. But their "trifongo" – a mash-up of sweet plantains, cassava and green plantain – was the winner. The hint of sugar from the sweet plantain blended perfectly with the fluffier cassava and the savoury, starchier green plantain. Without stewed chicken or shrimp, this naked mofongo put the root vegetables at centre stage to resoundingly positive reviews. 
Down the street in Old San Juan's eastern end sits tiny Café Puerto Rico on Plaza de Colón, a pleasant square that dates back to the first Columbus expedition in 1493. Another local-meets-tourist favourite, the mofongo here comes stuffed with meat and fish; choose from fillings as diverse as diced pork to octopus, grouper to chicken. My cassava version carried abundantly flavourful chicken, stewed in a garlicky creamy white sauce made with lashings of butter and white wine and speckled with herbs. If you did not look too closely, this mofongo relleno could have passed as a chicken potpie, with the cassava masquerading as pastry crust.
But pinning mofongo to a specific place in Puerto Rico is challenging, if not outright impossible. The country is a small island and the dish is found throughout, plucking ingredients and techniques from all over.
A multi-cultural history
Flanked by the Atlantic Ocean and the Caribbean Sea, the stunning island of Puerto Rico is steeped in African, Spanish, Taíno and North American cultures. Mofongo epitomises this cross-cultural narrative, though its story admittedly began as an oppressive one.
When the Spanish conquistadors landed in Puerto Rico in the early 1500s, harsh colonisation of the Taínos, the island's indigenous people, ensued. After exhausting and depleting the local population, colonialists looked across to West Africa and began importing slaves, who brought with them fufu, mofongo's culinary ancestor.
A staple of West and Central Africa, fufu is similarly made of starchy root vegetables – cassava, yams and plantains – that are boiled then pounded into doughy balls and served with sauce or soup. When brought over to Puerto Rico, fufu merged with the gastronomic traditions of the Taíno and Spanish to create the now revered mofongo.
From the Taíno came the mortar-and-pestle-like wooden pilón that is used to mash the dish's main ingredients. Recent excavations of Taíno sites near the city of Ponce, 120km southwest of San Juan, found evidence of the pilón's pre-Columbian use, revealing its deeply rooted history. From the Spaniards, mofongo pulls from the Iberia-influenced sofrito – sautéed onions, peppers, herbs and garlic – which is commonly used in the plantain mash. And mofongo's basic ingredients, such as green plantains and sweet capsicum, are grown in abundance in Puerto Rico. The addition of chicharrones speaks to the country's modern-day adoration for fried pork skin, sold most famously on street-side wooden carts in Bayamón, Puerto Rico's second largest city, 19km southwest of San Juan. Together, these influences have fused to produce an iconic Puerto Rican dish as diverse as the country itself.
Learning to cook mofongo
Though pinpointing mofongo's exact origins is a challenge, the connection to the Spanish conquistadors who settled in the capital makes San Juan a worthwhile place to learn how to prepare the dish. 
Flavors of San Juan is a group of in-the-know locals who host cooking classes and food and cultural tours throughout the city. At their mofongo course, Puerto Rican chef Kathy Libier spoke knowledgably about the importance and irreverence of mofongo on the island, while simultaneously cooking her version. Chopping cilantro, sweet Cubanelle peppers, garlic and onions, a Spanish-influenced sofrito took shape. Green plantains were peeled, chopped, fried and then mashed in a pilón as the sofrito and a rich chicken stock were added. As a paste began to form, a handful of chicharrones were tossed in. The mix was then moulded into a small bowl, inverted on a plate and topped with shredded chicken that had been stewed in a Creole sauce of sweet peppers, tomatoes, spices and onions.
Libier's version was unlike the mofongos at Café Puerto Rico or El Jibarito, both in taste and texture. Hers sang with loud flavours, bringing depth and sophistication to the dish. And though Libier dismissed the others as inauthentic, there appear to be no hard-and-fast rules when it comes to mofongo.
Beachside in Isla Verde
This hypothesis was reiterated elsewhere. About 10km east of Old San Juan in the Atlantic Ocean sits Isla Verde, Puerto Rico's answer to Cancun. Hotels line the beach and holidaymakers sip on piña coladas (another San Juan-born favourite), while alternating between the casinos and the ocean.
Ask any local here – and there are many – where to find the best mofongo, and their eyes light up. A unanimous favourite is Platos, a charmless, contemporary restaurant with a mofongo that garners rave reviews and loyalists. Their skirt steak mofongo with Creole sauce offers a nicely balanced flavour that carries depth and richness. The thinly sliced meat is well executed, cooked to just pink in the middle, then hidden beneath a volcano of buttery, garlicky mashed green plantains.
Once again, mofongo presents itself different than before, but no less Puerto Rican.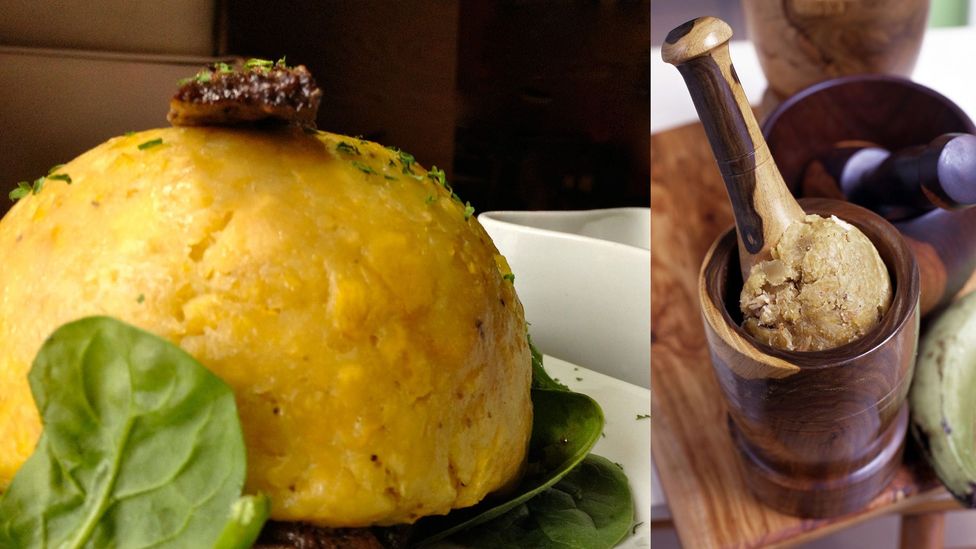 The making of mofongo Puerto Rico
(left: Caitlin Zaino, right: Evan Sklar/Getty)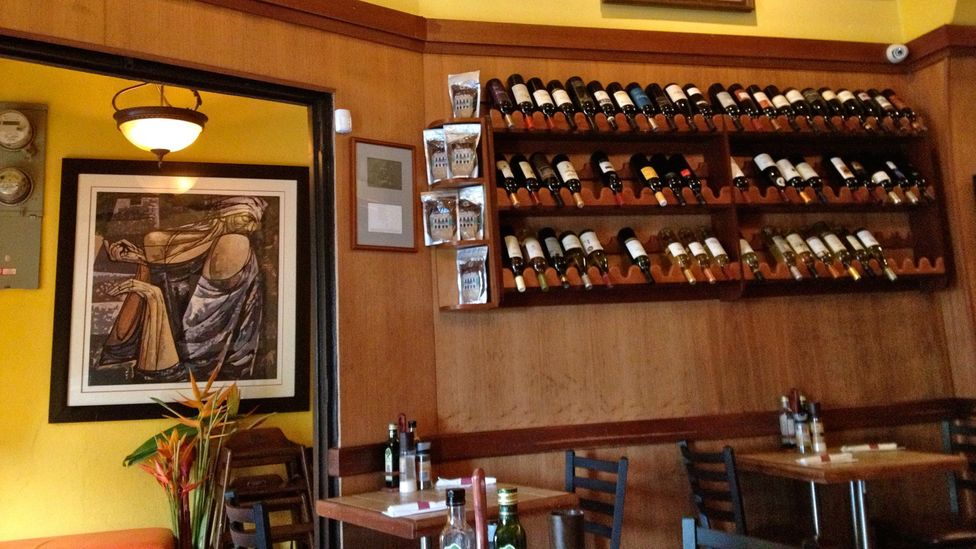 Cafe Puerto Rico, San Juan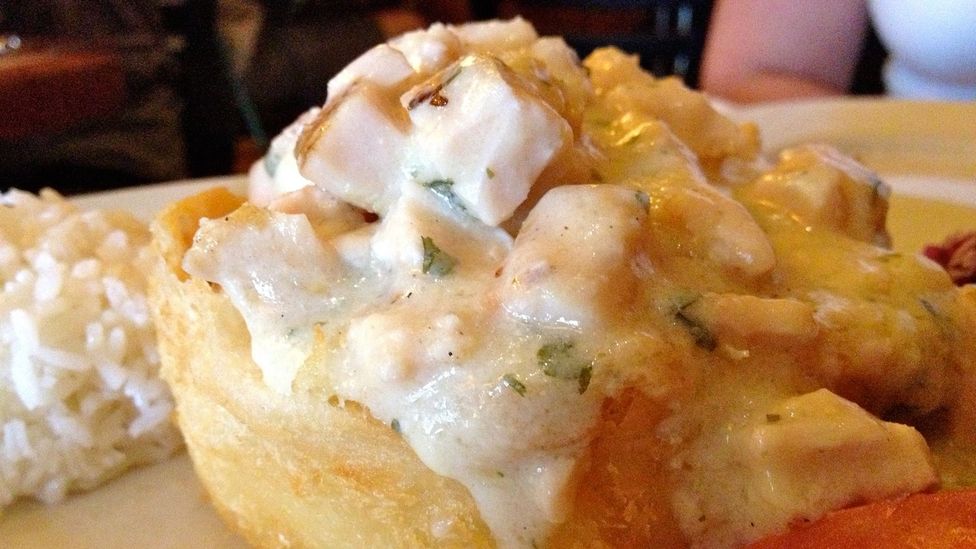 Mofongo at Cafe Puerto Rico San Juan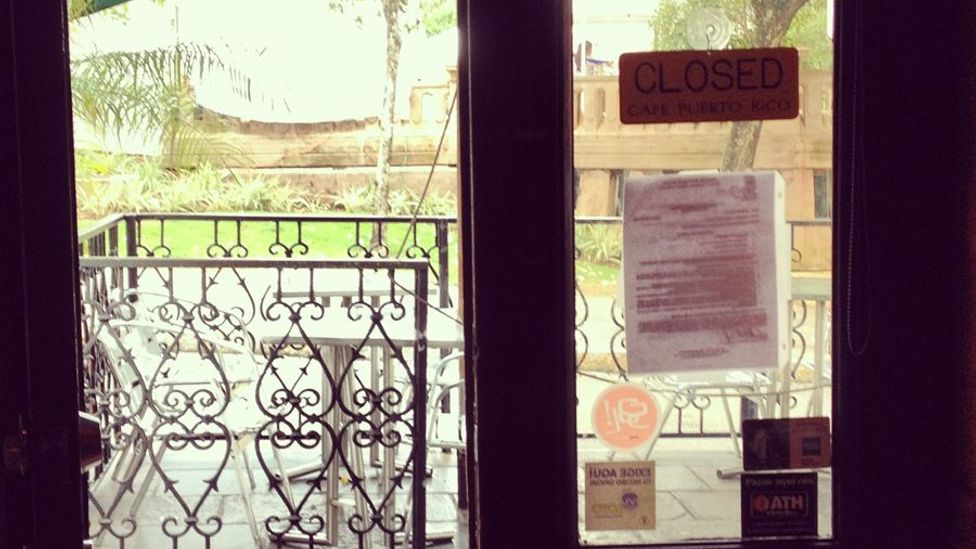 Cafe Puerto Rico, San Juan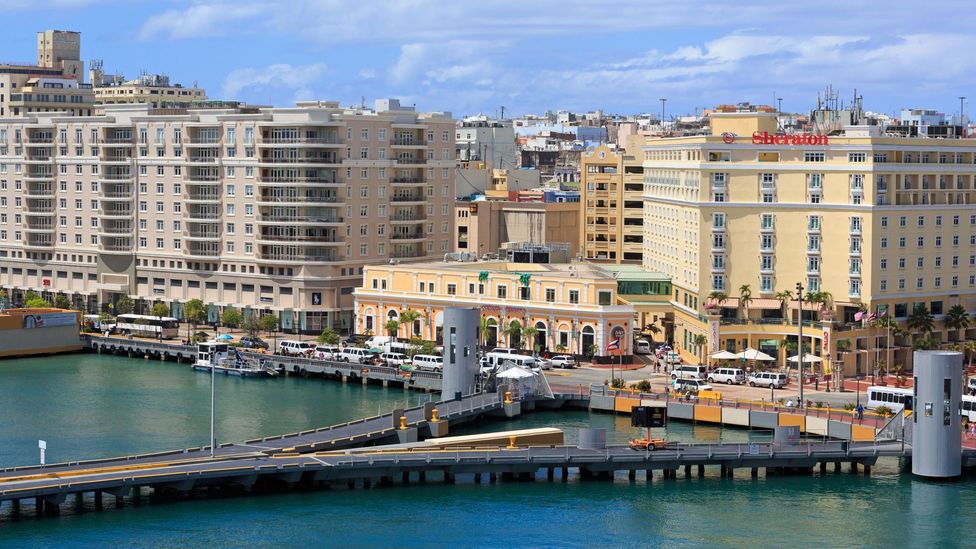 Old San Juan, Puerto Rico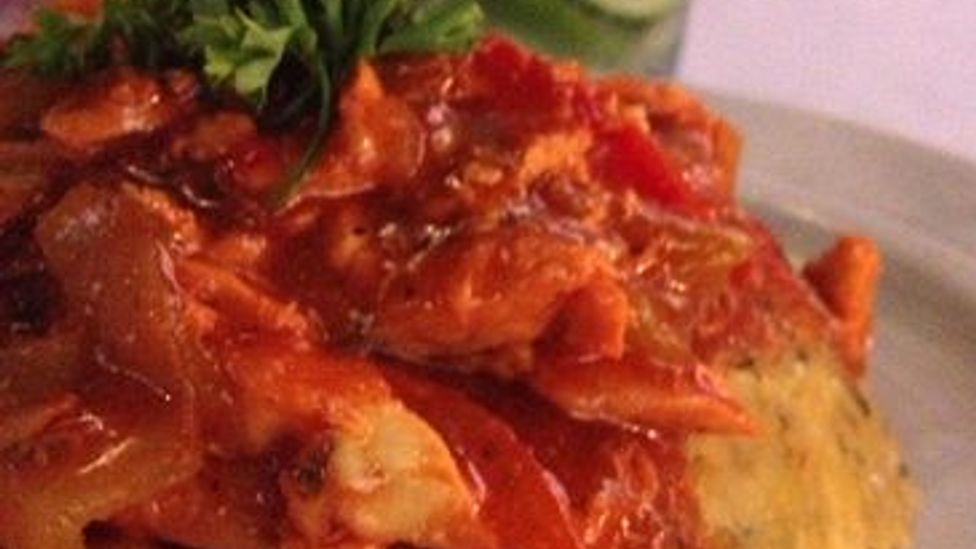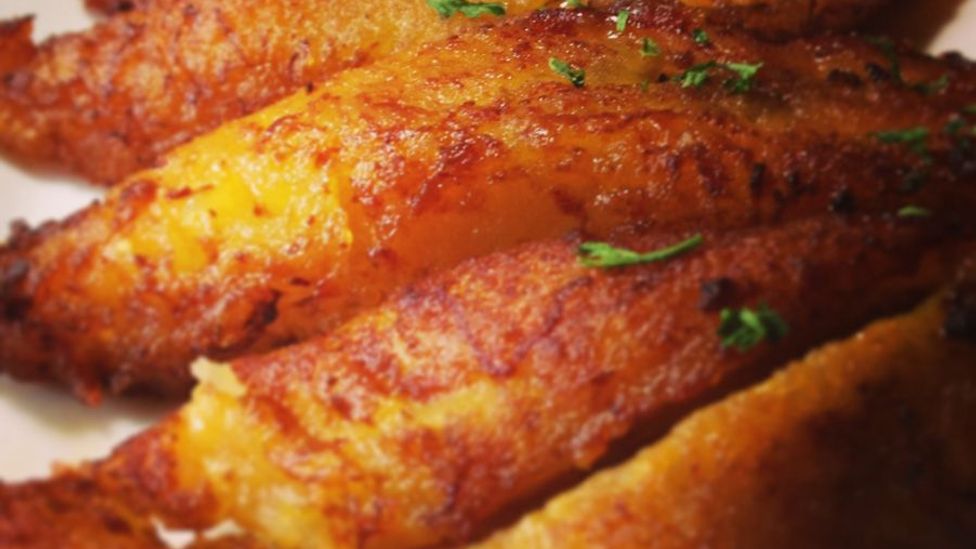 Sweet plantains Puerto Rico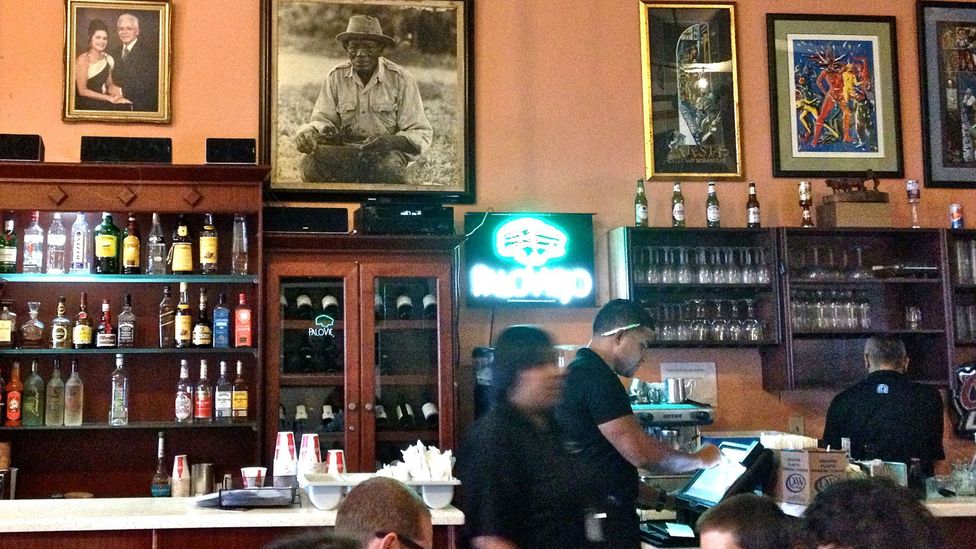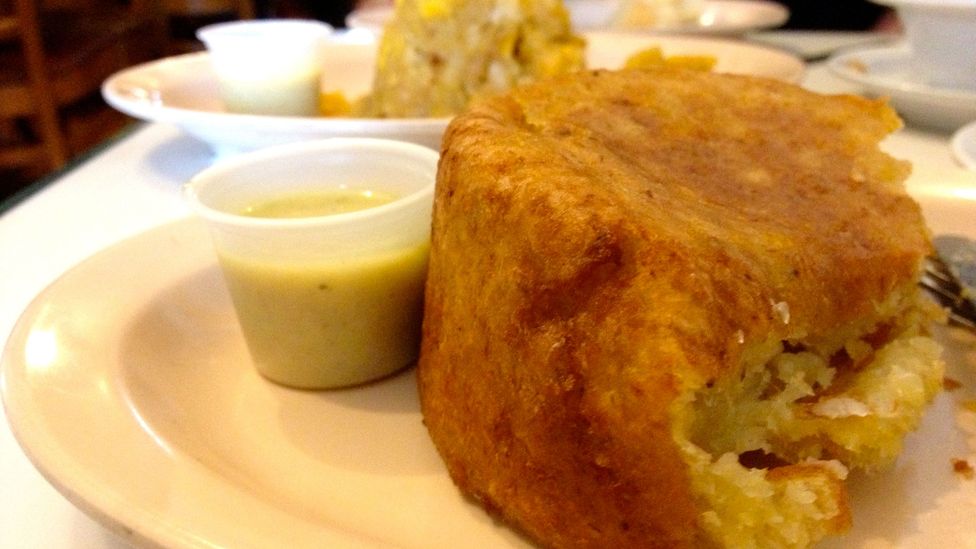 El Jibarito cassava mofongo Puerto Rico