This country does not do nature on a small scale. It is a land of earth-shattering glaciers, fjords of epic proportions and countless coastal islands scarcely touched by civilisation.
T
Traverse Norway'­s dramatic landscape in this ideal excursion, taking in one of the world's great rail journeys from capital Oslo to the historic port of Bergen. Venture on to sail the unspoilt islands of Solund, before gazing in wonder at the awesome views of the mighty Aurlandsfjord and Hardangerfjord.
Oslo to Bergen Railway: Best for rail adventures
The train pulls out of Oslo Central Station and begins its journey west. With the passing miles, the city's stern-looking apartments and office buildings dwindle, and the landscape softens into farmland, broad and green in the mid-morning light, punctuated with clapboard farmhouses painted red and mustard-yellow.
The Oslo to Bergen railway is one of the world's most scenic journeys, stretching 308 miles through some of Norway's most spectacular landscapes. Passengers press to the windows, cameras in hand. But this is also a route for commuters, and dozens pay no heed to the surrounds, tapping at laptops or nodding off. One, in a seeming insult to the increasingly glorious views streaming by, dons a sleeping mask.
Soon the window glass becomes cool to touch as the train climbs more than 1,000 metres into a bare, otherworldly landscape of boulders and snowdrifts, navigating beautiful but treacherous mountain country through high passes and tunnels hewn from solid rock. The railway was lauded as an engineering marvel when it opened in 1909 and it remains a striking homage to the chutzpah of its creators.
At Finse station, passengers climb down to the platform with packs and sturdy boots, their breath visible in the cold mountain air. The village is little more than a series of railway buildings in a bowl created by the Hardangervidda mountains; along one side, the smooth white lip of the Hardangerjøkulen glacier seems to flow across the rocky expanse like cream.
Finse is the highest mainline rail station in Europe, at 1,222 metres, and was founded as a camp for 'rallars' (navvies). Thousands of these workers burrowed through the mountains with hand tools and explosives, cleared land and laid tracks, often working in appalling conditions. So dirty and desperate did the men become that they attempted to remove the omnipresent lice by smearing warm dynamite on their skin – particularly hazardous when working by candlelight.
It's perhaps not surprising that 63 workers were killed during the 34 years of the railway's construction. According to Nicolay Lange-Nielsen, an actor and director from Oslo, the hardy, flint-faced rallars are national heroes and should be celebrated. 'Great explorers like Amundsen reached the Poles and all the stories are told about these feats,' he says, 'but these rallars were in similarly extreme conditions – and they weren't just planting a flag. It's maddening that this is an untold story.'
Nicolay is attempting to redress this in an unexpected way – by staging an opera about the rallars told through Norwegian language arias. He bustles about the 'theatre' – the cold, dark shed near Finse station, housing the Rallarmuseet (Navvies' Museum). 'It's an impossible task,' he says, grinning, 'but we can't give up. This is Norway's Great Wall of China – people should know how it came into being.'
From Finse, the train descends into the valleys of western Norway, with rich green farmland and flowing rivers, masked and revealed by thick stands of pine trees that blur as the train hurtles by. It follows the gentle curves of the glassy Osterfjord, so still as to reflect perfectly the scudding clouds above. At length, the train begins to pass clusters of houses, building up gradually into the centre of Bergen, where it comes to rest under the vast cylindrical glass roof of the main railway station.
The passengers who've spent the journey pressed to the windows have a dazed look of scenic overload. Others stir and stretch into wakefulness, bleary-eyed and seemingly unaware of the sights that have just passed them by.
Bergen: Best for history
Late afternoon sunlight slants across the face of Bryggen, Bergen's ancient trading wharf, giving a golden glow to the steeple-roofed warehouses painted in bright shades of orange and dusky pink. They lean at angles, jostling for space with their neighbours. Once, the wooden buildings were crammed with barrels of unsalted codfish. Today, art galleries, craft shops and restaurants have taken up residence. Groups crowd around small tables at an outdoor bar clutching bottles of beer, while others wander the shadowy alleys between the buildings, walking on creaking wooden planks laid out like the deck of a ship.
For some 400 years, until the mid-18th century, this wharf was an important centre of trade for the mighty German merchant outfit, the Hanseatic League, which traded fish and lamp oil to cities across Europe. It's now a World Heritage site comprising 61 buildings. This quaint cluster of aged timber stretches along the northern side of Bergen's harbour, a world apart from the shiny modern office buildings across the water.
'It has always been that way, the separation between this wharf and the rest of the town,' Torleif Skage says as he expertly negotiates Bryggen's warren of walkways. A teacher, youth worker and occasional guide, Torleif has an encyclopaedic knowledge of the city and is easily followed, even as dusk approaches, thanks to his fluorescent green trousers.
During the time of the Hanseatic League, Bryggen had its own customs and laws. 'It was an almost exclusively male settlement,' he says, 'and none of the Germans were allowed to have any contact with Bergen women. Of course, it did happen from time to time and the man was punished. And the woman was thrown into the fjord.' He grins. 'But it was quite shallow, so she would just swim home.'
Torleif points out a wooden building known as a schøtstue, or 'assembly room', where apprentice merchants would gather to drink beer and stage violent games and initiations. 'One was known as the smoking game,' he says. 'A boy would be suspended over a boiling pot of mixture used by tanners [containing lime, urine and faeces], and would breathe in the fumes until green in the face. They would also keelhaul each other [dragging beneath a boat] in the fjord, then there would be whipping and nakedness. There was always a lot of that for some reason.'
At the rear of the complex, signs of reconstruction are evident and wooden foundations exposed. The marshy ground has led to several buildings sinking, causing structural destabilisation, along with a picturesque leaning. Original building methods and hand tools are being utilised, and craftsmen from all over the world are coming to learn how to restore wooden buildings, continuing the proud Bryggen tradition of training apprentices.
Back at the wharf's colourful façade, Torleif gestures upward. 'These buildings have been the entrance to Bergen for the last 600 years, so it's a big part of our city's identity,' he says.
Solund Archipelago: Best for island-hopping
The faraway hum of an engine can be heard on the breeze and Anne Marie Gåsvær emerges from her cottage, wandering down to a small wooden jetty to wait. The island she calls home is Gåsvær, named after her husband's family, who have lived for hundreds of years on this small grassy rock. From a hill above the harbour, the view is clear to the horizon, the ocean surface scattered with countless small granite lumps and the craggy mountains of distant islands. Several of the closer, green-fringed outcrops are topped with Anne Marie's hardy sheep, which occasionally swim from one rock to another in search of more tough island grass, salted with spray.
The source of the engine noise – the jaunty blue-and-white MS Stjernsund – approaches, weaving deftly between the islets and into the pale aquamarine waters of the harbour. This vessel doubles as a postal boat and passenger service, and it's a lifeline for the tiny communities spread out among Solund's 1,700 islands, as well as the Askvoll archipelago farther north. It arrives daily in the warmer months, bringing visitors, news and mail – and, in Anne Marie's case, her son David, the young postman himself. She welcomes the boat and ushers its half-dozen passengers into a nearby fisherman's shed for an afternoon tea of crêpes drizzled with melted butter and heaped with sugar.
The boat's journey begins from the island of Sula at the mouth of the Sognefjord, north of Bergen. Departing from the pretty harbour at Hardbakke, it plots a course through narrow channels and around sharp headlands. The landscape changes suddenly from island to island: one rugged and dramatic, sheared by ocean winds, another with perfect sheltered bays and gentle hills dotted with bright red houses. At each stop, David leaps from the boat to place the mail in dockside letterboxes or to pass it into the hand of a waiting island resident.
Roar Moe walks with a rangy stride to the dock on the beautiful curved harbour of his island, Little Færøy, greeting the boat's crew with a familiar shout. Roar is the island's only resident and has been living here alone for more than a decade, restoring classic boats and running wilderness skills workshops for schools. 'It's the lifestyle I choose,' he says. 'I want my life to be as slow and lonely as possible. It's so beautiful here – it's a privilege.' An appearance by Roar on television recently led to a flood of letters from amorous female fans offering to join him on his lonely island – he refused them all.
'It's so important, especially in these modern times, for people to experience nature – to really feel it,' he says. 'Most areas along the coast are filled with heavy industry, but not this part. Out on these islands you can see the original landscape, as it has been for thousands of years.'
Aurlandsfjord: Best for fjord views
'It's impossible to improve on this pristine environment, so we tried to add something to the experience, not the landscape,' says architect Todd Saunders. He nods at his creation, the smooth wooden shelf of the Stegastein viewpoint, stretching out from a high mountainside.
The broad sweep of the Aurlandsfjord lies below, a southerly offshoot of the mighty Sognefjord, with steep, snow-dusted mountain walls rising straight up and curving into the distance. The scene took millions of years to perfect, as gargantuan fingers of glacial ice tore inexorably through the landscape, leaving a chasm of steep rock, part-filled with an expanse of seawater. Today, the water is so calm that, as a boat passes through the fjord, its wake fans out for hundreds of metres behind it like a bridal train of clear blue.
The timber walkway juts out 30 metres from the mountain wall before plunging suddenly downward in an elegant curve, leaving viewers suspended over a 650- metre drop, with only a pane of glass in place to prevent a tumble. Several visitors approach the edge, only to scurry back or grasp at the security of the glass panel, some with small squeals of alarm.
The viewpoint was created by Todd and fellow architect Tommie Wilhelmsen in 2006, one of a series of architectural projects built in scenic areas across Norway, from the rugged Trollstigen plateau to the windswept Lofoten islands.'When you're driving around this amazing landscape, you can become numb to how powerful it is,' Todd says. 'We wanted to make it so that when you walk out on the platform, you feel fragile and tiny. It makes you look around and really experience how enormous and beautiful the place is.'
He gives a grin. 'I love coming up here to see how people react. Usually I just hear "Holy shit!" in about 15 different languages.'
He laughs and nods to where a couple are daring each other to inch closer to the edge, shrieking with laughter, while another pair stands nearby, leaning calmly over the lip of the glass to take in the full extent of the magnificent fjordlands below.
Hardangerfjord: Best for mountain life
Morning breaks over vast Hardangerfjord, sending shafts of soft light across hillsides ribbed with the orderly lines of orchards. The area's rich soil has drawn fruit growers for some 800 years, and the dawn light picks out the bright red rounds of apples, shining with dew. Above, perched on a cliff that rises 600 metres straight up are the traditional mountain farms of Kjeåsen.
At one time, Norway's fjords were lined with mountain farms, with families raising sheep and planting crops on small, sharply inclining plots. Today, the majority are no longer working, with farmers having sought a more prosperous life elsewhere, but family pride in the traditions remains strong.
Alvhilda Kjeaasen, a tall, elderly woman, gets ready for a day of overseeing her old farm, preparing the waffles and hot coffee she'll serve to visitors who might come by. Soon enough, the first arrive. Some stop to chat, taking a seat in a sparse wood-walled front room and learning a little about the area's history. Most, however, simply bypass the farmhouse and head to the edge of the property to take in the glorious views.
The bright blue waters of the fjord pool beneath cliff edges and rushing streams are bordered by high, grassy mountain walls, shot through with white seams of waterfalls. 'I often have to call them back if they go the wrong way,' Alvhilda says, keeping one eye out for errant walkers. 'There are some nasty places to fall down around here.'
While the property has not been actively cultivated since the early '60s, the traditions of Alvhilda's family stretch back 400 years, and she remembers all the stories of her forebears. The farm's scenic and isolated location came at a high price. With no roads to the cliff top built until 1974, and no way to transport goods up to the farm by cart or pulley, all supplies had to be carried on the family's backs, from food and tools to livestock, with sheep and calves slung across shoulders and carried 530 metres up a steep cliff side path. When the farmers had goods to trade, they would load up a boat and row to the markets of Bergen – a journey of some 130 miles – and back again.
Alvhilda settles herself comfortably in her favourite spot on the steps leading to the farmhouse door. 'I often sit here in the afternoons and look across to the mountains,' she says. 'I think about my grandmother and I wonder, what did she think about living here? Did she sit and look for faces in the rocks like I do? Life was very hard for them, but I think she must have had moments of peace like this.'
Alvhilda leans back on her elbows and turns her face to the sun, seeming completely at one with this rugged old farmhouse and the wild, steep farmland running off the edge of the mountain.
The article 'The perfect trip: Norway' was published in partnership with Lonely Planet Traveller.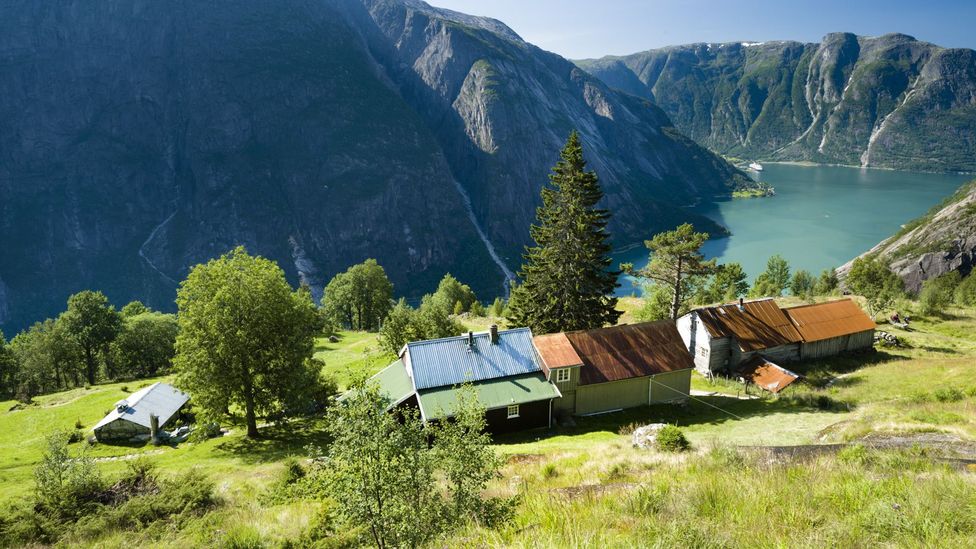 Hardangerfjord norway
The Kjeaasen family's farm overlooks the Hardangerfjord, the third largest fjord in the world. (Justin Foulkes)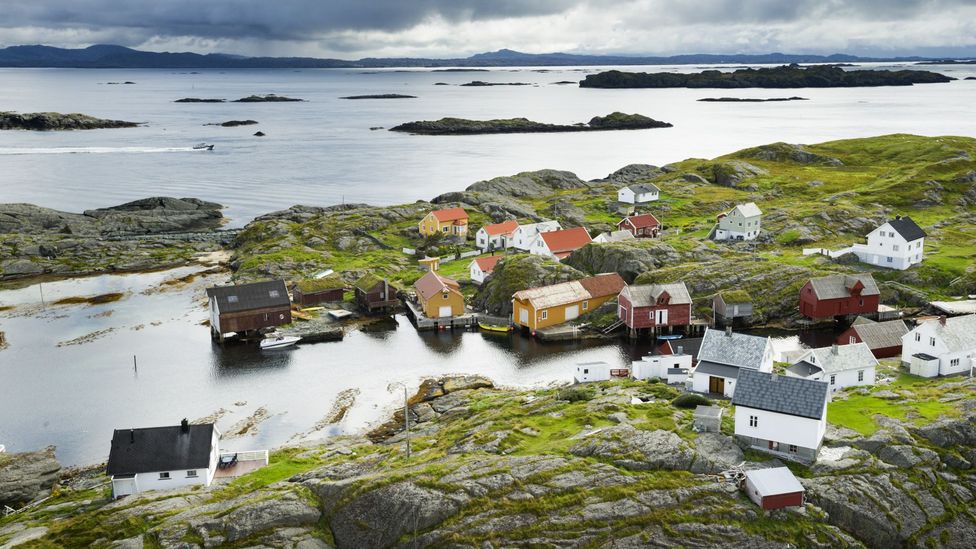 Solund archipelago, Norway
A popular destination for sailing trips, the houses here cling to the rocks of Norway's westernmost islands. (Justin Foulkes)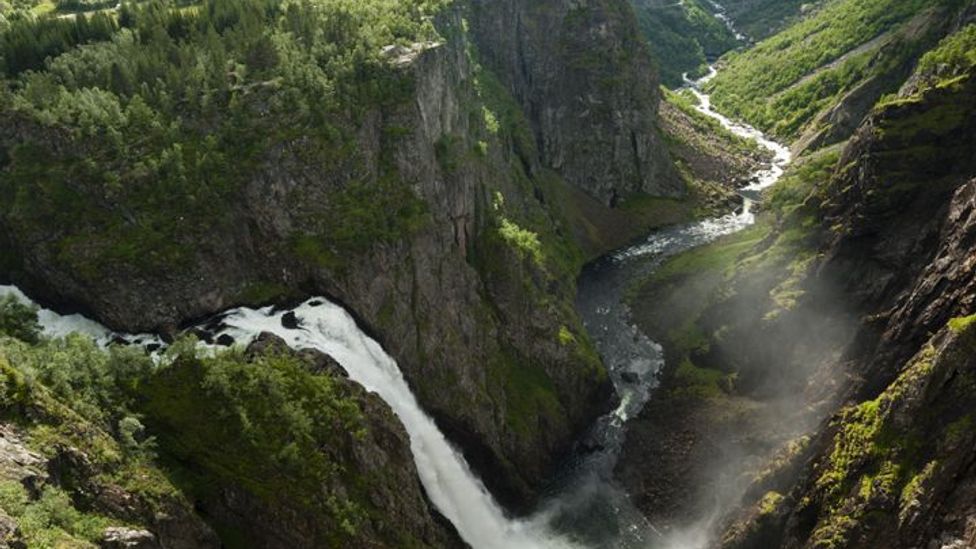 Vøringsfossen waterfall near Eidfjord, Norway
The land surrounding Vøringsfossen waterfall, near Eidfjord, is known for fertile soil and stunning views. (Justin Foulkes)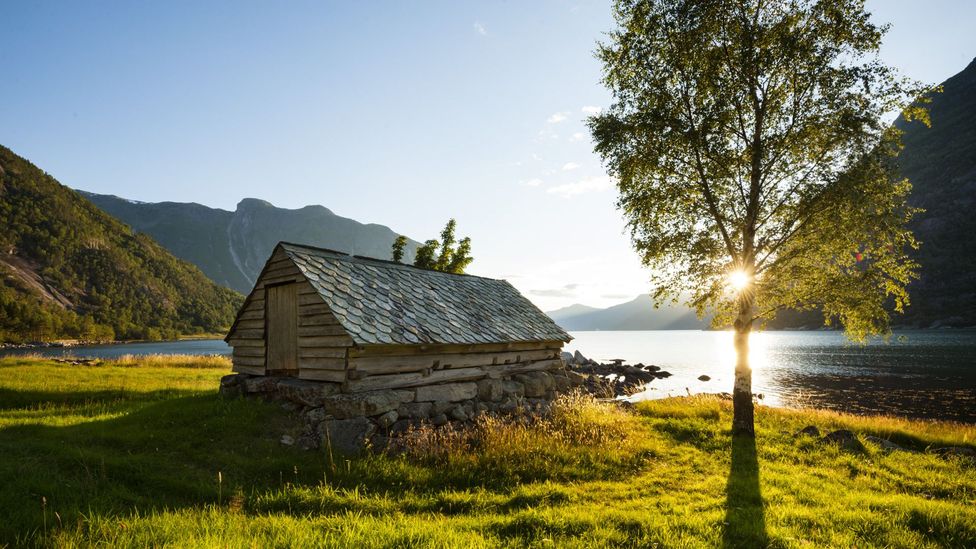 Hardangerfjord, Norway
In Hardangerfjord, visitors can see traditional farming families preserving an ancient and precarious way of life. (Justin Foulkes)
railroad oslo bergen train, Norway
A marvel of engineering endeavour, some of Norway's most dramatic scenery unfolds along the Oslo-Bergen railway. (Justin Foulkes)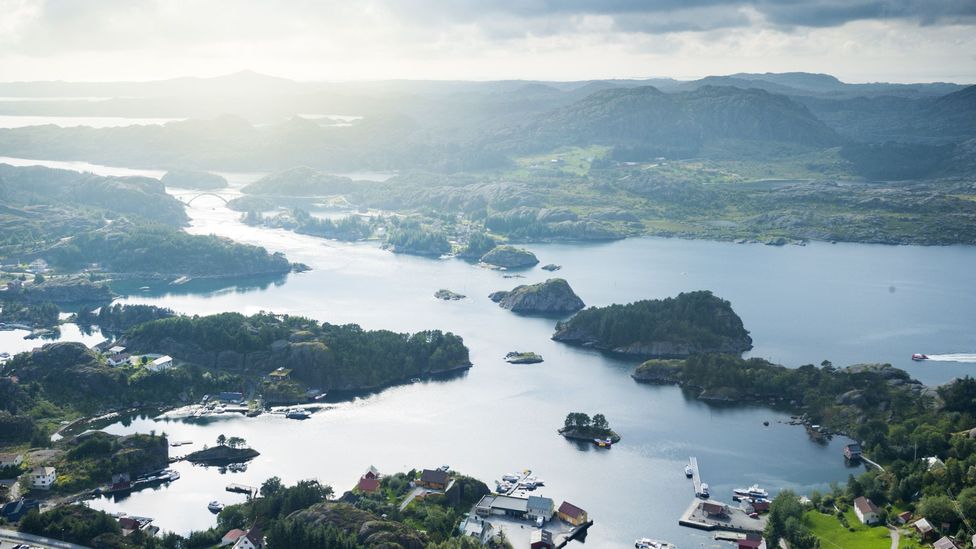 norway islands
Escape the bustle of modern life and hop aboard the postal boat to explore Norway's far-flung communities. (Justin Foulkes)
Stegastein viewpoint norway Aurlandsfjord
At the Stegastein viewpoint, experience the sensation of hovering above Aurlandsfjord, one of Norway's great vistas. (Justin Foulkes)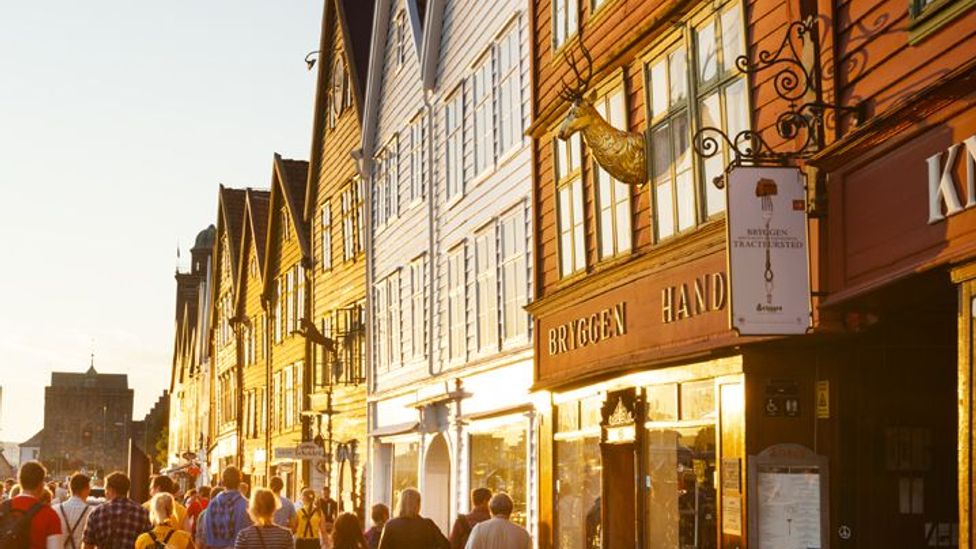 Bryggen wharf norway
The gabled buildings and cobbled streets of Bryggen wharf glow at sunset. (Justin Foulkes)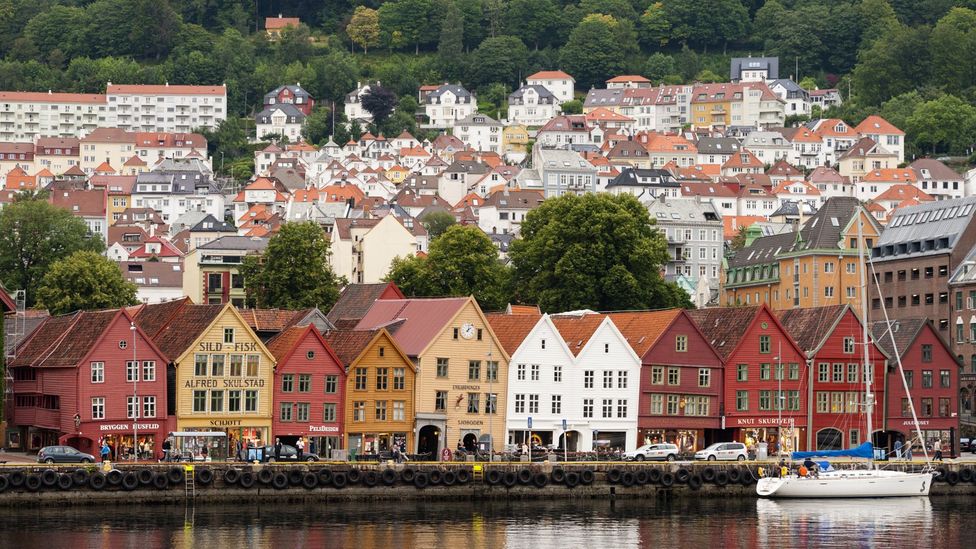 europe bergen wharf Bryggen norway
Once one of Europe's great trading centres, this historical neighbourhood in Bergen is now a buzzing collection of shops, galleries and restaurants. (Justin Foulkes)

;