With an influx of travellers heading to Brazil for both the 2014 World Cup and the 2016 Summer Olympics, this breakdown will teach you how to navigate the shore like the locals do.
R
Rio de Janeiro locals are more likely to say "tenha uma boa praia" ("have a good beach") than "have a good day". They wake up wondering whether rain or clouds will ruin their time in the sun, and rather than ask what you do for a living, fun-loving Cariocas (locals) will want to know which part of the beach you are going to. 
With dramatic, iconic landmarks such as Sugarloaf Mountain towering above, there is no bad beach on the city's more than 40km-long coastline. But with an influx of travellers heading to Rio for the World Cup in June 2014 and the Summer Olympics in August 2016, you will want to know your way around the shore as well as the locals do. 
Rio's main beaches stretch across 8.5km of coastline and are divided by 12 postos (numbered lifeguard stations), all of which offer changing rooms and toilets for a small fee. The stations are useful markers when giving or taking directions, but more importantly, some postos are known for attracting particular crowds and offering specific activities.
Postos 1 to 6: Good for sunrises, sports and views of Sugarloaf
Reaching about 4km from Leme beach to Copacabana beach, postos 1 to 6 stand across from some of the city's most glamorous hotels, and attract domestic tourists, older cariocas and business travellers. They are a great place to watch the sunrise over Sugarloaf Mountain, and tend to be busier than other beaches in the evening due to the brightly-lit kiosks selling caipirinhas, Brazil's national cocktail, made from cachaca (sugar cane liquor) sugar and lime.
The 4km long Copacabana beach – postos 2 to 6 – will be one of the official 2016 Olympic venues for beach volleyball. It is also the setting for a variety of other sports, such as yoga and boxing. The sport of frescobol, a type of tennis played with wooden bats, originated at posto 5, while posto 6 is a popular spot for stand-up paddle boarding. Football games are ubiquitous, but do not expect to join a team unless you are really good. You might also see people balancing on ropes tied between palm trees, practicing an increasingly popular sport known as slack lining.
For a charming reminder that the area around Copacabana beach used to be a fishing village, head to the Copacabana Fort at posto 6 before 11 am to see fishermen selling their catch directly from colourful wooden fishing boats. The fort, built in 1914, now houses the Historical Army Museum, and its cafe is a great spot for breakfast or lunch while gazing at the sea. The fort will also host the marathon swimming and triathalon events at the 2016 Olympics.
Posto 7: Good for sunsets, surfers and quiet romance
Wedged between Copacabana and Ipanema is Arpoador, posto 7, a 500m-long beach that is popular with families and surfers. As such, it tends to be a bit quieter than the other postos, and at sunset it has a laid-back, romantic vibe.
The beach's main attraction is the vast, mainly flat Arpoador Rock, which was named after the harpoon-throwing Portuguese settlers and Brazilian natives who would hunt whales from there (arpoador means striker in Portuguese). Take one of the short walking trails up to the top to watch the sunset silhouette the Dois Irmãos (Two Brothers) peaks, and join the crowds cheering when it finally goes down. Known locally as the birthplace of surfing, floodlights keep the waters lit for after-dark wave riding.
Despite Rio's long shoreline, there are not many beachside places to stay around Ipanema and Copacabana. The closest you can get is Arpoador Inn, a comfortable and simple hotel where it is worth paying for a seaview room. A few metres away is the Philiipe Starck-designed boutique hotel Fasano, frequented by the well-heeled Rio crowd and international celebrities. Teenagers are often seen waiting outside with autograph books and cameras at the ready.
Postos 8 and 9: Good for rainbow flags and a daytime party vibe
Located on Ipanema beach, postos 8 and 9 are two of Rio's busiest and most eclectic stretches, attracting a diverse, younger crowd. Though all of Rio's beaches are gay-friendly, rainbow flags mark out a popular section between the two postos near Rua Farme de Amoedo. Posto 9 is also close to where the famous bossa nova song The Girl from Ipanema was written, so this is the place to strut your stuff and pretend to be "the tall and tan and young and lovely girl" – or the guy watching her. Tom Jobin and Vinicius de Moraes penned the song at the bar and restaurant Garota de Ipanema a few blocks away.
Postos 10, 11 and 12: Good for billionaires and celebrities
Cariocas say that Ipanema (posto 10) is for millionaires and that Leblon beach (posto 11) is for billionaires, so you might see some famous faces including footballers and soap opera stars who live in fancy mansions nearby sunning on the sand. Leblon is one of the most exclusive and expensive areas of Rio and also has a busy late night bar and restaurant scene, backdropped by the impressive Dois Irmãos peaks.  
Unfortunately, the water at these postos is not great for swimming as it polluted by two bordering canals that drain into the sea. Posto 12 has Baixo Bebe, a sandy play area for children with beach toys, slides and baby changing facilities.
Sun like a local
Brazilians have a reputation for being beautiful, but do not let that intimidate you. They are also very tolerant, friendly and come in every shape and size. You can wear what you want at the beach, but Brazilians tend to leave their baggy bottoms at home and either don tiny string bikinis or the tight trunks that you have never dared to wear. Note that for the ladies, going topless is a no no.
Cariocas will happily travel to and from the beach and parade down the wavy, black-and-white-mosaic boardwalk in just their beachwear and Havaiana flip flops. Forget your towel and get yourself a kanga (sarong) to sit on or rent one of the many beach chairs.
For most locals, the beach is not just about sunbathing, and you will not see many people reading. Cariocas come to pose, hang out with friends and get active, whether it is a strenuous game of beach volleyball or a gentle stroll along the boardwalk. When swimming, watch out for the red warning flags or ask a lifeguard as the waves can be harsh. It is the norm to ask your neighbour to watch your belongings (beach thefts are less common then they used to be, but it is still not wise to leave your things unattended). Groups of cariocas often sit close to each other so do not be overly concerned if someone parks up next to you on the beach.
When you are feeling peckish, hold out for one of the many beach vendors selling the popular sweet or savoury beach snack of globo (air-puffed doughnuts made from manioc flour) and matte leao, an iced tea drink poured straight from a keg on the seller's back. And do not leave the beach without sipping fresh coconut juice from one of the agua de coco stands.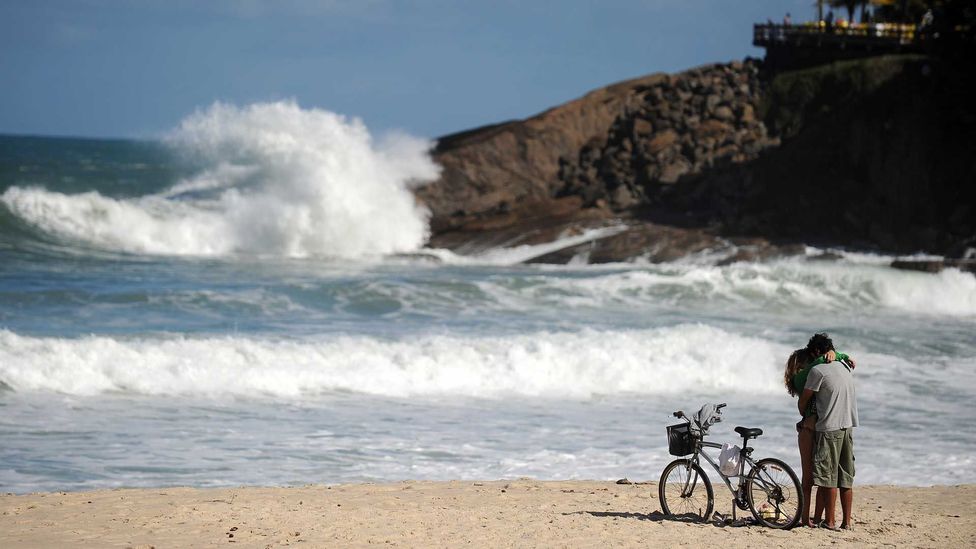 The Mirante do Leblon viewpoint, Rio de Janeiro
(Vanderlei Almeida/AFP/Getty)
Bikes and beach vendors, Rio de Janeiro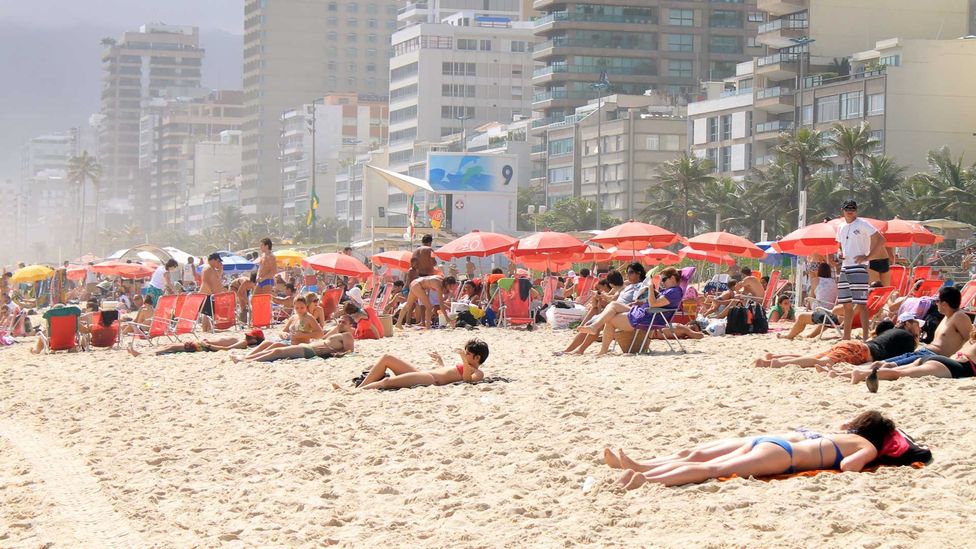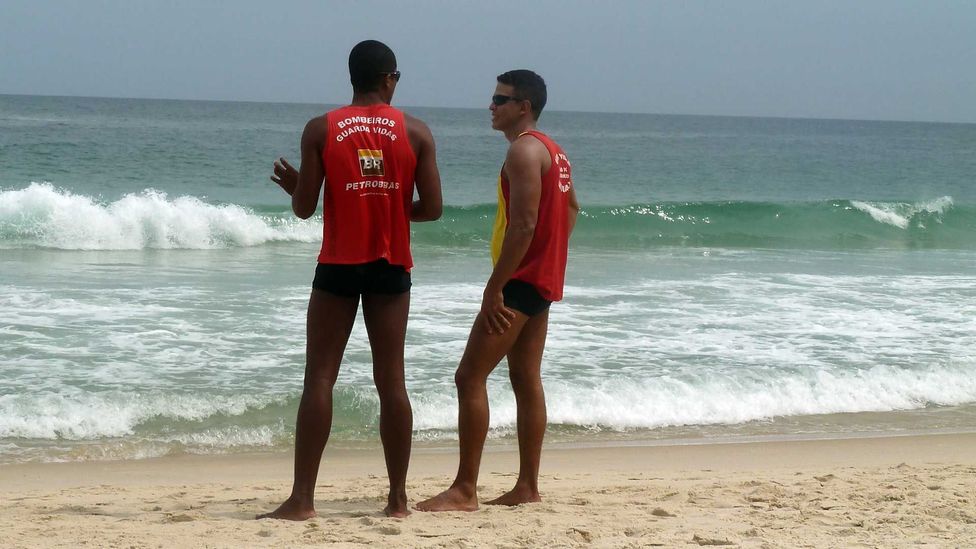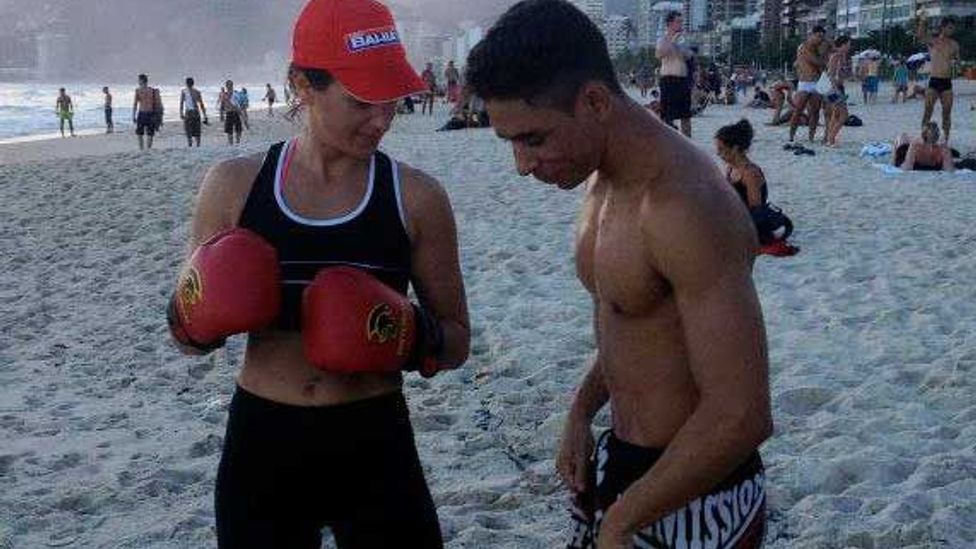 Rio de Janeiro, A boxing lesson on Ipanema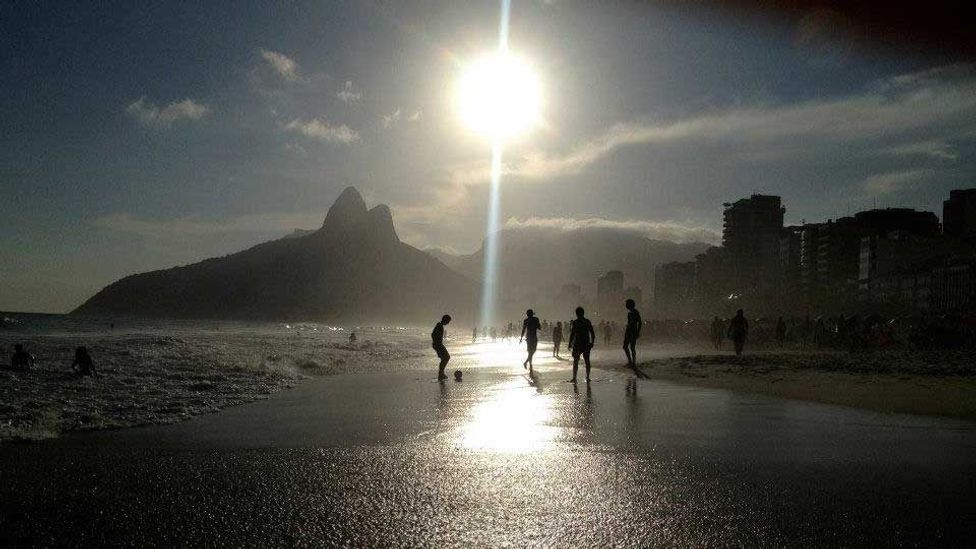 Football on Ipanema, Rio de Janeiro
Leblon beach, Rio de Janeiro
(Nelson Almeida/AFP/Getty)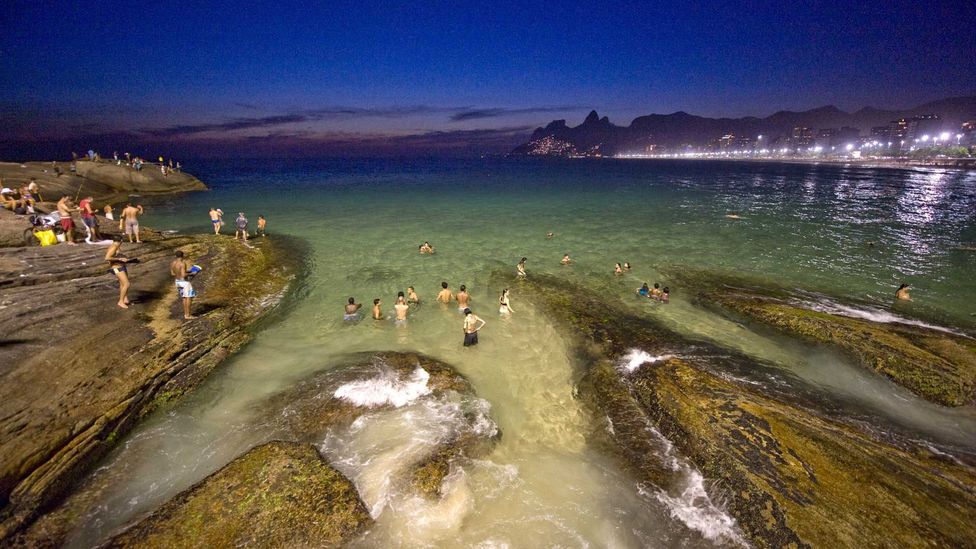 Arpoador beach, Rio de Janeiro
(Antonio Scorza/AFP/Getty)