Underwater photographer Lia Barrett combines free diving, fairy tales and environmental activism.
T
The water surrounding me had the soupy texture of liquid glass. Drifting through the halocline – where cold and warm water converge in layers, their collision blurring the field of vision – was a deliciously disorienting feeling. Only my limbs were clearly visible.
I could vaguely make out the limestone walls as we dove deeper inside the cavern, our bubbles reverberating off the ceiling. Each Darth Vader-like exhale mutated into a locomotive thundering overhead. I was swimming into Car Wash, one of the famed cenotes of Mexico's Yucatan Peninsula, a must-see destination for serious scuba and free divers.
Moments later, free of the halocline, I marvelled at the primordial stalagmites and stalactites before we reversed direction, following our safety line toward a patch of pure jade-coloured light at the mouth of the cavern. Here, elegant lilies climbed toward the light shafts that penetrated the surface and the gnarled roots of old trees hung down like underwater branches. That's when I saw the unmistakable silhouette of an owl.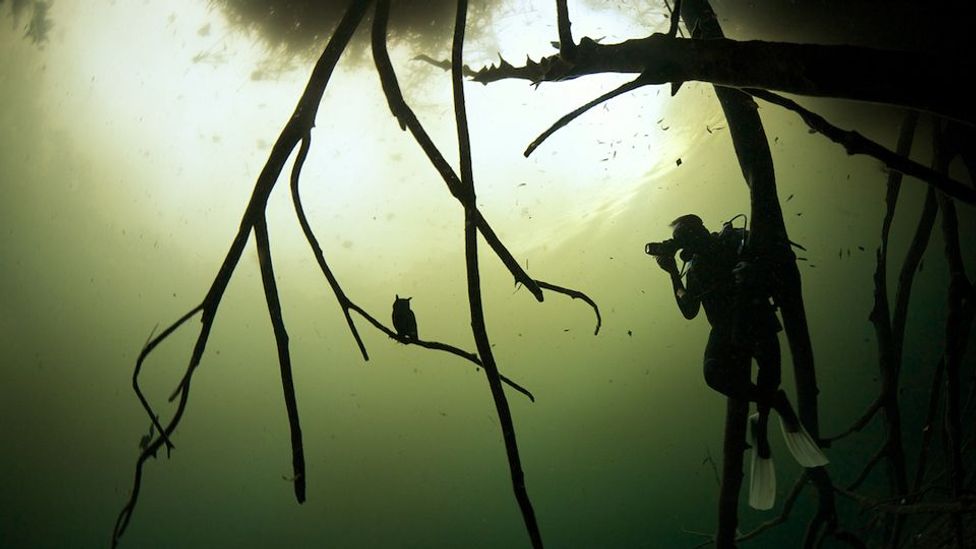 I was in the surreal world of Lia Barrett. A photo editor at underwater photography magazine Dive Photo Guide, Barrett has spent plenty of time in exotic dive meccas such as Thailand's Similan Islands and Indonesia's Komodo and Raja Ampat Islands. But last year, she shifted her viewfinder away from Technicolor reef creatures, in favour of featuring free divers.
Their athletic elegance, their courage to hold their breath long past sanity and their ability to dive deeper than those on tanks inspired her. Soon she was convincing competitive free divers to dress in civilian clothes and pose for underwater teatime portraits, while her assistants chummed the water with fish parts to lure massive reef sharks into frame. The result was a magnificent surrealist shoot in Roatan, Honduras, that went viral in August 2013. This October, it was time for a follow up, and she abandoned the sea to focus on the cenotes, a network of more than 3,000 pools that serve as entry points into the Yucatan's underwater rivers.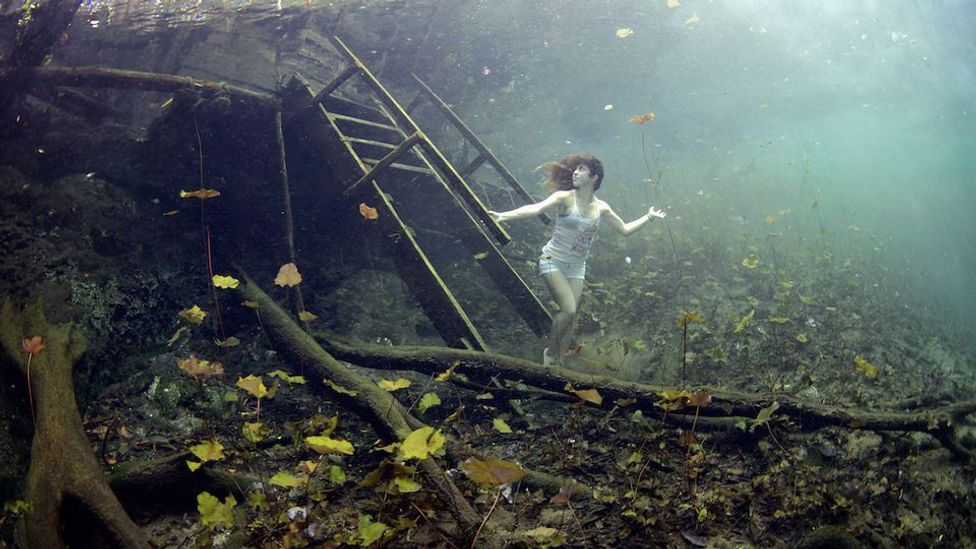 The shoot involved costumed free divers in a spooky fantasy world of caverns and shadowy animal cut outs, thanks to the deep pools of water that refract sunlight through looming jungle and a rare blend of warm and cold water. What I would soon find out, however, was that the cenotes are not just spectacular, but also spectacularly polluted. This is alarming enough for the snorkellers, divers and free divers who seek them out, but it's far worse for the local people who rely on these rivers daily.
The Yucatan Peninsula is part of the Mexican state of Quintana Roo, and home to the sprawling tourist centres of Canucun and Playa del Carmen on its north end, and the increasingly popular gypset destination of Tulum – famous for yoga in the shadow of Mayan temples and its exquisite stretch of sand – about an hour's drive south. It's also a fractured karst ecosystem, which means the aquifer breaches the surface, and the cracked limestone topography above and below ground allows little to no filtration or protection from pollutants.
"When you drive from Cancún to Tulum", said Paul Sanchez-Navarro, director of Centro Ecologicó Akumal, a local environmental non-profit, "on the left are the luxury beachside developments, and on the right are the workers communities, which either don't have sewage systems or are just now putting them in."
Nancy DeRosa, one of the region's six original cave divers who first mapped the cenotes decades ago, estimates that only 12% of the towns in the state of Quintana Roo have sewage systems and tells horror stories of watching plumes of untreated human waste pouring into the cenotes.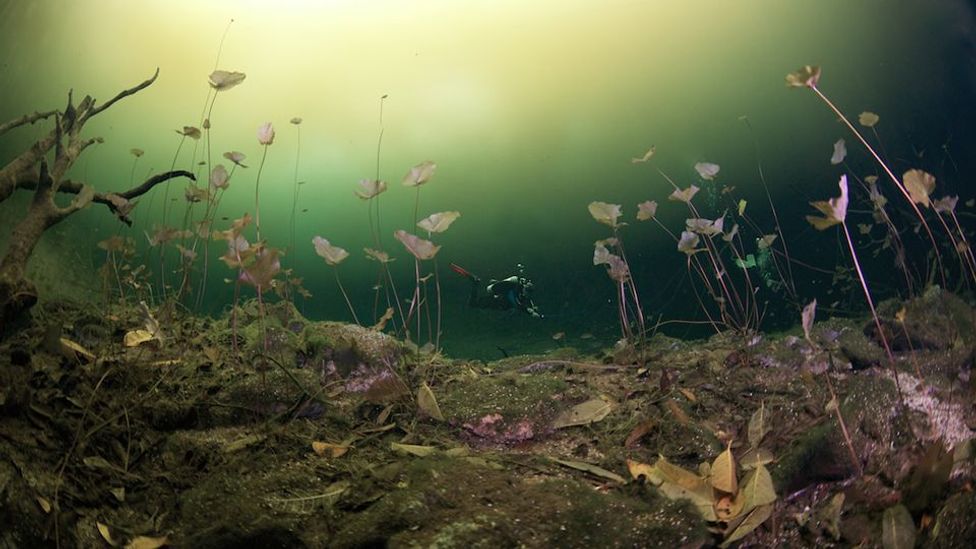 "The larger hotels do have treatment systems," Sanchez-Navarro said. "But under Mexican law they only have to treat the pathogens, like e-coli, then deep inject that wastewater into the ground [to 120m]." This works in the dry plateau of Central Mexico, but in the Yucatan's fractured karst landscape, the waste bubbles up, contaminating the cenotes and the local water supply.
Like many other tropical resort destinations, development in the Mayan Riviera happened so fast that infrastructure, the ability to treat wastewater and the legal framework to ensure environmental protection has lagged behind. Sanchez-Navarro is one of a handful of sustainable development professionals who are now engaged in an epic game of catch up, while they wait and hope for local priorities to shift.
The news isn't all bad, though. A federal law will be debated next year that would revamp the sewage treatment laws in southern Mexico. Instead of allowing the deep injection of wastewater, it will require above ground water treatment – where water is thoroughly tested for nutrient levels and contaminants before being injected back into the ecosystem.
In the meantime, Sanchez-Navarro is working to implement a network of water testing sites in Tulum to find out exactly how many of the cenotes are polluted and how bad the pollution is. He's hopeful that local dive shops, snorkelling outfitters and hotels will agree to pay for part of it. Some already have.
Getting the primary users of the resource to pay for conservation is an ideal close to Barrett's heart. For most divers, the love of the environment is inseparable from the experience, and when you're in the cenotes, you can't help but notice the pollution problem. "At one point I sniffed a lovely sulphuric scent and ascended through an icky film," Barrett said. "I did not want to know what it was."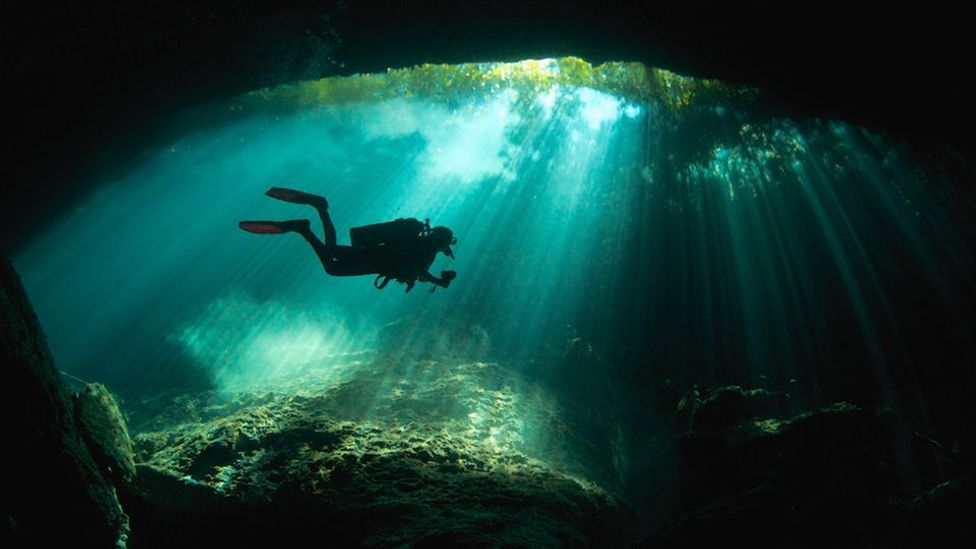 Barrett spent five days scouting the cenotes, and two intense days shooting with two free divers, who dove as deep as 30m and were supported by safety divers who helped them replenish with assisted air. What emerged is a captivating co-mingling of art and adventure that will no doubt lure more divers to the cenotes, and hopefully inspire more action.
The theme of the shoot reflects Barrett's childhood love of fairytales, hence the dreamy images of a Sleeping Beauty-like character and woodland animal silhouettes. But the over-arching goal was to create images that force viewers to look twice.
"I figure, if I can capture their attention through imagery", she said, "they'll take more interest in the waters – be it the sea or the cenotes. I think many environmental activists get engaged by exploring. If my photos encourage people to come experience the cenotes for themselves, the hope is that in doing so, they will also discover a desire to protect them."