From 1992 to 1996, a siege devastated the Bosnia-Herzegovina capital. Today, a tour of Sarajevo means reminders of past horrors – and of the enduring determination to survive.
F
For me, the view over the sprawl of Sarajevo was stunning. For 28-year-old local Skender Hatibovic, however, the panorama we saw from Zlatiste hill, overlooking Sarajevo from the south, was not just pretty. At one point, it had been lethal. From here and other similar points on the surrounding hills, Serbian snipers besieged Sarajevo during the Bosnian War. Over the course of nearly four years, more than two million bombs and countless bullets rained on the Bosnia and Herzegovina capital, killing more than 10,000 residents and scarring the lives of tens of thousands more.
Hatibovic was eight years old when the siege of Sarajevo began in 1992. Until its end in 1996, he and his family lived in a basement for shelter from the constant bombardment. He described how his father, grandfather and uncle defended the city, forming groups to organise defence against the snipers. His home was hit by bombs three times. Still, Hatibovic was one of the lucky ones. He survived.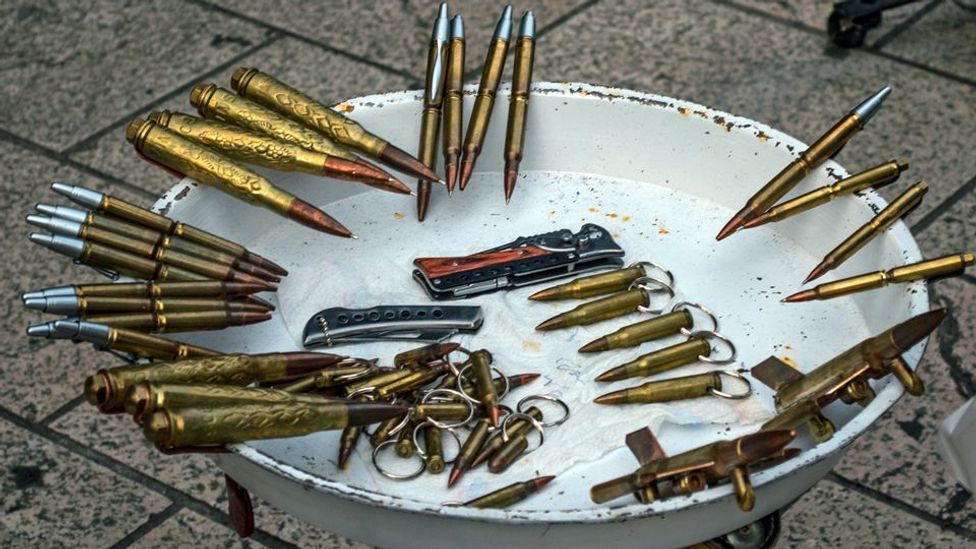 Bullets and bomb cases from the Bosnian War are sold at Sarajevo's market. (Sameena Jarosz)
Hatibovic now runs Sarajevo Funky Tours, a business he started almost by accident. His father opened a hostel in 2004, and as guests began asking for tours of the city, Hatibovic took on the task of showing them around. Despite the company's light-hearted name, Hatibovic's most popular tour, the Sarajevo Total Siege Tour, focuses on the sites connected to the siege, providing both a history and a deeply personal account of the city's darkest years. He is one of a growing band of young people determined to make a brighter future in a city whose mix of Muslims, Christians and Jews once earned it the nickname the "Jerusalem of Europe".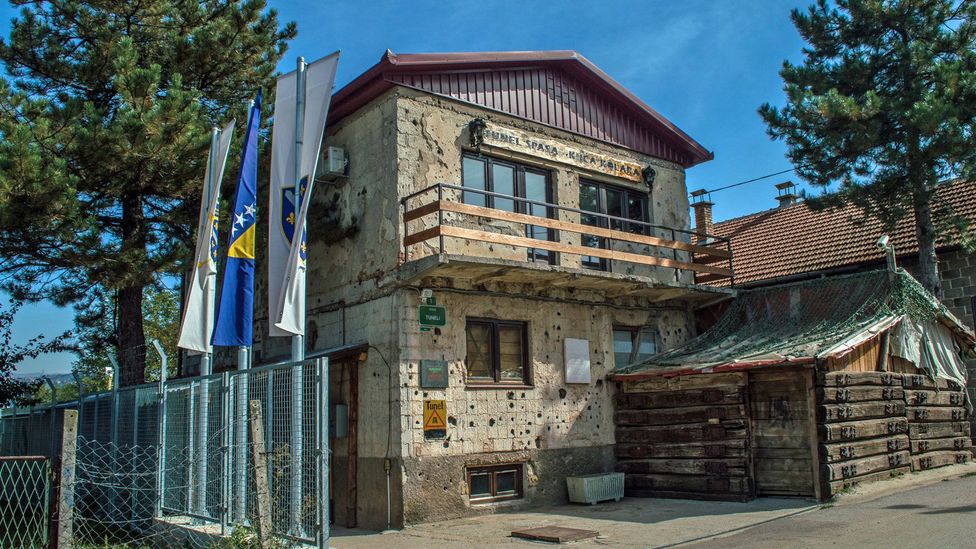 Sarajevo's Tunnel of Hope Museum. (Sameena Jarosz)
On our tour of siege sites, we stopped at the Tunnel of Hope Museum, located next to the international airport. From the outside, the museum looks like an ordinary house. Inside, though, visitors can enter the tunnel that was constructed under the runway by Sarajevo's citizens to provide a critical lifeline to the city. Before the tunnel's construction, men leaving Sarajevo on foot to fight the Serbian forces in the surrounding hills had to run across the runway in a perilous two-minute dash, carrying loads of supplies weighing up to 60kg – without any cover from gunmen. The tunnel let them cross in relative safety and enabled a reliable flow of arms, medical supplies and food into the city – including the occasional goat for its valuable milk and meat. According to Hatibovic, "In Sarajevo during the war, owning a goat was far better than having a Mercedes."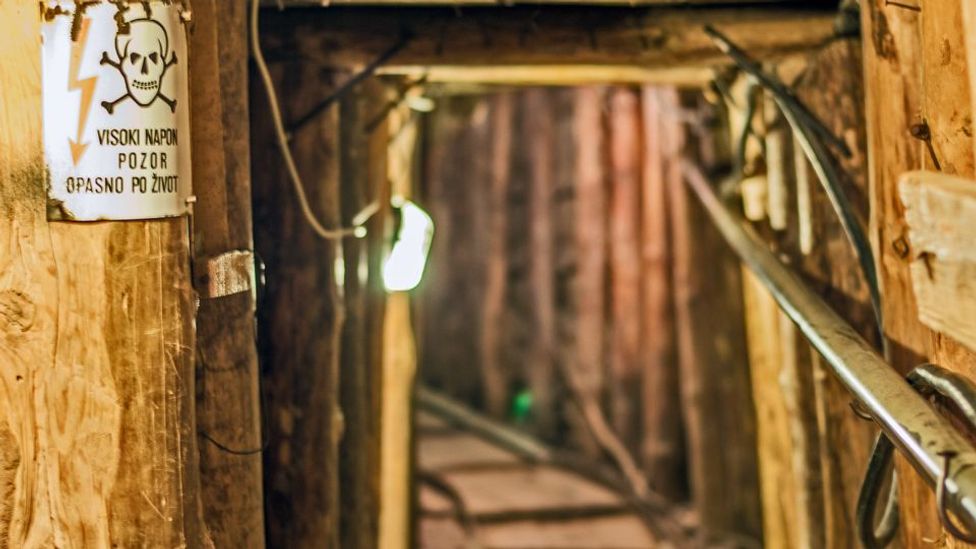 The Tunnel of Hope once provided cover to Sarajevo's soldiers. (Sameena Jarosz)
Now, Hatibovic's eyes lit up as he saw a Meal Ready to Eat (MRE) in the museum collection. The military-style food packets supplied by United Nations troops brought back happy memories because of the boiled sweets they sometimes contained. An MRE with meat, however, was another matter. "It was so bad even the dogs wouldn't eat it," he said.
Twenty years later, Sarajevo offers far more culinary options than food parcels. On the tour, we avoided the many cevapcici (minced meat kebab) shops, instead stopping at an intimate restaurant serving up freshly cooked dishes from a tiny open kitchen with space for only one cook. Called To Be Or Not To Be (although after the war, owner Amer Beširović permanently amended the sign, in typical Sarajevo defiance, to simply "To Be"), the restaurant opened just 20 days before the war broke out. Forced to close during the siege, Beširović reopened as soon as peace arrived. He has been serving home-cooked dishes to locals and visitors ever since, like his signature chilli chocolate steak, a chunk of tender beef covered in a spicy, cocoa-flavoured sauce.
Beširović invited us to sample some local wine to accompany our meal. Bosnia and Herzegovina is growing in stature as a wine-producing region, with Blatina (a spicy red variety) and Žilavka (a nutty, acidic white) the most popular grape varieties. Restaurants in Sarajevo are increasingly promoting home-grown wine as a quality option to the Old World classics, and Hatibovic told me that his guests are asking him to include visits to vineyards in their customised tours of Bosnia and Herzegovina.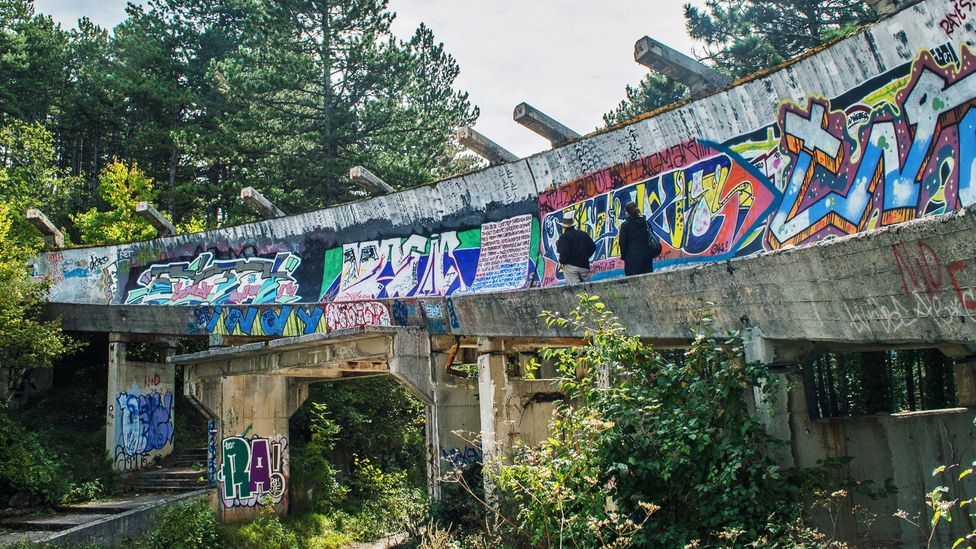 Sarajevo's bobsleigh track from the 1984 Winter Olympics. (Sameena Jarosz)
Another industry that has begun bouncing back post-war is winter sport, with the mountains around Sarajevo once again becoming popular destinations. Since a ski break in Bosnia costs far less than in the Alps, Hatibovic has started organising skiing breaks aimed at international visitors. Still, reminders of the war's destruction remain. On Trebevic Mountain which overlooks the city, we walked along a giant graffiti-covered concrete tube that was punctuated by holes made by mortar shells – the bobsleigh track from the 1984 Winter Olympics in Sarajevo.
Despite the siege's continued consequences, Hatibovic described how it brought about a remarkable camaraderie, with residents hosting improvised music concerts and even the first Sarajevo Film Festival. (In August 2014, the festival will celebrate its 20th year.) "It was important to bring back the human within yourself," he said. And that, I realised, was what Hatibovic's tour was all about: not merely teaching visitors about the war years, but introducing them to the spirit of survival needed to come through such a nightmare.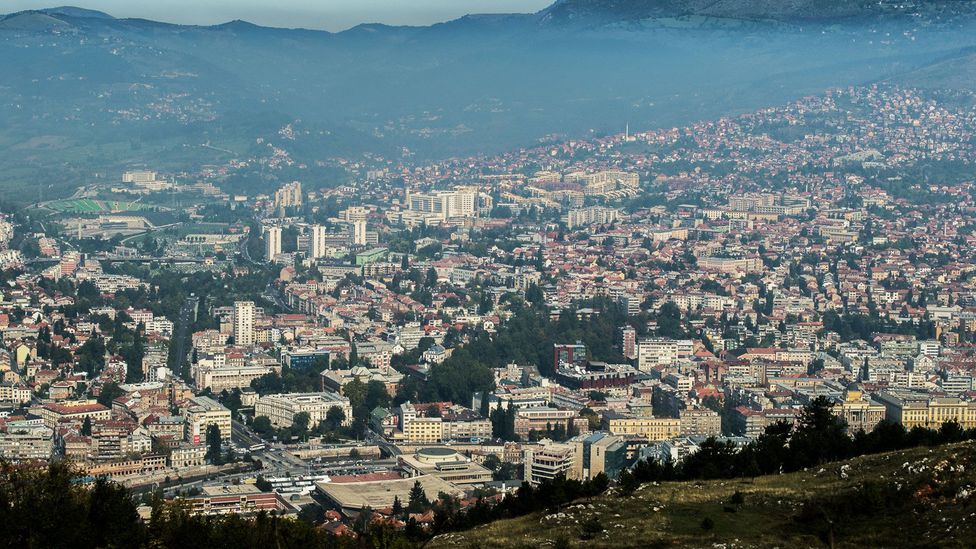 Where snipers once stood: the view of Sarajevo from Zlatiste. (Sameena Jarosz)