The Lord of the Rings films put New Zealand on the map for cinema-lovers around the world. But it's not the easiest formula to replicate.
D
Destinations compete for the attention of would-be travellers everywhere: on billboards, in newspaper supplements, via online advertisements – even in cinema.
In the world of travel industry product placement, few boons are better than having a movie shot on location. And no country knows this better than New Zealand, where the huge success of the Lord of the Rings franchise – featuring lavish shots of New Zealand's mountains, volcanoes and waterfalls – helped turn the country into one of the world's most sought after travel destinations.
According to a 2004 survey taken after all three movies had been released, 6% of New Zealand visitors (some 150,000 people) said the franchise was one of their main reasons for visiting the country. After the first film of The Hobbit trilogy was released in 2012, the New Zealand tourist board rebranded the entire country as "Middle-earth". The Hollywood-inspired campaign worked: from January to September 2013, international visitor numbers were up nearly 10% – with 8.3% of international visitors overall citing The Hobbit as their draw. (That means The Hobbit's influence was about the same as "getting a good deal on flights", which was the reason another 8.8% of foreign visitors gave). Located just outside Matamata on the North Island, Hobbiton, the movie set for The Hobbit, draws some 2,000 visitors each day.
Today, every country wants to follow New Zealand's lead. In fact, film tourism can be so lucrative that some destinations try to grab a piece of the cinematic tourism loot without even having a film shot there. "Some local authorities promote film tourism by claiming that their location has inspired backdrops in a film," said Erik Sellgren, author of the book Film-Induced Tourism. "One in China is luring tourists to a mountainous area [Zhangjiajie National Forest Park] in the Hunan province which has similarities to the floating mountains seen in Avatar. They have even gone as far as re-naming one of the peaks 'Avatar Hallelujah Mountain'." In reality, the 2009 film Avatar was created almost entirely by CGI.
But all of the advertising campaigns and financial incentives in the world cannot ensure a particular film will inspire fans to travel. "There is never a guarantee that tourist numbers will increase rapidly just because a film is depicting beautiful sceneries and great stories of a place," Sellgren said. "The success stories often are films that, first of all, give the audience a cohesive experience – with a great story, backdrop and characters – but also bring some novelty to the table, and focus quite a lot on one place or area."
The 2008 film Slumdog Millionaire (set in Mumbai), 2003's Lost in Translation (set in Tokyo) and 1999's Notting Hill (set in West London) all are examples of films that succeed on both counts, Sellgren said.
Isolating the factors that contribute to film tourism is a difficult task. Martin Cuff, an economic development specialist focusing on film, argues that the key is the emotional connection between audiences and what's on screen. "Films with strong, character-driven storylines and emotional tone tend to have more tourism potential than films made for purely entertainment purposes," he said. Sue Beeton, associate professor of tourism at La Trobe Business School, Australia agreed. "Film tourism can be a highly charged, emotional experience," she said. "We see people re-enacting scenes, role-playing – consciously and unconsciously – and I have found myself shedding a tear at some places I have visited due to the emotional response I have being where a powerful, personal film experience was based."
Of course, winning a major award like an Oscar can also can help drive a film's potential for catapulting its destination into prime time. Even so, this year's Oscar nominees are less location-centric than in previous years, making it hard to know which – if any – will inspire the next must-see destination. Apart from 12 Years a Slave, which was filmed in Louisiana, the movie Nebraska perhaps comes closest, but for very different reasons: its stark black-and-white shots of vast, windswept farmland are as important to the feel of the film as is its veteran star, Bruce Dern. "Nebraska would be my pick," Cuff said. He pointed out that the film's director, Alexander Payne, had already created one classic tourism film: the 2011 movie Descendants, set in Hawaii. It had "gorgeous, accessible locations, a famous cast with a loyal fan base, and a soundtrack entirely scored from local Hawaiian songs," Cuff said. "Importantly, though, it was backed up by savvy tourism marketing from the state, and the development of associated tourism product such as Descendants tours. I don't know whether the Nebraska tourist board is planning to be quite so proactive."
Matt Maytum, news editor at Total Film magazine, suggested Before Midnight, set in the Greek islands and nominated for Best Adapted Screenplay. "It really does show off the Greek Peloponnese in a ridiculously beautiful light," he said.
Still, not all film tourism comes about because of positive associations with a destination's beauty. Of this year's Oscars nominees, Maytum said, it is the harrowing 12 Years A Slave that might compel audiences to see sites featured in the film. "It might generate interest in visiting the relevant locations for educational reasons, or to pay respects," he said. In fact, a "Northup Trail" is currently being set up in Avoyelles Parish, Louisiana, where Solomon Northup arrived after being kidnapped into slavery.
"The big question is if Gravity will spark a lot of interest in space tourism!" Sellgren said.
And there are plenty more movies on the way that may prove even more promising. This year's forthcoming Paddington Bear, set in London, is one potential tourist draw. Industry insiders also are watching to see how the Game of Thrones franchise will affect tourism in Northern Ireland, where many of the key scenes were shot.
Pompeii – a movie about the doomed Italian city released in the US on 21 February and starring Kit Harington, a lead actor from Game of Thrones – may be the most likely to inspire travel plans, said Stefan Roesch, the manager of a consultancy called Film Tourism that advises destination-marketers and tourist boards. Another inspiring set might be the next instalment of The Avengers franchise, set for release in 2015 and filmed in Johannesburg, South Africa, with later shootings in Seoul, South Korea.
Until then, cinema-loving travellers always have New Zealand.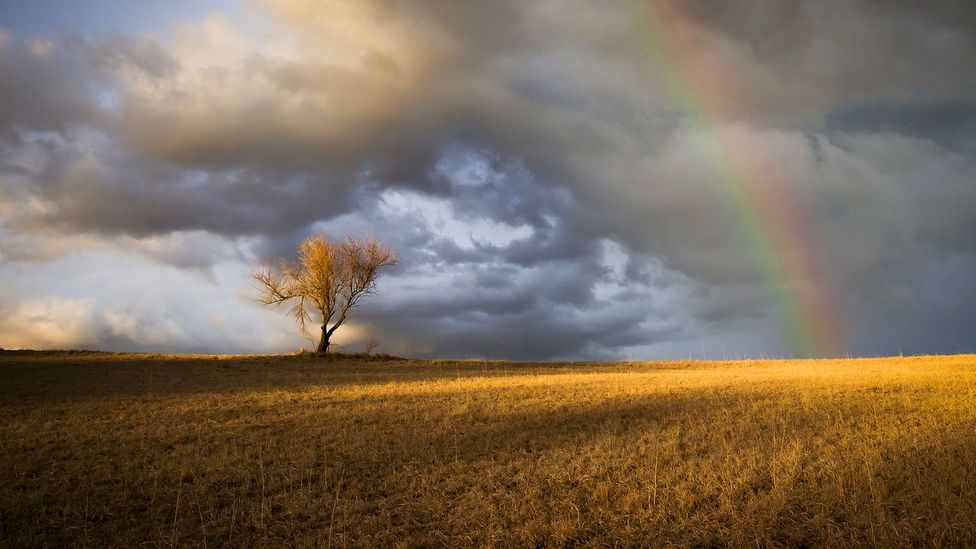 Nebraska
(Jake Olson Studios Blair Nebraska/Getty)