The Swiss alpine region of Appenzell is achingly beautiful – and haunted by loneliness so palpable, it has inspired one of the world's saddest, most beautiful forms of music.
P
Portugal has its heartbroken fado, Mexico its melancholy ranchera and Ireland its wistful folk ballads. But in some ways, the lupine calls of Eastern Switzerland's Zäuerli and Ruggusseli yodels are the saddest songs in the world.
I have travelled to Switzerland's Appenzell – a hilly region located 95km east of Zürich, near the border of Austria and Liechtenstein – some dozen times. The journey alone is a highlight. The shiny red Appenzeller Bahn leaves the industrialised Glatt Valley behind at the terminal station of Gossau, whistling its way into rolling pasturelands where bell-shaped barns and shirtless farmers are within salt-passing distance of your train seat.
Once there, other passengers open the train windows, letting in the smells of wildflowers, cut grass and, yes, a whiff of fresh gülle (manure). Here, the landscape trades glacial Alps and ski slopes for cowbells and a yodelling heritage first documented in 1609. But some claim that yodelling actually dates back some 2,500 years, when tribes of Iron Age Alemanni and Helvetii Celts roamed these hills. If you listen closely as your train arrives, you might hear the same ancient calls still being sung by today's musicians.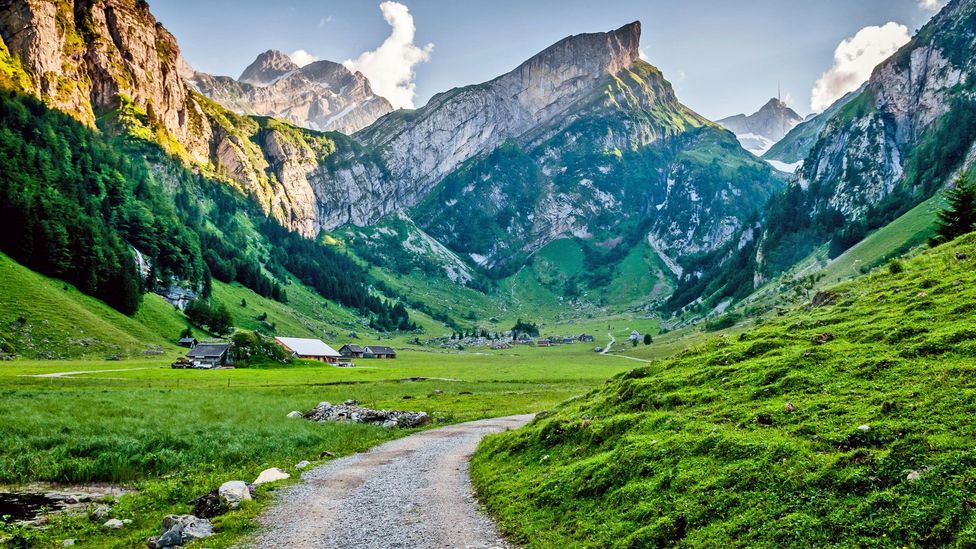 Säntis, the highest mountain in Appenzell. (Roman Sandoz/Getty)
Founded in 1513, the Appenzell region is today made up of two sub-cantons – Catholic Appenzell Innerrhoden and Protestant Appenzell Ausserrhoden – where the predominant dairy farming industry gives the cantons a wholesome, Vermont-like vibe. I quickly learned, however, that there is a dark side to this bucolic Swiss bliss. The Swiss themselves would say that Appenzell is more like the Ozarks than Vermont: beautiful but at times backward – and haunted by a palpable loneliness and melancholia that lingers over the landscape and trickles into the music.
Appenzell is home to Switzerland's highest suicide rate, which says a lot for a country whose suicide statistics already run high, partly due to legalised euthanasia. Some also argue that Appenzell clings to tradition too much. Women, for example, weren't given full voting rights until 1990, making it the last canton to give full suffrage. Today, Appenzell is surrounded by the canton of St Gallen, making the region a sort of double-Swiss exclave. Or in less polite terms – the middle of nowhere. But it's this nowhereness that's key to the music.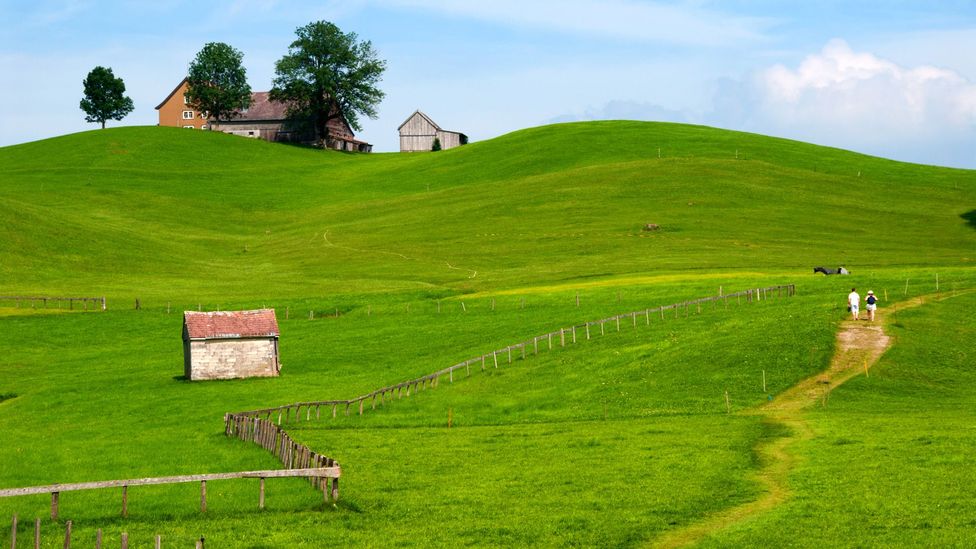 The Gonten trail, where hikers trek barefoot through Appenzell's rolling hills and farmland. (Martin Moos/Getty)
Appezöllerstöckli (Appenzeller folk music) features a variety of instruments: violins, dulcimer, cello and contrabass predominate, while accordion and piano are less frequent. But it's the yodelling – wordless calls originally sung by farmers and shepherds to communicate messages across deep valleys – that really distinguishes local music from other folk genres.
Forms of yodelling have been traced to Georgia, Persia, Central Asia and Central Africa. Here in Appenzell, they come in two forms: the Ruggusseli, a style sung in Innerrhoden, and the Zäuerli, a style sung in Ausserrhoden. You can hear Zäuerli at the beginning of Wes Anderson's latest film, The Grand Budapest Hotel.
Most agree that Zäuerli is slower and more from the chest, while Ruggusseli comes from the head. Both are composed of multi-voice, wordless sonorous vowels marked by falsetto chest-to-head glottal leaps. In non-musical terms, yodels are howls to remind the living of life. They are sheer cries of elation. "Both are melancholic, though Ruggusseli is sadder due to its abundance of minor keys," said Ausserrhoden-based music teacher Antonia Brown, who runs the agency Appenzell Tailor-Made Tours. An American opera singer who spent most of her life performing in Florence, Brown is one of a handful of international musicians now based in Appenzell.
Locals gather for Silvesterchlausen, a New Year's festival that centres on yodelling. (Sebastian Derungs/AFP/Getty)
The Chlausezäuerli, a form of Zäuerli, is an especially eerie form of yodelling performed only in Appenzell Ausserrhoden on New Year's Eve by the holiday's spirits, which are called mummers. The best place to experience these singing mummers is during the village of Urnäsch's bizarre New Year's festival, Silvesterchlausen, said to date back to pagan times. On 31 December and again on 13 January (the Julian calendar's New Year's Eve), local dairy farmers dress in elaborate homemade costumes using mostly natural materials like moss, twigs and leaves before circling through the village, stopping occasionally to call out sad, haunting yodels. Then, without speaking, they move on to the next stop – all as part of a route that is kept secret. Adding to the mystery, the mummers are fully masked the entire time. Around their necks hang giant cow-bells which clang loudly as they come and go.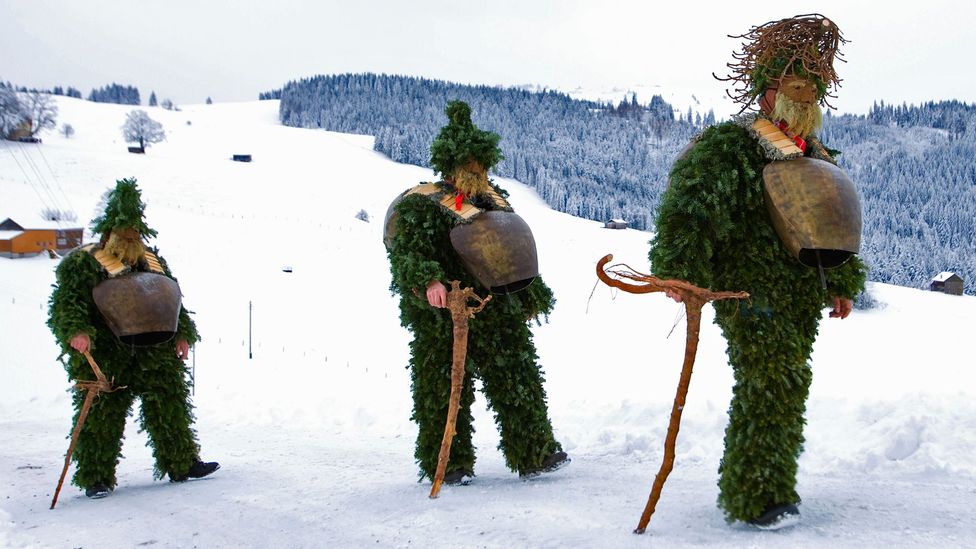 Trekking in twigs and leaves for Urnäsch's Silvesterchlausen. (Sebastian Derungs/AFP/Getty)
The region's music also comes to the forefront during Appenzell town's Landsgemeinde on the last Sunday in April, when 3,000 citizens come to the main square to vote on cantonal and national referendums. The day before the vote is the Striichmusigtag Festival (String Music Day), which consists of a few dozen concerts emphasizing hackbrett (a hammered dulcimer), cello and bass. This past April, I listened to a concert of folk songs, Bach and Gershwin by the trio Anderscht inside Urnäsch's 15th-century Reformierte Kirche. Afterward, I heard the Talerschwingen, a bowl that uses a five Franc coin to create an annoying humming resonance that sometimes plays in the background of yodels.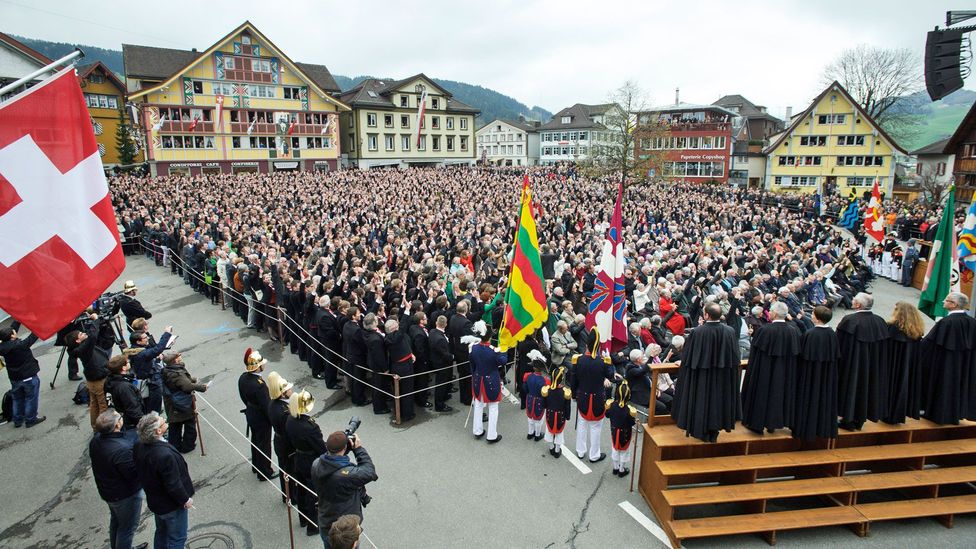 Appenzellers vote in the annual Landsgemeinde, a 700-year-old tradition. (Sebastien Bozon/AFP/Getty)
Appenzell is a doable day trip from Zürich, but overnighting is better, as music sessions can run late and the local beer has a way of enticing you to stay for one more set. I stayed in the village of Stein at the cosy year-old Am Brunnen B&B, within walking distance of the 355m-long Ganggelibrugg, Europe's highest suspension footbridge, which hovers 99m above the Sitter River. For obvious reasons, especially here in Appenzell, it is nicknamed the "suicide bridge". Music-lovers also should check out the Hotel Hof Weissbad (from 270 CHF), the only venue that has Appenzeller music concerts year-round: every Wednesday night is a raucous dancing and music session, where old-timers spin around on the dance floor to high-speed hackbrett. Another option is Ebenalp's surreal 19th-century Bergasthaus Aescher, built directly into a cliff and only reachable by gondola, followed by 30-minute hike. The easy 2km trek passes through a series of isolated caverns once home to 15th-century hermits, which beg to be howled from. (Doing so produces a short, rich echo).
But a yodel from the broad summit of Ebenalp into the steep narrow valley is the real deal. When the sinking sun lights the jagged tips of the Alpstein massif with a copper alpenglühen (alpine glow), don't be surprised if you are so moved by the beauty, you involuntarily bellow out a yodel – since ancient times, the call of feeling alive.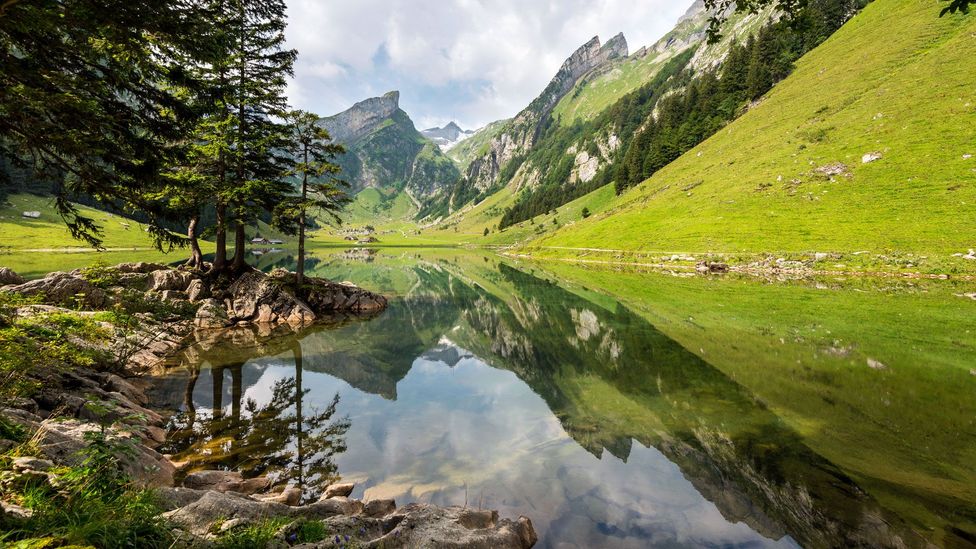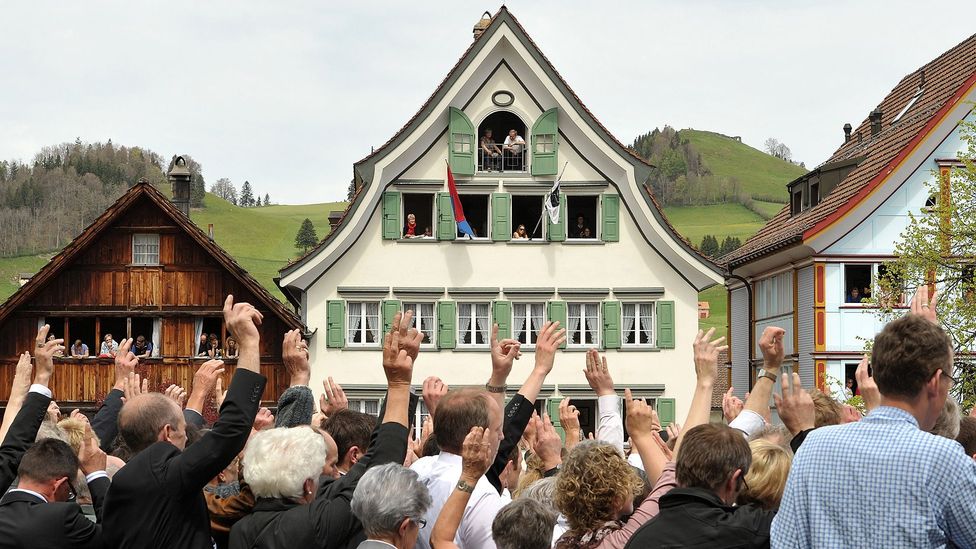 Appenzell, Landsgemeinde, Switzerland
(Harold Cunningham/Getty)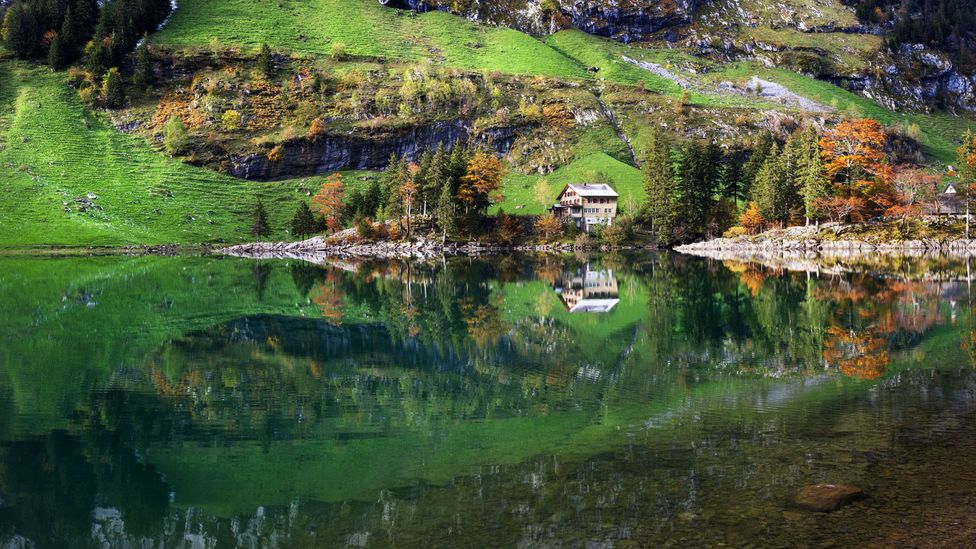 Lake Seealpsee, Appenzell, Switzerland
Silvesterchlausen, Switzerland, Appenzell
(Sebastian Derungs/AFP/Getty)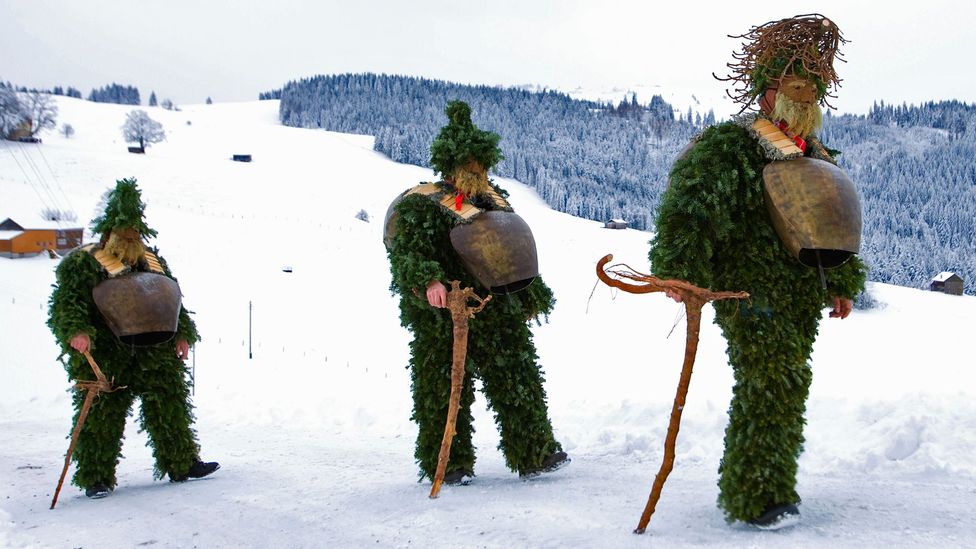 Trekking in twigs and leaves for Urnäsch's Silvesterchlausen. (Sebastian Derungs/AFP/Getty)
Trekking in twigs and leaves for Urnäsch's Silvesterchlausen. (Sebastian Derungs/AFP/Getty)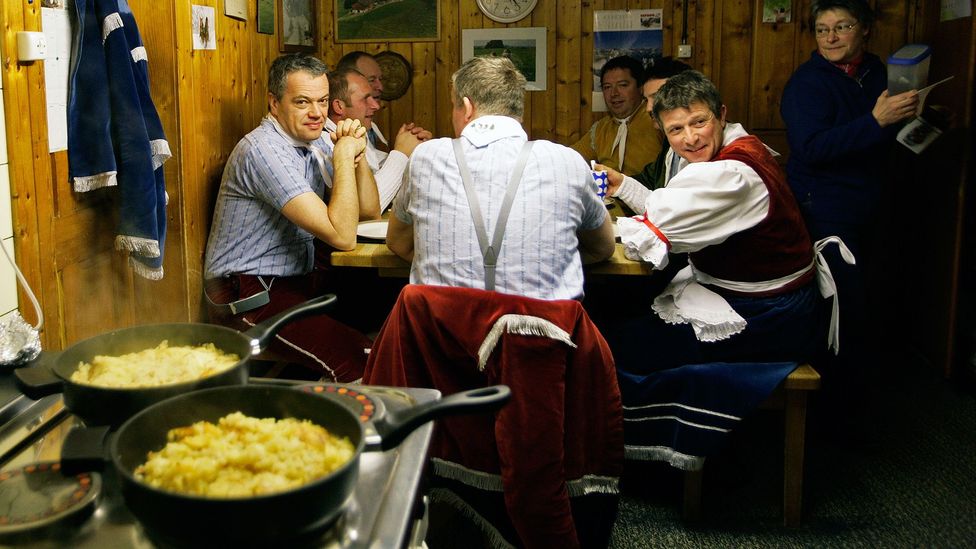 Urnäsch, Appenzell
(Sebastian Derungs/AFP/Getty)