Iceland's Silfra fissure is one of the only places where you can dive between two continents. In some cases the space is so narrow, you can touch North America and Europe at once.
I
Iceland's Silfra fissure – a crack between continents formed by the constant pulling apart of two tectonic plates – is a geological wonder. Because of this, it's become one of the world's top diving destinations, where divers and snorkelers can literally float between the North American and Eurasian continents; in some of the narrower openings, you can touch both sides at once.
It's also where you'll find some of the clearest water in the world, the result of a fascinating natural filtration process where melting waters from the nearby Langjökull glacier filter through porous underground lava for 30 to 100 years before reaching Silfra. With visibility of more than 120m, there's a clear view of both the breathtaking underwater geography and the emerald algae carpets that illuminate the fissure's floors.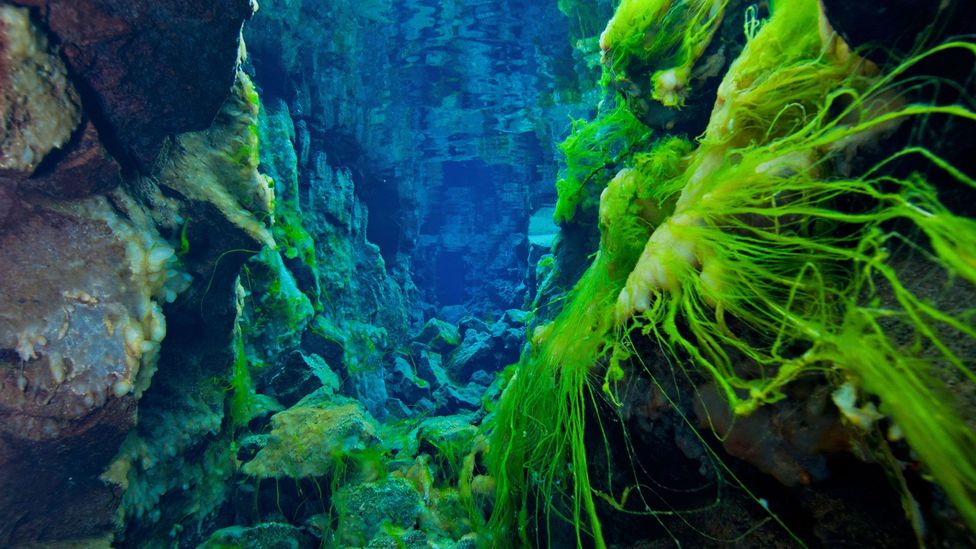 Silfra's fluorescent green algae. (Stocktrek Images/Getty)
Silfra's waters offer four main dive locations: the Big Crack, home to the narrowest (0.5m) and deepest points (45m) of the rift; Silfra Hall, where the fissure widens into a remarkable cave system; Silfra Cathedral,  with its exquisite lava rock walls; and Silfra Lagoon, a favourite for snorkelers, where the algae is at its most vibrant.
Due to its location in Thingvellir National Park, Silfra is protected by the park's regulations and requires that snorkelers and divers enter the water with a local guide through companies such as DIVE.IS . Most companies offer tours from May through September.