Acclaimed writer Pico Iyer describes his first walk in Kyoto 26 years ago, when he found understanding between a Shinto shrine and a 7-Eleven and fell in love with the city forever.
M
My favourite Kyoto walk begins at a half-hidden temple called Gesshin-in ­– two-storey, white-walled, eminently missable – on a lane dominated by huge Buddhas, high towers on either side, and shops selling exquisite prints of kimonoed women and samurai warriors. It's in the very centre of Japan's ancient capital, between the can't-miss sights of Maruyama Park and Sannenzaka, just next to the steps leading up to the temple known as Kodaiji.
As you stand on this narrow street, Nene-no-michi, looking west (downtown happily obscured by low bamboo fences and thickets of flowering maples), you'll see scores of visitors surging past you, south, to climb the narrow sloping streets of Ninenzaka and Sannenzaka. Glamorous Japanese couples linking arms, foreigners with Nikons around their necks, chattering matrons and (in the daytime, at least) school groups – all are hurrying towards one of the last pilgrims' districts in Japan, leading up to the legendary Temple of Pure Water, Kiyomizu.
Sannenzaka is golden in the late afternoon, and though it's full of souvenir shops crammed with Hello Kitty key chains and posters made for Bieberites, though its lanterns sometimes come with outlines of Mickey Mouse's ears on them, it's still quite magical, with its walkways between shops selling dark blue Kiyomizu pottery, its tatami tea-rooms, the sight, as you ascend the steep paths, of slanting grey roofs extending below you towards the city. At the top, behind Kiyomizu, you come to a waterfall surrounded by hills that take you back to the world that might have been here before a soul had seen it. The temple itself was in place two centuries before the second millennium began.
But even as the crowds throng toward these postcard vistas, I recommend you move in the other direction, towards what ultimately looks like chaos. Turn right, and start walking towards the Gionkaku Tower at the end of the street, beside a modern temple. If you want to absorb Kyoto, you have to head into the clamour of downtown and find those graces that are not incidental to the place, but at its very heart. Both shopping streets and templed hills, after all, glow in the late November light with a magic-hour sharpness that deepens the blue above even as it catches the leaves whose turning speaks of coming winter and coldness and dark.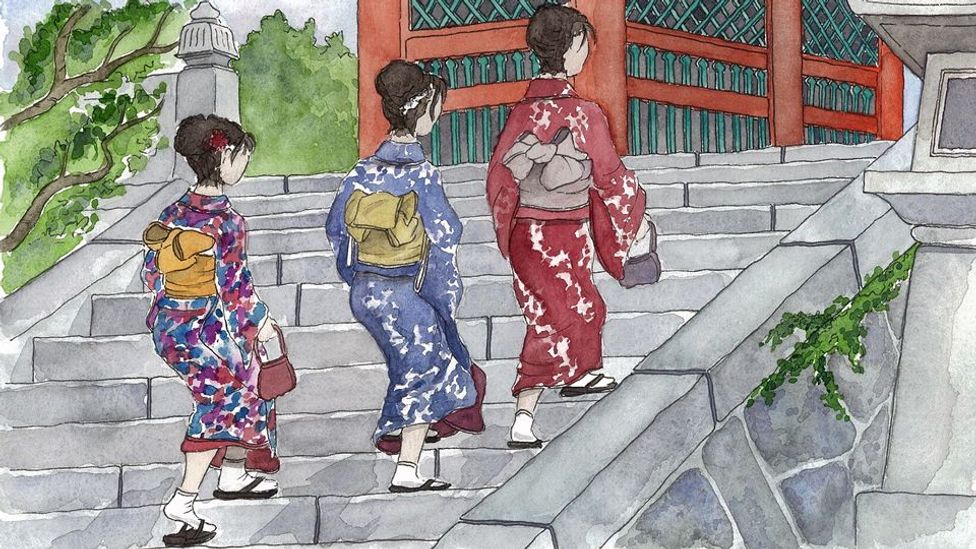 Three kimonoed women walk up the steps to the shrine of Kiyomizudera Temple. (Candace Rose Rardon)
At the end of the lane, a right turn will bring you to the low entrance of a place where you can learn to make green tea, and to the Edo-period cottage built by a poet in memory of the haiku master Basho, who cherished the area because his teacher once lived here. Then, walking north along the wall running besides Daiun Temple, you'll arrive, within less than a minute, at a wide walkway on your right leading up to Otani cemetery. It was this broad avenue, hung with bobbing white lanterns, alight with girls fluent in yukata (a light kimono) and little boys carrying lit-up white globes, that greeted me my first night in Kyoto, in 1984, on a three-day visit through Japan with my mother, en route to India. The city was marking Obon, the brief interlude when departed spirits are believed to return to their earthly homes to look in on their loved ones, and every year in mid-August I now come back, and walk up amid the lanterned headstones of Otani, something of a returning ghost myself, to watch the lights come on in the city below and every barrier between the living and the dead dissolve.
Step into Maruyama Park, in front of you, and you're met by a three-storey European building, formal as a Berlin concierge, and dating from 1909, not long after Japan first began throwing open its doors to the West. The whole exquisite expanse around it, with its pond and statues and pathways leading to elegant restaurants – and a street of secrets behind – has a 19th-century flavour to it, as if made for providing Baudelaire with his absinthe. Take the first left, towards a Shinto shrine's orange torii gate, and you see paper prayer slips fluttering from a tree like cherry blossoms; on your right is the most famous weeping cherry in Japan, and a grove of cherry trees that burst into bloom each April, when hundreds of people sit on the ground under the pink boughs and sing boozy songs.
Come out at last into Yasaka Shrine and you might imagine you're sighting a giant ship with lanterns on all four sides. The traditional heart of Kyoto since the mid-7th Century – long under imperial protection – the shrine is now the place where you can watch women from the "water world", or entertainment district, bowing to the main shrine, palms pressed in prayer, and mothers carrying auspicious flames from the shrine back to their homes just before New Year's. Then, as you walk past the huge torii gate at the entrance to the park, past snarling leonine guardians on either side, you arrive – this being Kyoto – at one of the busiest streets imaginable.
Now the modern world roars out at you from between the taxis and the jam-packed sidewalks; a century-old shop tells you in English of its special Kyoto sushi, another promises coffee made from the "sacred water" of an old shrine's well.  And now, for me, you enter the "real Japan" at last, an unfathomable confection of what we see as authentic and what we don't think of as Japanese at all.
My first stop is generally at the Lawson convenience store on the southwestern corner of this intersection, where Shijo-dori (Fourth Avenue) meets Higashi-oji (Eastern Street). Yes, I can get macadamia caramels and green-tea Kit-Kats there, watermelon-flavoured chewing-gum and cans of hot Royal Milk Tea; I can use the copy machine, buy tickets to see Green Day next month, pay my telephone bill and take shelter in the event of an earthquake. But I cherish the convenience store most deeply because it cuts through all divisions – the divisions an innocent mind creates – between what is special and what a trifle, what is "worth seeing" and what not.
When first I arrived in Kyoto, like many a wide-eyed newcomer I was fascinated by the aesthetics of its Buddhist spaces and its sanctuaries of silence; I never stopped to wonder where beauty ended and meaning began. I was interested in the old, I thought, the local, everything that couldn't be found in the West. The last thing I wanted to look at was a Japanese 7-Eleven. Yet as soon as I got to know the country, I came to realise I had moved to Japan in part in order to see that a 7-Eleven could be just as Japanese – as foreign – as any meditation hall, and no less full of wonder (or even kindness and attention). Sanctity lies not in any object but in the spirit you bring to it.
Or so at least I tell myself now as I prepare for the raucous consumerism of downtown. Shijo Dori between Higashi-oji and the Kamo River is a carnival of exquisiteness: of shops laying out grasses and vegetables you'll find nowhere else, next to others selling "cat's tongue" green-tea mousse and candles and white lanterns. Stores selling the traditional stuff of feminine elegance – parasols and painted lacquer slippers and combs – sit next to brassy bars with names like Miss Universe, where Russian girls in heavy clogs and Filipinas tumbling out of taxis head toward their jobs.  On the other side of the street, Hanamikoji used to be a precious, silent area of plover-decorated lanterns and closed sliding wooden doors. Now, thanks to years of recession, even a backpacker can enter a tearoom once reserved for CEOs and enjoy its economies of scale.
As you continue along the southern side of Shijo, you pass a little temple – a sudden whiff of incense, tiny, flickering candles against dark wood – that honours a god who's said to have saved drowning bodies when the nearby Kamo River flooded, 10 centuries ago; beside it, at the stately white Minamiza Theatre, with scenes from classic kabuki dramas above its gold-trimmed red doors, kimonoed ladies gather as if fresh from a Kawabata novel about a businessman seeking out the romance of his vanished youth at an inn along the water.
Shijo Bridge, in front of you, might be the ground zero of Kyoto old and new: a monk is standing, stock-still, collecting coins, and the mountains to the north are blue in the dusk. Figures in the five-storey cluster of restaurants to the west turn into outlines from a secretly published collection of short stories, while the Chinese restaurant across from it might have been airlifted from Shanghai's Bund.
Every kind of design, cutesy and super-elegant, dainty and very rowdy, crisscrosses on this thoroughfare, and if you venture farther along Shijo, you'll soon be on the city's Rue de Rivoli, white-gloved doormen admitting you to the Louis Vuitton store while the double-triangled flag of Nepal beckons you towards the Yak and Yeti restaurant down a side-street.
But my destination now is Pontocho, the lanterned lane, 50m wide, that runs along the river, but – perfectly – out of sight of it, down the first alleyway to your right. Enter one of its restaurants (Italian and Russian these days, though traditionally highly exclusive), and you look out on the eastern hills, temple spires rising above the trees; walk along it – this may be the essence of Kyoto – and you can see and feel the city's beauties all around you, but never quite catch sight of every one of them.
Instead you walk through a doll's-house gallery of jazz bars and dusty clubs called Fly Me to the Moon or Hello Dolly, some of which look as if they fell into a deep sleep during the Occupation and have yet to be kissed awake again. Just past the Hotel You on the left – for couples in a hurry – matronly fortune-tellers are sitting in front of illuminated globes, telling anxious girls where Right-san may best be found. Probably not at the Hotel You, I think.
More worldly friends will stop off here for dinner in cool Mimasu-ya, reserving tables overlooking the water, or in the sublime French kaiseki restaurant, Misoguigawa, where a girl in kimono sits by your table throughout the meal, making delectable small talk in impeccable English. But I prefer to consume the entire city, a floating festival of delicacies. So, instead of spending three hours in a single restaurant, I continue to roam, nibbling at glimpses of the moon between the pachinko parlours, the click-clack of high-heels down an alleyway towards Kiyamachi, the way the couples still sit at decorous intervals along the riverbank, formal as courtiers, even if talking of that wild night in Waikiki.
Continue along Pontocho, past the theatre where geisha perform public dances in autumn and spring, and you will come out near the river again and Sanjo Bridge, where much of young Kyoto is hastening towards a night on the town, or waiting for dates near the temple commemorating 39 noblewomen and children executed along the riverbank. Friends in search of something special will head a block west to the Times Building, designed by Tadao Ando, or to the celestial pie shop a block to the north of it, along Kiyamachi's canal.
But the point of my walk – maybe 30 minutes long if you move very fast, an evening if you dawdle – is not to pick up highlights from a guidebook. The lowlights are enough.
In front of me is a Starbucks that allows anyone to enjoy the classic view across the bridge once reserved for well-heeled aesthetes; beside me is a Lawson where I can put together a sumptuous dinner.
As it happens, the walk I've just described was the first walk I ever took after settling down in the city, 26 years ago. It was, in truth, the way I fell in love with the place for good. I go over it now – in my head, with my feet – as I might go over the first billet-doux sent me by my (Kyoto-born) sweetheart.
I had heard about the tiny sub-temple, Gesshin-in, from a Buddhist priest in California, who told me it was a cheap place to stay, and when I arrived there, having just abandoned my comfortable apartment on Park Avenue South and 25th-floor office in midtown Manhattan, I wondered where I'd ended up. Only two monks were in residence: one a ghostly-pale character with a soft spot for the entertainment district nearby; the other a grizzled old guy whose passions stretched from motorbikes to the Hanshin Tigers baseball team and back again.
Every day, I went to the tearoom two doors to the south, with its carp pond in the garden and its shelves of trophies commemorating giant fish within. I pulled out a worn Vintage edition of Tanizaki's elegiac Makioka Sisters (or Softly Falling Snow, as its title means in Japanese) and read his ode to a vanishing traditional Japan as I sat on the tatami floor, sipping my green-tea float. Is the Japan he so cherished gone now? It's hard to say when the grandma at the cash register still smiles at me, on my occasional returns, and whispers, "Long time, no see."
Living here, I never dreamed that this rather obscure and unvisited area would soon become one of the most glittery and chic in all Kyoto. Kodaiji began offering "light-ups", nighttime illuminations of its main sights, in autumn, and then spring and winter; these proved so popular that neighbouring landmarks followed suit, and for much of the year the whole area is now a maze of softly-lit wonders. The villa belonging to Nene-san, the widow of the formidable 16th-century leader Toyotomi Hideyoshi (she gives the street its name), opens its doors after nightfall, so you can see fusuma screens of a white dragon and cormorants – Hideyoshi and his followers, apparently; a festive cluster of 14 shops has opened up next door, with its own incense museum; and the aged women in kimono who own the Rikiya ryokan a few steps to the south run their arms fondly up foreign men's arms, and then make sure each one has paid his 10 yen for a local phone call.
All of this makes the area much more elaborate and glamorous than it used to be. But none of it spoils – it only amplifies – what held me on arrival. The scale here is human, the very inverse of the grandeur you'll find in many guidebook sights, or in most of the world's great cities. The aesthetic is inturned; whether it's the laughter emerging from the second floor of teahouses or the chanting of monks, it suggests that inside is where we find – or make – our treasures. And the fact that the area is just a little way off the main drag reminds you that the margins are where the deepest interest lies. The nape of a neck, the gold embroidery along a kimono's edge, barely visible.
In Kyoto, the main thing to note is that every simple distinction – between high and low, sacred and profane, even old and new – is something of a figment of the imagination. And it's in the empty spaces of a local painting, the white space around a haiku, that all the power lies. It's only when you can accept both the pure and the crazily mishmashed – and see how each gains from the other – that you can begin to feel what a true Kyoto-ite knows, and feels, in her very bones.
Pico Iyer is the acclaimed author of many travel books, including Video Night in Kathmandu, The Lady and the Monk, The Global Soul and, most recently, The Man Within My Head. A version of this essay appears in Deep Kyoto: Walks, an Amazon ebook published in May 2014. For more information, visit www.deepkyoto.com.