Reaching 550km from Vienna to Trieste, the 23-day walk stops in some of the areas most affected by both world wars. Yet recent events in Ukraine add a new layer of importance.
F
Five months after pro-Russian forces seized the Crimean peninsula from the Ukraine, the crash of Malaysia Airlines flight MH17 and the death of all 298 people on board has threatened to directly involve other EU countries in the conflict, with EU ambassadors meeting tomorrow to discuss imposing new sanctions against Russia. Meanwhile, thousands of people across Europe, from Paris to Vienna, are protesting against the rising escalation of violence in the Gaza strip, where conflict deaths have recently passed 800. Some demonstrators have attacked Jewish-owned shops and synagogues in a show of anti-Semitism that has, itself, become concerning enough for the foreign ministers of France, Italy and Germany to issue a joint statement condemning the acts last week.
It is against this bloody backdrop that some 200 individuals are embarking on Europe's first Peace Walk. 
Started on 28 July in Vienna, Austria and ending 23 days later in Trieste, Italy, the 550km walk was officially created to commemorate the 100th anniversary of World War I, stopping in some of the areas most affected by both world wars. Today's Europe, with its 28 member states bound together by the 21-year-old European Union, is a vastly different place than the continent was after its devastation a century ago.
Yet recent events in the Ukraine and across Europe may be calling the aptness of that celebration into question – not to mention, the walk's organisers say, underlining how much initiatives like this one are still needed.
"If there's anything that the European Peace Walk should show to the world, it is, 'Look: we had it all, we went to war, we annihilated each other – and then 20 years later we did it again," said Grattan Lynch, the walk's founder. "So it's time to share our differences. And the only way you ever get over fear of any other country is by meeting people from it."
Walkers this year hail from countries around the world, including the UK, US, New Zealand, Denmark, Italy, Indonesia and Honduras.
Lynch had the idea for the walk some seven years ago, while trekking Spain's well-known Camino de Santiago pilgrimage route. Sitting at a table one night with hikers he'd met from the US, Hungary, France and Germany, he thought about how 100 years ago, they all were in violent conflict. The four-year war ravaged Europe, killing what was, at the time, more people (nine million soldiers and five million civilians) than any other war in history, laying waste to thousands of kilometres of land and destroying four once-powerful empires. Yet here they were, sitting together and sharing food, stories and cultural differences. Lynch thought of how beneficial it could be to develop a route that treated that friendship and socialisation as its main purpose – rather than a mere consequence.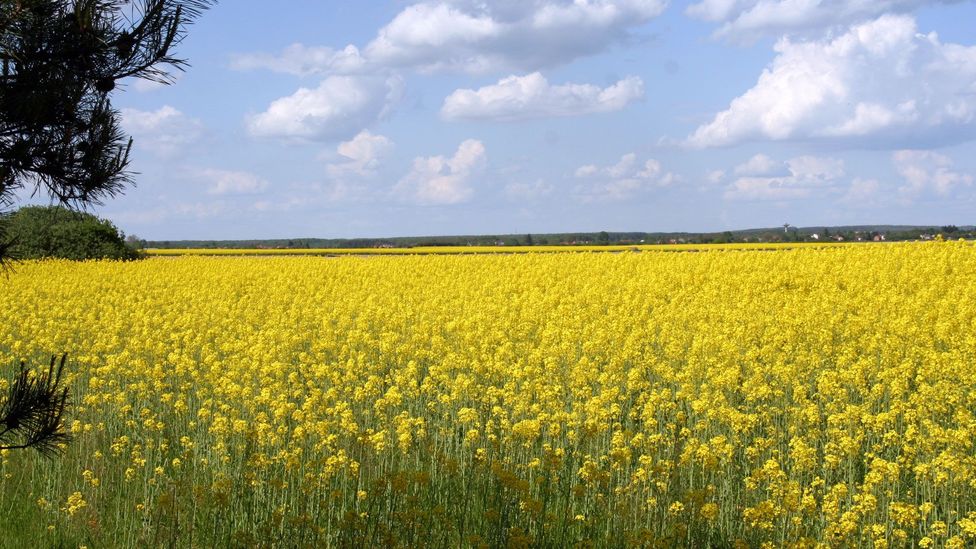 Stopping in Őrség National Park, Hungary.
He and other organisers approached the United Nations, EU and others with their idea, but it went nowhere. So they decided to organise the walk themselves. After some four years of research, the route they chose runs through six European nations, including cities such as Bratislava, a metropolis under the Hungarian Empire that became the capital of the new nation of Czechoslovakia in 1919 (and now is the capital of Slovakia), causing enormous population upheaval as Czechs and Slovaks moved in, and Hungarians fled.
The walk's concept of crossing borders is paramount. On one day, the walkers have breakfast in Hungary, lunch in Slovenia and sleep that night in a Croatian brewery. And it was that concept of overcoming barriers that drew Ruthi Solari, a nonprofit founder from California and the walk's US representative. "Pilgrimages are amazing, but what about creating one that connects the internal journey with truly promoting something greater than ourselves?" she said. "We are crossing so many borders, and really sending a message of, 'We are all on one single journey as humanity'." The interaction with walkers from different nations, as well as locals in each of the villages, she said, is also a way to break down divisions – not to mention the walkers' use of social media to share stories and images from the walk on a global level.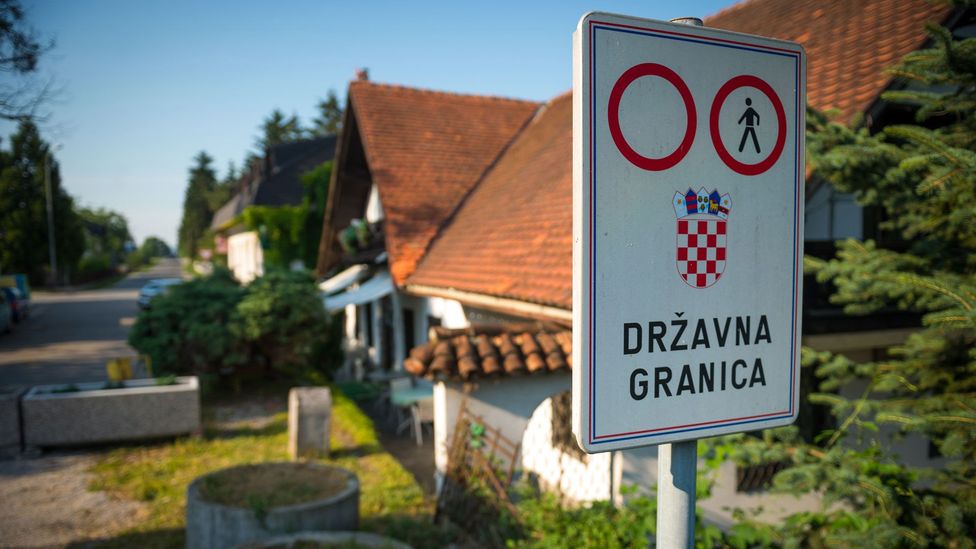 A sign reading ''National Border'' is pictured in Obrežje, at the Slovenian-Croatian border. (Jure Makovec/AFP/Getty)
As hopeful as walkers like Solari are that the walk may lead to change, however, they agree that recent events in Europe are giving the walk a wistful tinge. "It's one of those moments where we can see how far we've come since World War I. But it's such a critical time to pause and ask ourselves, 'What do we really need to move toward a global family, and make that a possibility?'" she said. "The more we can have conversations about what peace looks like, the better."
Because the walk is about far more than just World War I or even Europe, Lynch said, at some point, he'd like to see similar routes created elsewhere – perhaps Central America, or – "dare I say it?" he said, with a rueful laugh, "Israel and Palestine".
While the walk kicked off on 28 July, walkers are leaving in waves, with 50 setting off each day until 11 August. Because accommodations are limited – in some cases, areas had so little tourist infrastructure that organisers had to create accommodations in places such as a horse range and a converted school – walkers must register in advance. Accommodation averages about 10 euros per night.
Next year, Lynch said, the goal is to have the walk open for a full six months.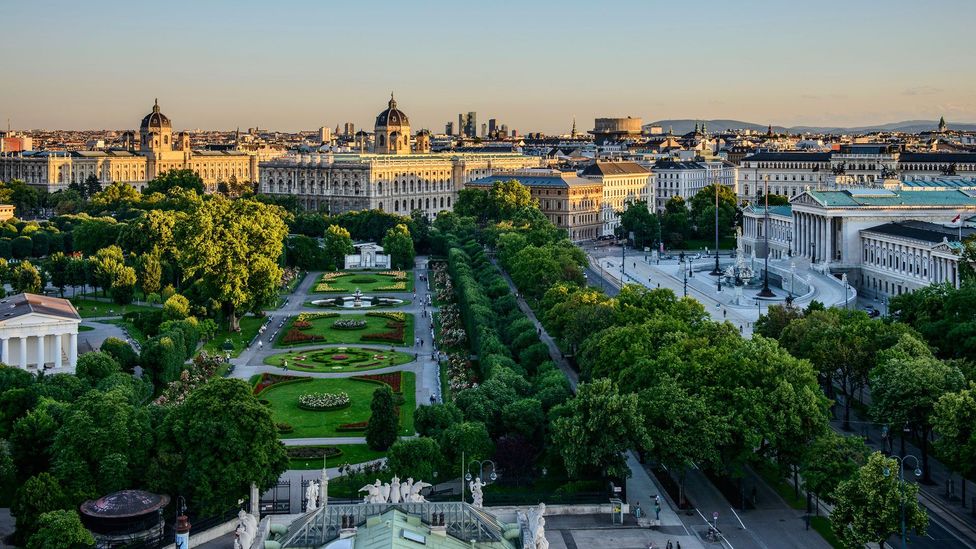 A view of the Ringstraße, in Vienna
(WienTourismus/Christian Stemper)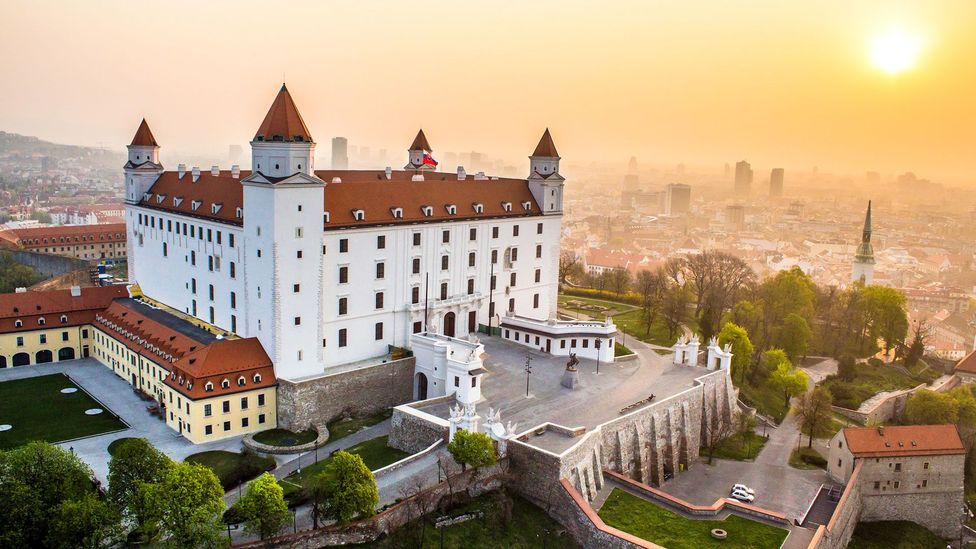 The sun rises on a castle in Bratislava
(Bratislava Tourism Board/Duo Media)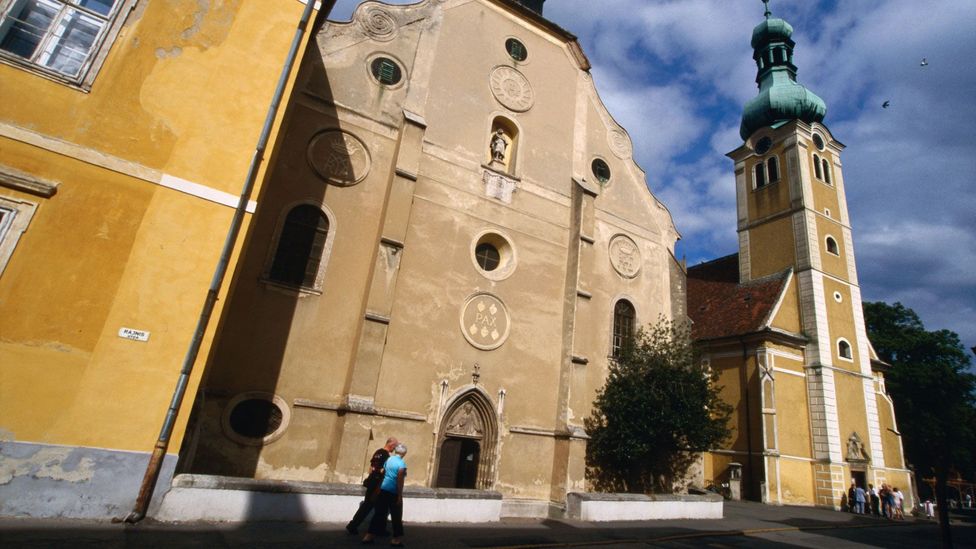 The 15th-century Church of St James in Kőszeg, Hungary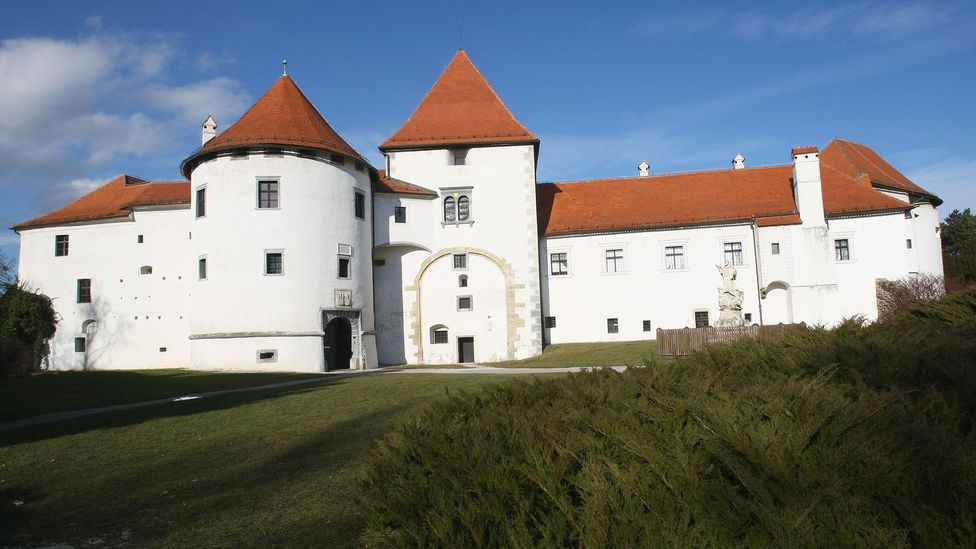 Varaždin Castle in Varaždin, Croatia
(Christof Koepsel/Bongarts/Getty)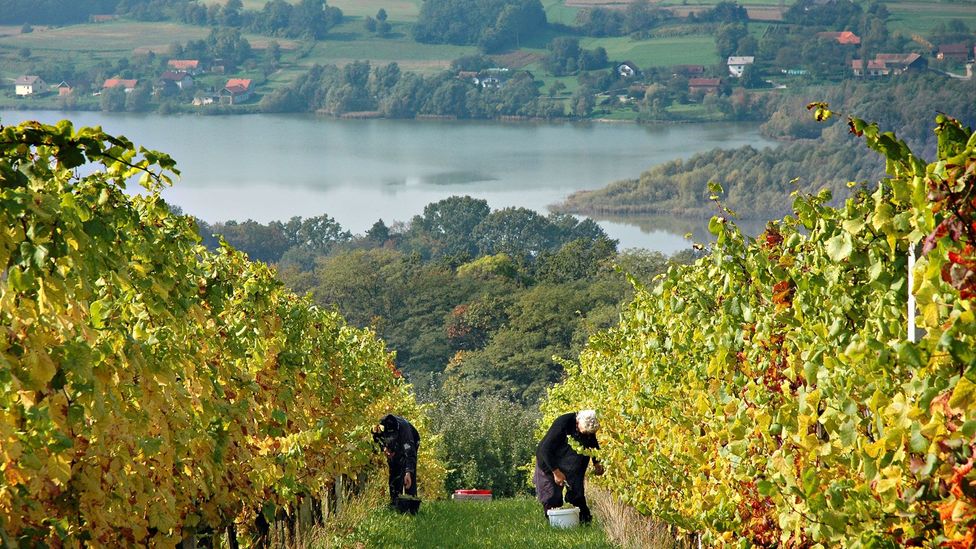 Passing vineyards in Slovenia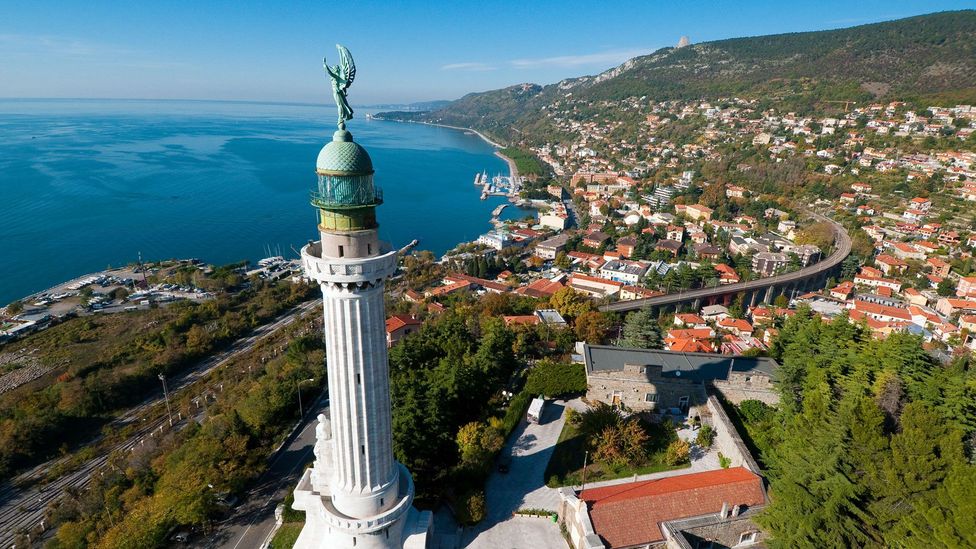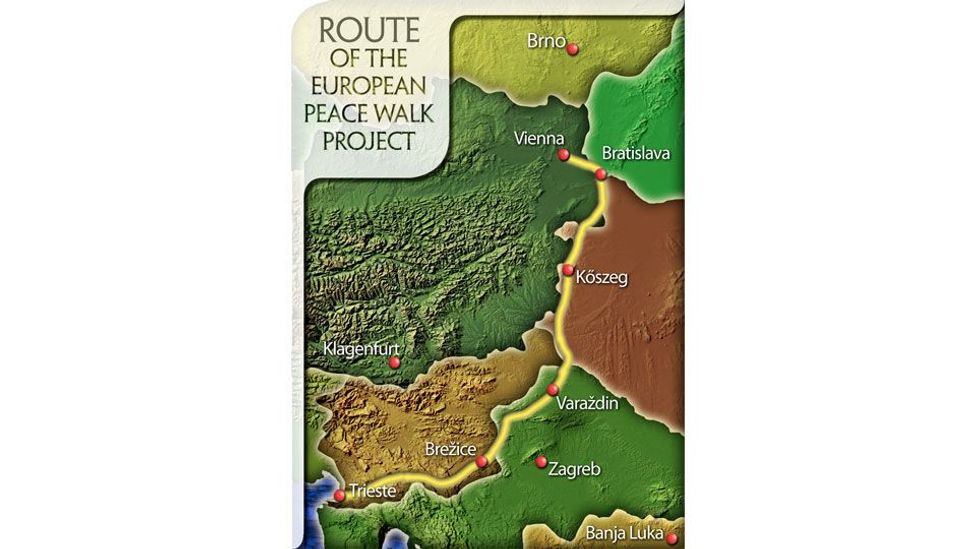 The route for Europe's first Peace Walk.
The 550km walk was officially created to commemorate the 100th anniversary of World War I, stopping in some of the areas most affected by both world wars.