Yes, cars created Detroit. But today, the city's wide roads are sometimes as empty and as quiet as the Arctic. In other words, it is an open frontier for cyclists.
W
When I told friends and family I would be bicycling through Detroit, I heard one warning again and again: "make sure you wear a bulletproof vest". Most of them, of course, were unfamiliar with Detroit beyond having read a list of "America's 10 Most Dangerous Cities" on Facebook. But that has rarely stopped anyone from sharing advice.
Sure, safety in Detroit can be an issue, just as in any urban environment across the globe. But a visit to the one-time heart of US industry and innovation is essential – and doing so by speeding through neighbourhoods without a second glance feels wrong. Detroit calls for more intimate exploration. And there's no better way to experience this iconic city once ruled by cars than on the saddle of a bike.
On our first day, my wife, Melanie, and I left our hotel downtown for a 1.7-mile ride north to the Traffic Jam and Snug Restaurant parking lot in the up-and-coming Midtown neighbourhood, where we were meeting a cycling tour run by Stephen Johnson's Motor City Brew Tours. Already, I could see why cycling Detroit made too much sense to ignore: thanks to the negative space left by white flight in the 1950s, the city feels huge, with wide roads built specifically for cars that are too large to encompass on foot. And on an early Saturday morning, the streets are quiet as the Arctic. In other words, it is an open frontier for cyclists.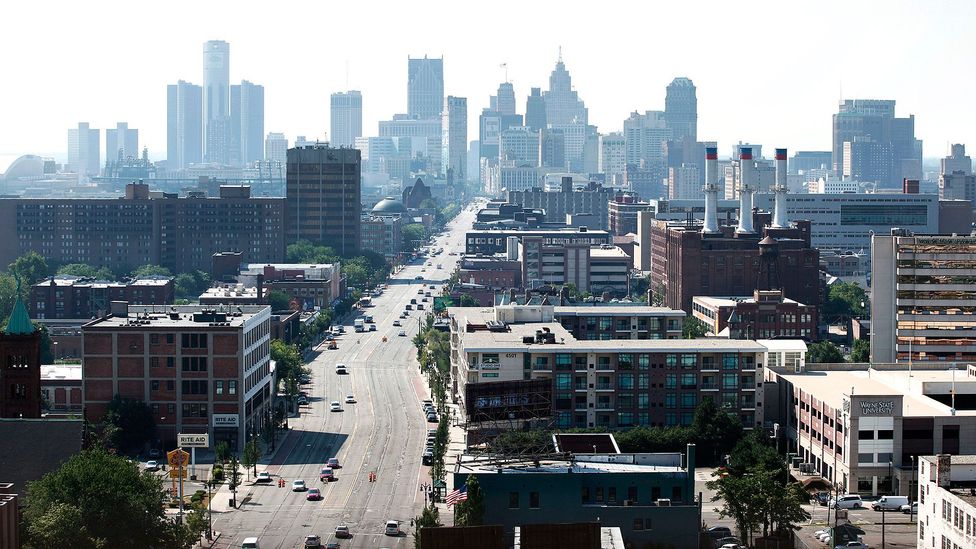 Detroit's quiet, broad streets make the city ideal for cycling. (Bill Pugliano/Getty)
After peaking in 1950 with more than 1,800,000 residents, Detroit's population has dropped to approximately 681,000. The city lost a shocking 25% of its population between 2000 and 2010 alone, thanks largely to the financial struggles, and then bankruptcies, of both General Motors and Chrysler. Detroit's downtown began emptying far earlier, however: starting in the 1950s, both residents and businesses followed newly constructed highways out to the suburbs. The coinciding lack of jobs and rise in crime caused more businesses and residents to leave, a cycle still seen today.
Cycling through the city now, I saw structures barely standing, their windows punched out. Anything even remotely valuable had been stripped. It was a glimpse of what the American Dream had wrought on the city that, ironically, produced the American Dream's most cherished symbol: the automobile.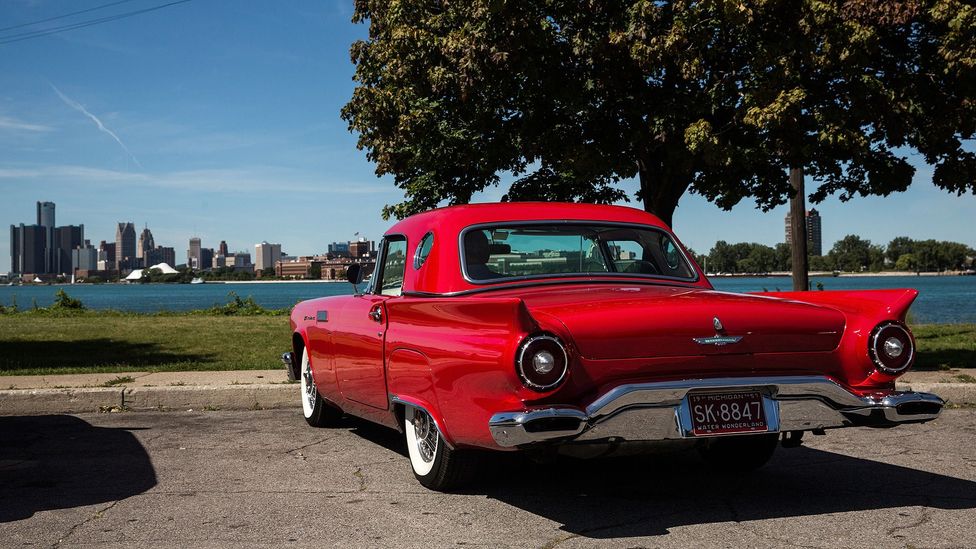 A 1957 Ford Thunderbird, produced at the height of the city's success, overlooks Detroit's skyline from Belle Isle. (Andrew Burton/Getty)
We arrived at the Traffic Jam and Snug with a few minutes to spare. Melanie and I were the only ones on the tour to arrive by bike; everyone else lugged their bicycles from the backs of cars. Most would later admit that they are Detroiters who had never actually explored Detroit city proper – beyond Tigers or Red Wings games and the highway that got them there.
Johnson, appropriately wearing an illustrated "I Bike 4 Beer" T-shirt, gave a brief introduction to the tour: a history of Detroit brewing, one of several tours the company offers, including cycling the city's auto history, but the promise of beer at the end proved too enticing.
We cycled east along Canfield Street toward the former home of Zynda Brewing Company, once a staple of Detroit brewing and, today, a mostly empty parking lot.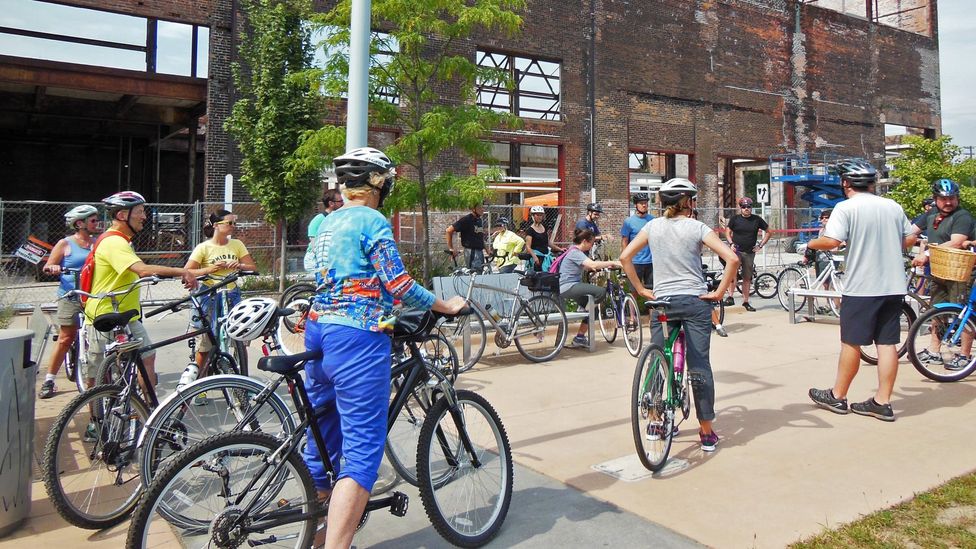 By bicycle, get up close and personal with Detroit's historic buildings. (Joe Baur)
Across the street was Forest Park, where locals mow the grass. With the city bankrupt, Johnson said, much of park maintenance has been turned over to volunteer efforts. Economic crisis or not, residents are not giving up on their city.
We caught more glimpses of life as we continued around St Aubin down toward the famous Eastern Market. A Detroit landmark on the National Register of Historic Places, Eastern Market dates back to 1841, when it was in downtown's Cadillac Square; it moved to its present-day location along Russell Street between Mack Avenue and the Fisher Freeway in 1891. Today, according to the market, it houses the world's largest bedding flower market, along with more than 150 food and specialty businesses. An estimated 45,000 Detroiters come each Saturday morning, and it shows as you cycle through.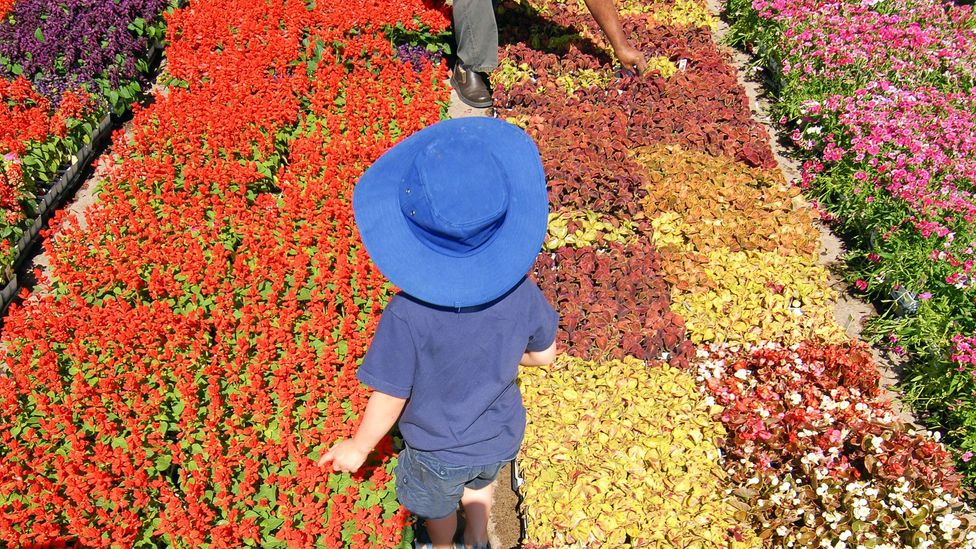 A child plays among Eastern Market's flower beds. (Paul Warner/Getty)
Winding between brick industrial buildings now covered in graffiti, we paused to admire the former home of the Eckhardt & Becker Brewing Company, where the "E&B" initials remain prominent in the exterior's mosaic.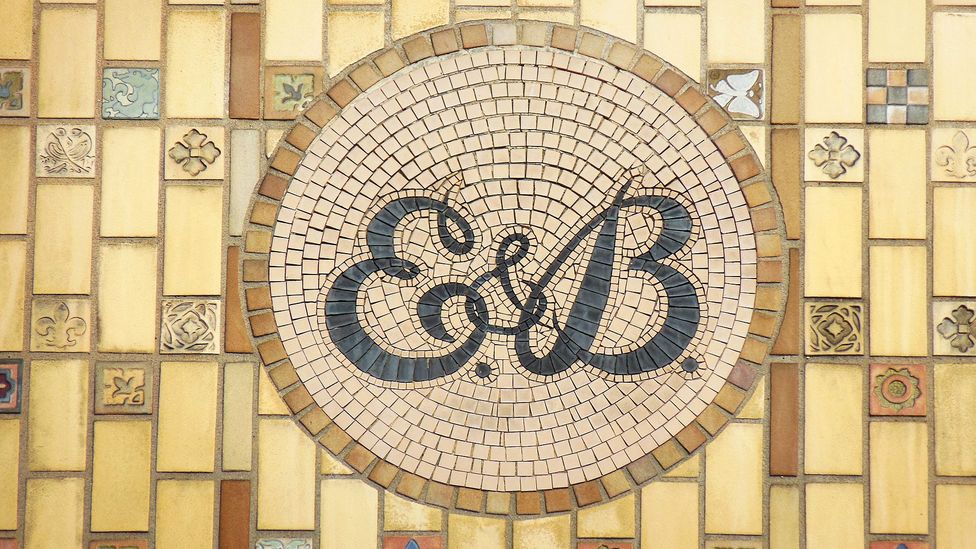 Eckhardt & Becker, whose symbol is shown here, started brewing beer on this spot in 1891. (Joe Baur)
Nearing the end of our tour, we made our way toward the revitalised Detroit River Walk, a 5.5-mile promenade that connects the Rivertown area to downtown courtesy of the Detroit RiverFront Conservancy. The River Walk has been designed exclusively for pedestrians and non-motorised wheeled traffic; biking west, we saw the small city of Windsor, Canada on our left, while the famous Detroit skyline rose before us.
Today, the promenade continues to expand, with a new 20-acre westward extension opened in July. The city plans to finish the full, two-mile extension between Riverfront Towers and Rosa Parks Boulevard by September.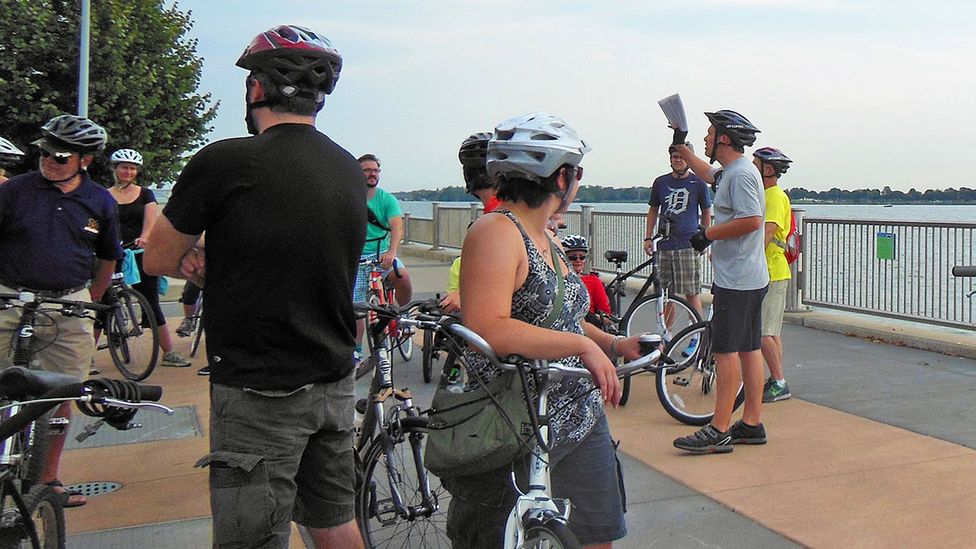 Taking a quick break at the Detroit River Walk. (Joe Baur)
We cycled past another Detroit RiverFront revitalisation project, the Dequindre Cut, which is turning much of the former Grand Trunk Western Railroad line – defunct since the mid-1980s – into a separated bike path that connects the riverfront to Eastern Market. The first 1.2-mile leg opened in 2009. In the next phase, currently under planning, the path will extend another half-mile north to Mack Avenue.
We paused for a moment alongside the Dequindre Cut path at Atwater Street, where construction is well underway alongside the 43,000sqft Globe Trading Company building. Originally a manufacturer of steam engines and propeller wheels, the company turned to shipbuilding and eventually sold everything from steel to cabinets and benches. Now, the building is being converted into the Outdoor Adventure Center, featuring exhibits on state parks and simulated outdoor recreation experiences, and set to open by January 2015.
Our final stop downtown was the Detroit Beer Company on Broadway Street. Melanie and I had stopped in the night before to chat with head brewer Nate Ryske. He described some fairly lonely nights when they opened a decade ago. But now, he said, he's excited to see busy crowds even on nights without baseball games. He noted the surge of downtown residents who are bucking the trend set by their suburban parents, choosing to live in the urban core – and taking back a city destroyed by the recession. Given these trends – and the revitalisation we already had seen – our toast over a pint of Detroit Dwarf beer seemed apt: after all, it was to the city's future.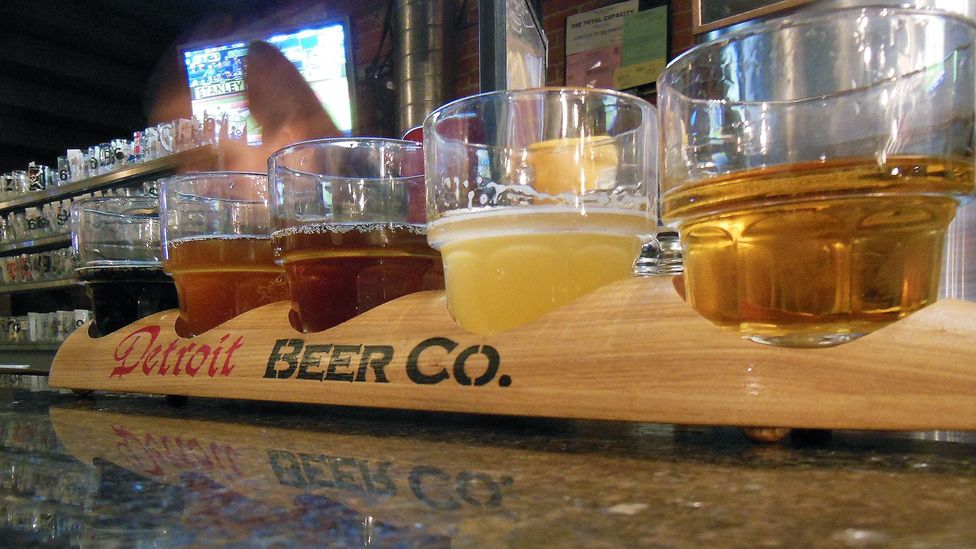 The best reward after a day of bicycling? Some local brew. (Joe Baur)
Before riding back, we stopped in a nearby festival called Dally in the Alley, featuring music and various stands lined up between Forest and Hancock streets. One stand sold T-shirts that read, "No Sympathy NeedeD." (Remember that next time you think "Poor Detroit".)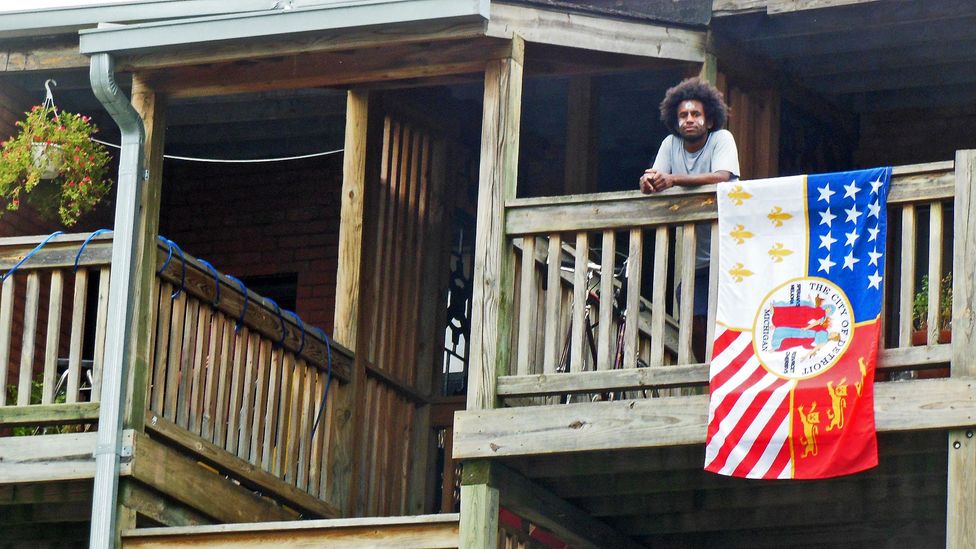 Local pride: a Detroit flag hangs over a balcony downtown. (Joe Baur)
In just 10 miles of cycling, we had seen more of the Motor City than we ever could have by any other means. Sightseeing by car, isolated inside 4,000 pounds of steel, is nowhere near as intimate as cycling.
Detroit's story is far from simple, with gut-wrenching poverty punctuated with pockets of opportunity. By bike, you can connect all the pieces – not to mention touch the historic bricks, smell the market stalls and feel the riverfront's fresh air. And if you can squeeze in a beer at the end of your ride, brewed by hardworking Detroiters committed to the city's comeback, that's not so bad, either.