More than 40 years after his death, the Nobel Prize-winning poet might be more popular than ever, with thousands of admirers exploring three of his homes each year.
C
Chilean poet Pablo Neruda once wrote that "love is so short, forgetting is so long". Exploring Isla Negra, his favourite home overlooking the Pacific south of Valparaiso, I could see that these weren't just words on a page. Neruda never forgot his friends. When people close to him died, he carved their names into beams above Isla Negra's bar so he could continue drinking with them. More than 40 years after Neruda's death, the names are still there – 17 in all – and it's easy to imagine the boozy conversations about poetry, love, travel and politics that took place over so many late nights.
Before his death in 1973 at the age of 69, Neruda captivated the world with his lyrical poetry, publishing dozens of books, including Twenty Love Poems and a Song of Despair, 100 Love Sonnets and The Captain's Verses. The Swedish Academy, which recognized Neruda with the Nobel Prize for Literature in 1971, described his work as an "elemental force" that brought alive South America's "destiny and dreams".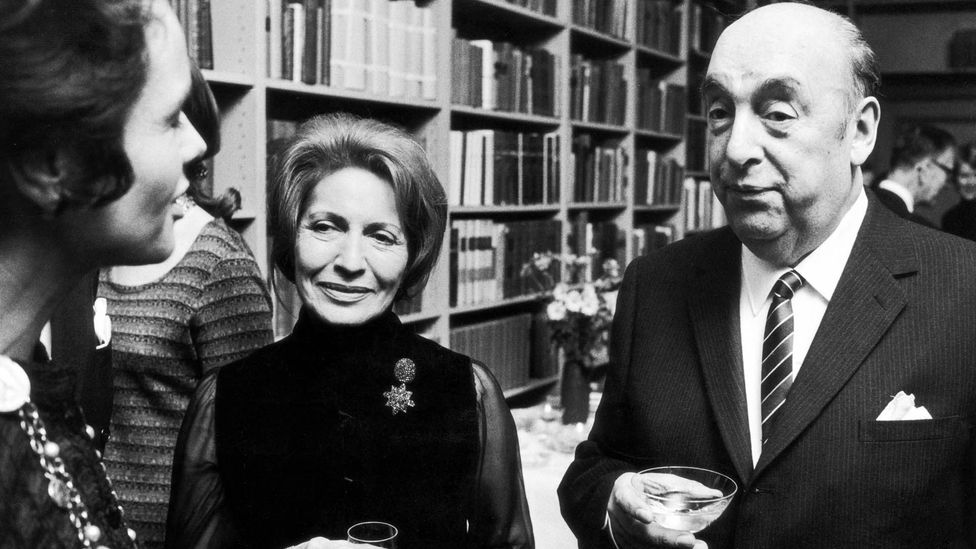 Pablo Neruda and his wife Matilda in Stockholm in 1971, after the poet won the Nobel Prize for Literature. (Keystone/Getty)
Today, he's seemingly as popular as ever. A movement is underway to rename Santiago's international airport Poet Pablo Neruda Airport. Dozens of recently discovered "lost" Neruda poems will soon be published. And intrigue continues to hover around his death. In April 2013 his body was exhumed to determine if he was poisoned by an assassin associated with right wing dictator Augusto Pinochet, who took power in a coup just 12 days before Neruda died. And while preliminary results indicated that Neruda wasn't murdered, the complete report, including DNA test results, has yet to be released.
Each year, thousands of fans make the pilgrimage to see the poet's homes, and on a recent visit to Chile, I did the same, visiting three of them to see if there were chapters of the Neruda story – or even a few intriguing stanzas – still waiting to be discovered.
La Chascona
On a bright, sunny morning in August, I arrived at Neruda's two-story house in Santiago, in the bohemian Bellavista neighbourhood. As he approached his 50th birthday, the poet was juggling relationships with two women, his second wife Delia del Carril and Matilde Urrutia, a Chilean singer whose role evolved from nurse to lover. Extramarital affairs had to be conducted discretely, so Neruda and Urrutia built this quiet love nest, and Urrutia lived in it alone for two years until Neruda finally left his wife in 1955.  "It was my destiny to love and say goodbye," he wrote in the poem XXV, which was featured in the book Still Another Day.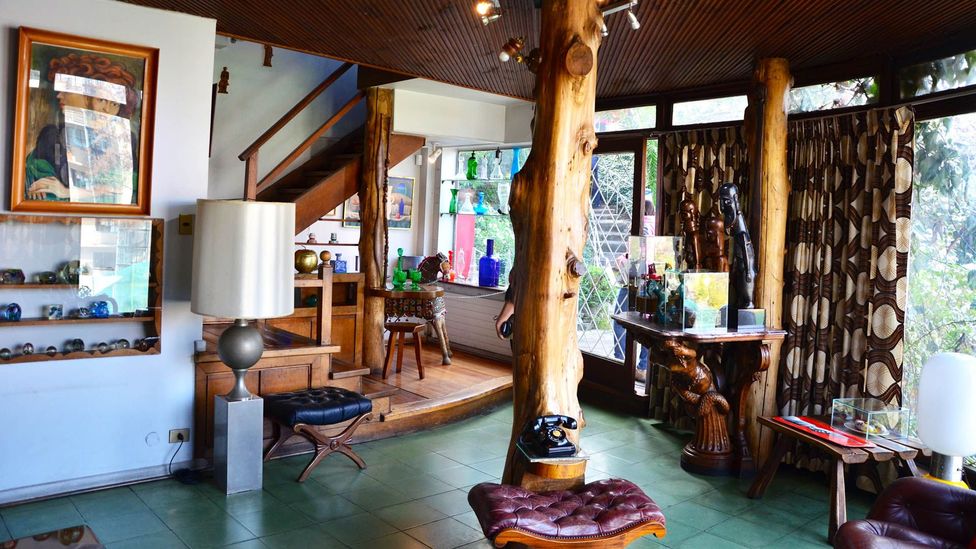 Neruda called this room in La Chascona the Lighthouse Living Room because it's reached via a staircase and gets a lot of natural light. (Dave Seminara)
Neruda dubbed the house "La Chascona", the Quechua word for dishevelled, as a tribute to Urrutia's wild mane of red hair. I strolled into the brightly painted house and was struck by Neruda's infatuation with the sea, evident in the nautical-themed bar – called a "captain's bar" – right above the front entrance, the walls adorned with antique compasses and nautical maps, and his narrow dining table that would look right at home in a ship galley.
While he's best known as a poet, Neruda's literary acclaim helped him secure an appointment to Chile's diplomatic corps – his postings included Rangoon, Java, Singapore and Paris – and items from his wide-ranging travels dot the house: carved wooden figures from Africa, a bistro table from Paris, dolls from Poland and sculptures from Easter Island. Neruda's ironic sense of humour is reflected in quirky touches, including salt and pepper shakers labelled "morphine" and "marijuana".
The house was so carefully restored that it's hard to believe it was vandalized and flooded after the 11 September 1973 coup. But Neruda was a close ally of deposed socialist President Salvador Allende, not to mention an avowed communist himself, so the new regime regarded the poet as an enemy of the state. His books were banned and anyone caught with illicit copies were persecuted or even imprisoned. Yet after his death, thousands of Neruda's admirers marched defiantly through the streets of Santiago in a procession with his casket, and Urrutia insisted on hosting the funeral reception inside the damaged house. She said she wanted the world to see what the regime had done.
La Sebastiana
I arrived before dawn  in Valparaiso, the colourful port city that spills across 21 hills, each with its own stairways and creaky old ascensors, or elevators. I felt like I had the city to myself. In Valparaiso – ValPo to locals – I quickly discovered that even the coffee shops don't open early. Neruda adored the city and wrote in his memoirs, "If we walk up and down Valparaiso's stairs we will have made a trip around the world." In fact, if you make the long, steep walk today from the port up Florida Hill to Neruda's Valparaiso home, you'll understand what he meant. Neruda observed that on these hills "poverty flourished in wild spurts of tar and joy". Yet I could also see why Unesco made Valparaiso's historic quarter a World Heritage site: atmospheric squares, street art and brightly painted houses cover every hill.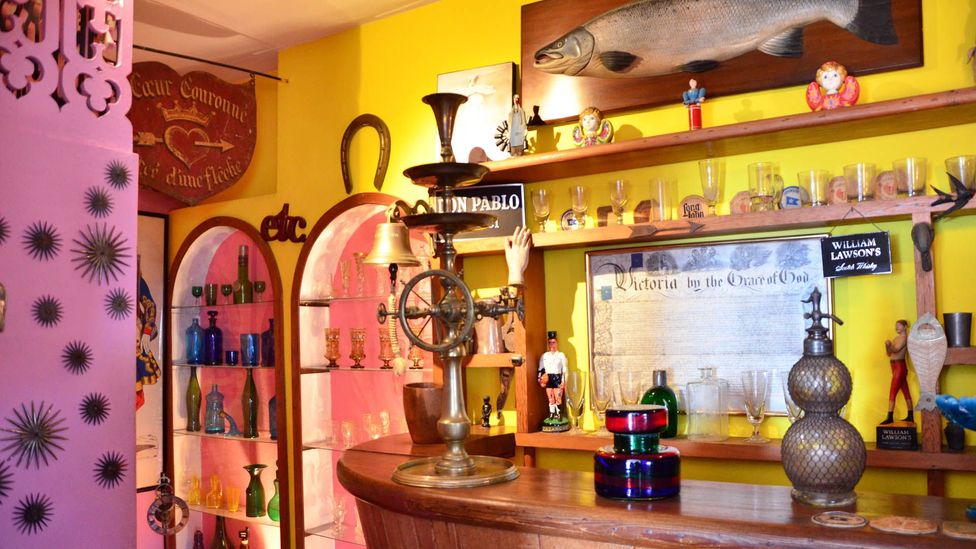 The bar in La Sebastiana is filled with antique glassware from around the world. Neruda kept his favourite whiskeys in a chest. He also collected bottles of wine. (Dave Seminara)
Named after the man who built the sprawling, five-story house – an eccentric Spaniard who used an entire floor as a birdcage – La Sebastiana is filled with oversized picture windows that reveal the city and its busy port. Neruda bought the home in 1959 because he was tired of living in Santiago. He wanted an original, comfortable, dirt-cheap abode where neighbours couldn't be seen or heard – a place far from others but close to transportation. He must have been a realtor's nightmare. Yet in La Sebastiana, he found just the spot.
Neruda wrote in his memoir that he refurbished La Sebastiana like a "toy house", a place to conjure memories of his childhood. He wrote, "A child who does not play is not a child, but the man who does not play has lost forever the child who lived in him." Neruda was born in Parral, some 340kms south of Santiago, but spent most of his early years in Temuco, a soggy backwater in Chile's deep south. He cherished memories of his childhood years, even though his mother died of tuberculosis six weeks after he was born, and his father, a train conductor, was adamantly opposed to his literary ambitions.
Neruda's ambition was great, however, and the tall skinny house is furnished with some of his favourite things that he collected over the years, including a chest where he kept his whiskeys and a ceramic cow he used to serve rum punch. Show-stopping views of the Pacific can be had from nearly every room. Neruda's bed, desk and armchair, still stained with the trademark green ink he used to write, all face the sea. And the view from Neruda's cosy fifth-floor study reveals Valparaiso just as Neruda described it: "secretive, sinuous, winding", a city that "twitches like a wounded whale" and where "eccentric lives" played out as an "inseparable part of the heart-breaking life of the port".
Isla Negra
If La Sebastiana and La Chascona induce envy, Isla Negra, Neruda's seaside home south of Valparaiso, sparks outright jealousy.  Isla Negra is not an island, as its name implies – the poet named the house after a place he admired in Sumatra – but its dramatic setting on a rocky stretch of the Pacific begs for superlatives.
Neruda bought the land and an adjacent stone cottage in 1938 after returning from a string of diplomatic postings in Europe. He wrote in his memoirs that Isla Negra's "wild coastal strip… of turbulent ocean" was the perfect place to give himself "passionately to the writing of [his] new song", Canto General, his classic work about the history of the Americas. (His publisher rejected the manuscript, but another publisher fronted him the money to buy the property.) It took him seven years to renovate the place, and he didn't cut corners.
The house sits behind a fence adorned with graffiti written by Neruda admirers, as well as a huge train engine, which the poet – a train lover – had hauled over using oxen and two Jeeps. Isla Negra was Neruda's favourite home – the place where he wrote his most iconic works – and I could see why. The nautical-themed living room feels like part of the ocean: its massive picture windows, ship models, busts and statues all face the sea.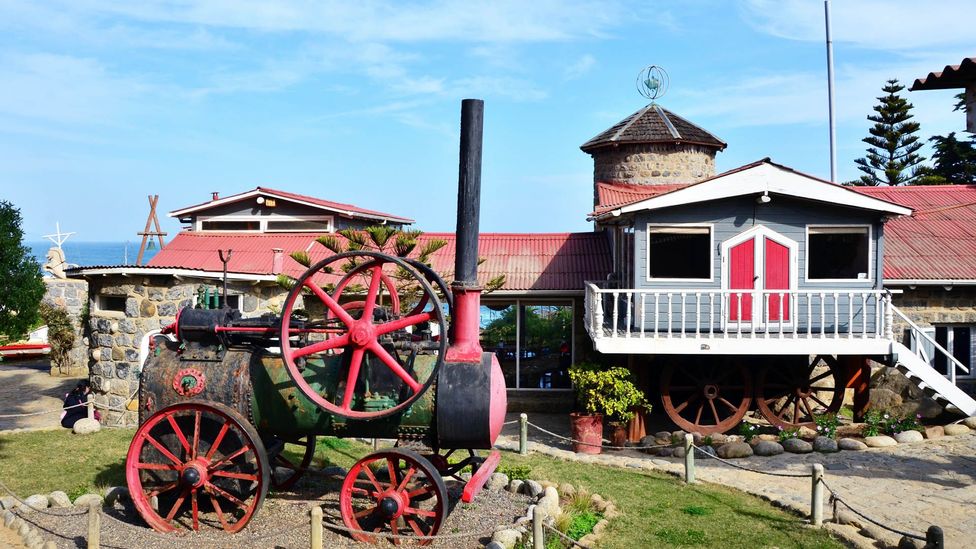 The son of a train conductor, Neruda was fascinated by trains and had one hauled here to Isla Negra. (Dave Seminara)
His personality is evident throughout. A closet-sized bathroom is filled with vintage photos of women in various stages of undress, and frightening masks were hung above the door to scare women away from using it. A stuffed lamb rests on his bed, and the house is packed with swords, bottles, masks, pipes, bugs, butterflies and an entire room filled with seashells. For a communist, Neruda was quite an obsessive shopper. And thankfully, most of his collectibles have survived. After the coup, soldiers raided the home. "Look around," Neruda told them, "there's only one thing of danger for you here – poetry." They left without confiscating any of his priceless items.
When he died, days later, Neruda was given a pauper's grave. Chile didn't officially embrace its most famous writer until democracy was restored in 1990. Two years later, his remains were transferred to Isla Negra, in accordance with the wish he expressed in the poem Disposiciones:
"Bury me at Isla Negra/in front of the sea I know, in front of every wrinkled place/of rocks and waves that my lost eyes/will never see again."
Neruda and Urrutia are buried behind the house on a short bluff overlooking the ocean. Sitting on top of a bust of Neruda's beret-clad profile carved into a gigantic rock on the beach below, I realized my view of Neruda had changed since I'd arrived in Chile. He wasn't just a dead poet to me anymore. Decades ago, he wrote that "poetry came in search of me". For those searching for him now, thanks to these extraordinary homes, his poetry isn't the only window into his soul.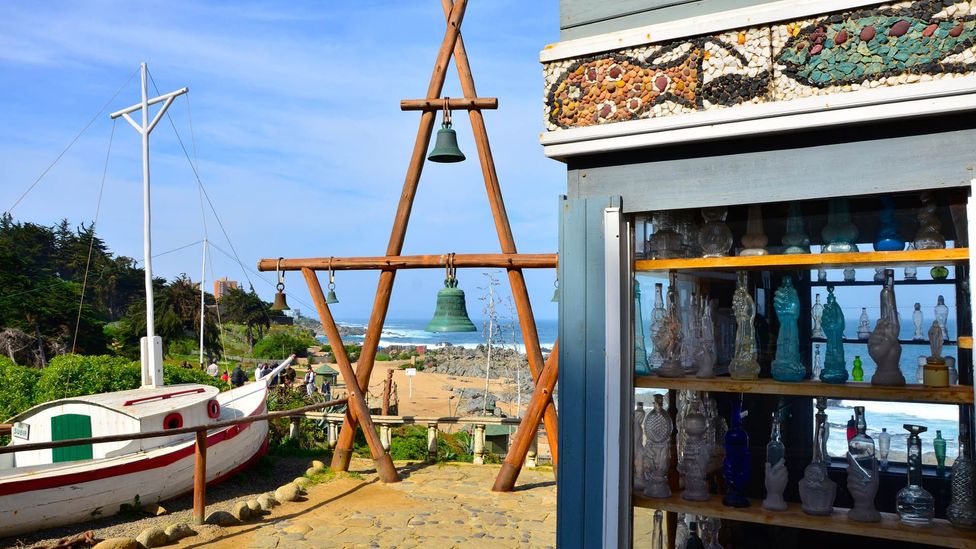 The nautical scene at Isla Negra. (Dave Seminara)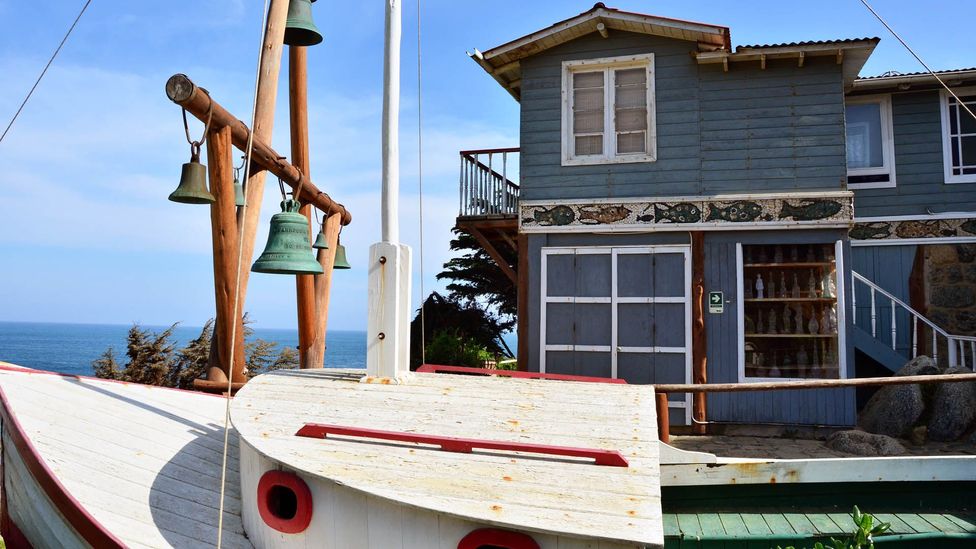 Neruda's beloved Isla Negra. (Dave Seminara)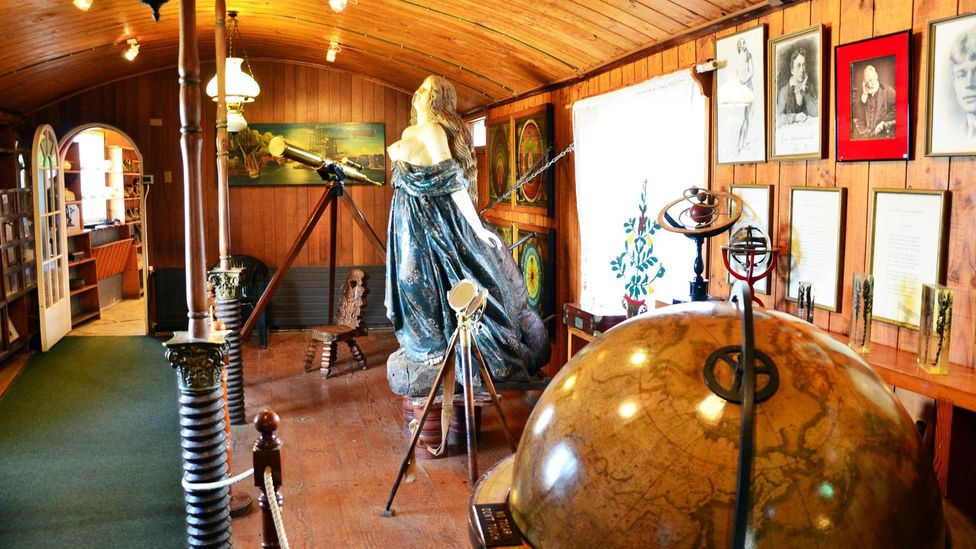 Inside Isla Negra. (Dave Seminara)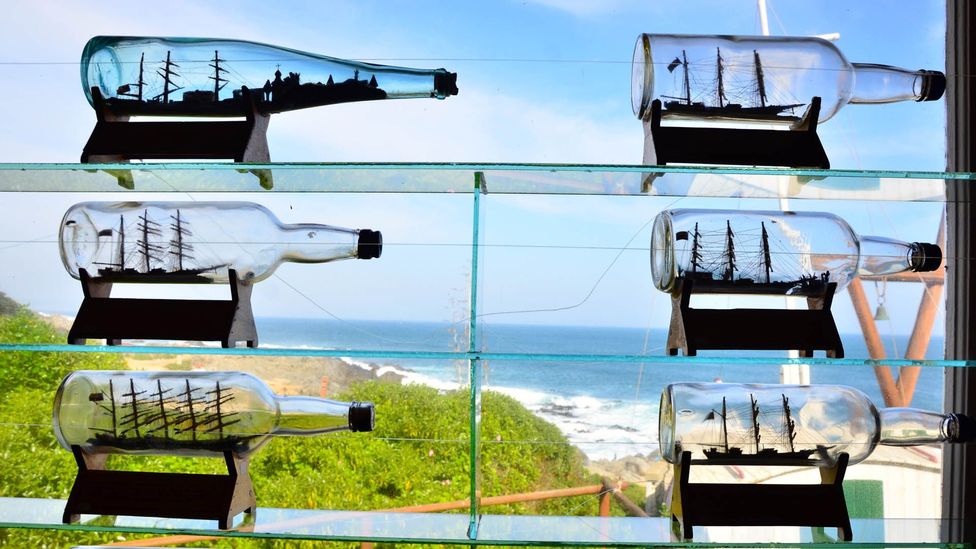 The many ships of Isla Negra. (Dave Seminara)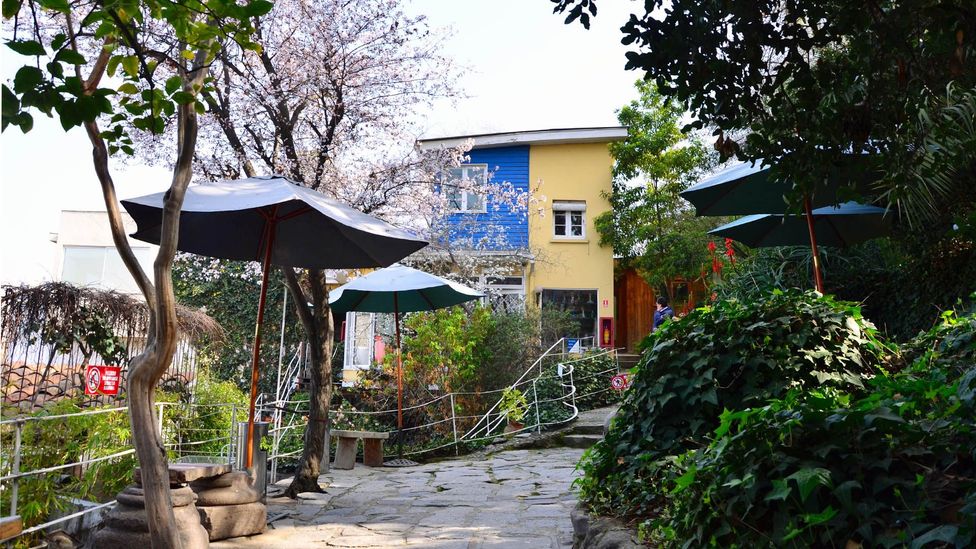 Neruda's "love nest," La Chascona, in Santiago. (Dave Seminara)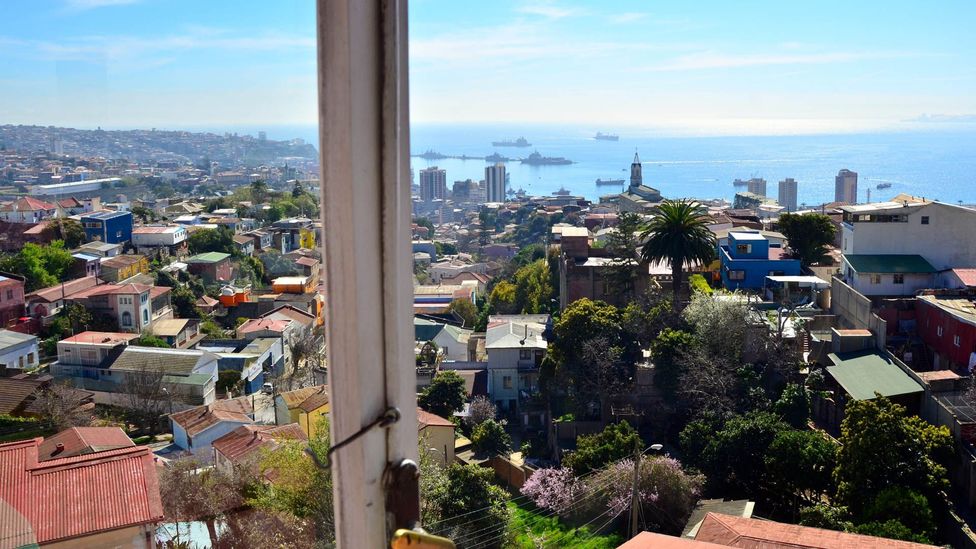 Looking out at Valparaiso from La Sebastiana. (Dave Seminara)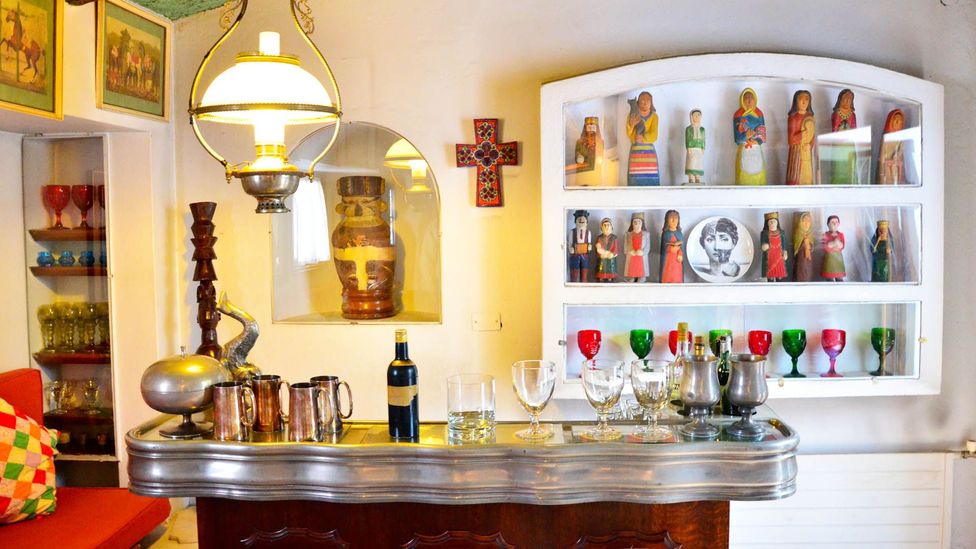 The "captain's bar" at La Chascona. (Dave Seminara)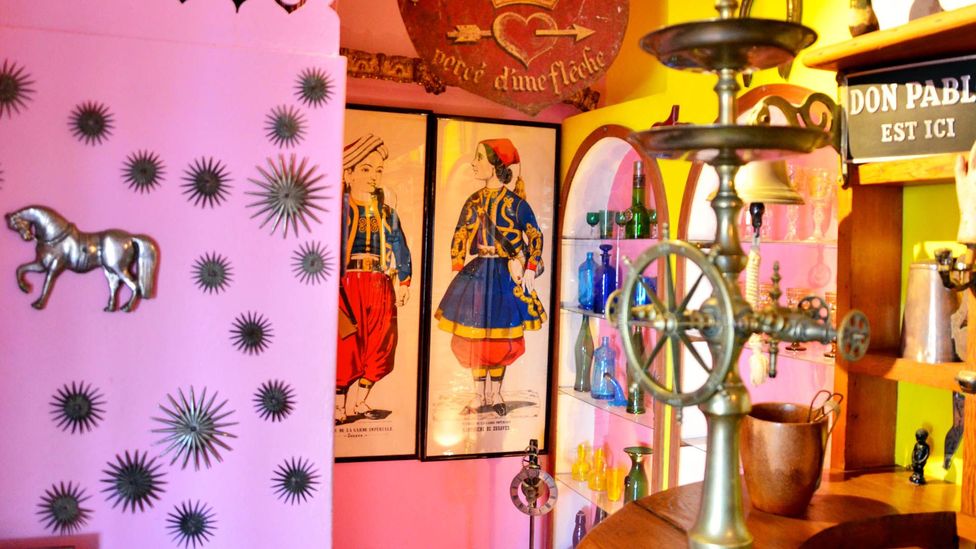 A very pink wall in La Sebastiana. (Dave Seminara)