Exploring off the map in Banteay Chhmar helps acclaimed travel writer Don George understand the ruins of Cambodia – and of his own life.
A
As Mr Kim navigated his car onto the puddled, potholed road that led to Banteay Chhmar, he turned to me. "Where are you staying?" he asked.
"I don't know," I said.
He looked at me out of the corner of his eye. "There are no hotels in Banteay Chhmar."
"I know," I said. "I arranged a homestay. On my computer."
"OK. Where is the home?"
"I don't know."
He swivelled to face me. "Where should I take you?"
This moment seemed to symbolise my entire Cambodia trip: Where was I going? Why was I here?
I had arrived in Cambodia after a week-long tour consisting of lectures, book readings and writing workshops in Melbourne and Singapore. When I was planning that tour half a year earlier, I realised that Siem Reap was just a short flight from Singapore. I had been wanting to visit Siem Reap since childhood, when I had seen a photo of Angkor Wat in a National Geographic magazine. Some kind of seed had been planted then, and over four decades, its stony tendrils had blossomed into an irresistible longing. I had to see that place, touch its ground, smell its air. Now it would be just two hours away by plane. I booked a one-week visit.
Over the ensuing months, as I was researching Siem Reap, I discovered a village about 160km to the northwest called Banteay Chhmar, where an organisation named Community-Based Tourism (CBT) arranged homestays. There was scant information online, but what I found promised amazing ruins and kind people. At first I thought I would base myself in Siem Reap and spend one night in Banteay Chhmar. Then I decided to make it two nights. As time passed, the image of going off the map to little-visited Banteay Chhmar took hold of me, and I ended up reserving a three-night stay through the CBT's website.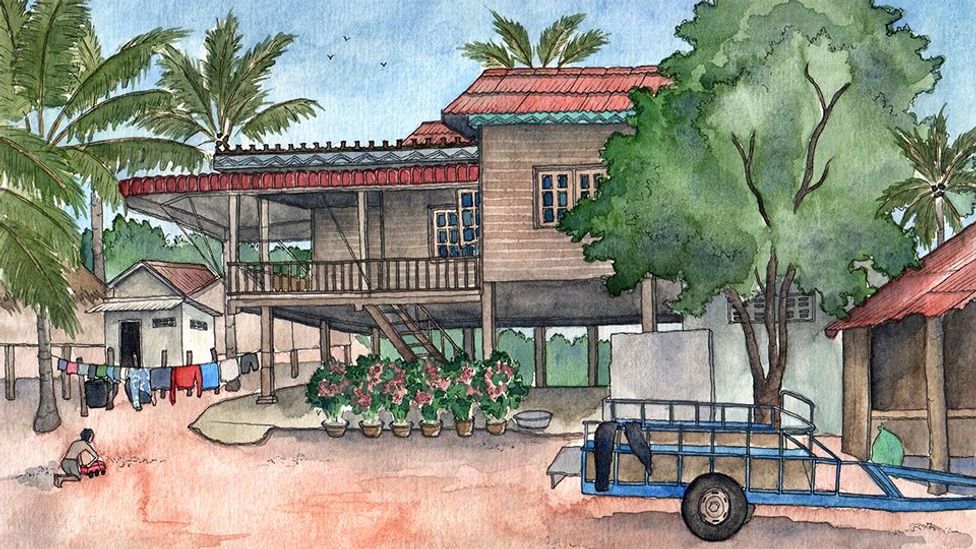 Mr Kim met me at the airport to take me to my Siem Reap hotel. During the 20-minute drive, he spoke easily and impressed me with his knowledge, English fluency, and calm, kind air. I asked him about getting to Banteay Chhmar. A few years earlier, he said, the drive would have taken most of a day, but recently a paved highway had been built almost all the way to the village, and now the journey would be about three hours by highway and just 30 minutes along bumpy, unpaved paths. "Of course," he added with a wry smile as a sudden downpour turned the windshield into a washing machine, "it's the rainy season, so it might take longer." I asked if he could take me, and he said sure, that he liked that part of Cambodia and had served in the army there.
Over the next two and half days, I immersed myself in a giddy, deluge-dodging round of ruin-hopping and restaurant-gorging in Siem Reap. I saw Angkor Wat at dawn and dusk, mysterious strangler-figged Ta Prohm, the benevolent, beguiling faces of Bayon, and exquisite Banteay Srey. I slung back Indochine Martinis at the seductive Miss Wong bar and savoured a six-course seasonal feast at acclaimed Cuisine Wat Damnak. I was exultant to have reached the place I had dreamed of for decades, but somehow among the thousands of balloon-panted, sarong-wrapped, selfie-snapping foreigners, I sensed the essence of Cambodia eluding me. Even immersed in the cultural heart of the country, I felt somehow distanced from the place.
So it was that on my third morning, filled with a mixture of apprehension and anticipation, I set off with Mr Kim for Banteay Chhmar. The drive was spectacular – palm trees, rice paddies, cassava fields, stilt houses, bright-eyed children waving and calling "Hello!" – and it was only when we arrived at the outskirts of the village that I realised I literally had no idea where I was going. The emailed reservation confirmation had said to check in with the CBT office when I arrived in Banteay Chhmar, but I had been too distracted in Siem Reap to think about re-reading emails, and the only thing I could remember was that I had arranged a meeting the following morning with a man at the Global Heritage Fund (GHF), an international organisation that was working to restore the main ruin in Banteay Chhmar.
"So you are staying at the Global Heritage Fund house?" Mr Kim asked.
"No, I don't think so," I said.
"Anyway, we go there," he declared and turned back to the road. A few minutes later we saw a sign for the GHF and Mr Kim pulled into a fenced, two-building compound. A dignified man strolled toward us and asked if he could help. This, it turned out, was Sarun Kousum, the assistant director of the GHF project and the man I was supposed to meet the following day.
"Is Mr Don staying with you?" Mr Kim asked Sarun.
Sarun looked uncomfortable. "No, no, he is not staying here."
"He says he made the reservation on the computer."
"Oh, that must be through the Community-Based Tourism office," he said. "You need to go there."
After bouncing, sloshing and skidding along the main street for another 10 minutes, we reached the two-room, thatch-and-metal-roofed CBT office, where a smiling young man named Sokoun Kit greeted us.
"Ah, I have been waiting for you!" he said. "Welcome! Please fill out some paperwork and I will take you to your home. It's just a short walk from here."
As I wrote, Sokoun explained that since my host family was not equipped to serve meals to guests, I would take all my meals at the CBT office. The village had electricity from 6 to11 pm each night. He would be happy to lend me a flashlight. "How about internet access?" I asked.
"I'm sorry," Sokoun said. "There is no internet access."
A few minutes later, Mr Kim parked at the edge of an unpaved road outside a muddy compound of stilt houses, and sloshed my suitcase on his shoulder through the muck and around the puddles, scattering chickens as he walked, to the two-storey home where I would be spending the next three days.
Sokoun joined us in the spare, open-air, concrete-floor living area under the second storey of the wooden house, where a middle-aged couple stood to greet us. "Don, these are your hosts," he said, gesturing to the man, who was wearing a polo shirt and shorts, and the woman in a bright patterned sarong. They both smiled and bowed slightly, and the man said something to Sokoun. "They don't speak much English, but they are very happy to have you here," Sokoun said. I smiled and bowed in return, and said the one word I had learned in Khmer, "Agung!" – thank you.
Their eyes brightened momentarily, then the man gestured toward a wooden staircase that led to my bedroom. Mr Kim kicked off his sandals and carried my bag up the stairs. I sat on a child's red plastic chair that had been placed at the bottom of the staircase and laboriously liberated my feet from my muddy shoes. With a quick nod, I ascended with my backpack.
Sokoun and I had arranged to meet later that afternoon, and after calling out, "Make yourself at home," he left to take his lunch. Mr Kim had said he would stay with a friend who lived nearby, and we confirmed that he would meet me at the CBT office four days later for the drive back to Siem Reap. He left too. Then I was alone.
I sat on the edge of the mosquito net that covered the queen-size four-poster bed that occupied most of my room. The noontime sun blasted through the room's barred windows. The humidity hammered on my head. Outside I could see a half dozen wooden stilt homes surrounded by muddy patches and palm trees, a clothesline hung with shirts and sarongs, tree branch kindling stacked under a storage shed, a scrabbly vegetable garden where smoke plumed from a dying fire. Roosters strutted and crowed, dogs barked, babies wailed, adults called from home to home.
Suddenly I felt utterly overwhelmed: What had I gotten myself into? My hosts didn't speak English. I was cut off entirely from the outside world. The roads were a muddy mess. I had no means of transportation and no idea what I was going to do for the next three days. Sweat poured down my face. Was there a shower, or even running water? And what about the toilet -- where, and what, was that? What had I been thinking when I booked three nights here?
It took all my energy simply to lift my mosquito net and crawl into its cocoon.
+++++++++++++++++++++++++++++++++++++++
The next morning, over coffee in the GHF courtyard, Sarun told me he had first visited the main Banteay Chhmar ruin in 1997. "It was a huge surprise," he said. "Only a little bit of the dirt and trees had been cleared at that time, but already you could tell from the size of the ruin and the quality of the work that it was an important site." In collaboration with the Cambodian Ministry of Culture and Fine Arts, GHF began its efforts there, under the directorship of John Sanday, in January 2008. "I have been a part of this project from the beginning," Sarun said, and his face glowed with a quiet pride.
After coffee Sarun grabbed a couple of umbrellas and took me on a tour of the site. As we walked toward the ruin, Sarun explained that the Banteay Chhmar complex had been commissioned in the late 12th Century by King Jayavarman VII, the architecturally ambitious ruler who had also commissioned the magnificent Ta Prohm, Angkor Thom/Bayon and Preah Khan complexes. When it was completed in the early 13th Century, Banteay Chhmar was one of the largest and most important religious sites in the kingdom, rivalling Angkor Wat in size and grandeur.
We reached the spectacular 55m-long wall that greets visitors who approach from the eastern entrance, now the principal entry to the site, and Sarun said, "One of our first projects was to secure, stabilise and restore this wall." The restoration showcases a stunningly detailed bas-relief depicting battles between the Khmer and their long-time enemies, the Cham. In one section, long ear-lobed Khmer soldiers bearing spears and shields march over a battlefield under the command of their larger-than-life-sized king. The Cham soldiers, identified by their curious headwear, which look like lotus flowers plopped upside down on their pates, flee from the advance. As the narrative unfolds, the Khmer offer the heads of their now vanquished enemies to the king. Later, musicians and dancers perform in a palace celebration. "The builders in the 12
th
Century were very skilled," Sarun said. "Even though their tools were unsophisticated, the quality of the carvings they did is astonishing."
A gentle rain began to patter on the leafy boughs that covered much of the site, and Sarun led me along a muddy path to an area where a concrete-floored, metal-roofed storage and work space had been built; beyond that a portion of wall about 9m long had collapsed into a jumble of stones. "I was here on 1 April when this wall fell down," Sarun said. "There was a big wind during the night, and the next morning when we came to the site, we were surprised to see this toppled portion. In all, 253 stones fell over, and we are using computer imaging to put the wall back together. We paint a number on each stone, then we carve the number on the stone. Then we take pictures of each stone, do hand-drawings and put the pictures and drawings on the computer. Then we begin to put the pieces back together on the computer. It really is like a puzzle, based on the shape of the rock and any carving on the stone. The experts know what they're looking at and are very skilled in reconstructing."
We toured the ruins for an hour without encountering any other visitors, and this poignant place – sculpted stones scattered as though a giant had smashed the temple with his club – cast a spell on me. As we exited by the western temple wall, Sarun showed me perhaps the greatest of Banteay's Chhmar's masterpieces: two breathtakingly detailed depictions of the Buddhist god of compassion, Avalokitesvara, one with 32 arms and the other with 22 arms. A gaping hole in the wall next to one of these marked the spot where looters made off with four of the original eight Avalokitesvara reliefs. Happily, Sarun said, two of these were intercepted near the Thai border and are now on display at the National Museum in Phnom Penh. Unhappily, the two other stolen reliefs have yet to be found. Sighing, Sarun said, "We must preserve these for our culture, our heritage."
Sarun's pride in these ruins was so evident that before we parted, I couldn't resist asking him one last question. "You've been working here non-stop since January 2008. These ruins must be so deeply a part of your life by now, do you ever dream about them?"
He looked at me with smiling eyes. "Oh yes, sometimes…." he said, and then he looked away with a shy laugh.
+++++++++++++++++++++++++++++++++++++++
That afternoon I met Sopheng Khlout, the slight, smiling, 30-something CBT president. Sopheng had kindly arranged to be my guide for the rest of my stay, and over the next two and a half days, through an ever-changing flow of sunshine, light showers and deluging downpours, he went far out of his way to give me an exceptional tour of Banteay Chhmar. We began by visiting two of the region's nine satellite temples. The first was Prasat Ta Prohm, just a few minutes' ride by motorbike south of the main temple. Ta Prohm is a four-sided tower, elaborately reinforced by modern carpentry, that soars about 12m out of the surrounding vegetation, with Bayon-style faces – a prominent, wide nose, thick lips upturned into a slight smile and protruding almond eyes – on each side. It looked to be entirely overgrown, but Sopheng knew a trail that wound through the vines, bushes and branches to a hollow under the tower itself, where I was surprised to find not only ancient inscriptions but also fresh incense and candles. There was a red cloth wound around the tower, and Sopheng said that the cloth showed that this was a living temple where locals came to leave their offerings and to ask the gods to answer their prayers.
Next we motored 12km south past tranquil rice paddies and simple stilt houses to Banteay Torp,  a temple built to honour Jayavarman VII's troops for their defeat of the Cham. The most impressive feature of this sprawling, densely overgrown, crumbling complex was three towers that rose teeteringly over the ruins. For me, the place poignantly pictured the destiny of all ancient temples, and it gave me an even deeper appreciation for the dedicated efforts of John Sanday, Sarun and the GHF – and other individuals and organisations like them – to rescue and restore these sites. "It's hard to imagine what this must have looked like 800 years ago," I said to Sopheng. "Yes," he replied, gazing over the ruins. "Mostly people come here to picnic now. I think this temple has become a place to worship nature."
Finally we visited a reservoir formally known as Boeung Cheung Kru, but more popularly called the Pol Pot Baray ("baray" means reservoir), because it was built during the reign of the Khmer Rouge under Pol Pot. The scene was blissfully beautiful: a placid expanse of water with patches of lotuses floating here and there, birds swooping and settling, children splashing, adults wading with fishing nets. On the horizon green hills marked the border with Thailand. The peacefulness of the scene entirely belied its past.
"Yes," Sopheng said with a pained smile. "It is hard to believe how much suffering took place right here, to build this baray. We hear the stories. People worked at least 12 hours a day, every day, and they were fed only a little rice or soup. People were killed without reason."
For a moment his face darkened, and he turned away. After a long silence, he said, his voice tight, "We don't understand these things."
Immediately I recalled a moment in Mr Kim's car, on the ride from Siem Reap. We had talked about Siem Reap's main tourist sites, ancient Cambodian history and Khmer culture, Buddhism and Hinduism, and the Cambodian economy. Now he was telling me about current politics and how the government was seeking to unify the country and focus on the future after being brutally ripped apart during the Pol Pot years from 1975 to 1979.
I had been reluctant to bring up the subject of Pol Pot, but this mention seemed to open a channel in Mr Kim's mind. Suddenly the words streamed from his mouth.
"You can't comprehend what it was like during those years," he said, shaking his head. "No one who didn't live it can understand. Before the civil war, nine million people lived in Cambodia. After the war, there were six million left. Pol Pot killed one-third of the people. One-third!
"I was lucky. I was a commander in the Cambodian Army against Pol Pot. But I know so many people who were not so lucky.
"They took all the people from the cities – educated people, teachers, office workers – and put them to work in the fields. Then in the fields, if someone got sick, they would be killed. If someone wasn't working hard enough, they would be killed. Sometimes even if you just looked at a soldier the wrong way, you would be killed. These were Cambodian people, killing Cambodian people."
He stared straight ahead and his tone barely changed, but his words spewed with an almost terrifying urgency.
"Pol Pot wanted to break up all the families. The Khmer Rouge would separate children from their parents. And to break them, to make them loyal only to the Khmer Rouge, they would make them do terrible things. Do you know what they did? They made them kill their own parents. They would bring the parents before the children, and then tell the children, 'You must kill your mother. You must kill your father. From now on, your only loyalty is to the Khmer Rouge.' If the children hesitated, they would threaten to kill the children.
"You are a father. Can you imagine? These were children!" he said and his voice suddenly broke.
And then I broke too. Huge convulsive waves of sobbing shook my body, coming from some deep well I didn't even know I had, the tears streaming down my face, sobbing and sobbing so hard that I shook the car and the air writhed in agony around us.
Mr Kim kept driving steadily, in silence. He never looked at me but simply exuded what felt like a kindly calm.
I covered my eyes but the tears kept pouring and the deep sobs kept wracking my body. After what seemed an eternity, I finally stopped, embarrassed. "I'm so sorry," I said. "I'm so sorry… I just don't understand how any human being could do that to another fellow human being. I just don't understand how people could do that. I don't, I don't… understand," I said, and I started sobbing again.
"I know," Mr Kim said quietly. "We don't understand either. We think, 'How could our fellow Cambodians do this?'
"This is why I don't tell my children about this," Mr Kim continued. "I don't want them to think about this and to feel such sadness. I want them to feel happy. I want them to think about the future, about what they can do with their lives. Cambodian people don't want to think about this. Life is better now. We have human rights and freedoms. We don't want to dwell on the past. We want to focus on the future now..."
At the Pol Pot reservoir, Sopheng was silent, staring at the water and the horizon beyond. When he finally turned back to me, his smile seemed somehow refreshed, lightened, as if he had buried some burden in the landscape. "Now we use the baray to water the fields and for fishing. The baray is giving back to the people," he said. "We can't change what's past. We can only make sure that the future is better."
+++++++++++++++++++++++++++++++++++++++
On the first night of my homestay, I ate dinner at the CBT office and then slipped and sloshed back down the road toward my house. It was supposed to be about a two-minute walk, but in the unfamiliar dark I missed my house and continued on past more stilt houses. I could see families gathered by fluorescent light or lantern light in the paved, open-walled, under-stilt portions of their homes. In some, multiple generations were gazing at the television. In others, adults were eating, drinking and talking around picnic tables. Here a mother carefully combed a child's hair. There an older sister bathed a sibling, both erupting into peals of laughter. When thickets of trees appeared on my left and rice paddies stretched away on my right, I knew I had walked too far. I walked back and finally discerned the small "Homestay" sign that marked my house.
At about 4 am one of the most torrential rains I have ever experienced drummed on the metal roof above me. As it went on and on, I felt like I was living under a waterfall. It was unsettling being in an unfamiliar place, with unfamiliar weather, at the mercy of strangers. After about 20 minutes, men's voices shouted from house to house and footsteps scrambled on stairs. Then I heard splashing and urgent cries outside. I didn't know what they were doing or what I should be doing. So I simply fretted. After another 20 minutes, the voices stopped and peace returned, but still I couldn't sleep under the percussive pounding. Then I thought: this is not an unusual occurrence. This has been happening for decades, centuries, millennia even. You're just part of some cycle so much older and bigger than you that there's no point in worrying about it. This village has survived for centuries. These people have survived for decades. You've just become part of some huge natural whole that you were never aware of before. Lucky you. Now just surrender to it and go with the flow.
The next thing I knew, cocks were crowing and sunlight was streaming through the window.
On the second night of my homestay, as I walked back to my house, children waved and called, "Hello! Hello!" Mothers holding babies smiled and laughed. Teenagers nodded as they passed on their bikes, and the men talking around the picnic tables saluted me with their beers. Even the renegade dogs yapped in a more friendly way.
On the final evening of my homestay, I lay in the hammock in my home's ground-floor living area. Behind me Mom and Grandma were sitting on their haunches, chopping dandelions and radishes by a boiling pot, and Dad was rocking three-month-old Baby to sleep. I took out my journal and wrote:
"I can't believe this is already my last night here. I don't want to leave. I feel so comfortable here now, so completely at home. There's so much to love. The super kind and innocent people. The beautiful landscapes. The simple stilt house life. The kids running around playing with their makeshift stick-and-cloth toys; one kid has a red truck and that's as sophisticated as it gets. There's such a community feeling, everybody talking with everybody, sharing with everybody. When a huge rain poured my first afternoon, everyone worked together to carry plastic buckets of rainwater to the ceramic storage vessels and to construct a temporary dam so the soil wouldn't erode so quickly.
"And my god, the smiles! There are smiles everywhere, especially the kids with their big smiles and their incredibly bright, innocent, hopeful eyes."
The village cocks started their incongruous round of evening calls. Dogs barked. Frogs croaked. In the distance a tractor rumbled, and scratchy music wafted from speakers at a nearby Buddhist festival. The seven-year-old from the house across the way raced by on her bicycle and gave me a big wave. The boy with the red truck suddenly appeared carrying a coconut and held it out to me. Baby issued a blissful burp, and we all laughed.
"Thinking about leaving tomorrow," I wrote, "I feel like I could cry...."
+++++++++++++++++++++++++++++++++++++++
For our last tour, Sopheng told me he was taking me somewhere very special, a place he didn't usually take visitors. I hopped behind him on his trusty Honda motorbike, and he manoeuvred onto the rain-mucked road once again. The road to this temple was the worst yet. There were deep pools of water separated by thin islands of exposed road that looked too slick and mucky to even attempt. But like a moto magician, Sopheng turned the handlebars this way and that, minutely steering a course between puddles, somehow avoiding the slickest spots that would have sent us flying, gunning the engine moments before we got stuck, fording fathomless puddles when that was the only way, and all with a serene smile. Against impossible odds, we didn't topple over even once.
When we reached an especially submerged section of road, for the first time Sopheng stopped and said, "We'd better walk here." So we dismounted. I must have been quite a sight: I was showing a patch of alarmingly white skin between my blue socks and rolled-up khaki convertible trousers. My walking shoes were thickly caked in mud. I had a red bandanna on my head and another around my throat, and I was wearing an electric blue T-shirt under a long-sleeved blue work shirt. We sloshed along on foot for about 30m until we had passed the worst section.
We then slow-motored down a series of ever narrower, branch-littered paths, between groves of lush green trees and rice paddies. Prickly bushes grasped at us. We passed a couple of stilt houses, and a bent woman with a leathery lined face suddenly crinkled into a smile and called out a greeting. The trail ended at a dense patch of jungle. One narrow, crushed-grass walking path led to the left through high grasses and bushes. Another led to the right through similarly forbidding growth.
Sopheng took neither. "Follow me," he said, and plunged straight into the impenetrable jungle. As I followed him, silently cursing, the barest brushstroke of a path materialised, a muddy, leaf-strewn depression. After a few steps, that depression disappeared and all I could do was try to exactly match Sopheng's footsteps as he burrowed into a world of densely overhung, intertwining vines, bushes and branches, sharp rocks and slick tree trunks, all crawling with slimy insects, I was sure.
Soon the trail led onto a jumble of moss-covered stones with sharp sides. As sweat poured down my face, neck, arms and legs, everywhere sweat could pour, I gingerly picked my way over the rocks, noting the fat brown millipedes on all the smooth surfaces. We crossed into deep green shadows, heavy with the weight of damp branches, dripping ferns, wet leaves and grasses. The air smelled of earthy wetness, a musky, primordial scent.
We stepped over another jumble of rocks – me slipping on one and missing a millipede by a millimetre as I grabbed a rock to steady myself. Then we turned a corner and the foliage gave way to a clearing and Sopheng smiled. "Look!" he said.
Just behind him rose a stone tower with a huge carved face – smiling lips, bulbous nose, protruding eyes. Its appearance was so unexpected, so hallucinatory, that for a moment I couldn't process what I was seeing.
Then it all came into focus: a single tower, 9m high, topped with a massive magnificent carved face, surrounded by the jungle, with no one else around for miles. We scrambled a few metres forward, then Sopheng said, "We can't go closer than this. It's too dangerous."
I stopped and tried to freeze the moment: There I was, gritty, grimy and exhausted from a day of clambering and bumping and sloshing through the jungle, surrounded by bulbous leaves and drooping, dripping branches and vines, balanced precariously on mossy, vine-woven rocks, gazing at a tower of stone blocks, placed painstakingly block by block, hand by human hand, some eight centuries before.
I laughed and Sopheng laughed, and I took out my phone and snapped some sweaty photos. "This is incredible!" I said. "This is like a dream!"
"I found out about this temple only in 2009," Sopheng said. "The people who live nearby told me about it. Just a few foreigners know it. If tourists don't have a local guide, they cannot find this temple. It's too complicated to find on your own. Even if you are standing right in front of it, you won't see it." He paused. "I don't usually take people here," he said, and flashed a wide smile.
+++++++++++++++++++++++++++++++++++++++
My last grand adventure of the trip occurred as Mr Kim drove me from Banteay Chhmar to Siem Reap. Mr Kim knew this was my final full day in Cambodia, and after I had waved a long and lingering farewell to Sopheng and Sokoun at the CBT building, he looked at me and asked, "When do you have to be back at Siem Reap?" Not until dinnertime, I said, and his eyes shone. "Do you want to go to the Thai border? There are two temples there I want to show you. 12
th
Century. We go?"
"Of course, of course!" I said, and off we went.
We drove north through heart-stoppingly idyllic landscapes – glistening, rainwater-filled rice paddies and lush cassava fields, towering palm trees and groves of green deciduous trees, interrupted occasionally by settlements of a few dozen wooden stilt houses. For a change, the sun was shining and the sky was a deep blue backdrop for a spectacular succession of pure white clouds – streaks and puffs and mounds upon mounds.
Mr Kim was pleased. "I was here during the war," he said. "I was a commander here. There were many Khmer Rouge soldiers in this area." Looking out at a landscape that moments before had seemed the very picture of purity and innocence, I struggled to absorb the idea that Cambodians had been torturing and killing Cambodians here just a few decades before, that corpses almost certainly underlay parts of this pristine scene. My mind was spinning.
"We go to the temples on the border," Mr Kim said. "Even just a few years ago, there was fighting there with the Thai soldiers. Many people died." In the spring of 2011, he explained, Thai troops had seized the temples' grounds, claiming the areas belonged to Thailand. Cambodian troops had rushed to repel them, and for a month, artillery shells and gunfire from both sides had claimed at least 15 lives. "Now it is peaceful," Mr Kim said, "but still, there are many Cambodian soldiers there, just to make sure the Thais don't try to move the border again."
We reached the first temple, Ta Moan, in less than an hour. The last section of road corkscrewed into almost unimaginably dense jungle mountains that marked the border. This was the territory where Pol Pot's troops had been based, Mr Kim said, close enough to scurry into Thailand when necessary, and in vegetation so thick that it would be almost impossible to spot an encampment until you had literally walked into it.
Ta Moan turned out to be a sleepy site, about the size of a football field, with brown rock remains of walls that outlined one central building with some still visible decorated doorways and corridors, and half a dozen subsidiary structures. A couple of Thai soldiers sat on stones at the far end of the site, and a Cambodian border policeman and soldier stood at the near end, talking quietly. It was surprising to see these soldiers from both countries simply strolling around the grounds, and even more surprising when they sat down together and talked like old friends; this peaceful air at a place where blood had been shed just three years before was invigorating.
The second temple, Ta Krabey, was even more moving. Mr Kim knew the commander here, and we were accompanied by a military escort of a half dozen soldiers up a winding jungle trail to the mountainside temple grounds. Ta Krabey was essentially a single tower in a clearing about 30 square metres, surrounded by massive trees and jumbled, moss-covered stones. There was a much larger military presence here. Eight Thai soldiers were lounging on the site when we arrived. The soldiers nodded and smiled at each other, and one of the Thais greeted the Cambodians in Khmer. As they shared cigarettes and talked easily with each other, the Cambodian commander showed us bullet holes and scars from artillery fire in the temple stones. "Now, we are friends," he said, gesturing toward the mingling soldiers. "But a few years ago, we were shooting at each other."
He then walked down and clapped his Thai counterpart on the back, and before I knew what was happening, I was being herded along with a contingent of Thai and Cambodian troops to a prime photo spot in front of the tower's entrance. One Thai and one Cambodian soldier were dispensed to take photos, and the rest of us put our arms around each other's shoulders and smiled. "We'll call this 'Tourist at the Peace Temple,'" the commander said, and as his words were shared and translated, the soldiers nodded and laughed.
After a half hour of cigarette-sharing and photo-snapping, the commander led us back down the trail to a roofed, open-walled meeting area with a table where he bade us sit and brought us tea. He then disappeared for a few minutes and reappeared with a dozen of his soldiers, including the six who had accompanied us to the temple. When all had been seated, he stood and gave a speech, which Mr Kim translated, welcoming us and telling us what an honour it was to have a foreign guest among them. He also spoke about the history of the conflict over the border temples and how happy everyone was to have peace in the area now, and how they hoped the only visitors in the future would be tourists – he smiled at me – and not soldiers.
He sat down to applause and I rose and gave a brief speech, through Mr Kim, saying how very honoured I was to be welcomed at this ancient and important site, and how tremendously moved I had been to see the Cambodian soldiers talking so harmoniously with the Thai soldiers. I told them how very inspiring that was to me, and how that kind of peace and understanding between people was the prime reason why I travelled and why I believed so fervently in the power of travel to transform the world. I said I would always treasure my photo of the Peace Temple and my visit with them.
I sat down and all the soldiers burst into smiles and applause, and then, quite unexpectedly, a very young-looking soldier at the end of the table got up and began to speak. His voice quavered at first, but as he continued to speak, the words flowed out of him with a pure passion. "I am just a simple soldier," Mr Kim translated. "I have not travelled far or seen much in my life. But today is a very special day for me." He looked directly at me. "Our honoured guest is the first foreigner I have ever seen in my life, the first foreigner I have ever met. I am so excited and happy to have met you and talked with you. I cannot quite express what this means to my life. This makes me think how big the world is, and gives me a kind of hope. Please when you go back to your village, tell the people about the soldiers you met at Ta Krabey. And tell them about the peace you found here. I will never forget this day for the rest of my life."
He stopped, looking embarrassed, but his comrades burst into applause, and I leaped to my feet, pressed my hands to my heart and said, "Agung! Agung! Agung!" Then I asked Mr Kim to say that I would definitely tell all my fellow villagers about the kind soldiers I had met at Ta Krabey and the inspiring peace I had found there. And that I too would never forget this day.
+++++++++++++++++++++++++++++++++++++++
Mr Kim dropped me at my hotel in Siem Reap at 5 pm, and we parted with assurances that we would see each other again. I had thought I would visit Angkor Wat one last time, but instead, I decided to have dinner at the hotel and spend the night in my room. I had a day's worth of flying ahead, but even more important, I wanted to end my stay in the place where Cambodia had come alive for me, in Banteay Chhmar. So I sat in my room scrolling through memories of the days just past, until one scene stopped me.
On the second morning of my stay in Banteay Chhmar, I awoke before dawn to explore the main ruin where Sarun had taken me the day before. I made my way by flashlight along puddle-pocked paths to the eastern entrance and admired the bas-reliefs of warriors and dancers again. Then, just as day was breaking, I followed a footpath to the right that led past the collapsed wall and into the heart of the temple.
Alone in the ruins, I lost all sense of time. I picked my way over mossy rocks, extricated myself from clinging vines, slowly stepped up and over stairs and crumbling walls, butt-slid down precarious inclines, then turned to find a beautiful carved maiden encased in a tiny niche, an intricate carving of a Buddha under a bodhi tree, an ornamented head here, a shield-bearing torso there, a half dozen bodhisattvas buried among grasses and leaves.
I moved deeper and deeper into the ruin, sloshing through puddles, slashing through vines, clambering over toppled stones, avoiding millipedes, swatting at mosquitoes, parting branches and plucking persistent stickers. At one point I stopped for a swig of water, and when I slapped at the whining mosquitoes that danced on my neck and hands, I slipped and slid over some tumbled pieces of rock, grabbed at branches to stop my fall, and landed just in front of a bas-relief of warriors, maidens and fish alive in stone.
Sweat poured into my eyes, and as I mopped the stream with a sopping bandanna, I saw a stony face – lips, nose, eyes – at the top of a tower of tilting stone. I fumbled with my camera, and rain started to fall, first a pitter-patter on the forest canopy and then an insistent downpour that penetrated the branches and leaves.
I stood in the downpour and felt electrified, closer to the wild heart of life than I had been in a long time. I was sweaty, dirty, dripping, exhausted, utterly alone in the wild and connecting with things so far beyond me I could barely comprehend them.
Part of me was transported back to this same stony spot eight centuries before, gazing in wonder at that tower face in pristine splendour, wrapped in the awe this kingly complex compelled. And part of me was exploring the woods behind my childhood home in Connecticut, wondering at the stone walls I found there and the thrilling sense of communion with older histories and hands that they bestowed.
I thought of puzzles: the puzzle of the GHF archaeologists attempting to restore the ruins piece by piece; the puzzle of this enchanting, elusive country – its glorious ancient past and agonized recent past, the promise and peril of its present; and the puzzle of my own ruins, from the woods of Connecticut to the wilds of Cambodia.
Why was I here? Why had I chosen this path?
Now, in the jungle gloom of my Siem Reap hotel room, a glimmer of understanding grew. This is what I do, this was as close to the wild core of me as I could ever hope to get: I follow the compass of my heart, venturing off the map, making connections, asking questions, going deeper, trying to penetrate the essence of a place so that I can understand it better and bring back precious pieces to share. Piecing together the puzzle of Cambodia was a way to piece together the puzzle of me.
I thought of the soldier at the Peace Temple, of the speech he had made and how he had waved and waved as we had driven away. I thought of Mr Kim, Sarun, Sopheng, the towers of Banteay Torp and Ta Prohm, the Pol Pot Baray, the unforgettable face in the jungle, my stilt house home. Here I was, a temporary traveller on a spinning globe, alone yet connected to every single one of these: a piece in a puzzle of a journey whose design I would probably never know, but whose path had restored my sense of the whole, in the ruins of Banteay Chhmar.
Get the backstory on why writing this essay was harder than the author originally thought.