The Korean-Mexican mashup took off in Los Angeles thanks to Twitter and a fleet of food trucks. Is the dish a passing fad or here to stay?
I
I was in search of a food truck.
Not just any food truck, of course. I was in search of a Kogi BBQ truck, a southern California phenomenon thanks to the addictive culinary mashup chef Roy Choi delivers. Picture, if you will, the Korean taco: pork or beef short rib, barbecued in the Korean manner, mixed with butter-sautéed kimchi, chilies and an elixir of soy sauce, garlic and lime, all stacked on a corn tortilla. It's Mexico City meets Seoul and it's one of the most transcendent things you'll ever eat.
This wasn't the first time I'd wandered around Los Angeles looking for a Kogi truck. Since the eatery launched in 2008, Kogi has been using Twitter to broadcast its trucks' locations, so that devotees – hungry and salivating – can hunt one down and score a bellyful of kimchi-laced morsels.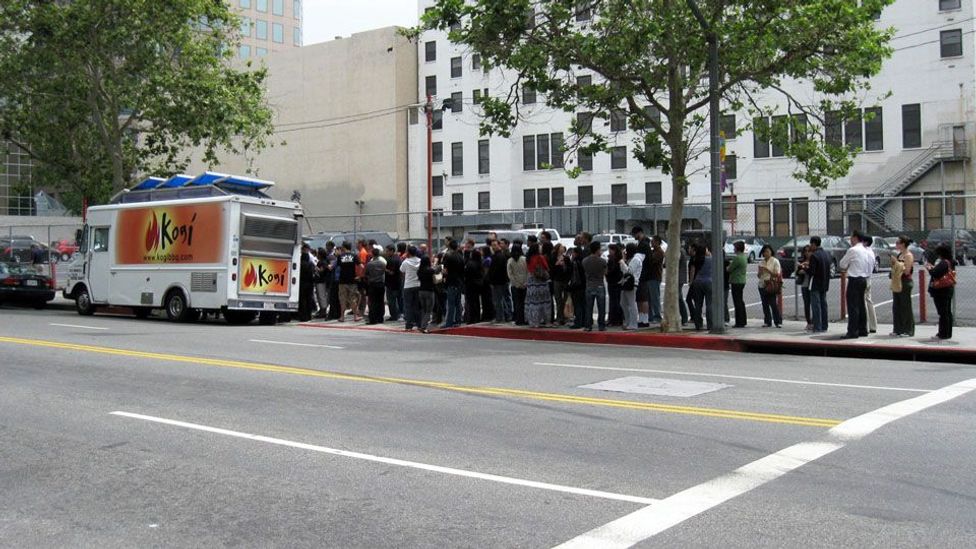 A taco that draws long lines. (Arnold Gatilao/Flickr/Creative Commons)
But this time I was searching for a Kogi truck inside Los Angeles International Airport (LAX). Yes, Kogi has officially arrived: it's now an airport eatery, having first fired up its LAX burners in December 2014. The truck's location inside Terminal 4 – a crossroads for people from all walks of life– is fitting for one of the planet's great culinary marriages.
Since Kogi began slinging its Korean-Mexican mashups to rave reviews, competitors have tried to imitate its dishes. Even Baja Fresh, a 256-restaurant Mexican food chain in 29 US states, tried adding a Korean-accented taco to its menu. In New York City, where I live, truck-cum-brick-and-mortar restaurant Korilla serves Korean tacos and burritos, but the three times I've tried their offerings, I've been underwhelmed.
What, I wondered, did Choi understand that nobody else did? How did Kogi's success reflect the culture of Los Angeles, a city that has elevated both the Korean taco and its creator to full-blown cult status? And most importantly, was the Korean taco just a fad or was it really here to stay?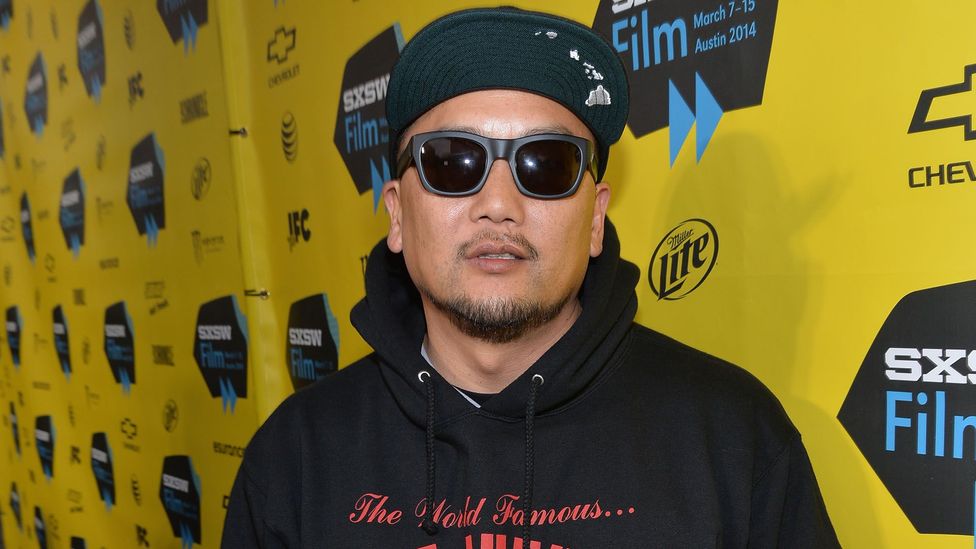 Kogi's Roy Choi, dean of the Korean taco. (Michael Buckner/Getty)
Shortly after arriving in Los Angeles, I sat down for a meal with James Beard Award-winning writer Besha Rodell, the restaurant critic for the LA Weekly. We eschewed Choi's trucks and instead went to one of his newer restaurants, POT, located in the Line hotel in Koreatown, a bustling Korean immigrant neighbourhood in central Los Angeles. According to Rodell, "the real story … is the cultural mashup that Roy Choi embodies and continues to push forward, beyond tacos". As such, it's no coincidence that Koreatown has become one of the city's hottest neighbourhoods in recent years. In a way, Choi's rise has mirrored Angelinos' embrace of both Korean food in general and Koreatown as a hip dining destination.
Over a bowl of kimchi ramen – Choi is clearly branching out – Rodell explained her take on the phenomenon. "The difference between Roy Choi and everyone else doing Korean tacos", she said, "is that he grew up in the middle of the collision of these two worlds, Korean and Mexican. I hate to use the 'A-word', but this comes from a true place of authenticity."
She had a point: this wasn't some sort of forced fusion food that restaurants in major US cities have been trotting out for years. (I'm thinking of the overrated ramen burger and the ridiculous phorito – Vietnamese pho colliding with a burrito.) The Korean taco is an organic blending for Choi, a Los Angeles native who grew up eating both Korean cuisine and Mexican food. "Besides that", Rodell added, "Los Angeles is an organic fusion of cultures and often with culinary traditions not rooted in Europe. This really couldn't have happened anywhere else."
The following day I picked up Bill Esparza, a taco expert whose website Street Gourmet LA features his musings on mostly Latin street food. As we drove to La Taquiza near the University of Southern California, Esparza reflected on the Korean taco's rise to prominence. "Kogi basically kicked off the gourmet truck phenomenon," he said, noting that previously, most taco trucks would simply plant themselves at construction sites or park at the same spot daily. "Kogi was a triangulation of technology, a fancy food truck and something people hadn't seen before."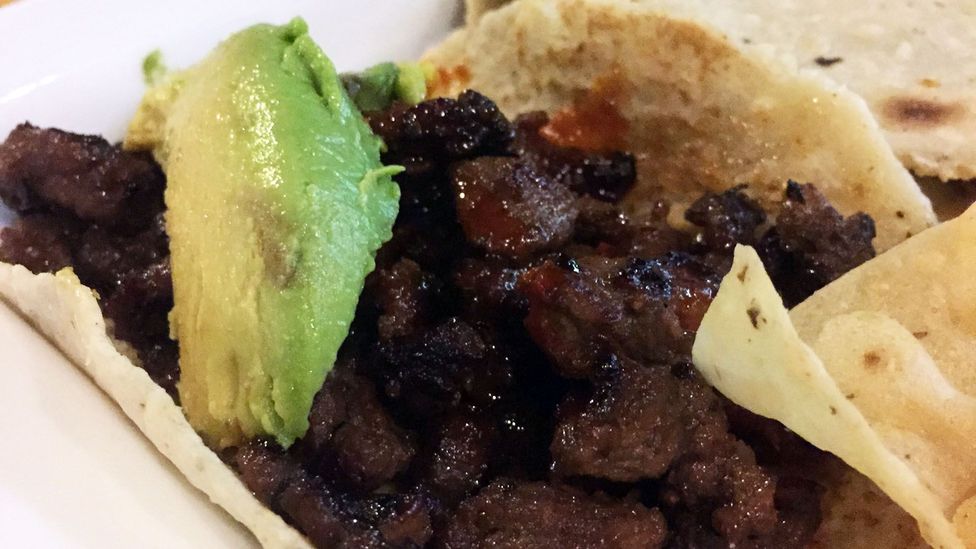 Portrait of a La Taquiza taco. (David Farley)
La Taquiza is a traditional taquería. Its specialty is the mulita, a sort of taco sandwich (think al pastor roasted pork or carne asada between two tortillas). But right there on the menu, among the mulitas, burritos and quesadillas, was the Korean taco. I ordered two. Alas, the restaurant was out of kimchi that day, but I stuck with my order. That's when owner Miguel Medina walked over and dropped a bombshell.
"I created the Korean taco before Kogi," he said. I stared at him, waiting for him to crack a smile or somehow indicate that he was joking. Instead he told me that he'd planned to franchise his taqueria in Korea some time during the previous decade. The deal fell through, but after spending enough time there on reconnaissance trips, he decided to make an homage to his near-business venture and marry kimchi, grilled pork or beef short rib, and corn tortillas. When my kimchi-less Korean taco arrived, I bit into it and was immediately met by flavourful pork, spicy but earthy Korean barbecue sauce that balanced out the smokiness from the grill, and soft, silky avocado.
"It took about six months of experimenting with the flavours of the Korean taco," Medina said. "We made kimchi every possible way and eventually settled on kimchi that was fresher and crunchier, which younger people prefer."
"It took a while", he added "but eventually it caught on. Which the popularity of Kogi is responsible for. They basically helped me market the Korean taco here."
But did he think that Choi had ripped off his idea?
Medina shrugged, as if he'd never thought about this before. "I don't think so. It's possible for different people to come up with the same idea."
On my way out, I asked Medina when he put his Korean taco on the menu. He wasn't exactly sure but figured it must have been around March 2009. The Kogi BBQ truck launched in late 2008, about four months earlier. We may never know who first united Korean and Mexican ingredients. But when the combination works together in such delicious harmony, who cares?
I certainly didn't. I just needed to find a Kogi truck to eat Choi's now-legendary offering.
On my final day in Los Angeles, I arrived at LAX early, giving myself time to locate the Kogi truck. There was, naturally, a line snaking away from the truck, which had been assembled in (and not driven into) the terminal.
As I approached, my stomach rumbling, I noticed a familiar figure standing in front, surveying the scene: Choi, who's now a celebrity in his own right. The tattoo-covered chef was wearing a shirt that said FLY TACOS and had an image of a Kogi truck with wings.
I introduced myself and asked if he'd ever thought he'd have this much success. "I had zero idea Kogi was going to take off like it did," he said. "But this is truly a product of Los Angeles – in ingredient combinations, in attitude, in the fact that we make it in a truck."
After getting my food, I bit into a pork-studded taco. It was stupifyingly delicious. The kimchi offered a spicy kick and nice textural crunch. Meanwhile, the lime produced hints of sour, the soy a bit of saltiness, the salsa a tiny bit of sweetness and the pork a delicious savouriness. When combined, these ingredients conspired to create a very well-balanced snack sitting comfortably inside a corn tortilla.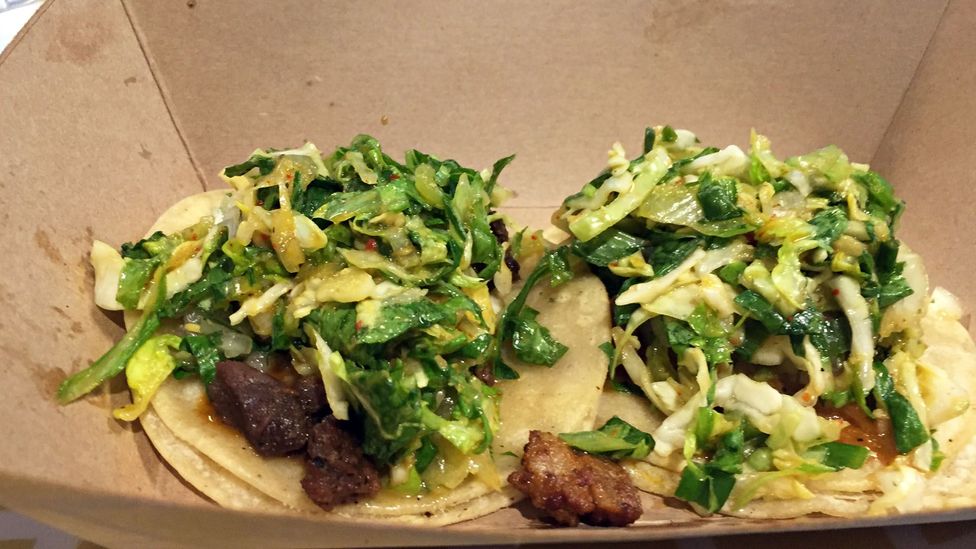 A pair of Kogi Korean tacos. (David Farley)
This balance of flavours is what Kogi's imitators haven't been able to replicate. Indeed, this taco was something no other city in the world could have spawned. With 120,000 people packed into the 2.7-square-mile neighbourhood, Los Angeles' Koreatown is the biggest Korean urban centre outside of Korea. While LA has its various ethnic pockets – neighbourhoods populated with Thais, Japanese, Ethiopians – the city sometimes feels like a Mexican or pan-Latin town surrounding a Korean one. Which makes the rise of the Korean taco now seem almost inevitable. If Choi (or Medina) hadn't married the two culinary cultures, someone eventually would have.
I asked Choi what made these two cuisines so compatible. He looked down the ever-growing line of hungry travellers awaiting tacos and said: "they say that before the continents split, Korea and Mexico were one land mass." We both laughed.
A few minutes later I was walking to my gate, and I thought of something Esparza had told me the day before. I asked if he thought the Korean taco trend would peter out at some point. "The imitators might," he said. "But Roy Choi and Kogi are here to stay. They're part of the fabric of this city now and they're going to be here for a long time." He paused and then said, sotto voce, "A very long time."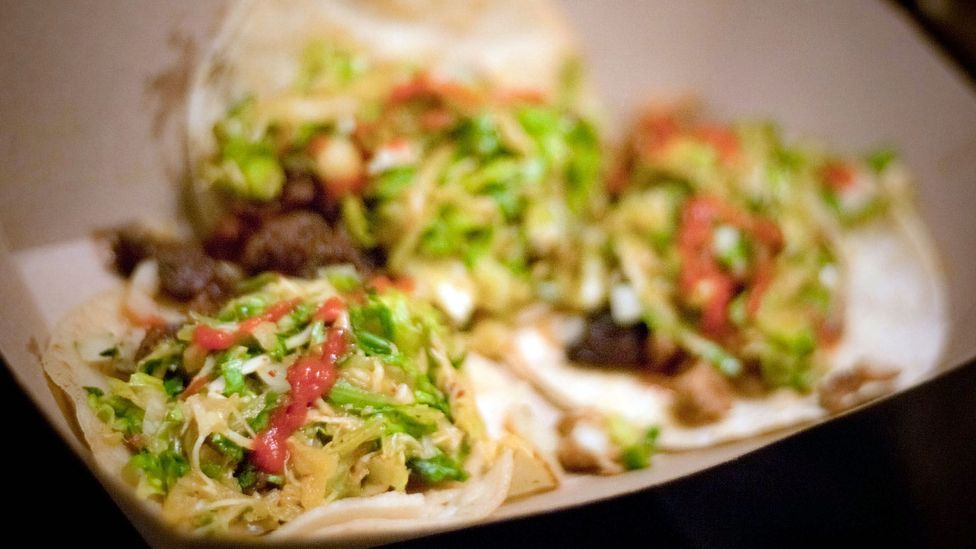 Ready-to-eat Kogi tacos. (Varlin/Flickr/Creative Commons)
(Varlin/Flickr/Creative Commons)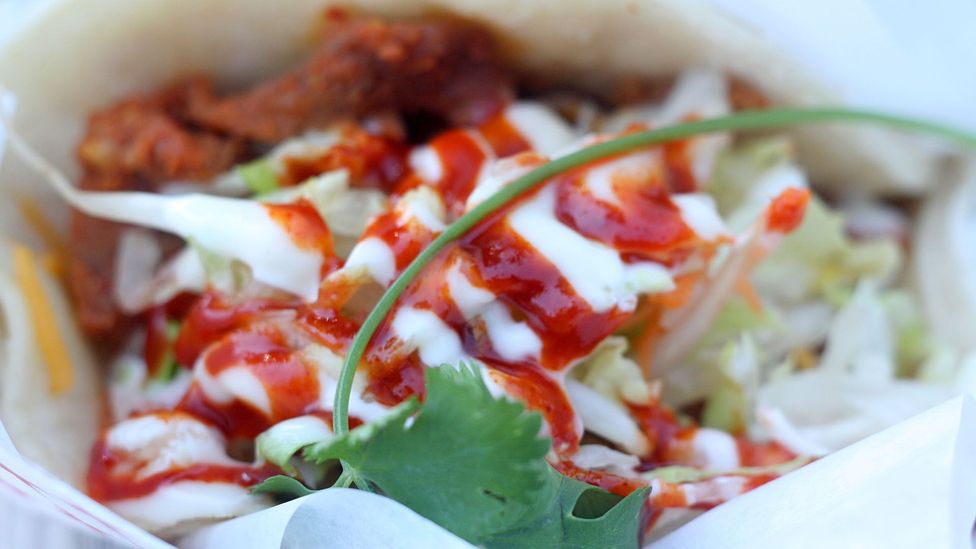 A Korean taco from the Korean Twist cart in Portland, Oregon. (brxo/Flickr/Creative Commons)
(brxo/Flickr/Creative Commons)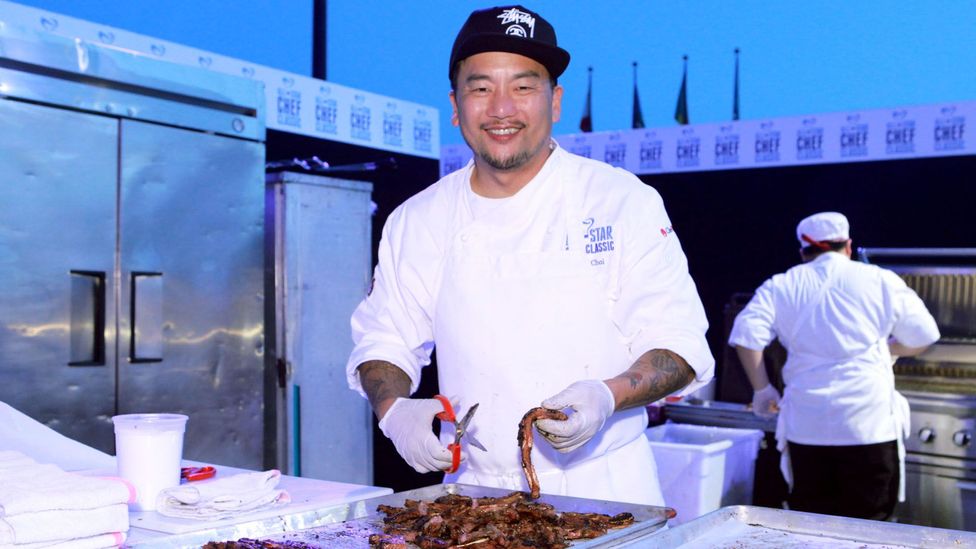 Chef Roy Choi of Kogi BBQ. (Rebecca Sapp/Getty)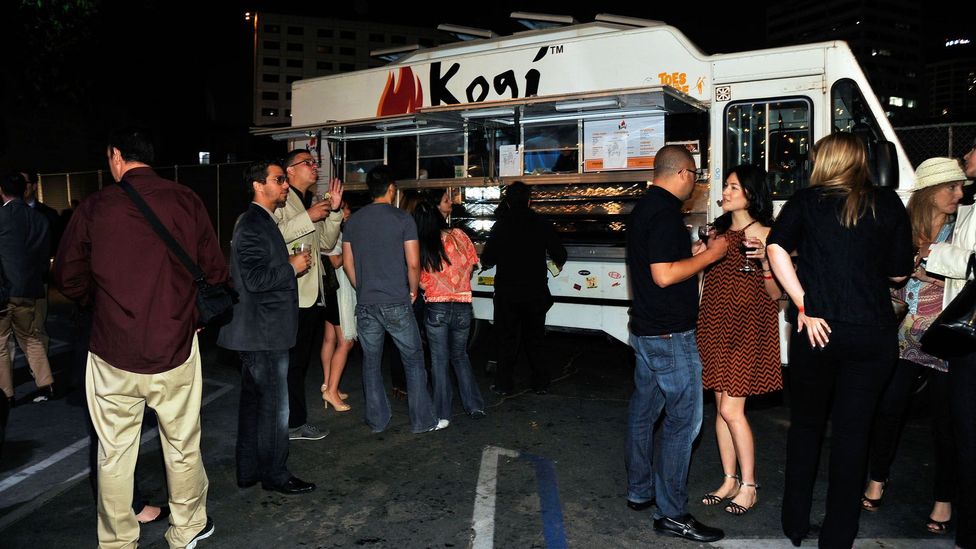 Roadside dining in Los Angeles. (John Sciulli/Getty)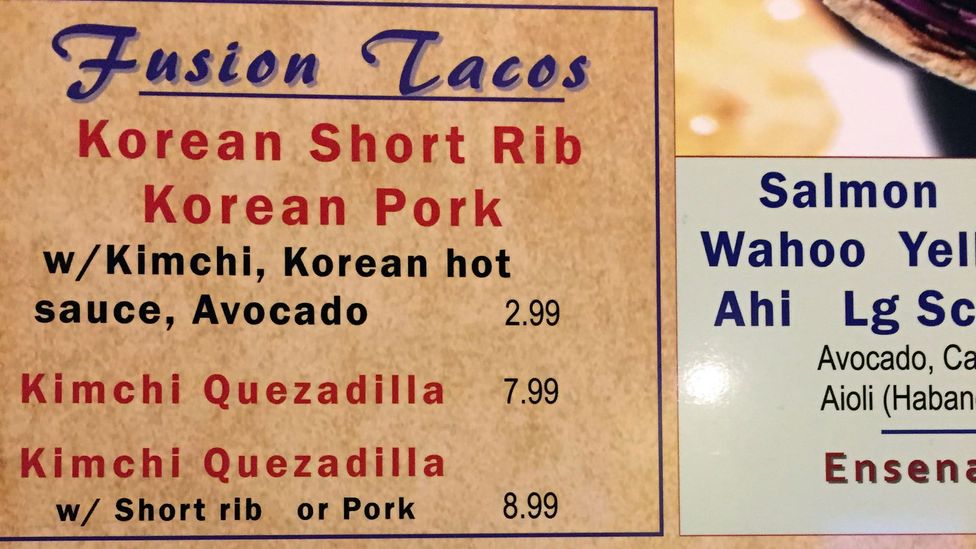 La Taquiza's Seoul-meets-Mexico City menu. (David Farley)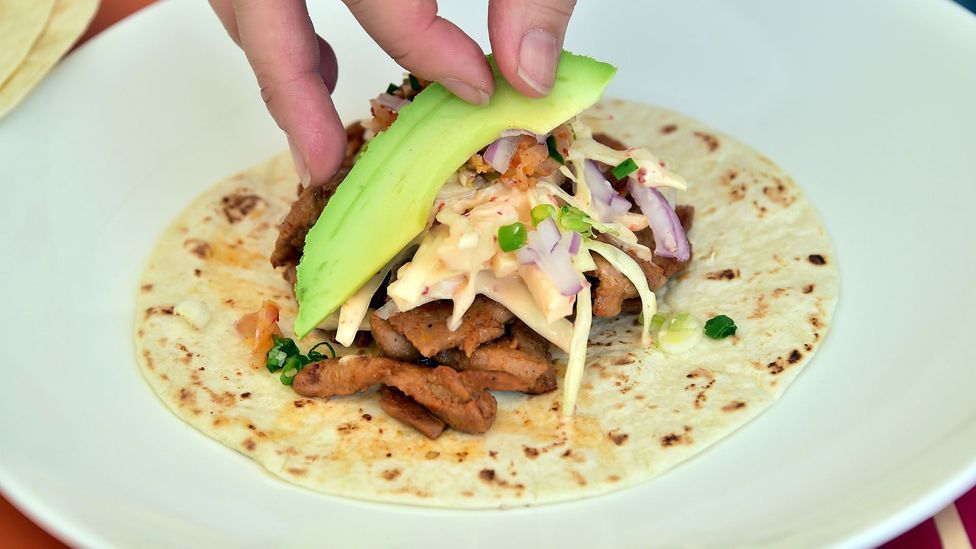 A Korean taco served up in Seoul, South Korea. (Jung Yeon-Je/AFP/Getty)