The Bigfoot Scenic Byway winds 89 miles through deep gorges and primordial forests, past waterfalls and granite-lined lakes. Sightings have been reported – and everyone has a tale.
W
When the US National Forest Service named a remote and little-visited 89-mile stretch of California Route 96 the "Bigfoot Scenic Byway", one might have been tempted to chalk it up as a well-intentioned bait-and-switch. Come for the mythical North American mega-ape, stay for the deep gorges, primordial forests, granite-lined lakes, soaring eagles and frolicking river otters that too few people get to enjoy. 
But whatever the reason, naming a scenic route after the world's least visible animal has a way of catching a curious road-tripper's attention.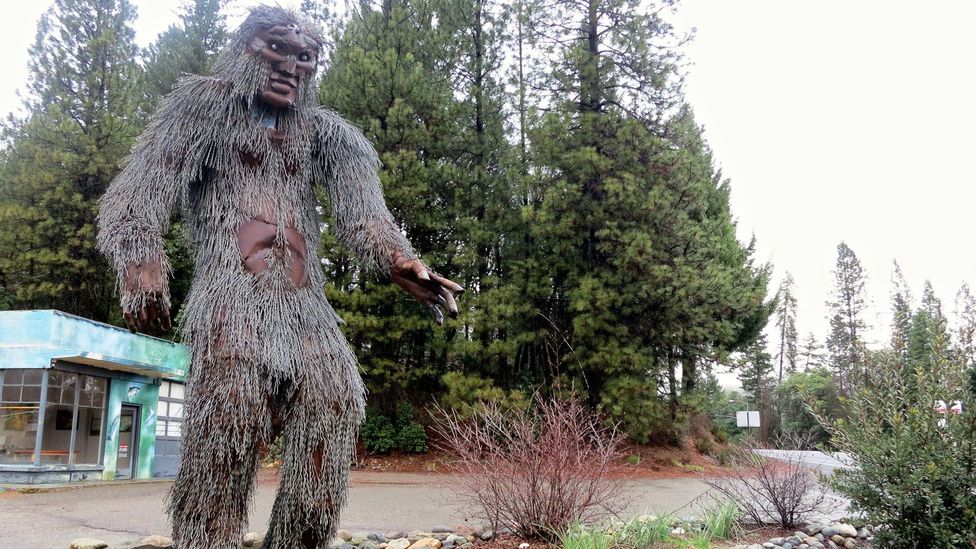 An 18ft-tall Bigfoot statue made from recycled metal greets visitors to Happy Camp, California. (Andy Murdock)
The modern Bigfoot phenomenon, and the name "Bigfoot" itself, arose in the late 1950s when multiple reports of giant footprints and mysteriously disturbed road construction sites emerged out of northern California. Today, Bigfoot's popularity has come roaring back out of the underbrush thanks to US television shows like Finding Bigfoot (Discovery Channel), Killing Bigfoot (Destination America) and 10 Million Dollar Bigfoot Bounty (Spike TV). As a result, groups like the Bigfoot Field Research Organization (BFRO) are leading an increasing number of Sasquatch-curious travellers throughout North America, with scouting trips ranging from the misty forests of the Washington Cascades to the balmy wilds of northern Florida.
On a recent camping trip, I was delighted to discover that I'd inadvertently set up camp in the middle of a BFRO foray. And I had found something far more interesting than Bigfoot: a group of average-looking people who happily forked over money to hunt for something they were guaranteed not to find.
Perhaps this shouldn't have been surprising: a recent survey by the Angus Reid Institute found that roughly 30% of Americans believe that Bigfoot is either "definitely" or "probably" real. I have a background in evolutionary biology, so to say I am a Bigfoot sceptic would be a vast understatement. On the other hand, the tireless passion of Bigfoot hunters in the face of a total lack of reliable evidence, and the fact that the more thoughtful Bigfoot enthusiasts cast the hunt as a pursuit of something that might exist at, or just beyond, the limits of human perception is fascinating. Perhaps there's more to the Bigfoot phenomenon – and Bigfoot country – than meets the eye.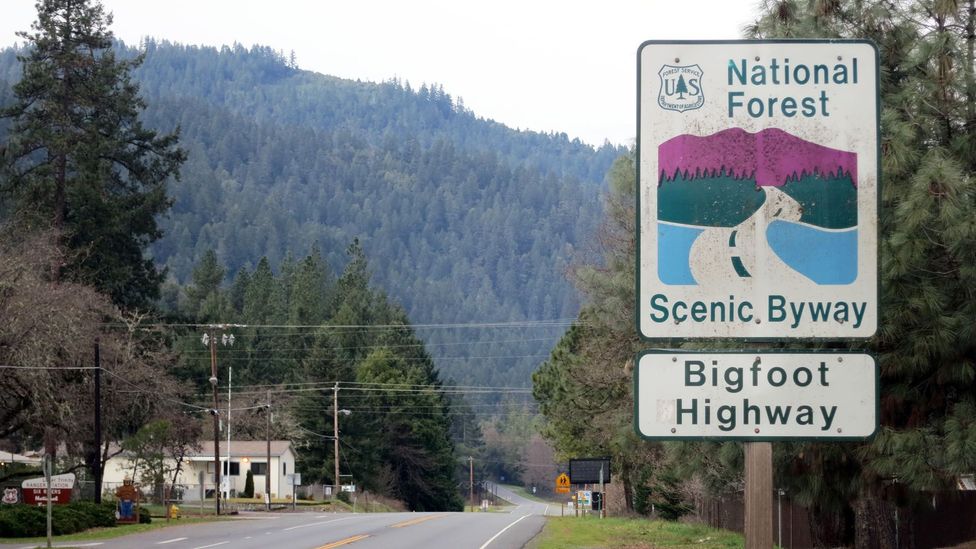 Into Sasquatch land. (Andy Murdock)
The Bigfoot Scenic Byway begins in the town of Willow Creek, 300 miles north of San Francisco in Humboldt County, and twists northward along the Trinity and Klamath rivers through the Hoopa Valley and Yurok reservations, to the town of Happy Camp in Siskiyou County. The most famous purported footage of Bigfoot, the 1967 Patterson-Gimlin film, was captured near the midpoint of the route, just outside the town of Orleans along Bluff Creek, which has become a point of pilgrimage for Bigfoot hunters.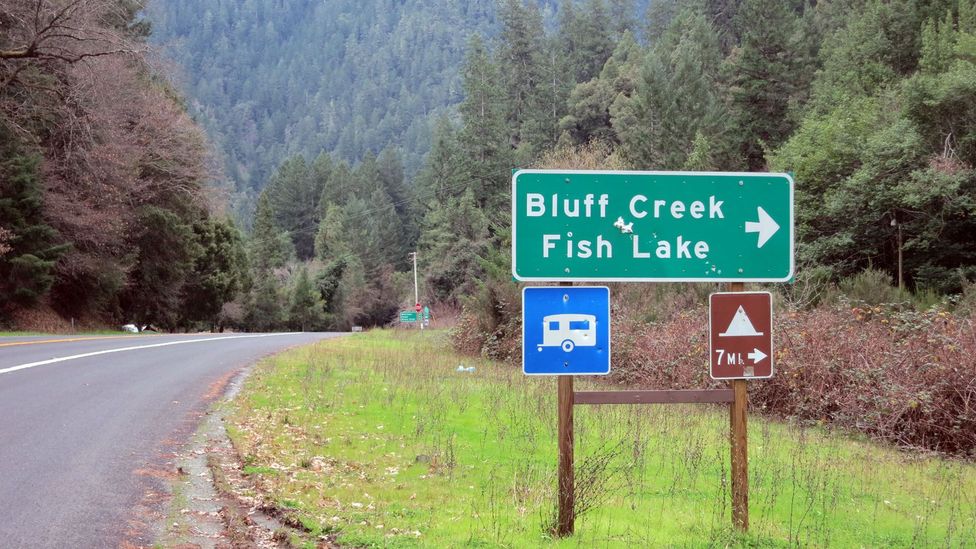 The 1967 Patterson-Gimlin film was captured near here. (Andy Murdock)
In Happy Camp, the road intersects with the State of Jefferson Scenic Byway, named after the splinter state that has garnered local support on multiple occasions but has never come to pass. In this part of California it's easy to feel as though you've stepped through the looking glass into a world where it's normal for towns to be called Happy Camp and Forks of Salmon, and roads to be named after mythical creatures and imaginary states.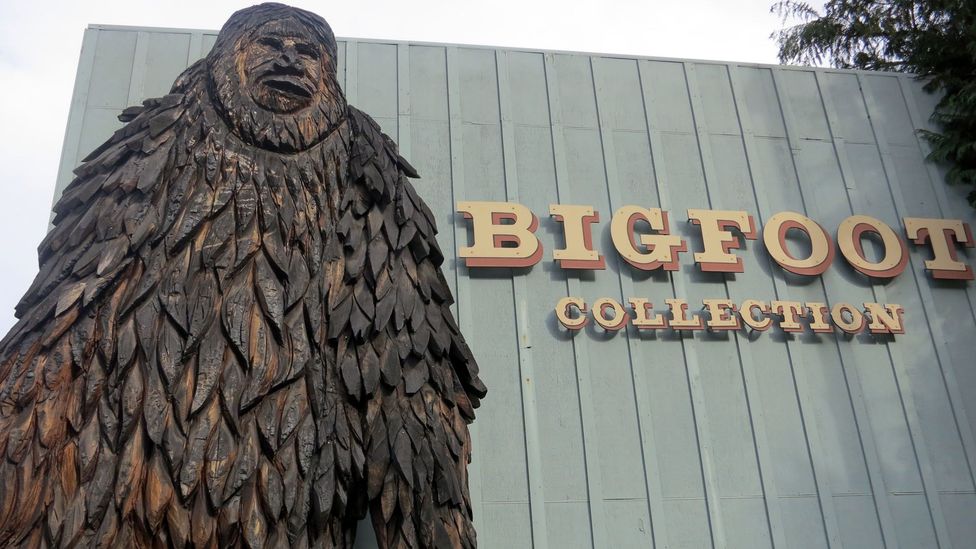 Willow Creek-China Flat Museum. (Andy Murdock)
As you drive into Willow Creek, which bills itself as "The Gateway to Bigfoot Country", predictable business names appear: Bigfoot Burger, Bigfoot Rafting, Bigfoot Books, Bigfoot Motel. Outside the Bigfoot Days Festival, held each summer, the Bigfoot collection at the Willow Creek-China Flat Museum is undoubtedly one of the town's biggest draws. A 25ft wooden Bigfoot looms over the parking lot, and inside you can find multiple plaster casts of big footprints, a detailed history of local sightings and a vintage Bigfoot board game from the late 1970s that will be going on my Christmas list next year. Despite all this, the region's sheer remoteness prevents it from being overrun with Sasquatch kitsch.
Driving the Bigfoot byway, I kept thinking of Maui's famed Hana Highway, with its deeply forested twists and turns along cliffs, dramatic bridges, roadside waterfalls and irresistible scenic turnouts that make the drive an all-day affair. Both roads take you from one beautiful nowhere to another, and that's the appeal. In California, on the other hand, I danced around the word "nowhere" when talking to locals. But it wasn't necessary: being in the middle of nowhere is what attracted many residents.
For travellers, the remoteness means you're never fighting crowds, even at the height of summer when visitors come to hike, raft, fish and pan for gold. For locals, who face a two-hour drive just to reach a full-sized grocery store, fishing is more than a pastime: it's a way of putting food on the table year-round.
Law enforcement is also a long way away, so things run a little looser along the Klamath River. Locals don't want the distant law telling them how to live any more than they want some smarty-pants scientist telling them that the local legends are bunk.
In Orleans I met Zack Taylor from the local Forest Service office, who took me down to the banks of Klamath River just below the Orleans Bridge, an unexpectedly dramatic suspension span over the river built in 1966 to weather floods that have historically surged down the river canyon in rainy years. A gentle rain was starting to fall, and a mother and her young son fished from a small aluminium boat drifting lazily downstream; they occasionally turned on a small motor to push back upstream and start the slow drift all over again. Every few minutes a steelhead would burst out of the water chasing an insect snack. I asked Taylor what drew people to the Klamath region and immediately felt foolish: I was staring right at it.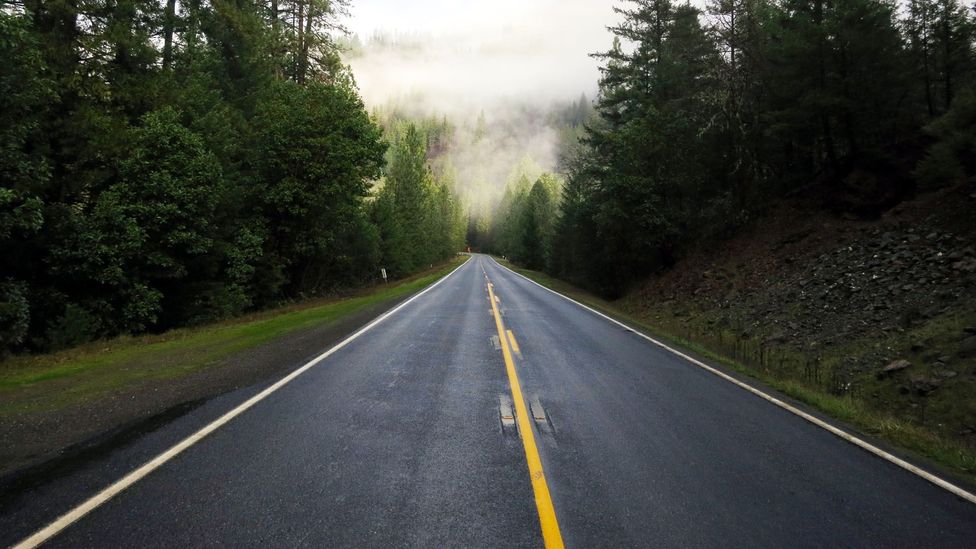 Fog lifts on the Bigfoot Scenic Byway. (Andy Murdock)
When the conversation turned to Bigfoot, Taylor gave me an answer that was echoed by every local I talked to: "I haven't personally seen anything, but everyone knows someone with a story." As a forestry scientist, he shared my scepticism, but added, "the topography is so rugged here that if you could lay it flat it would cover an area many, many times as big, and most of it has no roads or trails. If there's anywhere that something big could hide, this is the place."
He has a point: the Klamath region has one of the largest expanses of roadless wilderness in the US outside of Alaska, and is home to a diversity of plants and animals that has long fascinated biologists. Herds of wild Roosevelt elk are common along the river canyon, and the area is home to one of the densest black bear populations in California. A hike in the Marble Mountain Wilderness, popular among backpackers, will almost always involve an encounter with black bears during the warmer months. In a square mile around Russian Peak, just east of the Marbles, you can find 18 different species of conifer, a figure unmatched worldwide. Even driving, you can't miss the wildlife. I watched a coyote loping down an empty side road, hawks diving with talons bared and silver grey squirrels scampering among the madrones. The bait-and-switch had worked, and I was happy to fall for it.
North of Orleans, the Salmon River joins forces with the Klamath at Somes Bar, near a point that the local Karuk Tribe considers to be the centre of the world. I pulled over at the Salmon River Outpost (99531 California Rte 96, Somes Bar, CA; 1-530-469-3350), a small but bustling roadside shop that is part market / part gathering point for locals who come to pick up mail and catch up on news. After a long drive, I was thrilled to find a coffee bar inside, and even happier when they produced a rather fine espresso while I browsed their selection of small-press books on local wildlife, history and lore.
In perhaps the most famous book on the region, The Klamath Knot, author David Rains Wallace posits that if real giants don't exist, perhaps it's necessary to invent them – that is, the myths of giants and wild men that have persisted throughout human history, from Grendel to Enkidu to Bigfoot, serve a purpose. If that purpose is to find something in the wilderness beyond our comprehension, something greater than ourselves, then we might just need a moment alone in the wild lands of the Klamath. And if it's a myth that brings us there, then so be it.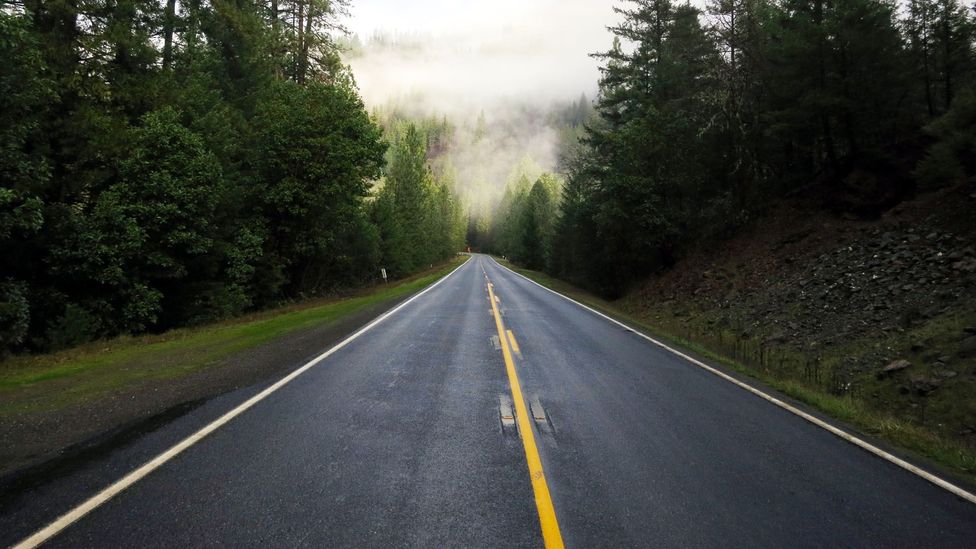 Fog lifts on the Bigfoot Scenic Byway. (Andy Murdock)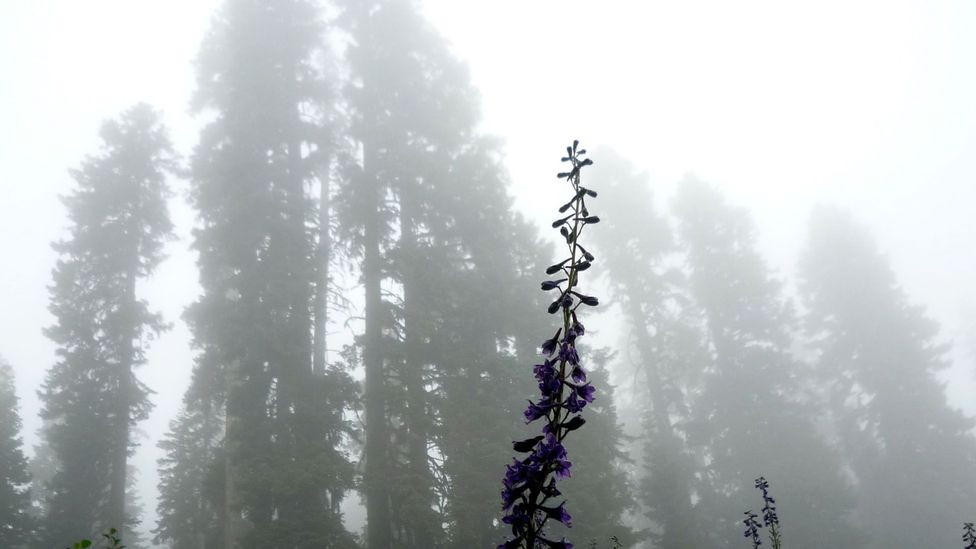 Larkspurs in the fog at Spirit Lake. (Andy Murdock)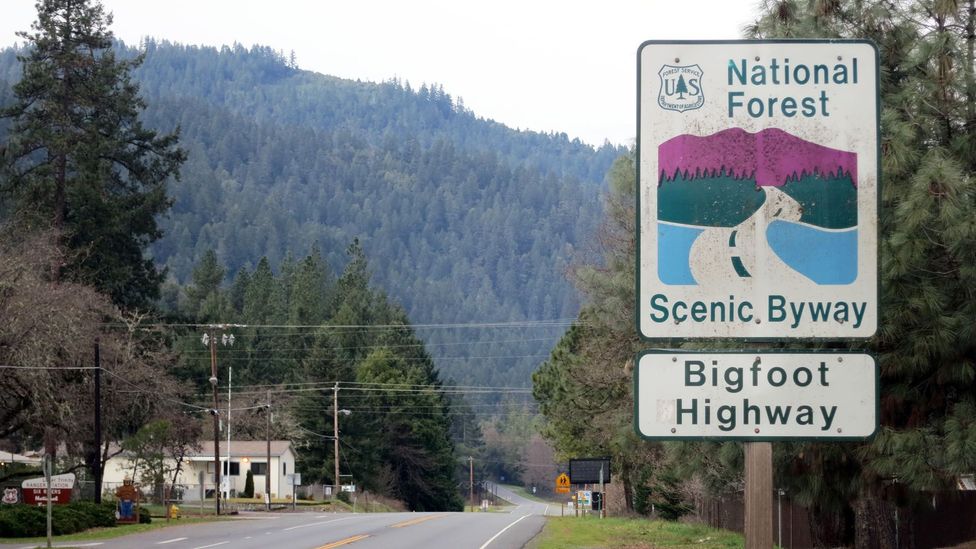 Into Sasquatch land. (Andy Murdock)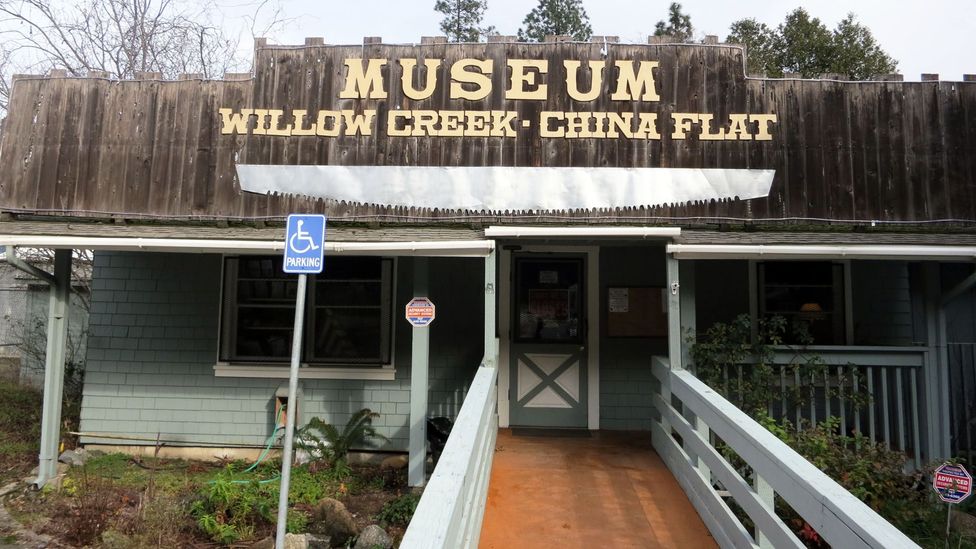 The Willow Creek-China Flat Museum houses a Bigfoot collection. (Andy Murdock)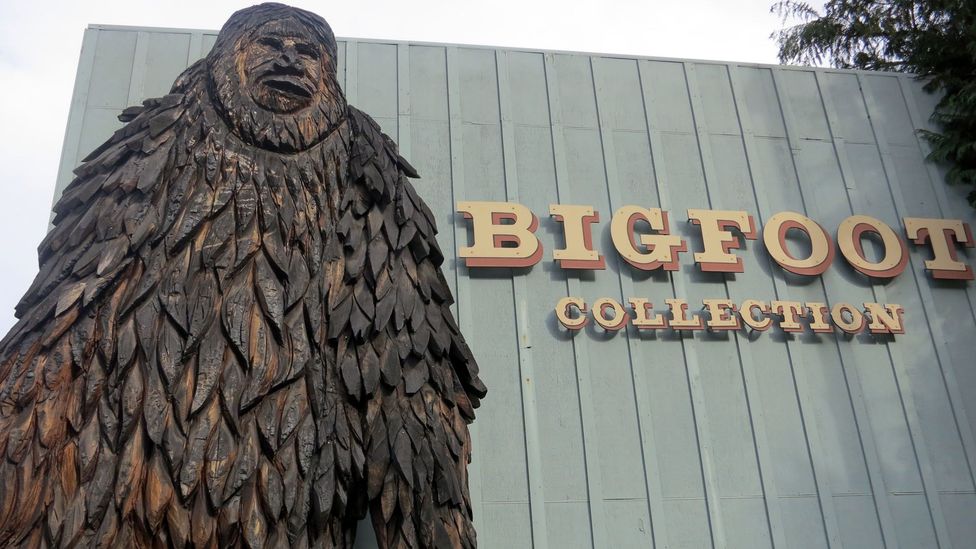 Willow Creek-China Flat Museum. (Andy Murdock)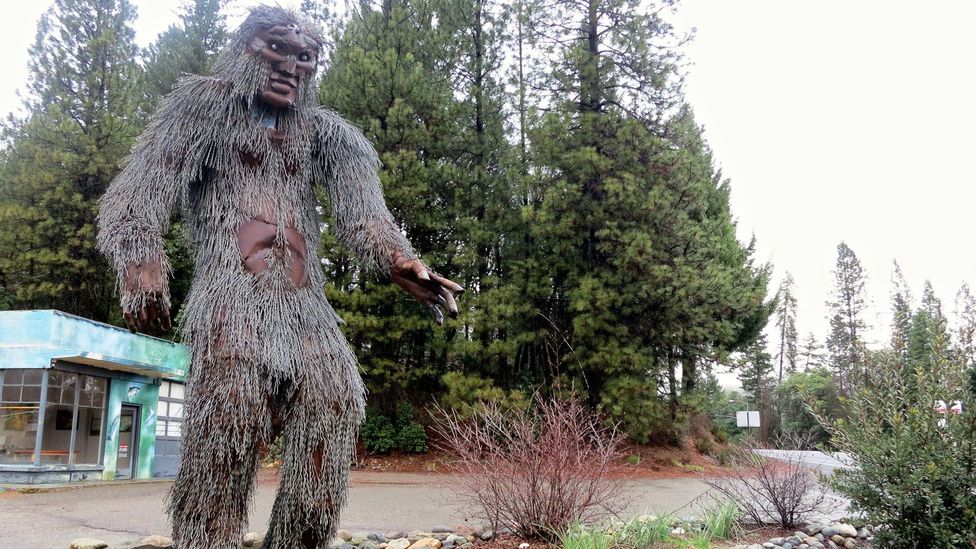 An 18ft-tall Bigfoot statue made from recycled metal greets visitors to Happy Camp, California. (Andy Murdock)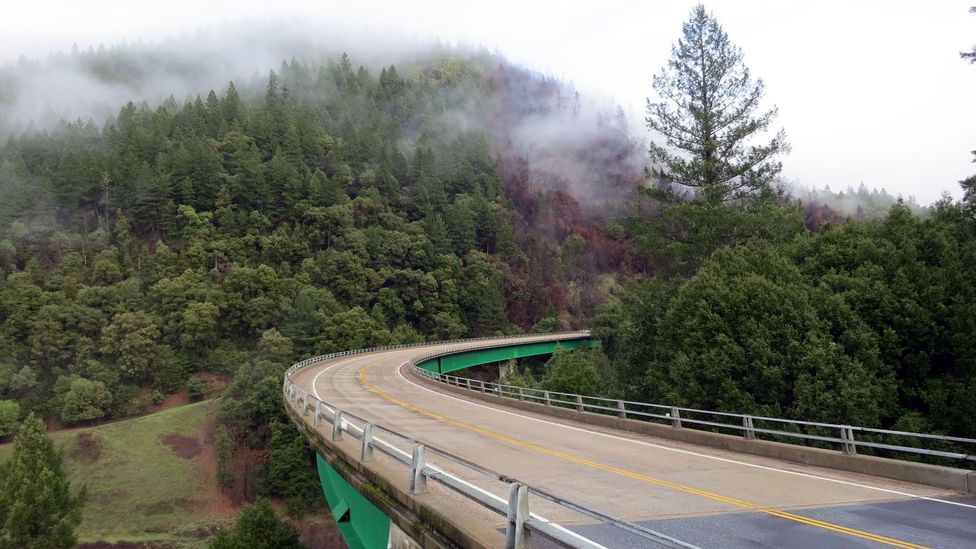 Bridge over the Klamath River gorge. (Andy Murdock)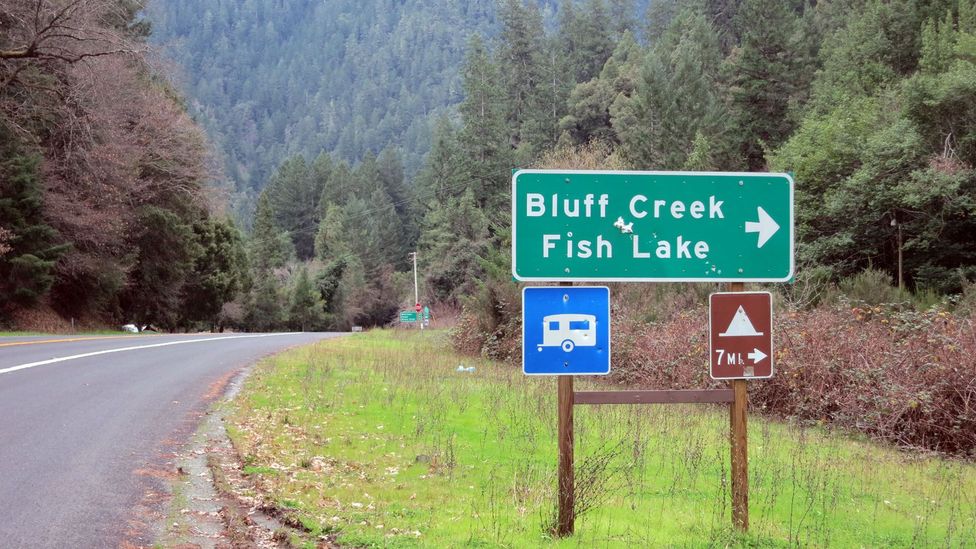 The 1967 Patterson-Gimlin film was captured near here. (Andy Murdock)