Those bastions of bamboo, puffer fish and fruity rum drinks are back, but a visit to two tiki hangouts reveals that not all bars are created equal.
W
When I told my father, a consummate whiskey drinker, that he'd be joining my sister and me at not one, but several tiki bars during our brief trip to see her in Los Angeles, he didn't exactly jump out of his recliner with excitement.
"A tiki bar?" he said. "What kind of drinks they got there?"
"I don't know," I said. "Pineapply, coconuty drinks. Drinks served in Polynesian-mask mugs. Neon blue drinks. A flaming volcano, maybe."
"You can get a blue drink," he said. "I'm getting a Bulleit [bourbon]."
The Tiki-Ti on Sunset Boulevard was already buzzing when we strolled in just before 7pm. The tiny room was plastered with bamboo and tiki masks; puffer fish hung from the ceiling. Fedora-clad 20-somethings and middle-aged men and women  in tropical shirts were getting their fix drinking Zombies and Singapore Slings. Judging by their animated chatter and constant trips to the bar, many were already well on their way to intoxication, or at least a serious sugar high.
My family and I sidled up to the bar. Unfortunately for my father, there wasn't an ounce of whiskey to be found in the place. Nor could he get his backup option: beer. The Tiki-Ti's menu included tiki drinks, and only tiki drinks. That generally meant rum – light, dark or a blend of the two – mixed with tropical fruit juices and flavoured syrups; a few vodka, gin and tequila drinks had made it onto the menu, too. None of us had any idea what to order, so we asked the bartender to suggest a few drinks that weren't too sweet. Seemingly inspired, he soon began the long, dedicated process of mixing them.
Making a proper tiki drink is challenging – there can be an impressive number of steps, and one wrong move can result in a cloying, barely drinkable cocktail. I quickly lost track of how many types of rum, juices and syrups he poured before he shook our neon-yellow and nuclear-green drinks, and added fruit garnishes.
Due to differing preferences for liquor and sweetness, I wound up with my sister's Rangoon gimlet. It was a slight twist on the gin gimlet, which typically uses basil – but Tiki-Ti is super secretive about all of its recipes, so there's no way to be sure exactly what this drink contained. My sister drank my father's Sumatra Kula, a rum-based drink with several juices, including lime, grapefruit and orange. My father agreed to drink my Rum Barrel, a concoction of light and dark rums mixed with a slew of juices and syrups.
The Rangoon gimlet was actually refreshing and well-balanced, and even the rum drinks were not as sweet as I'd expected, perhaps because these traditionally prepared tiki drinks were made with fresh juices and slightly less sugar, unlike many modern incarnations. The heroic amount of alcohol in each also probably helped cut the sweetness.
Here in the Tiki-Ti, enjoying my cocktail while surrounded by tropical kitsch, I was beginning to understand the enduring appeal of tiki bars.
The world's first tiki bar, Don the Beachcomber, was opened in Hollywood in 1934 by a man named Ernest Raymond Beaumont Gantt (who later legally changed his name to Donn Beach). Prohibition had ended a year earlier, and booze hounds were looking for colourful places to imbibe. Don the Beachcomber – a bamboo-thatched shack with faux-Polynesian accoutrements like fishing nets and recycled nautical gear – was soon the toast of Los Angeles and Hollywood's hottest stars.
Patrons were savouring rum mixed with juices and syrups – drinks that were stiff, complex and unlike anything anyone had ever tasted. It was here that classic drinks such as the rum-based Zombie and Tahitian Rum Punch were invented. Don the Beachcomber's Zombie recipe was such a coveted secret that former Beachcomber bartender Ray Buhen used to make it in the back so nobody could see the ingredients used. (The prohibition of alcohol between 1920 and 1933 had hurt the whiskey and gin industries, but the world's finest rums, distilled in the Caribbean, were cheap and abundant.)
Within a few years, Don the Beachcomber and its San Francisco counterpart, Trader Vic's, grew into nationwide chains, and competitors began popping up across the country. America's obsession with tiki culture grew when US soldiers returned home from World War II with tales and mementos from the South Pacific. The rise of affordable travel and Hawaii's statehood in 1959 brought tiki's popularity to its peak in the 1960s.
But the trend didn't last forever. By the 1980s, tiki bars' cool cache had faded, and many bars had been reduced to garish outposts in strip malls. But tiki would come back. It began with nostalgia and an ironic appreciation in the 1990s. By the 2000s, the craft renaissance was gaining steam, and bartenders became obsessed with finding new and more complicated drink recipes. It didn't take them long to exhaust pre-prohibition cocktails, and to discover that the original tiki drinks – including punches with a dozen ingredients – were some of the most complex beverages ever invented.
In the last few years, well-known bartenders have continued to bring back tiki in bars across the US. The Spare Room in Hollywood is a prime example of tiki's modern revival. The cocktail lounge/gaming parlour hosts tiki nights during the warmer months of the year. Known for its handcrafted cocktails, the Roosevelt Hotel lounge invites guest bartenders to create custom menus with only fresh juices and homemade syrups, giving a chic twist to the classics.
In LA, tiki never really fell out of favour entirely. Two of the world's oldest tiki bars – North Hollywood's Tonga Hut, which opened in 1958, and Tiki-Ti, which opened in 1961 – are still going strong. In fact, Tiki-Ti's roots stretch back to the original Don the Beachcomber. Buhen, one of Don the Beachcomber's first barmen, opened Tiki-Ti in 1961 and started making Don's recipes. Buhen's son Michael, and grandsons Mike and Mark, now run the bar.
Back at the Tiki-Ti, my father suggested we order a second round. He didn't love the drinks, but he was enjoying the lazy island vibe and the cocktails' festive look. "Gimme something blue," he told the bartender.
The Tiki-Ti is one of a few bars in LA (and the US) in which you can legally smoke, prompting me to suggest that we all light up together – "you know", I said, "because we can". If nothing else, this smoke-filled booze den was good for inducing some good old-fashioned family fun. But we weren't done exploring for the night.
A few miles up the road, North Hollywood's Tiki No couldn't have been more different. Built by tiki legend "Bamboo Ben", the dark, slightly more upscale establishment was adorned with neon puffer-fish lamps, bamboo-and-straw awnings and tiki masks. The décor felt slightly more serious than the beachy clutter of Tiki-Ti. The place was supposed to be a traditional tiki bar, but its decorations looked almost as if they'd been purchased at the tiki version of Pottery Barn. I asked the bartender for "the most ridiculous drink you have". At Tiki-Ti this would have been either the Blood and Sand or Uga Booga, both drinks made with shaking-and-pouring flair, inspiring the patrons to chant "Toro!" and "Uga Booga!" respectively.
At Tiki No, a place that was touted for fresh ingredients in classic and original drinks, the bartender poured an entirely premixed cocktail with three types of booze into a large ceramic volcano, and then added orange juice, almond orgeat syrup, fresh lime juice and cinnamon. She then poured a shot of overproof rum into the centre and lit the concoction on fire, creating the effect of a flaming eruption. The volcano burned for several minutes before fizzling out. Armed with straws, we gave the Scorpion Bowl a try. It was intensely boozy and fruity, with a big punch of cinnamon. Four of us barely made a dent, and with a hangover and tooth rot looming, we felt no obligation to reach the bottom of the bowl.
Now that we'd left the fantasy world of Tiki-Ti, my father's tolerance for tiki was fading fast. "How much of this crap can you drink?" he asked. The answer, it turned out, was about a quarter of a volcano.
As we headed into the Los Angeles night, I thought more about tiki's rise. It made sense that this appropriation of Polynesian culture was born in Los Angeles, a city built and rebuilt by generations of transplants where nearly everything had been imported.
But as we learned on this night, not all tiki bars are created equal. Tiki No felt like tiki with the soul ripped out – masks, puffer fish and volcanoes don't make a tiki bar complete; the people do. Give me the noise, chanting and tobacco clouds of Tiki-Ti, where the kitsch is unapologetic and the drinkers have no pretences. Next time, I'll be wearing a Hawaiian shirt.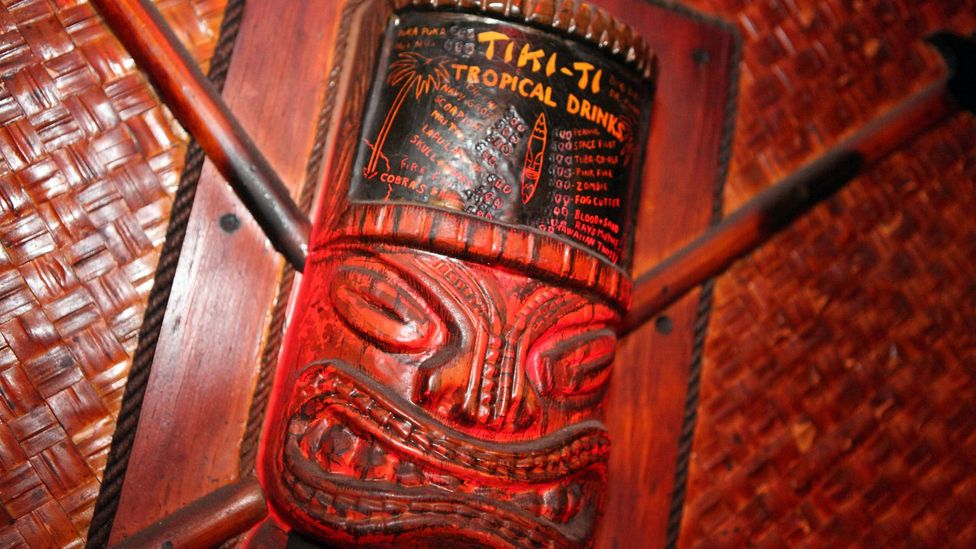 Wall art at Tiki-Ti. (Credit: Sam Howzit/Flickr/Creative Commons)
(Credit: Sam Howzit/Flickr/Creative Commons)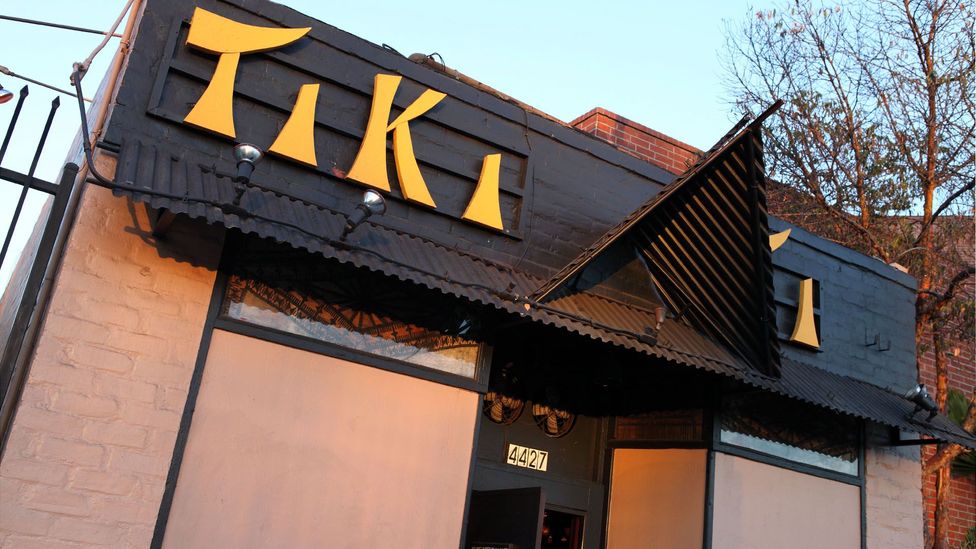 The tiny Tiki-Ti beckons Los Angeles tiki lovers. (Credit: Sam Howzit/Flickr/Creative Commons)
(Credit: Sam Howzit/Flickr/Creative Commons)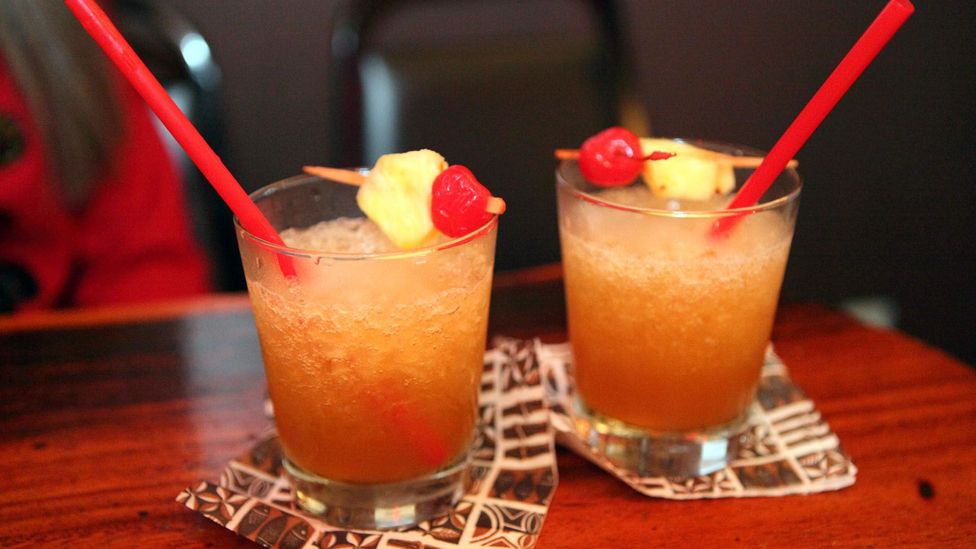 Ready-to-sip mai tais at Tiki-Ti. (Credit: Sam Howzit/Flickr/Creative Commons)
(Credit: Sam Howzit/Flickr/Creative Commons)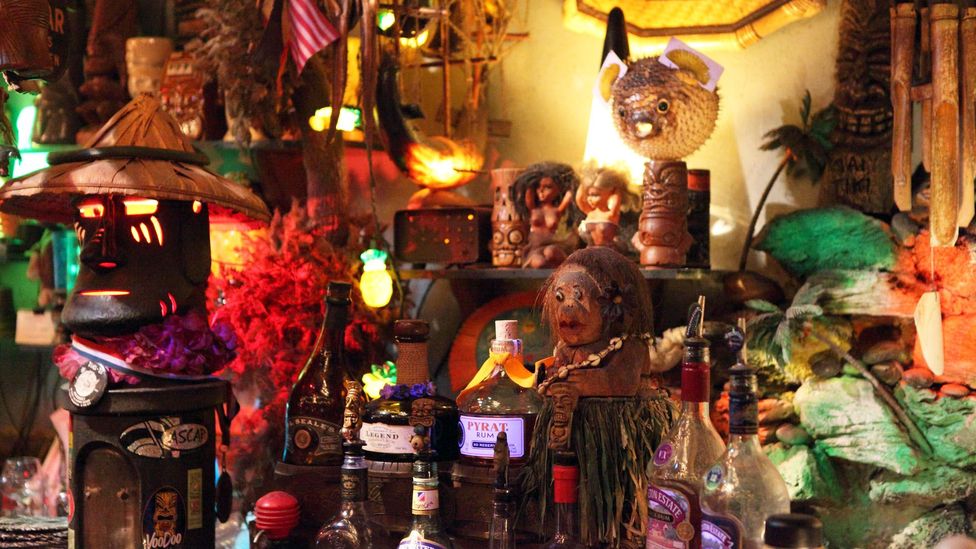 Behind the bar at Tiki-Ti. (Credit: Sam Howzit/Flickr/Creative Commons)
(Credit: Sam Howzit/Flickr/Creative Commons)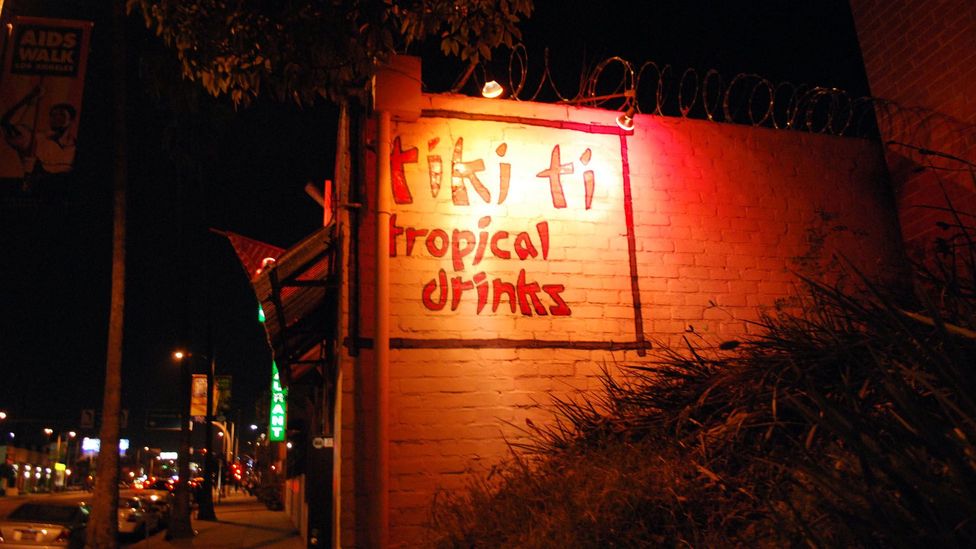 A tropical oasis on LA's Sunset Boulevard. (Credit: Megan Westerby/Flickr/Creative Commons)
(Credit: Megan Westerby/Flickr/Creative Commons)