With little more than a clerk's office, a small market and gas station, tiny Roxbury, Connecticut was an unlikely home for one of the world's biggest movie stars.
H
Hidden among thick trees and hilly farmland, looped with stone walls and studded with red barns, the Connecticut town of Roxbury is 75 miles and a world away from New York City – not to mention Hollywood.
And yet the tiny town (pop 2,300), which was settled in the early 18th Century, is home to a plethora of artistic residents, including actor Daniel Day-Lewis, Sex and the City writer Candace Bushnell, musical composer Stephen Sondheim, journalist Gay Talese, actor Joseph Godfrey and Vanity Fair editor Graydon Carter. At one point, all three stars of the US television series Rescue Me – Jerry Adler, Michael Lombardi and Dennis Leary – lived in Roxbury simultaneously. The town's late residents have included writer Frank McCourt, novelist William Styron, sculptor Alexander Calder, actors Walter Matthau and Richard Widmark, screenwriter Tom Cole and playwright Arthur Miller.
But none of those names compare to Roxbury's most famous resident: Marilyn Monroe.
Few people outside of Litchfield County know that Monroe lived in the tiny Connecticut town from 1956 to 1961 – or have heard of Roxbury at all. Even as other nearby towns have welcomed weekenders with cutesy bistros and pristine B&Bs, Roxbury has remained quiet (and with a median house price of $609,200, one of Connecticut's most expensive). The centre of town is little more than the clerk's office, a small market and gas station where Monroe used to shop, and a cemetery where Miller and McCourt, among others, lie buried. I only know of Roxbury because I attended high school in the next town over, where my family still lives.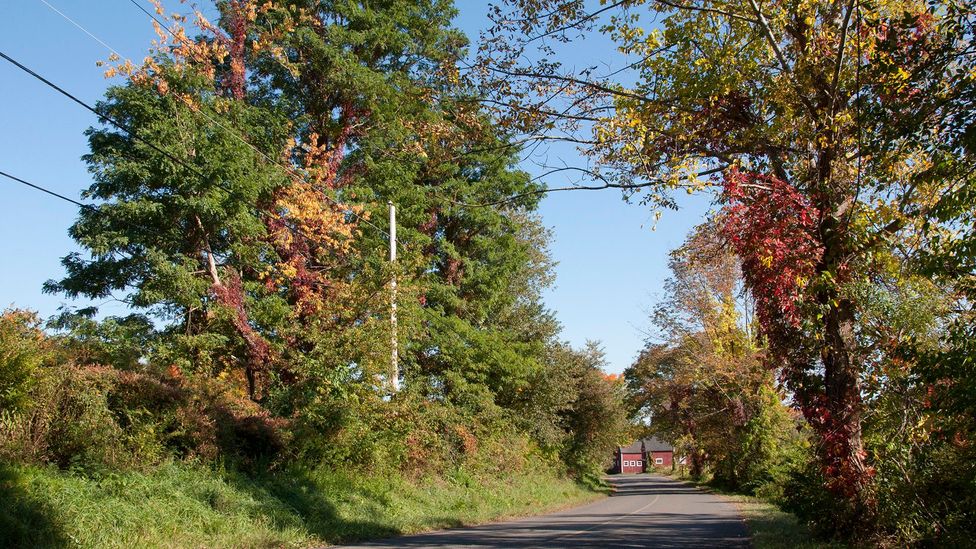 Old Tophet Road (Credit: Amanda Ruggeri)
That's how I found myself in Roxbury on a recent weekend, doing something I'd never thought to do before: track down local traces of Monroe and Miller, perhaps the most fascinating off-screen couple of the 1950s.
When Monroe married Miller in June 1956, she'd already captivated audiences in movies like 1953's Gentlemen Prefer Blondes and 1955's The Seven-Year Itch. She was the world's biggest star. She was also beginning to fray from it. "I hate Hollywood," she told Miller when they married. "I want to live quietly in the country and just be there when you need me."
Miller, the playwright famous for The Death of a Salesman – and among friends, also for his love of rural pleasures such as field clearing and gardening – had moved to Roxbury in 1947. And so, after wrapping the 1957 movie The Prince and the Showgirl with Laurence Olivier, Monroe returned with Miller to his four-bedroom farmhouse on Old Tophet Road.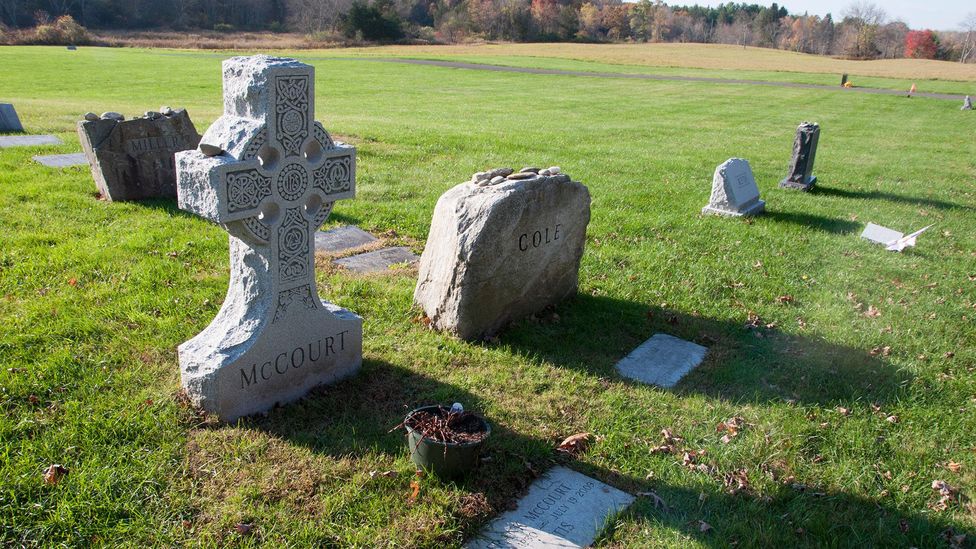 Where famous residents lie (Credit: Amanda Ruggeri)
Over the years, the road became host to a number of other famous residents: McCourt, Matthau, Widmark and Cole among them. Yet you'd never know it. "Go to Stamford and drive down 'millionaire's row', and you know you're on millionaire's row," said Peter Hurlbut, the town clerk and descendant of Roxbury's founder. "Here, you never know you're on millionaire's row."
He was absolutely right. Old Tophet Road was a 10-minute drive from the centre of town, though it felt like longer. Narrow and winding, driving the route on an October day felt like heading through a psychedelically coloured foliage tunnel. Dilapidated barns and colonial houses dotted the land on either side. If I hadn't known it was where Miller and other literati lived, I never would have made note of the road at all. In this part of Connecticut, streets like these are unremarkably common.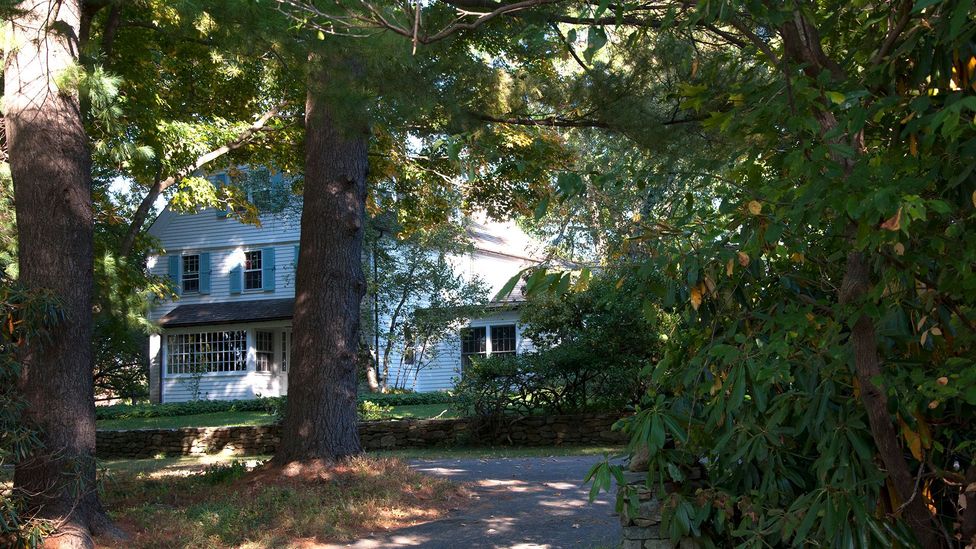 Marilyn's home (Credit: Amanda Ruggeri)
As are houses like Miller's – so much so that we drove past it before realising. A lovely white clapboard with baby-blue shutters, the abode looked like any of the other quietly graceful colonials in the area. Peeking through the trees up the drive – the home is pretty recognizable when driving by – I tried to imagine what it would have been like in the 1950s, when the home became a paparazzi playground. On 29 June 1956, the same day that Monroe and Miller signed their marriage license (itself given by Hurlbut's grandfather, then the town clerk), one of the cars following them was driving too fast on the winding country roads and crashed, killing the French reporter inside. In the press conference that the newlyweds gave at the farm, talking about the crash, their nuptials and on Senator Joseph McCarthy's naming of Arthur Miller as a communist in the House Committee on Un-American Activities, Monroe appeared visibly upset; it was a rare crack in her star façade.
Those who believe in such things could have seen the crash as an omen. The fantasies Monroe must have had about living in Connecticut, and the peace that it, and Miller, would bring her, soon wore thin. Even the house itself showed their clash of priorities: the two had first planned to tear down the old farmhouse and build another one on the property. But when Miller asked for a design from Frank Lloyd Wright, one that turned out to be far too grand for her notoriously frugal new husband, the over-the-top plans were dashed. The 18th-century farmhouse stayed.
Back in Roxbury, I stopped at the little Roxbury Market & Deli, where Monroe did her shopping. With a few aisles of locally made jams and everyday staples, it's the closest thing the town has to a grocery store. One can imagine her attempting to play the role of housewife here. One can imagine, too, how bored the Hollywood star, so accustomed to cameras and adulation, quickly became.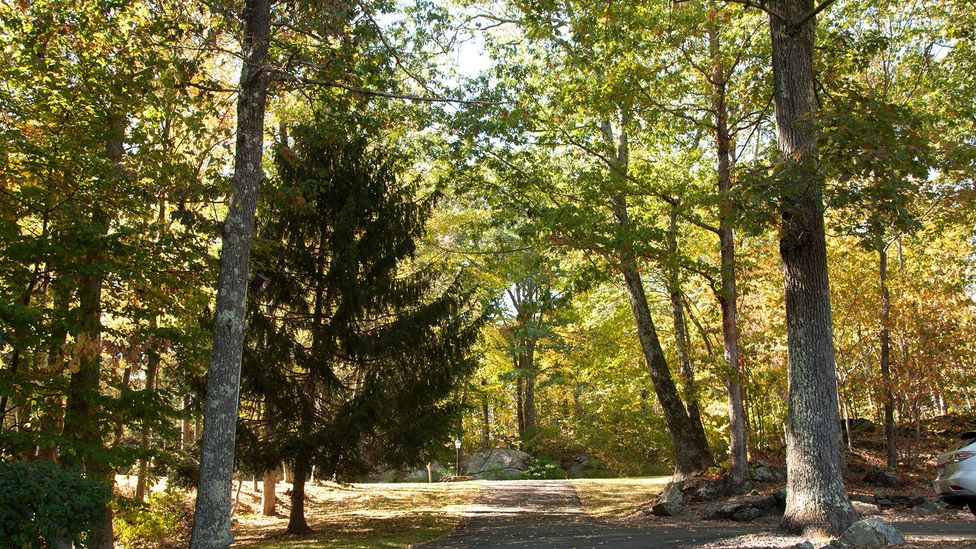 Trail-crossed forests (Credit: Amanda Ruggeri)
Roxbury, after all, is a peaceful place. Aside from admiring the town's colonial houses and steepled churches, its biggest draw may be its forests. The Roxbury Land Trust maintains 2,575 acres of trail-crossed nature preserves, much of its land given by the same icons who lived here: there is the 32-acre Matthau Preserve, the 22-acre Styron Preserve, the 27-acre Widmark Preserve and, yes, the 55-acre Arthur and Inge Morath Miller Preserve.
A peaceful town, yes. But for someone like Monroe, who thrived on public attention as much as she reviled it, it wasn't the right fit. Nor, it seems, was Miller. The two divorced in 1961. Nineteen months later, Monroe died.
Miller lived out the rest of his days in Roxbury – playing tennis with Frank McCourt and Mia Farrow, who still lives in the next town over, tinkering with his plumbing, clearing fields and, of course, writing. He passed away there in 2005 at the age of 89.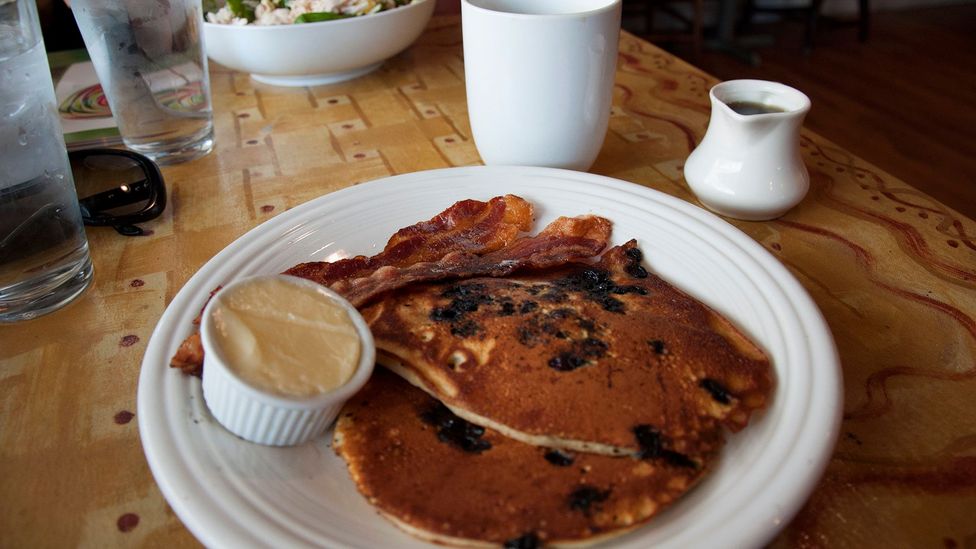 Pancakes at Mamie's (Credit: Amanda Ruggeri)
At Roxbury's only restaurant, Mamie's (the cafe-deli at the market aside), I had blueberry pancakes with maple syrup at one of the wooden tables, overlooking the brightly coloured trees that bordered the Shepaug River outside. The owner told my mother and I that she'd opened the restaurant seven years ago. When I mentioned Monroe and the others who had made the tiny town home, she nodded, smiling. "Mia Farrow was just in here last night," she said. "And Daniel Day-Lewis is in here all the time. He's the nicest guy, too."
Miller, though, was the one I'd come to trace. And for an outsider, there weren't many ways, apart from catching a glimpse of his house or walking through the Miller Preserve.
But Miller hadn't just died in Roxbury. He'd also asked to be buried here. In one of Hurlbut's last conversations with the writer, Miller had called him up, especially curious about how to get a tombstone in the case of his death. Hurlbut explained that for his father, they'd opted to create a tombstone from an old stone they'd found. The frugal Miller liked that idea. And where do you find one, he wanted to know. In the land of stone walls, Hurlbut said, he was sure Miller could find a stone he liked. A few weeks later, Miller called him back up. "I found it! I found the stone!" he said. It was from one of the walls on his property.
That's how he was buried: with a stone, likely from a wall assembled decades, if not centuries, earlier, taken from his own property that he'd loved so much. At the cemetery next to the town clerk's office, I stood in front of Miller's rustic, unassuming-looking grave, next to his friend McCourt's. And I remembered something else Hurlbut had said.
"It's not Fifth Avenue or Beverly Hills," he'd told me. "But you have to go a long way to beat this place."
He was right. And past and present writers and artists like Miller must have agreed. I just hoped that Monroe, if only for moments at a time, had found a little bit of solace here too.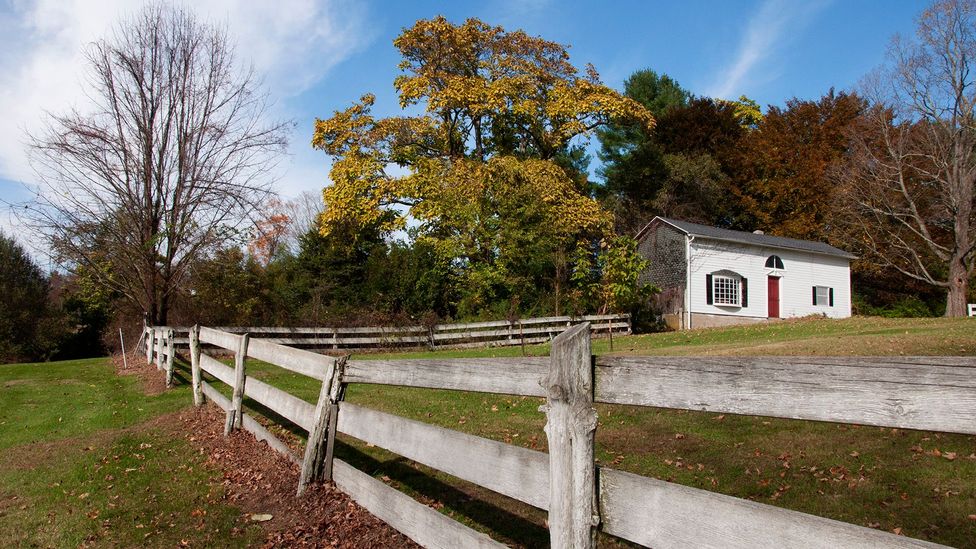 Barns among trees and farmland (Credit: Amanda Ruggeri)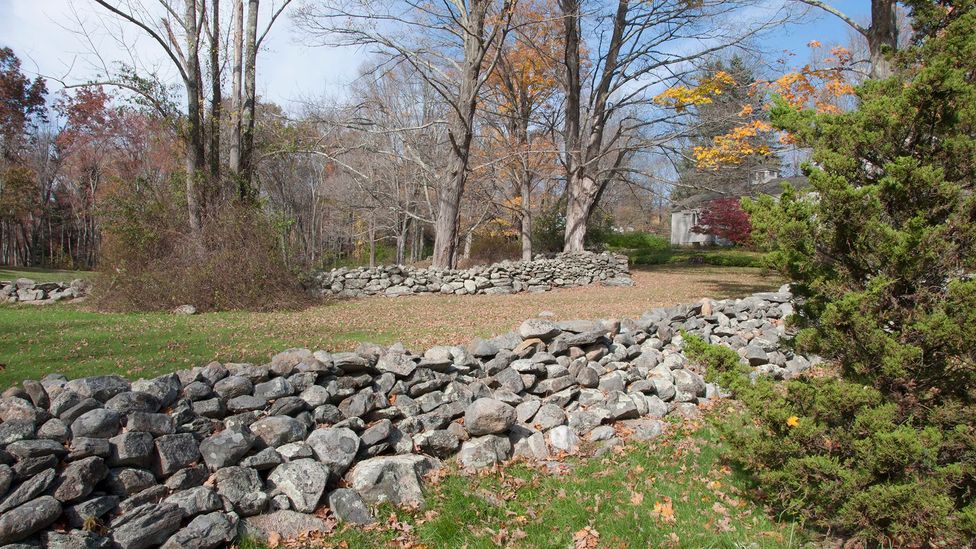 The town's stone walls (Credit: Amanda Ruggeri)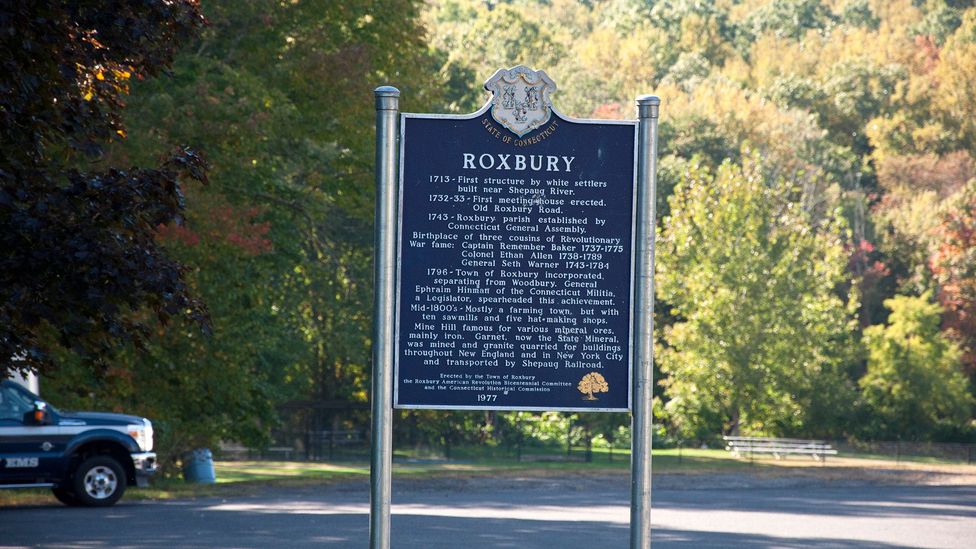 Welcome to town (Credit: Amanda Ruggeri)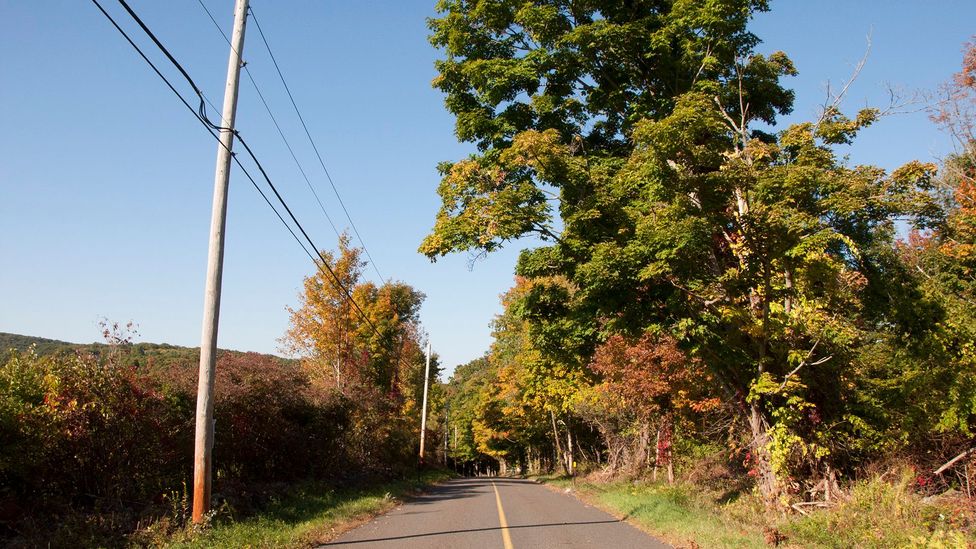 Along Tophet Road (Credit: Amanda Ruggeri)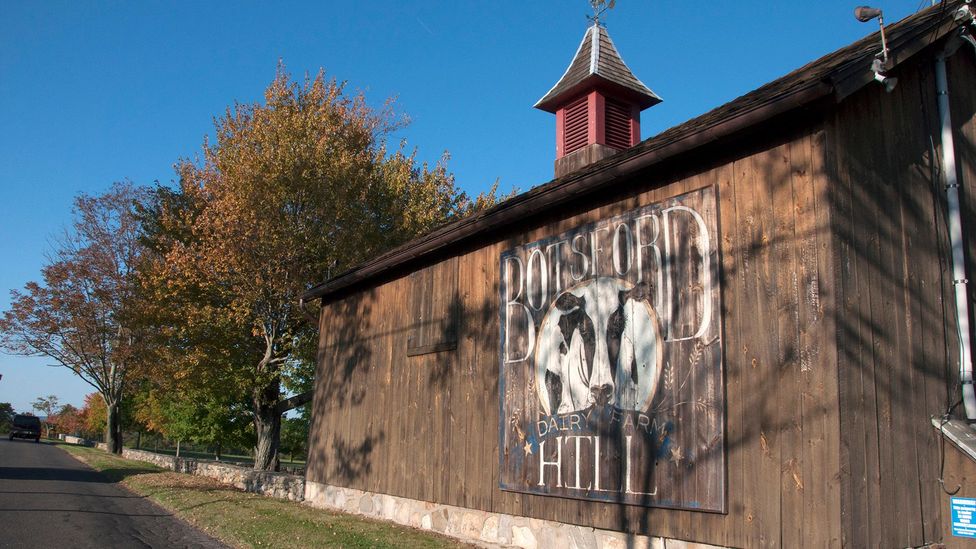 Botsford Hill Dairy Farm Barn (Credit: Amanda Ruggeri)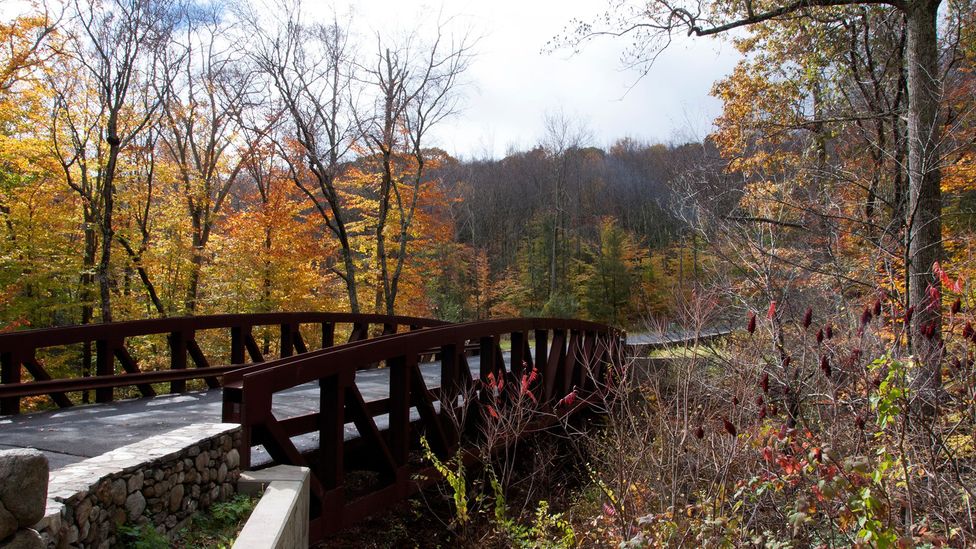 Quiet and peaceful country (Credit: Amanda Ruggeri)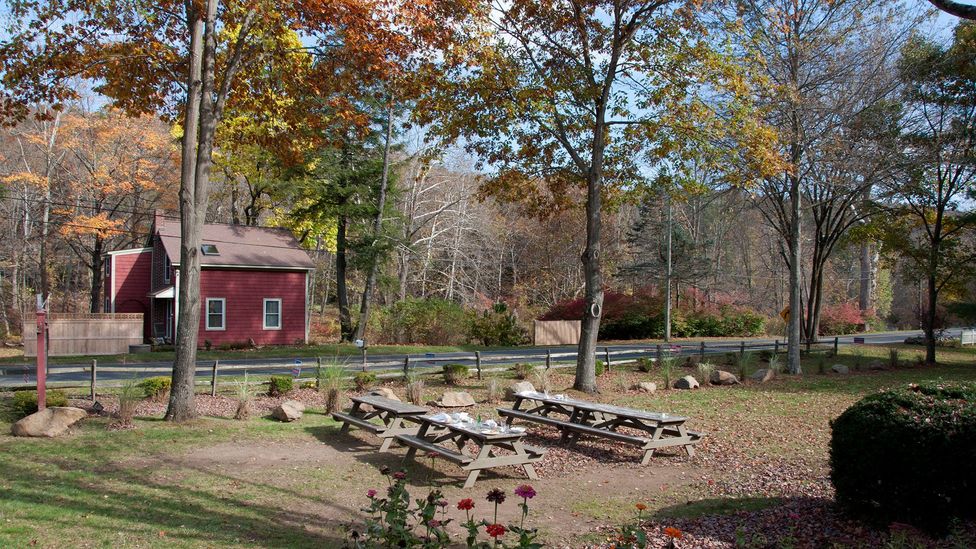 Graceful colonial barnhouses (Credit: Amanda Ruggeri)