The alchemy behind Bhutan's hot stone baths draws on both Indian Ayurvedic practices and the traditional medicine of 7th-century Tibet.
I
I was standing in the psychiatric ward of Thimpu's National Institute of Traditional Medicine, where patients with mental conditions are sent after answering a few preliminary questions at the reception desk, which is housed in a wooden box beside a prayer wheel. My mental condition: I'd been in the Himalayan Kingdom of Bhutan for four nights and I was dizzy, unfocused and having trouble sleeping due to the arid 2,200m-plus altitude.
A busy young female doctor measured my blood pressure and asked me if I was feeling "giddy". After reviewing the results, she suggested I stop drinking coffee and prescribed me some herbal pills and a hot sesame oil compression therapy, to be administered in the adjacent room. "And take hot baths in the evenings if you can," she said. These were the doctor's words I'd been hoping to hear.
Like many, I'd come to Bhutan with many questions and in search of many answers. Answers I hoped I would find during visits to remote mountain-perched monasteries and by encountering the mindful Buddhist way of life that earned the country the nickname Kingdom of Happiness. But, I confess, I also came to Bhutan with the implicit hope of experiencing its unique hot stone baths, a form of traditional Bhutanese medicine where fresh river water is mixed with local Artemisia leaves and heated with fire-roasted river stones. After all, one of the ancient names for Bhutan is Menjung, which means The Land of Medicinal Herbs, and its traditional medicine and rich pharmacopoeia dates back to 7th-century Tibet, as well as borrowing heavily from Indian Ayurvedic practices.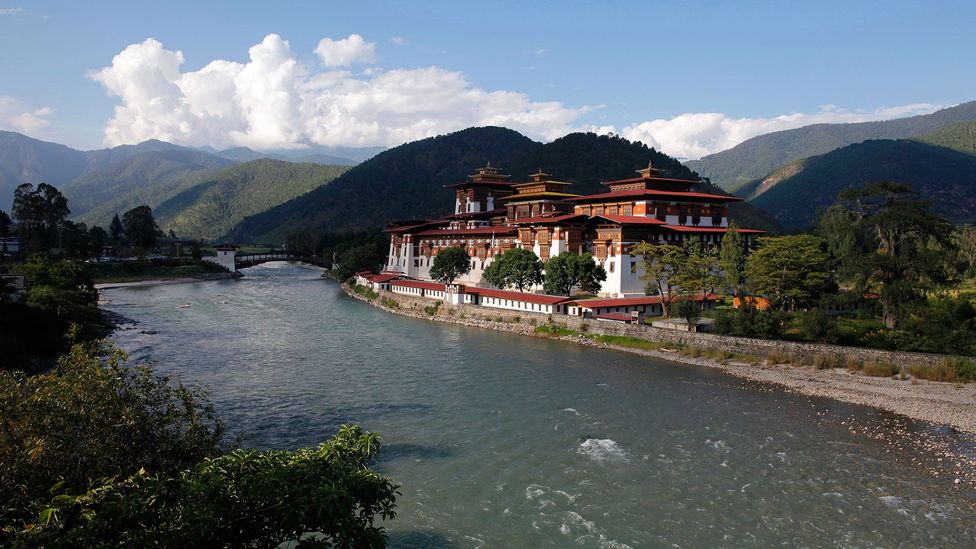 Punakha Dzong, the administrative centre of Punakha, Bhutan (Credit: Ed Jones/AFP/Getty)
These duelling traditions led to the alchemy behind the baths, in which hot stones are deposited into a chamber of the wooden tub, purportedly releasing high concentrations of minerals, while the heated natural river water and Artemisia absinthium (wormwood, the source of Absinthe) allegedly have a meditative effect. Versions of these baths exist all over Bhutan, from luxurious five-star resorts to charming rustic farmhouses.
A doctor's prescription is not required to soak in the baths, but it certainly helped me justify the ensuing pampering. It is required, however, to hire a guide in Bhutan, as part of the daily visa fee that applies towards your transport, hotels and meals. I hired my guide Namgay through Audley, a tour agency that offers customizable itineraries that include visits to Bhutan's hot stone baths.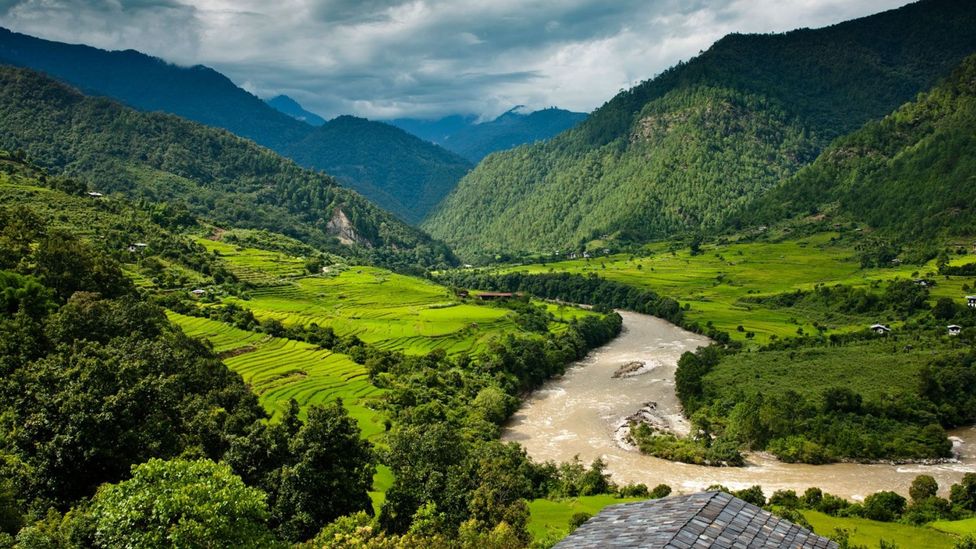 A river snakes its way through Bhutan's lush fields (Credit: Como Hotels and Resorts)
My first stop was Punakha, the ancient capital and official winter residence of Thimpu's monks due to its warmer climate and lower altitude at 1,200m. I booked a night at the small, luxurious Uma hotel, perched on a ridge overlooking the Punakha Valley and the Mo Chu River. Its treehouse-like rooms were comfortable, but the spa and health cuisine were the real draw card. Like all hot stone baths in Bhutan, appointments are necessary and you must give the staff a few hours' notice so they can build a fire, heat the river stones and draw the bath.
My lanky Bhutanese therapist Thandey met me in the treatment room to explain the 30-minute procedure. The bath was already warm and scattered with floating artemisia leaves. Thandey told me to undress and settle into the water, and ring a bowl-shaped bell if I wanted more hot stones. When I rang the bell, a chute opened and out tumbled a load of molten red rocks, which sizzled and steamed, immediately raising the temperature. Next to the bath was a pot of tea and a collection of plastic shampoo bottles. Admittedly, Uma's was not as authentic as some of the other hot stone baths I'd soon try, but it certainly set the tone of my trip to deeply relaxed and tranquil.
Unwinding in one of Bhutan's hot stone baths (Credit: Como Hotels and Resorts)
A spectacular 75km rollercoaster drive east took us to Gangtey, nestled in a 3,000m-high glacial valley in the dzongkhag (district) of Wangdue Phodrang. The village is known for its iconic 15th-century Gangtey Monastery and the highly endangered black-necked cranes that migrate here every winter, always circling the monastery three times before landing. It's also where I experienced my most memorable and scenic soak.
Inside a local farmer's stone shed, set in an open field planted with beetroot and potatoes, was a rustic and elegant bath. It might not sound like much, but it is administered by Amankora Gangtey, one of five Aman resorts in Bhutan, arguably the country's most high-end. A staff member led me off the resort's property for the 10-minute walk to the shed, where I started my treatment with a sweet welcome tea around the bonfire and was introduced to the shed's owner, an old smiling Bhutanese farmer wearing a traditional gho, a knee-length robe tied with a belt.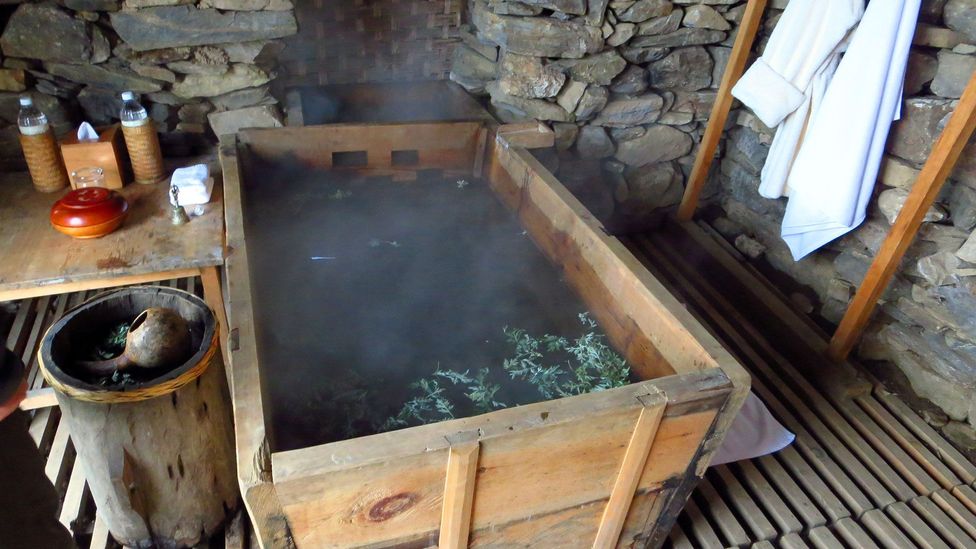 The hot stone bath at Amankora Gangtey (Credit: Adam H Graham)
Inside the shed, 12 candles flickered from wall-mounted votives. Like most traditional Bhutanese baths, the water was solely heated from fire-roasted stones, and on the tub's bottom was a silty layer of sand from the release of the stone's minerals. The tub itself was made of oak, which is said to hold the water's heat better than pine. On a table beside it was a bowl of chips made from potatoes harvested in this very field. Next to it was a small ornate bell cast with Tibetan script. I was told to ring it when settled in the hot water. With the ring, two Aman staffers theatrically flung open the door to reveal the entire valley tumbling below and the mist-strewn monastery perched on the opposite hill.
During my sublime 40-minute soak, I munched on the crunchy chips and listened to the newly arrived black-necked cranes whose calls were eventually drowned out by the dungchen (trumpet-like horns) played by the monks at the monastery. It was an inspiring experience and a highlight of all my trips, not just to Bhutan, but anywhere.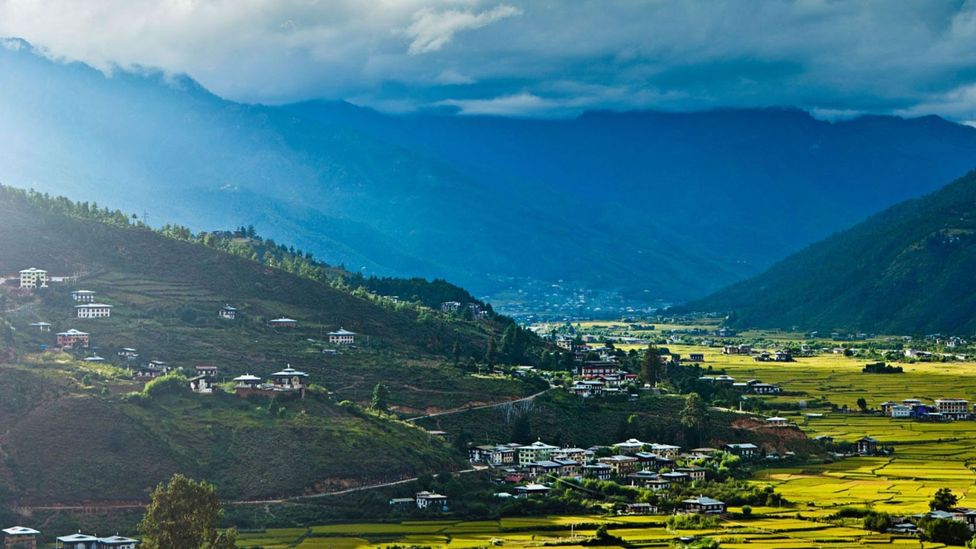 A view overlooking Paro Valley (Credit: Como Hotels and Resorts)
Pushing east another 160km, we travelled to the town of Bumthang in the less-touristed Central Bhutan region, where I experienced a traditional bath at the Sherab Dema Farmhouse Homestay. The tub was housed in one of four adjoining sheds, each slightly wider than a changing room cubicle. Inside were a few hooks to hang my clothes, and a bath with no view, bell or pots of tea. This is how the Bhutanese did it. I undressed and slid into the soothing water. From outside, Namgay asked if I needed more hot water, while the owner's son sat by the fire singing and downloading music to his mobile. After a good 40-minute soak, my host Mrs Sherab cooked a delicious traditional dinner, which included the national dish of ema-datsi (chilli peppers cooked in cheese) and a tender beef tshoem (stew), which we ate while sitting on the floor around a traditional bukhari woodstove. Afterwards, I sipped on her homebrewed ara, a light pinkish shochu-like spirit made from millet and strawberries. It was so delicious, I bought a bottle.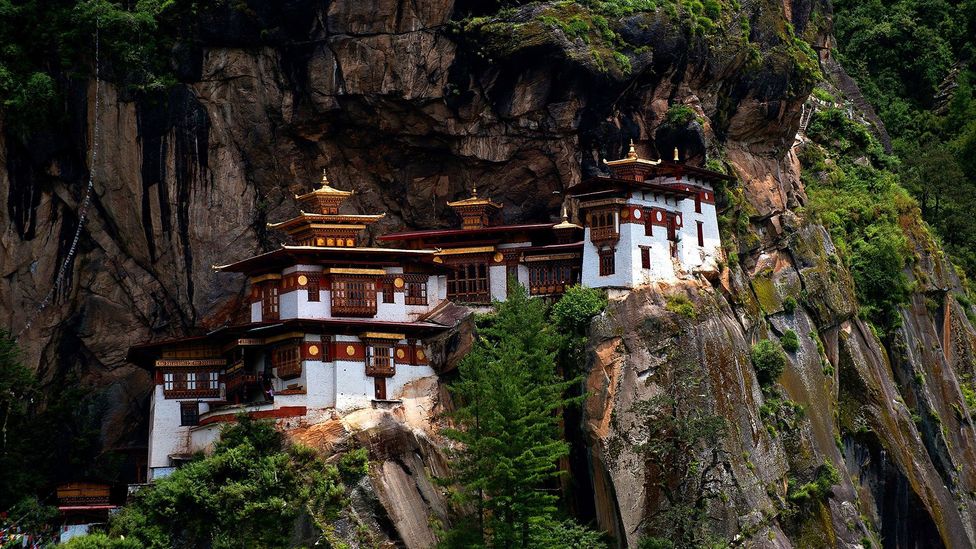 The precariously perched Tiger's Nest Monastery (Credit: Manan Vatsyayana/Getty)
My final few nights were spent in the small city of Paro, home to Bhutan's main airport and the famed Tiger's Nest Monastery. Here, I scheduled in two baths, but only made it to one. The first was an outdoor roadside springs we stopped at after a hike to the Kila Nunnery on the Chele La Pass, the highest motor road in Bhutan at 3,700m. Namgay warned me that these were for locals and might not be sanitary. He was right. The narrow rectangular baths, embedded a few metres into the ground, resembled half-buried coffins and were frequented by the elderly and very sick. So instead of bathing, we spent 45 minutes birdwatching, spotting a black-faced laughing thrush, long-tailed magpie and kalij pheasant from the road.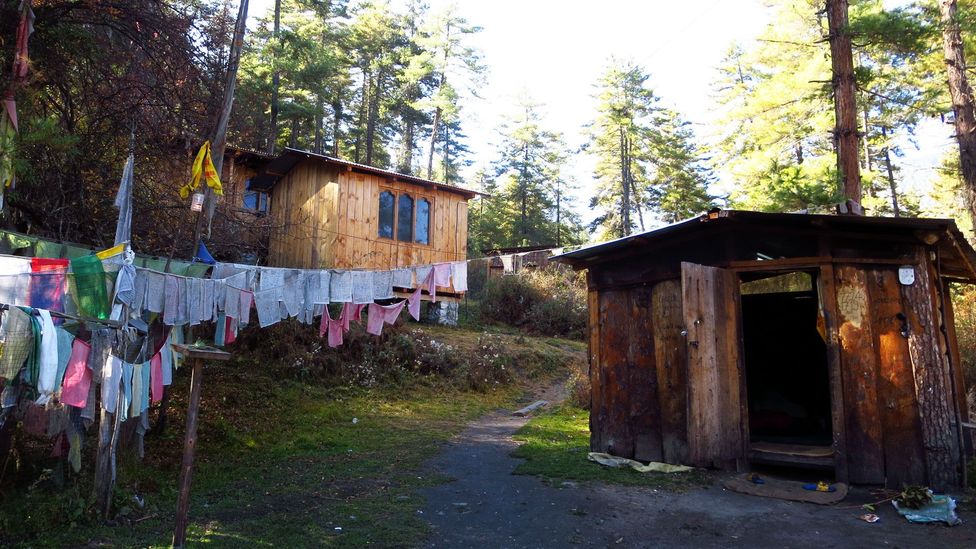 Roadside bath after a hike to the Kila Nunnery on the Chelela Pass (Credit: Adam H Graham)
The last bath was during the full moon on my final night in Bhutan. Uma Paro resort is a spacious and leafy compound with a modern spa that overlooks the glittering and mitten-shaped Paro Valley. The bath itself was sprinkled with pink Himalayan salt flakes and a variety of colourful wildflowers in addition to the herby green Artemisia leaves. I slunk into the water and rang the bell for more hot water immediately, now an old pro at the ritual. As the spa's last guest for the evening, I felt like a king overlooking the Kingdom of Happiness as I watched the milky moonlight bathe the pine forest and valley below. And for one very brief, fleeting moment, all my questions were answered.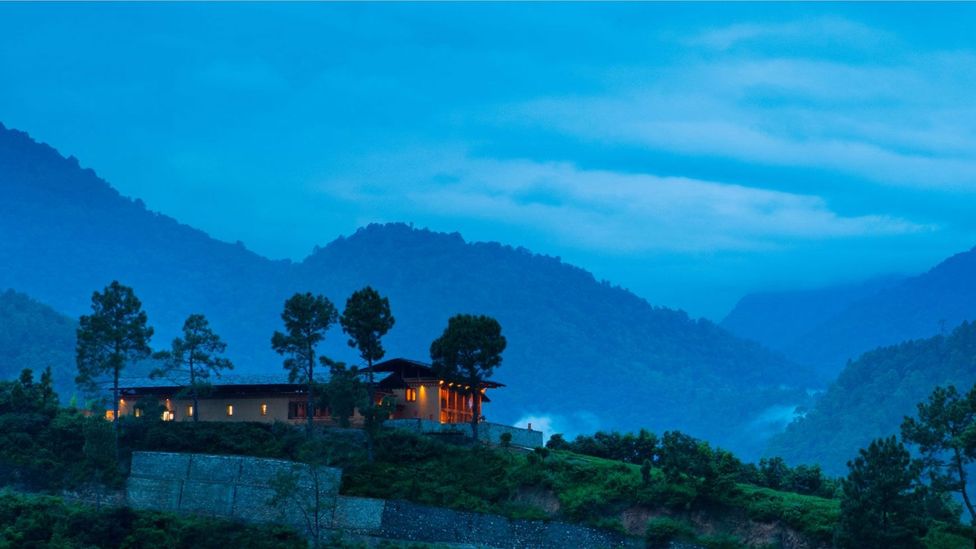 Night settles on Uma Punakha (Credit: Como Hotels and Resorts)
Where do you rank in our tribe of worldly readers? Answer these questions to get a sense.