As Harper Lee's much anticipated second novel is released, David G Allan visits tiny Monroeville – the setting of To Kill a Mockingbird – where her first novel famously lives on.
N
Nelle Harper Lee was born, raised and will probably die in tiny Monroeville, Alabama. Despite the fame and global adoration following the publication of her first novel – more than 30 million copies sold; a Pulitzer Prize; an Oscar-sweeping film adaptation – Ms Lee, who split her time living in New York City, has returned to live fulltime in a town of 7,000 people, more than two dozen churches and a single, famous courthouse. She singlehandedly draws approximately 30,000 visitors from around the world to Monroeville every year. That's more people than live in the whole county. And with the sequel, likely the publishing event of 2015, that visitor number will undoubtedly grow.
As pilgrimages go, Harper Lee's Alabama is one of the more challenging. It requires reaching a spit of rural poverty far from any other popular destination in the US south. But the journey takes you into a living diorama of illustrious fiction. Rarely is a literary exploration so satisfying than on the trail of To Kill a Mockingbird.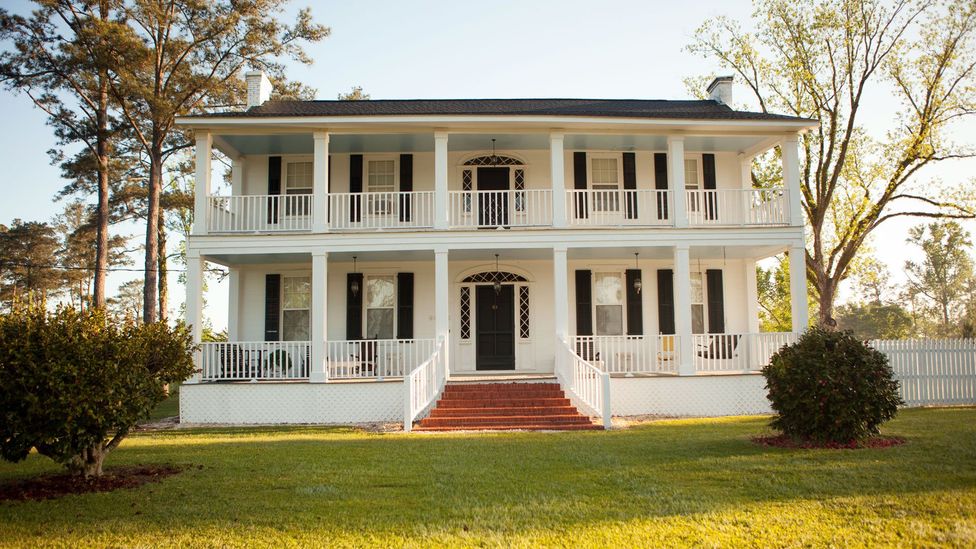 One of the oldest plantation homes in Monroe County (Credit: Kris Davidson/Lonely Planet Traveller)
Walking the streets of tiny Monroeville, which sits between the cities of Montgomery and Mobile, reveals the novel's true classification: a roman à clef. The literary device, in which reality is painted with a veneer of fiction to avoid controversy or libel, is evident in a visit more than 50 years after the novel was published. The book's town and characters (if not the plot) resemble their real-life counterparts in ways so numerous that discovering them is not unlike an Easter egg hunt: some sit in plain sight while others require detective work. The novel was a faithful adaptation of reality, and the film version was a faithful adaptation of the book, all raising the canonical magnitude of the source material, the town, to near-mythic proportions.
The town
"Maycomb was an old town, but it was a tired old town when I first knew it," Lee writes early in the novel. "People moved slowly then. They ambled across the square, shuffled in and out of the stores around it, took their time about everything." 
The pace is still measured in Monroeville and the foot traffic to the Courthouse Square storefronts, some of which are empty, is an unhurried trickle. Most buildings from the 1930s – when the novel is set – are gone, but no one would describe the place as modern. Unfortunately, the Monroeville of today shares another distinction with the Maycomb of the novel: both were hard hit by the greatest recession in American history.
"There was no hurry, for there was nowhere to go," was how Lee described Maycomb's economic isolation. "Nothing to buy and no money to buy it with, nothing to see outside the boundaries of Maycomb County."
When I booked my room at the small, weathered Budget Inn motel (484 Alabama Avenue; 251-575-3101), where Lee and actor Gregory Peck met (in the room next to mine, the owner pointed out, proudly), the woman who took my reservation asked if I'd been to Monroeville before.
"No, why?" I asked.
"There's nothing to do here," she said.
The novel
Lee's masterpiece is deceptive in its simplicity. A reluctantly heroic small town lawyer, Atticus Finch, battles deep-seeded racism in Alabama when he defends an innocent black man against charges of raping a white woman in 1935. The narrator, Scout, is the lawyer's inquisitive and tomboyish 9-year-old daughter, the same age Lee was when the novel takes place. 
The legal plot, a "composite" in Lee's words, was not fully embraced by Monroeville locals when the book emerged in 1960. It was a bold time for its publication – at the front end of a heated, deadly, American Civil Rights movement. "This book suggested black people are as good as white people," said Reverend Dr Thomas Lane Butts Jr, minister emeritus of Monroeville's First United Methodist Church and a close friend of Lee's. "It made people nervous. It probably still does. This place is not a paragon of virtue when it comes to segregation."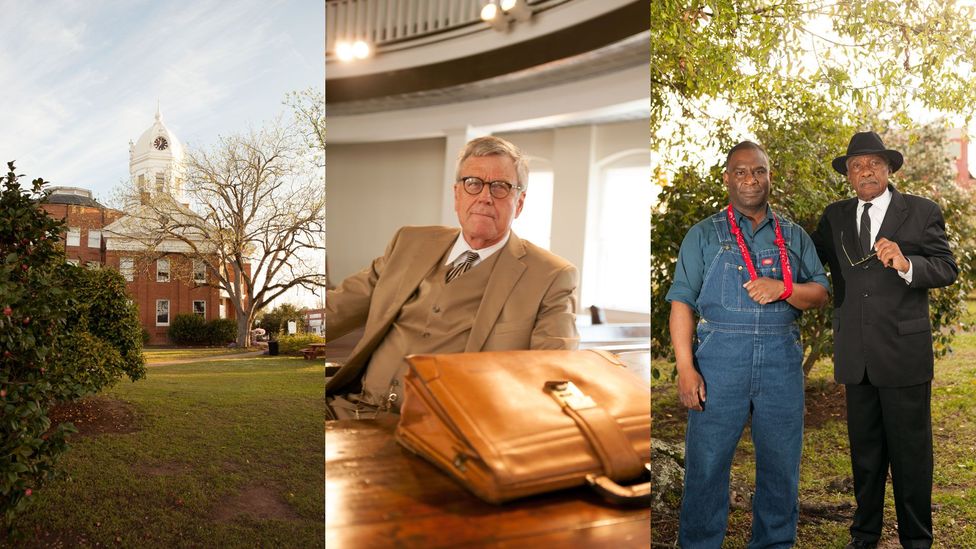 Dennis Owens starred as Atticus (centre); Robert Malone starred as Tom Robinson, with John Tucker as the Reverend Sykes (right) (Credit: Kris Davidson/Lonely Planet Traveller)
Today, the town is still balancing pride for its famous native daughter with an inherited burden to replay the hard lessons of her work. On the lawn of the town's historic courthouse sits an eloquent plaque honouring Atticus with an inscription that includes: "The legal community has in Atticus Finch, a lawyer-hero who possesses the knowledge and experience of a man, strengthened by the untainted insight of a child."
The courthouse
Though his memorial plaque seems to confuse fact with fiction, Atticus is very tightly based on Lee's father, Amasa Coleman (AC) Lee, who practiced law in Monroeville. The courthouse where he plied his trade celebrated its centennial in 2004 and "the national literary mecca", as another plaque describes the courthouse, is home to a museum and gift shop crammed with all things Mockingbird. "I grew up in a courtroom," Lee said in a 1961 Life magazine interview, "and watched my father from the balcony."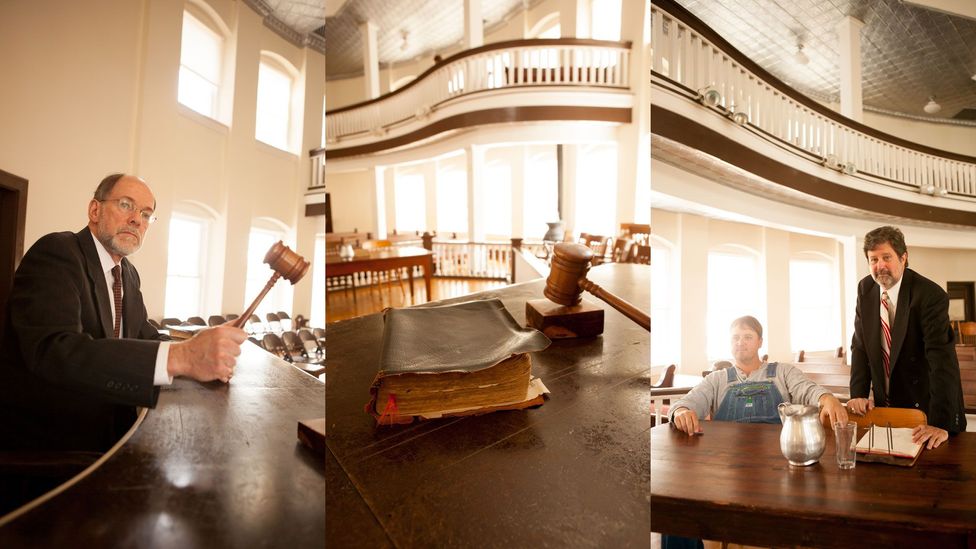 Scenes from the second act in the courtroom (Credit: Kris Davidson/Lonely Planet Traveller)
It was thrilling to sit in that same balcony, where Lee and Scout each watched their father at work and to feel, at the same time, a part of movie history. The cinematographers of the 1962 Hollywood adaptation starring Peck as Atticus, built a set that was a near exact replica of the actual courtroom; in fact, the film's art director, Henry Bumstead, won an Oscar. "The [film's] town is so good," Lee said in a 1962 interview, "I'm afraid people will think it was filmed on location."
The square
No one would make that mistake today. The clock-towered courthouse and lawn are flanked by a square of shops, just as they were in Lee's childhood. But the office where her father once practiced law in the Monroe County Bank building is now an empty storefront on the southwest corner. A charity organization sits where the local jail once stood.
Lee describes the jail – "a miniature Gothic joke one cell wide and two cells high"  – in a tense scene in which Atticus stands guard the night before the trial, as a mob of drunken locals come to lynch his client. You can still spy the real cells, now used for storage, from the Sheriff's office that abuts the original building.
Just a stone's throw from the cells is the library, where I found a living treasure in its director, Bunny Hines Nobles. Lovely to the bone with the most affable "y'all" in town, Nobles is the daughter and sister of former Monroeville mayors, and a friend of the Lee family.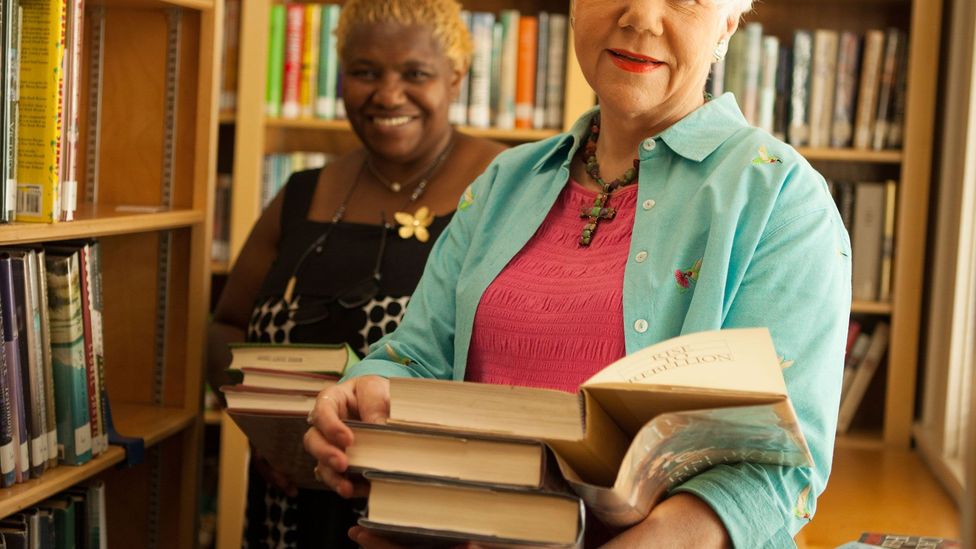 Bunny Hines Nobles, director of the Monroe County Public Library, and Louie Brown, a library aide (Credit: Kris Davidson/Lonely Planet Traveller)
She runs the library – once the La Salle Hotel where Peck stayed during his scouting trip – like an unofficial town historian. Her scrapbook of Lee-related press clippings includes an official program from the author's 2007 Presidential Medal of Freedom ceremony at the White House. Nobles happily took me upstairs where bookshelves line the old hotel guest rooms and she pointed out where Peck rested his distinguished head.
The neighbourhood
Though the town may have changed, AC Lee's law practice lived for decades through Lee's sister, Alice. Dubbed "Atticus in a skirt" by Reverend Butts, Alice relocated the practice she once shared with her father to a building on South Alabama Avenue (just past a mural depicting a scene from the novel).
The newer office, like the old one, sat above a bank. A couple of years ago, I went inside to confirm a rumour that the original manuscript of To Kill a Mockingbird lay in its huge vault, but the bank manager would neither confirm nor deny. There I spotted a small sign that read "ALICE F LEE ATTY" leading me upstairs. Alice passed away, at the age of 103, in November.
Another block along South Alabama Avenue, a plaque points out the small, nearly empty lot where Jennie Faulk – Truman Capote's aunt who hosted him in the summers – once lived. All that remains, sadly, is a crumbling stone fish pond and the wall that separated the house from their neighbours, the Lees.
Atticus may have been the only character Lee claimed to have taken from her real life, but there is no mistaking the resemblance that Dill, the novel's fast-talking, scrawny oddball neighbour who spends summers with his aunt, bears to Truman Capote. Capote, a lifelong friend of Lee's, even bragged that he was Dill. The two writers started writing prose together on a typewriter given to them by Lee's father.
The spot where the Lees once lived, on the other side of the stone wall, is now a burger and ice cream take-away called Mel's Dairy Dream. With no seating to be found, I sat in my car with a strawberry shake, my imagination and a hand-drawn map from the photo-essay Monroeville: The Search for Harper Lee's Maycomb, sold at the courthouse gift shop. With them, I pieced together the neighbourhood.
If Dill was next door, that puts cranky Miss Crawford and sweet Miss Atkinson across the street where a Goody's clothing store parking lot sits. Beyond the store run the old railroad tracks, an unofficial line of segregation where the Finches' maid Calpurnia would have lived. And behind me must have been the school where Scout and her brother Jem went. Monroeville Elementary School, where Lee most likely got into fights like her doppelganger, Scout, is located just across a small lane from the Dairy Dream.
All that geography excitedly triangulates the location of literature's most famous shut-in, Boo Radley. The Finches' neighbour, who never saw the light of day and filled the children's heads with morbidly titillating imaginings, shares a backstory with Lee's actual neighbour, Alfred "Son" Boulware, whose father promised to keep him under his thumb in lieu of punishment for an adolescent theft (just like Boo). The Boulware's former home is now a Cannon gas station.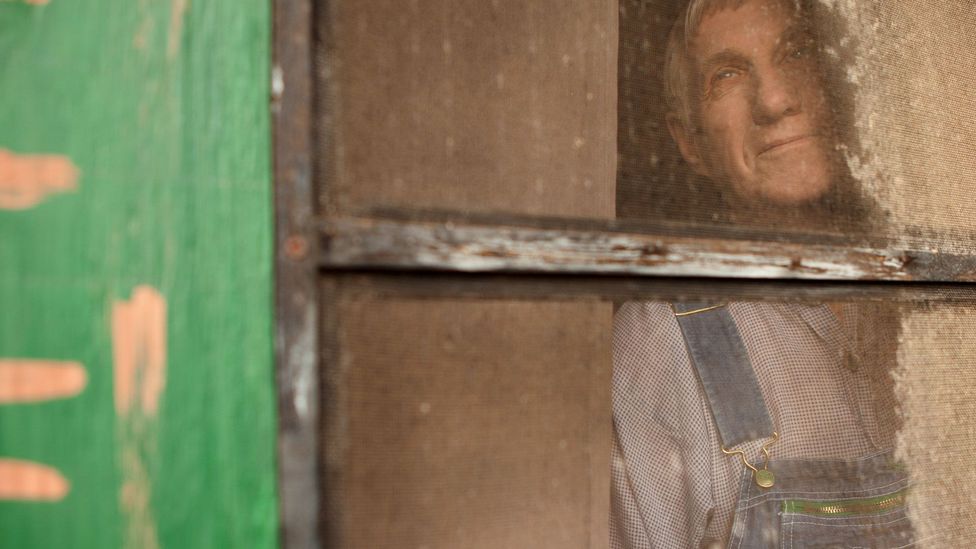 Robert Champion starred as the recluse Boo Radley (Credit: Kris Davidson/Lonely Planet Traveller)
In the novel, Boo breaks his house arrest by leaving toys and treats for Scout and Jem in a tree. Today, a glass-enclosed oak tree limb that once stood in front of the Boulware's house resides inside the courthouse's Mockingbird exhibit, bearing toys like those in the film. It's this kind of conflation of history and fiction that happily muddles your head in Monroeville.
The county
Driving northwest of town, I was surprised by how densely forested the county is, except where it has been clear-cut. Pine trees grow out of hills, punctuated by towns so small you hardly know you are passing through them. On the radio, stations fell into one of four categories: sports, religious, country music and religious country music.
I was searching for one of the oldest houses in the county: the home of Harper Lee's grandmother, Ellen Williams Lee. Down a stretch of red dirt road I reached a spot on the map about 20 miles northwest of Monroeville that was marked Finchburg (Lee's grandfather was JC Finch). I knew I was close but there were no signs to help, so I asked the only person around, a man standing beside a truck on the edge of a gated field.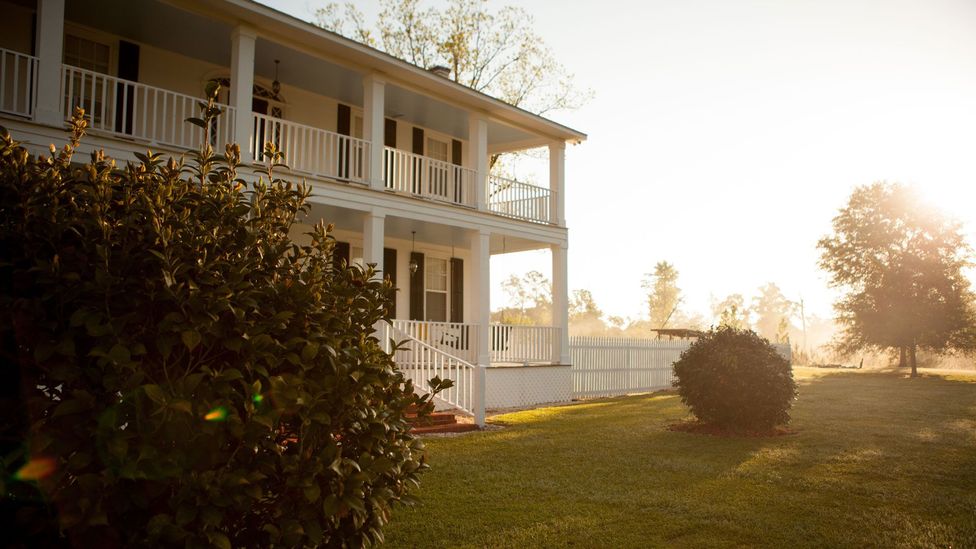 The family home of Harper Lee's grandmother, Ellen Williams (Credit: Kris Davidson/Lonely Planet Traveller)
He pointed at the two-storey plantation home just through the gate. "It's right there."
"Is that where Harper Lee's mother grew up?" I asked.
"You mean Aunt Nelle?" he answered using Lee's local moniker. Turned out I was asking directions from Rick Williams, whose father was, he said, "the cousin of Miss Nelle and Miss Alice, and grew up here".
The house is now owned by Bo Stewart, Rick's brother-in-law, who had installed the fence after one too many literary enthusiasts peeped into his family windows at supper time. But he kindly invited me onto the property to take pictures and explained that the Williamses were once the predominant landowners in the area, owning a huge plantation that stretched down to the river. Lee gave the novel's family her real mother's maiden name and bestowed Atticus with her mother's biography of growing up on a nearby family estate.
The author
Lee never severed her roots from her hometown, splitting her time between New York and Monroeville for decades after the book brought her fame and wealth. Today, she lives in a Monroeville assisted living facility from which she rarely emerges, I was told. I made no attempt to contact her – it would have been a sin to even try. Lee has shunned her fame for decades, studiously avoiding strangers not unlike Boo Radley. At the end of the novel, Scout explains that giving unwanted public attention to Boo would be akin to killing a mockingbird, which does nothing but bring beautiful songs to the world.
I did, however, have dinner at one of Lee's favourite haunts – David's Catfish House – hoping I might spot her. David's wife, Sadie Ross, told me "she hasn't come in here in some time", but perhaps Ross was gently throwing me off the scent.
Over a plate of freshly fried fish and creamy cheese grits, Ross spun a tale about Lee getting upset when a family in the restaurant tried to slyly take her picture. Ross loyally intervened, only to learn the family was documenting their own matriarch's birthday party and had no idea Lee was in the background. "We had a good laugh about that," she recalled.
The performance
One place I was certain not to run into Lee was, oddly, the main attraction that had drawn me to Monroeville in April: the annual performance of a play adapted from the novel. "She doesn't care for it," said Reverend Butts, adding that she went once, stayed only for the first act and didn't attend the show's 50th anniversary in 2010.
For many others, however, the play is the high point of Monroeville's cultural season, drawing attendees from all over the county, country and world (the same company has toured Hong Kong, Jerusalem, Chicago, Washington DC, and Kingston upon Hull, England. Faithful to the novel (with a dash of artistic license thrown in) and performed by local non-professionals, the play is a distant cousin of the novel and film.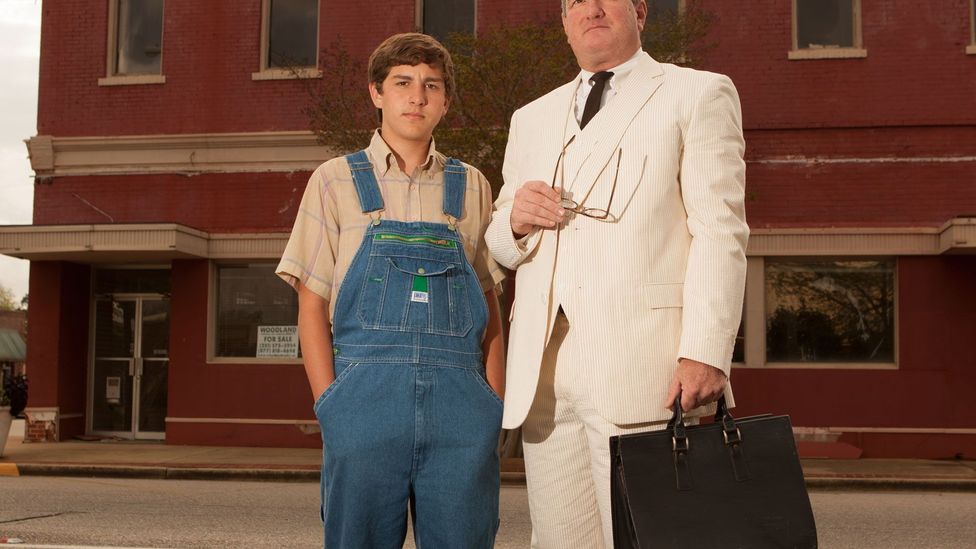 Locals William Charles Brock III in character as Jem (left) and Jeff Brock in character as Atticus (right) (Credit: Kris Davidson/Lonely Planet Traveller)
Despite its saccharine and gratuitously comical tone (perhaps part of Lee's objections), the play has two advantages over the original and Hollywood versions: it's set in and around the real courthouse that inspired the book and it's performed in the text's native tongue. Both give it authenticity. This is what Atticus would have really sounded like, I thought, as I sat in the pews of the courtroom watching an empathetic, fatherly Atticus living out the legal drama before us.
Adding another dash of realism was that fact that the sheriff was played by the town's actual sheriff, sporting his genuine service revolver. And the authenticity reached an uncomfortable pitch during the scene in which a mob descends on Tom Robinson, the alleged rapist, and the actors shouted some unscripted and discomforting epithets that make their murderous hatred much more believable than the film's corresponding scene.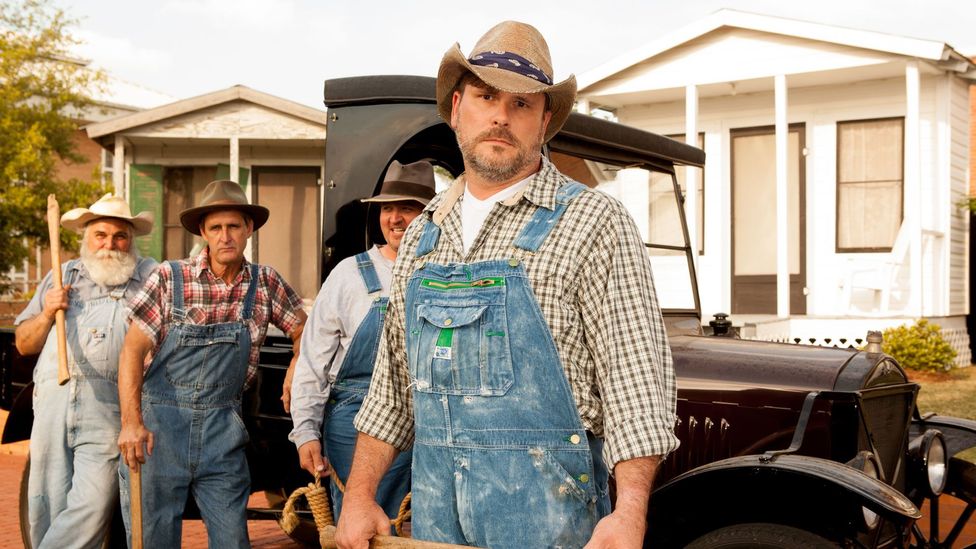 Local actors in character as the mob that arrived at the jailhouse (Credit: Kris Davidson/Lonely Planet Traveller)
The play's first act takes place in the amphitheatre on the courthouse lawn; the second is in the courtroom itself. In between, members of the jury – white men only, another faithful touch – are called from the audience.
"Look and see how many black people there are in the audience," Reverend Butts told me when I said I'd be attending the play that night. Seven out of about 250, as it turned out. The reason, he thought, was that it brought back painful memories. "The absence of black people has always disturbed me," he said.
Robert Malone, who played Tom Robinson the night I attended in 2013, observed that, in a way, not that much has changed since the days of Atticus Finch. "Some things are better, some are not," he said. "We do the same things today, but on a more sophisticated level."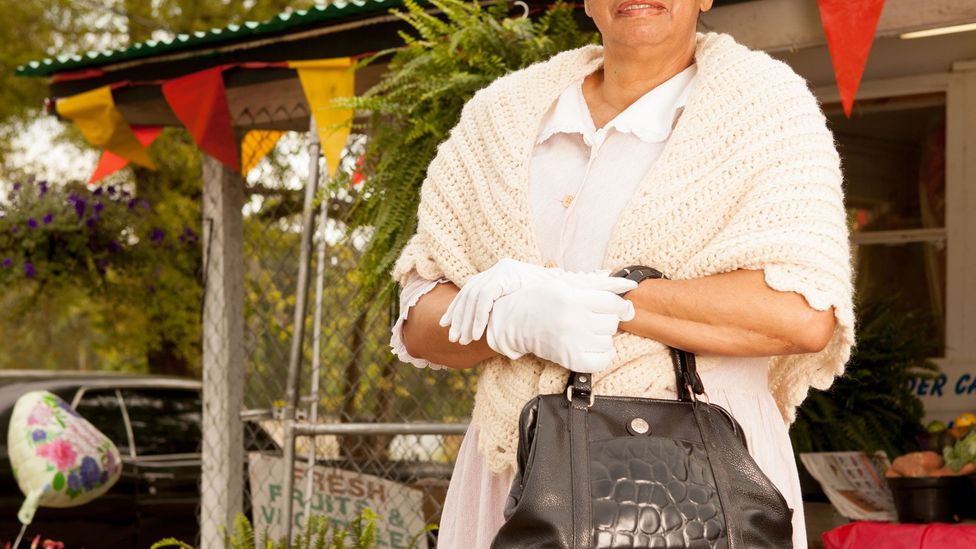 Local actress Dott Deanna Bradley in character as Calpurnia (Credit: Kris Davidson/Lonely Planet Traveller)
For Robert Champion, the actor who played Boo, the show offered a chance to understand those subtleties. "It's taught me not to judge people," Champion said. "You don't know what's going on with someone until you walk in their shoes."
Champion's observation was a near direct quote of Atticus: "You never really understand a person until you consider things from his point of view... Until you climb inside of his skin and walk around in it."
That's what you get when you come down to rural Alabama and spend some time chatting with folks: a real sense of how they live and think. It's insight that brings you closer to both Lee and her brilliant, subversively powerful book.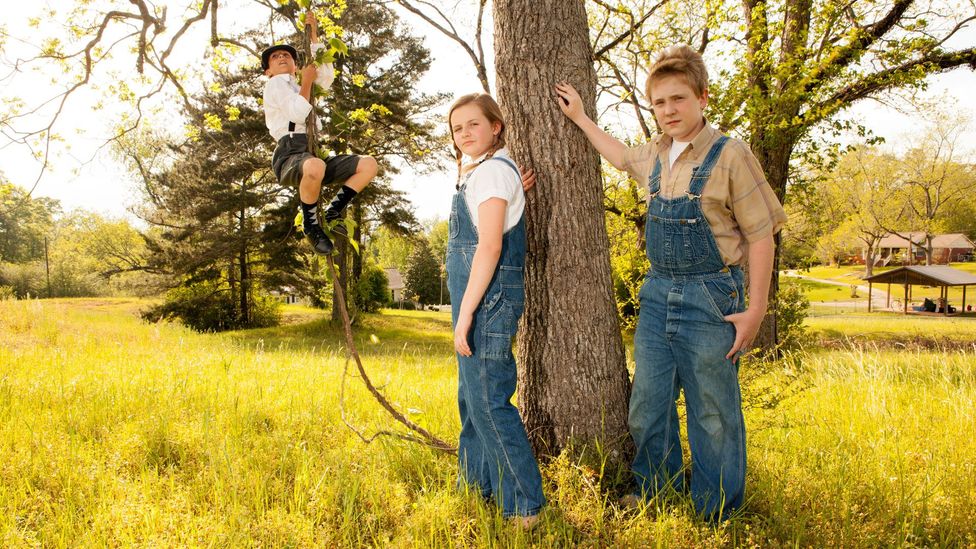 Nicholas Lauderdale in character as Dill (left); Laura Grace King in character as Scout; Mason MacCaughelty in character as Jem (Credit: Kris Davidson/Lonely Planet Traveller)
Of course, it is another book that holds the highest prominence down here. So on Sunday morning, I joined a number of the folks I met over the course of my visit for services at the First United Methodist Church. The unadorned building with white walls, stained glass windows and a tall steeple was another understated landmark of my literary pilgrimage. For outside its walls, among fading and drooping gravestones, are the final resting places of Lee's parents, AC and Frances, Truman Capote's mother and cousins, and Alfred Robert Boulware.
Looking at that last headstone after the service, I recalled Scout's innocent line near the end of the novel. "Hey Boo," I said into the still, warm air around me, a knowing smile creeping across my face. I had come to Monroeville to explore the history that inspired the novel, but I left with a deeper understanding, born – just like Atticus and Scout – at the intersection of fiction and reality.