Slovenia's karst territory is a breathtaking and bizarre underworld where unimagined creatures swim through lightless grottos and monstrous caverns are used as concert halls.
M
Miran, our guide, used his flashlight to point into the crystal clear rockpool. "There. You see it? That's the proteus. It is very rare, even here in the Postojna Caves."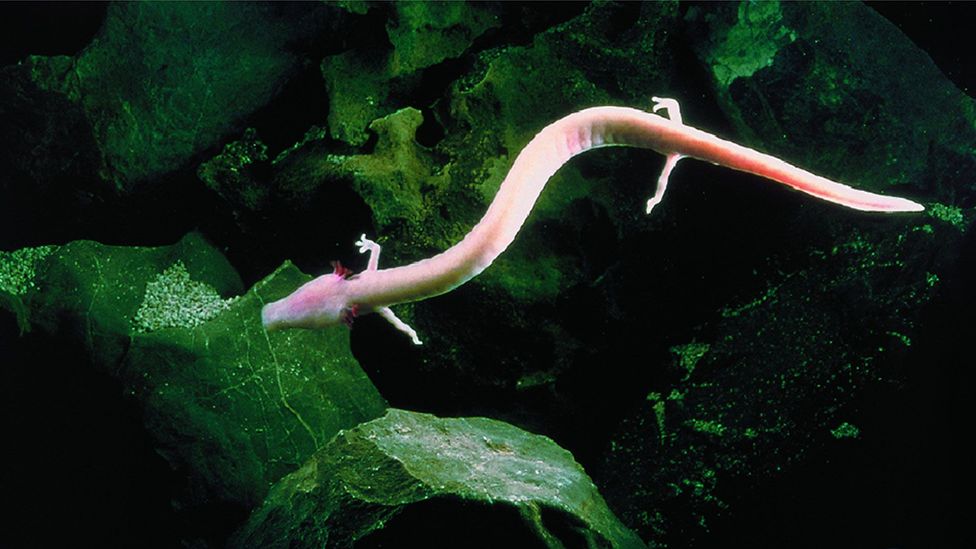 The lurking proteus (Credit: Arne Hodalic)
We had to admit the pure-white, eel-like amphibian was a strange sight, but then everything in underground Slovenia was proving otherworldly. Also known as the "human fish" for its pale, fleshy colouration, the proteus can live for more than 100 years, survive 14 years without food, and dwells, Gollum-like, among the innermost recesses of these caves.
We were completely off the grid in Postojna, one of world's longest karst cave systems. A late June discovery brought the system's length to 24km, with the possibility of it reaching more than 31km via a yet-to-be-found link to the neighbouring Planinska cave. This was a breathtaking and bizarre world of stalagmites and stalactites in bewildering colours, shapes and sizes, from slim spaghetti-like stalks to towering 17m-high columns that took more than 14,000 years to form.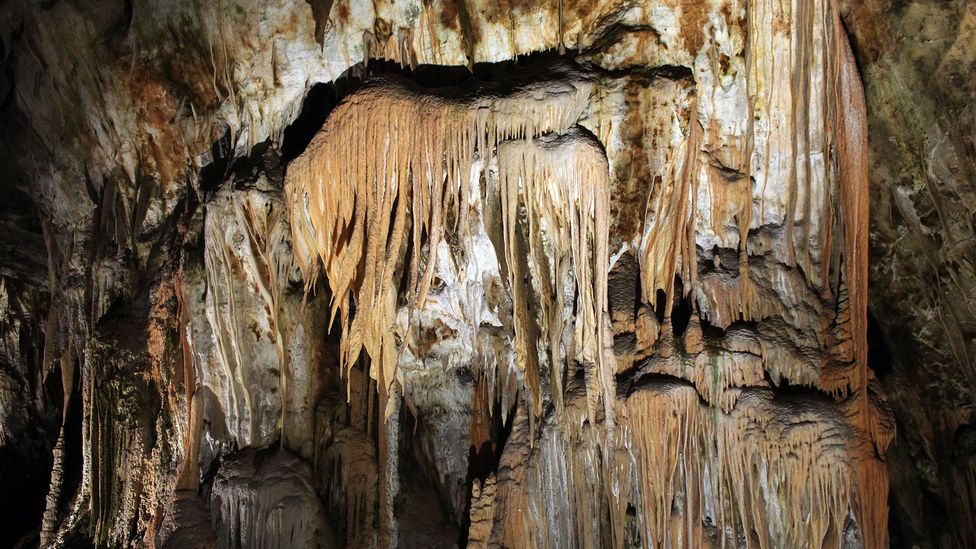 The towering stalks in the caves (Credit: Simon and Susan Veness)
We had already spent two hours exploring the alien landscape on a purpose-designed 1920s railway that travels for 2km inside the vast system, passing through cavern after cavern, passageway after passageway and gallery after gallery of colossal limestone features, created by erosion, rainfall, earthquakes and even wind.
The impressive final chamber, known as the Concert Hall, was used for large gatherings in the 1800s and early 1900s due to its great acoustics. It could comfortably hold 10,000 people and has enthralled the likes of Archduke Ferdinand I, Emperor Franz Joseph of Austria and Benito Mussolini. It is still occasionally used for music performances today.
From here, Miran took us off the regular, lit paths and we continued on foot into the depths, where the Pivka River that carved out this immense range of caves quietly bubbled. Here, about 110m below ground, was the unimagined, lightless world of the proteus and other bizarre subterranean creatures, including rare species of fish, shrimp and even spiders.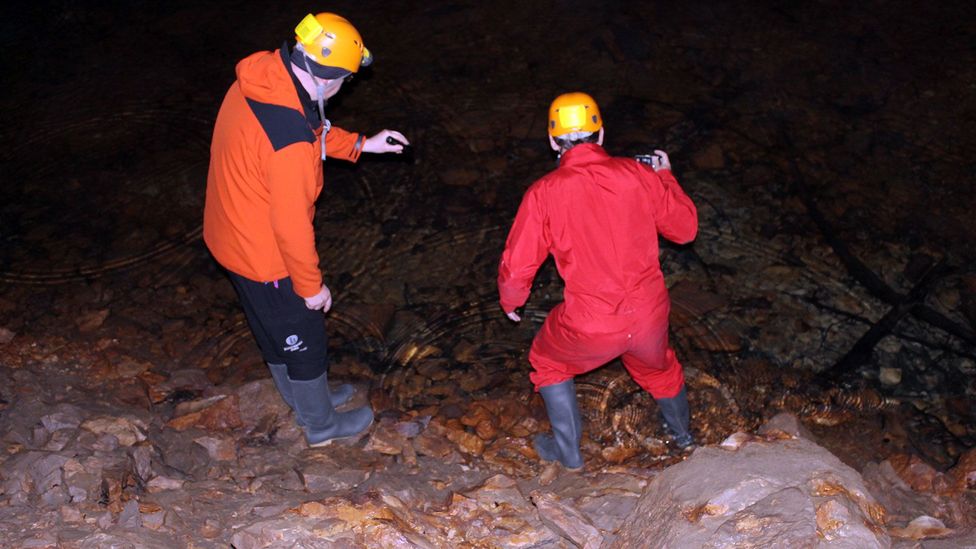 Exploring the cave waters for the proteus (Credit: Simon and Susan Veness)
Postojna has been known as the cradle of speleobiology, the study of subterranean flora and fauna, since local explorer Luka Čeč discovered the cave beetle here in 1831. Scientists have since identified 114 endemic species – including the otherworldy proteus – as well as an array of prehistoric animals such as cave bears, hyenas and even rhinos, that pre-date the last Ice Age.
If we switched our helmet lights off, the darkness was sensory deprivation of the most extreme kind. When the first extensive exploration of the caves was carried out in 1818, the intrepid souls had somehow explored using only candlelight and fortitude. It completely boggled our minds.
"Hey, listen to this," said Miran as we passed an array of stalactites that looked like a pipe organ. He tapped out the unmistakable first few bars of Deep Purple's Smoke on the Water on the slender, hollow columns. "Now, that's real rock music," he grinned, lightening the mood.
Postojna is just one of 23 explorable caves in Slovenia's karst territory, which makes up the history-rich southwestern portion of the country and includes prehistoric settlement sites dating back more than 5,000 years. Here, rivers and underground lakes have carved out many of the underground features that attract more than one million visitors each year.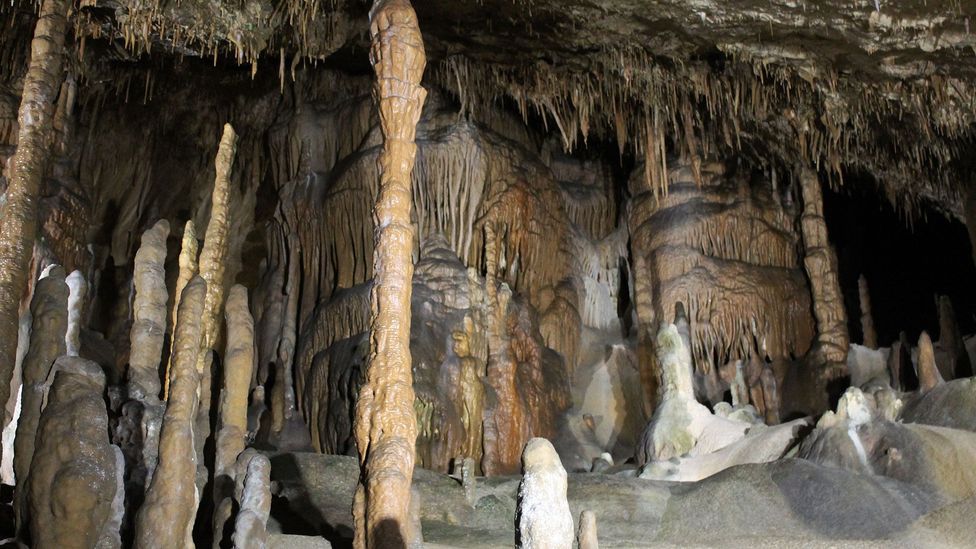 Dangerous stalks and spikes scatter (Credit: Simon and Susan Veness)
About 30km southwest of Postojna are the less developed – but just as stunningly beautiful –Skocjan Caves. This Unesco World heritage site, dubbed "the underground Grand Canyon", is an underworld of such enormous vertical dimensions, it was as if we had stumbled upon some mad collaboration between Jules Verne and Peter Jackson. More than 120m below ground, mist from the river spume filled this otherworldly vista of precipices and passageways with an eerie glow.
In the largest of the four main caverns – the evocatively named Thunder Canyon for the torrent that roars its way through the lower strata – the roof loomed high enough to swallow a 45-storey building. Below, the foaming Reka River was straddled by the 14m-long Cerkvenik Bridge, a daring feat of engineering that mimics Tolkien's Bridge of Khazad-dum.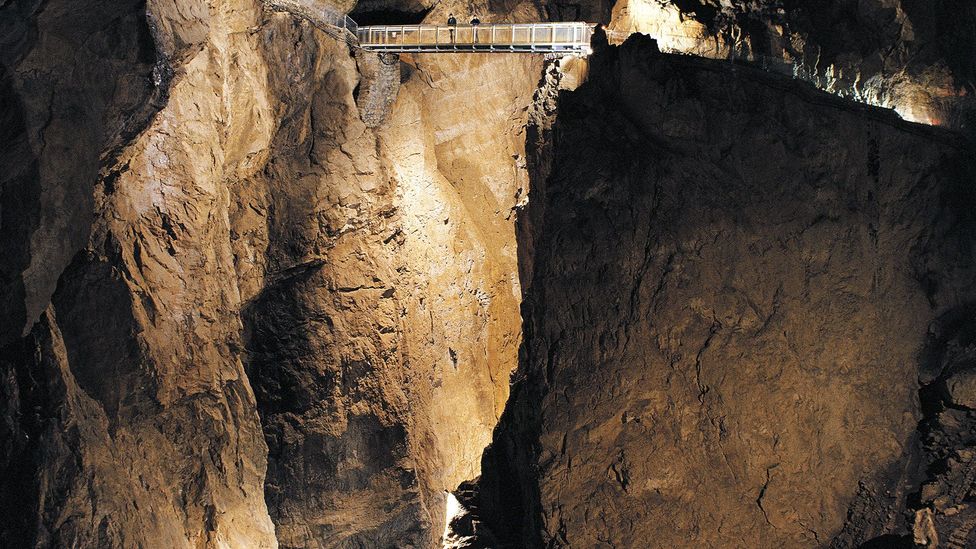 The Cerkvenik Bridge (Credit: Borut Lozej)
The chill of the air – barely 10C – was exacerbated by the 95% humidity from the river spray, giving the canyon the feel of a ghostly hollow. If one of Jackson's cave trolls, or even a fire-breathing Balrog, had appeared from the depths, we wouldn't have been surprised. Amid the gloom, we could just make out a rude stone staircase carved out of the far wall by the first visitors, testament to another group of explorers who had passed this way in 1851.
Returning to the main canyon, we exited through a gaping 15m hole at the bottom of a deep sinkhole, where the Reka River once wreaked havoc on the soft limestone and scoured the far-reaching caves behind us.
Our final stop was at the Predjama Caves, some 40km to the northeast and just 10km past Postojna. Despite being less developed than both Postojna and Skojcan, the site wowed with its scenic beauty; a 700-year-old castle is wedged into the cavern's gigantic opening. A medieval monument of dazzling engineering skill, the castle and cave were somehow a single entity, with the hand of man dissolving into the natural rock with breathtaking organic grace.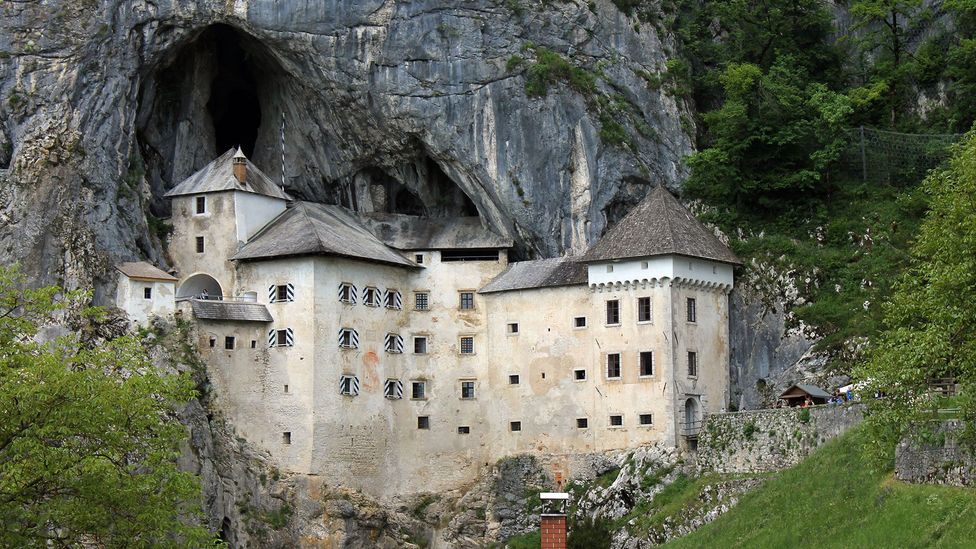 The 700-year-old Predjama Castle (Credit: Simon and Susan Veness)
Hollowed out by the River Lokva, which now disappears underground at the base of the craggy cliff that encompasses the castle, Predjama's depths can only be explored by small-scale tours in full caving equipment. However, the castle itself is a fascinating study in 15th-century living, including period furniture, kitchen fittings and – even in early summer – the sense of how chilling this cave-like location could be.
Here, we learned the story of Slovenia's "Robin Hood", the knight Erazem Lueger, a local folk hero who supported the poor of Hungary during the 1477 to 1488 wars with Austria. The story goes that Lueger defied the Austrian emperor from the safety of this castle-cave stronghold in 1483, using a secret entrance at the cave's top to replenish his stores in the face of a yearlong siege. However, a servant finally betrayed his whereabouts and led to Lueger's sad demise – with a well-placed cannonball to the knight's toilet in an unfortified part of the castle!   
This story provided a quasi-comical ending to our cave tours, but nothing could remove the sombre feeling of having travelled through a rare and overpowering part of Slovenia, a secret world of hidden treasures and surprising history.
Practicalities
Postojna: Two hour guided tours run every hour in peak season (May to September, 9 am to 5 pm), four times a day between April and October, and three times a day between November and March. The additional guided tour into the lower caves must be booked at least three days in advance and requires groups of three to 10 people. Protective clothing is provided. Postojna is the only cave system that is disabled accessible.
Predjama: The castle is open from 9 am to 6 pm during peak season (May to September), 10 am-5 pm between April and Oct, and 10 am to 4 pm between November and March. Tours of the underground cave system run from April to October and must be booked in advance. Tours can be quite strenuous and are not recommended for children. A free shuttle bus service operates between Postojna and Predjama in July and August for those buying combination tickets for both sites.
Skocjan: Two hour guided tours run every hour during peak season (June to September, 10 am to 5 pm), three times a day in April, May and October, and twice a day between November and March. An extended tour (for an additional 5 euros) follows part of the underground section of the Reka River.
CORRECTION: A previous version of this story had an incorrect photo of Lake Bled. The photo has been removed.