In the world's first underwater nightclub, you're as likely to encounter a killer shark as a DJ killing the dance floor.
I
It was Saturday night in the Maldives and the dance floor was heaving. The DJ, who had flown in from the capital Malé, was cranking out hit after hit – Jump by Kriss Kross, Coolio's remix of Stayin' Alive, Fat Man Scoops' Put Your Hands Up–and I was doing my best to impress my dance partner, throwing retro Travolta moves, twists, slides and shimmies. 
The problem was, despite the pounding bass from the pulsating speakers, I couldn't keep my eyes off the scores of iridescent fish and rainbow-coloured corals peering through the glass. I was 6m below the surface in the world's first underwater nightclub, where you are as likely to encounter a killer shark as a DJ killing the dance floor. 
The venue was Subsix, positioned 500m offshore of the island resort Niyama in the Dhaalu Atoll, a 40-minute hop by buzzing seaplane from the capital Malé. Our hosts were the Maldives' fabulous tropical fish and the fathomless sea.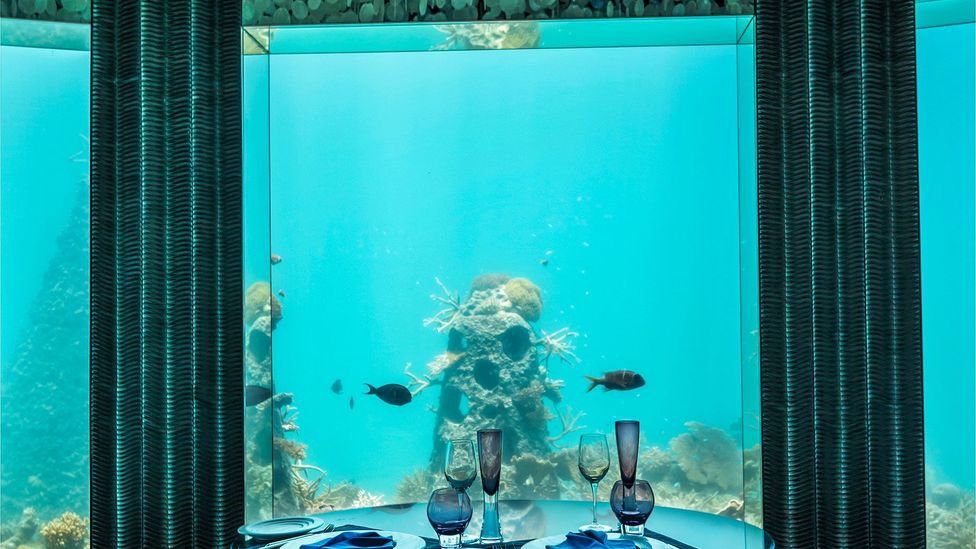 Sharing a drink with tropical fish (Credit: PER AQUUM Niyama)
Imagine a series of giant portholes looking out onto a vivid slice of pristine reef – albeit with a DJ rig and bustling cocktail bar behind you. Snapper, wrasse, anemones and parrotfish winked through the floor-to-ceiling windows. They floated in suspended animation, intrigued by both the rotating disco lights and the electric blue, orange and green glowsticks that the vodka Red Bull-drinking clubbers were flailing around.
Subsix originally opened in 2010, constructed on land before being sunk and relocated to a coral garden carefully reconstructed by marine biologists. Fast-forward five years: the reef is flourishing and the nightclub has undergone a major underwater revamp.
When I visited just after the August reopening, opaque Italian-crafted pendants resembling sea urchins hung from the ceiling, while thousands of capiz shell lighting strands created the effect of rolling waves. Spotlights were fashioned into crown-of-thorns starfish and the bar stools mimicked pokey sea urchins, all spongey black cords and chic clubbing design. Somehow, it looked anything but kitsch.
With more than just a little dose of nocturnal naughtiness – think banging Pioneer-brand decks and a Magnum-stocked bar – the club also only shuts when the last guest climbs the stairs to take the shuttle boat back to the island, a 15-minute ride away. Earlier in the week, so I was told, a group of Russian guests kept the party going until sunrise.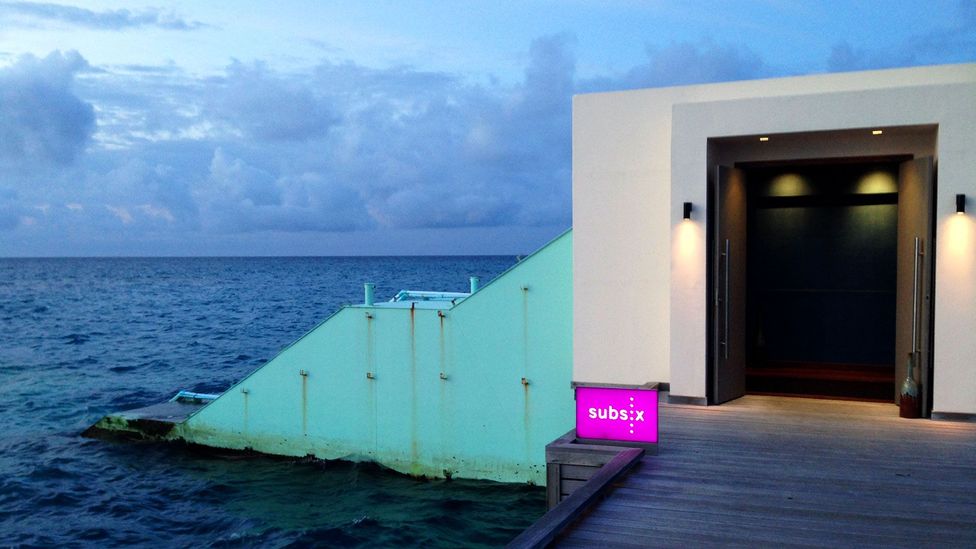 An entrance that descends 6m below the Indian Ocean (Credit: Rubina A Khan/Getty)
It may be a mixture of the spurious and the authentic, but it was as glamorous as any club you'd find after dark in New York's Tribeca or London's Soho. Against all my initial reservations – what about the environmental impact? Do I really want to pay that much for a beer? – I found it hard not to have my disco socks blown clean off. Maybe it was something to do with the lack of oxygen down there. 
You'd also be forgiven for thinking that this kind of venue is holiday overkill: the Maldives has long gone in for this kind of showy one-upmanship. In the past few years, the archipelago has welcomed a number of oddities, each more dumbfounding than the last. At Huvafen Fushi luxury resort you can experience a cocoon-shaped underwater spa, while the underwater wine cave at Anantara Kihavah Villas seems that it could have been designed by a James Bond villain. At the Conrad Maldives Rangali Island, you can dine underwater without getting wet, with 180-degree views of stingrays, sharks and snapper as they swim by.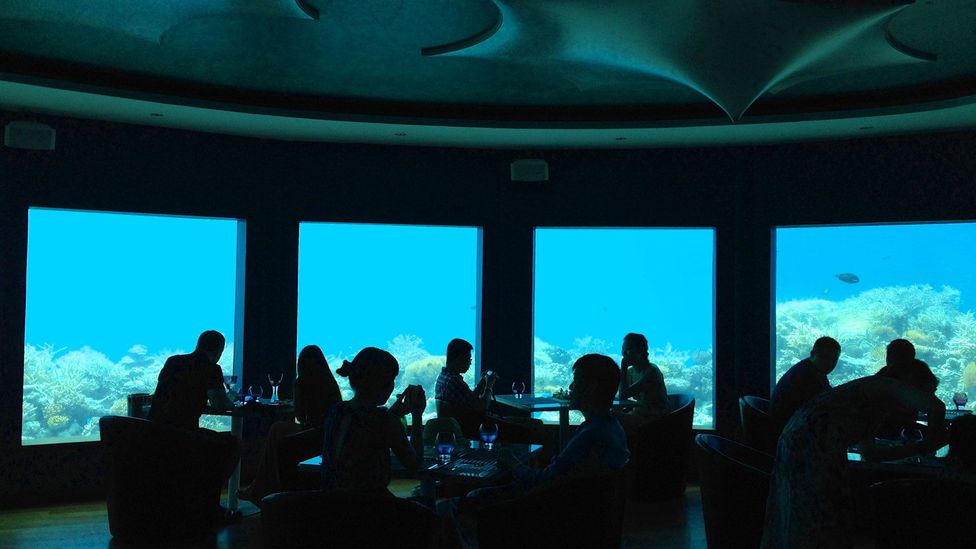 Socializing at Subsix in the Maldives (Credit: Rubina A Khan/Getty)
Next year, the world's first luxury stargazing observatory is set to open on Soneva Jani, the sister island to Soneva Fushi, where they already have a jungle cinema and treetop restaurant perched high in the rainforest canopy. It's a seemingly theatrical approach to holiday luxury.
So what does it feel like to dance under the sea, with toothy sharks and stingrays eyeing your dance moves from only a few metres away? Expect it to be something you'll brag about to your friends for years. Coming up from 6m below with a posse of new friends at 3 am is a hard thing to come down from.