The Lenggong Valley is so significant that it was named Malaysia's most recent Unesco World Heritage site. But few people know about this lost world – and even fewer get to see it.
I
I was standing at the entrance of Gua Harimau (Tiger Cave), an ancient cavern hidden in the northwestern jungles of Malaysia's Perak state. The remains of bronze tools, pots and 11 skeletons were found here in the 1980s and '90s, convincing archaeologists that this place was not only a burial ground some 5,000 years ago, but also the proof of an early Bronze tradition in West Malaysia.
Gua Harimau belongs to one of the Lenggong Valley's four clusters of archaeological sites. This area maintains open-air and cave sites along the Perak River that span all periods of hominid history, from the Palaeolithic era to the Neolithic and Bronze Age up to 1,700 years ago. Hand axes found in nearby Bukit Bunuh, the site of an 1.83-million-years-ago meteorite impact, are among the oldest outside of Africa, and suggest that the Lenggong Valley was an extremely early site of hominids' presence in Southeast Asia.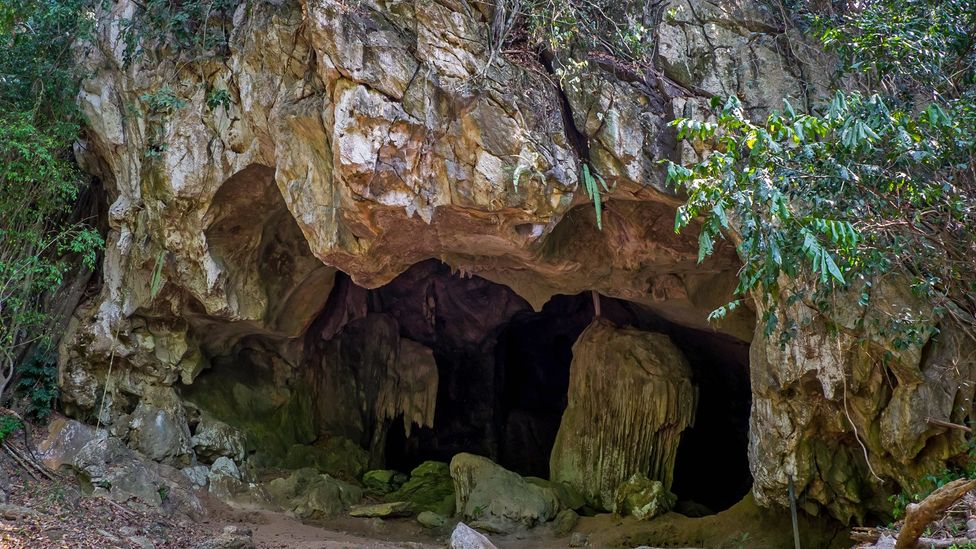 The entrance of Gua Harimau, a hidden cavern in the Malaysian jungle (Credit: Kit Yeng Chan)
Even more important was the 1991 discovery of a nearby burial cave, Gua Gunung Runtuh. It contained the 11,000-year-old Perak Man, the region's best-preserved Stone Age skeleton – and the only one found with a genetic disorder, Brachymesophalangia type A2. The skeleton's foetal position, surrounded by a cornucopia of objects, suggested to archaeologists that his deformity had elevated him to a well-respected shaman.
The discoveries were so significant that in 2012 the Lenggong Valley was named Malaysia's fourth and most recent Unesco World Heritage site – yet amazingly the area remains well under the world's radar.
The remains of tools, pots and skeletons were found in Gua Harimau (Credit: Kit Yeng Chan)
Despite its protected status, the Lenggong Valley doesn't figure in most Malaysian travel itineraries and has only two direct bus connections to capital Kuala Lumpur each day. The few visitors who make it here find that the caves have long been closed for renovations. 
"Even archaeologists must get a permit to do their research," explained Professor Mastura Jafaar of Universiti Sains Malaysia's Sustainable Tourism Research Cluster in Penang, the nearest major city to Lenggong. 
But after visiting the tiny, jungle-flanked town of Lenggong twice, I found out that getting to the caves is actually possible, provided you have a little time up your sleeve.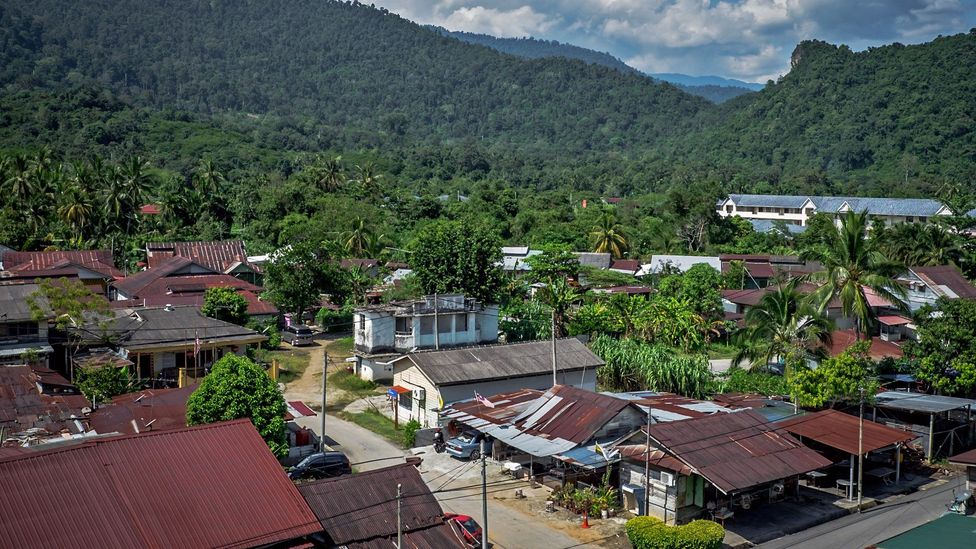 Lenggong Town is surrounded by jungle (Credit: Kit Yeng Chan)
On my first visit, I went to the Lenggong Archeological Museum in the village of Kota Tampan, a short drive southeast of Lenggong, to see the remains of the Perak Man up close. Here, I learned that his ancestors had settled in the Lenggong Valley after migrating out of Africa and crossing the Middle East and South Asia on foot for thousands of years. 
I also learned that it was possible to get an access permit for the caves. Despite it being totally unpublicized – there is no official English-language website for the museum and most tour operators don't promote the site – a friendly local informed me that I simply had to e-mail the museum's director, Sanjai Kumar, and wait until the permit came through. The process was surprisingly straightforward – and free of charge. After about a week, I received an answer from Kumar asking to confirm my preferred date, which had to be on a weekday, between 9 am and 5 pm.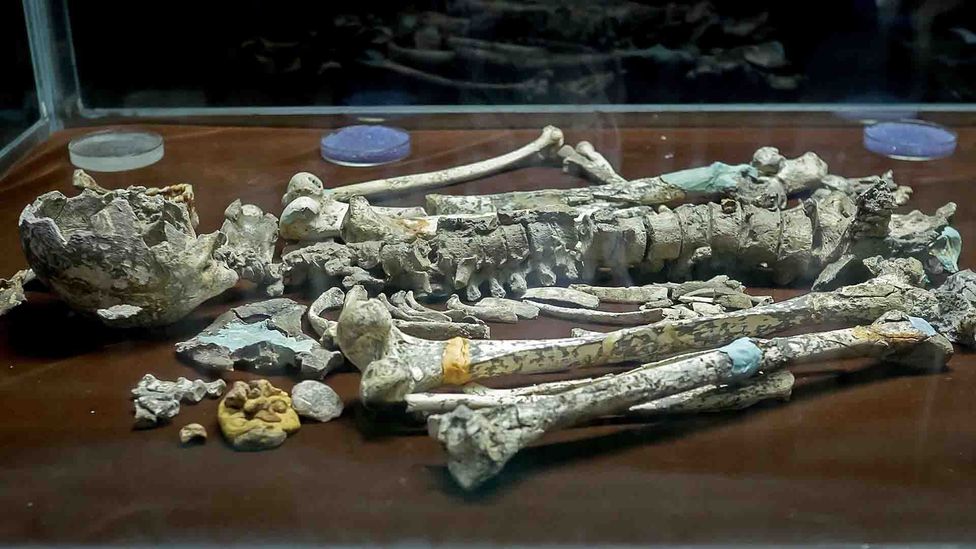 The remains of the Perak Man can be found at Lenggong Archeological Museum (Credit: Kit Yeng Chan)
About 10 days later, on the agreed date of my visit, I met up with Mohd Farid, a young Kelantanese man sent by the museum to be my guide. I followed his motorbike 7km north out of Lenggong into a web of lanes passing through kampongs, traditional villages that have sprouted up all around the cave sites. 
Our first stop was Gua Badak (Rhinoceros Cave). Although the entrance collapsed long ago, you can still see the back rockface etched with a combination of century-old rupestrian art by aboriginal negrito hunters and less attractive modern tags left by unscrupulous visitors.
Because of the graffiti, the museum has recruited guards to protect the caves. Two of them joined us here, and we all rode the jungle paths to nearby Gua Harimau. The remains of the 11 Paleolithic skeletons have been removed for preservation, and all is left today are the archaeological digs, still signposted with picks and white threads. Being escorted to see a place that few others know about made it easy to imagine the unfolding of thousands of years of human life.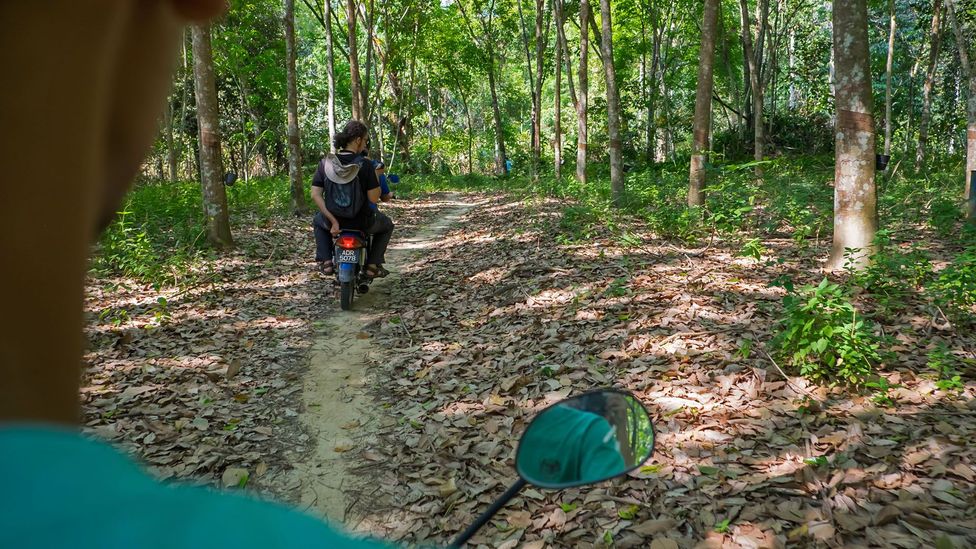 In Leggong, museum guides ride motorbikes (Credit: Kit Yeng Chan)
Next was Gua Gunung Runtuh (Collapsed Mountain Cave), the burial place of the Perak Man. Set aside from the first cave cluster up the side of limestone hill Bukit Kepala Gajah (Elephant's Head Hill), the steep hike culminated with us hauling ourselves up using fixed ropes connected to the entrance's fence. One of the guards unlocked the gate, opening up the cool hollow where the crippled shaman had lived and died. Looking at his empty grave, I imagined how he had been buried with his legs curled up against his chest, the dozens of shells, stone tools and utensils placed to accompany him throughout his afterlife journey, a sign of his mystical stature among his fellow men.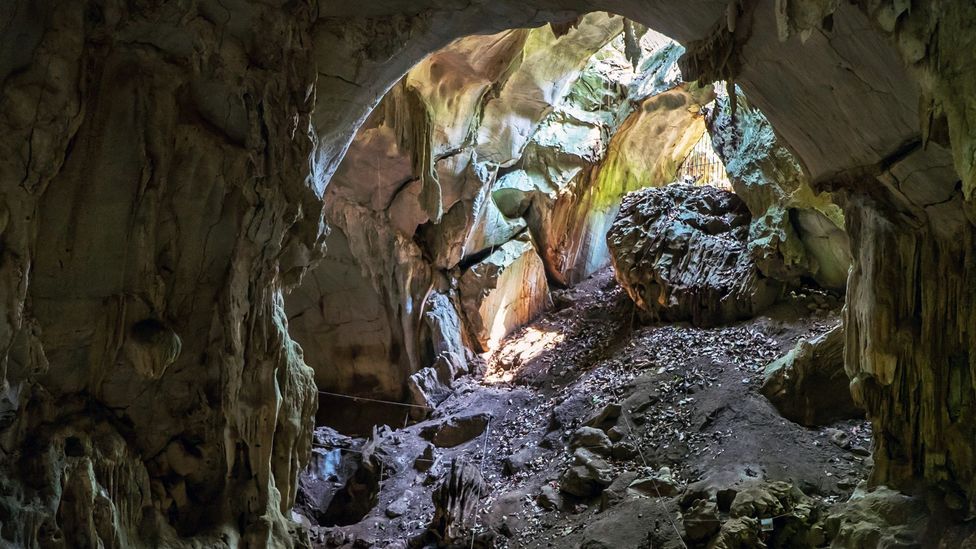 Gua Gunung Runtuh is the burial place of the Perak Man (Credit: Kit Yeng Chan)
After descending, we rode to the opposite side of Bukit Kepala Gajah, stopping at the gated entrance of the second system of caves: Gua Kajang, Gua Asar, Gua Ngaum and Gua Puteri. These four caverns, located one after the other at the bottom of the hill along a path shaded by dense canopy hooting with wildlife, are believed to have been used by Palaeolithic men as a series of connected dwellings. 
The first, Gua Kajang (Awning Cave), a tall and luminous archway passage through the limestone hill of Bukit Kepala Gajah, was the first cave to be discovered in the area in 1917. Similarly to Gua Harimau, it held skeletal and tool remains dated between 11,000 and 5,000 years ago – but today only empty archaeological digs dot the grounds. A wooden walkway continued onwards to Gua Asar (Asar Cave, meaning the evening call to Islamic prayers, the time of day that this cave was discovered) and Gua Ngaum (Leopard Cave), two smaller hollows that looked like dents in the jagged limestone rock face. Here too, earthenware was found in the digs, proving that Palaeolithic men had once lived here. Walking into these two caverns today is like entering two stone halls – it's not a stretch to imagine sitting around a bonfire while the thicket buzzed with mysterious sounds thousands of years ago. I felt as though I'd entered a lost world that few get to know.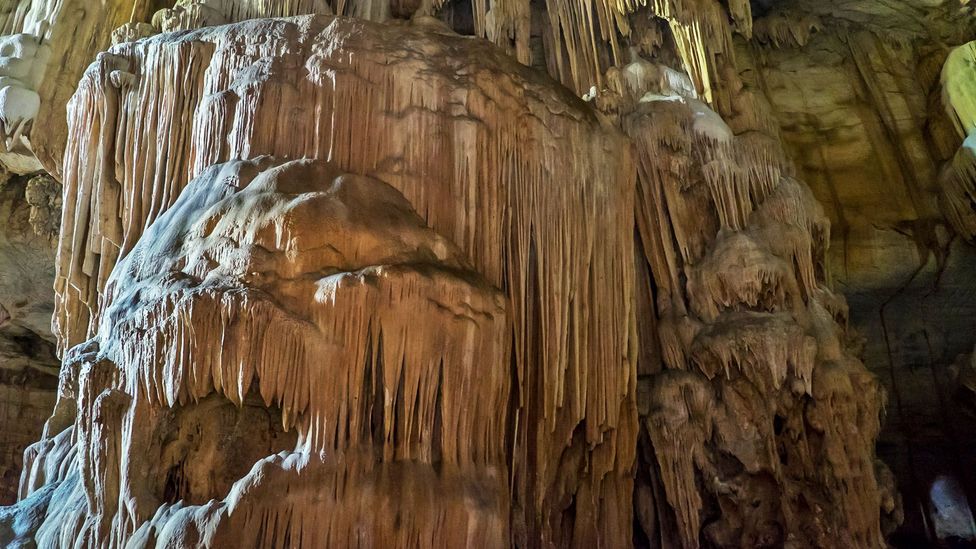 Gua Puteri is filled with huge stalactites and stalagmites (Credit: Kit Yeng Chan)
Finally we entered Gua Puteri (Princess Cave). This vast underground chamber filled with huge stalactites and stalagmites stretched from one side of Bukit Kepala Gajah to the other. It was famous for its legends, and although no archaeological remains have been found here, it was also likely to have been occupied by early men. Inside, after a steep descent, two huge stalagmites emerged from the ground like gigantic white teeth; they are believed to be a petrified guardian prince and his princess, from which the cave's name came from. Local lore says that whoever climbs them will fall sick.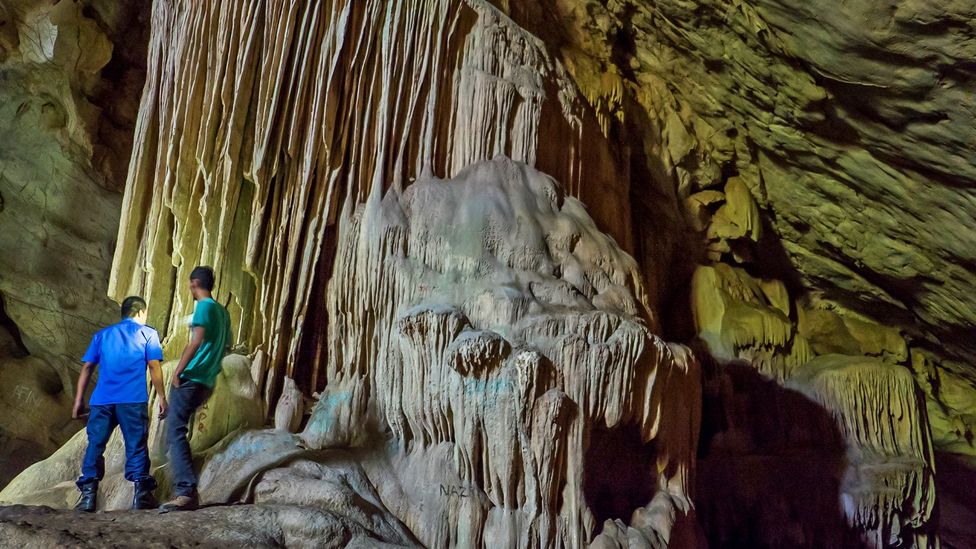 Gua Puteri is also referred to as 'Princess Cave' (Credit: Kit Yeng Chan)

We walked past the two stalagmites, descending past smaller rock formations like mice in a giant stone maze. Farid pointed out the rocks' names, inspired by their shapes: an elephant's head; a frog; a married couple; even an approximate map of Malaysia. 

When we emerged from the underground chamber, blinking in the light, our visit was over and Farid swung a padlock around the gate's knob once again. The clinking sound made me think of a chain securing a treasure chest; indeed this treasure trove of history risks being forgotten behind bars unless more visitors make it here to see this lost world for themselves.

CORRECTION: An earlier version of this article contained several incorrect historic references. We've updated the article to include the region's 1.83 million year old meteorite impact site, which is the one in the cluster of four Lenggong's archaeological sites qualifying as the beginning of evidence of human settlement; and we've also updated the copy to reflect that Perak Man's remains are not the oldest found in Asia nor in Malaysia – rather it's the best preserved skeleton of that age found in the region. All details have now been corrected.

If you liked this story, sign up for the weekly bbc.com features newsletter, called "If You Only Read 6 Things This Week". A handpicked selection of stories from BBC Future, Earth, Culture, Capital, Travel and Autos, delivered to your inbox every Friday.

;