A laptop and an internet connection are all that's required for some jobs these days – and many globetrotters are making the most of it, living and working in cities across the world.
S
Some jobs these days require little more than a laptop and an internet connection, allowing many digital nomads the opportunity to live and work in cities across the world. But because they often only stay in a place for a few weeks or months at a time, these specific globetrotters have unique needs when seeking out a place to call home, including reliable internet, flexible visas and good co-working spaces (and/or coffee shops).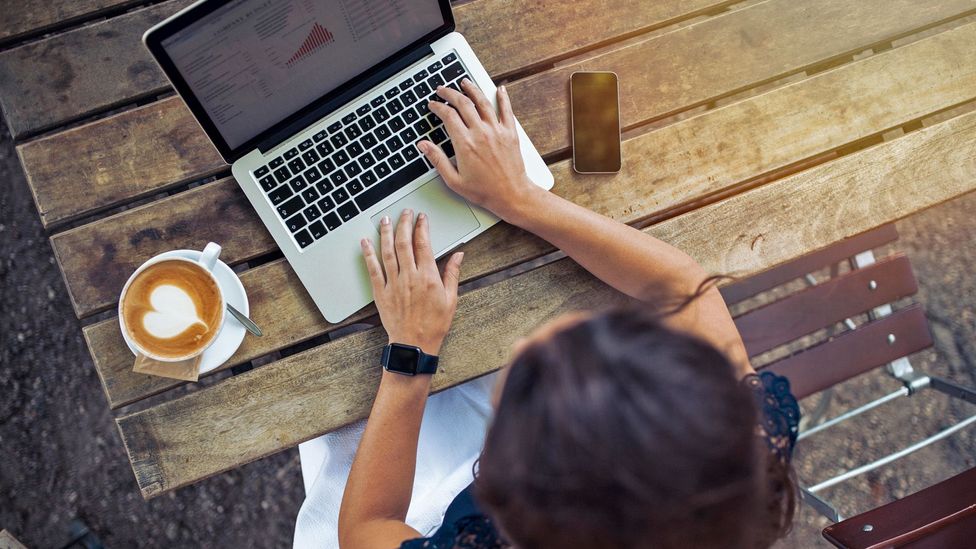 These days, you can create an office space wherever you go (Credit: Ammentorp Photography/Alamy)
To capture these special requirements, Amsterdam native and part-time digital nomad Pieter Levels created Nomad List, which ranks the best cities for digital nomads based on cost of living, internet speed, weather, safety and more than 50,000 other data points.
While the rankings of the database's 526 cities are constantly in flux (all the data is refreshed in real-time based on user input), certain cities consistently rank in the top tier for their nomad-friendliness. We sought out travellers living in these cities to find out what makes them ideal for their lifestyles, and which neighbourhoods to seek out.
Chiang Mai, Thailand
Affordability and 24/7 cafe availability make this northern Thai city a hub for digital nomads in Southeast Asia.
"Chiang Mai has enough infrastructure that I feel comfortable, while being cheap enough that I don't have to worry too much about money," said Martín Raúl Villalba, a software developer originally from Salta, Argentina. "That combined with decent visa options, a relaxed lifestyle, availability of short-term rentals and really good food make it a nice, well-rounded spot."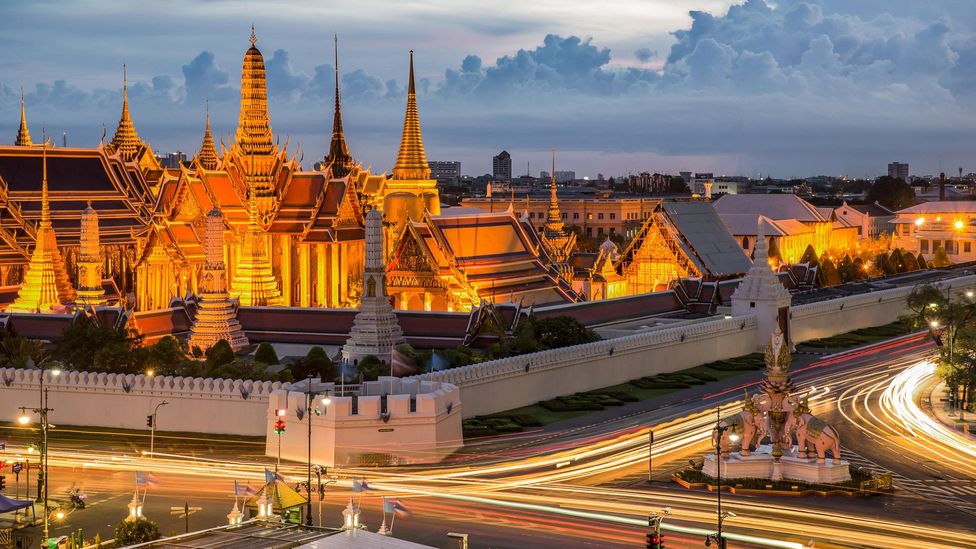 Nomads can still experience more traditional Thai culture in Chang Mai (Credit: Prasit Rodphan/Alamy)
The city is small enough to navigate by scooter or a cheap taxi ride. It's also easy to get out of town and experience the lush countryside, lakes and mountains.
"There's plenty of history to explore, and endless national festivals," said Ben Salt, originally from the UK and co-founder of Tripmap, a social map-creation platform. Salt's been working on and off in Chiang Mai since 2013. "Chiang Mai is a place where, despite the encroaching modernity, you can still experience more traditional Thai culture."
During March and April, most nomads head farther south or east to the beaches or islands to avoid the heavy air pollution caused by nearby crop burning, Salt added.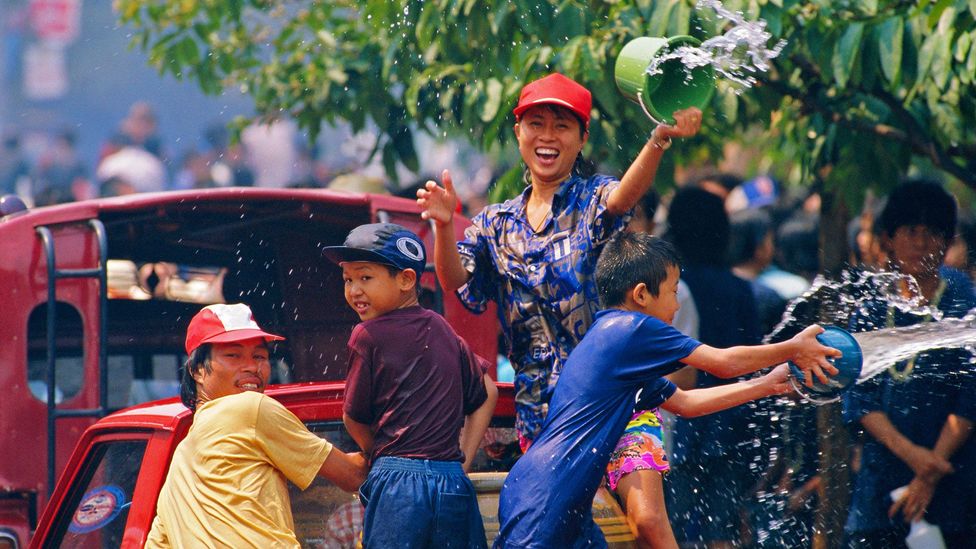 Songkran Water Festival is one of many national festivals celebrated in Chiang Mai (Credit: Alain Evrard/Alamy)
Nimman, local shorthand for the neighbourhood of Nimmanhemin, about 4km west of the tourist-heavy Old City, is a nomad hot spot, thanks to its location near the university and abundance of co-working spaces and coffee shops. PunSpace is a popular co-working space for long-term needs, while Mana charges by the hour or day for short-term projects.
Puerto Viejo, Costa Rica
Though it doesn't have co-working spaces in the traditional sense, this community in southeastern Costa Rica has plenty of nomad-friendly coffee shops, restaurants and bars.
"I had been working at co-working spaces for three years before becoming a digital nomad and I needed a break from open space offices," said Miks Kalniņš, a software engineer originally from Latvia. "Here I can work from my room or go downstairs and work from the bar. There are also hammocks available if I need to think about more complex problems before sitting down and coding."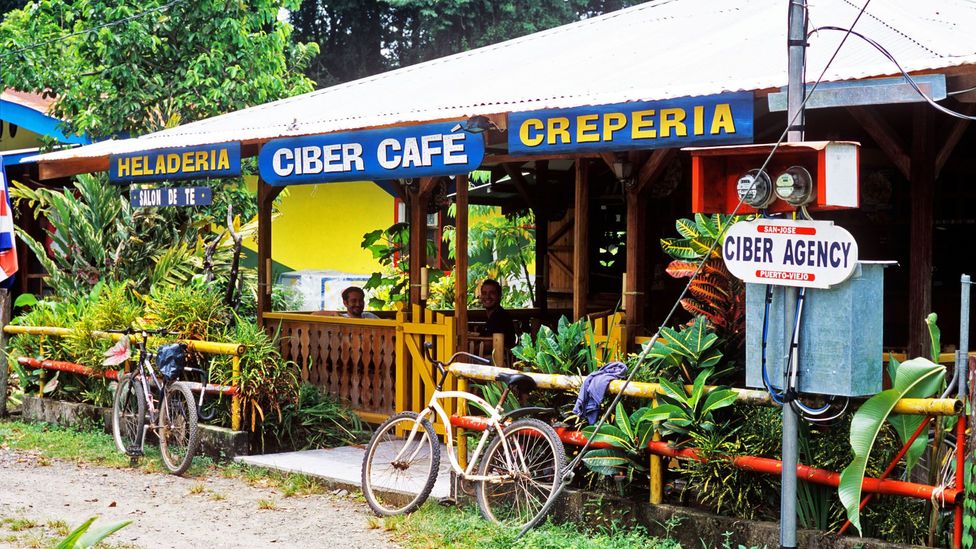 Puerto Viejo's co-working spaces are quirky, but still sufficient (Credit: Realimage/Alamy)
The nature and beaches make Puerto Viejo an ideal place to focus on big ideas without too much interruption, but the local community is also a boon, Kalniņš added. "There's lots of homemade stuff," he said. People bake cookies and bread and make kombucha and ginger ale. There is also a local microbrewery, which is nice since the two mass produced Costa Rican beers are horrible."
While Puerto Viejo is the hub, many nomads choose to live further out, as boisterous backpackers can occasionally overrun the city. Cameron Guthrie, an American who works in Costa Rica travel consulting, lives in Cahuita, 16km north of Puerto Viejo, which she said has a "town-in-the-1950s feel… if your small town had a rasta vibe, that is." Kalniņš lives in affordable Punta Uva, a small town 9km to the southeast, where he finds it easy to walk, cycle or take the bus when he needs to go to the more lively downtown.
Miami, United States
Miami's constantly beautiful weather is usually the first thing that draws nomads to this south Florida city. "My company is actually headquartered in New Jersey, and when my colleagues are dealing with snowstorms I get to take a stroll over to the beach," said Josh Stutt, vice president of marketing for pharmaceutical company Strides Shasun, originally from New York and living in Miami for more than 10 years. "I work out of a home office and my windows stay open for the majority of the year."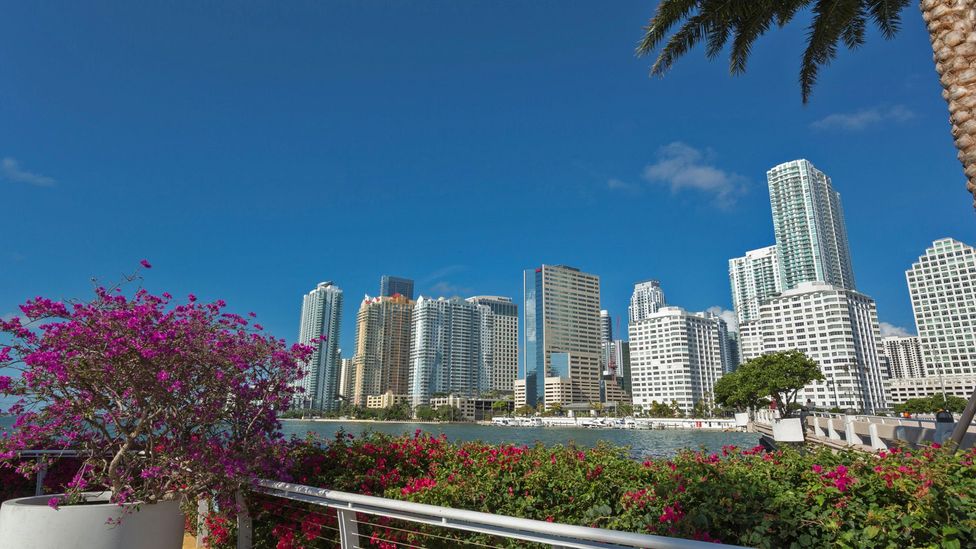 Brickell is a great neighborhood for Miami nomads (Credit: GALA Images/Alamy)
The city is very appealing to creative types, making it easy to find other design-minded people with whom to share ideas or find inspiration. It's also prime for networking, with one of the fastest-growing art scenes in the world and a roster of frequent celebrity visitors.  
According to Stutt, South Beach, Brickell and Wynwood are the best neighbourhoods for nomads. Famous for its never-ending nightlife, South Beach (located on the island of Miami Beach about eight miles east of downtown) has "no shortage of distractions", but is also becoming a more professional environment, with shared workspaces like WeWork recently opening.
Miami's Wynwood is the hipster hangout of the city (Credit: Ludovic Maisant/Alamy)
Brickell, in the heart of downtown, is close to the banking centre of the city, while Wynwood, 5.5 miles north of downtown, is the "hipster-home of the Magic City", according to Stutt, known for its ever-expanding start-up scene along with murals and art.
"Panther Coffee [in Wynwood] is probably the central hub of the modern Miami employee," said Stutt, and the happy hours in the area are a "potpourri of the creative class" that shouldn't be missed.
Florianópolis, Brazil
With an abundance of beautiful beaches and rent at half the price of that in Rio, Florianópolis in southern Brazil has attracted a growing number of nomads to its burgeoning tech and start-up scene.
With plenty of international restaurants, outdoor activities and a vibrant nightlife, the city offers a high quality of life, especially compared to other large Brazilian cities, said Eduardo Borges, original from São Paulo, who runs the PressX PR Agency and e-commerce store SockMe, and has been based in Florianópolis for a year.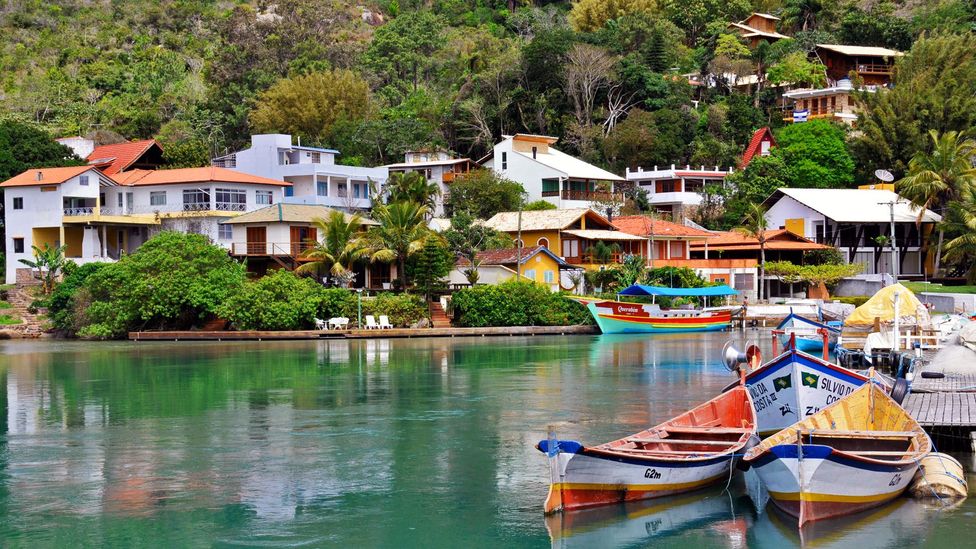 Florianópolis combines a beach vibe with a burgeoning tech scene (Credit: Travel Pix/Alamy)
Despite its beachy location, Floripa (for short) can get quite chilly in the winter. "You may even experience some snow on the mountains close to Florianópolis, but the city itself wouldn't go under 5C in winter," said Borges. Summer is hot at around 30C, but the average is 20 to 25C, "which makes the city very liveable".
For nomads staying short term, Borges recommends the Lagoa da Conceição neighbourhood, about 13km east of downtown, as everything is in walking distance and it's easy to meet tourists staying in the local hostels. For longer stays, Beira Mar, just 1km north of the city centre, has gyms, malls, restaurants and nightclubs – but a car is necessary to get to the beach, about 15km to the west. Those on a budget should consider Trindade, 4km east of the city centre, which is home to many students, and restaurants and bars are more affordable.
Budapest, Hungary
One of Europe's cheapest capitals, Budapest attracts nomads with free wi-fi in cafes, efficient public transportation and famous underground bars. While the weather isn't as tropical as many of the other nomad-friendly cities, it stays relatively sunny and dry year-round.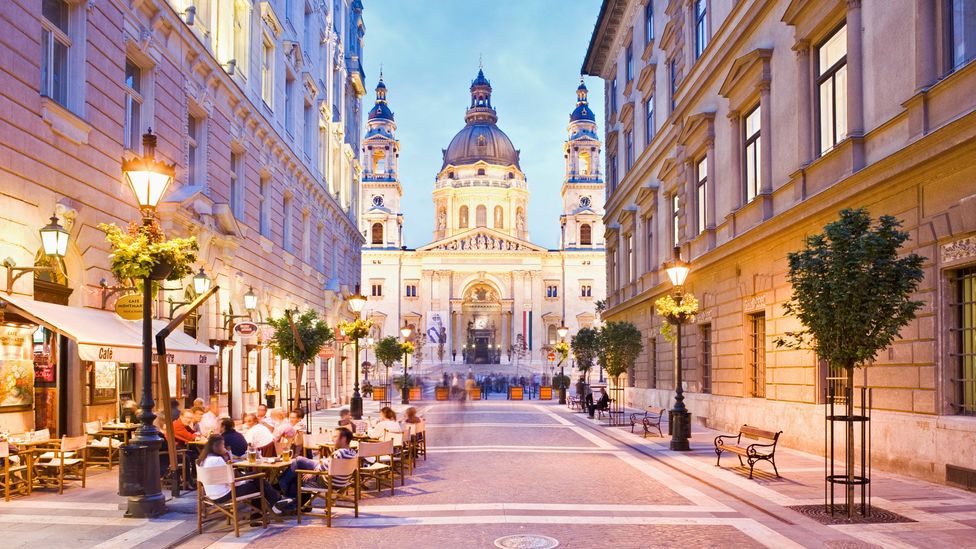 Budapest is one of Europe's cheapest capitals (Credit: Jorg Greuel/Getty)
"I come from the south of Spain, so for me, the weather is colder here," said Jose Manuel Llopis Ortiz, a guide for Your Local Cousin, a travel start-up that matches travellers with locals. "'It is normal to see snow in winter, but it is not a very rainy place." Spring starts in March and the good weather lasts until November.
It's also easy to meet people, said Llopis Ortiz, whether it's playing sports or getting outside. For fun, Wiktoria Skiba, a Budapest native, also a guide for Your Local Cousin and founder of The Spoiled Queen blog, likes "chilling on Margaret Island" in the middle of the Danube, or in Erzsébet Square, a green space in the city centre. The nearby Buda Hills, just 16km northwest of the city centre, are popular for day hikes.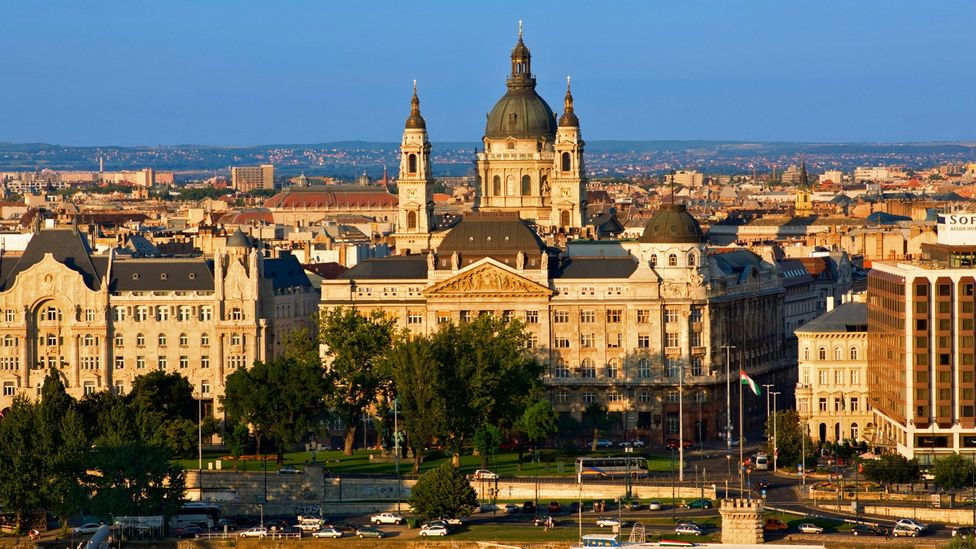 Budapest stays relatively sunny and dry year-round (Credit: Art Kowalsky/Alamy)

For nomads, the XIII district, Ujlipotvaros, is an up and coming neighbourhood that has traditionally been home to locals. "There are mostly Hungarians who are living there, but you can see more and more foreigners and a younger crowd nowadays," said Skiba, which makes it easier to meet both locals and expats . The VII district, Erzsébetváros, is also popular with nomads thanks to its abundance of hostels and co-working spaces, including the recently opened Impact Hub Budapest.

If you liked this story, sign up for the weekly bbc.com features newsletter, called "If You Only Read 6 Things This Week". A handpicked selection of stories from BBC Future, Earth, Culture, Capital, Travel and Autos, delivered to your inbox every Friday.

;