Piloting between icebergs in Kenai Fjords National Park, Trenton Gould trades crowded tour boats for kayak paddles and helps people experience their own natural enlightenment.
Kenai Fjords – est 1980
Alaska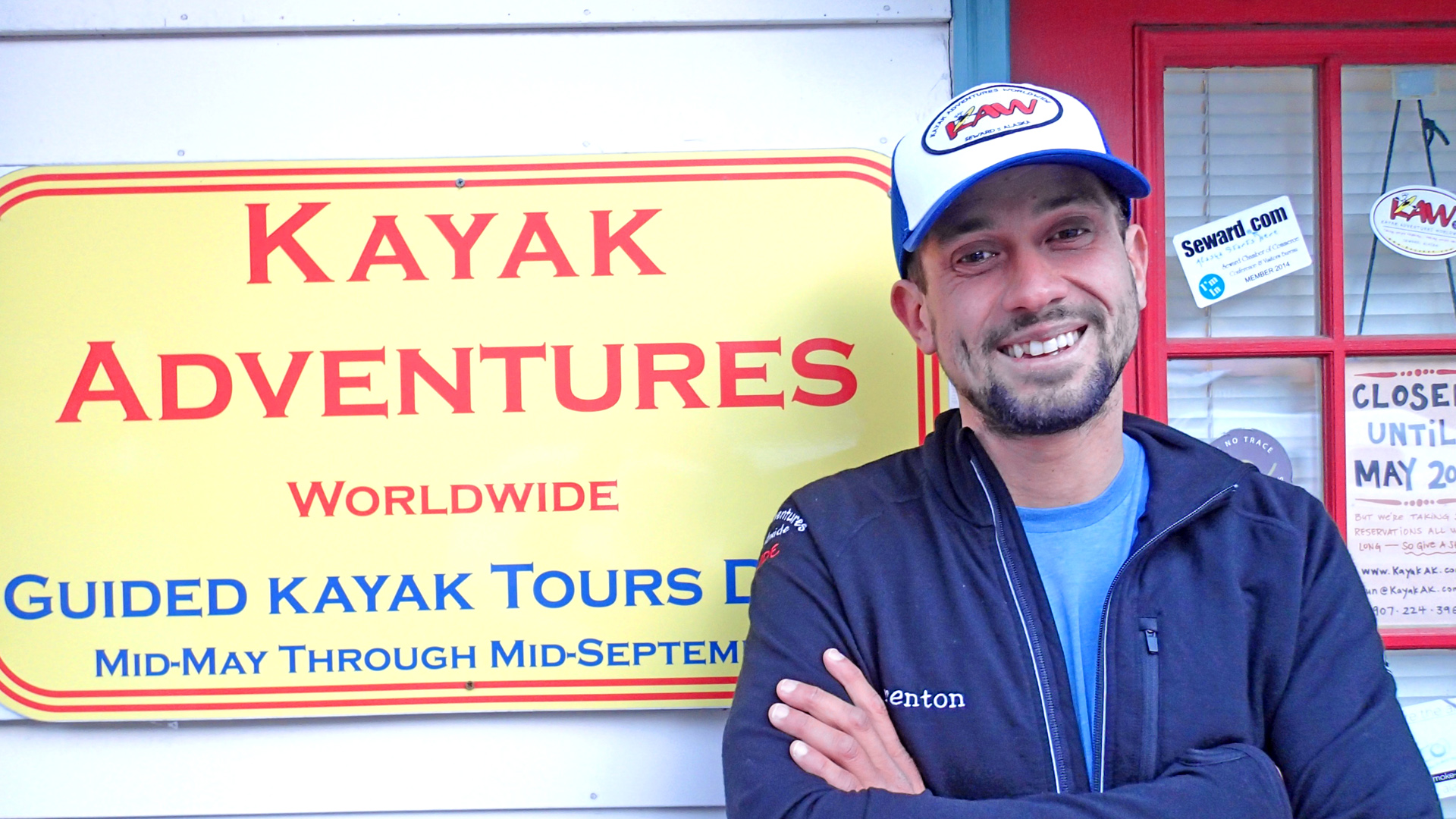 Trenton Gould, kayaker
Read more about BBC Travel's celebration of the US National Park Service's 100th Anniversary.
Along the rugged shores of Aialik Bay, in Alaska's Kenai Fjords National Park, mountains stretch up from the sea to frame glacier-carved lagoons that are only accessible at high tide. Trenton Gould navigates the coves here by kayak, timing his trips to arrive as rising waters offer passage to a sanctuary for harbour seals, sea otters, shorebirds and black bears that cruise the coast in search of salmon.
The tidal waters surrounding the Pedersen Glacier also carry icebergs that provide a surreal backdrop for paddlers exploring with Kayak Adventures Worldwide. Gould purchased the tour company in 2014 with his partner, Tess Tulley.
"At Pedersen, there is incredibly calm water with big, beautiful pieces of ice," Gould said. "You basically have ice sculptures floating all around you."
Such legendary landscapes inspired Gould to seek a job with the kayak outfitter he now owns, though he had never visited Alaska when he applied. The southern California native launched his first adventure tour business after earning a wilderness leadership degree in Vermont. Three years later, he joined a company that organizes global service trips for teenagers. Gould worked in Costa Rica, Cambodia, Uganda, Taiwan, New Zealand and elsewhere before landing a job in south-central Alaska.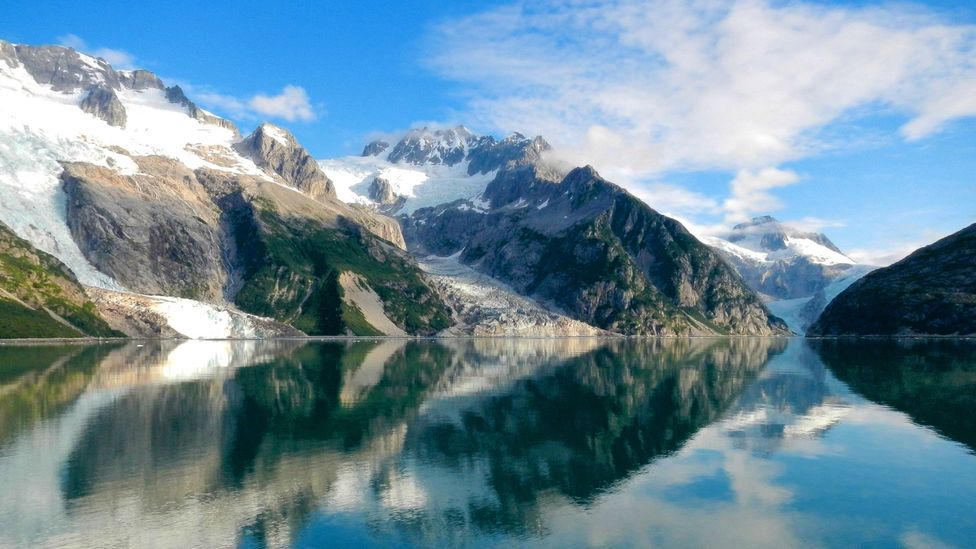 Mountains stretch up from the sea to frame glacier-carved lagoons (Credit: Kayak Adventures Worldwide)
The eco-minded outdoorsman immediately felt comfortable in small-town Seward, on the border of a national park with capes, cliffs, trails and wildlife, plus nearly 40 massive glaciers.
"I grew up surfing and spending time in the mountains," Gould said. "In Seward, I finally found a place where I no longer had to choose between the mountains and the sea."
Kayaking in Kenai Fjords National Park
Today, Gould encourages people to trade crowded tour boats for kayak paddles and experience their own natural enlightenment in Kenai Fjords National Park. "When you're kayaking, you're right on the water," he explained. "You can feel the water. You can taste it, if you want to. You can pick up pieces of glacial ice that are floating by, or even snack on seaweed."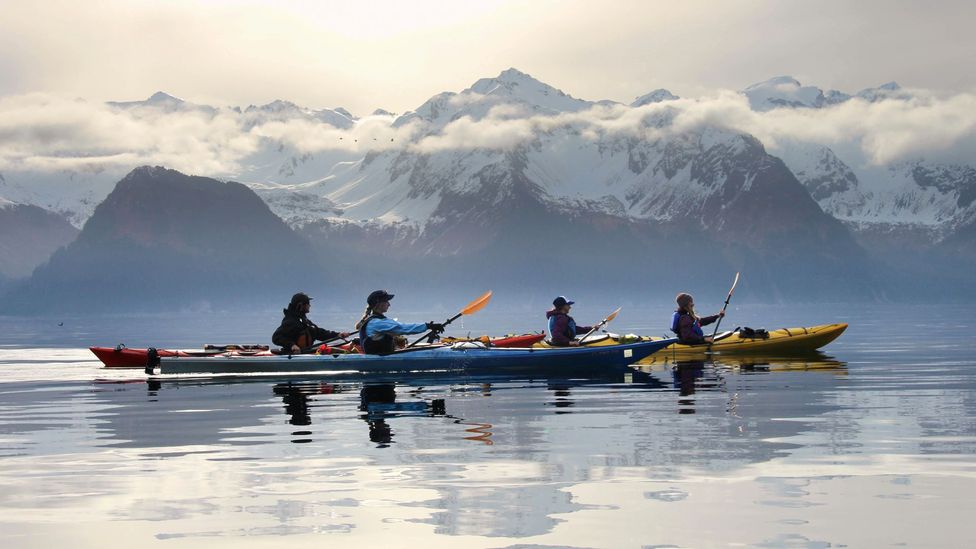 In Kenai Fjords, the water can be incredibly calm (Credit: Kayak Adventures Worldwide)
Piloting between icebergs near the Aialik Glacier remains one of Gould's favourite park experiences, both with travellers and on his own explorations. The 1.6km-wide glacier, Aialik Bay's largest, towers over the water. During active periods, chunks of ice tumble from its iconic face.
"You're paddling, and suddenly it gets really loud. The ice is cracking and the water is bubbling, and air that's been trapped in that ice for 10,000 years is escaping. You're sitting at sea level, and you can feel the water moving the kayak," Gould said.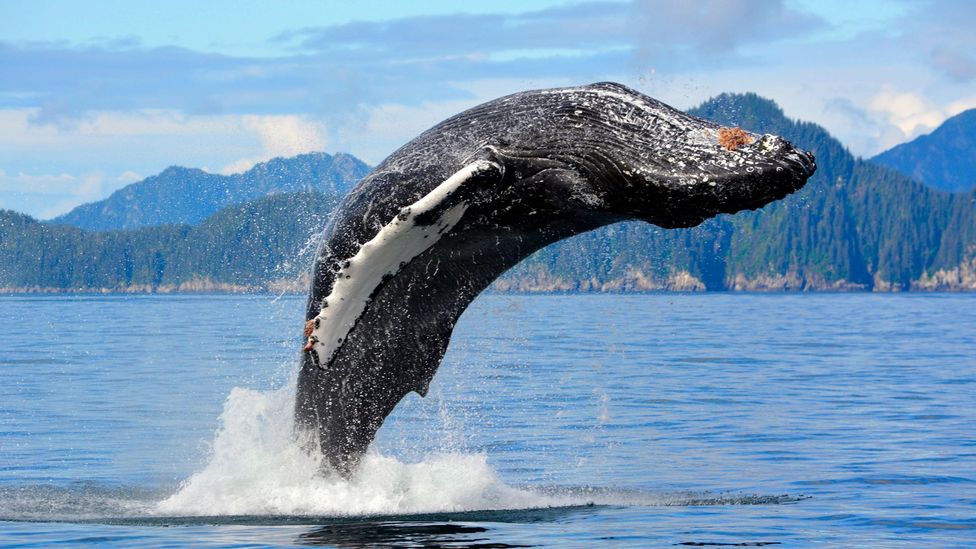 Some people see whales while kayaking in Aialik Bay (Credit: Gary Taggart)
Aialik Bay promises unforgettable adventures even on quieter days. Sea lions, sea otters and bald eagles are common, and some people see orcas and humpback whales. Spectacular landscapes surround the bay, as well.
"In late May and early June, for example, you get this amazing contrast. Wildflowers bloom at the bottom of the hill, and the alder trees are turning green. But at the top, there are jagged peaks still covered in snow," Gould said. "I've sat in front of the Aialik Glacier hundreds of times, and it's still mind-blowing... It's so wild out there."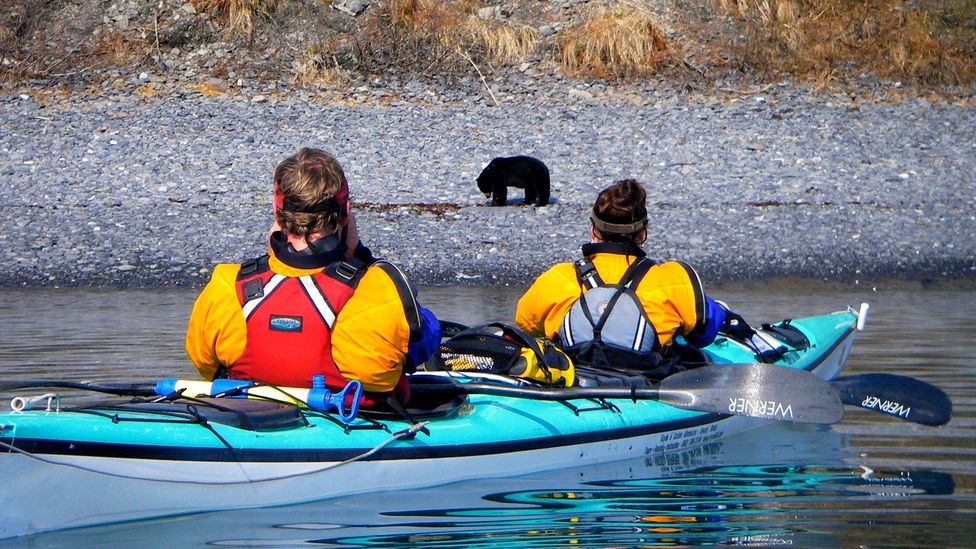 Aialik Bay is an ideal place to spot wildlife (Credit: Kayak Adventures Worldwide)
As Gould and his team provide these immersive, engaging trips, they also help travellers better appreciate Alaska's geography and natural history. Guides discuss how glaciers sustain local wildlife, and they teach people to protect the state's delicate environment. Kayak Adventures Worldwide employs a leave-no-trace philosophy, which means that guides and guests replace rocks moved during beach stops, avoid lighting campfires on overnight journeys and carry waste out of the wilderness after excursions.
"On tours, we talk about how to visit a wild place without leaving an impact – not just here in Alaska, but in general," Gould said. "When we pull up to the beach near a glacier, each person who gets off the boat should feel like they're the first person walking on that beach."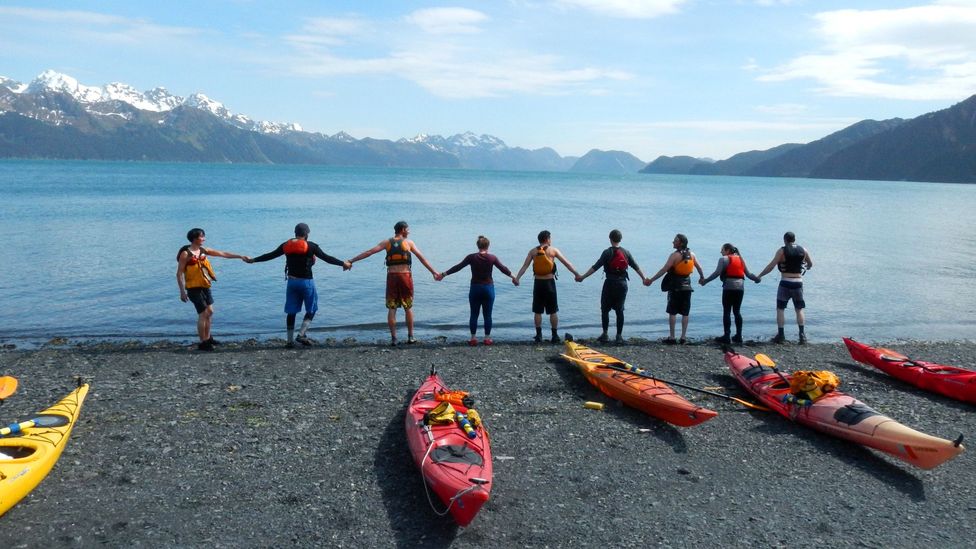 Gould's company provides immersive, engaging trips (Credit: Kayak Adventures Worldwide)

If you liked this story, sign up for the weekly bbc.com features newsletter, called "If You Only Read 6 Things This Week". A handpicked selection of stories from BBC Future, Earth, Culture, Capital, Travel and Autos, delivered to your inbox every Friday.

;