An iconic dish in a city of strange things, Currywurst "could only have been invented in Berlin because this is a city of openness and open-mindedness towards experimentation".
I
It was chilly and rainy in West Berlin on 4 September, 1949. The city was in the midst of rebuilding after being decimated in World War II, and US and British troops circulated everywhere among the rubble.
Herta Heuwer, who ran a snack bar at Kant Strasse and Kaiser-Friedrich Strasse in the city's Charlottenburg district, was bored. She had just bartered with some British troops for a small container of curry powder, giving them either alcohol or Worcestershire sauce, depending on what you read. She then mixed the curry into some ketchup, blended into the mix a sprinkle of sugar, a pinch of salt and a few drops of Worcestershire – and doused the concoction over a pork sausage. Thus, currywurst was born.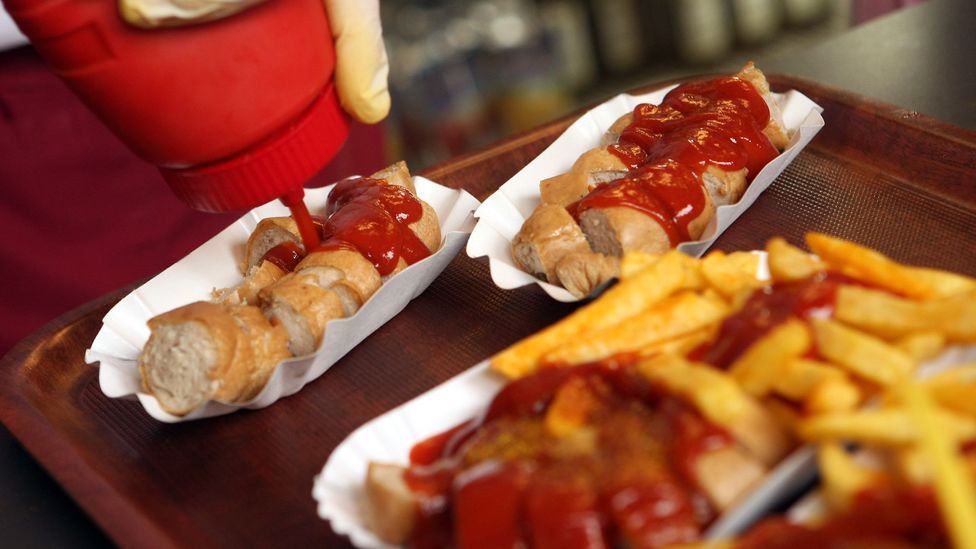 The key ingredients in currywurst are curry, ketchup and sausage (Credit: Adam Berry, Stringer/Getty)
No one is exactly sure how accurate or apocryphal this tale is, or that Ms Heuwer is even the true inventor of currywurst. But the fact is, the sausage has since been the favoured street food of Germany – particularly in Berlin – for decades. More than 850 million currywursts are consumed each year in this Central European country, 70 million in Berlin alone. A study from 2008 concluded that 80% of Germans consider currywurst a central part of their diet. Since 2009, the Deutsches Currywurst Museum has been dedicated to the dish. And if you order in advance, you can indulge in a currywurst from 30,000ft on Air Berlin. 
"What is it that's so addictively delicious about this unlikely combination of curry, ketchup and sausage?" I wondered, standing in line at Berlin's Konnopke Imbis, one of the country's most favoured currywurst purveyors.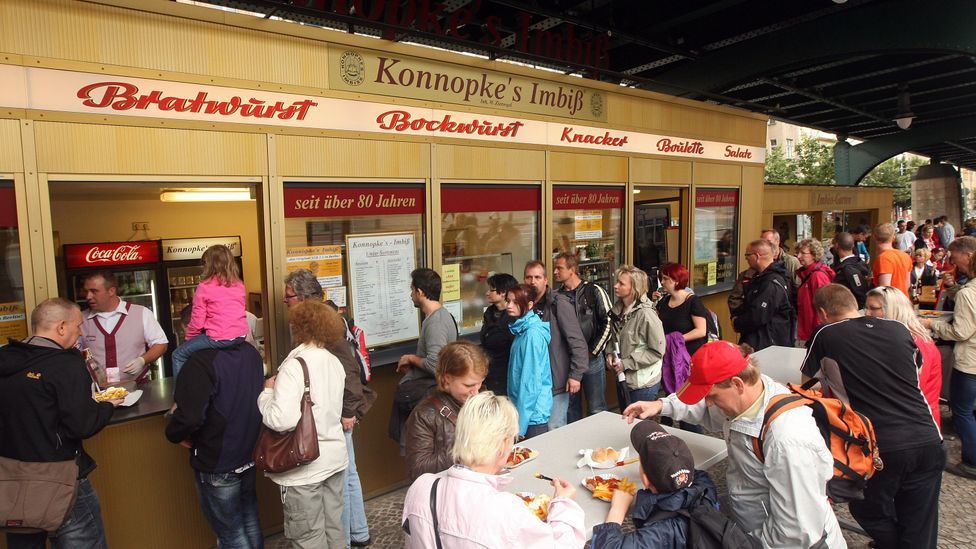 Konnopke Imbis has been serving sausage since 1930 (Credit: Adam Berry, Stringer/Getty)
I was about to find out. Within seconds of ordering, a sausage wading in a small puddle of curry-powder-speckled ketchup stared at me from a porcelain plate.
At many currywurst spots, hungry diners can choose between mit darm or ohne darm (with casing or without), but at Konnopke – which has been in the sausage-serving business since 1930, from a stand right under the elevated tracks of the U-Bahn – they only serve it without the casing. The reason? Tradition. Post-World War II Germany was a dire, ruined and impoverished country, particularly in Berlin. Resources were scarce, and sausage casings were in short supply. Hence, traditional currywurst is served without the casing.
I actually prefer the taut snap of a sausage casing, but in an attempt to eat like a local (and when not given the option), ohne darm will do. The currywurst at Konnopke came whole (it's usually sliced) and was pillow-soft and juicy. The ketchup-curry concoction, tasting slightly sweet but otherwise bland, added little to the flavour profile.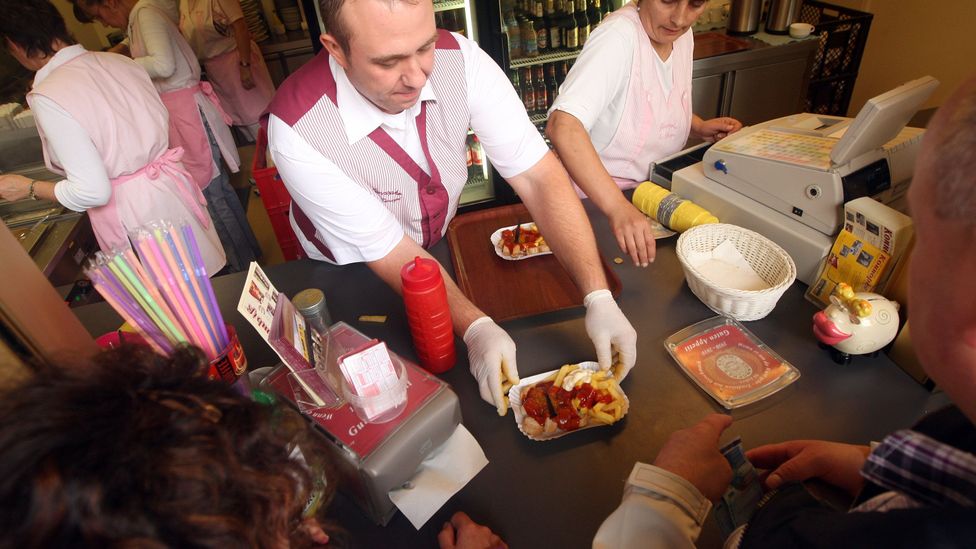 "Currywurst is the most Berlin dish of all" (Credit: Adam Berry, Stringer/Getty)
Currywurst may be the ultimate Berlin street food, but it's also served in restaurants across the city. At the Westin Grand hotel, chef Peter Hampl serves a 17 euro haute version that's served with a glass of Champagne.
"The key is the sauce," Hampl said. Every currywurst spot has its own sauce and it's usually a big secret." Hampl said it took him six months of experimenting with the sauce to get it right. I took a bite of the currywurst – which came unsliced, with its casing – and doused it with sauce. The taste was bolder than the one I'd tried at Konnopke. "Salt, sugar, Worcester sauce… " I began guessing the ingredients. Hampl laughed.
"That's three," he said. "There is also butter and paprika. The real 'secret' ingredient in it is Coca-Cola. It adds some zing and freshness to the sauce."
Take away the cultural and historical context of currywurst and it's a very odd thing. As the Currywurst Museum points out in its permanent exhibition, there are currywurst spots all over the world. But I'm not sure that eating the ketchup-doused snack outside of Germany really makes much sense. Like understanding how David Hasselhoff's music was so wildly popular in Germany, you have to understand the culture and history behind the dish to really appreciate it.
850 million currywursts are consumed each year in Germany (Credit: Martin Deja/Getty)
A few days later I was standing in front of Curry 36 in Berlin's Kreuzberg district with Stefan Elfenbein, one of the city's most well-known food critics and a writer for acclaimed food magazine Der Feinschmecker.
"A big part of the currywurst experience isn't even in the taste," said Elfenbein. "It's about standing at the tall tables in front and chatting with people. You end up talking with people from all levels of society."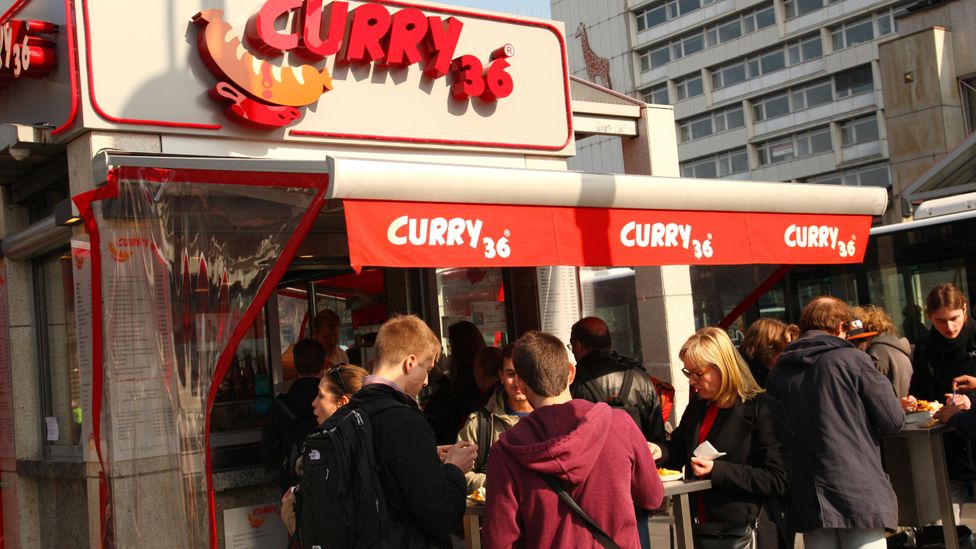 Standing and chatting with strangers is part of the currywurst experience (Credit: DPA Picture Alliance/Alamy)
The restaurant, conveniently located around the corner from Elfenbein's apartment, is his favourite in the city. "There can't be too much curry," he said, when I asked for the key to a good currywurst. "There has to be a balance of flavours." Curry 36 ups the ante by offering a "bio wurst", an organic sausage that is plump, tender and bursting with flavour. The sauce was sweeter than most and the curry was subtle, but Curry 36's version was the best I'd tried so far. Doused with ample amounts of curry, the sausage had an almost silky texture to it.
"Currywurst is the most Berlin dish of all," said Elfenbein. "It could only have been invented in Berlin because this is a city of openness and open-mindedness towards experimentation."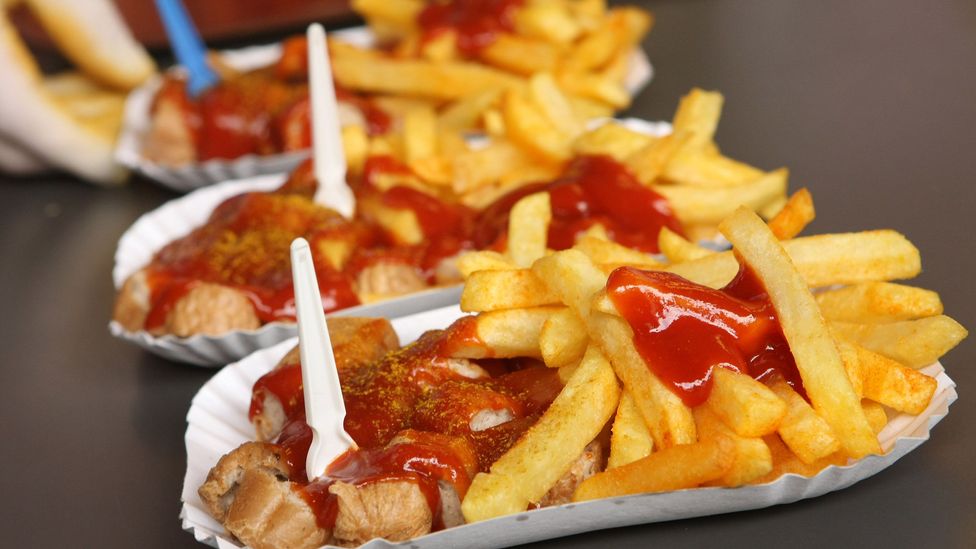 Currywurst is so iconic to Berlin, there is even a museum dedicated to it (Credit: Adam Berry, Stringer/Getty)
I thought about Berlin's long reputation as being a haven for artists and a bohemian haunt for debauchery. The connection all the way down to the currywurst made sense.
"Berlin," Elfenbein said, "is a city made up of strange things that don't fit together elsewhere. Including the currywurst."
If you liked this story, sign up for the weekly bbc.com features newsletter, called "If You Only Read 6 Things This Week". A handpicked selection of stories from BBC Future, Earth, Culture, Capital, Travel and Autos, delivered to your inbox every Friday.