Although many people still view Bosnia with trepidation, its dramatic landscapes and singular history are making it an increasingly popular destination.
"This is the bridge where the war started," said Mustafa as we crossed over the sparkling Miljacka River that divides the Bosnian city of Sarajevo.
I had walked over this bridge before, just to admire the view, but had not realised its significance: on the afternoon of 6 April 1992, this is where snipers mowed down two young women as they joined a peace march. Multi-ethnic strife disintegrated into full-blown war as Serbs laid siege to Sarajevo and began killing Muslims and Croats as they tried to carve out a Serb Republic.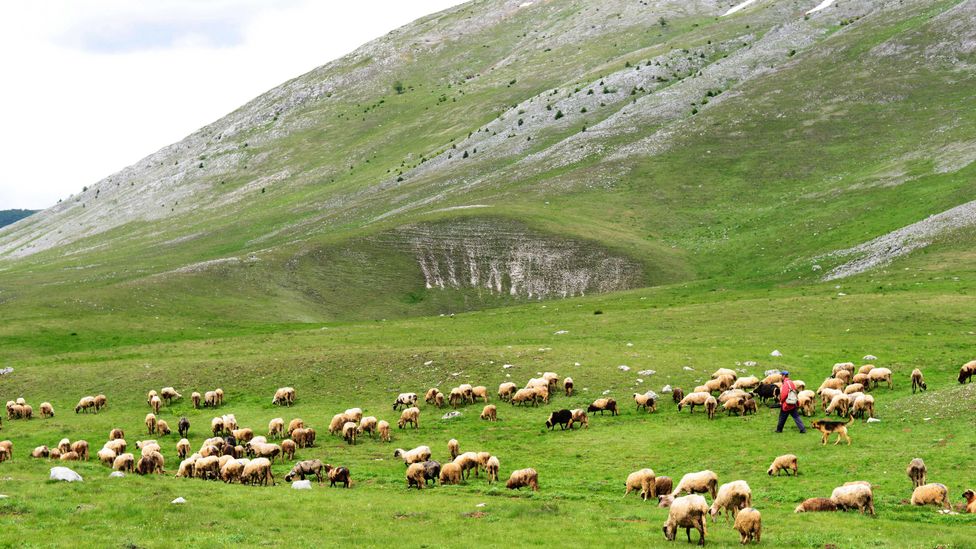 The landscapes of the Dinaric Alps are dramatic and gorgeous (Credit: Boaz Rottem / Alamy)
It was just one more marker in a picturesque city engraved with many dark memories. And on this day, it was the starting point of my journey with a man, who like most Bosnians, has spent the two decades since the war reconstructing his peace.
Mustafa, my guide, was only 17 when the Bosnian War began, but he still defended his Sarajevo neighbourhood when Serbian forces began shelling his apartment building. A Bosniak, or Bosnian Muslim, he fought alongside the Catholic Croats and Orthodox Serbs of Sarajevo against Serbian nationalists who wanted to take over all these lands to create a Greater Serbia.
With his blue eyes, close-cropped hair and Balkan good looks, he could be his own action hero. He studied to be a dentist after the war, but the cost of setting up his practice was prohibitive. Instead, he became a tour guide who makes his living sharing the stories of war and the places of peace that his exquisite country has to offer.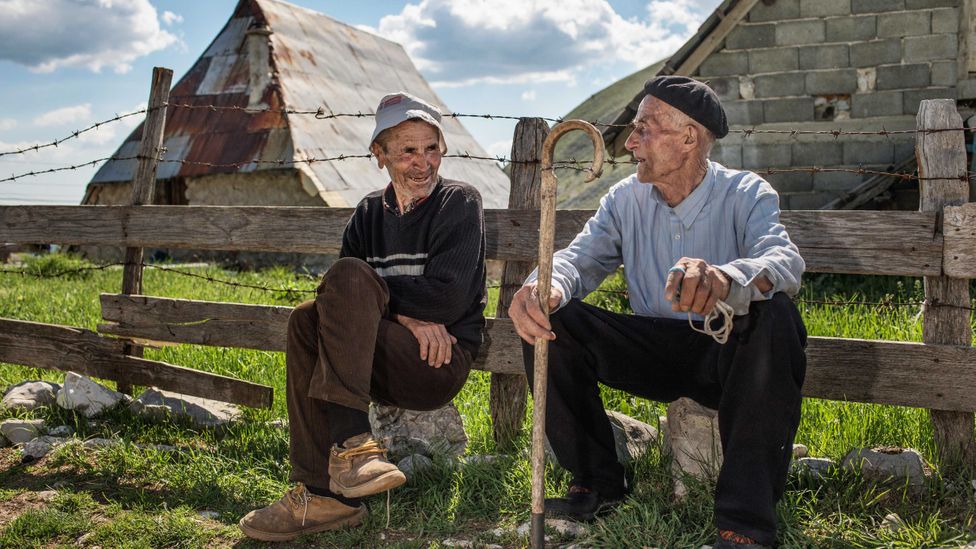 Two old men chatting in Lukomir, the most remote village of Bosnia and Herzegovina (Credit: Roberto Nistri / Alamy)
We were headed 111km southeast of Sarajevo into the highlands to Lukomir, Bosnia's highest and most remote village and a little window into the country's past. Here, villagers still wear traditional hand-knitted clothing and tend their flocks as they have for centuries. The village was one of only two in these highlands that survived the razed-earth offensive of the Serbian forces, who destroyed 13 such villages in the region. Lukomir means "harbour of peace"– a name that has remained relevant in the historically contentious Balkan country.
It's been 21 years since the end of the violence unleashed by the disintegration of the former Yugoslavia, but the war remains a central theme for visitors and locals alike. Although many people still view the country with trepidation, its dramatic landscapes combined with its singular history are making it an increasingly popular destination.
In fact, Mustafa's bright green T-shirt said it all: "Have you ever heard a boring person say, 'Let's go to Bosnia'?" it said on the front. On the back, the tongue-in-cheek response: "Exactly. Bosnia-Herzegovina: Are you brave enough?"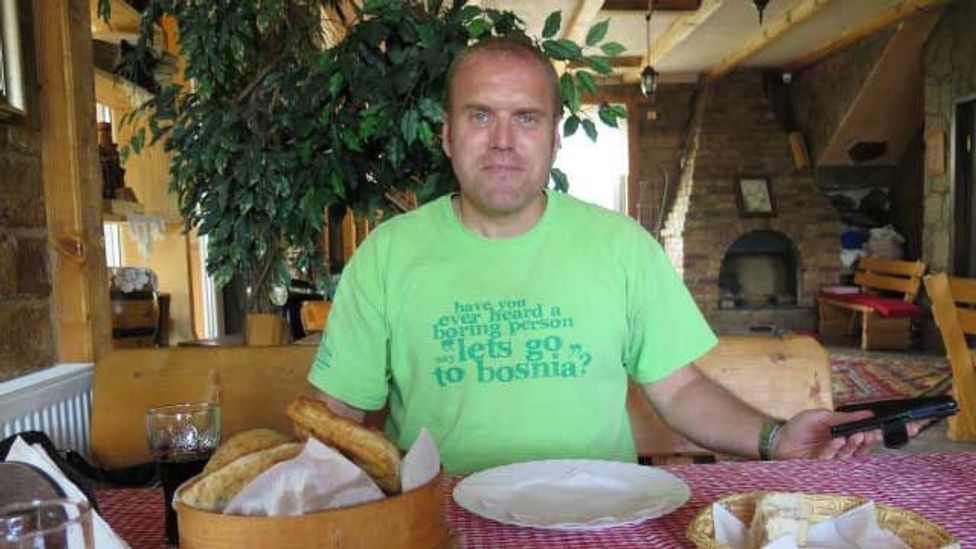 Mustafa was only 17 when the Bosnian War began - today he is a tour guide telling tales of peace (Credit: Tracy L Barnett)
Mustafa is one of the collaborators of Green Visions, an innovative, community-based ecotourism company that created this T-shirt and promotes the idea behind it. Green Visions played a key role in the creation of the nearly 2,000km-long Via Dinarica since its first leg opened in 2010. This mega trail runs from Albania to Slovenia traversing the region's principle range, the dramatic Dinaric Alps. I'd planned to hike a section of the trail to Lukomir, but due to weather and time restraints, we opted to drive instead.
Soon after leaving Sarajevo, Mustafa and I entered a pine and hardwood forest alive with wildflowers and dense, verdant growth. We passed through Babin Do, the Olympic ski resort where the United Nations had one of its bases during the war. In 1984, Mustafa told me, these were much happier times; the mountains near Sarajevo were the site of the Winter Olympics, including the massif that was our destination, Bjelašnica Mountain.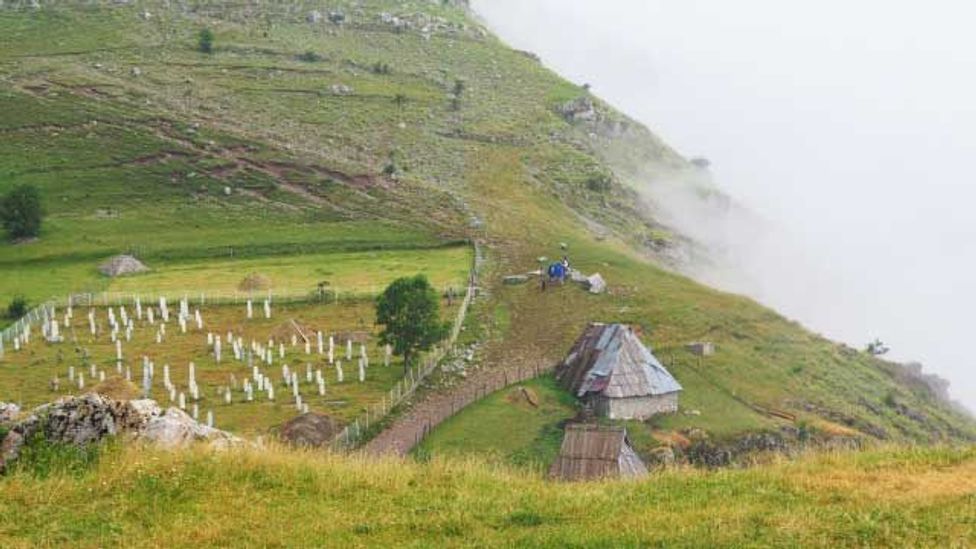 Life moves slow in Lukomir (Credit: Tracy L Barnett)
(Credit: Tracy L Barnett)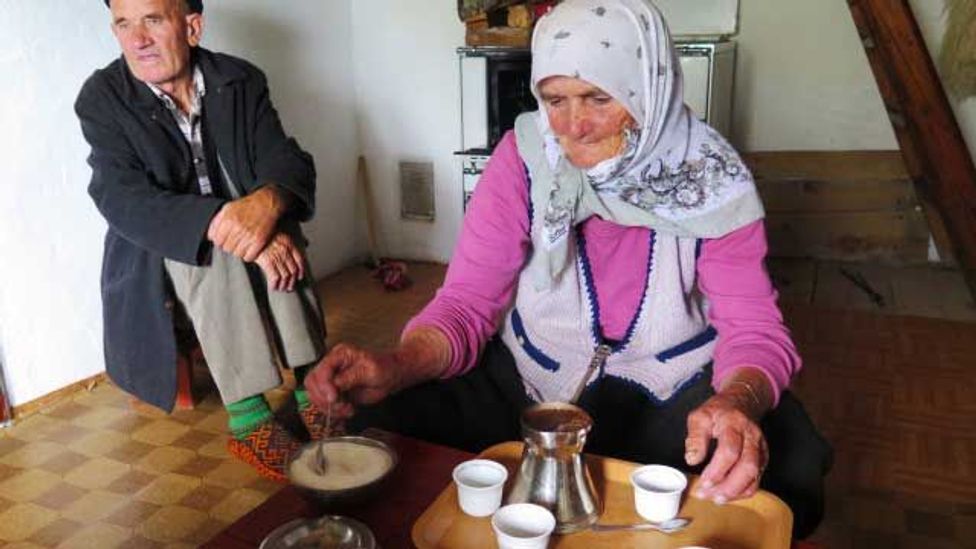 Most of the residents in Lukomir are elderly, but content with their way of life (Credit: Tracy L Barnett)
(Credit: Tracy L Barnett)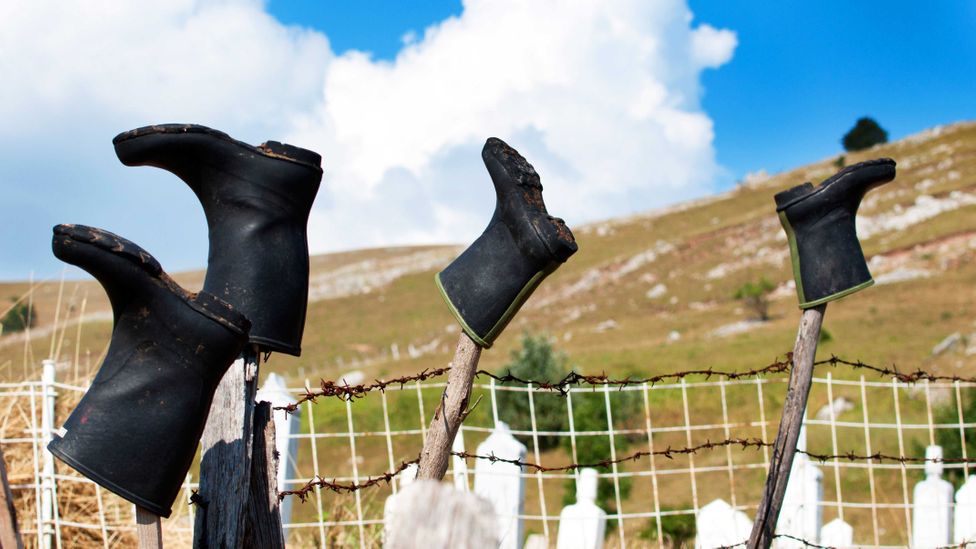 Boots drying on poles in Lukomir (Credit: Roberto Cornacchia / Alamy)
(Credit: Roberto Cornacchia / Alamy)
A pastor stands in the pastures of Lukomir (Credit: Alessandra Gaeta / Alamy)
(Credit: Alessandra Gaeta / Alamy)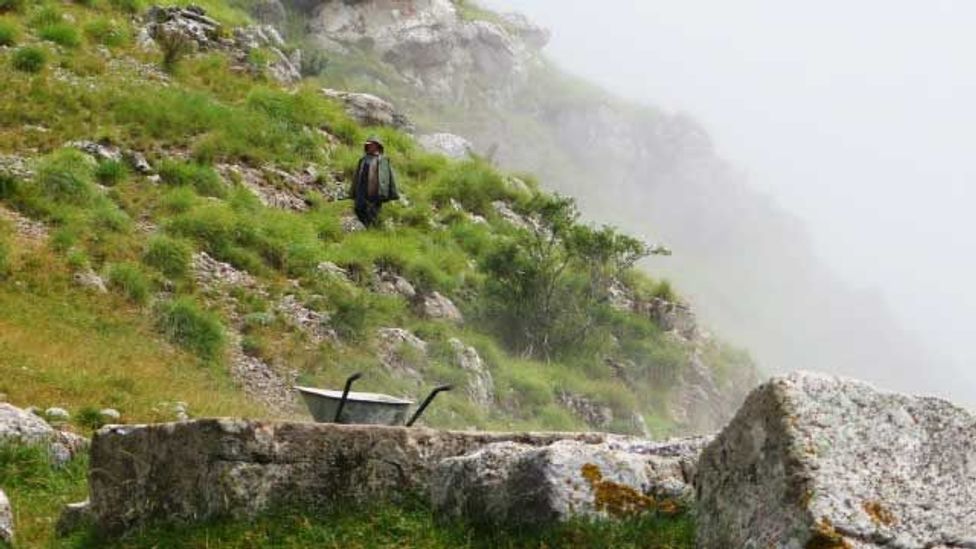 A man treks through the fog in the village of Lukomir (Credit: Tracy L Barnett)
(Credit: Tracy L Barnett)
A new trail is born
In 2010, Green Visions teamed up with the Montenegrin Center for Sustainable Tourism Initiatives to develop a corridor that connected Sutjeska National Park in Bosnia and Herzegovina with Durmitor National Park in Montenegro – and thus, the Via Dinarica was born.
Now the network of trails has grown to nearly 2,000km, stretching from Slovenia to Albania, and it's been hailed as one of the world's best new hikes by Outside Magazine, Wanderlust and The Guardian.
Now, with the trail on the global backpacker's radar screen, more international trekkers have begun to materialize. In 2014, the Via Dinarica Alliance was created to link tour groups, adventure companies and other small regional businesses, which has fostered bonds between people of all ethnicities.
The landscape opened up to a green valley surrounded with rugged peaks. To our left, Mustafa pointed out Treskavica Mountain, his favourite place to go hiking before the war. A foggy mist hung over the magnificent peak's crown. He recalled hiking up one winter day and playing football on the slick frozen surface of one of Bosnia's many crystalline mountain lakes. He hasn't been back since the war, he said, because that mountain, along with many others, is still mined with explosives. Green Visions is working with local mountaineering clubs and others to track which areas are still mined and which are safe, and these mountains are slowly becoming the domain of trekkers and other outdoor adventure enthusiasts once more.
As we wound our way up towards Bjelašnica Mountain, the landscape took on a timeless character. A light mist fell, and a shepherd with a pink umbrella minded his flock. Miles of rolling green pasture were marked with old stone fences. Land mines and military manoeuvres seemed an incongruous fantasy.
We stopped on a ridge top to look across the valley at the massive flanks of Bjelašnica. Thirteen villages dotted across this massif were burned down during the war, Mustafa told me; Lukomir and one other, Čuhovići, which lies behind it, were the only ones to survive. Their remoteness was their strength; the Bosnian army was able to stop the Serbs on their destructive march through the region before they reached Lukomir.
We seemed to be entering the clouds as we ascended, and finally, the tiny town emerged into view. A light scent of animal dung mixed with wood smoke pierced the cool air, and small stone-and-wood houses hugged the ground as if to hunch against the wind, their strange sharp roofs pointing heavenward. Most were covered with rusted metal sheets, used to extend the lives of the hand-hewn, cherrywood shingles.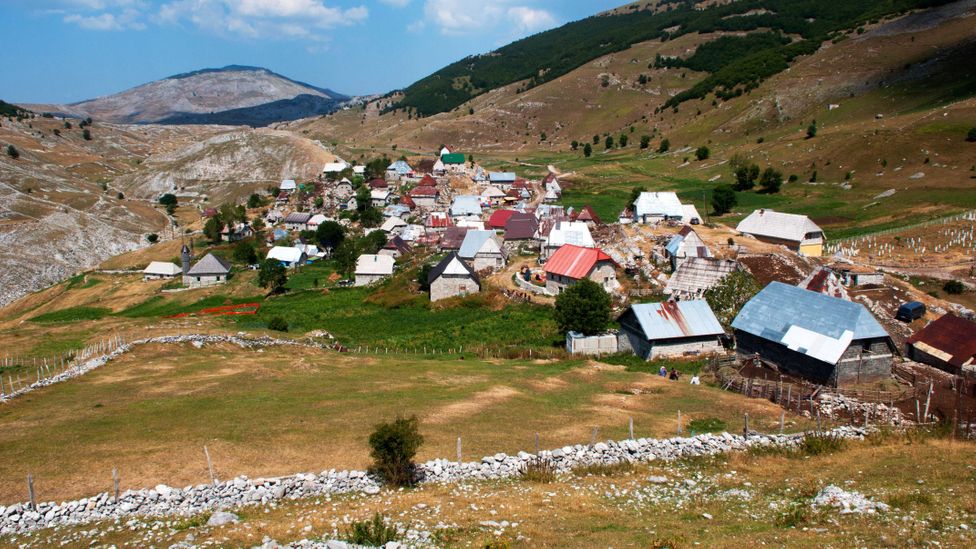 Dwellings with metal sheet roofs - these roofs extend the lives of the hand-hewn, cherrywood shingles (Credit: Roberto Cornacchia / Alamy)
Mustafa took me to meet a pair of the village elders – indeed they are all elders here, as the younger generations have gone away to the cities to seek jobs and a more modern way of life. Fewer than 20 people live here permanently now. Rahima, her weathered face beaming under a knotted scarf, invited us into her small home with a smile; she wore the loose, black wool trousers and colourful knitted socks traditional to this region. Her husband, Vejsil, rose to greet us; he wore a black beret and orange-and-green knitted socks. The sheepskin on the wall was a warm reminder of their shepherd past.
Rahima busied herself at her old cast-iron stove making traditional Bosnian coffee as she and Mustafa shared stories of their children. She and Vejsil told us about the winters there, when the deep snows render the village completely inaccessible for up to six months. For the last couple of years, they've gone down to spend winters with their children in Sarajevo. But for most of their lives, they had to put away food and supplies to last them for the whole winter. They told of the years during the war, when they were isolated for long stretches – times were hard, but now they content themselves with the gentle rhythms of village life.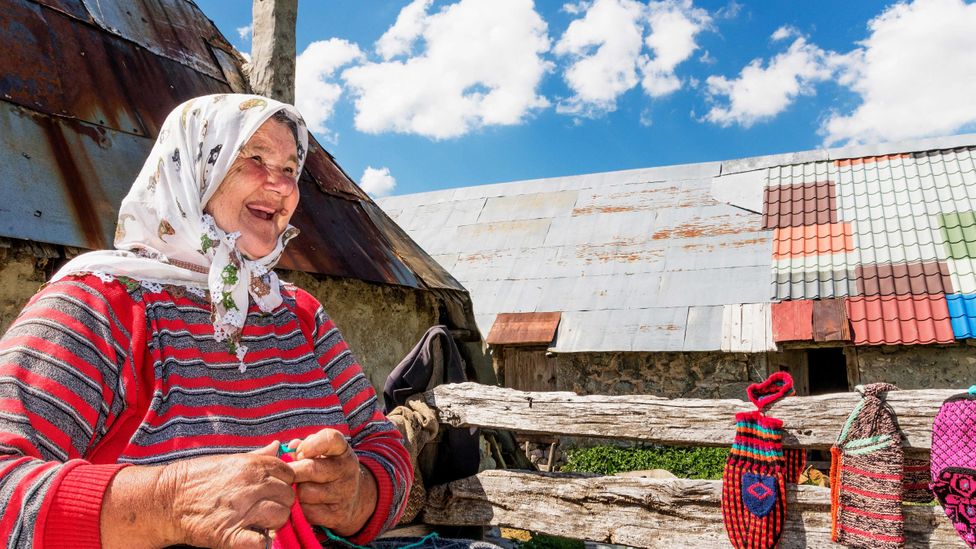 Those who live in Lukomir content themselves with the gentle rhythms of village life (Credit: Alessandra Gaeta / Alamy)
Soon it was time for prayers, and Vejsil excused himself to wash and prepare. We bade our farewells and passed under the Arabic blessing inscribed on the lintel. Rahima gave us a sweetbread and homemade feta cheese for the road.
We climbed up to the precipice where stecci – tombstone monuments of the old Bosnian kingdom that were recognized this year as a Unesco World Heritage Site – have lain since medieval times. The tinkle of bells sounded in the distance as a shepherd tended his flock. The mists were beginning to clear and I got a glimpse of the green mountains on the other side of the precipice on which this precarious village is perched; it felt as if we had arrived at the end of the world.
Mustafa described to me the faraway vistas he has seen on blue-sky days, then grew quiet.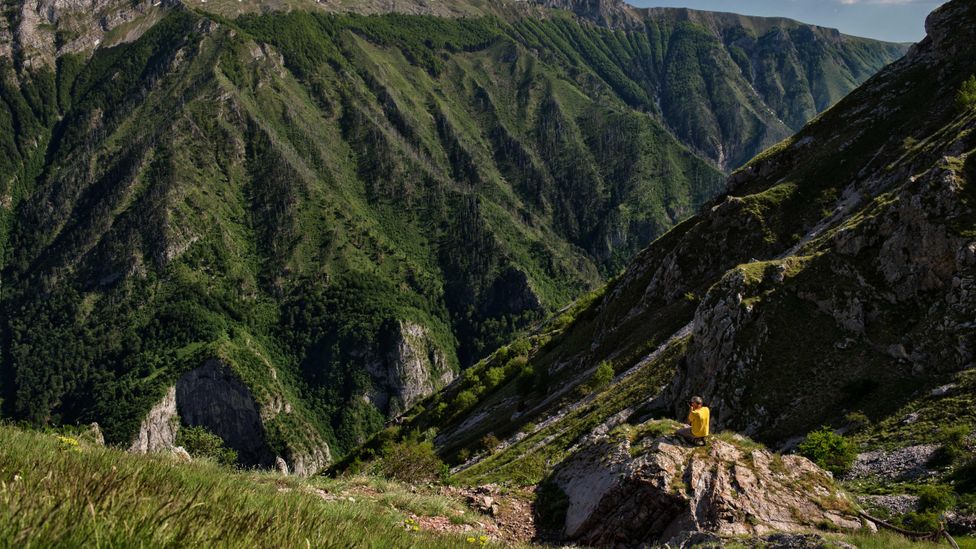 Admiring the vastness of the mountains near Lukomir (Credit: Roberto Nistri / Alamy)
"Sometimes when the hikers are doing their thing, I'll just come out here and watch the clouds go by – just for the pleasure of it," he said. "This is my place of peace."
If you liked this story, sign up for the weekly bbc.com features newsletter, called "If You Only Read 6 Things This Week". A handpicked selection of stories from BBC Future, Earth, Culture, Capital, Travel and Autos, delivered to your inbox every Friday.