Dressed in traditional maroon robes modified in the style of karate uniforms, the nuns' smiling faces conceal an incredible energy and strength.
I
It was barely 5am, but at Druk Gawa Khilwa nunnery in Kathmandu, Nepal, the nuns were already practicing Kung Fu.
With one leg folded forward and the other one stretched out backward, they lunged in the air repeatedly, striving for perfection in a series of impeccable kicks. Cries of energy punctuated each movement, a shrill accompaniment to the booming drums. Dressed in traditional maroon robes modified in the style of karate uniforms, the women's smiling faces concealed an incredible energy and strength.
These are the Kung-Fu nuns: Nepal's only female order to practice the deadly martial art made famous by Bruce Lee. In the inherently patriarchal Buddhist monastic system, women are considered inferior to men. Monks usually occupy all positions of leadership, leaving nuns to the household duties and other tedious chores. But in 2008, the leader of the 1,000-year-old Drukpa lineage, His Holiness The Gyalwang Drukpa, changed all that.
In 2008, The Gyalwang Drukpa started encouraging his nuns to learn self-defence (Credit: Prakash Mathema/Getty)
After a visit to Vietnam where he saw nuns receiving combat training, he decided to bring the idea back to Nepal by encouraging his nuns to learn self-defence.
His simple motive: to promote gender equality and empower the young women, who mostly come from poor backgrounds in India and Tibet.
Every day, 350 nuns, aged between 10 and 25, take part in three intense training sessions where they practice the exercises taught to them by their teacher, who visits twice a year from Vietnam.
As well as perfecting their postures, they handle traditional weapons, such as the ki am (sword), small dao (sabre), big dao (halberd), tong (lance) and nunchaku (chain attached to two metal bars).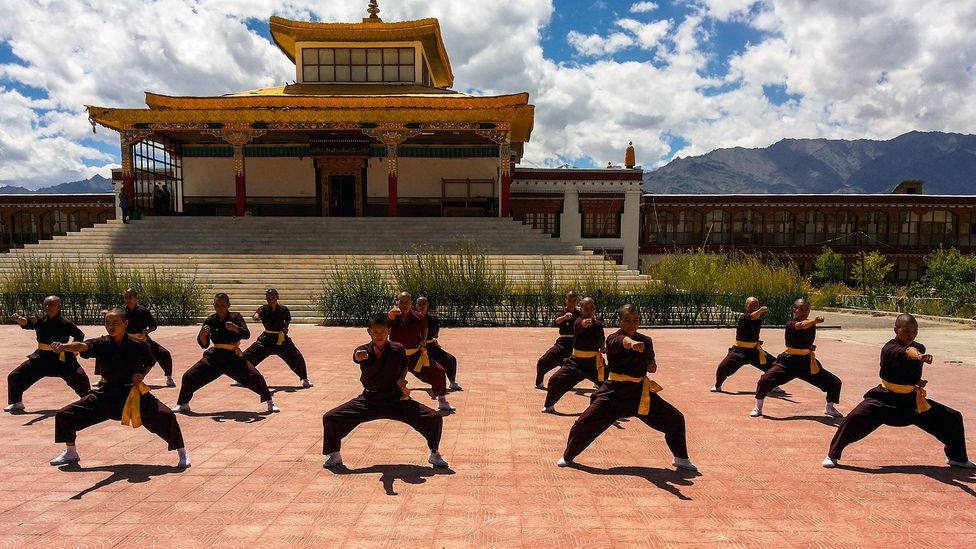 350 young nuns practice Kung-Fu exercises every day (Credit: Swati Jain)
Those with exceptional physical and mental strength are taught the brick-breaking technique, made famous in countless martial arts movies, which is only performed on special occasions like His Holiness' birthday.
The nuns, most of them with black belts, agree that Kung Fu helps them feel safe, develops self-confidence, gets them strong and keeps them fit. But an added bonus is the benefit of concentration, which allows them to sit and meditate for longer periods of time.
Jigme Konchok, a nun in her early 20s who has been practicing Kung Fu for more than five years, explained the process:
"I need to be constantly aware of my movement, know whether it is right or not, and correct it immediately if necessary. I must focus my attention on the sequence of movements that I have memorized and on each movement at once. If the mind wanders, then the movement is not right or the stick falls. It is the same in meditation."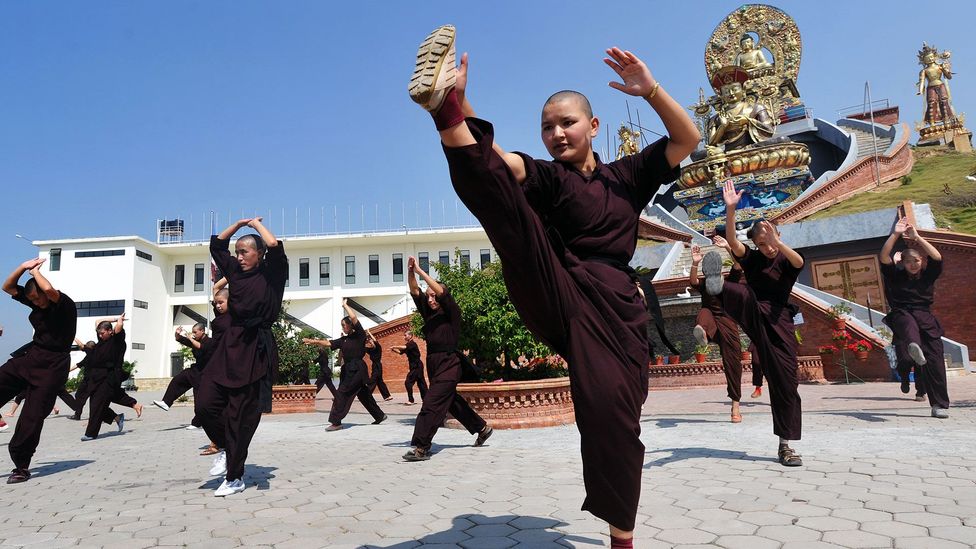 The martial art helps the women feel safe, strong and confident (Credit: AFP/Getty)
In the name of gender equality, The Gyalwang Drukpa also encourages his nuns to learn traditionally masculine skills, such as plumbing, electrical fitting, typing, cycling and English. Under his guidance, they're taught to lead prayers and are given basic business skills – typically work done by monks – and they run the nunnery's guesthouse and coffee shop. The progressive women even drive 4X4s down Druk Amitabha mountain to Kathmandu, about 30km away, to get supplies.
Imbued with a new confidence, they are starting to use their skills and energy in community development.
When Nepal was hit with a massive earthquake in April 2015, the nuns refused to move to a safer area and instead trekked to nearby villages to help remove rubble and clear pathways. They distributed food to the survivors and helped pitch tents for shelter.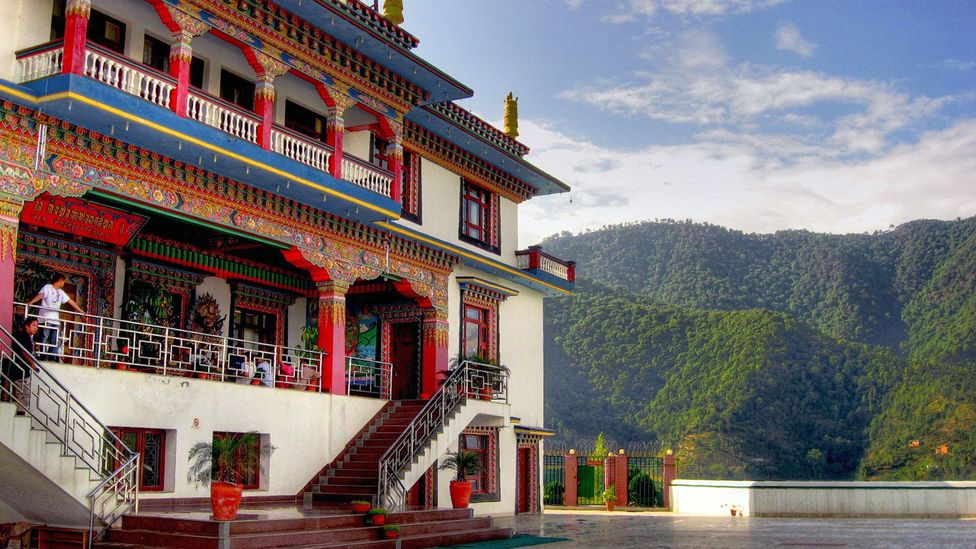 The nuns use their skills in community development (Credit: Dhilung Kirat/Flickr)
Early this year these nuns – led by His Holiness himself – cycled 2,200km from Kathmandu to Delhi to spread the message of environmental awareness and encourage people to use bicycles instead of cars.
And when the nuns visit areas plagued by violence, like Kashmir, they deliver lectures on the importance of diversity and tolerance.
Foremost on the nuns' agenda, however, is the promotion of female empowerment.
"Kung Fu helps us to develop a certain kind of confidence to take care of ourselves and others in times of need." Konchok explained.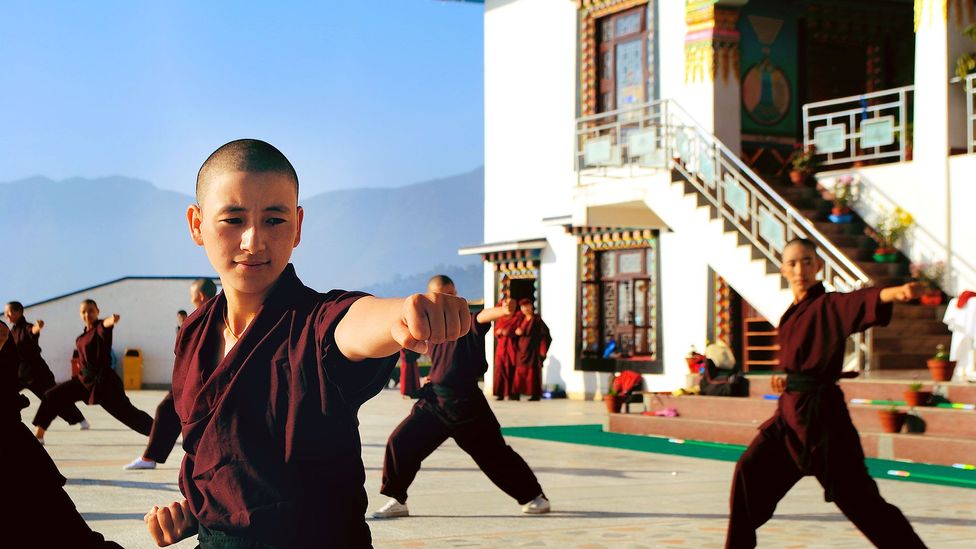 By practicing traditionally masculine skills, they promote female empowerment (Credit: Swati Jain)
If you liked this story, sign up for the weekly bbc.com features newsletter, called "If You Only Read 6 Things This Week". A handpicked selection of stories from BBC Future, Earth, Culture, Capital, Travel and Autos, delivered to your inbox every Friday.