The most surprising one: the importance of letting the fairies out of the bread before baking to ensure good luck.
F
For decades, I assumed the cross my Irish grandmother cut into the top of her round loaves of soda bread in her upstate New York farmhouse was a traditional blessing. It was a natural conclusion since her bread was as soul-sustaining as communion at an Irish Catholic mass. So I was astounded to learn that the bread cross had a far more ancient – and superstitious – purpose.
When I asked master baker Mary Gleeson, co-owner of Gleesons Restaurant & Rooms in the Irish town of Roscommon about the cross tradition, she answered without hesitation: "You have to cut a cross in the dough to let the fairies out."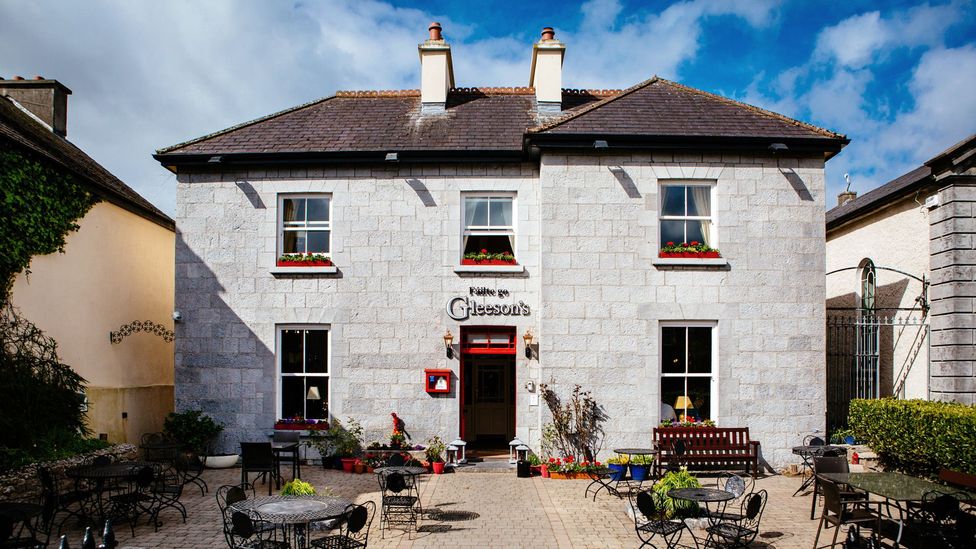 Four types of soda bread are offered at Gleeson's restaurant (Credit: Gleesons Restaurant & Rooms)
"What happens if you don't?" I asked.
"I don't know, we're scared not to," she replied, followed by a self-conscious giggle.
Soda bread has always held mystery for me. My grammy didn't use a recipe and never measured ingredients. In fact, she didn't even use utensils. She merely dumped flour on the Formica kitchen table and used a throwing-in method that was so fast it was like a slight-of-hand magic trick. She'd say, "Katie, some day you're going to have to do this on your own." Yet when the day came, the ingredient measurements I'd taken down during her eyeballed baking process were not enough, and my bread was tough and dense.
This handmade bread was the core sustenance for my large Irish-American family, part of our shared experience, and its absence was as notable as the void left by my grandmother. So I headed to the Emerald Isle to learn the secrets of the bread bakers.
Bread-baking pilgrimage
In Gleeson's restaurant, there are four types of soda bread and five types of scones offered. The bread is so renowned that she's presented it at embassy events in the United States and food shows in Europe. When I explained my plight to Gleeson, she said she'd also learned the throwing-in method from her granny and admitted it took time to perfect. Then she said, "Come back to me in a week when it's quiet and I'll teach you how to make soda bread. You'll not leave until you've got it down."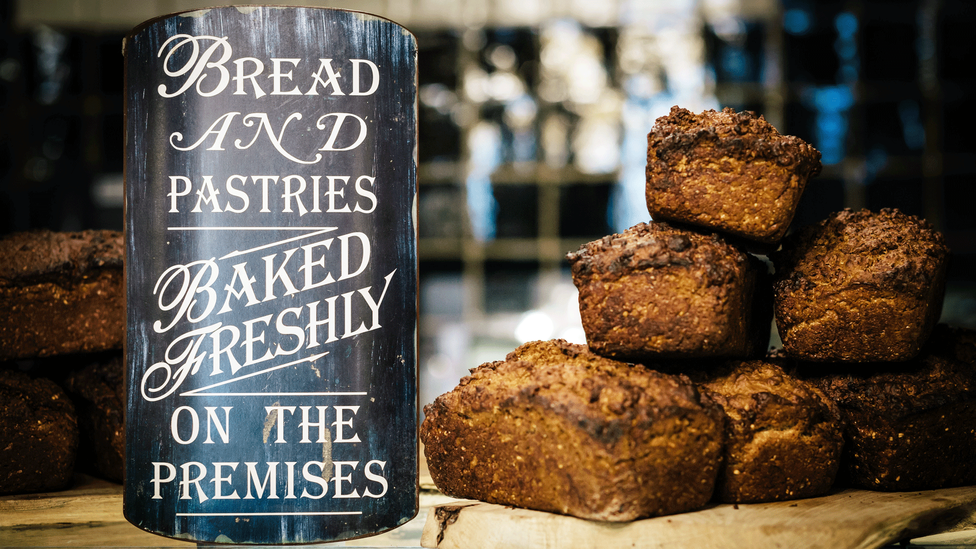 'No two soda breads are the same' (Credit: Gleesons Restaurant & Rooms)
In the meantime, she sent me off to another master baker, Peter Ward of Country Choice in the town of Nenagh, County Tipperary. When I arrived, the counters in the busy cafe were loaded with rustic soda bread loaves with a thick crust. It didn't look like my grammy's bread, but it was delicious.
"No two soda breads are the same," said Ward, adding that he and his wife, Mary, make completely different bread with the same ingredients. Brown soda bread, full of healthy grains, has always been the most popular version in Ireland. But you see all sorts in cafes and bakeries, from crusty white to loaves made with herbs, Guinness, treacle and walnuts or even seaweed. Yet I never found soda bread like my grammy's: slightly sweet, savoury with caraway seeds and full of raisins.
Ward told me that soda bread with raisins is known as Spotted Dog or Spotted Dick, rarely seen these days in Ireland, and caraway seeds are an ingredient of the past. That news made me even more  determined to revive my ancestral bread.
Long ago, the Irish mostly made flat griddle bread, Ward explained, because Irish flour didn't have enough gluten to rise with yeast. Baking soda was developed in the US in 1846 and was quickly adopted by Irish cooks, as it enabled bread with Irish flour to rise. In the late 1800s, white Canadian flour with a higher gluten content came over on returning emigration ships, and bakeries started making white bread raised with yeast, known as "shop bread", and distributing it by horse and cart.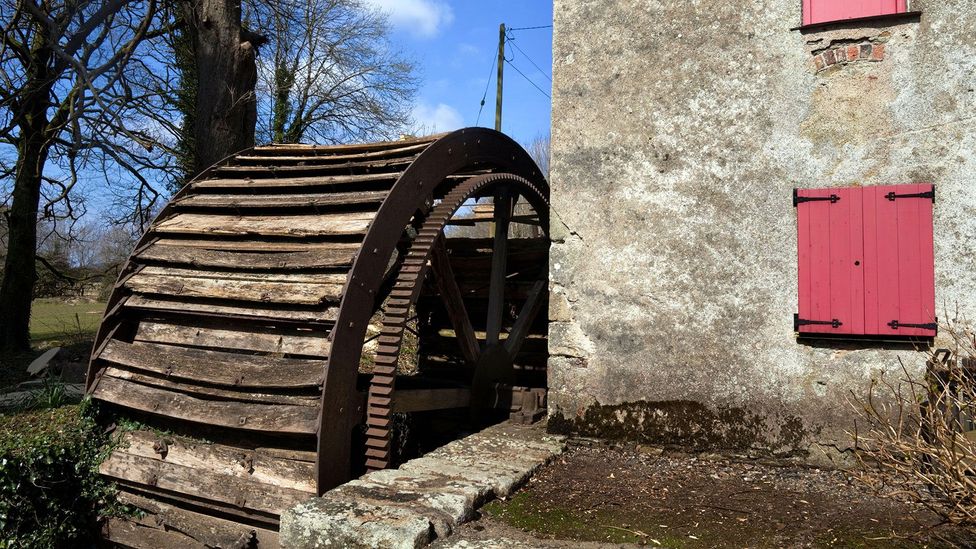 Flour mills used to be powered by water wheels (Credit: George Munday/Alamy)
"Everyone loved soda bread at home, but it wasn't fashionable," Ward said, adding it revealed you were too poor to buy shop bread. Brown soda bread started its comeback paired with smoked salmon on luxury hotel menus in the 1960s, and was fully restored to popularity with the artisan food movement about 20 years ago.
Difference in the details
The flour makes a big difference, according to Ward, as it affects the flavour and texture; he uses extra-coarse wholemeal flour made in Macroom, County Cork. He urged me to visit what he calls "The Shrine", the historic flour mill where miller Donal Creedon stone grinds wheat the way his family has done since 1832.
I was mesmerized by the ingenuity of the centuries-old mill that was powered by water wheels until the 1950s. Wooden containers lifted grain in a conveyor system, and massive mill stones ground large quantities of grain. Creedon works this three-storey mill alone and knows intuitively when the coarseness is just right.
Macroom flour is hailed by top Irish chefs, including Declan Ryan, who earned Ireland's first Michelin star at his Cork restaurant, Arbutus Lodge.
Mary Gleeson's brown soda bread
Ingredients:
250g wholemeal flour, coarsely ground
125g white flour
60g wheat bran
70g pinhead oatmeal
2 tsp baking soda, sieved
Pinch of salt
2 tbsp honey
600ml buttermilk
Mix dry ingredients and aerate. Add the honey to the buttermilk and mix. Make a well in the centre of the flour and add most of the buttermilk. Mix quickly until just moistened, adding buttermilk as needed for a wet consistency. Turn dough onto a floured board and round it up gently, making it two inches thick. Place on a greased baking sheet and cut a half-inch-deep cross into the top. Bake at 180 degrees Celsius for 60 minutes, turning the bread over for the last 10 minutes. Tap on the bottom: a hollow sound means it's done. Cool on a wire rack covered with a damp tea towel.
Baskets of brown soda bread graced the tables there, and because demand for it continued after he closed the restaurant in 1999, he opened
Arbutus Bread
bakery and a stall in Cork's English Market. 
"They say there are 3,000 recipes for soda bread in Ireland, but I have yet to taste one better than mine," said Ryan, admitting he's biased. "I make it the same way as my granny, except I add cream of tartar to lighten it, plus Macroom toasted oats."
I watched Ryan's hands as he whipped up a batch, a kind of flour ballet. "Treat the dough as if it's red hot – barely touch it," he advised. I felt like a kid watching it bake through the oven door window, and couldn't wait to get my hands into some flour to create my own bread magic back at Gleesons Restaurant & Rooms.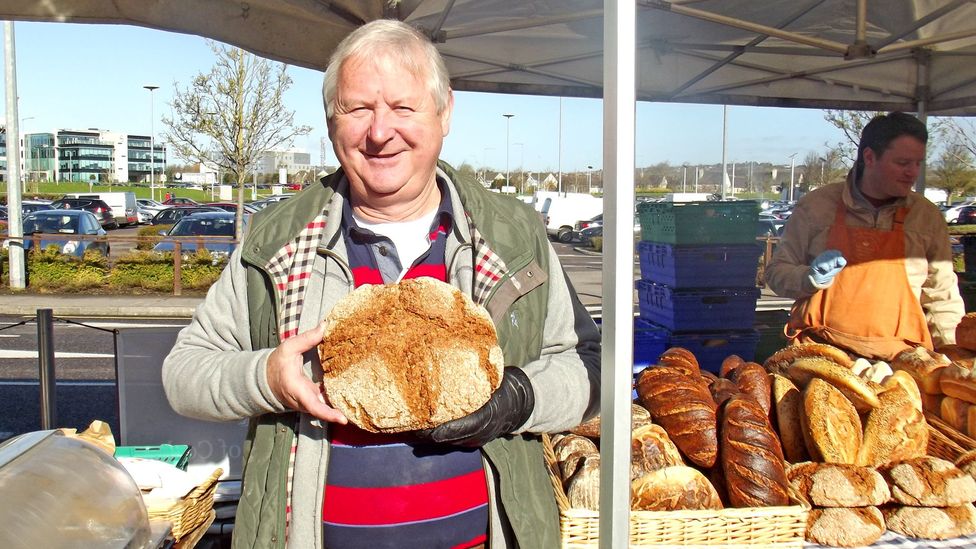 Declan Ryan sells bread at Arbutus Bread and a stall in Cork's English Market (Credit: Good Food Ireland)
Air is essential
Gleeson, my bread coach, agrees that soda bread making is all about a light touch. She showed me how to aerate the flour by lifting it in the air and letting it flutter back into the bowl, stressing that aerating is the secret behind fluffy bread.
"That's why you barely mix the buttermilk with the dry ingredients, carefully ease the dough onto the bread board, and never, ever knead it. That pounds the air out of it," Gleeson said. These methods are the same no matter the specific ingredients, she added.
My first batch of brown soda bread dough was in shreds and didn't look right. Gleeson told me I mixed it too long and the bread would be tough. I started over with another batch, trying to do it fast with a bit of carelessness. Gleeson said to quickly add the buttermilk and go for it. I rounded up the dough ball in the flour and cut the cross to let the fairies out – I didn't need them making trouble.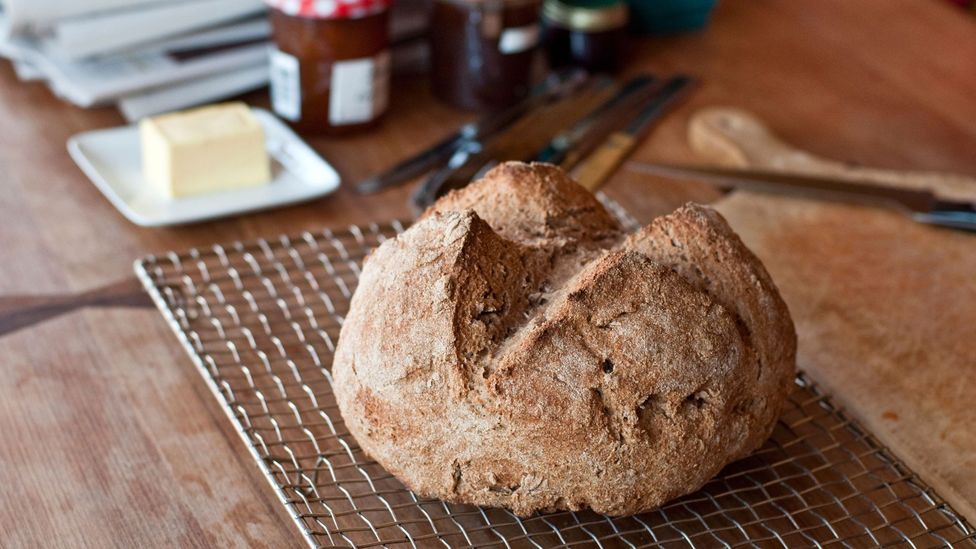 Soda bread is ubiquitous in Ireland (Credit: Diana Pappas/Alamy)
Then, together we made my grammy's soda bread with raisins and caraway seeds, employing all the tips and secrets I'd learned. I hadn't tasted the bread for many years since my grammy passed away, and hoped it was everything I remembered.
The end results
An impromptu group gathered by the turf fire at Gleesons Restaurant & Rooms to sample the fresh-baked breads, including Granny Gleeson, now 90 years old and still making soda bread every day for the workers on her farm. We lined up the crusty loaves, browned and fragrant with grains. Opinions flew over colour, texture and crust, and soon the group was rendered speechless eating bread.
When I bit into my loaf, I closed my eyes and was gone with the fairies, as the Irish say, transported back to my Grammy's farmhouse kitchen.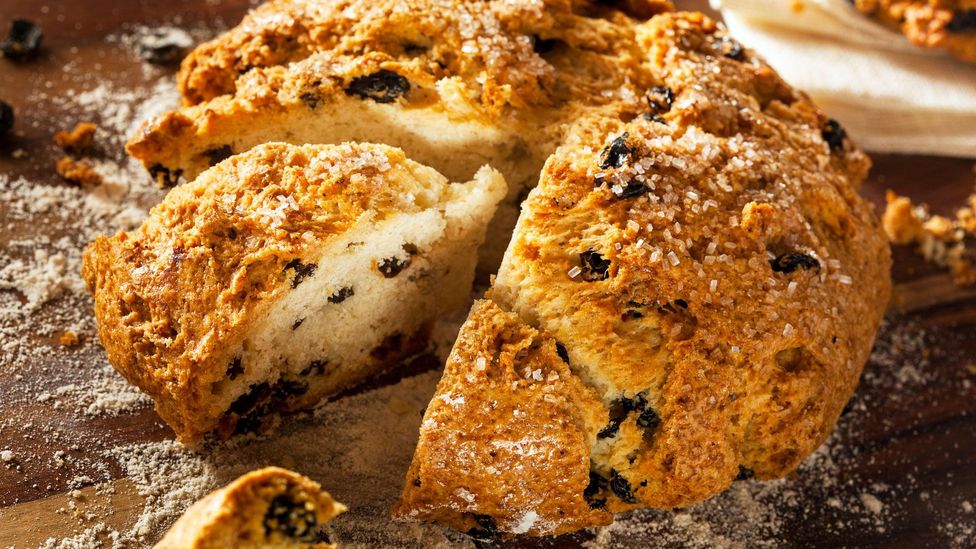 The preparation of soda bread is the same no matter the ingredients (Credit: Brent Hofacker/Alamy)
"Isn't that bread gorgeous?" said Gleeson. "Could you give me a copy of that recipe; I'd like to make that bread here. What should we call it?"
"How about Swinford Spotted Dog in honour of my grammy's hometown," I suggested.
My eyes welled with tears as I handed Gleeson the recipe. For me, it was a homecoming on many levels.

If you liked this story, sign up for the weekly bbc.com features newsletter, called "If You Only Read 6 Things This Week". A handpicked selection of stories from BBC Future, Earth, Culture, Capital, Travel and Autos, delivered to your inbox every Friday.