Gïk Blue combines red and white grapes with organic pigments and flavours to produce a sweet, electric-blue wine that has some raising their eyebrows and others raising their glasses.
A
A Spanish company is shaking up the country's traditional wine industry with a surprising new beverage. Gïk Blue combines red and white grapes with organic pigments and flavours to produce a sweet, electric-blue wine that has some raising their eyebrows and others raising their glasses.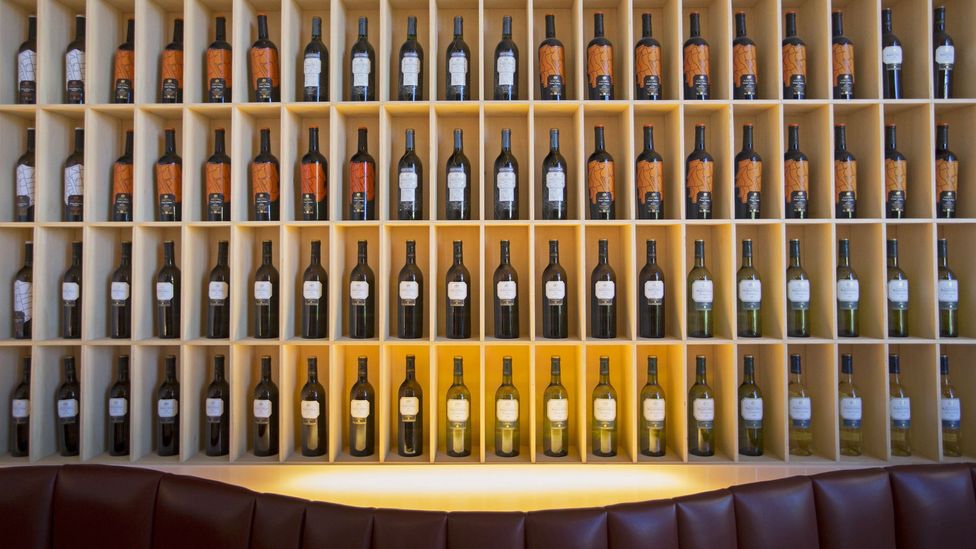 Spanish traditions hold wine-making in high esteem, and the country has created a vast wine industry (Credit: Tim Graham/Getty Images)
"Gïk was born for fun, to shake things up and see what happens," said co-creator Aritz López. "We wanted to innovate and start a little revolution... and the wine industry looked like the perfect place to start."
The only problem? No one in López' circle of friends was an experienced winemaker, so they recruited some help from the University of the Basque Country, where a team of chemical engineers spent two years helping them "merge nature and technology" to create a blue wine.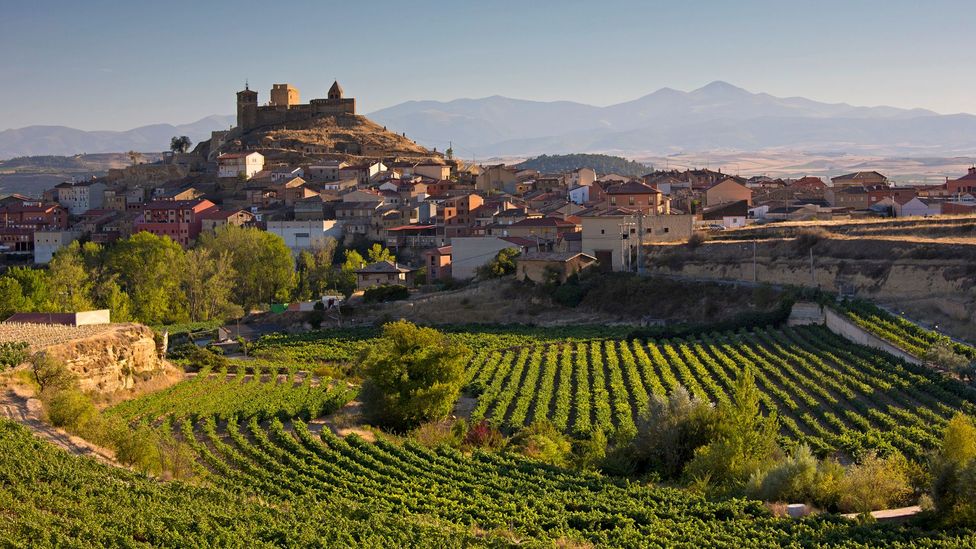 Spain's northern Basque Country holds a multitude of vineyards that produce both red and white wines (Credit: Tim Graham/Getty Images)
Gïk blends different varieties of red and white grapes with two organic pigments to turn it blue: anthocyanin, from the red grape skin, and indigotine, an organic compound commonly used as a reddish-blue food dye. The resulting flavour is enhanced with non-caloric sweeteners to create a product that is cross between a wine, a wine cooler and a cocktail mixer, with a mellow, sweet, slightly syrupy mouthfeel.
"At first people didn't believe we were selling a blue wine, but when they tried it, they loved it – and they keep coming back for it," said Enrique Isasi of Sushi Artist Madrid, one of Spain's first restaurants to carry the product.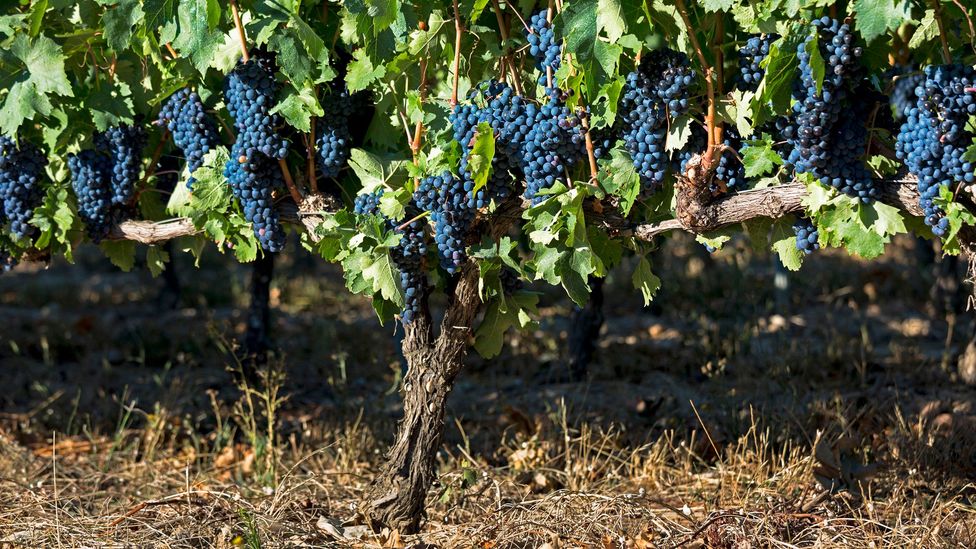 Different varieties of red and white grapes are mixed with organic pigments to create Gik's blue colour (Credit: Tim Graham/Getty Images)
However, not everyone has been a repeat customer. Some have called Gïk blasphemous and a terrible invention; others liken it to an "anti-wine" spin-off, like what Seville-based Puerto de Indias did with its strawberry gin. Created after a failed attempt at making a strawberry liqueur with fresh strawberries, Puerto de Indias' master distiller added the macerated berries to a new gin he was working on. The result is a liqueur-gin hybrid that echoes what the guys at Gïk are doing by creating beverage with a wine base.
"In Spain, wine is very linked to culture," López said. "It hasn't changed for centuries. This is a country that prefers tradition instead of innovation. But Gïk is trying to change that. We are for normal people that don't need to know thousands of rules in order to enjoy a glass."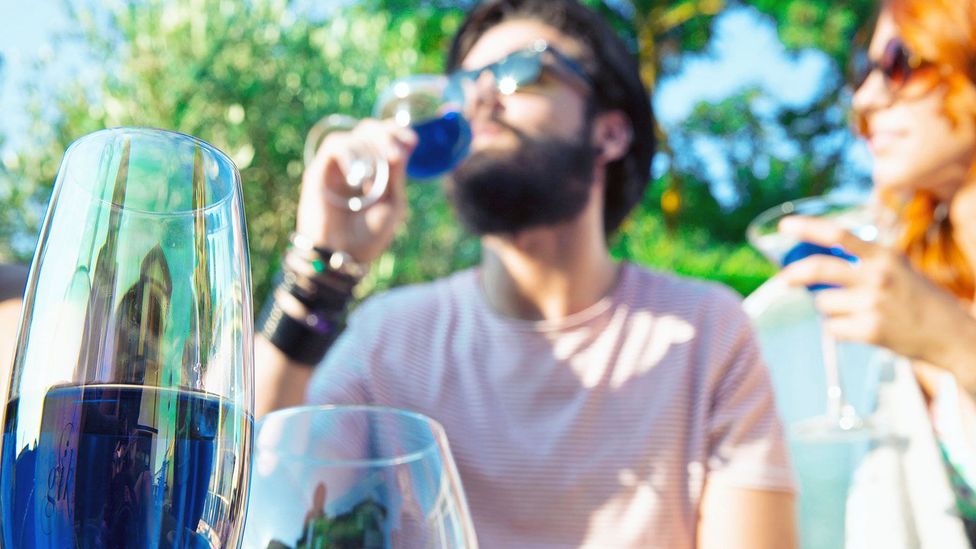 Gik markets its wine as an innovative and bold creation that contributes a fresh outlook to wine (Credit: Gik Live!)
It's this sort of attitude that feels more revolutionary than the drink itself. Gïk's tasting notes include buzzy acronyms such as WTF; food pairing suggestions like pasta carbonara and tzatziki; and, most unusually, recommended playlists including alt bands like Minus the Bear and Fryars. The creators of Gïk are all under 30 and market directly to their own demographic through social media savvy; like-minded partners, from artists to designers to DJs; and irreverent iconography (Gïk's label features a man with a dog head sitting in a leather armchair, holding two glasses of blue wine).
But from a longevity perspective, it's hard to know whether Gïk has legs beyond this time, place and drinking demographic, or if it is simply a millennial novelty due to run its course. Only time – or the powerful voices of the wine industry – will tell. Gïk is currently sold in 25 countries, with plans to expand to the US market next year.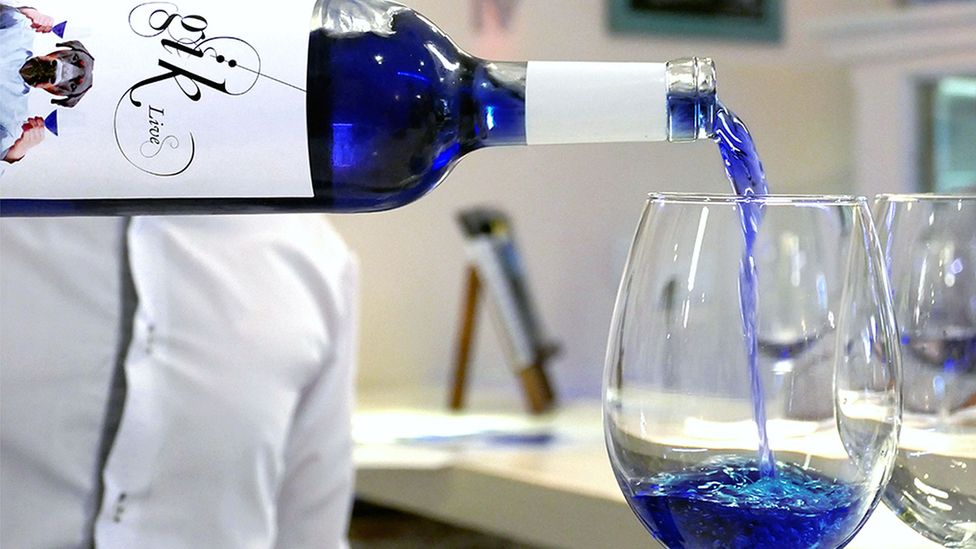 Gik is sold in 25 countries and hopes to begin selling in the US next year (Credit: Gik Live!)
"I haven't tasted Gïk, thankfully, and although it may be 'modern', I think contemporary tastes tend to favour unadulterated, natural products," said Chad Walsh, sommelier at New York's Agern Restaurant. "The trend these days is towards wines to which nothing is added or removed. I can confidently say this isn't going to be on any serious wine list any time soon, but I wouldn't be surprised if it ended up in a bodega fridge near you soon."
If you liked this story, sign up for the weekly bbc.com features newsletter, called "If You Only Read 6 Things This Week". A handpicked selection of stories from BBC Future, Earth, Culture, Capital, Travel and Autos, delivered to your inbox every Friday.