Their plastic tubs and foil trays full of food reveal much about their background, stories and struggles living in one of the world's richest and most expensive cities.
I
It was just after 11am on a Sunday morning in Hong Kong and already 32C in the shade. The dazzling sun reflected off the steel-and-glass skyscrapers in the city's central business district, while opposite the Bank of America Tower down below, Rachel untied the knot on a small plastic bag containing chicken-feet adobo. Her friends Ida and Grace were alongside her, the three women sitting on a flattened cardboard box.
Originally from the Philippine island of Mindoro, these three women are part of the city's more than 300,000 domestic helpers – mostly Filipina and Indonesian women who work up to 18-hour days, six days a week, for just HK$4,310 a month.
In common with families in a number of cities across Southeast Asia and the Middle East, many Hong Kong households rely on these helpers to do everything from cooking and cleaning to childcare and laundry. The work is tough and all domestic helpers live in their employers' apartments, often in very cramped spaces in an already densely populated and incredibly expensive city.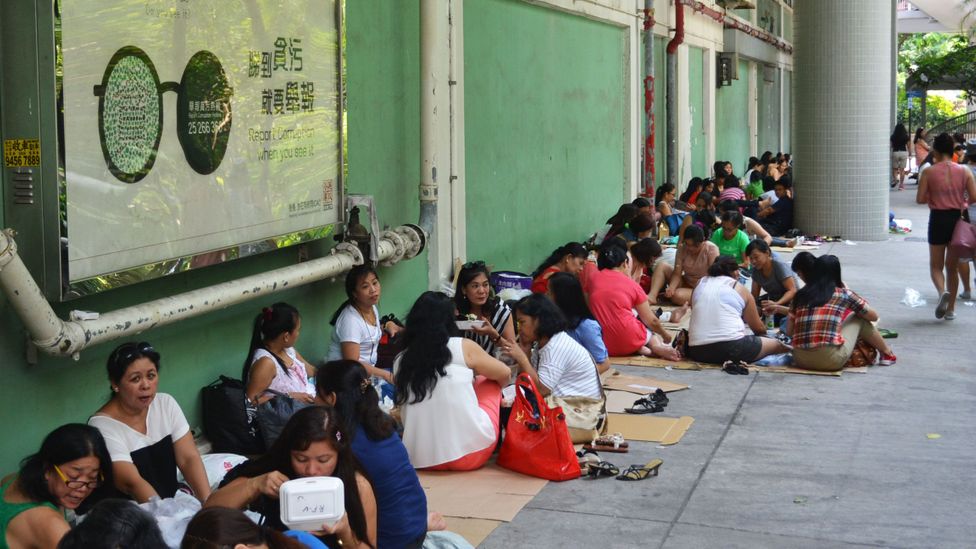 These women often congregate on Sunday, their day off (Credit: Chris Dwyer)
The women are allowed one statutory rest day per week, with the vast majority taking it on Sunday. For most, it's their only opportunity to catch up with friends, giving one another haircuts or manicures, praying, singing or even trying out dance moves. They seize the chance to Skype with their own children, husbands and extended families back home. With just seven days holiday a year for the first two years of service, and up to a maximum of 14 days a year once they have been working for more than nine years, it's rare that they get a chance to return to their home countries.
But it's their food, eaten from plastic tubs and tinfoil parcels, that takes on the most symbolic importance every Sunday. The rest of the week, most eat the food they prepare for the families with whom they live – so this day serves as a reminder of where they come from, a taste of a country they only return to infrequently.
Everything the women eat is shared, even with strangers: a bowl and spoon were proffered almost before I introduced myself. Adobo, a slow-cooked stew traditionally made of pork or chicken marinated in vinegar, peppercorns and soy sauce, is the unofficial national dish of the Philippines. Ida explained that chicken feet are the cheapest cut she can buy at her local market. Every Filipina will tell you that each household has their own adobo recipe and, true to form, Ida had added slivers of ginger to her version, a delicious reminder of a family and culture far away.
Ida proudly showed me a photo of her daughter on her cracked phone screen and explained that the 16-year-old is just two years away from college, where she'll train in accountancy, "An opportunity I never had," she said.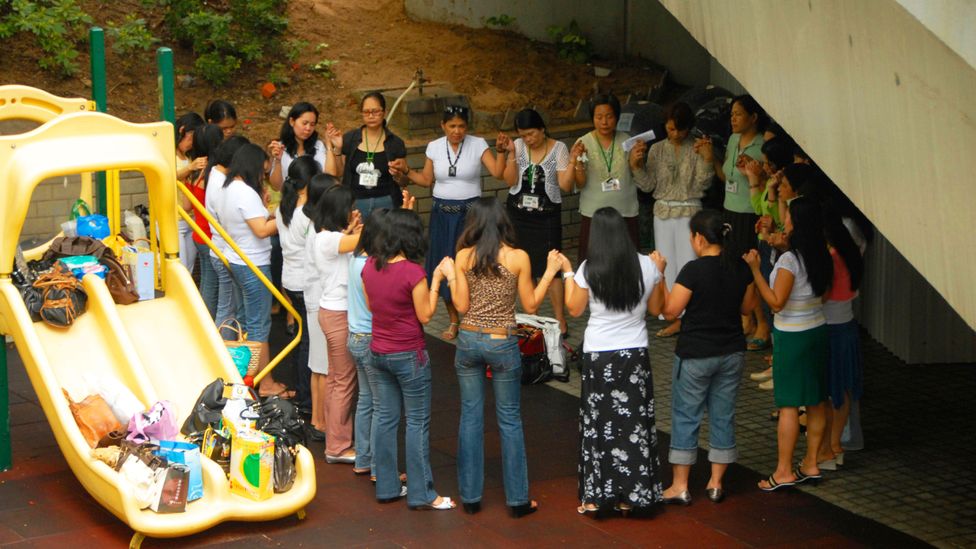 Across the city, friends from the same region tend to stick together as a means of forming community (Credit: rungtip chatadee/Alamy)
Rachel told me she works on average 80 hours over six days, including her least favourite chore of washing the family's car. Her contribution to today's feast is laing, a creamy, spicy and funky stew made from the stems and leaves of the taro plant, cooked in coconut milk with small red labuyo chillies, aligue (crab fat) and tiny fish called dilis. Originally from Bicol, the southern tip of The Philippines' main island of Luzon, it's absolutely delicious and has become known across the country thanks to a wave of umami from the fat and the sweet hit of coconut over the gentle hum of chilli.
Her favourite ingredient is pungent bagoong, or shrimp paste, but she explained that "cooking Filipino food in the kitchens of our employers is awkward – they may not like the smell. I have to be clever with when I time it and only cook when they are out."
Most Filipina domestic helpers arrive mid-morning after church to take up spaces in walkways and parks across the heart of the central business district. Thousands of the city's Indonesian domestic helpers congregate around Victoria Park in Causeway Bay, sharing food that is distinctly spicier than the Filipino dishes. The Indonesian word for sauce is kecap – from where the English word "ketchup" derives – but here it's a fiery concoction of fish sauce, shrimp paste, vinegar, ginger, garlic and of course serious amounts of chilli. It accompanies every dish – even those already containing eye-watering amounts of hot peppers.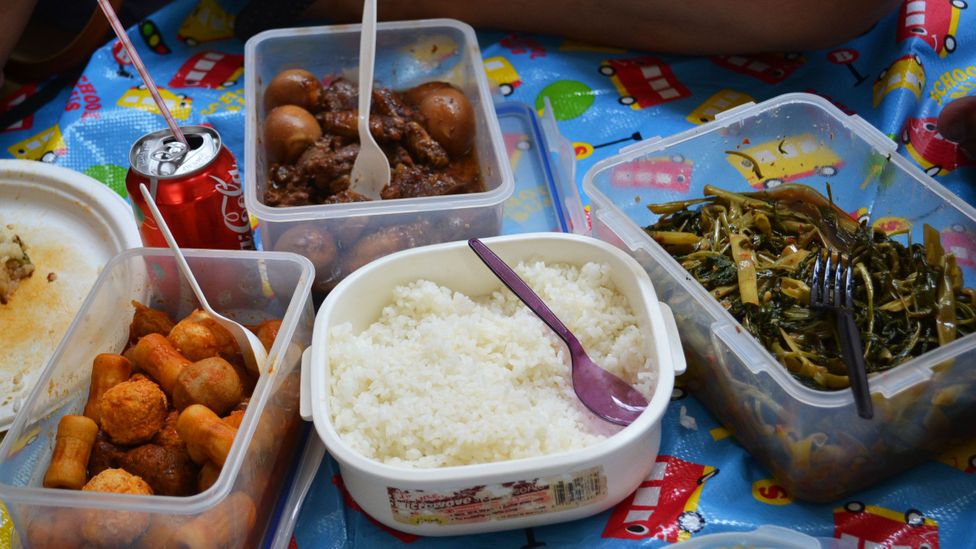 Food takes on a symbolic importance for these women as they gather (Credit: Chris Dwyer)
Across the city, friends from the same region tend to stick together. One group may be talking Cebuana from the southern Philippine island of Cebu; another may be extended family; while a third could consist of a prayer group gathering for choral practice. The groups tend to be small, from a couple of friends to two dozen if they've been lucky enough to reserve one of the public barbecue sites that dot the city.
One thing all these women have in common is that they invariably try to save every dollar to send back home. This means that for most, their day off is spent sitting outside at the mercy of Hong Kong's notoriously volatile weather on cardboard and tarpaulins, under umbrellas offering scant protection from the beating sun or pouring rain.
Central, just a couple of minutes away by foot from the three friends from Mindoro, is home to some of the world's most expensive real estate. Luxury fashion brands vie with five-star hotels and Michelin-starred restaurants, while the sleek offices of billion-dollar finance and legal giants are empty, save for bored looking security guards. Outside a window selling US$12,000 handbags, a group of cousins were sitting on a blue plastic sheet sharing another homemade meal. It was adobo again – this time chicken and pork – along with hardboiled eggs. Just like the food itself, the recipe was happily shared.
"I add sugar and sometimes a bit of ketchup. It's my secret!" said Marjorie, who had only been in the city for three months.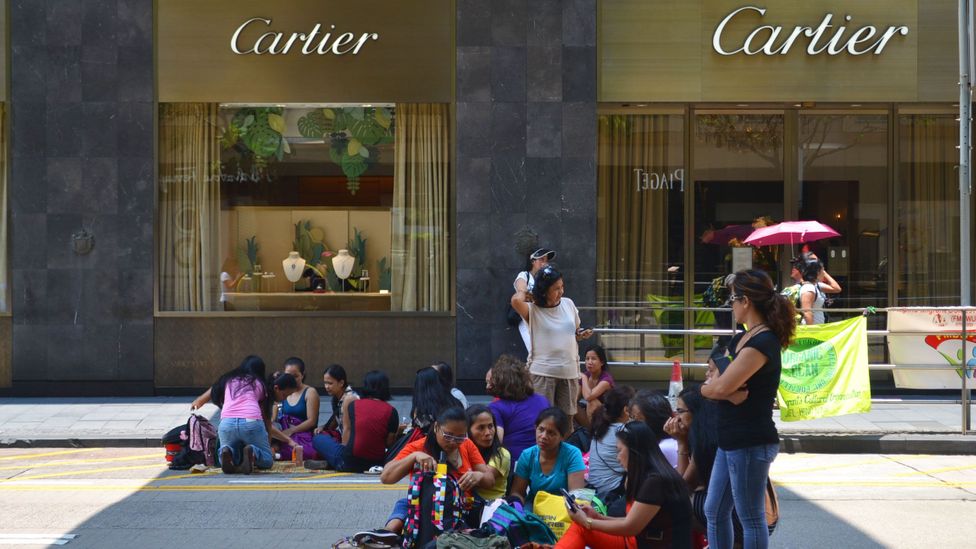 Sometimes, meeting spots are in front of luxury stores, such as Cartier (Credit: Chris Dwyer)
Another tub had fish, pork and beef balls cooked in tomato and soy sauce, alongside rice and a large stir-fry of kangkong, a cheap herbaceous vine similar to water spinach, cooked with chilli and ground spices.
Marjorie and her cousins are from Quezon Province, southeast of Manila. Previously two of them were working in Malaysia where they worked seven days a week for two years without a single day off. As a result, being able to meet up on a Sunday still feels like the rarest of luxuries.
"We look forward to Sunday because we can all hang as an extended family. It's one day of rest because Monday to Saturday is all 'work, work, work'," Marjorie said, before singing a couple of bars of Rihanna's recent hit of the same name, then collapsing in laughter.
Laughter is another constant, the shrill notes and excited screams cutting through the humid, heavy air. Tourists mostly look on bemused, while Hong Kong residents walk on by, but these extraordinary, hard-working and resilient women are more than able to amuse themselves on their most cherished day of the week, when food is the ultimate reminder of home.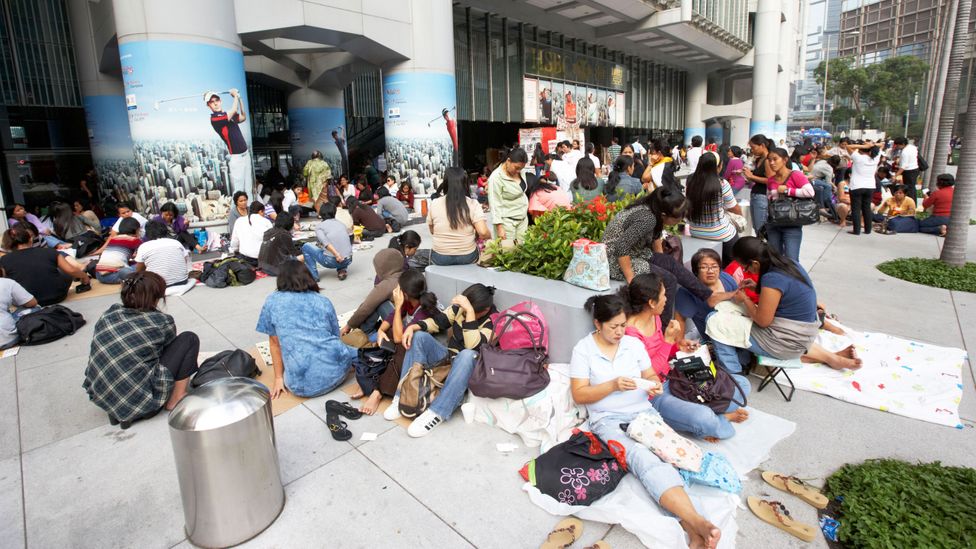 More than 300,000 domestic helpers congregate in urban areas like these (Credit: Radharc Images/Alamy)
If you liked this story, sign up for the weekly bbc.com features newsletter, called "If You Only Read 6 Things This Week". A handpicked selection of stories from BBC Future, Earth, Culture, Capital, Travel and Autos, delivered to your inbox every Friday.