Many British isles are struggling to retain residents. But the people of tiny Papa Westray, Scotland are fighting back to make sure the island not only survives, but thrives.
A
A walk around Papa Westray – a four-square-mile island on the northern edge of the Orkney archipelago in Scotland – is a walk through history.
From the 5,600-year-old Knap of Howar, northern Europe's oldest standing house, you can walk up the coast to St Boniface Kirk. One of the oldest Christian sites in the north of Scotland, the church's graveyard is filled with lichen-covered headstones indicating generations of families and shipwrecked sailors. Further on at the wind-battered northernmost point, where the Atlantic crashes into the North Sea and daunting cliffs are deeply ridged from centuries of erosion, a stone cairn marks the site where Britain's last great auk – the now extinct 'northern penguin' – was killed in 1813.
People have been living on Papa Westray for millennia – including in houses like this one, the 5,600-year-old Knap of Howar (Credit: Alamy)
But Papay, as the island is locally known, is not lost in the past. Thanks to its forward-thinking residents, it is thriving.
Once home to a community of 392, Papay's population fell to an all-time low of 54 in the late 1990s. In a 1998 National Geographic article on Orkney, Bill Bryson wrote of the depopulation of Scotland's islands that "nowhere has the decline been felt more acutely than on Papa Westray".
But while other islands continue to struggle, Papay has rebounded. At the last census in 2011, the population was recorded as 90: a 40% increase which merited the expansion of the island's school and fire station.
After the island's population fell to its lowest point in 1999, the Papay Development Trust was set up to explore new ways to retain islanders – too often drawn away for better opportunities elsewhere – and to attract newcomers.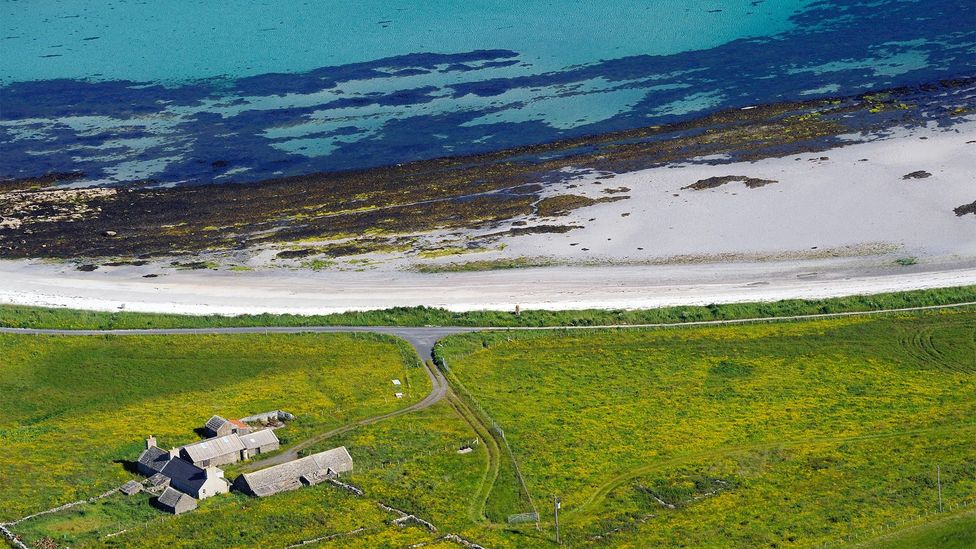 After the island's population fell to a low of 54 in the late 1990s, islanders spearheaded new ways to retain – and attract – residents (Credit: Alamy)
According to Julian Branscome, the trust's secretary, one key to Papay's rising population is that locals have been willing to sell their empty houses to newcomers. On other islands fighting depopulation, he said, many houses have been vacant for two or three decades, but their owners won't sell them in case a family member one day returns.
The Papay trust, on the other hand, was able to find homes for settlers to buy. Still, a lack of rental accommodations remained a problem, so the trust bought the island's former doctor's house as 'gateway accommodation': people could stay there to try out living on Papay for six to 18 months. In late 2015, the trust purchased another cottage – occupied in the summer by the RSPB warden who watches over birdlife – to rent on a monthly basis during winter. In a sign of interest in the scheme (and the island), both were empty for barely a week over the course of the last year.
The result is that around three-quarters of the island's population are now 'incomers'. While this could cause concern that Papay's cultural identity might be diluted, as Anne Hourston, who was born on the island and has lived here all her life, said: "It's much better to have somebody here who wants to be here than an indigenous person who doesn't." Indeed, it is sometimes incomers who dig deep into Papay's history to uncover its lost traditions.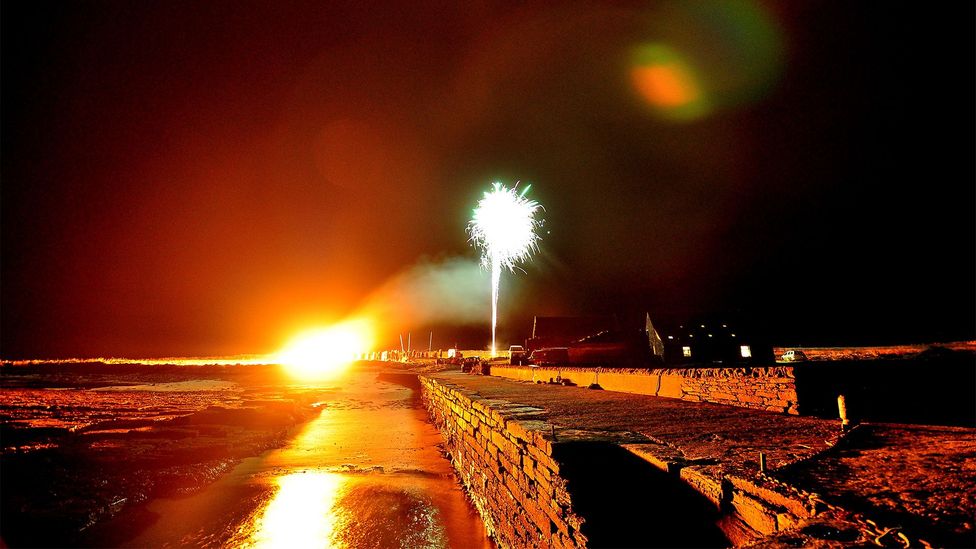 Community events, like this Bonfire Night at Papay's local pier in November 2016, are a big part of life on the island (Credit: Douglas Hourston)
Since 2011 the artists Tsz Man Chan and Ivanov have produced the annual Papay Gyro Nights festival inspired by the ancient Papay tradition of the Night of the Gyros, which was celebrated on the first full moon of February for a thousand years until it ended in 1914. The new festival fuses the old tradition of torchbearers and bonfires with contemporary art shows and experimental films screened in derelict buildings across Papay.
This year, the festival will be held in Bergen, Norway, rather than Papay. That is partly because the revitalisation of the island has created an odd problem: with the number of newcomers, there are no longer enough derelict buildings in which to host exhibits.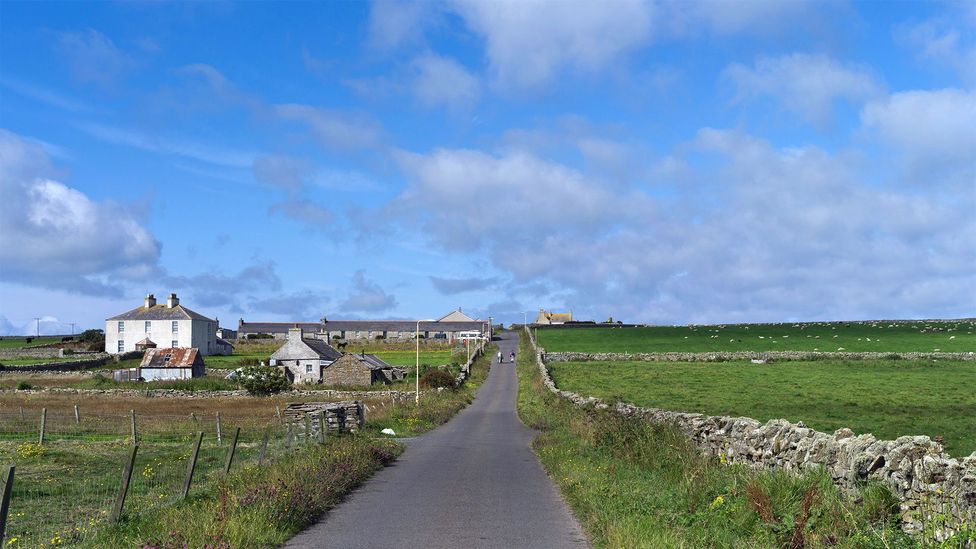 One everyday stressor that newcomers to Papay give up: traffic (Credit: Alamy)
But while this remote island has had little trouble attracting retirees who enjoy Papa Westray's beauty and serenity, a limited job market means it still struggles to draw younger settlers. "There are really no full-time jobs on the island," said Houston, who, most days, can be spotted delivering mail when not attending to the eight-seater plane at the tiny airfield or looking after the maintenance of the schoolhouse. "If you want to be fully employed, you need to have several jobs and hope that they work together." Internet access has opened up opportunities for people who can work at home, but it has its limitations. "If we had some decent broadband speeds," said her husband Alistair, also a native islander and the chair of the trust, "it could make a big difference."
People have long been drawn here. In the Norse era from the 8th to 15th Centuries, Vikings were lured by the island's fertile soil – recent excavations have uncovered two Viking burials, and the island is mentioned in the Orkneyinga Saga. In medieval times, pilgrims came to St Tredwell's Chapel seeking cures for eye afflictions. Bucket-list baggers are drawn by the opportunity to take the world's shortest scheduled flight, which departs from Westray and lasts less than two minutes, and birdwatchers flock to see Arctic terns return to Papay each May.
Jonathan Ford first visited the island to see where the last great auk lived. He soon found himself drawn into local life and even invited to dinners with islanders. For the last two summers, he has lived on Papay working as the island's ranger, a new post created in 2015 to expand tourism to the island. He takes visitors on tours around Papay and is one of three skippers newly trained to drive a boat, purchased by the trust in 2016, to take visitors to the Holm of Papay – a tiny adjacent, uninhabited island that is home to three 5,000-year-old chambered cairns. The Holm was previously only accessible through a favour from a local fisherman.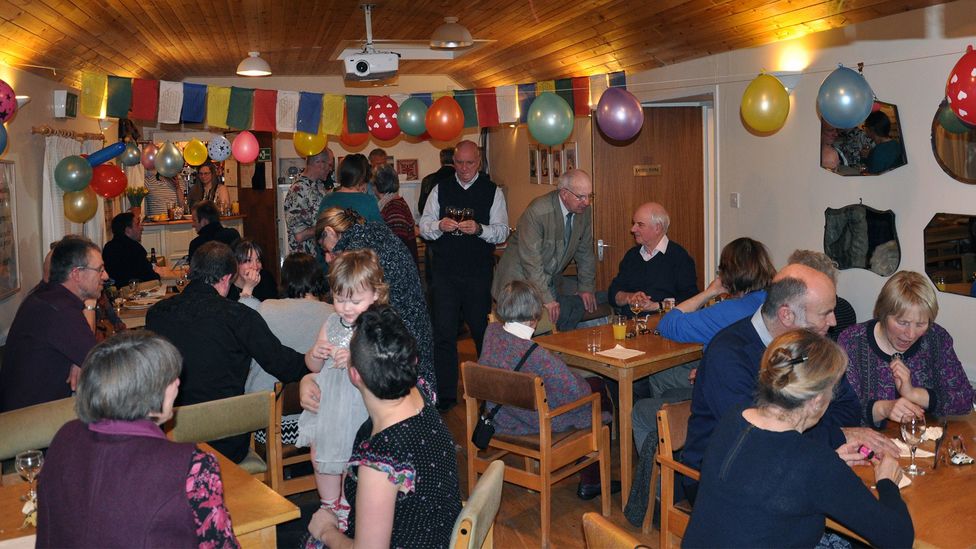 Residents gather for a recent wedding anniversary party; everyone on the island was invited (Credit: Douglas Hourston)
In 2016, Ford and the artist Saoirse Higgins launched the contemporary art festival Øy: A Festival of Island Magnetism in the old kelp store (recently restored by the trust). It took place over the same weekend as Papay's traditional Muckle Supper, and this annual feast of Holmie lamb – from the Holm's seaweed-eating sheep – and traditional music was listed on the festival programme. "We didn't want the festival to become something split off from things that go on, on the island," Ford said. As a result, the same people who saw a contemporary art exhibition one day were taking part in traditional dancing the next.
The new energy on Papay is helping islanders in other ways, too. The renovations of once-derelict homes not only attract incomers who bolster the island's wider economy, but also provide work for Alistair, the island's builder. The launch of boat trips to the Holm means additional income and new skills – plus incentive to stay – for the newly trained boat skippers.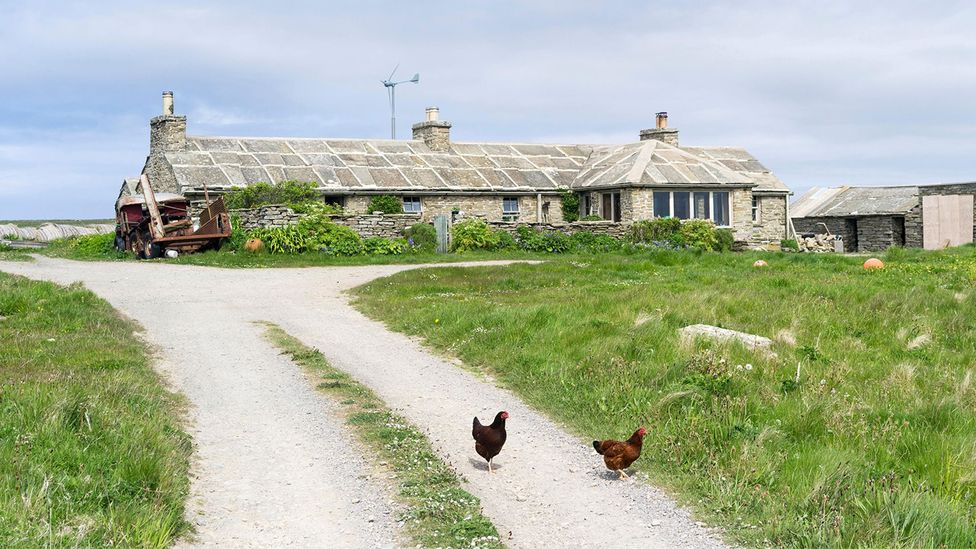 While Papay is more populous than it was in the late 1990s, the island's future remains fragile (Credit: Alamy)
The school is another example of the interdependence of the new generation and long-time residents. Eight children, up to 12 years of age, attend school on Papay. (When they are from 12 to 16 years of age, they will travel daily to the bigger island of Westray by boat). The school's existence attracts other families with children – which, in turn, helps keep the school open. But it also provides jobs for the islanders.
Alistair points to the nearby island of North Ronaldsay as an example of the risk Papay could face. North Ronaldsay's sole schoolchild will soon leave, meaning the school will have to close. "So that's quite a few jobs gone," Alistair said, listing a few: "the cook, janitor, secretary…"
Papay, Alistair said, remains fragile. "We are very fortunate that we got the population to rise, but you can never be complacent," he said. "It could go the opposite way with just one family leaving."
Still, there is a sense here that the islanders won't let Papay fail. Jennifer Foley, who is the trust's development officer and who runs the island's sole guesthouse Beltane House, has lived on Papay for almost 20 years. She and her family were living abroad on a work contract when Papay's population hit its critical level. When the school looked in danger of closing, she said, the family decided that they would finish the contract early and return if necessary.
Papa Westray's continued population growth may not be certain. But something else is: the islanders here will do what they must to keep Papay thriving.
This story is a part of BBC Britain – a series focused on exploring this extraordinary island, one story at a time. See every BBC Britain story by heading to the Britain homepage; you can also follow us on Facebook and Twitter.