Jasmine isn't just cultivated in Madurai; it's a way of life, an art form that is inseparable from worship, local lore, and ancient and contemporary culture.
I
I met Dhanalakshmi outside Periyar bus stand in central Madurai as the sun was rising over the South Indian city, warming the cool, crisp air and streaking the sky with pink and gold.
Dressed in a simple red sari, she balanced a large straw basket on her hip, its interior lined with strips of glistening green banana leaves. Inside were coiled strands of small, incredibly fragrant, pearly-white buds: the famed jasminum sambac, known locally as Madurai malligai.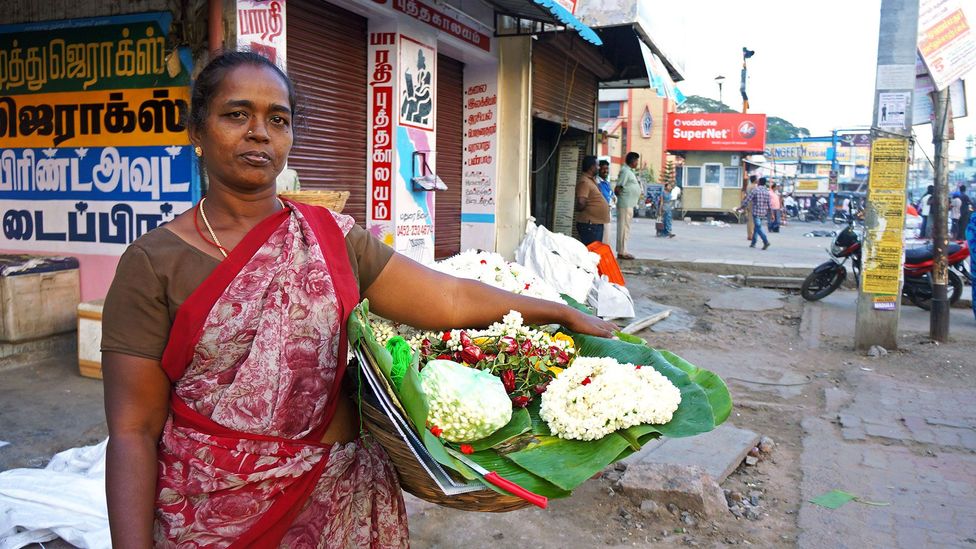 The heady fragrance of jasmine has always been Madurai's most defining experience (Credit: Kamala Thiagarajan)
"I began to sell jasmine after my husband died seven years ago," Dhanalakshmi said, handing me a bunch of flowers. "It helped me feed my family and meet the wedding expenses of my two daughters."
Dhanalakshmi stands here all day, selling sweet-smelling bunches of around 100 buds for 30 to 40 rupees each. She starts at dawn and sometimes doesn't finish until after 9 pm.
Flower vendors like Dhanalakshmi are a common sight in this largely pilgrimage town in the state of Tamil Nadu, where the heady fragrance of jasmine has always been its most defining experience.
But jasmine isn't just cultivated in Madurai; it's a way of life, an art form that is inseparable from worship, local lore, and ancient and contemporary culture.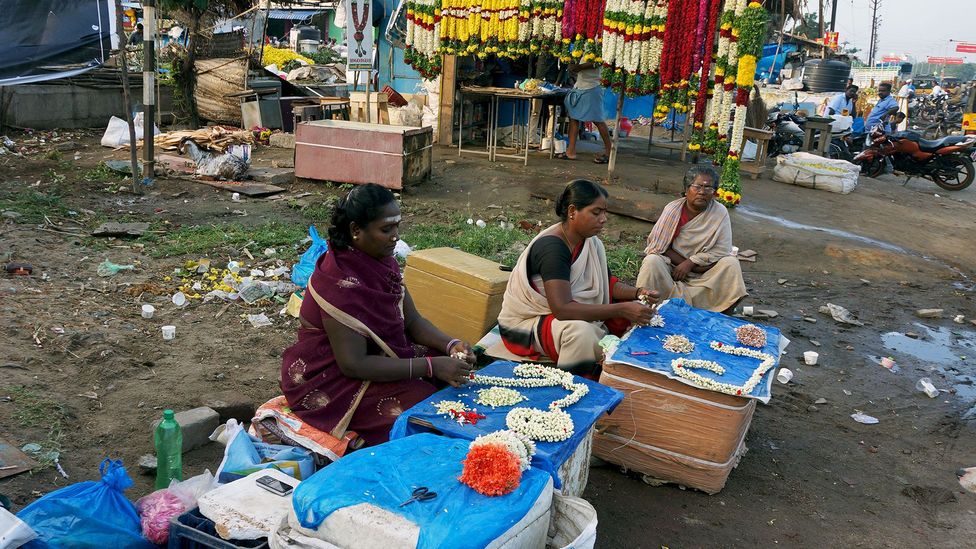 In the town, jasmine is inseparable from worship, local lore and culture (Credit: Kamala Thiagarajan)
Many women in Tamil Nadu fasten a string of gleaming jasmine flowers to their hair as it's considered a symbol of good fortune. The flower features in ancient temple carvings and paintings, while jasmine motifs and patterns have found their way into traditional local jewellery, especially necklaces, earrings, anklets and bangles. Hindu believers decorate their deities with garlands of the blooms, and no wedding ceremony in the region is considered complete without the white buds gracing nearly every inch of the marriage hall.
Although there are many varieties of jasmine in Tamil Nadu, Madurai malligai is especially beloved, both locally and internationally. Its waxy, white, oblong flowers are much more fragrant than other types, and the thicker petals can retain moisture and stay fresh for up to two days.
In 2013, due to efforts of agriculturalists and activists, the variety received a Geographical Indication (GI) tag, protecting it by law and establishing its quality.
"Madurai malligai has a distinctive shape, scent and texture that sets it apart from the other varieties," said A Madhan Kumar, programme leader at local NGO DHAN Foundation, which played an instrumental part in securing the GI tag.
Women do much of the work in flower picking (Credit: Madurai and its Jasmine: A Celebration)
To find out more, I headed to the small village of Parampupatti, one of many agricultural villages that dot the outskirts of Madurai. Even in January, the midday sun was harsh on my back. Everywhere I turned, my feet sinking inches deep into the rich red, loamy soil, I could see a wild riot of green. The jasmine shrub, just 60cm tall, was spread wide and thick as far as the eye could see.
Here, jasmine pickers, all women, had been working since dawn.
"During the peak season of March to May, our day begins at 5 am," Muthupillar said. "There [is] a great deal of flowers to pick then."
These women receive 50 rupees for every container of flowers they pick, picking eight to 10 a day in peak season. The flowers, packed in cane or jute baskets, are immediately transported to Madurai's open-air flower market in the neighbourhood of Mattuthavani, where sellers such as Dhanalakshmi purchase their daily stock.
It's clearly a business where women do much of the work. But it's the men who seem to be reaping the rewards.
Dr Uma Kannan, a social and cultural anthropologist and author of Madurai Malligai: Madurai and Its Jasmine – A Celebration, said that "the workers who pick and string jasmine flowers, who sell them on the streets, who do the more mundane jobs are women, but those that sell in larger quantities, cornering a lion's share of the profits, are men."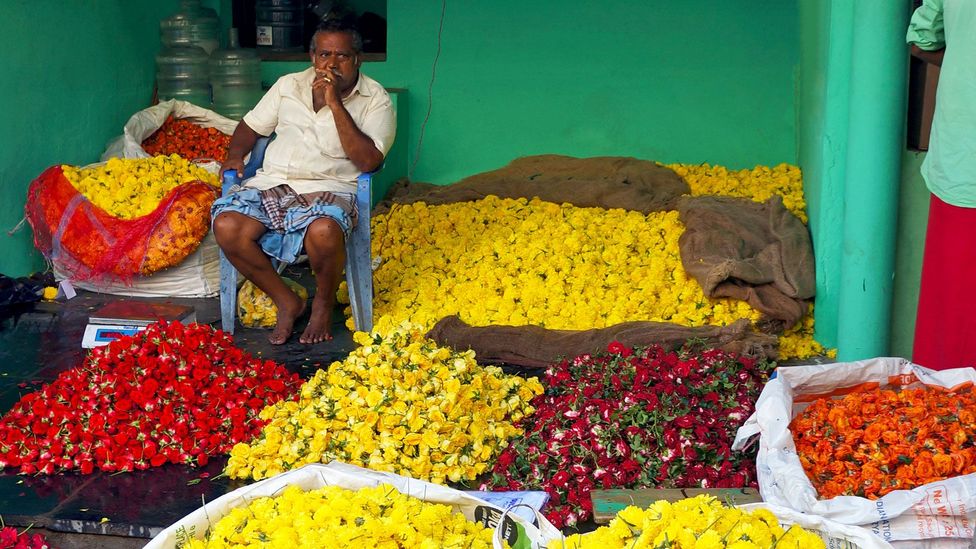 Men seem to be reaping the rewards of flower selling (Credit: Kamala Thiagarajan)
Nowhere is this disparity more evident than at Mattuthavani.
While the flower sellers – most of whom are female – sell their strands of jasmine from makeshift platforms at the market's entrance, the mostly male commissioning agents negotiate large volumes directly with local farmers.
S N Rajendran, a third-generation commissioning agent, supplies jasmine for the perfumery industry. The blooms, packed in ice to preserve their freshness, are shipped around the world, some ending up at high-profile perfumeries like Dior and Chanel to be crushed for their sweet essence.
"My father and grandfather sold flowers in this very space before I inherited the business," Rajendran said. "It's always been a booming industry and vendors can make 5,000 to 10,000 rupees a day if they cater to export orders."
"In an off-season, as the demand for the flower grows and production lessens, the price of a kilo of jasmine can swing between 400 and 2,000 rupees. Today's price is 1,000 rupees per kilo," he added.
It's hard for women without means to compete in an industry where trade can be volatile and prices fluctuate wildly. "Lack of capital and the fear of taking a risk can be an issue," Kumar said.
If flower vendors like Dhanalakshmi could purchase their jasmine directly from local farmers, rather than via the commissioning agent, they would make much better margins.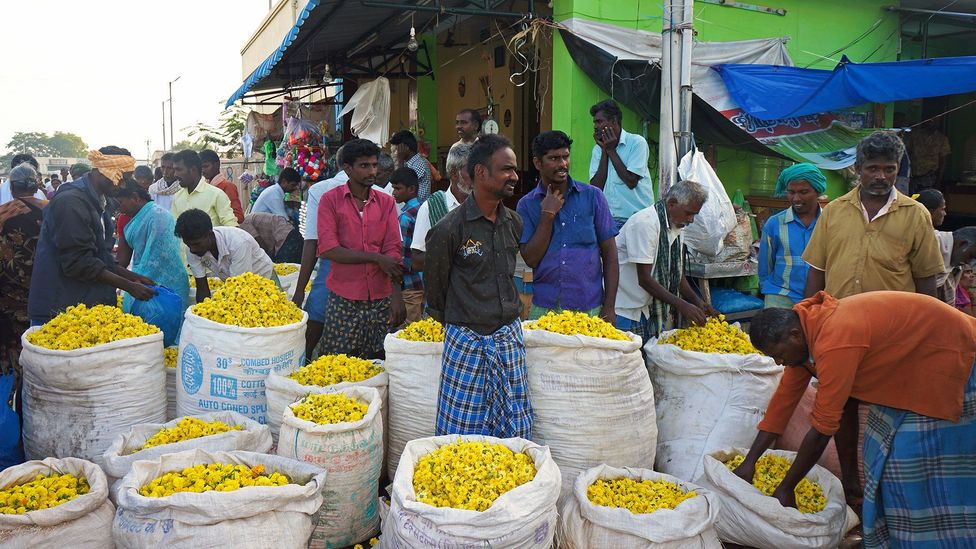 Commissioning agents, who sell flowers in larger quantities, are mostly male (Credit: Kamala Thiagarajan)
To help combat this inequality, the DHAN foundation has helped train more than 250 women to sell flowers for a livelihood, setting up microfinance schemes to help them secure bank loans and other support. But their sustained efforts to eliminate the middleman haven't always been successful. Even when the women pool their resources and purchase collectively, they often still aren't able to match the cash-rich agents, many of whom advance large amounts of money to farmers and ultimately have greater control over the production process.
"An agent's advances are important to small farmers, who constantly need money for fertilizer, seed and other needs," Kumar said. "It's not easy to break down a system that has existed for more than three decades."
But a small number of women are finding other ways around the issue.
Mahalakhmi has been selling jasmine outside Mattuthavani for the past four months, though her main income comes from the much more profitable business of supplying jasmine garlands for weddings and functions.
"Most women aren't enterprising enough," she said. "They're content with threading flowers into short bunches. Garland making, which fetches more money, requires greater precision. It was at a self-help group in my native village many years ago that I learnt this skill."
Because of this training, she can earn up to 2,000 rupees a day, allowing her to support three daughters and a recently orphaned nephew.
But garland making is far more complex than stringing flowers – and the reality is that most women never even get the opportunity to learn, as it remains a closely guarded secret in the male bastion.
Kannan told me that many men are unwilling to train even their own wives in the art, preferring that the women stick to gender-specific roles assigned by the industry of picking and selling jasmine flowers. It's an issue that she has sought to redress for years.
"I felt that greater creativity in jasmine design was essential to save the vanishing livelihood of its women workers and to help them stay on par with the men in the industry," she said.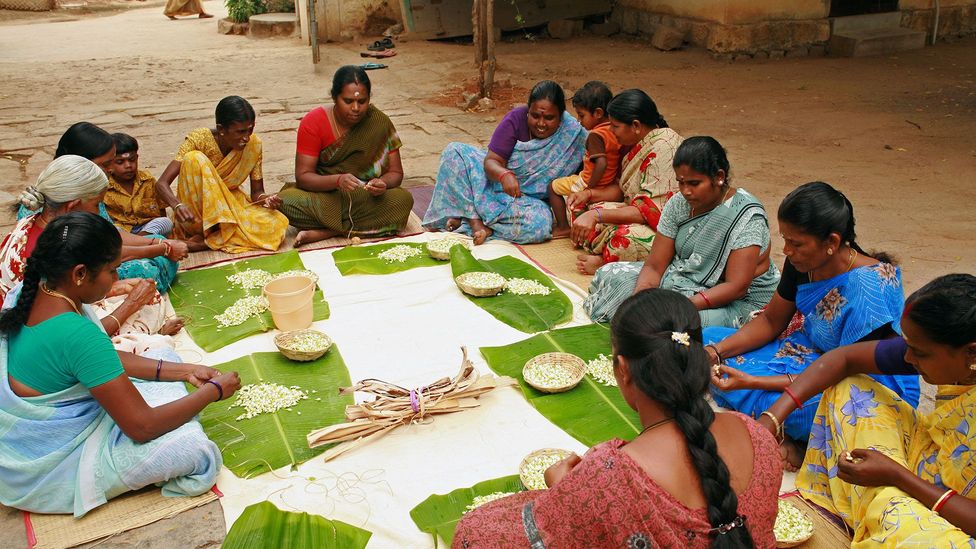 Local workshops train women and children in weaving techniques (Credit: Madurai and its Jasmine: A Celebration)
Since 2011, Kannan has arranged local workshops training more than 1,500 women in intricate weaving techniques and innovative flower styling. Many of them were slum dwellers learning the art of flower tying for the first time.
"A remarkable quality about these women is how well they take this disparity into their stride, how grateful they feel about doing this work," Kannan said. "It's as if the sweet fragrance of jasmine seeps into their very personalities."
But as female flower vendors act as a united front, get additional training and become more aware of their rights and vulnerabilities, there is hope that things will change.  
"It's clear that we need women in the industry, at all levels of the trade," Mahalakshmi said.
If you liked this story, sign up for the weekly bbc.com features newsletter, called "If You Only Read 6 Things This Week". A handpicked selection of stories from BBC Future, Earth, Culture, Capital, Travel and Autos, delivered to your inbox every Friday.