After Nepal's 2015 devastating earthquake, Maila Lama came up with an ingenious solution. Two years on, his village has bounced back in a most remarkable way.
L
Life for Maila and Dawa Jangbo Lama came to a crashing halt when a 7.8-magnitude earthquake rocked Nepal in April 2015. The couple scurried out in the nick of time, but their house, which was also their boutique travel lodge and grocery store, was damaged beyond repair. It seemed that life would never be the same again. But the resilient pair came up with an ingenious solution – and two years on, their village has bounced back in a most remarkable way.
Prior to the earthquake, Manekharka was a quiet, picturesque village of around 60 families perched on the mountains in Nepal's Sindupalchowk District. The name Manekharka means the land of many stupas and greenery. Although it's only 65km from the capital Kathmandu, the journey takes seven hours by bus along a treacherous, unpaved road. Like most Nepali villages, people scrape by, farming potatoes, maize and millet. The devastating earthquake wreaked havoc on their livelihoods.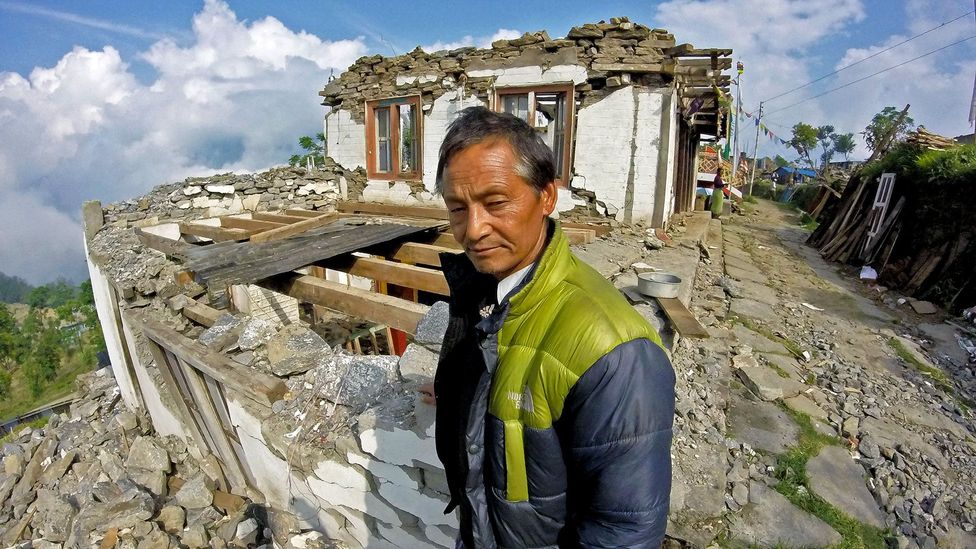 Maila and Dawa Jangbo Lama lost their home when an earthquake struck Nepal in April 2015 (Credit: Amrit Sharma)
My heart sank as I flew over Sindupalchowk district towards Manekharka less than two weeks after the earthquake to help with the relief efforts. We looked down on dozens of tiny villages that were completely flattened. It was heartbreaking to watch people lose what little they had: bed, clothes, food and cattle. According to World Bank data, the earthquake pushed an additional 2.5% to 3.5% of Nepalis into poverty – that's around 700,000 people.
Before the earthquake, the Lama's travel lodge mostly catered to hikers on their way to the 4,100m peak of Panch Pokhari, or bus drivers who shuttled people back and forth from Kathmandu. Dawa Jangbo took great pride in providing them with a comfortable bed, hot meals and homemade millet-based wine after dinner.
While most of the buildings in Manekharka were made of rocks held together by mud, the Lama's travel lodge was a sturdier wood-and-stone structure reinforced with concrete. Despite this, the roof caved in, several walls toppled over and it was on the verge of collapse. A few Buddhist paintings were found hanging on the few walls still standing.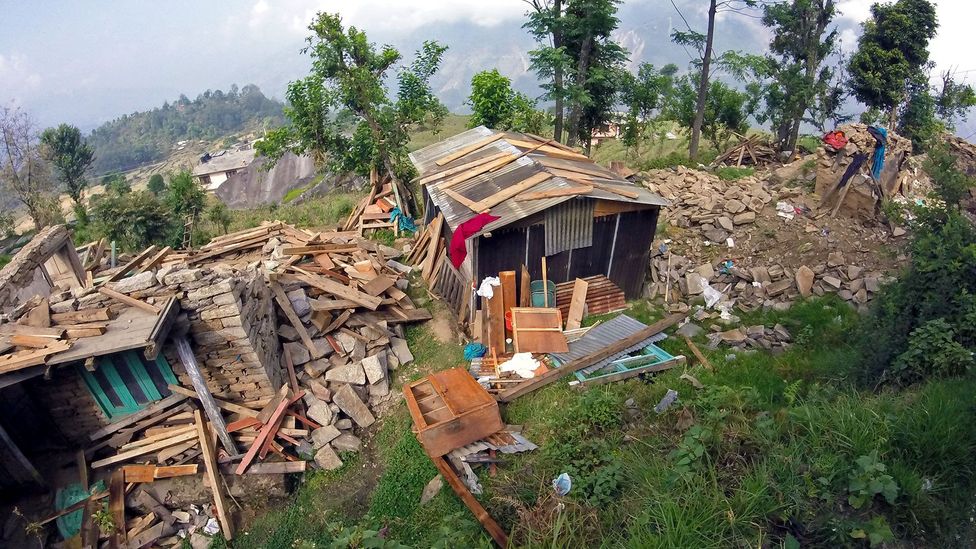 The earthquake that struck Nepal in 2015 pushed around 700,000 Nepalis into poverty (Credit: Amrit Sharma)
"It will take 50 years to rebuild it – maybe more," said 51-year-old Maila, as he looked over the remains of the lodge and wondered if he could ever return his life's cherished work to its carefully nurtured glory.
They – along with 23 other villagers – spent more than two weeks huddled under a plastic tarp to shelter from the nightly monsoon downpours. The rains dashed their hopes of retrieving any clothes or food reserves from the rubble. All Dawa Jangbo had was a bag of potatoes that she'd bought a few hours before the earthquake and placed by the front door. The family survived the entire ordeal eating aloo tarkari, a local curry made with boiled potatoes mixed with some vegetables and spices they borrowed from their neighbours.
Life was grim in Manekharka. But the Lamas were inspired by heart-warming acts of kindness around them. Suroj Koju, a 26-year-old lab technician, was returning to Manekharka by bus from his hometown, Bhaktapur, when the earthquake struck and triggered landslides around him. Rather than turning back, he hiked 10 hours to the village and immediately joined his small medical team at the Dhulikhel Hospital Manekharka Health Clinic, treating patients who were lying outside in the fields because no one dared to enter the building due to the aftershocks.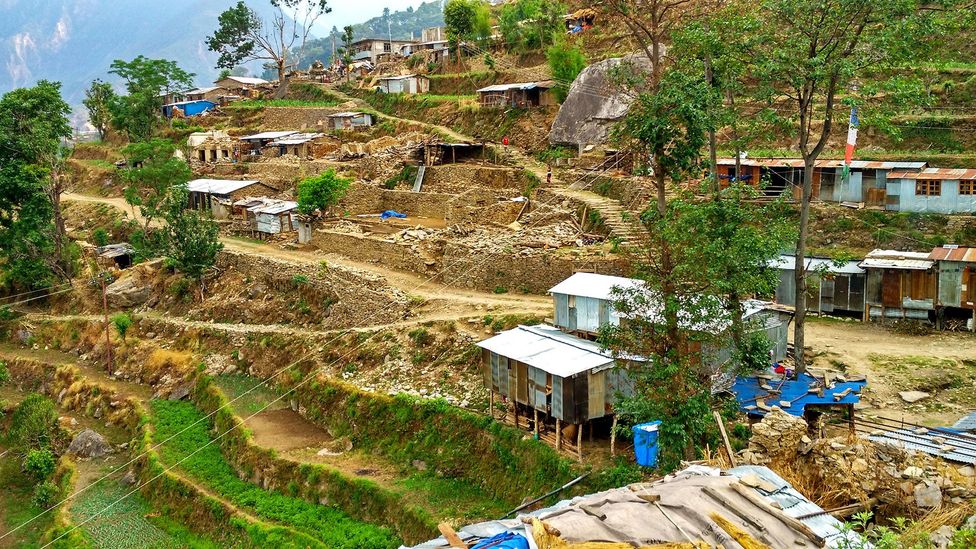 Maila helped others in the Manekharka community build shelters from the rubble (Credit: Amrit Sharma)
The Manekharka community leaned on one another during those difficult weeks. They cooked and shared meals together as one family. Rather than the usual pleasantries, the village greeting became 'Have you had food?'
But in Nepal, people living in poverty closely identify with their homes, since they often don't have much else. And when the earthquake relegated many to sleeping under plastic tarps, it led to increased mental health issues throughout the country, including anxiety, depression and even substance abuse. Many villagers in Manekharka replied to even the most basic questions with Ke garne ghar chaina, meaning 'What can I do? I have no home now'.
After two weeks under the tarp, Maila started sifting through the rubble. An experienced carpenter, he salvaged some corrugated tin sheets, a doorframe and some mesh wiring to build a makeshift shed for his family with a borrowed hammer and nails. Within a couple days, he was able to protect his wife and three young children from the elements.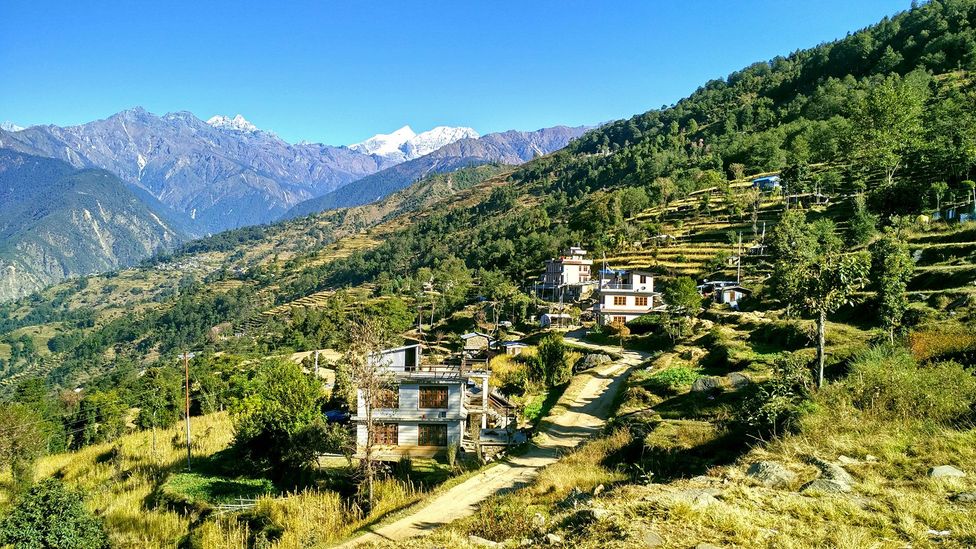 The name of the village, Manekharka, means 'the land of many stupas and greenery' (Credit: Amrit Sharma)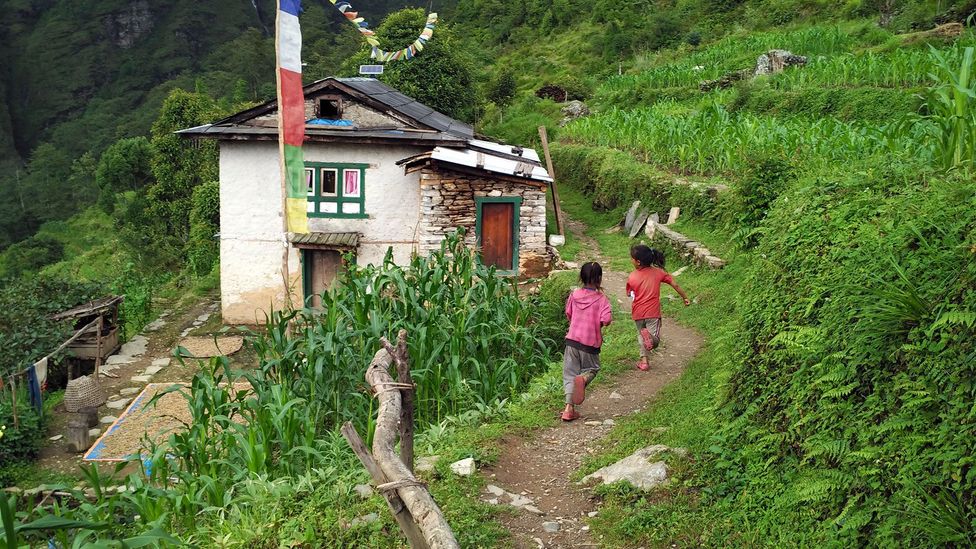 The picturesque village in Nepal's Sindupalchowk District is home to around 60 families (Credit: Amrit Sharma)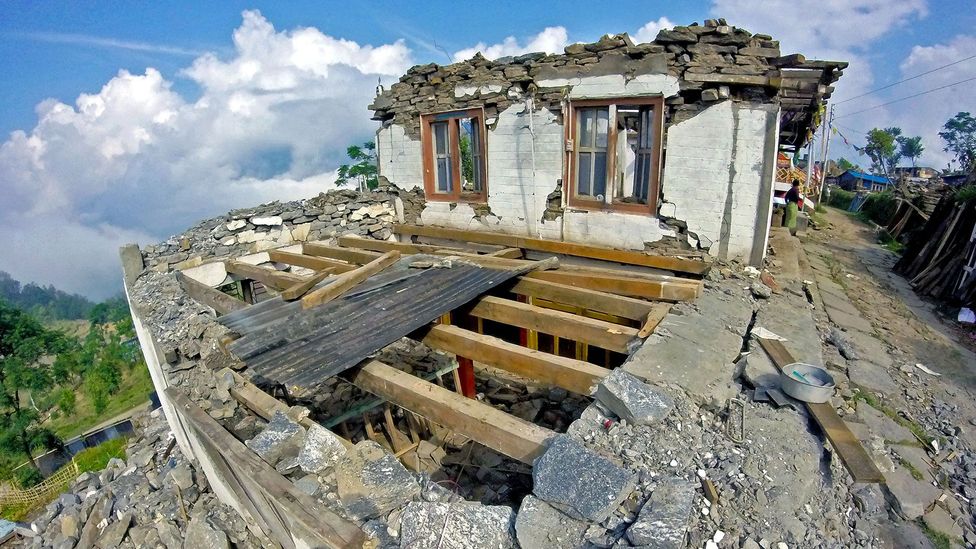 Maila and Dawa Jangbo Lama's home, which doubled as a travel lodge and grocery store, was ruined (Credit: Amrit Sharma)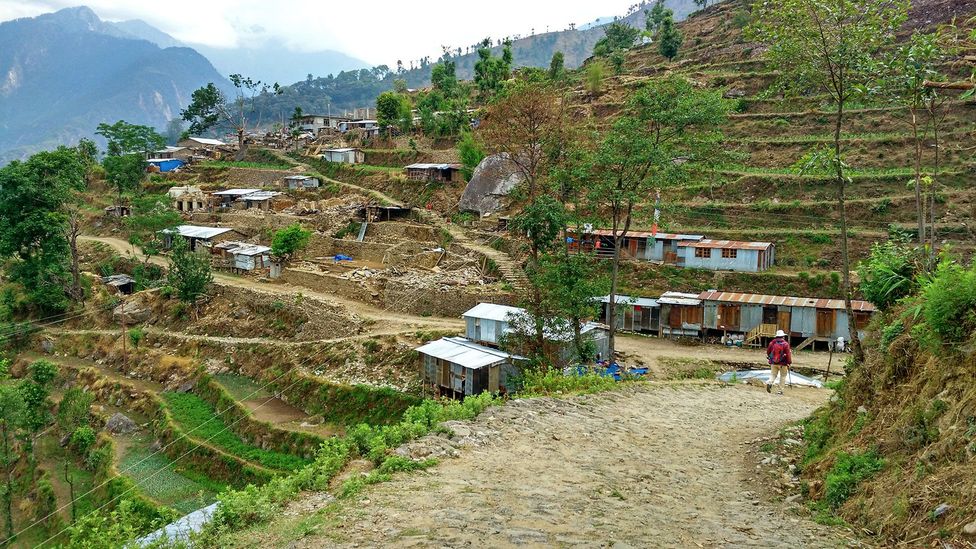 Maila built temporary shelters for the Manekharka community from the debris (Credit: Amrit Sharma)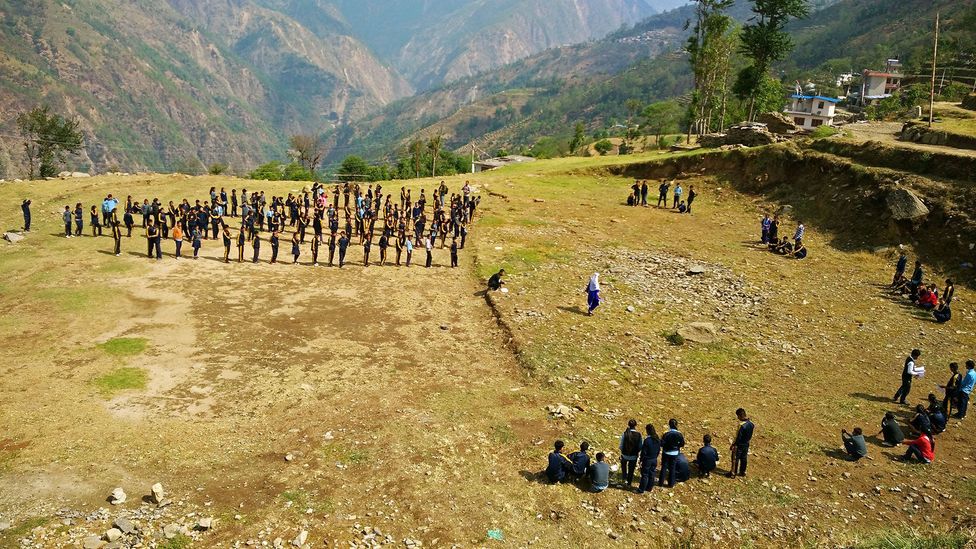 Nearly two years after the earthquake, life has begun to return to normal (Credit: Amrit Sharma)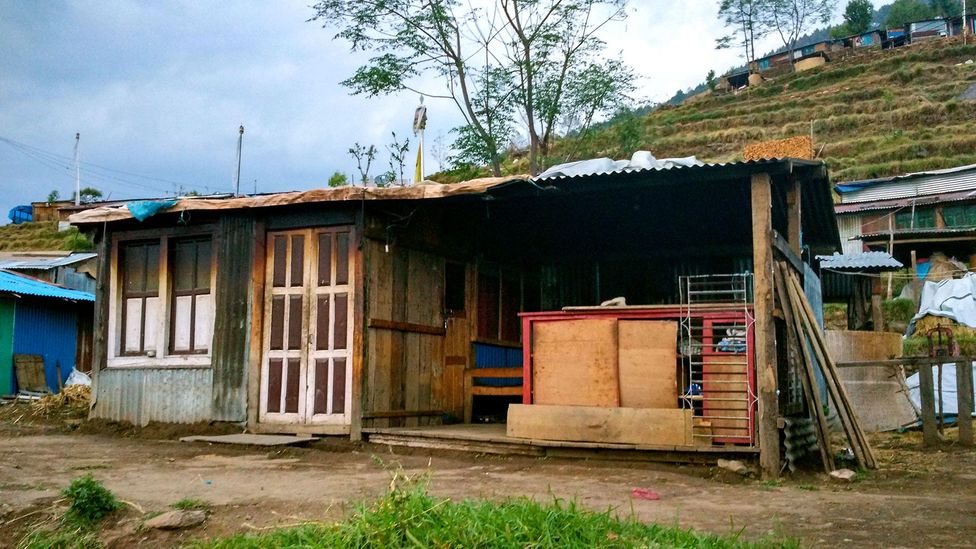 Today the Lamas run their travel lodge out of a series of temporary shelters (Credit: Amrit Sharma)
Buoyed by his achievement, Maila led a handful of villagers to replicate the process for the dozens of other homeless families over the next two months. His initiative: to put a roof over every family's head. And his work gave the community a new lease on life.
By June 2015, a few plots of land that were formerly farms were now lined with nearly 40 temporary shelters built by Maila and his team. This was particularly astonishing because even a whole year after the earthquake, the Nepal government still had not rebuilt a single home in the country.
I returned to Manekharka on the first anniversary of the earthquake. The mountains were still scarred by landslides. Despite little government help, life in Manekharka had inched towards normalcy. Over the past few months, the Lamas had steadily built a series of temporary shelters that would act as a replacement for their travel lodge. Their first one housed two beds, and by the time I arrived, they'd returned to their pre-earthquake capacity of 12 beds. I booked a room to experience life first-hand in a shed made from salvaged rubble.
It obviously wasn't luxury. The corrugated tin sheets on the roof amplified the sound of every raindrop, especially at night. The walls were thin sheets of plywood or more corrugated tin. The single window was made of mesh wiring with a thin curtain draped over it. But it was enough to make me feel safe and grateful.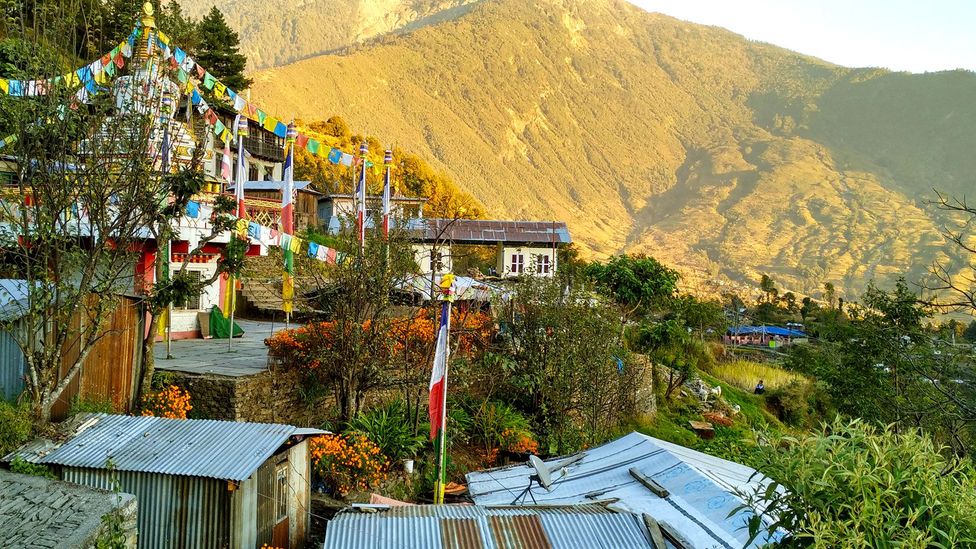 Nearly two years since the earthquake, most Manekharka residents still live in the temporary shelters (Credit: Amrit Sharma)
Even though it's almost two years since the earthquake, most people in Manekharka still live in these 'temporary' shelters that were supposed to last only six to eight months. Even so, they have plenty to celebrate. The village school has reopened, and the medical staff at the Manekharka Health Clinic continue to treat patients every day – even those who can't afford to pay. Trekkers and bus drivers have a place to rest. Life in Manekharka goes on.
"We've made it through many challenges since we got married 27 years ago," Dawa Jangbo said. "We will continue to do what we can and rebuild Manekharka."
Join over three million BBC Travel fans by liking us on Facebook, or follow us on Twitter and Instagram.
If you liked this story, sign up for the weekly bbc.com features newsletter called "If You Only Read 6 Things This Week". A handpicked selection of stories from BBC Future, Earth, Culture, Capital, Travel and Autos, delivered to your inbox every Friday.