A 3.8-mile section of Oregon's coast is named in remembrance of an elderly, blind Native American woman who was forced to walk for days over the sharp rocks with bare feet.
I
If you listen closely, the wind whispers with stories along the Oregon Coast Trail. A hiker's instinct is to watch their feet, scanning the ground for the next step, making subtle recalibrations to balance and stride. But here, surrounded by old growth trees that have seen more than I can imagine, I felt compelled to listen, rather than watch.
I was hiking just a short part of the 382-mile trail, and the ground here was mostly soft with easy, rolling inclines and descents. But when Amanda De-Cuys was forced to traverse this same ground, 153 years ago, the terrain was rocky and the trees were tangled. And De-Cuys had no shoes or sight.
In 1855, after years of violent clashes with settlers who sought to rid Oregon's coastal land of its original inhabitants, native tribes along the coast ceded their homes in exchange for a peaceful relocation to The Coastal Reservation, which covered about 1 million acres from Dunes City to Cape Lookout.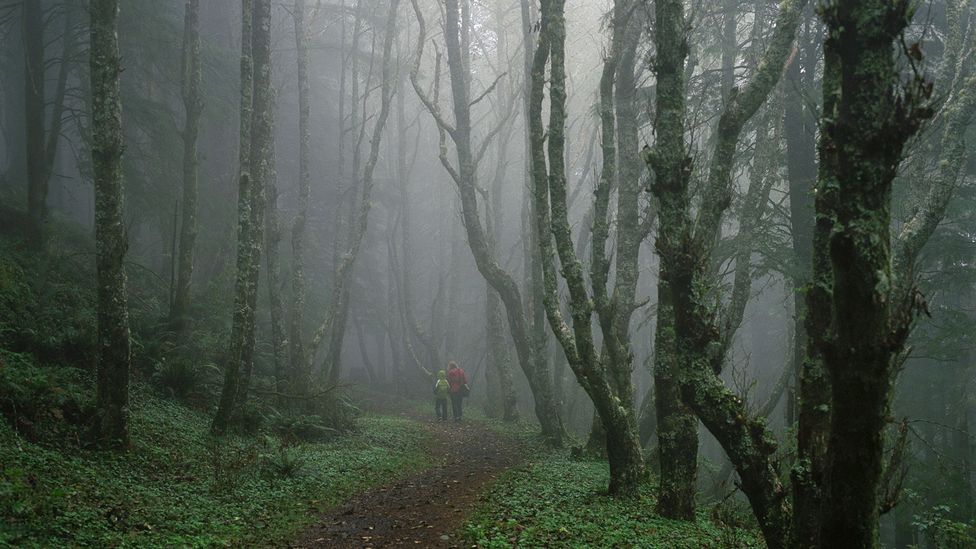 De-Cuys was forced to walk 80 miles of what is now the Oregon Coast Trail (Credit: Zeb Andrews/Getty)
But the treaty was never ratified by Congress, and funds that should have gone to feeding this displaced population never arrived. After being robbed of their ability to hunt and gather, about 500 Native Americans died of starvation or disease on The Coastal and Oregon's Grand Ronde reservations. De-Cuys, along with many others, decided to escape.
I'd begun my day in the town of Yachats – known as 'the gem of the Oregon coast' – where pastel-painted shops speckle the streets and lawn ornament sea creatures spin and sparkle along pavements.
But Yachats is also where De-Cuys and other captured Native Americans were brought to internment camps after the military was called in to round up escapees. The elderly, blind De-Cuys had been living with a settler and their eight-year-old daughter in Coos Bay for many years after her escape. When Indian agents finally discovered her, she was forced to leave them behind and make the treacherous, 80-mile journey from Coos Bay to Yachats on foot.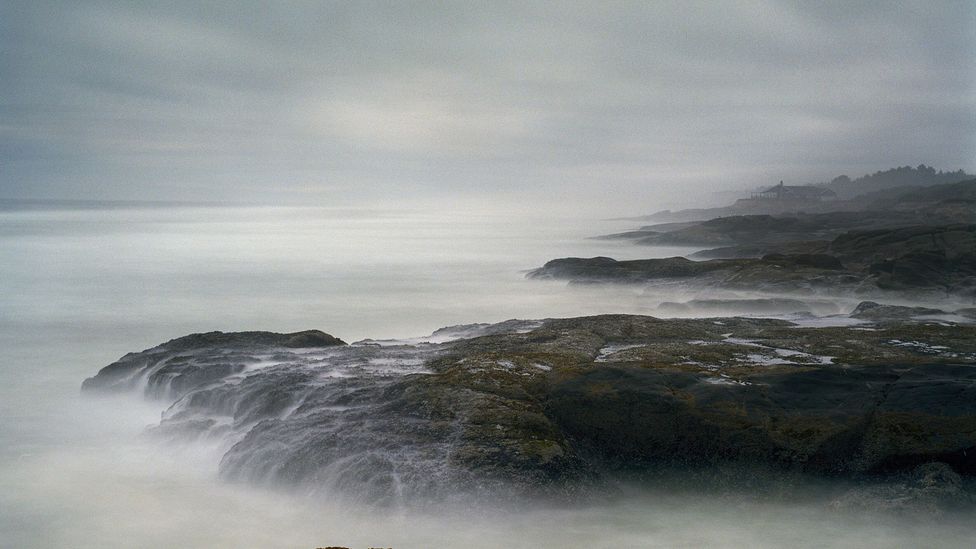 Forced to walk without shoes on the jagged rock, De-Cuys could be tracked by the blood from her torn feet (Credit: Zeb Andrews/Getty)
A 3.8-mile section of The Oregon Coast Trail is now named in her honour – Amanda's Trail – marking the final leg of her painful journey.
My hike began in town, just prior to the official start of Amanda's Trail. The path meandered through neighbourhoods before crossing into the forest where coastal fog lingered in the trees. There was an intimacy between the ocean and forest here; I could hear it in the distant rumble of waves harmonising with the rustling branches, lulling me into a peaceful state as I walked.
Two months ago, I was in a much colder place, where my limited perspective of Native American culture was met with the realities of ongoing colonisation. Atrocities were part of the past, I thought; clashes between white people and natives were unfortunate segments of history.
I'd travelled to Standing Rock in North Dakota to stand in solidarity with the Standing Rock Sioux and fellow water protectors who were protesting the construction of the Dakota Access Pipeline. We were encouraged to speak of where we're from in terms of occupied territories. I learned that I am from occupied Coos, Umpqua and Siuslaw territory, otherwise known as Portland, Oregon.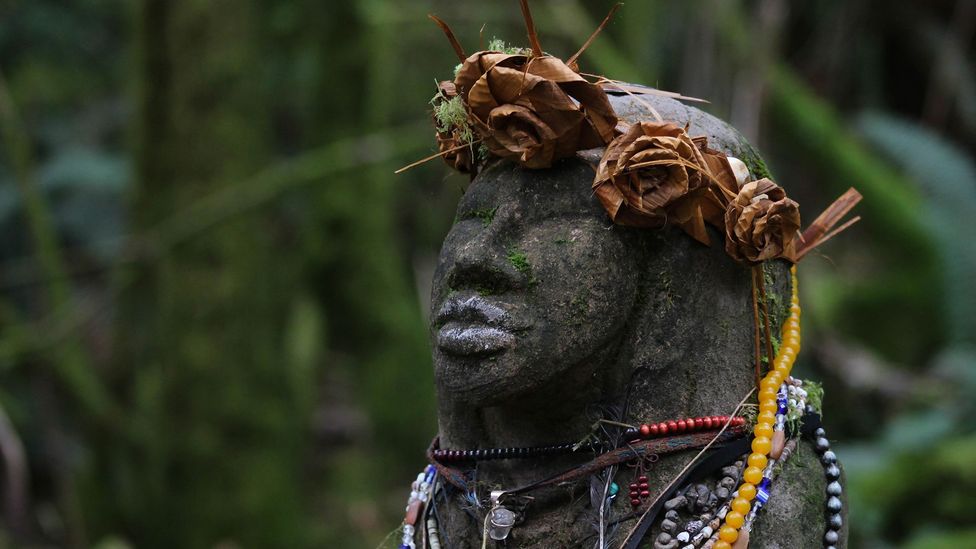 A small statue of De-Cuys has been placed along the trail (Credit: Britany Robinson)
De-Cuys belonged to the Coos tribe.
I meditated on this as I walked towards the clearing where a chest-high statue has been placed on the trail in remembrance of De-Cuys. The sculpture's solemn face reminded me of the elders that sat around the sacred fire at Standing Rock. They didn't shiver or stir, despite the relentless cold. They sat like statues, prepared to stay there for as long as it took.
And De-Cuys, too, had no choice in what she had to do.
"Amanda who is blind, tore her feet horribly over these ragged rocks, leaving blood sufficient to track her by," wrote Corporal Royal Bensell, who was charged with leading dozens of Native Americans to their detainment. Pieces of his journal are recounted on a sign near the statue.
Time can't erase the jagged edges of history
De-Cuys' statue is adorned with beads, feathers and rocks. It is surrounded by benches, encouraging hikers to sit in this peaceful clearing. While many come to the Oregon Coast Trail to escape, De-Cuys' statue encourages them to remember an unsettling truth. This beautiful land was brutally robbed. And while decades of wind may have smoothed the ancient volcanic rocks, time can't erase the jagged edges of history.
Although the trail climbs another two miles towards the Cape Perpetua lookout, De-Cuys's story fades at the conclusion of that tortured hike. Her fate is unknown.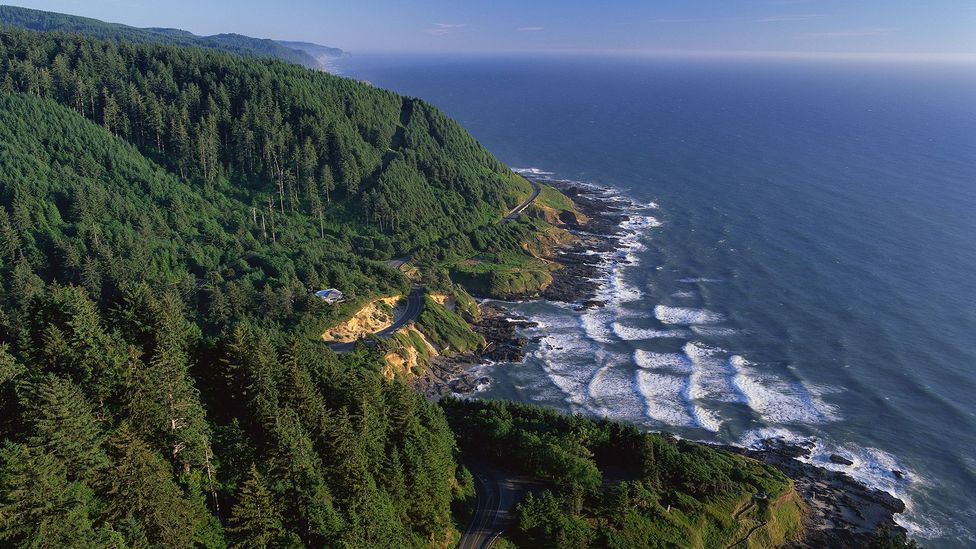 Amanda's Trail continues to the Cape Perpetua lookout, where De-Cuys' story ends (Credit: Philip James Corwin/Getty)
This year, Oregon celebrates the 50th anniversary of The Beach Bill, which granted public access to the entire edge of the state from surf to vegetation. Oregonians pride themselves on this generous prioritisation of public access over development. Families come with their blankets to play Frisbee, eat oysters and squeal for rare moments of sunshine.
Hopefully, some of them will also hike Amanda's Trail, and stop for a moment, not only to remember the past, but to acknowledge the present, too.
Join over three million BBC Travel fans by liking us on Facebook, or follow us on Twitter and Instagram.
If you liked this story, sign up for the weekly bbc.com features newsletter called "If You Only Read 6 Things This Week". A handpicked selection of stories from BBC Future, Earth, Culture, Capital, Travel and Autos, delivered to your inbox every Friday.