What the signs lack in punctuation, they make up for by being consistently memorable, thanks to a neat turn of phrase that's perhaps unexpected from the pens of bureaucrats.
T
The Land of The Thunder Dragon, as the Himalayan Kingdom of Bhutan's full name translates into English, has famously embraced modern life at a considerably slower pace than much of the rest of the world.
Television and the internet only arrived in 1999, with mobile phone networks coming four years later. And unbelievably, it wasn't until 1960 that construction began on the country's very first road. Until then, the only way to get around Bhutan was via the footpaths and mule tracks that criss-cross the breathtaking mountain landscape.
But more than 1,500km of roads have been built since then, and there's a particular and unexpected pleasure for those driving them today: some very quirky roadside signs.
Variously funny, blunt and occasionally profound, they form part of Project Dantak, an Indian government-funded initiative by the Border Roads Organisation (BRO), which for more than half a century has helped Bhutan's steady path towards modernisation through construction and development projects.
In Bhutan's second city of Paro, home to the country's only airport, just 12 pilots are permitted to manually land on the short runway that seems to appear from nowhere between the mountains. At a nearby bend in the road underneath the flight path, where cars pull over for the perfect view of the city's 17th-Century Ta-Dzong watchtower, drivers will see a poetic warning of the perils of drink driving, a common theme among Bhutan's road signs: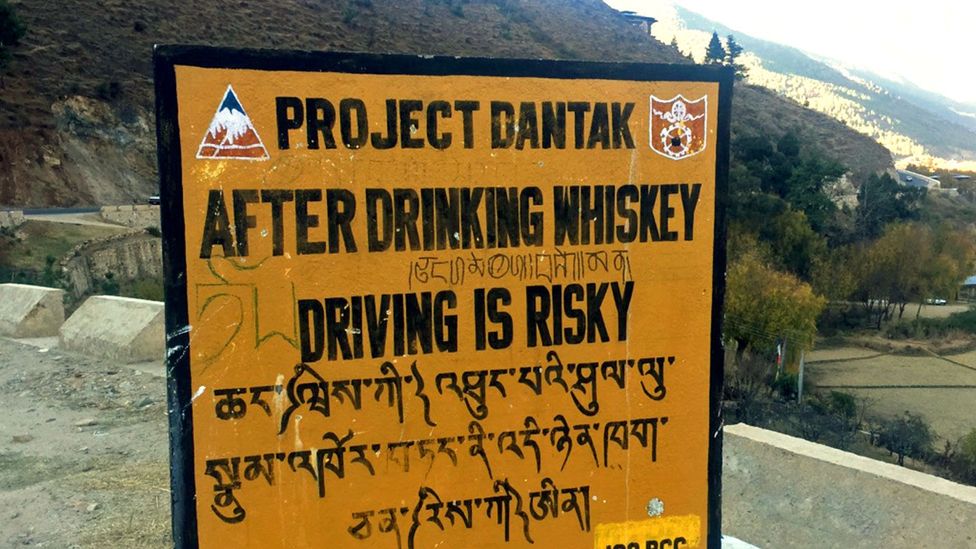 The signs are in English and occasionally also in Dzhongka, Bhutan's official language. What they lack in punctuation, they make up for by being consistently memorable, thanks to a neat turn of phrase that's perhaps unexpected from the pens of bureaucrats.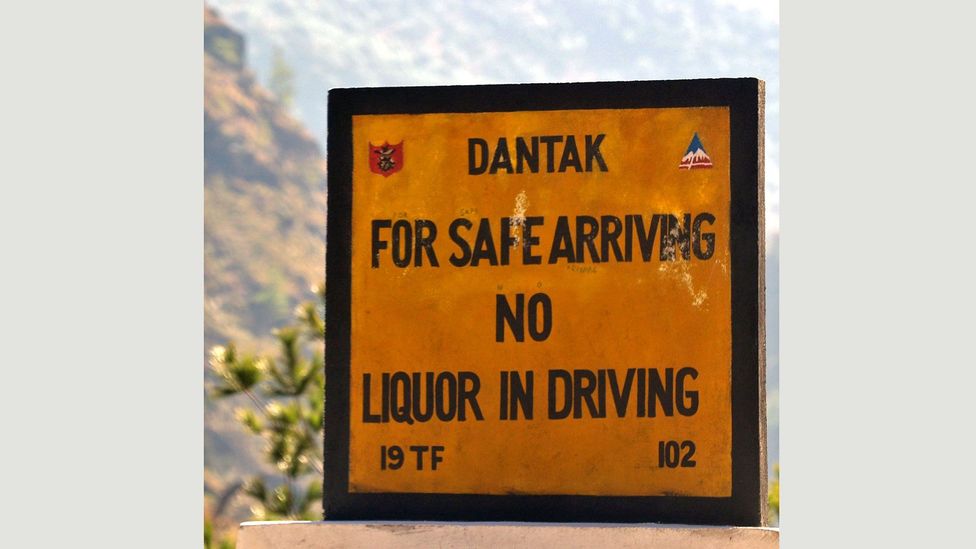 With just 75,000 cars for the total population of 750,000 – in a country the size of Switzerland – the roads are usually pretty empty. There's also not much in the way of traffic signals. The capital Thimphu was home to Bhutan's sole traffic light – for just 24 hours. It was quickly removed to be replaced by a now famous policeman who directs traffic with flamboyant, white-gloved hand movements from the middle of what is one of the city's busiest streets. Not that you'd know it.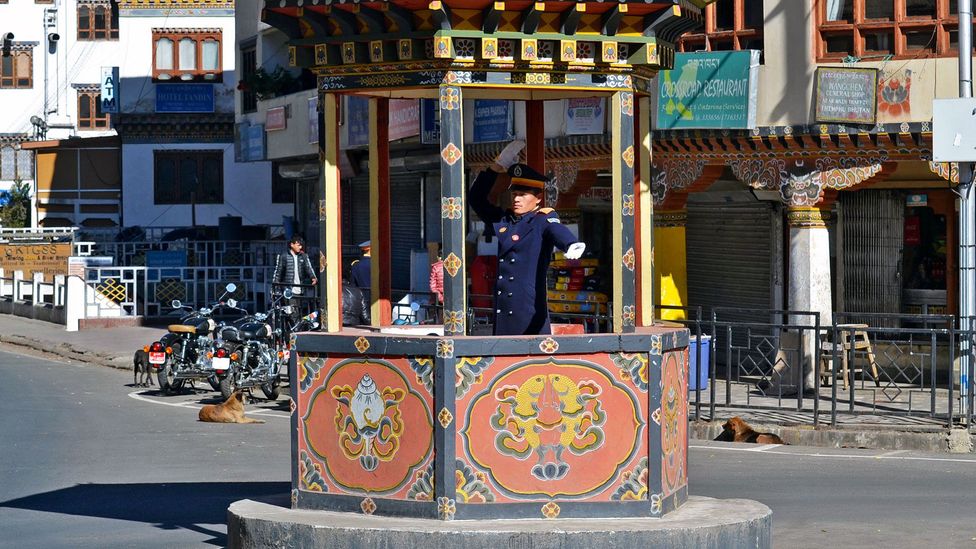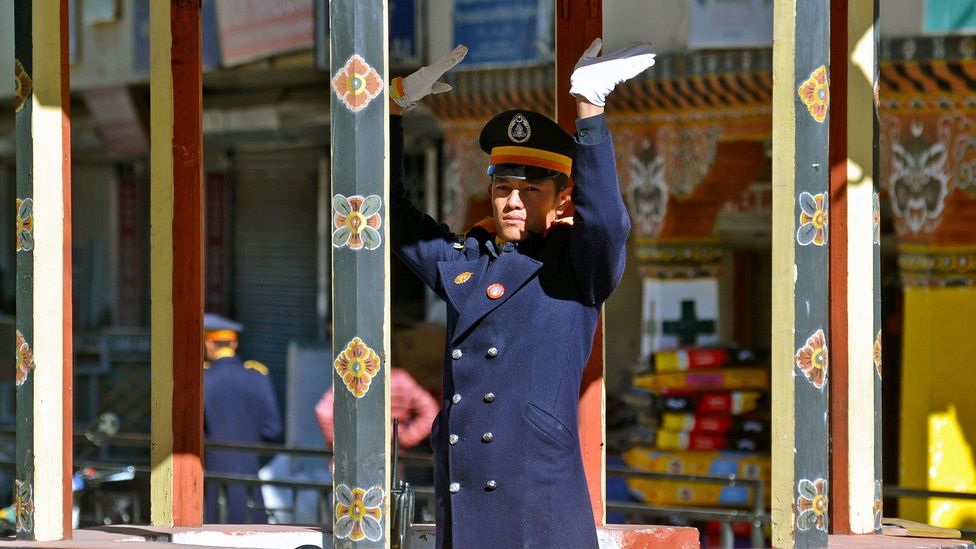 Along the invariably winding mountain roads, speeding is another regular theme. The rhyme playbook is bought out again with 'Going faster will see disaster' or the slightly less terrifying 'On the bend, go slow friend'.
The warnings can also be blunt in the extreme – especially when they raise the prospect of not seeing out the end of your journey. 'Life is a journey, complete it' or 'Time is money, but life is precious' leave no doubt as to the goal of making it home in one piece.
Rhyming may be taken to the limits of credibility with 'Don't hurry, be cool, since heaven is already full' but the message is again clear.
Project Dantak seems to have some romantics in its ranks, reminding drivers of their loved ones to ensure that speed limits are adhered to: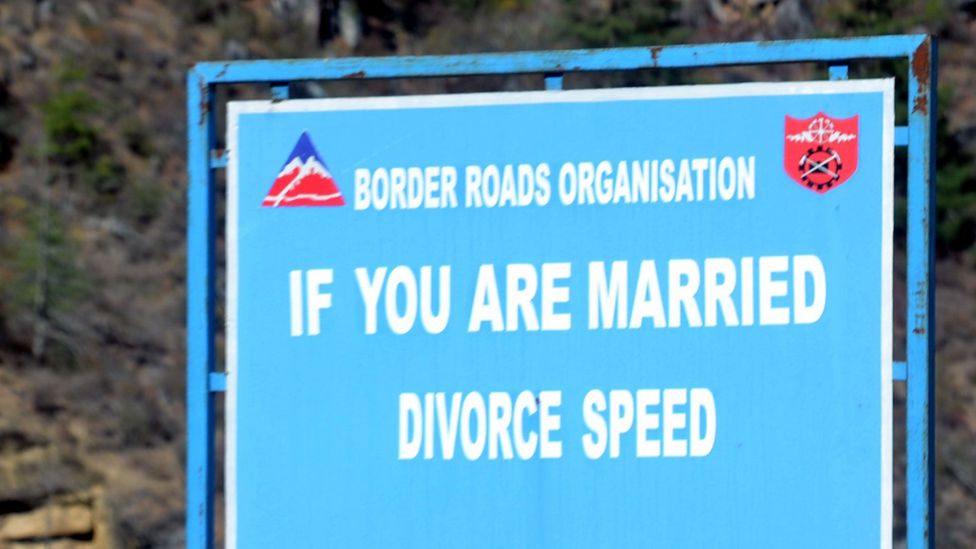 But it's two road signs in remote southeast Bhutan that take some beating when it comes to humour. It's clearly a part of the country where tardiness is not an issue if it means getting to your destination in one piece: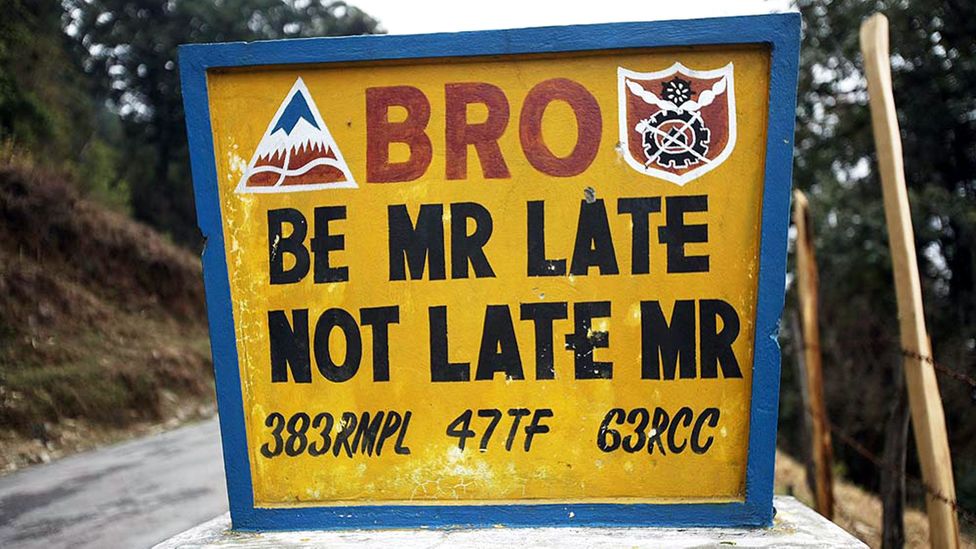 While this one leaves little to the imagination: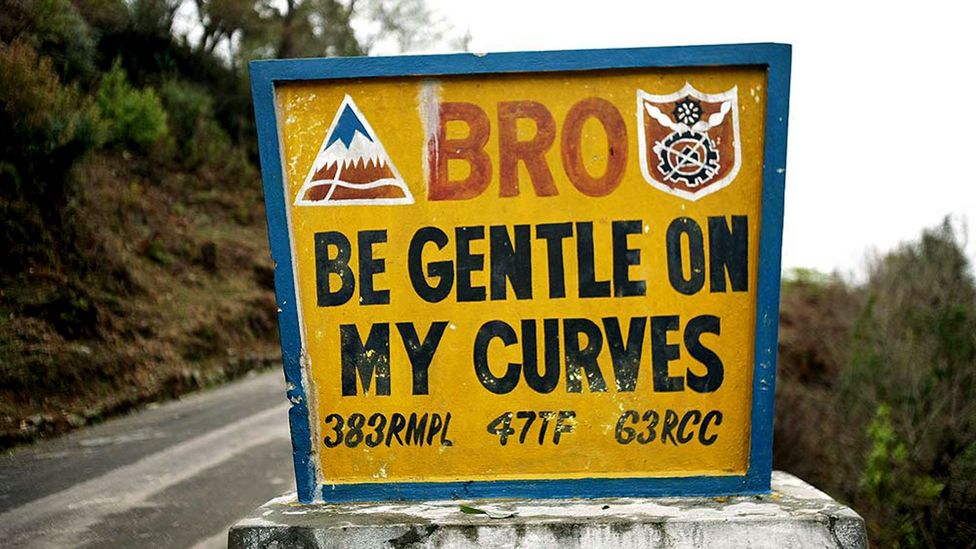 Elsewhere, the road from Thimphu to the former capital of Punakha passes one of the world's most beautiful rest stops at the Dochula Pass, where the Jigme Singye Wangchuck Himalayan range and national park provide the horizon.
But as all careful Bhutanese drivers know, 'Mountains are pleasure only if you drive with leisure'.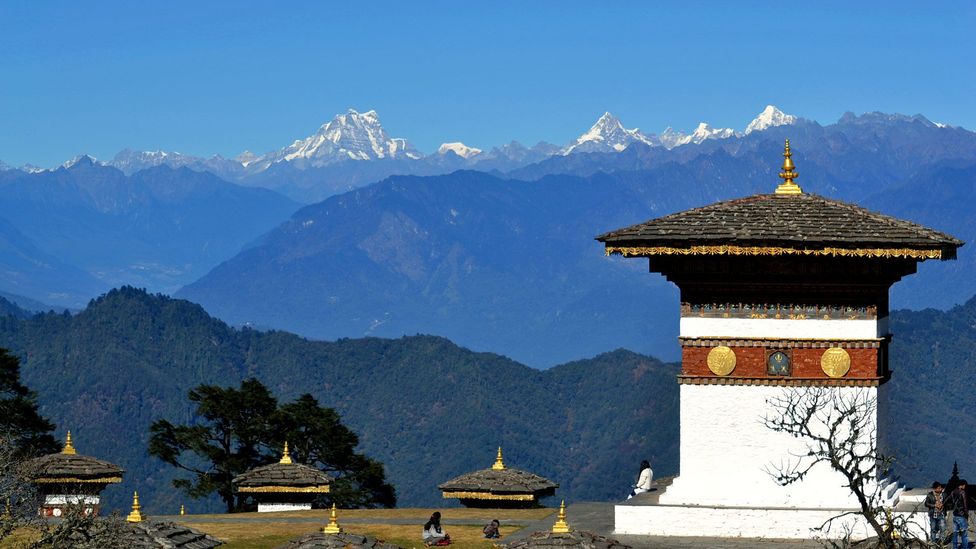 It's not just road safety that the signs communicate, as a clean environment is clearly a happy one in Bhutan: 'Don't litter, it will make your life bitter'. There's even room to quietly show some pride in their work, 'Smooth road for your smooth ride'.
Over the years, the Border Roads Organisation has also built and maintained roads in other countries neighbouring India, including Afghanistan, Burma and Sri Lanka. Today, they largely employ local workers, but historically, many Indians took on the difficult and dangerous work. Their ability to have a sense of humour in challenging circumstances is clear both in their brilliant road signs and in their mission:
"Let us not forget that roads in this difficult terrain have been built not only with mere cement and concrete, but also with the blood of men of the Border Roads Organisation of India. Many lost their lives for the cause of duty on the project. To these men, who always play with danger and laugh at death, duty comes first."
It's a sacrifice that the people of Bhutan continue to value and honour more than half a century on, with more than a few smiles along the way.