It's hard to believe that one of history's greatest men was actually so down-to-earth.
I
It's hard to imagine Niccolò Machiavelli, Florence's chancellor at the end of the 1400s, sneaking like a fugitive into a den of vice.
Clad in simple clothes and holding a candlestick, he would descend into the underground wine cellar of his Chianti farmhouse, make his way through a secret underground passageway, and pop out in a corner of a raucous tavern to drink wine, mingle with peasants and wayfarers, and play cards with the butcher and innkeeper.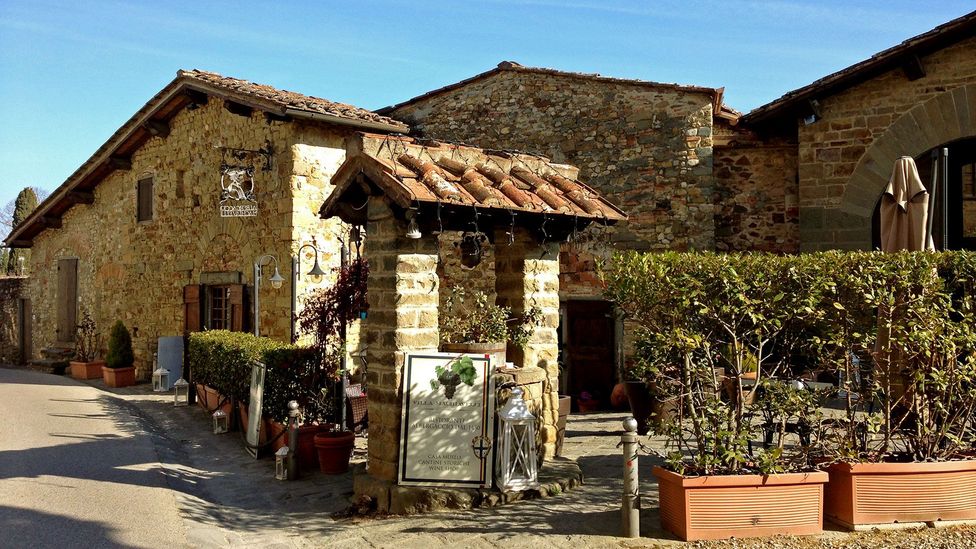 Machiavelli wrote the controversial political treaty, The Prince, at L'Albergaccio (Credit: Silvia Marchetti)
Incredibly, this tavern, most fittingly called L'Albergaccio (the 'bad' inn) is where Machiavelli wrote The Prince, the most controversial political treaty of all time. The first time I walked through the passageway, lined with ancient wine bottles and ceiling-high barrels dating back to the 1300s, I could hardly believe what a down-to-earth creature one of history's greatest men actually was.
In 1512, the cunning statesman, then 43 years old, was on a forced one-year 'holiday'. The Medici, a powerful family of bankers who ruled Florence during the Renaissance, were angry at Machiavelli for having conspired against their return to power, and banished him from Florence. Being an aristocrat and statesman, he was given the privilege of choosing his exile. He picked a tiny hamlet perched on the gentle rolling hills of the nearby town of San Casciano, where his family owned several properties. 
A gentleman of his status would never want to be seen entering such a place of ill repute.
But instead of staying at his cardinal-uncle's magnificent mansion designed by Michelangelo, today a luxury resort, Machiavelli opted for his family's 14th-Century farmhouse – with its direct underground route to the adjacent tavern. Every evening, after studying in his library, he would change his outfit, descend into the wine cellar and walk underneath the street right into L'Albergaccio. Of course, it would be easier and quicker to simply cross the road that separated the inn from his farmhouse, but way too risky. A gentleman of his status would never want to be seen entering such a place of ill repute.
L'Albergaccio was a popular waystation where knights, travellers and pilgrims rested their horses for the night, dined and slept, relaxing in the arms of women. And it's within these lascivious walls that Machiavelli found inspiration for The Prince, which suggested a ruler should be manipulative and entitled to use 'all means to justify his ends.'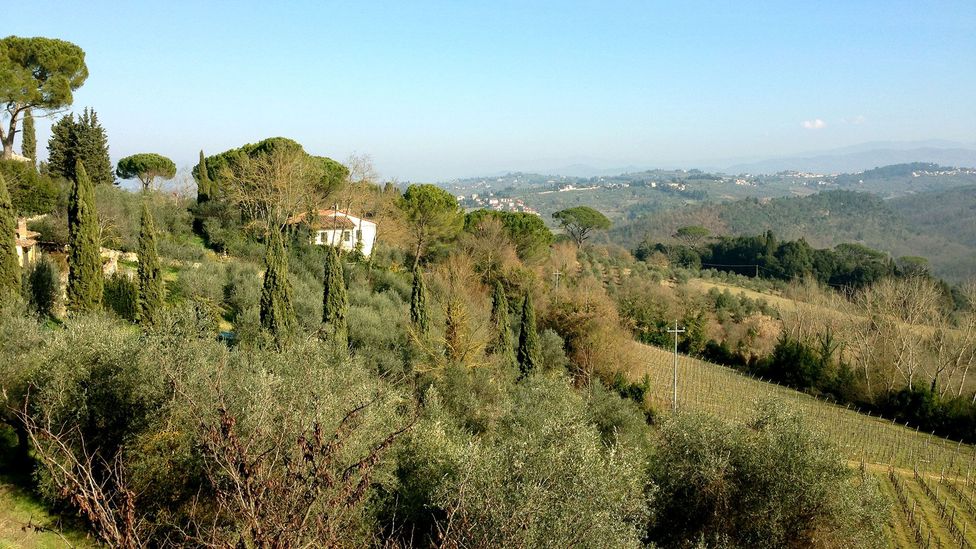 Machiavelli was exiled to a tiny hamlet perched on the hills of San Casciano (Credit: Silvia Marchetti)
For him, L'Albergaccio was a microcosm of human behaviour that he could study. His daily visits allowed him to "learn many things, and note the different tastes and varied fancies of men," as he wrote in a letter to Francesco Vettori, his friend and Florentine ambassador to the Papal court. In the same letter, he told Vettori that he was working on an important political treaty that was the sum of 40 years of statecraft, defining what leadership is and how a real ruler should be.
But it seems that the seedy ambiance wasn't solely for inspiration. The tavern's hedonistic guests and activities would surely have made his exile more bearable, and Machiavelli drank and gossiped with the innkeeper, the butcher, the miller and two bricklayers. They played cards and backgammon, and, as he wrote to Vettori, "a thousand quarrels arise and numberless insults of offensive words" could be heard across the valley. He met with spies in the tunnel, who informed him what was going on in Florence. Such a roguish lifestyle allowed him to, as he said, "keep the mould from my brains and vent my rage against the wickedness of my fate."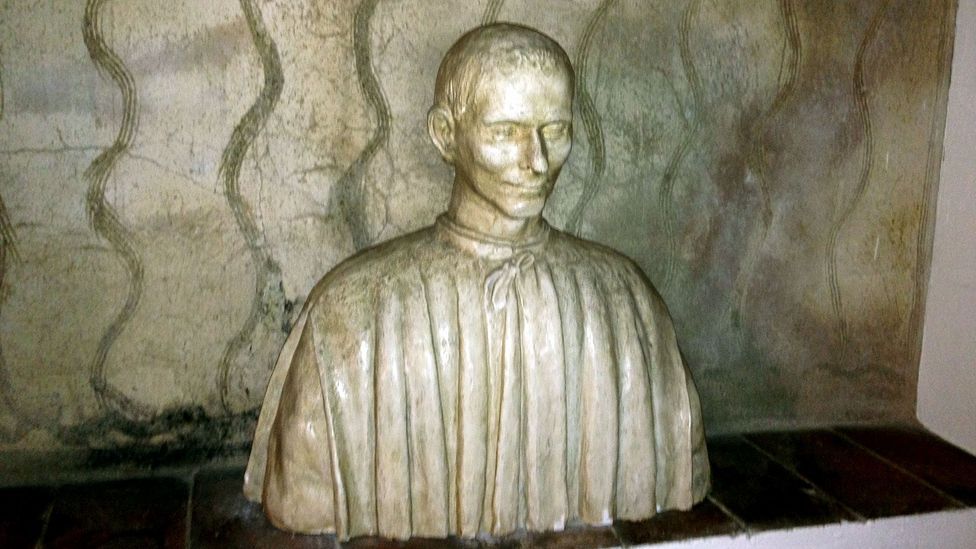 Easy access to the tavern made Machiavelli's exile more bearable (Credit: Silvia Marchetti)
Florence was undergoing political mayhem at the time, caught up in quarrels with neighbouring cities for supremacy. A unified Italy did not yet exist, and that was Machiavelli's dream and torment as described in The Prince. He longed for a leader who had the standing and power to unite and rule the country. 
"Machiavelli wrote dozens of letters during his stay here. He loved to look after the vineyards, olive grove and vegetable plots, pick the grapes and get his hands dirty with soil like a farmer," said Matteo Saraceni, a Machiavelli researcher and current manager of L'Albergaccio, which today is a gourmet tavern famous across Tuscany for its thick T-bone steaks called 'Chianina'. Also on the menu is 'Machiavelli's Chop', a recipe created by the statesman himself when he asked the innkeeper to cook his beef with red wine, black cabbage and wild fennel. 
The inn, decorated with reproductions of Machiavelli's letters, still retains its medieval ambiance, with wooden ceiling beams, original furniture and cobble floors worn smooth by centuries of footsteps. A fireplace in a corner was Machiavelli's favourite spot, Saraceni told me.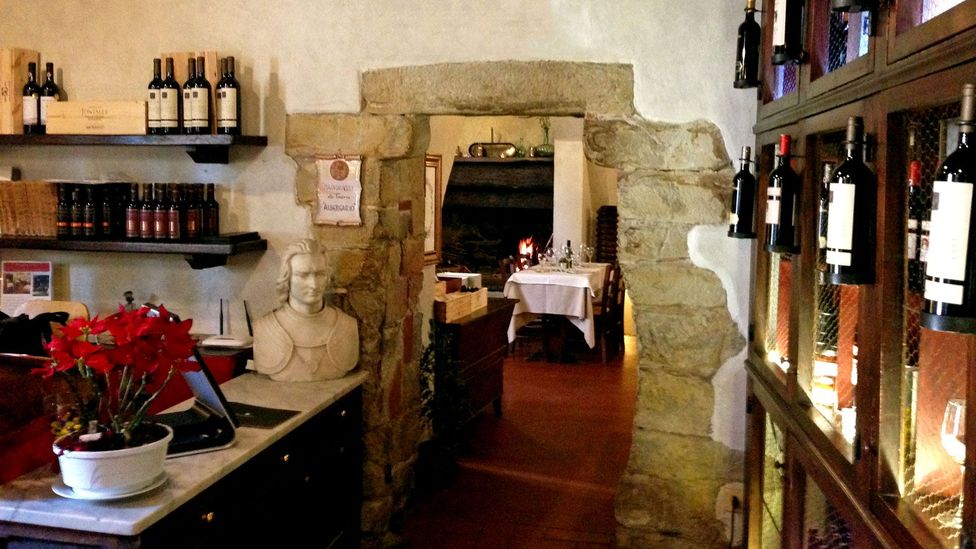 L'Albergaccio still retains its medieval ambiance (Credit: Silvia Marchetti)
After snacking on finocchiona bruschetta (fennel-stuffed salami on grilled bread) and pici pasta with chestnuts, Saraceni took me across the road and guided me through Machiavelli's house.
The library, study and bedroom were decorated in tapestries and old maps of Florence, and I gazed with interest at his writing table and chair and the chest where he kept his papers. The house was packed with Renaissance furniture, and we walked through a functioning kitchen with a stone fireplace and sink where Machiavelli loved to cook, according to Saraceni. The patio had views of Florence's Duomo. But the most thrilling part came when I descended the steep staircase into the maze of tunnels used to age wine. The 3m-thick walls were damp and cold. At the end of a long line of barrels I spotted another, narrower corridor: the secret passage. It wound below ground for about 100m – and, guided by the earthy scent of truffles, I was suddenly back inside the restaurant.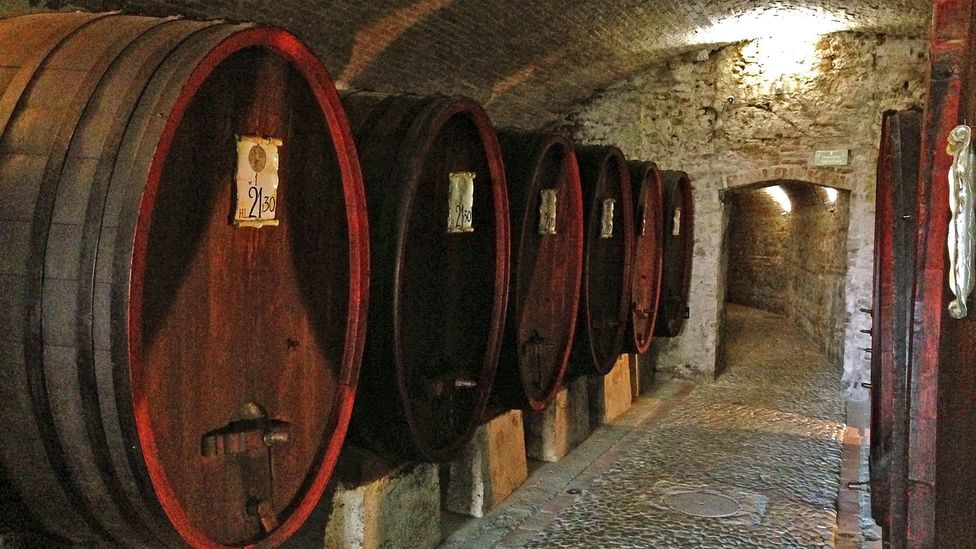 The passageway between the inn and Machiavelli's home is lined with ceiling-high barrels (Credit: Silvia Marchetti)
Machiavelli's 40 years of public service to Florence, his experiences in exile and the lessons he had learned as a statesman are all condensed in The Prince. He hoped that one day the treaty's fame could help him rise again to his previous standing, but unfortunately the great politician died in 1527 in misery and poverty. The Prince, along with several plays he wrote after his exile – and perhaps his secret passageway – are all that remain of Machiavelli's legacy.
Join over three million BBC Travel fans by liking us on Facebook, or follow us on Twitter and Instagram.
If you liked this story, sign up for the weekly bbc.com features newsletter called "If You Only Read 6 Things This Week". A handpicked selection of stories from BBC Future, Earth, Culture, Capital and Travel, delivered to your inbox every Friday.