A heavenly patch of fertile land in the Italian region of Franciacorta makes a niche sparkling wine that's perhaps even more prestigious than Champagne.
T
The first thing I noticed when I visited the Italian region of Franciacorta was the dense fog that enveloped its vineyards. I could barely make out the medieval crypt just a few metres away where people were gathered to taste the niche sparkling wine produced here. I kept asking myself: how can all this dampness and fog make such a great fizzy wine? 
But that's precisely why.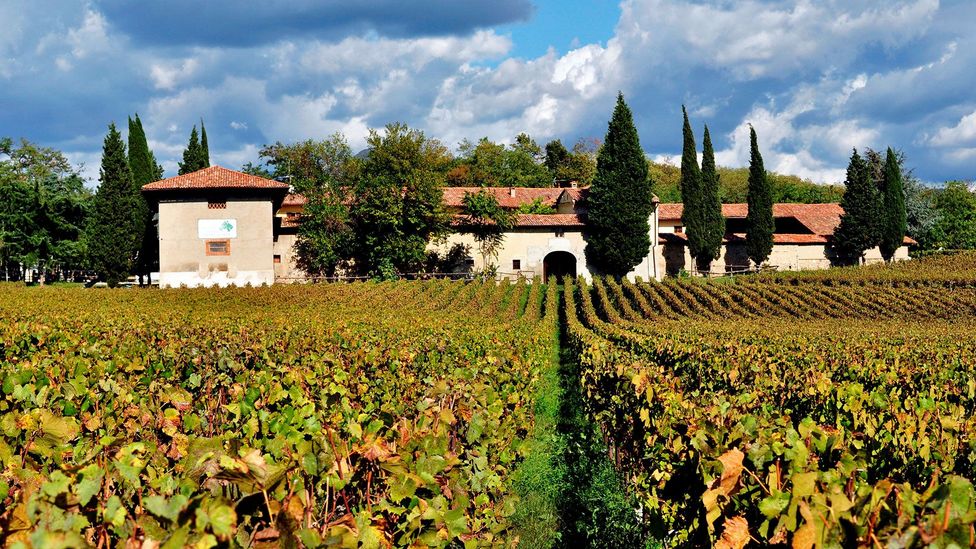 Franciacorta is Italy's most unspoiled, elite wine paradise (Credit: AGF/Getty)
Franciacorta is Italy's most unspoiled, elite wine paradise. Forget overrated, mass-produced Prosecco – and even Champagne. This heavenly patch of fertile land, 30km northwest of Brescia, makes a bubbly that's perhaps even more prestigious than the iconic French drop.
In Franciacorta, the grapes are hand-picked, and there's a higher concentration of them in each bottle. Even the yeast ageing takes longer than for Champagne, a minimum 18 months for non-vintage bottles (versus Champagne's 15 months) to a minimum of five years (versus Champagne's three years) for vintage bottles called Riserva, the ones you keep for very special occasions.
This heavenly patch of fertile land makes a bubbly that's perhaps even more prestigious than the iconic French drop
But the secret of those tiny, driest bubbles of brut, of the silky white satèn (a term exclusive to Franciacorta bubbly) or of the region's sweeter rosé, lies in the prehistoric origin of the soil. 
The vineyards grow inside a fertile, amphitheatre-shaped valley that's closed in by the Alps on one side and by Lake Iseo on the other. A silicious, extinct glacier once covered the whole area, out of which precious minerals are still abundant. When the glacier retreated during the last Ice Age, it left behind huge balls of peat and rock debris, fossilized over millennia, that resemble shards of fallen meteorites.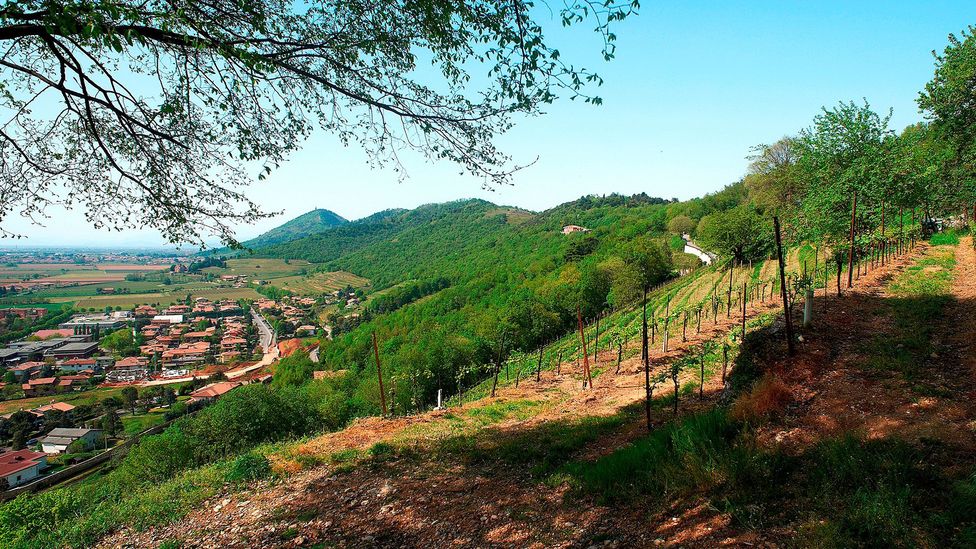 Monte Orfano shields Franciacorta from the freezing Alpine temperatures (Credit: Marka/Getty)
As I crossed Le Torbiere, a beautiful wetland area near the lake, I could see glacier fossil remains. Trying to keep my feet out of the muddy swamp, I looked up and saw Monte Orfano (Orphan Mount), a solitary mountain jutting out of the plain that's shaped like a huge Panettone cake. It stands like a sentinel overlooking the vineyards, acting as a natural shield from the bitter winds blowing from the 3,000m-tall Alps and keeping the temperatures above freezing. This environment allows the grapes to 'breathe', ultimately enhancing the aroma of the sparkling wines. The tamed breeze – along with the accompanying fog and mist – helps nourish the vines.
Inhaling the pristine air, I descended into the underground world where Franciacorta's bubbly is made and nurtured. Today, around 116 wine makers, united in a consortium that guarantees production standards, stack their bottles down here, where the cool temperature acts as a natural refrigerator.
Marco Pellizzari, a local hotelier and wine cellar owner, guided me through the subterranean rooms of his hotel, which was once a 16th-Century convent. A deep, ancient well, once used by nuns to collect water, has been turned into a vertical wine cellar that houses his collection of more than 800 bottles. Above my head were the ruins of an ancient Roman temple.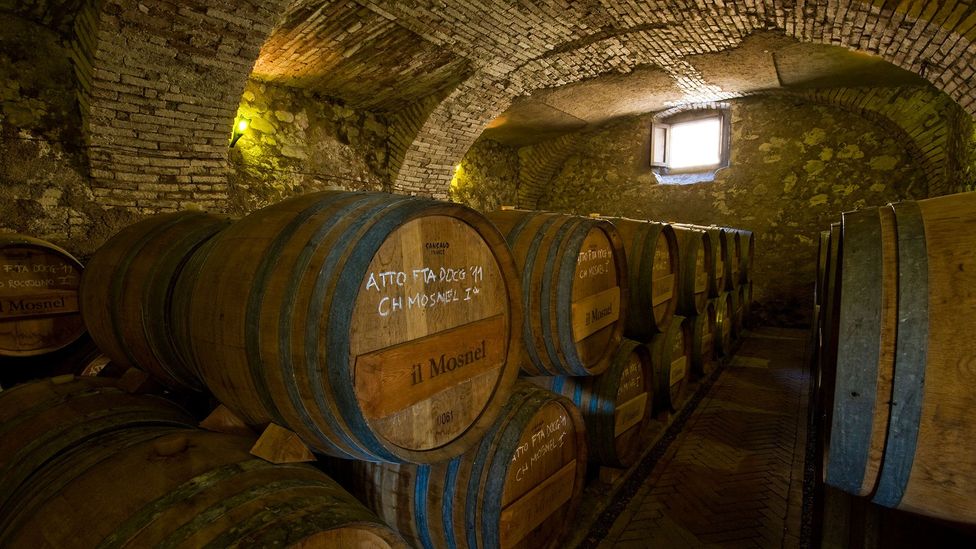 Franciacorta's winemakers store their bubbly underground where the temperatures are cool (Credit: SFM ITALY A/Alamy)
The Romans were the first to plant rudimental vineyards in the region in the 1st Century, but the real craft of growing grapes and producing elite wine was passed down by monks, through generations, to local aristocrats, middle class families and farmers alike.
The monks had come from France, where there was already a strong wine-making tradition, and descended into this Italian valley along with Charlemagne. They drained the marsh in Franciacorta, planted vineyards across the region and taught locals how to handpick the grapes with care. In exchange for their hard work transforming the swamp into agricultural use, the monks were granted tax breaks by Brescia's church authorities. This is where Franciacorta's ancient name stems from: Franzia Curta, a free-tax monastic court.
Local wine makers would supply their sparkling wines – then considered the best in Italy – to the courts of Renaissance lords who ruled over Italy's many city-states. In the 15th and 16th Centuries, Franciacorta's most desired drops were the 'Ruby of Corte Franca', a sparkling red produced in the town of Paratico, and the 'Mordace', which translates as 'ready to bite' due to its tingling bubbles that made it ideal for a post-dinner digestif.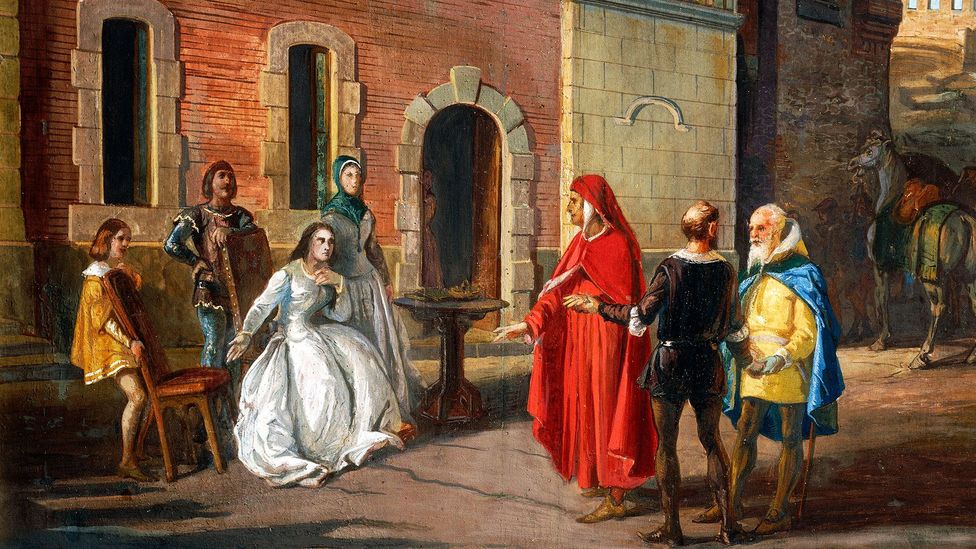 Dante was once a guest of the Lantieri earls at Franciacorta's Paratico Castle (Credit: DEA/A DAGLI ORTI/Getty)
Dante Alighieri was also drawn to these famous wines. When the great Italian poet was exiled in 1311 from his beloved Florence for taking sides in the war between opposing pro-Pope factions, he roamed across Italy for 10 years, seeking patronage and hospitality at the courts of different Renaissance lords. His travels eventually took him to Franciacorta, where he became a guest of the Lantieri earls at Paratico Castle, now a ruin.
"Far away from home, all he had was our good wine to cheer him up and quench the thirst of his imaginative wisdom," said Fabio Lantieri, a descendant of Dante's hosts, who still runs the old aristocratic wine estate and likes to treat guests to a glass of his bubbly. 
Whenever you sip a glass of Franciacorta, you'll be doing more than just drinking a sparkling wine
Here, Dante passed the time meditating on his life, walking amid the vines and taking in the views of Lake Iseo with its solitary island, Montisola, jutting out of the dark waters like the hill of Purgatory. The foggy, nine-terraced vineyards of the estate inspired the nine concentric circles of hell and nine spheres of paradise in the poet's masterpiece, The Divine Comedy.
It seems that the sparkling wine not only served to make Dante's exile more endurable, but flowed into his blood and nourished his art. Because whenever you sip a glass of Franciacorta, you'll be doing more than just drinking a sparkling wine ­– you'll be savouring the essence of the argillaceous earth itself.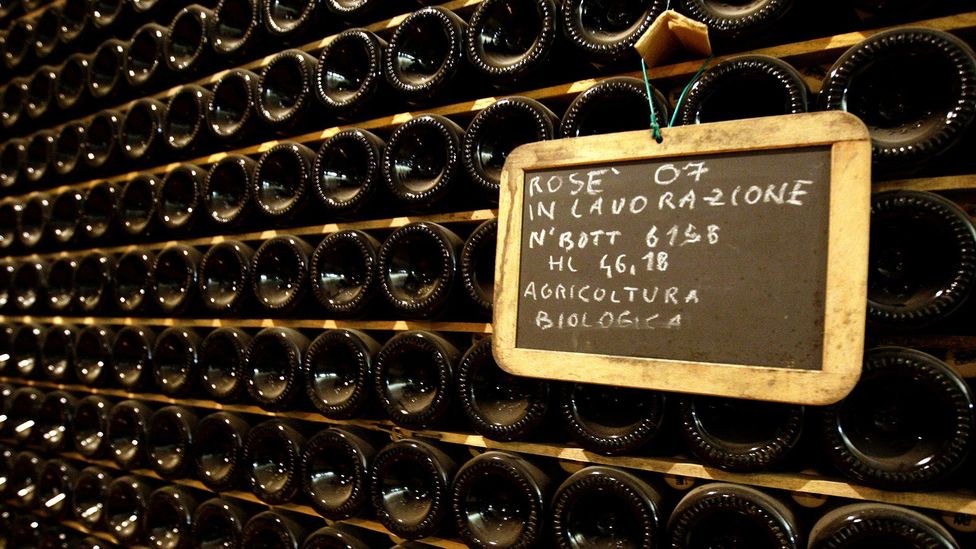 Franciacorta's sparkling wine rivals even Champagne (Credit: REUTERS/Alamy)