Every spring, Oaxaca residents await the arrival of the chicatanas, a flying ant that has become a delicacy in high-end restaurants throughout the region.
"It's like it is literally raining ants. They fall from the sky, and you can sweep them up into big piles and then toast them on the comal [a flat griddle]."
The sky fills with biblical-like swarms of these reddish-brown insects
Gabriel Hernández Cruz, a teacher who lives just outside of Oaxaca city in southern Mexico, looks forward to every spring after the first rains, when flying ants, called 'chicatanas', leave their nests and take to the skies. In the early morning, the sky fills with biblical-like swarms of these reddish-brown insects that have thick chunky bodies and large transparent wings. The rustle of their hastily flapping wings buzzes through the air.
Before dawn, families all over the state of Oaxaca head out to catch the ants, which are considered a regional delicacy. "They aren't hard to catch," explained Hernández Cruz. "They are slow and just fall to the ground, but all children love to run around and collect them."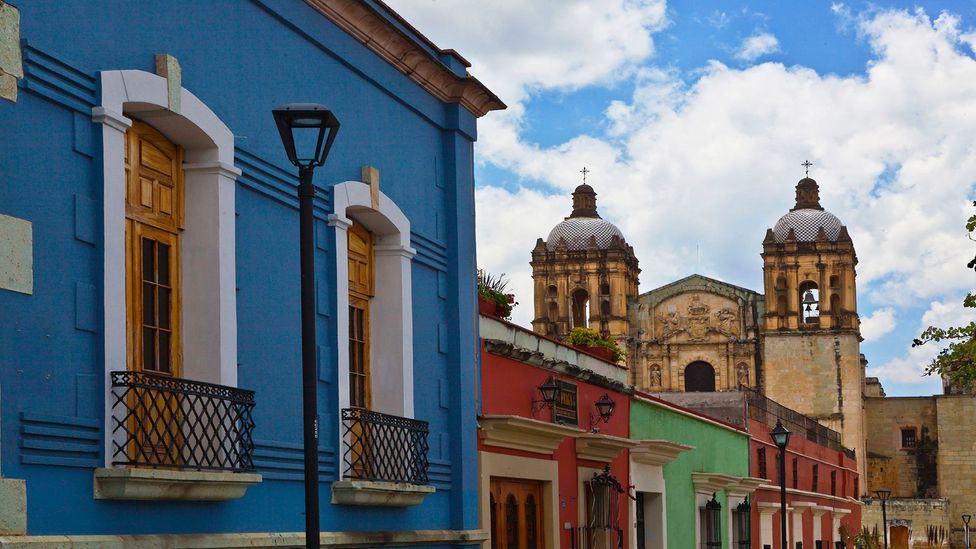 Every spring, swarms of 'chicatanas' fill the skies of Oaxaca in southern Mexico (Credit: Education Images/Getty Images)
Every year when the chicatanas arrive, there is a feeling of excitement in the air. They only come for one or two days; it is partly the novelty that creates the buzz. Chef Ricardo Arellano, from a small town in Oaxaca's La Cañada region, remembers eating these flying critters every year. "My mom would put them on memelas [a small thick tortilla usually topped with beans and cheese] or make a sauce," he recollected fondly.
It is partly the novelty that creates the buzz
In the kitchen of Criollo, one of Oaxaca's most exclusive restaurants part-owned by celebrity chef Enrique Olvera, I watched Arellano prepare his mother's sauce. He started by toasting the ants ‒ wings and all ‒ on the comal, pushing them around gently with a palm brush. He then toasted avocado leaves and chile de arbol peppers before adding all the ingredients to a molcajete, a traditional Mexican pestle and mortar made from volcanic rock, with some raw garlic.
The sauce, which I sampled on a freshly made corn tortilla, wasn't smooth; it was chunky and rustic with bits of crispy ant and fragrant garlic on which to chew. It had a complex taste despite so few ingredients. The deep flavour of many insects that I have eaten often reminds me of a smoked cheese, and these ants were no different.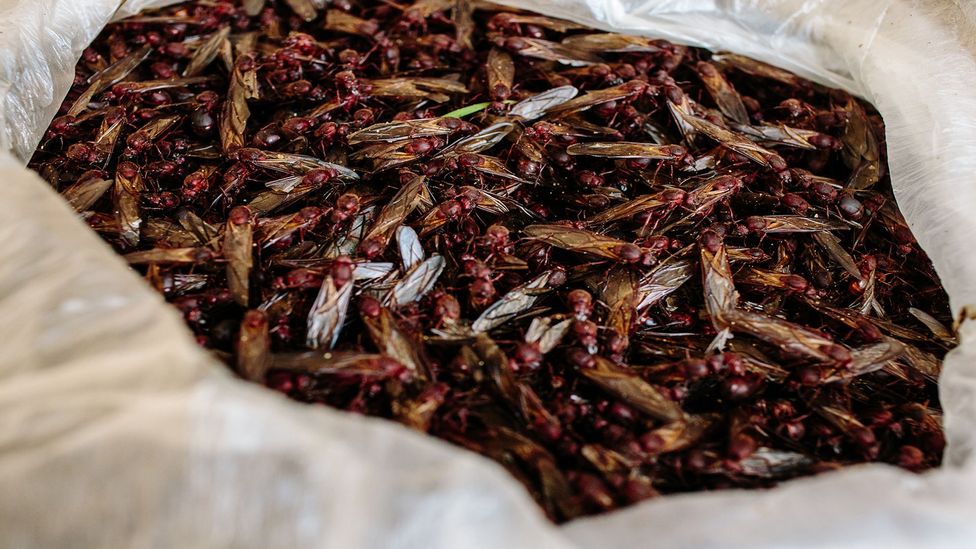 Mexicans have eaten insects since the Mesoamerican times (Credit: Nikhol Esteras)
The eating of insects has been commonplace in Mexico since Mesoamerican times, although food scarcity and poverty has played a more contemporary role in dictating which communities chose to eat chicatanas in colonial times and even today. "When a mother is trying to feed her family and there is no food, these ants are a good option because they have a rich flavour and are high in protein," Arellano told me.
Once a food that was eaten in the family home and never found in restaurants, chicatanas are now sold for high prices to top-end eateries. Arellano purchased bags of live chicatanas for around 850 pesos per pound this year. They are a luxurious delicacy, only available for a couple of days in the year and the price reflects that.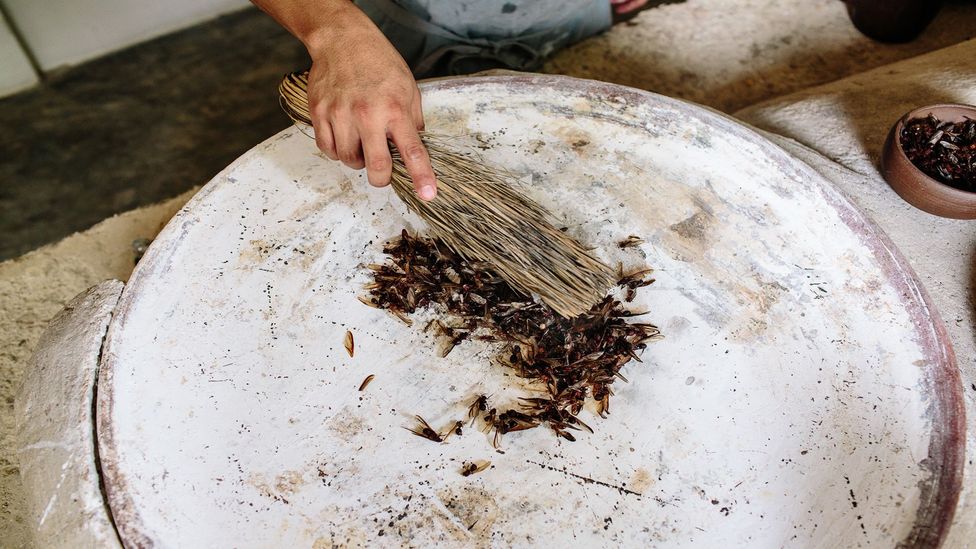 Families all over the region sweep them up and toast them on the comal – a flat griddle (Credit: Nikhol Esteras)
Nowadays, a variety of insects can be found in Mexico's high-end restaurants, and customers are seeking them out. Arellano puts this down to curiosity as well as an international gastronomical movement that sees insects as part of its future. Although levels of protein vary from insect to insect, and differ depending on how the insects are prepared, reports have shown them to have similar levels of protein per gram as beef. This, plus the relatively low environmental effect of consuming insects, has caused them to be heralded by the United Nations as the food of the future.
Still, the irony wasn't lost on any of us that we were in one of Oaxaca's most exclusive restaurants enjoying a sauce made with ants that for years were considered a food of the poor.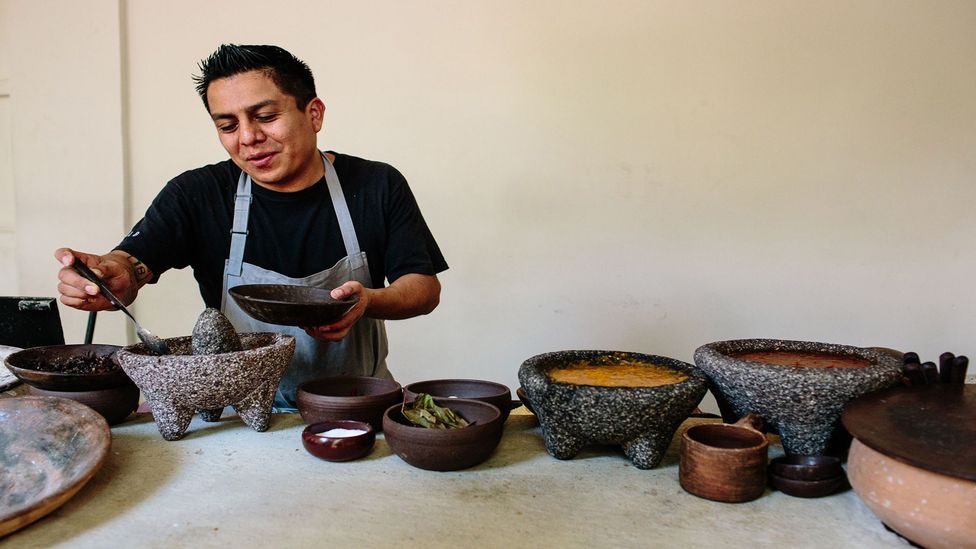 Chef Ricardo Arellano uses the ants to make a sauce flavoured with chili and avocado leaves (Credit: Nikhol Esteras)
Making a sauce isn't the only way to eat the ants. Some people simply toast them, then remove the wings and pop them in their mouths like nuts. Others only use the tails, rather than the whole body and wings like Arellano, and many squeeze out the white, fatty insides to make a creamier sauce. Some people also grind the chicatanas down and mix them with salt to make an accompaniment for mezcal, not dissimilar to the worm salt ‒ sal de gusano ‒ used throughout the rest of the year. At Pujol  Enrique Olvera's Mexico City restaurant, he uses chicatanas to make a mayonnaise that he serves on baby corn, creating a contemporary twist on the Mexican street food, elotes.
It's hard to predict whether the novelty of eating flying ants in high-end restaurants is just a fad or if we are witnessing the start of a greater movement towards regularly eating insects. But one thing is for sure: every year when the chicatanas appear, excitement will fill the air and families around Oaxaca will have their comals ready.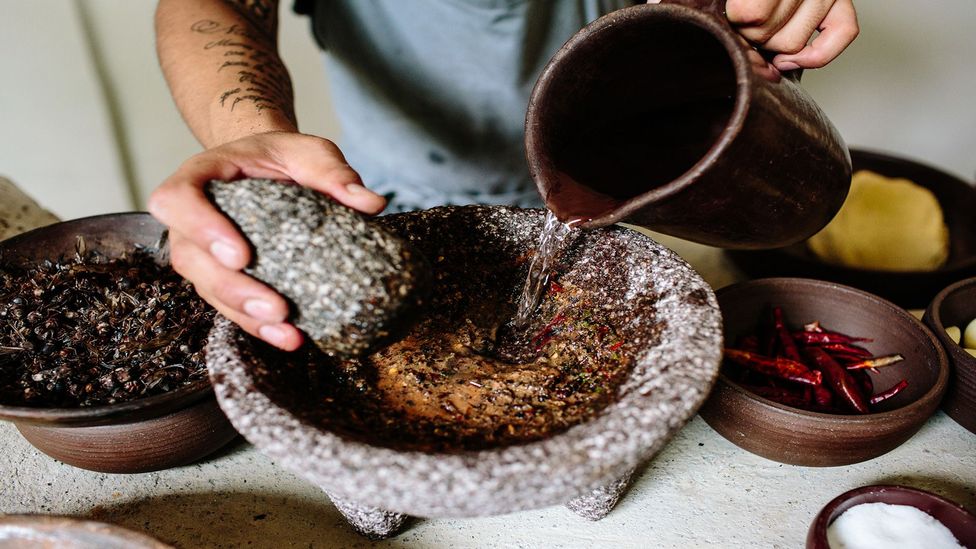 Due to their fleeting availability, chicatanas have become a delicacy served in high-end restaurants (Credit: Nikhol Esteras)