The nightlife in Serbia's capital has been touted as the best in the Balkans – and these rafts make every night feel like a Friday.
O
On a Friday night in late June, the air along the Sava River pulsed with a panoply of music and competing bass beats. Belgrade's city lights danced on the water like molten gold, with ripples from passing boats creating a trance-like effect. Across the way, the centuries-old Belgrade Fortress snaked along a hill, marking the Sava and Danube confluence. Anchored on the banks of Belgrade's rivers, around 300 rafts (called splavs or splavovi) lined the waterways – a mix of restaurants, bars and clubs.
On the other side of the river from the trendy Beton Hala district, a cluster of floating nightclubs draws visitors from around the globe. The nightlife in Serbia's capital has been touted as the best in the Balkans and these rafts make every night feel like a Friday. "The river is our seaside," said long-time Belgrade resident Ilija Duni. He explained that locals, whether they are club-goers or not, come to the rivers to escape the summer heat. The day I arrived, the temperature reached 35C. I was happy to be on the water.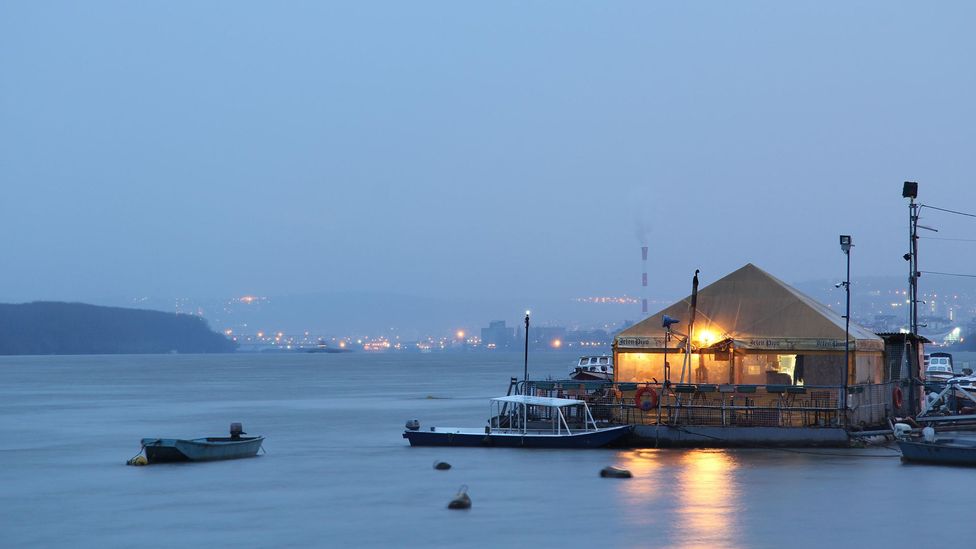 Belgrade residents spend summer afternoons and evenings in 'splavs', or floating restaurants and nightclubs (Credit: Jerome Cid/Alamy)
You may also be interested in:  
–  The moonshine that tastes like Cognac
–  The most expensive cheese in the world?
–  Where people don't work after Wednesday
Duni, an engineering manager by day and musician by night, invited me to Klub 20/44 that evening, where he was playing with his psychedelic pop band, Ti. Splavs come in various shapes and sizes, from small cottages with gabled roofs and patios to sleek bi-level modern buildings to layered barrel-roofed wooden structures. Others recall the boats or barges they once were. Some are open year-round, but many only do business in summer.
Each splav tends to have a distinctive personality, and finding the right fit is akin to selecting appropriate attire. There are fashion-forward splavs blasting international pop music, where you come to see and be seen and spend large. There are casual splavs that play Serbian folk music, designed for lazy drinks and river dips. There are hipster splavs with underground music for cool alternative folks. There's something for everyone.
"Music characterises splavs," explained Luka Pavličić, a friend's 26-year-old cousin and an avid club-goer.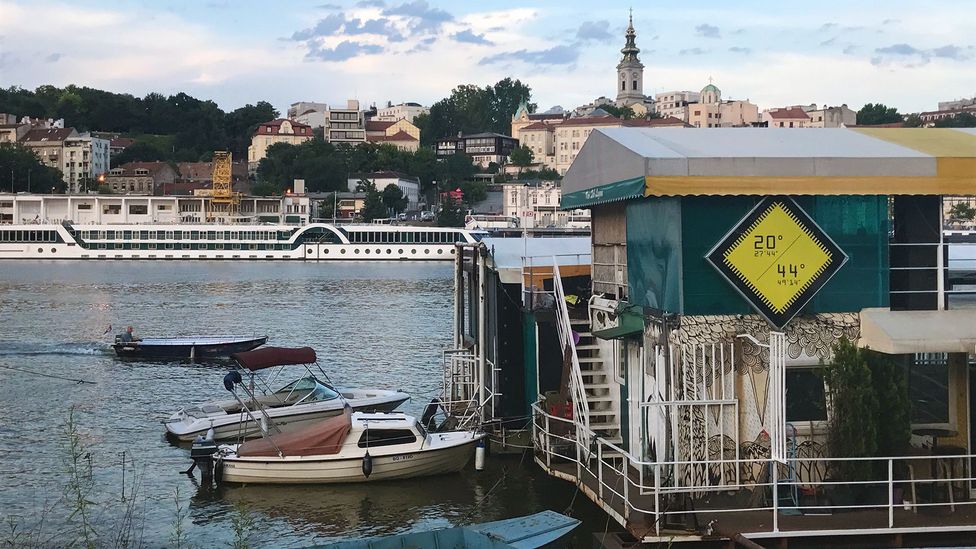 Klub 20/44 got its name from the geographical coordinates of Belgrade (Credit: Kristin Vuković)
That night, I found myself at Klub 20/44, where a life-size figure of the King of Pop leaned off the raft's front balcony and the art-covered sides included a pair of hands holding an origami bird. Milivoje Božović – nicknamed Šilja after Goofy from the Disney cartoon – and his brother, Dobrosav, opened 20/44 in 2009, choosing the geographical coordinates of Belgrade as the name for their venue, "To show that we fit everywhere, that we are equal, with no borders," Šilja said.
Ti's ethereal music wafted from the stage and I lost myself in a song called Pravi čas (The Right Time). People swayed to the rhythm, lulled by mellifluous tones and transfixed by the shimmering Sava. After their set ended, a DJ spun a blend of disco and eclectic funk and the night slipped by unnoticed, in part due to my jet lag. When I finally glanced at my watch it was 4am.
On Saturday afternoon, Duni took me to Klub Regata, which he referred to as 'Gita's splav'. He told me her casual splav, operational for quarter of a century, recalls the old Bohemian days and is a place "where you can escape from the reality of the city". The interior felt cosy like a living room, replete with an upright piano and family photographs. Affixed to empty metal barrels, the patio was rocked by the wake of passing boats as we sipped Gemischt (white wine spritzers). Duni told me dogs have equal rights on Klub Regata; Gita Caruso has four that she treats like her children. Caruso, a former music teacher and salesperson, lives across the road in an apartment in New Belgrade, but often sleeps on her splav. I asked when it closes. "When the last guest leaves!" she said, laughing.
Gita Caruso's splav only closes when the last guest leaves (Credit: Kristin Vuković)
The first splavs that graced the Sava in the late 1960s and early '70s were private floating rafts moored near Ada Ciganlija – an island that was artificially transformed into a peninsula on the Sava River – and the island of Ada Međica, where friends congregated during summers. These early splavs were considered a luxury, and were mostly owned by lawyers, doctors, judges and other wealthy residents. In the late 1980s and early '90s, the first splavs opened for business – with the scene becoming increasingly commercial and political.
Splavs were a way for a tense city to blow off steam
Splavs were a way for a tense city to blow off steam. "The socio-political situation caused by the civil wars in Yugoslavia, starting in 1991 and ending in late 1995, followed by UN sanctions toward Serbia, made a perfect melting pot with all the ingredients for a criminal environment to flourish," said Milan Cvijić, 30, a Belgrade native and long-time club-goer. "Folk splavs were a perfect place for the 'elites' of that time to measure and compare their strengths, and that's why the fights and the shootings at those 'folkoteka' places were a common thing."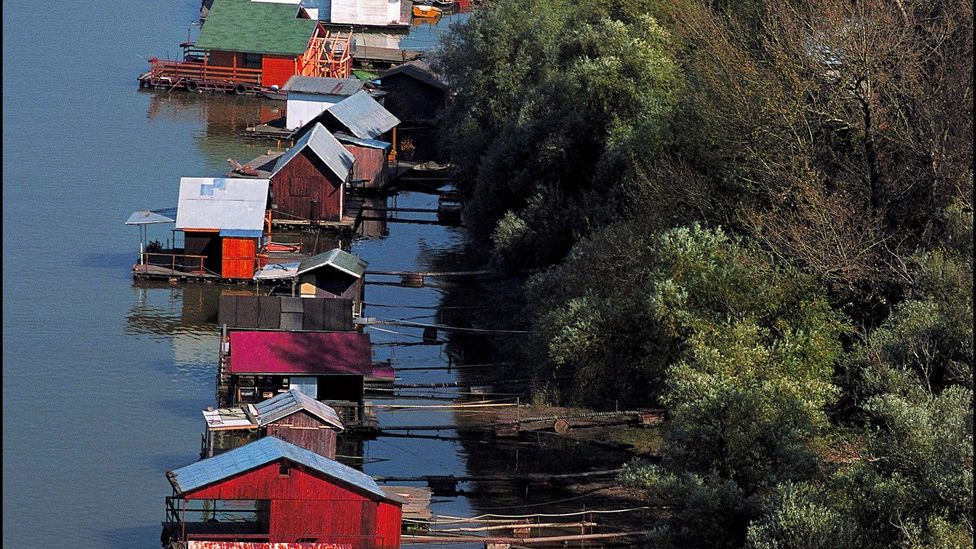 The first splavs were established near Ada Ciganlija and were privately owned by wealthy citizens (Credit: Art ZAMUR/Getty Images)
Say the word 'splav' in Serbia today and you'll elicit a variety of responses. Many locals think of them as venues to enjoy a night of partying with friends, or to grab a drink or bite on the weekend. Some associate the word with rowdy nightclubs, and for others it has a negative connotation, especially when it comes to splavs that play turbo-folk. It's such a charged word that Klub 20/44 calls itself a brod (boat) instead.
"For me, splav means a place with high risk for violence in the past, especially during the '90s in wartime," Šilja said.
Turbo-folk – a crossbreed of Serbian folk music and '90s electronic music – is part of the city's soundscape, but carries a lot of baggage. "Turbo-folk was inseparable from the criminal culture of the '90s. It is 100% Serbian, unfortunately associated with the most terrible period of history post-World War II," said Cvijić, my splav guide on Saturday night.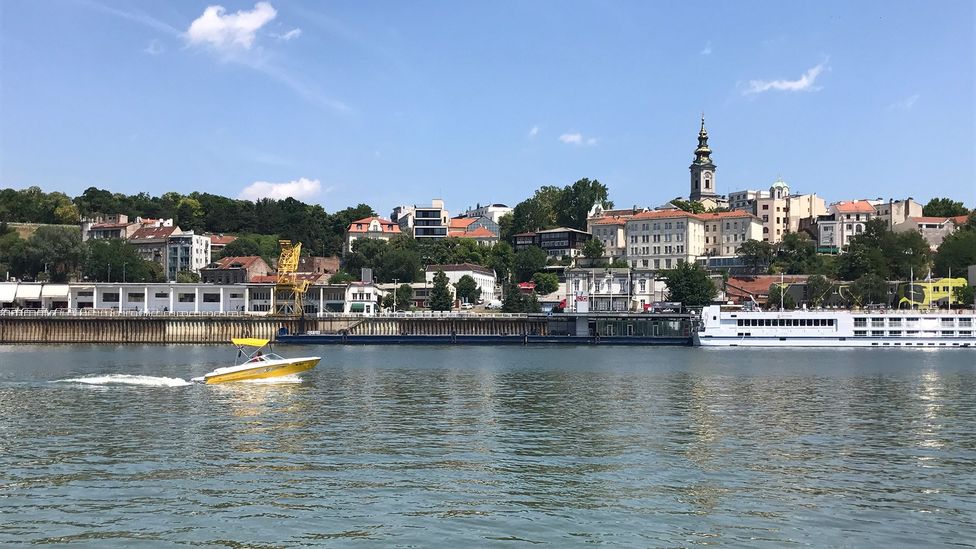 For Belgrade residents, the opening of the splavs is the first sign of summer (Credit: Kristin Vuković)
I'd been advised to get a professional host (which many foreigners opt to do through nightclub service companies such as Belgrade at Night), and had connected with Cvijić and his acquaintance, Hristina Stojiljković, through a friend of a friend. Reservations at clubs are necessary and can be difficult to procure, and I was a woman travelling alone. My friends wanted me to be safe. Criminals still congregate on some splavs; Cvijić told me one that plays folk and turbo-folk even has bulletproof doors.
"Belgrade is very lucky because it is situated on two rivers," he said. "Everybody waits for splavs to open because that's the first sign of summer. As soon as summer starts, splavs are a must. It's the heartbeat of the city."
It's the heartbeat of the city
Today, Belgrade's splav nightclubs can compete on an international level. Cvijić and Stojiljković took me to Hot Mess, a splav with a swimming pool in the centre where fashionable young people gyrated to an international playlist, followed by Shake'n'Shake, a popular nightclub with slightly older patrons where a remix of Justin Bieber's Despacito blasted, lights changed colours and gorgeous women sprayed the pulsing crowd with a cooling mist. Belgrade Fortress was illuminated against the inky sky, creating a postcard view.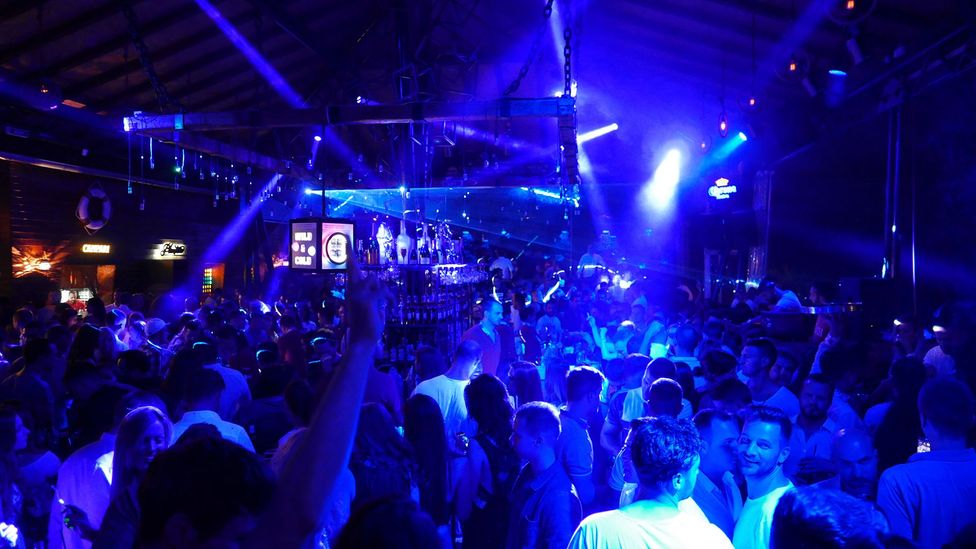 Belgrade's nightlife has been touted as the best in the Balkans (Credit: Kristin Vuković)
The next day, we went to a Sunday matinee at Lasta, widely accepted as Belgrade's hottest splav. Located in an area called Belgrade Fair, it falls squarely into the fashion-forward club category, although Sunday late afternoon had a more relaxed vibe. "There's a saying in clubs: the two best bouncers you can have are the money and the music," Cvijić said, meaning that a club's prices and vibe attract a certain type of person and repel others. (There were also real bouncers and a metal detector at the club's entrance.)
Flashy boats pulled up and well-heeled people disembarked. Women fanned themselves. I sipped my drink and mused these new arrivals must earn well beyond the average Serbian salary. With a past rife with hyperinflation, Serbians have a heightened awareness of living in the present.
Before I left Belgrade, Šilja and Duni suggested an evening boat ride. "In the night, reflections of lights on the water are like black gold," Šilja said. The sun set over the Sava, creating a fluid painting of striking sherbet hues. As we passed under Ada Bridge, a dramatic cable-stayed suspension bridge spanning the Sava, its red lights turned the water crimson and our conversation turned to the 1990's civil war in Yugoslavia.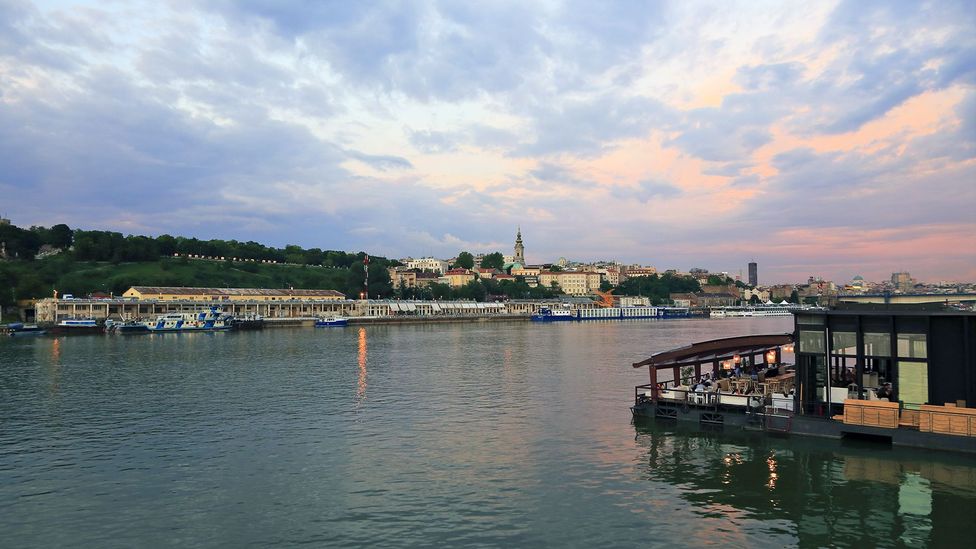 Each splav has its own distinct personality (Credit: Bruce Yuanyue Bi/Getty Images)
"Luckily we lived through those troubled times ­– it makes you a better person," Duni said. He explained that everyone banded together, neighbours helping neighbours. "During the NATO bombing, everybody was nice to everybody. War brings the worst and the best."
When we docked back at 20/44, I thanked them for a beautiful evening. Duni said, "How much hotter is [it] here! Back to life, back to reality."
But I didn't want to return to life on land. I thought back to my first magical night in Belgrade when Duni's band played The Right Time on 20/44. Years of bad press about the capital of the former Yugoslavia has literally kept Serbia off the map for many travellers. Standing on the edge of the Sava, it felt like Belgrade's moment.
Join over three million BBC Travel fans by liking us on Facebook, or follow us on Twitter and Instagram.
If you liked this story, sign up for the weekly bbc.com features newsletter called "If You Only Read 6 Things This Week". A handpicked selection of stories from BBC Future, Earth, Culture, Capital and Travel, delivered to your inbox every Friday.