Scotland's Fair Isle is remote, challenging – and a magnet for new settlers, who have been inspired to move here by everything from a childhood jumper to a radio broadcast.
W
When David Brackenbury was six years old, he was given a Fair Isle jumper as a gift. Curious, he looked up Fair Isle on the map. Hailing from the industrial English town of Derby, "the furthest you can possibly get from the sea," he found himself seduced by the idea of living there.
About 10 years ago, he made it happen. And while the detail that drew Brackenbury to this 3-sq-mile island may seem particularly idiosyncratic, he is far from the only person to have chased a dream here.
Marooned halfway between the Shetland and Orkney archipelagos, Fair Isle is one of Britain's most remote inhabited islands. Raised by precipitous cliffs out of a sea that has claimed dozens of shipwrecks, the island can feel like the very edge of the world – particularly when howling gales ground the 25-minute air service and 2.5-hour ferry from Mainland, Shetland's main island. Get caught in one of those fairly frequent travel disruptions and you may find yourself stuck on the island for extra days, or even weeks.
You might also like:
–  The tiny island of 20,000 graves
–  Were these remote islands once the centre of everything?
–  The wild isle shaped by legend
Even so, Fair Isle draws hundreds of visitors a year. It also has drawn settlers, some coming from as far away as Venezuela to join the tight-knit community of around 55.
Most visitors are birders. For them, Fair Isle has an almost mythical allure: it is known as one of the best places in Europe to see rare birds make pit stops along their migration routes in spring and autumn – as well as seabirds nesting noisily in the cliffs in summer. When a particularly rare bird is spotted, it's not unusual for serious birders to charter a plane and dash to the island to see it.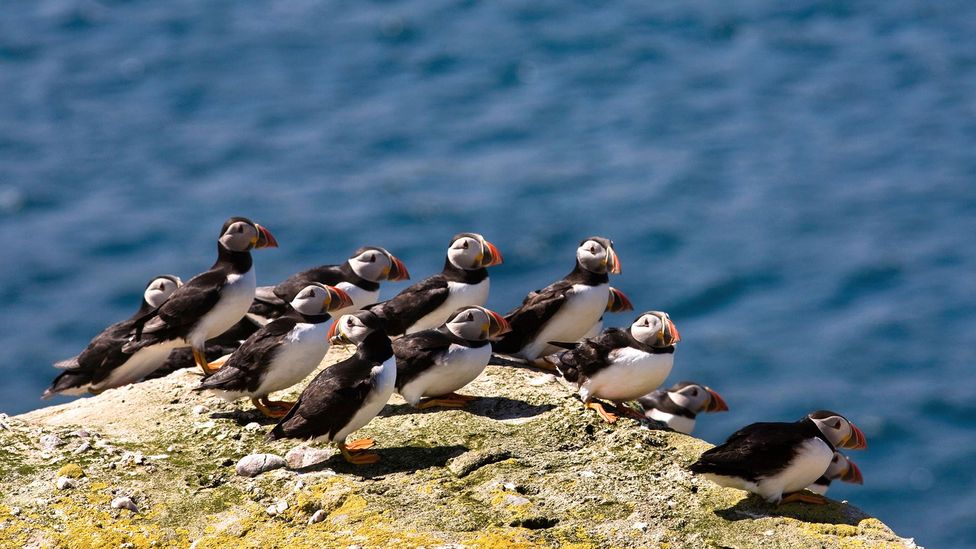 Far from the rarest breed of bird spotted on the island, puffins are a frequent sight on Fair Isle (Credit: Alamy)
But birders aren't the only visitors who tick an item off a list by coming here. Pharologists keen to visit all of Scotland's 209 working lighthouses will find two, both built by the famed Stevenson engineering family. Mountaineers who have finished bagging Scotland's 282 'munros' (mountains higher than 3,000 feet) can climb Ward Hill, the island's 'marilyn' (the name given to mountains over 490 feet). And, of course, anyone can check off another of Scotland's 790 islands.
Tommy Hyndman has welcomed many of these experience collectors into the Old Haa, the bed and breakfast he runs in the old house of the laird, or former landowner. Hyndman even has created another bucket list item himself by re-establishing the island's six-hole Lighthouse Keeper's Golf Course – the most remote in the UK.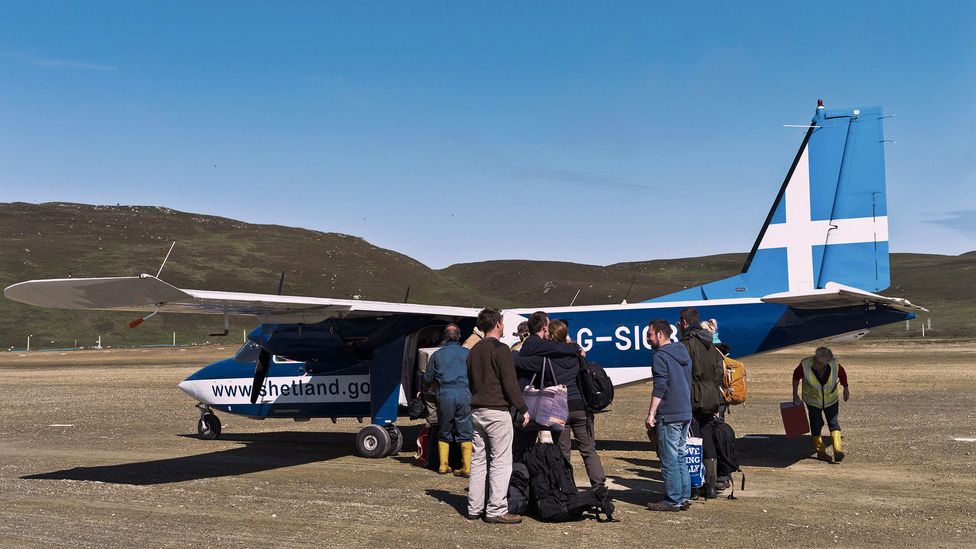 This tiny plane shuttles islanders and visitors back and forth to Fair Isle – when the weather is suitable (Credit: Alamy)
Originally from New York, Hyndman was drawn to Fair Isle by a wish to live in a rugged landscape and by a radio broadcast. In September 2005, NPR's All Things Considered ran a story about the National Trust for Scotland's search for a tenant for the Old Haa. Hyndman's then-wife was stuck in traffic when she heard the report.
"If the drumbeat of news … gets overwhelming," the broadcast went, "you might find yourself drawn to a small classified ad in the housing section of the Scottish newspaper Shetland Today."
The report went on to detail what kind of people would be suited to life on the island and explain that rent would be just £300 per year.
The NTS received around 1,000 applications. By the end, the list had been whittled down to only two families – including the Hyndmans.
Visiting for the first time and arriving in a blowing gale, their romantic notions were quickly dispelled. The first night was "horrible", said Hyndman. But when their transport home was grounded, staying for a few days longer than planned gave them the time to get to know, and warm to, the island and its residents – most of whom appeared at one point at an impromptu music session in the community hall. The family's son, Hyndman said, "played with their kids as if they had been friends forever." When the Hyndmans finally were selected, they moved there in 2006.
It's an early example of an SOS-style call for people to live on a remote island going viral. The search for a schoolteacher for nearby Foula and a caretaker in Tasmania are more recent examples, as is Fair Isle's own hunt for a new nurse.
These kinds of call-outs have helped keep Fair Isle alive. Once, evacuation, the fate that befell the now museum-like St. Kilda archipelago, seemed all but inevitable. That started to change in 1948 when George Waterson founded the Bird Observatory, which helped to bring in visitors and boost the economy. In 1954, Waterson sold the island to the National Trust for Scotland, which helped to modernise housing and improve transportation. While the population is still considerably smaller than its height of almost 400, new people and new ideas help to keep the island's community sustainable.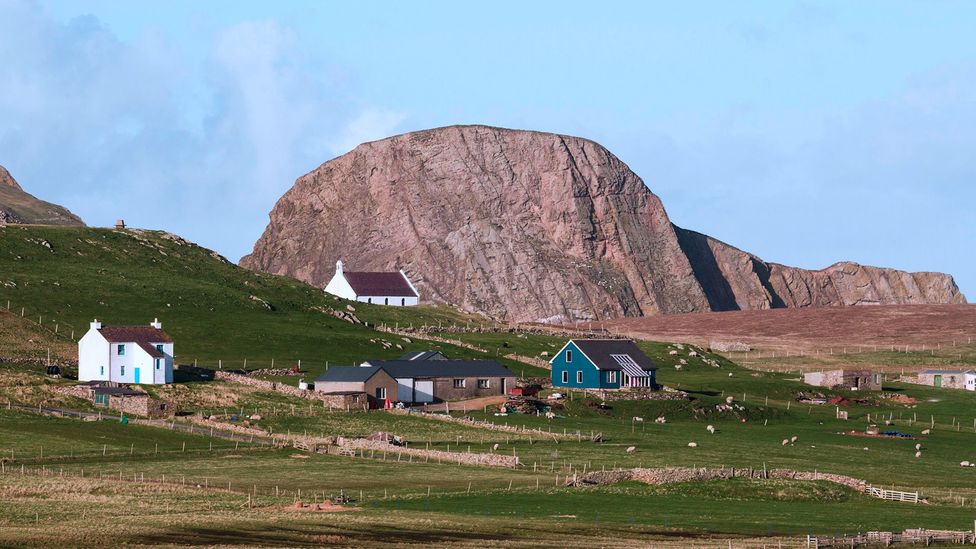 Around 55 people now live on Fair Isle, which once claimed a community of almost 400 (Credit: Alamy)
More about life on Scotland's islands today
Islanders always stress that the hardships of island life require people of a practical nature. Even so, these kinds of calls conjure such idyllic images that Hyndman has a word for the people, like himself, who were lured by them: 'dreamers'.
Certainly there is an intangible element to Fair Isle's magnetism. The name itself exerts a strong emotional pull. For Brits it may be associated with the daily, almost poetic, recitation of Britain's shipping areas, of which Fair Isle is one, on the BBC radio broadcast The Shipping Forecast, read just before listeners drift off to sleep.
For the rest of the world, the words Fair Isle mean something else: the patterned woolly jumpers named after the island, which have been worn everywhere from catwalks to polar expeditions.
For Brackenbury, that single item of clothing launched a lifelong dream. Though he didn't act on it for years – as an adult, he said, he realised he had "nothing to offer" to an island where the economy is still largely based on working the land and the sea – that changed about a decade ago.
His timing coincided with the lighthouse keeper's cottage becoming available to rent at the South Lighthouse, which had been automated in 1998. Brackenbury moved in and now runs a B&B there. "Things have a way of coming together," he said.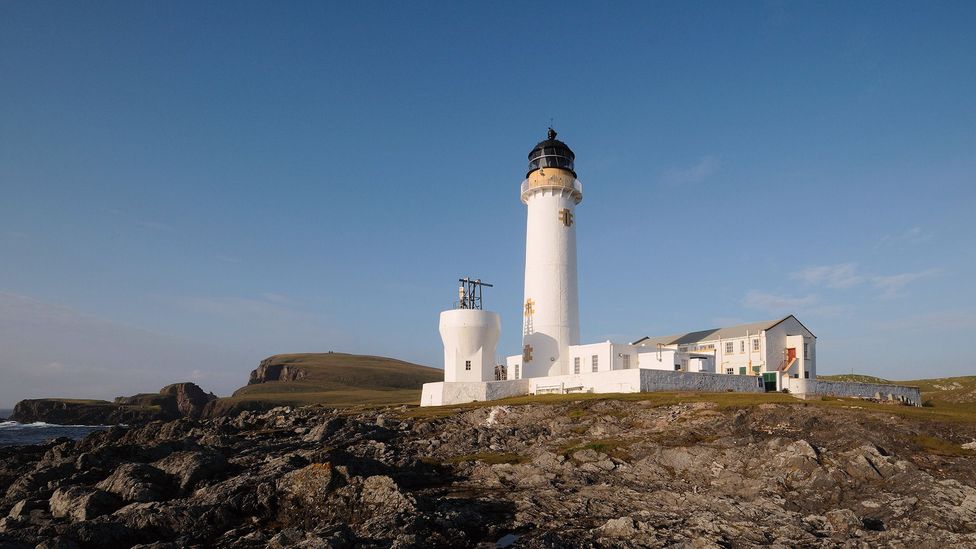 David Brackenbury moved from the English mainland to the South Lighthouse, shown here, where he runs a B&B (Credit: Alamy)
Fair Isle knitting, which is still practiced commercially by three women on the island, also provided Marie Bruhat's path to Fair Isle. A textile designer from Auvergne, France, she came to Fair Isle to work as an assistant to Mati Ventrillon, who has earned international recognition for creating garments that add a contemporary edge to the Fair Isle tradition.
Bruhat says she wanted to work someplace with a close connection to a style of knitwear. She was drawn to Fair Isle "because of the history," she said. "Here is a place that has given its name to a style of knitwear that has gone around the world. If you are passionate about something, you want to go where it is born. The best place to feel Fair Isle knitting is on Fair Isle."
Bruhat also is continuing the tradition of Fair Isle women of centuries past who earned their living by bartering their knitted goods with passing ships. "It feels good to carry on what they started," she said.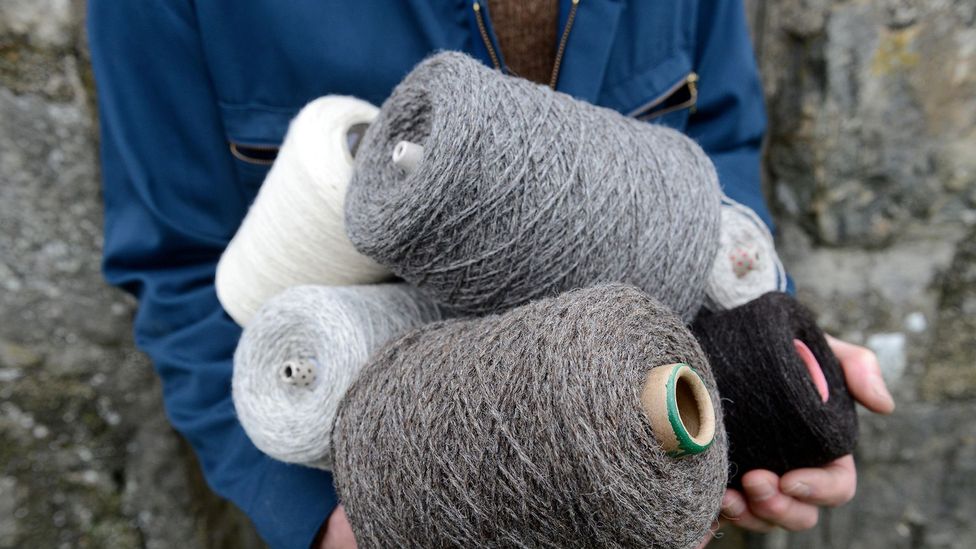 For centuries, islanders have knitted using wool from Shetland sheep, a tradition that continues today (Credit: Alamy)
Finding a house so that she can settle permanently has been more of a challenge. "Things are going slowly because everything takes time here," she said. "But I am quite confident something will show up. NTS [National Trust for Scotland] know they need young people."
Still, her impermanence means that she cannot fully immerse herself into island life, for now. "I cannot start training for things like the Coast Guard or the Fire Brigade," she says of the typical extra jobs most islanders take to piece together a living. "But as soon as I know I will be permanent here, I will. I would love to."
And there is that magnetism at work again. No matter how idiosyncratic their reasons for being pulled to this edge of the world, once they are there it is the island itself that grounds the new arrivals, compelling them to put down roots and do what it takes to make it their home.
This story is a part of BBC Britain – a series focused on exploring this extraordinary island, one story at a time. See every BBC Britain story by heading to the Britain homepage; you can also follow us on Facebook and Twitter.