The Northwest Angle is the northernmost point of the continental United States, and one of the last American frontiers.
I
It all started when my father mentioned the Walleye War. Despite growing up in the Twin Cities, I'd never heard of Minnesota's Northwest Angle, or its fishing disputes with Canada that caused some Angleites (as the locals there are known) to take action to secede from the United States. I was curious about these northerners and this isolated area of my home state. I was hooked.
The Angle became part of the US due to an oversight
In early July, my retired parents and I embarked on our upstate adventure. To drive to the Northwest Angle, a bulge of land at the top of the state disconnected from greater Minnesota, you must cross through Canadian territory. The Angle became part of the US due to an oversight: during the 1783 Treaty of Paris, the border drawn between the US and what was then British territory was designed to cut through the Lake of the Woods area at a northwest angle, but the map they used misrepresented the lake's location.
Surveying and negotiating ensued. The treaty of 1818 laid down the northern boundary for the US along the 49th parallel, and dropped a line due south from the 'most northwesternmost point' of Lake of the Woods to meet it. As a result, the Northwest Angle protrudes from the northern edge of the state like a chimney, and is the northernmost point in the contiguous United States.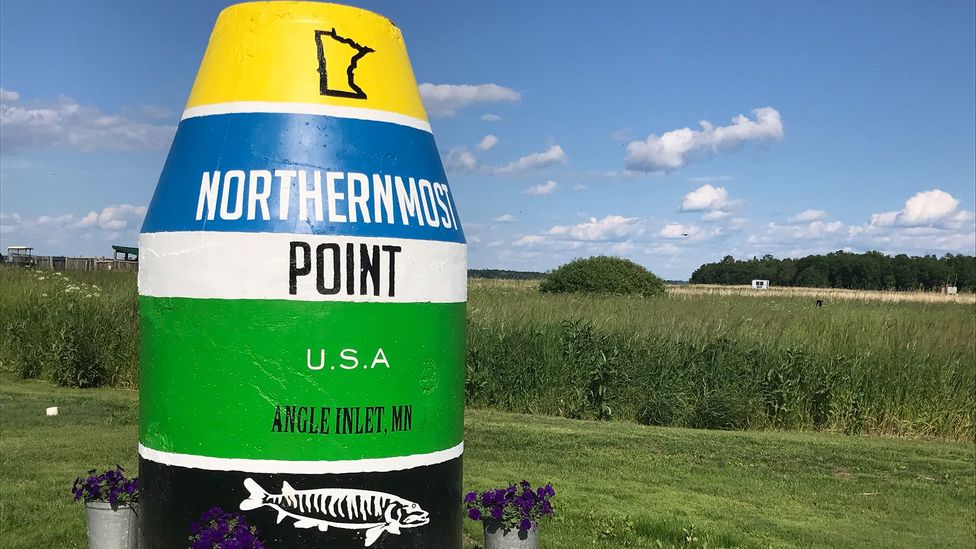 Angle Inlet, Minnesota, is the northernmost point of the contiguous United States (Credit: Kristin Vuković)
You may also be interested in:  
–  A colossal secret in the Black Hills
–  The largest waterfall that ever existed
–  Eerie remains of a lost seaside town
We waited at the Canadian border station with no other cars or people in sight. A few minutes later, a border control agent emerged from the building, collected our passports and handed us a sheet of paper detailing how to reach the orphaned piece of Minnesota. The instructions warned that failure to report on each trip from one country to the other may result in a substantial penalty. We needed to check in at 'Jim's Corner' once we reached the Angle, or we would be subject to a $5,000 fine. If we failed to report when leaving, the fine would be $1,000 – plus seizure of our vehicle.
The final 20 miles of the 60-mile drive through Manitoba, Canada, was on a gravel road. Our tyres kicked up pieces of rock, and dust swirled in our wake. Swarms of flies chased us, attracted to the car's heat and dark colour.
To drive to the Northwest Angle, you must cross through Canadian territory (Credit: BBC Travel)
No-one warned me about the bull flies. With bodies like bees, they were downright Jurassic. When we reached Jim's Corner, a small shed with a mounted telephone box and video screen, they pinged against our windows. Outside, I encountered the flies on the video call to US Border Control, swatting while attempting to read our passport numbers aloud.
After the seven-and-a-half-hour drive from St Paul, my hometown, we finally reached Jake's Northwest Angle resort, owned and operated by Paul and Karen Colson. Paul's grandfather, Frank Colson, nicknamed Jake, homesteaded in the Angle around 1917 and founded Jake's resort in 1945. Karen took us to Lute's knotty-pine-panelled cabin, built by Paul and named after his late grandmother, Lucy, nicknamed Lute. A freshly baked loaf of bread was waiting for us – a family tradition for guests of Jake's started by Paul's mother, Celeste, and carried on by Karen.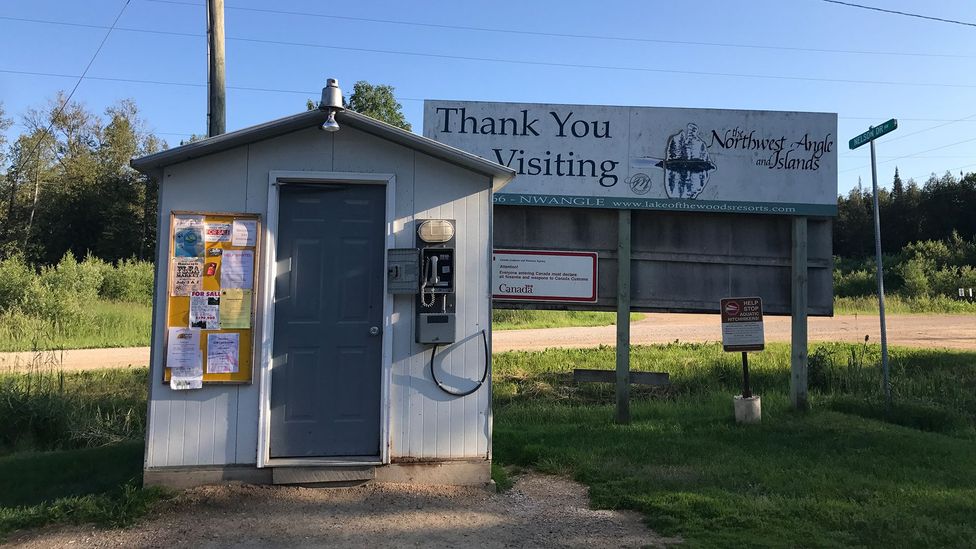 Failure to check in at Jim's Corner upon arrival in the Angle would result in a fine (Credit: Kristin Vuković)
Walleye fishing is a big draw to the area, so the next morning we amateur anglers embarked on an outing with Paul and his friend Linda LaMie, the Northwest Angle's sole schoolteacher who has been teaching for more than 30 years in Minnesota's only remaining one-room schoolhouse. Since we would be crisscrossing in and out of Canadian waters, we purchased one-day Ontario sport-fishing licenses.
Paul told us how in 1998, due to Canadian laws restricting non-resident fishing, the Northwest Angle succeeded in getting a constitutional amendment introduced in Congress to let them secede from the US, since the unfavourable fishing laws drastically impacted their livelihoods. Non-Canadians fishing in Canadian waters were allowed to keep up to four walleyes, a succulent, flaky white fish revered by Minnesotans, but only if they stayed at Canadian resorts. If they stayed on the US side of Lake of the Woods they couldn't keep anything, which hurt business for US resorts.
Minnesota countered with a bill proposing hefty fees totalling millions of dollars a year for the Canadian National Railway crossing through northern Minnesota. The Walleye War dispute was resolved by Canada rescinding the fishing laws and the US dropping the fees for the Canadian National Railway; the two countries reached an agreement on fishing limits and licensing.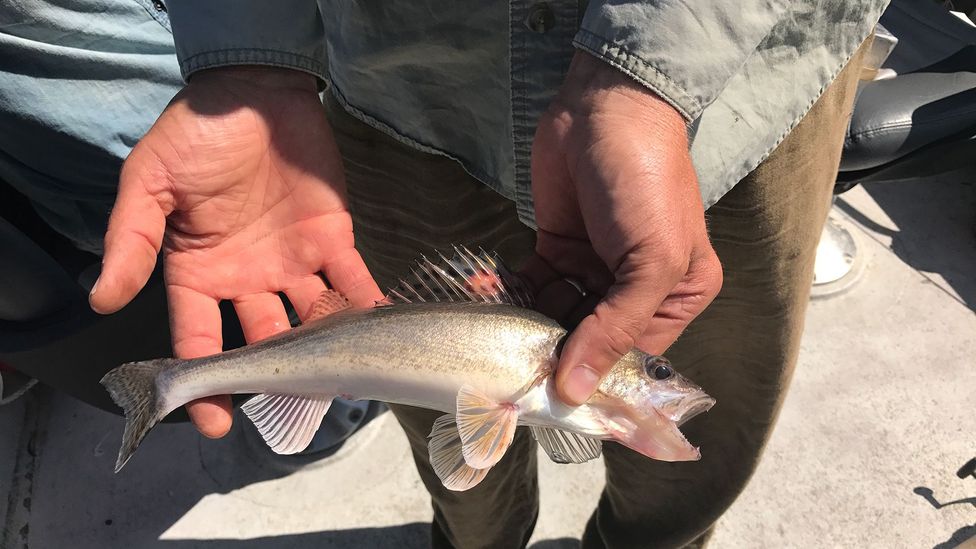 Walleye fishing is a big draw to the Angle (Credit: Kristin Vuković)
Paul assured us we would catch enough fish. "I've never not had my shore lunch," he said. In 34 years of doing shore lunches, where Paul cooks fresh catch for guests on uninhabited islands, no group went hungry. I hoped we wouldn't be the first.
A lot of times you won't see anything but islands in any direction
He steered his boat into the vast lake. The Lake of the Woods area has one million acres of water and 14,522 islands, the majority of which are uninhabited. "A lot of times you won't see anything but islands in any direction," he said. Hues of steely-blue water and lush forest greenery surrounded us. Slate-grey cliffs towered above our boat.
"Isn't this an awesome backyard to have?" Linda said. I was struck by the unspoilt beauty.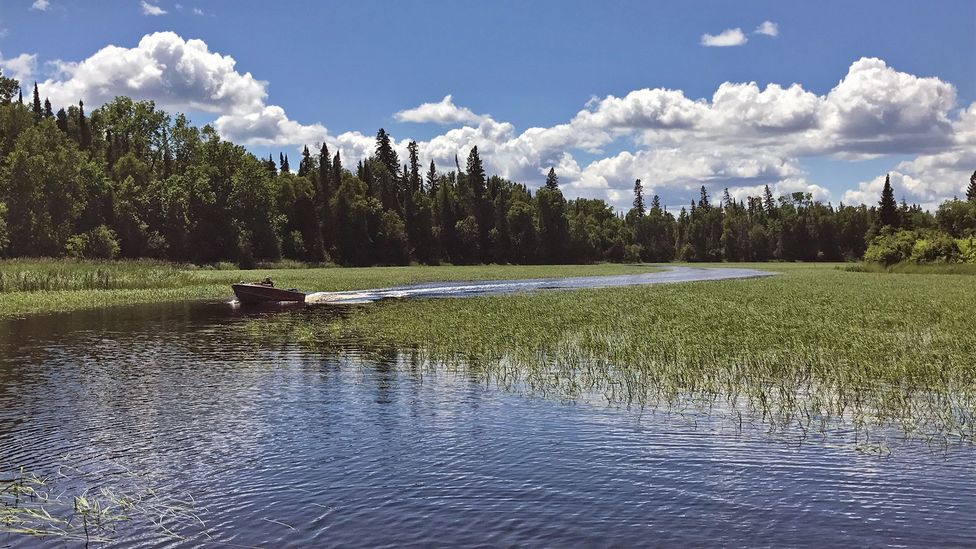 The Lake of the Woods area has one million acres of water and 14,522 islands (Credit: Kristin Vuković)
We baited our hooks. I asked Linda how she came to live here. She had been teaching first grade in Warroad, Minnesota, for four years when a teaching opportunity in the Angle arose. "The principal said, 'Do I have the assignment for you', and I thought, 'This would really be fun'. The first day I came, I was made to feel so welcome. I fell in love with the colourful residents and beautiful land."
There were no phones when Linda moved in the late '80s. She sent hand-written letters to her family and friends from the Angle's tiny post office, where Paul's Grandpa Jake served as the first postmaster. Today, the Angle has a general store, a restaurant and a nine-hole golf course that sometimes has one or two fewer holes if the water is high. The community doesn't have traffic lights or a hospital, but modern advances such as the internet and Amazon Prime have changed living in the Angle. "We've been Primin' right off the bat," Paul said.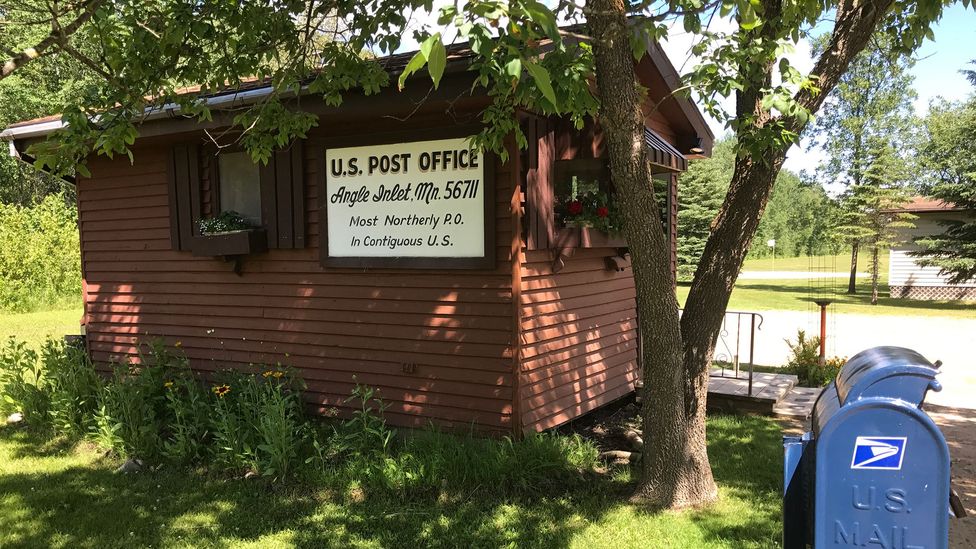 Because there were no telephones when she first moved to the Angle, Linda LaMie wrote letters to her friends and family (Credit: Kristin Vuković)
Living in this remote area has its drawbacks, especially commuting to work or school. After students graduate from Linda's sixth grade, they attend school in Warroad, about 60 miles to the south. Linda noted Angle kids have one of the longest school bus rides in North America – nearly three hours roundtrip – leaving at 5am and going through border control four times a day. Some kids commute from nearby Flag or Oak Islands, which makes their travel times even longer.
Angle kids have one of the longest school bus rides in North America
Linda often faces a difficult commute herself. She and her husband, Ron, have a home on Bear River in a remote part of the Angle that isn't reachable by car, truck or SUV; depending on the season, she travels by boat, ATV or snowmobile. During 'freeze-up' and 'break-up' (when the ice is forming or melting), travel can be challenging. One evening when they headed home too late and it became pitch dark, Linda instructed her kids to feel wild rice grasses on either side of the boat, "like braille", so that the boat stayed in open water. Another time, Linda was eight and a half months pregnant and commuting alone. When she got stuck, knee-deep in mud, she dragged fallen trees from the forest to create a makeshift ramp for her ATV and drove herself out of the muck.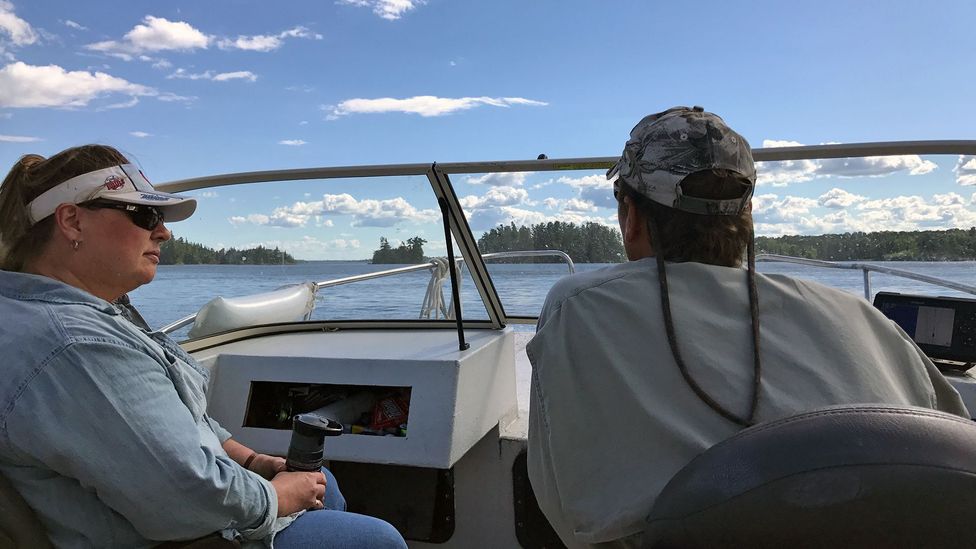 Depending on the season, Linda (pictured left) can only reach her home by boat (Credit: Kristin Vuković)
By the afternoon, everyone had caught a fish except me. Almost on cue, I felt a tug on my line. "Pull up!" Paul yelled. I jerked the rod and started awkwardly reeling. A small walleye broke the water's surface and twisted at the end of my line. With eight fish, we had more than enough for our lunch.
Paul dropped anchor at a rocky, uninhabited island, and we climbed up to a tiny clearing while he unloaded a portable stove and ingredients for our lunch. After filleting part of our catch, he cooked canned corn, baked beans and wild rice with onions, peppers, mushrooms and cream of mushroom soup. He prepared fish three ways: poached, blackened and fried. After more than three decades of making shore lunches, he had the meal prep down to a science.
While Paul cooked, he told me his grandfather Jake's brother, Jim, also homesteaded in the area; Jim's Corner, where we checked in at the shed with US Border Control, is named after him. I asked Paul about social life in the Angle, especially during frigid Minnesota winters with only 59 permanent residences and 110 year-round residents, give or take.
"That is my singular regret of the Angle – there aren't many people our age," Paul, 47, said. "It's kind of a weird deal. You've got to be comfortable with yourself."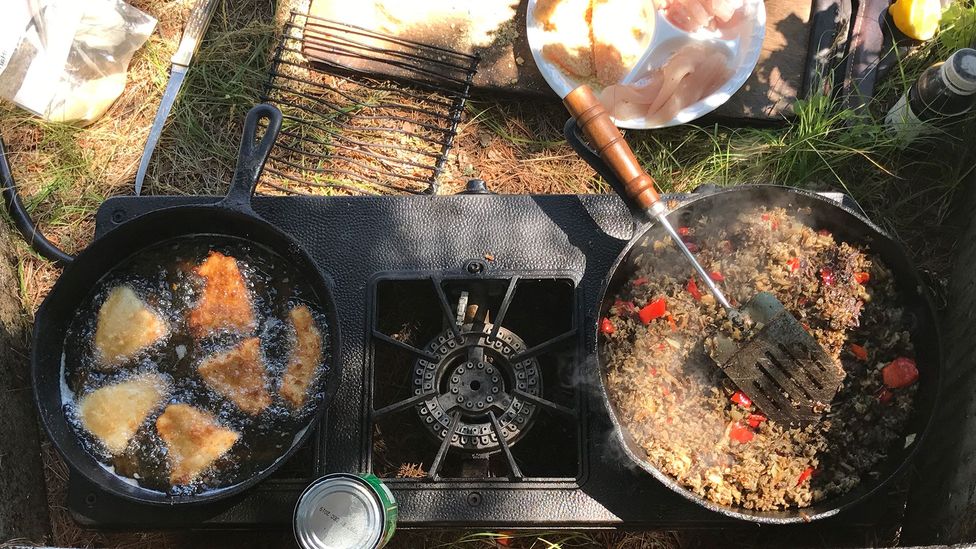 Paul Colson has been making 'shore lunches' with fresh-caught walleye for three decades (Credit: Kristin Vuković)
The following day, Linda invited us to her house. Paul and Karen's youngest son, Samuel, took us to a dock on Bear River, where Ron picked us up in his boat. Wild rice grasses undulating in the wind bordered our aquatic highway; we slalomed through the water, careful to avoid beaver dams. Ron docked near their log house on a hill. We sat on a balcony overlooking the river. Hummingbirds hovered at a hanging feeder, and then darted back into woods thick with white pine, black spruce, balsam and birch.
"There's a pretty big learning curve coming up here and learning to survive," Linda said. "It's not an easy life. You have one person working and one person helping. Ron does most of the cooking, baking, taking care of the house and motors."
Ron nodded. "It takes two. I'd never be able to exist here without Linda," he said.
Linda said the kids she teaches learn survival skills at an early age. Angle kids grow up hunting, and they don't have problems with gun violence like other areas of the state or country. "These kids, they're so fortunate in so many ways," she said. "It's really this family atmosphere here you don't have anywhere else." Ron talked about the Angle's innocence compared with other parts of the country where he's lived, including New Mexico and South Dakota.
"It's another world," he said.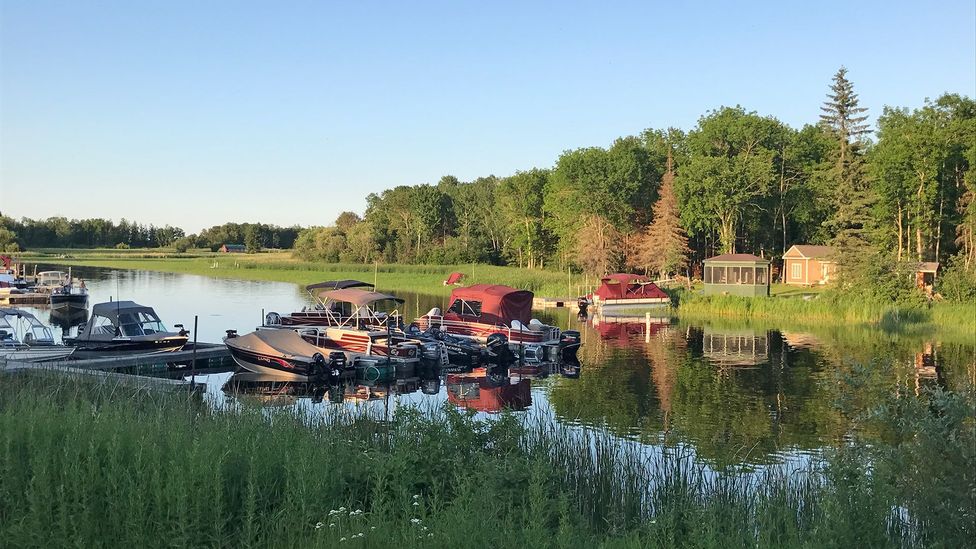 Linda LaMie: "There's a pretty big learning curve coming up here and learning to survive" (Credit: Kristin Vuković)
We toured the rest of the house and settled in the dining room near the wood-burning stove used during bitter Minnesota winters. Ron served us his homemade cookies and coffee.
Living at the Angle is like living together in a very large family
Before dinner on nearby Flag Island we went to see Minnesota's only remaining one-room schoolhouse. Linda handed me a brochure, which was taped on her classroom door and titled, 'What's with the Bump on Minnesota: The Who, What, Where, When, Why and How story by the Angle Kids who live there'.
"Living at the Angle is like living together in a very large family," Jack Goulet, one of Linda's sixth grade students, had written.
Standing in the schoolhouse with Linda, I thought the kids living in the bump on Minnesota were part of one lucky family.
Places That Don't Belong is a BBC Travel series that delves into the playful side of geography, taking you through the history and identity of geo-political anomalies and places along the way.
Join over three million BBC Travel fans by liking us on Facebook, or follow us on Twitter and Instagram.
If you liked this story, sign up for the weekly bbc.com features newsletter called "If You Only Read 6 Things This Week". A handpicked selection of stories from BBC Future, Earth, Culture, Capital and Travel, delivered to your inbox every Friday.