Top chefs head for Bornholm, a compact and charming Danish island in the Baltic Sea, where good food, fresh air and a peaceful joie de vivre prove to be the perfect mix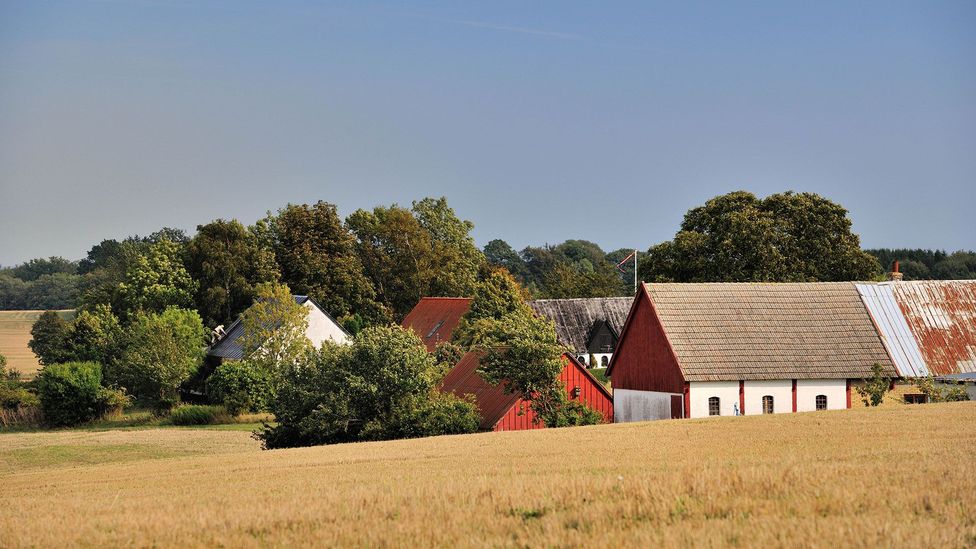 (Credit: David De Vleeschauwer)
A decade ago, Bornholm – about a 30-minute flight from Copenhagen – attracted mostly Danish visitors in the form of kids on school outings and pensioners looking for a beach holiday. Today, however, it's fast becoming one of Scandinavia's coolest culinary hotspots, and is getting noticed by Danish star chefs, including René Redzepi who forages there for his Noma kitchen (and has just co-launched a foraging app called Vild Mad – for Apple and Android – with Bohnholm nature advisor Thomas Guldbæk). Fellow Copenhagen chef Nicolai Nørregaard, who was born and raised on Bornholm, has returned to his roots and now runs two restaurants on the island.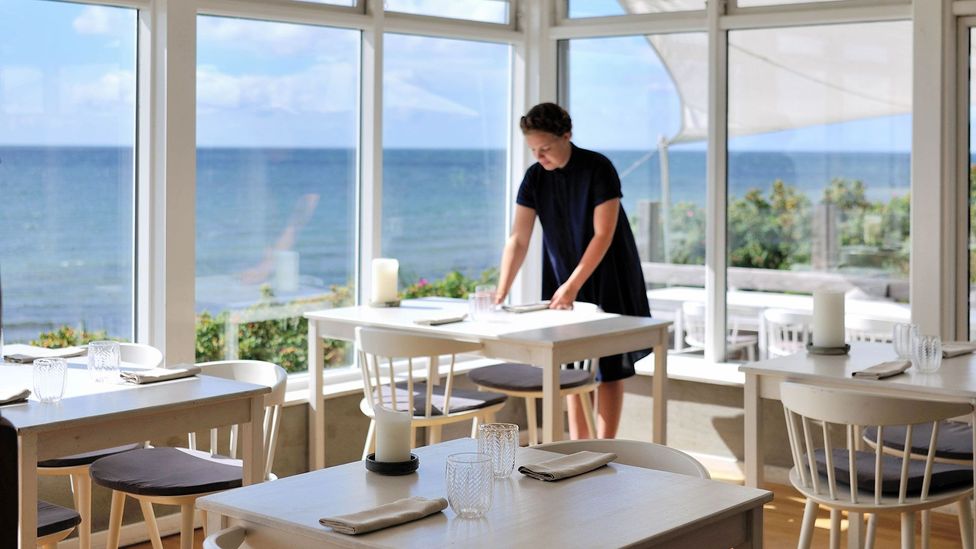 (Credit: David De Vleeschauwer)
For Nørregaard, it all started in 2007 when he and his partners Rasmus and Magnus Koefoed bought a beach pavilion on the island's south side overlooking the Baltic Sea and opened Kadeau Bornholm in hopes of realising the potential of the isle's abundant natural produce. Their focus was on local, organic and simple, a philosophy echoing that of Redzepi, who was at that time turning the culinary world upside down with Noma, which would soon become the number one restaurant in the world.
Kadeau Bornholm, which earned its first Michelin star in 2013, works with almost 50 local suppliers and plans to add more to its roster. Nørregaard also sources from his own kitchen garden and is assisted by his father, who produces apple and other juices at Bornholms Mosteri.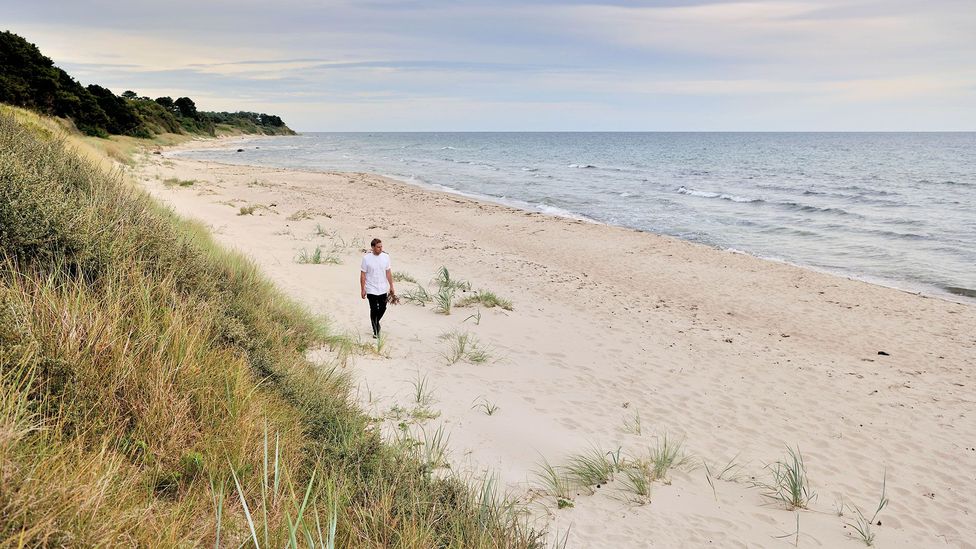 (Credit: David De Vleeschauwer)
In 2011, Nørregaard and his partners opened sister restaurant Kadeau in Copenhagen, as the island location closes during the quieter months of October to mid-April. But during the summertime, Nørregaard loves to leave his kitchen for the island's beaches or forests. During a recent visit, the chef took me on a day-long foraging trek. We walked through one of Denmark's most densely wooded forests to search for edible mushrooms and moss, before heading to the water's edge to pick berries and herbs, which have intense flavours due to  Bornholm's salty air and strong sunshine.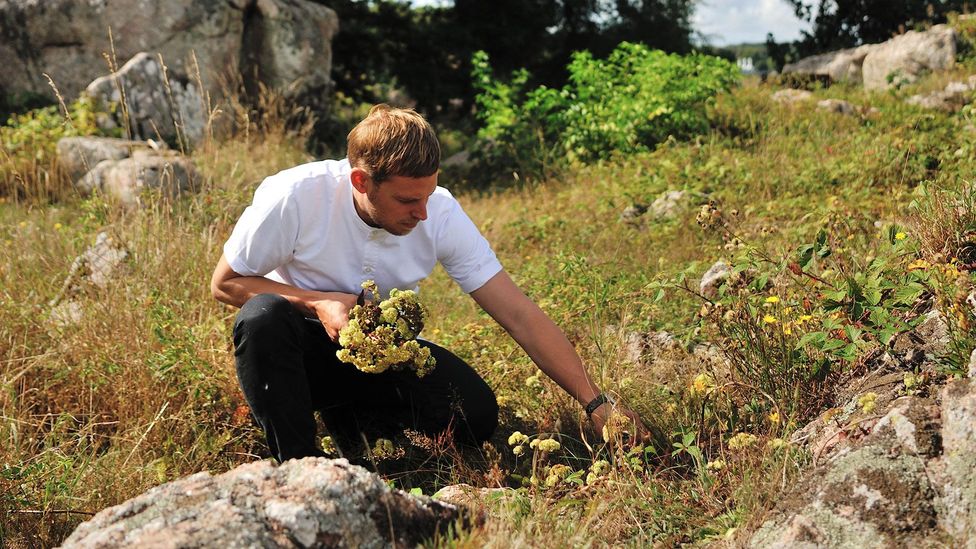 (Credit: David De Vleeschauwer)
Everything grows here. The landscape is so diverse – I always find something useful for our kitchen," said Nørregaard.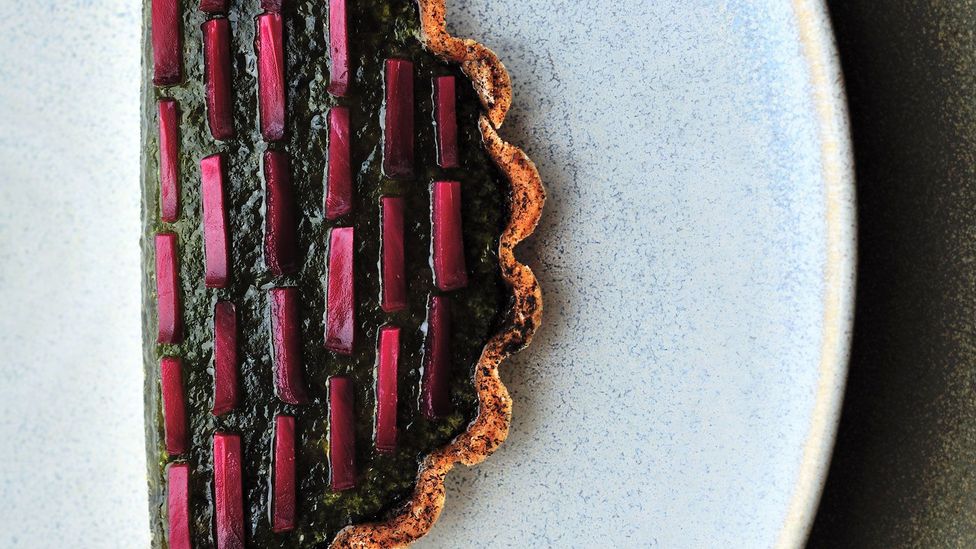 (Credit: David De Vleeschauwer)
That evening, I dined at Kadeau Bornholm and was served the island on a plate: oysters, local green cabbage and a dusting of parsley, followed by roasted celeriac, woodruff, fermented white asparagus and caviar. Dessert consisted of a caramelised buttermilk tart (pictured) with edible bulbs from local fir trees and syrup made from primula, a plant with yellow flower that we'd foraged for in the dunes earlier that day. All these dishes reflected the natural environment and a summer that was slowly ending.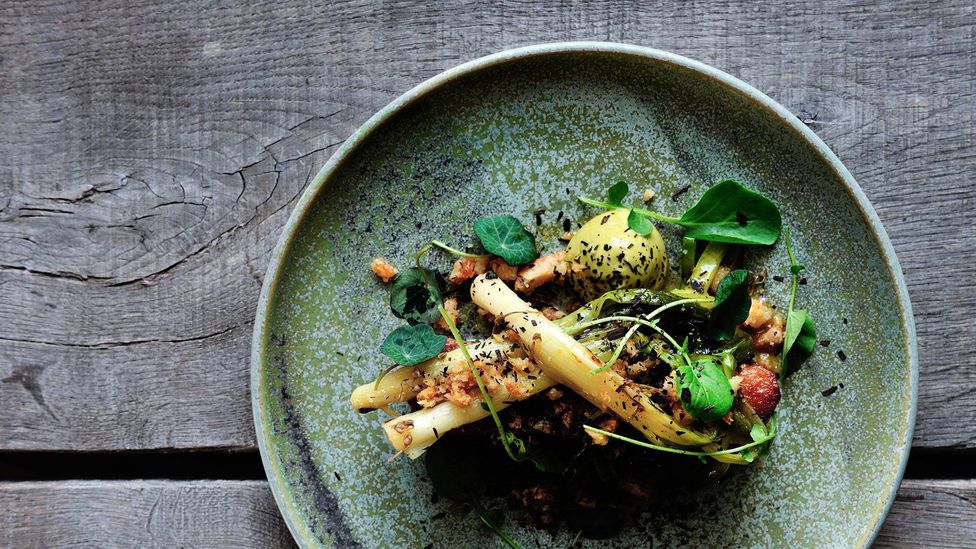 (Credit: David De Vleeschauwer)
Nörregaard also runs Restaurant Nordlandet in Hotel Nordlandet, a boutique hotel opened by Danish entrepreneur Martin Smidt Kristensen in 2015. With a huge panoramic terrace looking out over the sea, the restaurant serves a more casual-style new Nordic cuisine than Kadeau Bornholm. All dishes are presented on simple plates made by local ceramicist Lov i Listed. Menu items reference the local land and sea, such as smoked pork belly with grilled leeks (pictured) and local wolf fish served with celeriac and an apple-and-plum compote.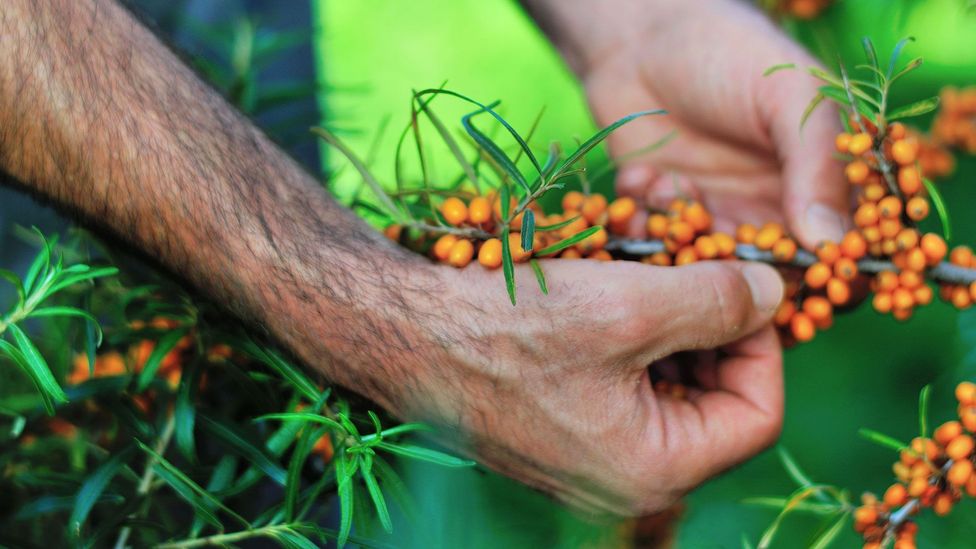 (Credit: David De Vleeschauwer)
Nörregaard has inspired many people – Danes and expats alike – to leave their hectic city lives and start food-related businesses on peaceful Bornholm. Take for example Mads and Camilla Meisner, a Danish couple who moved to the island with their family in 2009 to start a sea buckthorn berry business. Bright orange buckthorn shrubs circle their U-shaped estate, where they produce and sell the vitamin C-packed juice, jam and even oil and soap.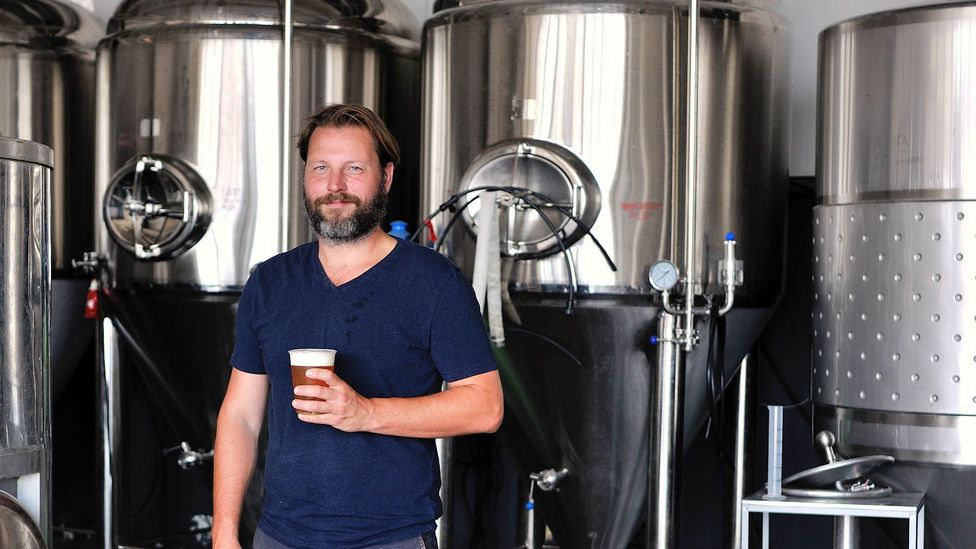 (Credit: David De Vleeschauwer)
Dane Christian Skovdal Andersen spent many years building his beer knowledge in various Belgian breweries before opening Penyllan Brewery overlooking Tejn harbour on Bornholm's east coast with his Australian wife Jessica. Here, he brews craft beers with unusual flavours often using local ingredients, such as one aged in old cognac barrels and mixed with wild blackberries.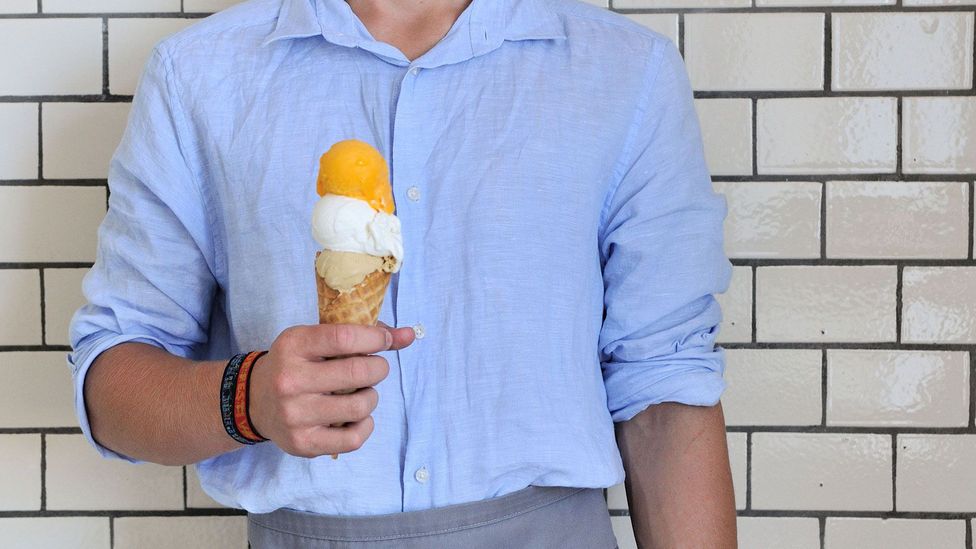 (Credit: David De Vleeschauwer)
Almost on the north-eastern tip of the island is the village of Sandvig, where old, whitewashed houses nestle close to the water's edge. Among them is a former ice warehouse for cooling fish that is now home to a café called Kalas. Here, Christina and Christian Andreasen, along with their three sons, make ice cream using organic milk from local cows, Bornholm fruits such as gooseberries and rhubarb, wild herbs and even beetroot and celery.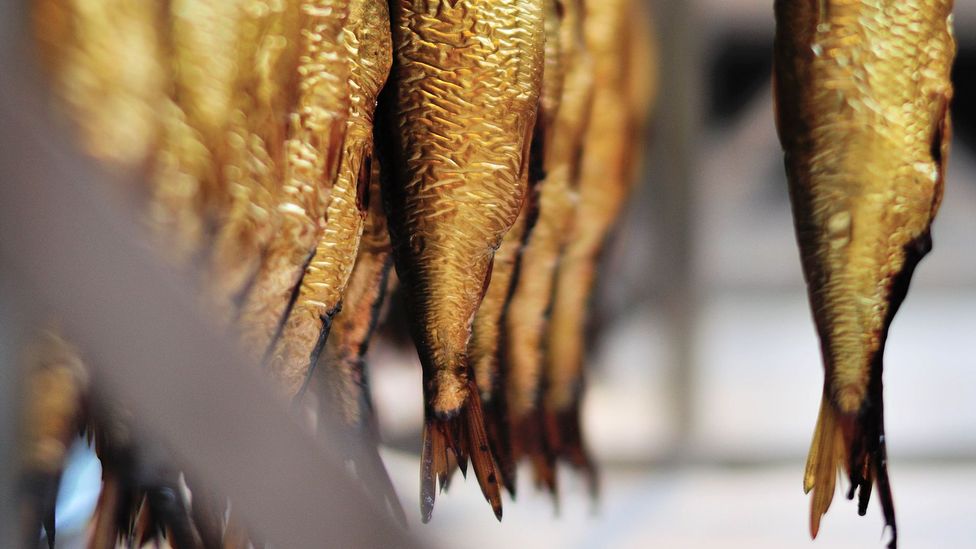 (Credit: David De Vleeschauwer)
Svaneke, the picturesque village where Nørregaard was born, is known for its smokehouses. And 30 years ago, his uncle, Knud Kowsky (who has since passed away) was considered the best fish smoker on the island. Those were the days before the arrival of huge fishing trawlers, when local fishing was still in full swing and hundreds of smokehouses, with their iconic white chimneys, dotted the island and sold smoked fish like herring, mackerel and salmon throughout the country. When the sea around Bornholm was almost empty due to overfishing in the 1970s and 80s, most smokehouses had to close their doors.
The few that now remain – like Nexø Gamle Røgeri, Hasle Røgeri, Aarsdale Silderøgeri and Svaneke Røger – have also simple fish restaurants, giving the businesses another means of survival.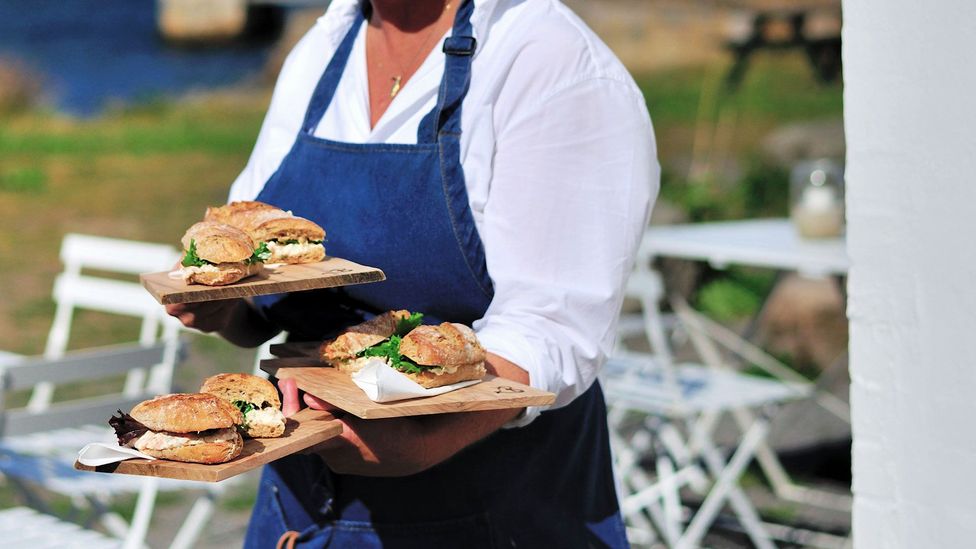 (Credit: David De Vleeschauwer)
In a former smokehouse close to the water's edge in the idyllic village of Gudhjems, Pernille Lydersen Funch opened Café Norresan in 2016. She gave up her nursing career to run this small establishment, offering a new place for locals and visitors to gather and dine on sandwiches, gourmet hot dogs and homemade pastries.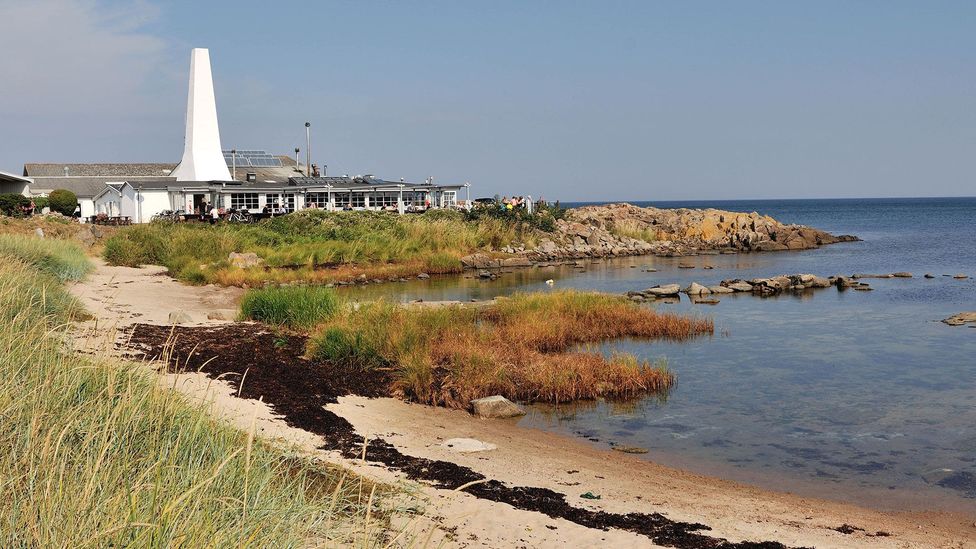 (Credit: David De Vleeschauwer)
There's a lot to be said for Bornholm, which, thanks to a new generation of entrepreneurs and creative spirits, is fast becoming Scandinavia's newest culinary hotspot. Nørregard is more than happy that his island is getting noticed.
"A lot of people are moving to Bornholm, which is quite rare in these urban times," he said. "We're extremely proud to be a part of that movement."