Cape Town's Chapman's Peak Drive is both a marvel of engineering and a breathtaking stretch of coastline.
"How are you getting back to the city?" asked Cole, our local connection in Cape Town, as we were finishing lunch at The Red Herring in the city's southern outpost of Noordhoek. My fiancé and I shared a blank look.
"Google Maps…?" I offered.
We were about to embark on the most scenic drive of our lives
As the conversation turned to traffic and the best route back to our hotel, I zoned out, rescuing the last slice of pizza and watching the afternoon sun turn everything silvery. A cold gust blew off the South Atlantic and I shivered. Winter afternoons in the Western Cape had a metallic quality: cold but bright, like polished steel.
"Chapman's Peak Drive is a nice way back into Cape Town," I heard Cole say in passing.
That sounded fine, so we paid up, said our goodbyes and told Google to take us that way – unaware that we were about to embark on the most scenic drive of our lives.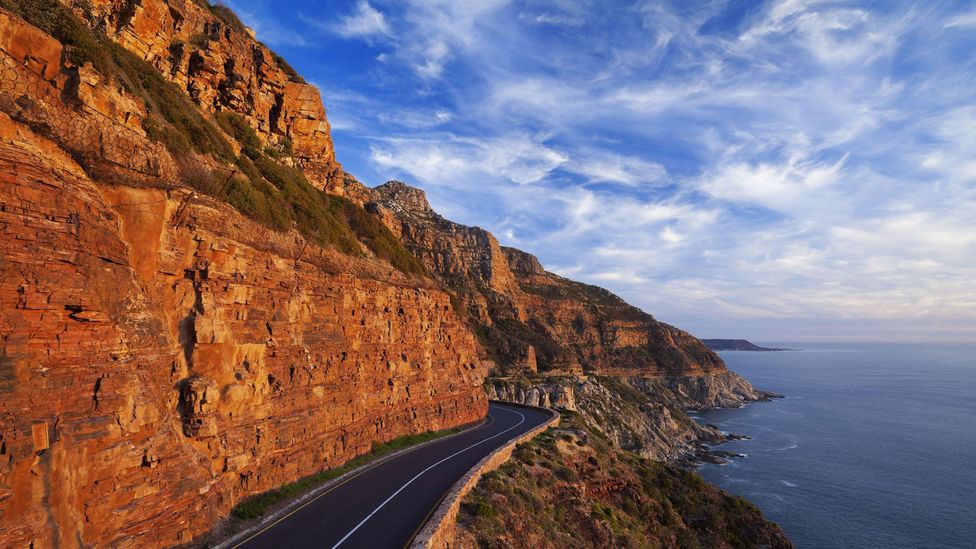 Chapman's Peak Drive snakes 9km along South Africa's Atlantic Coast (Credit: Hougaard Malan/Getty Images)
You may also be interested in:
• China's impossible engineering feat
• Three New York views locals love
• The people who want to buy a railroad
Over the tree tops I could see a line of buttresses marching away to the south; the Cape Peninsula. The cone-shaped formation of Chapman's Peak stood to our north, with its namesake road snaking 9km along coastal ramparts and cliffs to the suburb of Hout Bay. We left the restaurant, and our little rental car rumbled along a country road between paddocks ringed by log fences and populated with fat horses.
The road took a few gentle twists as it rose on Chapman's Peak's western flank, and Noordhoek Bay spread out behind us. It wasn't until we took a swooping right-hand bend that we realised we were in for something truly awesome.
A road of 114 dynamite-blasted bends
Carved out of the west-facing cliffs, Chappies, as it's known by locals, was constructed between 1915 and 1922 using convict labour. Although named after John Chapman, the skipper of an English ship who visited the area in 1607, the real hero of Chapman's Peak Drive is Sir Nicolas Frederick de Waal, the first administrator of the Cape Province, who tenaciously pursued the idea of a road even when engineers said it couldn't be done.
These cliffs are plagued by rockslides, so the engineers eventually chose to situate the road partway up the mountain, where a layer of hard granite would provide a solid foundation and a softer stratum of sandstone above would be easier to excavate. But these sandstone cliffs shed a regular barrage of rock fall onto the road during its first 80 years in service.
Local authorities made moves to improve safety, including forcing closures during inclement weather or when rock fall danger was considered high. But in December 1999, a motorist was killed by a falling rock on a low-danger day, and even as the emergency meetings were convened to decide the fate of the route, wildfires above the road let loose a fresh hail of debris that ultimately closed Chappies to all traffic.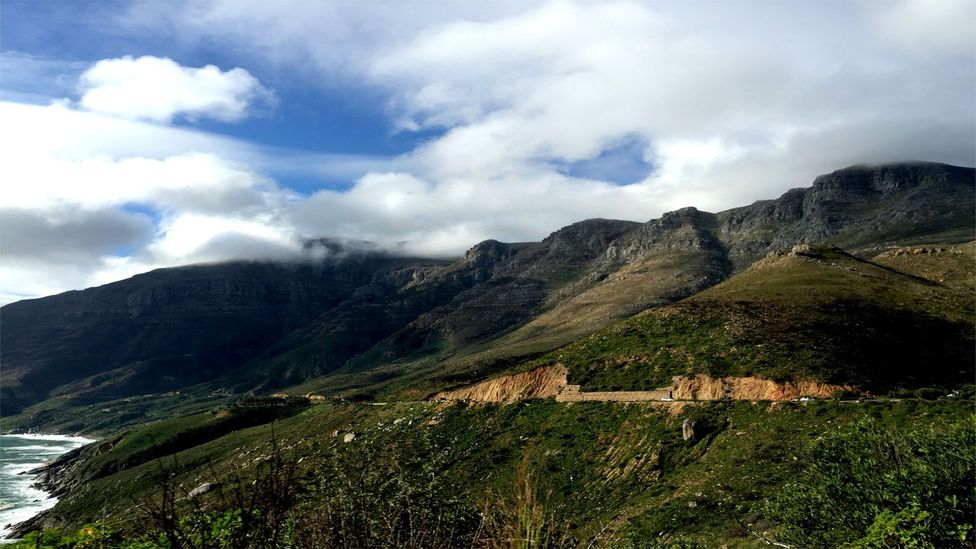 Known to locals as 'Chappies', the road took seven years to complete (Credit: Denby Weller)
From 2000 to 2003, and again in 2009, the road was closed while engineers employed every new technology imaginable to tame the cliffs above. They computer-modelled the area, then with the aid of Swiss road builders, devised a series of solutions to the constant threat of rockslide.
As we swooped around another of Chappies' purported 114 bends, I was slightly alarmed to come face-to-face with one of these engineering marvels, a 6m-high 'catch fence' – a huge steel net that leaned menacingly out over the road; 1.6km of catch fence protect the road from smaller slides at various locations along its 9km length.
The plunging coastline beckoned me to stop at every lookout, to linger and drink in the view
But Chappies had even bigger wonders in store.
We were briefly distracted from the hulking cliffs as the road took another leftward bend and we were again pointed at the South Atlantic and sparkling Hout Bay. Clouds were forming over the Sentinel, the same weird reverse-waterfalls of vapour that locals dubbed 'the tablecloth' when they appeared over Table Mountain. The verticality of the landscape never got old; despite the obvious risks of the route, the plunging coastline beckoned me to stop at every lookout, to linger and drink in the view.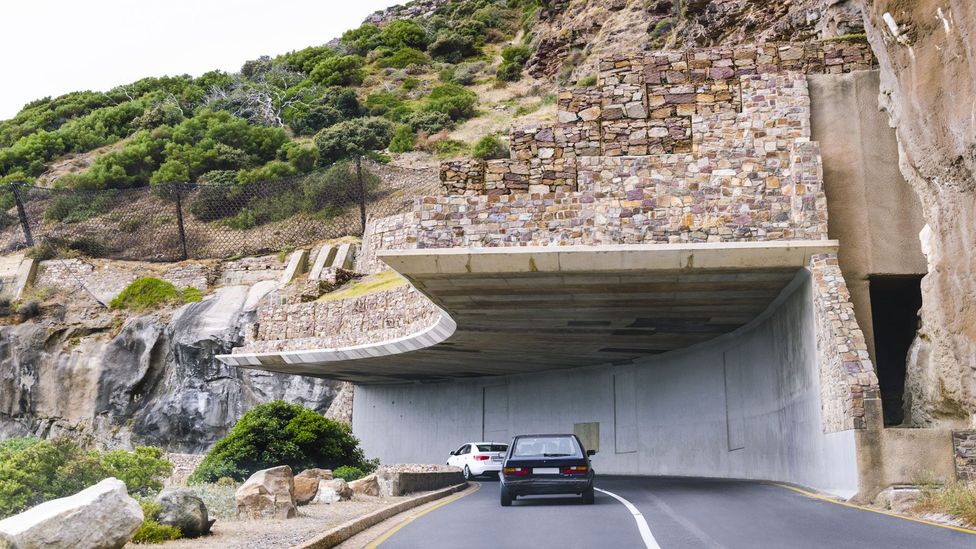 A 'half tunnel' was designed to protect the road from small rockslides (Credit: Michelle Dormer/Getty Images)
The next inward turn brought us in sight of a 155m-long 'half tunnel' that surely defied gravity. Instead of trying to hold back the volley of rocks that came pelting down this bluff, the engineers just carved a gash into the side of the rock and put the road out of harm's way.
As we neared Hout Bay, the rhythm of the drive established itself: a leftward bend would reveal a breathtaking view of the coast, followed by a rightward turn that showed another incredible feat of engineering. Just before we reached the toll gate, we passed a group of lycra-clad road cyclists – Chappies features in the world's largest timed bike race.
I glanced over at my fiancé, who has been known to compete in the odd cycling race. A broad smile was spreading across his face. "Maybe for the honeymoon?" I suggested, only half joking.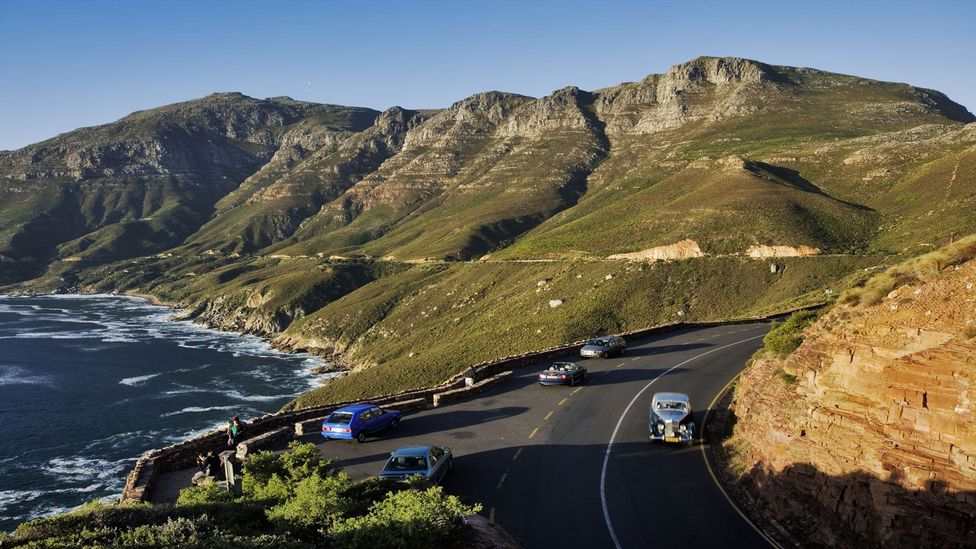 Chapman's Peak Drive features 114 bends and a number of engineering marvels (Credit: Martin Harvey/Getty Images)